An expensive attempt by Columbia to cash-in on the then red-hot sword-and-sorcery and sci-fi/fantasy genres, the 1983 Saturday matinee adventure KRULL (***, 120 mins., PG) plays more like a semi-futuristic Errol Flynn swashbuckler than a rip-off of "Star Wars."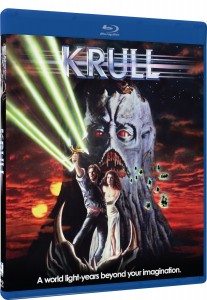 Ken "Marco Polo" Marshall essays Colwyn, the dashing prince who has to save his Princess-in-distress (Lysette Anthony, dubbed by Lindsay Crouse) from the clutches of an evil Beast whose minions have taken over the planet of Krull. With his band of merry men – er, fellow soldiers – Colwyn sets off on a journey to find rescue his love, even with as many monsters and beasts as you could pack on the Pinewood Studios soundstage standing in his way.
Nobody is going to mistake "Krull" as a classic, but – particularly compared to the bombast of today's soulless "tentpole" franchise pictures – there is something infectious about the romanticism present in director Peter Yates' film. You get an epic quest, plenty of effects, superb cinematography (by "Empire Strikes Back"'s Peter Suschitzky), and a basic, fairy tale premise that — try as the movie might to get in its own way – should prove perfectly entertaining to kids of all ages. The performances aren't anything spectacular (be on the lookout for young Liam Neeson and Robbie Coltrane), but this glossy production is tough to dislike — and is capped by one of James Horner's all-time greatest scores. For all of those reasons, "Krull" remains a personal favorite, and is enhanced all the more here by its long-overdue presentation in high-definition.
"Krull" comes to Blu-Ray on September 30th from Mill Creek. The 1080p (2.35) transfer is satisfying, colorful and detailed, presented on a single-layer BD25 platter with 5.1 DTS MA audio. The disc is lamentably devoid of extras, a disappointment considering the Special Edition DVD that Sony released years ago. Still, bargain priced at under $10 in most outlets, this is a splendid – if basic – presentation of rip-roaring, check-your-brain-and-enjoy-the-pretty-pictures escapist fare that's gloriously scored.
Also New on Blu-Ray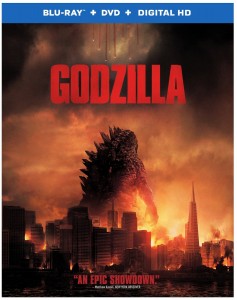 The cinematic equivalent of a losing baseball team that comes up to bat and delivers a game-winning hit with two outs in the bottom of the ninth, the much-anticipated new GODZILLA (***, 123 mins., 2014, PG-13; Warner) proves to be a rare beast indeed: a film that seemed to generate audible frustration among the fans I saw the movie with for nearly two-thirds of its running time. However, when director Gareth Edwards delivers the goods – at long last – during the movie's climax, those same naysayers cheered on the Big G and furiously applauded as the end credits rolled.
Getting to that point, alas, is where this expensive Legendary Films/Warner Bros. production gets tripped up a bit. It's not that the plot, concocted by David Callaham and screenwriter Max Borenstein, isn't uninteresting – more that the overly stoic performances, complete absence of humor, and Edwards' teasing of the very audience it wants to entertain prove increasingly irritating until the ship is ultimately righted in a satisfying finale.
The new "Godzilla" posits a world where a giant monster is responsible for a Japanese nuclear reactor meltdown. Scientist Bryan Cranston, whose wife was killed in the "accident," knows that the tragedy wasn't merely an earthquake, and sets out – along with his son, a military officer played by Aaron Taylor-Johnson – to prove it. When the duo get to the now-quarantined zone, they find that the radioactive levels the government claims are still there have vanished – and that a giant creature, being studied by a Japanese scientist (Ken Watanbe), is feeding in the center of the rubble. Ultimately, the winged monstrosity – dubbed a MUTO – starts a rampage of destruction from Japan to Hawaii and eventually San Francisco, with only a certain giant beast that's been dormant for many decades offering the slim possibility of defeating it…
Unlike Roland Emmerich's much-derided "Godzilla" (a film I did find entertaining, even if it resembled "King Kong" more than any Toho production), the 2014 "Godzilla" is stone-cold serious. This is a world where mass destruction feels "real," though the human casualties are (wisely) mitigated just a little by having the action take place in locales that are either deserted or being evacuated. There's a constant sense of dread in the picture, and Edwards is wise to keep the film running from a human perspective – at least for a while – enabling viewers to witness the devastation, and the sheer size of the creatures, from the ground up.
The trouble is that none of the human characters are especially interesting. The script kills off one of the most interesting actors in the cast early on, something that lead one audience member to audibly mutter, "he's dead?!?" These same viewers would later begin to express their dismay with an even larger problem the film has – Edwards' teasing of Godzilla and giant-monster battles, which he doesn't deliver until the tail end of the movie. What's more, because the characters are uniformly dull, his cutaways from those big battle scenes – first when Godzilla shows up in Honolulu, then again when Godzilla first encounters the creatures on the West Coast – aren't just annoying, they become downright infuriating. Yes, we get the sense of scale between the humans and the monsters. Yes, we understand you are trying to be "realistic" – but at some point, you have to deliver the goods, and Edwards comes dangerously close to flushing the massive goodwill of the audience away for too much of the movie's duration.
Thankfully, fortunately, and with no time to spare, the 2014 "Godzilla" does give viewers what they paid to see – and when it arrives, the picture manages to satisfy in a way that'll give fans something to savor. In fact, I admit I was slightly choked up in the concluding moments – not because the film is in the least bit emotional, but more that the producers clearly understood the monster's appeal for a generation of kids who grew up on the old Toho movies. This isn't the Roland Emmerich Godzilla, nor is it the horrifying beast the movie's trailers promised – this is the "King of the Monsters," restored to his heroic glory with magnificent special effects and a rousing finish that bails out the picture's missteps. Let's just hope – when "Godzilla 2″ surfaces in 2018 – there's less talk and more action, and that it doesn't take as long for the big guy to make good on his legendary roar.
Warner's Blu-Ray of "Godzilla" comes with a DVD and digital copy. The 1080p (2.35) AVC encoded transfer is dark – as in, one of the darkest films I've ever come across on my home theater set-up – so daytime viewing is likely not a viable option on this film, unless you have a particularly confined room to view it in. The 7.1 DTS MA audio is well mixed, with Alexandre Desplat's unmemorable score backing the drama. Special features are very light, relegated to a couple of making-of featurettes and "Dossier"-like segments intended to explore the film's mythology. One can imagine a features-rich special edition with commentary and deleted scenes surfacing down the road, so some fans may opt to hold out until then.
STAR TREK: THE COMPENDIUM (Paramount): JJ Abrams' rousing 2009 "Star Trek" and the plodding 2013 sequel "Star Trek Into Darkness" make an encore appearance on Blu-Ray this week from Paramount.
I was high on Abrams' first "Trek" – reviewed here – and not a fan, at all, of his "Wrath of Khan" mash-up, which I covered in detail a year ago. Where the franchise goes from here is anyone's guess, seeing as "Into Darkness" merely performed decently at the U.S. box-office, coming under the gross of Abrams' first film even with the addition of 3-D and ticket price inflation.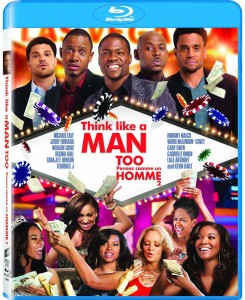 For die-hard "New Trekkies," Paramount's double-disc "Compendium" set offers all the extras from both films' prior Blu-Ray releases, which were stocked with deleted scenes, trailers, ample behind-the-scenes features and Making Of materials. The difference here is "Into Darkness"' IMAX sequences, which comprise nearly 30 minutes of material – some of which was exclusive to the IMAX screenings, and which has been reinserted here, exclusive to the "Compendium" release. Also new are a pair of featurettes, "Fitting the Future" and "Property of Starfleet," while the first "Star Trek" is just a reprise of its prior, 2-disc Blu-Ray release. Transfers and soundtracks are all exceptional – it's just a question of how much interest one has in the added "Darkness" IMAX sequences in terms of justifying a purchase.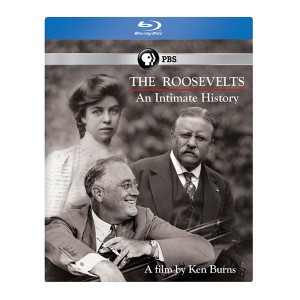 THINK LIKE A MAN TOO Blu-Ray (*½, 106 mins., 2014, PG-13; Sony): Feeble sequel to the earlier adaptation of Steve Harvey's book reunites the gang as they hit Vegas for another series of seriocomic adventures, with not nearly enough laughs to merit a recommendation. Keith Merryman and David A. Newman's script tries to juggle the large ensemble cast and give each of them something to do, but when not even Kevin Hart can generate goodwill, you know "Think Like a Man Too" is in trouble. As you might expect, this summer sequel opened reasonably well but fell off quickly, leading to a quick video release from Sony this week. The Blu-Ray edition includes a format-exclusive four extra scenes; a gag reel; and Kevin Hart featurette, along with two additional deleted scenes and featurettes, a 1080p transfer and 5.1 DTS MA soundtrack.
KEN BURNS' THE ROOSEVELTS: An Intimate History Blu-Ray (14 hours, 2014; PBS): Available this week on home video and broadcasting around the country on local PBS channels, Ken Burns' latest historical piece chronicles the lives of the Roosevelts: Theodore, Franklin and Eleanor. This sprawling effort, written by Geoffrey C. Ward, opens with Teddy's birth in 1858 and intercuts his life and times with Franklin's achievements and Eleanor's amazing story, concluding with her death in 1962. Paul Giamatti voices the elder Roosevelt with Edward Herrmann as FDR (perfect casting as he played Franklin in the acclaimed '70s mini-series "Eleanor and Franklin" as well as the 1982 filming of "Annie") and Meryl Streep as Eleanor. Archival photographs and amazing anecdotes mark this seven-part, 14-hour production, which is demanding of the viewer as it bounces from one time frame to another — especially for those of us who haven't been in history class for a while, or who don't have a pre-existing knowledge of the material. Nevertheless, this is an excellent addition to Burns' body of work, with PBS' Blu-Ray, out this week, offering 1080i transfers, 5.1 stereo sound, 13 bonus videos, a Making Of, and deleted scenes with Burns' introduction.
---
SPARTACUS – THE COMPLETE SERIES Blu-Ray (Anchor Bay): Robert Tapert and Sam Raimi were among the producers of this bombastic Starz series, a more graphic and schlocky rendition of the Spartacus legend, which lasted for several incarnations despite the death of its lead star.
In "Blood and Sand" – the first and best of the bunch – the late Andy Whitfield essays the slave-turned-gladiator, with John Hannah, Lucy Lawless (Tapert's wife) and Manu Bennett among the supporting cast in Steven S. DeKnight's "adrenaline-infused" revisionist take that evokes more comparisons with the likes of "300″ than Kirk Douglas' sword-and-sandal classic. Copious amounts of nudity and violence are used in such extremes that they might as well be flashing a "hey, this is cable, look what we can do!" disclaimer on-screen. The visual style is reminiscent of Zack Snyder's "300″ and Frank Miller's "Sin City," and it's flashy enough to keep you watching – yet dramatically, I can't say I was emotionally engaged in what I saw. Nevertheless, the show fared well in the ratings, generating subsequent follow-up installments in "Gods of the Arena," "Vengeance" and the climactic "War of the Damned" despite Whitfield's untimely death.
Anchor Bay's complete Blu-Ray of "Spartacus" offers 1080p transfers and 5.1 Dolby TrueHD soundtracks plus an Ultraviolet Digital HD copy. Extra features range from a conversation with composer Joe LoDuca to interviews with stars Liam McIntyre and John Hannah and plenty of goodies from the individual releases of each series (check the Archives for more details).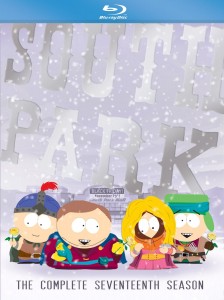 SOUTH PARK: Complete 17th Season Blu-Ray (220 mins., 2013; Paramount): Trey Parker and Matt Stone have cut back on "South Park"'s seasons to a once-a-year event, which will hopefully enable the series to regain some of its consistency. That said, there are some solid laughs to be found in the 17th season of the series, including the hilarious "Black Friday Trilogy" which grafts a "Game of Thrones"-like spoof onto last holiday season's release of the Xbox One and Playstation 4. Social commentaries, deleted scenes and "mini commentaries" are included on all 10 episodes with 1080p transfers and Dolby TrueHD soundtracks. Also new from Paramount is Season 3 of AWKWARD (440 mins., 2014), one of the last vestiges of entertainment on the MTV network. This amusing comedy continues the misadventures of high schooler Jenna Hamilton, here attempting to figure out who she's trying to be in a sharply written and appealingly performed comedy. Paramount's DVD release is loaded with extras (webisodes, featurettes, interviews, campaign videos) and boasts 16:9 transfers and 5.1 Dolby Digital soundtracks.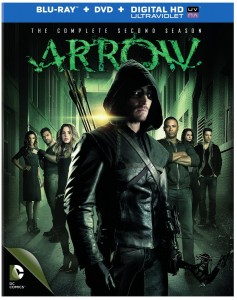 ARROW: Season 2 Blu-Ray Combo Pack (1014 mins., 2013-14; Warner): With Starling City under attack from the Undertaking, Oliver Queen springs into action to protect the populace as well as his own family and corporation in Season 2 of "Arrow." This sophomore year for the DC Comics adaptation was a big hit with critics last year as well as the fanbase of the CW series, who regard it as one of the best superhero adaptations on TV. It's certainly a more brooding show than the likes of "Smallville," with solid performances and crisply edited action that makes it well worth a view for genre fans. Warner's souped-up Blu-Ray combo pack includes a DVD, Ultraviolet HD copy, and extras including a "Bonus Recap Episode Year One," "From Vigilante to Hero" featurette, "How Did They Do That? The Visual Effects of Arrow," "Wirework: The Impossible Moves of Arrow," a gag reel, unaired scenes and 2013 Comic Con Panel segment.
BIG BANG THEORY Season 7 Blu-Ray Combo Pack (486 mins., 2013-14; Warner): Leonard is back from his North Sea expedition, only to find out that his relationship with Penny is in an odd state. Howard, meanwhile, continues his women issues while Ray breaks through with the ladies and Sheldon reconnects with his mom (Laurie Metcalf) in this seventh season of the hit CBS series. Bob Newhart and James Earl Jones are a few of the familiar faces who appear in this latest season of "The Big Bang Theory," which lands on Blu-Ray this week from Warner. The combo pack includes a 2013 Comic-Con Panel segment, multiple featurettes, interview with James Earl Jones, gag reel, a 1080p transfer, DTS MA 5.1 sound, a DVD and Ultraviolet Digital HD copy for good measure.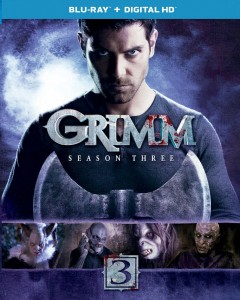 GRIMM: Season 3 Blu-Ray (aprx. 16 hours, 2013-14; Universal): Nick Burkhardt returns in 22 more episodes of the fan-favorite NBC series. Here, most of the fun comes from watching Monroe and Rosalee's relationship develop, while Nick's new abilities enable him to more effectively combat the Wesen threat around him, his love Juliette and partner Hank. Colorful genre shenanigans brought to Blu-Ray by Universal in an excellent package offering deleted scenes, a gag reel, "Meltdown" digital series, two featurettes, "Love is in the Air" digital series, and a BD exclusive "Grimm Guide" interactive feature. The 1080p (1.78) transfers and 5.1 DTS MA soundtracks are all superlative, and a digital Ultraviolet copy is also included.
Also new from Universal for kids: THOMAS & FRIENDS: TALE OF THE BRAVE (62 mins., 2014) finds Thomas and his pals trying to unearth who's responsible for the footprints that have been found on the Island of Sodor after a massive storm. Thomas and Percy meet a handful of new friends in this hour-long feature perfect for young kids. Universal's Blu-Ray/DVD combo pack includes an Ultraviolet HD copy, sing-along music videos, "Guess Who?" puzzles, a 1080p transfer and DTS MA soundtrack…BARBIE AND THE SECRET DOOR (81 mins., 2014) has Barbie playing Alexa, a princess who opens up a secret door to a kingdom filled with creatures, surprises and new friends. Universal's BD release also includes a Digital HD copy, DVD, 1080p transfer and 5.1 DTS MA audio.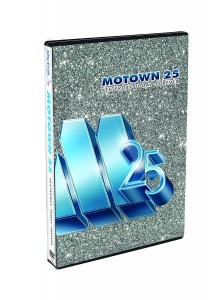 DENVER THE LAST DINOSAUR – The Complete Series (1988-90; VCI/Cinedigm): All 50 episodes from the fondly remembered late '80s animated series arrive on DVD in a terrific box-set release from Cinedigm and VCI. Produced in the wake of "The Land Before Time" and prior to "Jurassic Park," "Denver" is a lovable dinosaur who hatches in the present day after a group of kids stumble upon his unbroken shell. The gang have various adventures and learn a few lessons along the way – morals that helped the series earn a recommendation from educators at the time of its broadcast. The complete series box-set includes interviews with the series' producers, an image gallery and seven bonus cartoons.
MOTOWN 25: YESTERDAY, TODAY, FOREVER DVD (aprx. 458 mins.; Starvista/Time Life): This early '80s NBC special generated a significant amount of viewers during its original broadcast – thanks to reunions of legendary groups The Miracles, The Supremes and The Jackson 5 plus live performances from Richard Pryor and others – but hasn't been seen since. This Starvista three-disc DVD set (a more expensive six-disc configuration is also available) boasts electrifying performances from Smokey Robinson, Marvin Gaye, Stevie Wonder, Diana Ross, Lionel Richie and many others, all in newly remixed 5.1 surround. Extras include Marvin Gaye rehearsing "What's Going On," "Motown 25″ roundtable interviews, four featurettes and other goodies.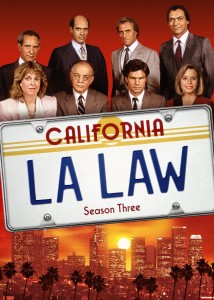 New From Timeless Media Group: Rod Cameron stars as Officer Rod Blake in STATE TROOPER (2822 mins.), a 1956-59 NBC series following a Nevada State Trooper in stories based on actual true cases from the files of the Nevada State Police. Fans of Golden Age TV will enjoy all 104 episodes from the three seasons of "State Trooper," presented here in a new Timeless DVD box set also sporting a bonus disc of classic TV westerns also starring Rod Cameron, including episodes from "Tales of Wells Fargo," "The Men From Shiloh," "Alias Smith and Jones" and "Laramie". Available September 23rd, along with Timeless' DVD of THE BIG SLEEP (100 mins., R) – the 1978 Lew Grade production starring Robert Mitchum as Philip Marlowe in an odd modernization of the Raymond Chandler novel transplanted to the UK. Joan Collins, Jimmy Stewart, Sarah Miles and Candy Clark co-star with an overwrought Jerry Fielding score. Timeless' DVD includes a 16:9 (1.78) transfer with mono audio and extras including an archival featurette and commentary with director Michael Winner, plus a pair of older TV series episodes with Mitchum and Maxim Jakubowski.
Shout! Factory New Releases: Two of their respective era's most popular dramatic series are revived next week on DVD by Shout! NYPD BLUE – SEASON 7 (16 hours, 1999-2000) offers one of the most entertaining seasons of Steven Bochco and David Milch's ABC series. Here, Sipowicz (Dennis Franz) is teamed with partner Danny Sorenson (Ricky Schroeder) while Diane (Kim Delaney) is forced to endure the dissolution of Kirkendall (Andrea Thompson)'s relationship with her ex-husband. All 22 episodes from the series' seventh year are included in Shout's DVD package, available September 30th with uncut 4:3 transfers and stereo soundtracks. Available next week, Season 3 of L.A. LAW (aprx. 17 hours, 1988-89) finds the attorneys at McKenzie, Brackman, Chaney and Kuzak back for 19 more episodes – a shortened season due to the 1988 Writer's Strike. Shout's DVD set includes 4:3 transfers and stereo soundtracks. Finally, viewers who were a little younger back in the '80s might want to check out MY LITTLE PONY: THE COMPLETE SERIES (1986, 12 hours) when it bows on September 30th, boasting the original animated adventures of the Little Ponies in Ponyland, who have since enjoyed quite a resurgence on the air. Young kids and their parents might enjoy the fun with Shout's four-disc set offering the complete '80s show in full-screen transfers and stereo soundtracks. Also newly available from Shout is Season 2 of PRISONERS OF WAR (715 mins., 2014), Gideon Raff's Israeli series that Showtime adapted into "Homeland." An introduction by Raff, cast interviews and episode commentaries comprise Shout's DVD release, presented in 16:9 with 2.0 stereo sound.
---
Warner Archives New Releases
Robert Urich scored one of the biggest hits of his career with SPENSER FOR HIRE (1106 mins., 1985-86), the ABC prime-time adaptation of Robert B. Parker's novels. Urich stars, of course, as Spenser, the Boston detective who's as game with the ladies as he is tracking down thieves, missing persons and whatever case comes his way.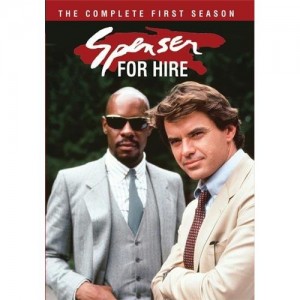 Flavorfully, authentically shot, "Spenser For Hire" was reportedly a costly show for Warner Bros. and ABC due to its Boston filming. Eventually, mediocre ratings and a bounce around the broadcast schedule ended the series' run in 1988, but not before a loyal fan following was generated. Those fans ought to be thrilled with this long overdue Season 1 release of "Spenser," presented here in a multi-disc DVD set with 4:3 sharp full-screen transfers and mono soundtracks. Given that the only prior release of the series on home video was Rykodisc's compilation of "Spenser" post-series TV movies, this package ought to come as a must-have for fans of Urich's private dick.
Also New From the Archives: Gary Cooper stars as the title role in THE ADVENTURES OF MARCO POLO (104 mins., 1938), Samuel Goldwyn's epic historical adventure that plays fast and loose with the facts but serves as a corny, entertaining slice of late '30s studio filmmaking. Basil Rathbone, Lana Turner, Sigrid Gurie, Binnie Barnes and Alan Hale co-star in the B&W film, brought to DVD here by Warner Archives in a 4:3 transfer with mono audio…Volume 4 of THE BOWERY BOYS serves up 12 more Monogram/Allied Artists features starring Leo Gorcey and company, spanning from the 1947 Mr. Hex to 1948's Trouble Makers; Triple Trouble (1950); Bowery Battalion (1951); Here Come the Marines (1952); Jungle Gents (1954); Bowery to Bagdad, Sky Chasers and Jail Busters 91955), Fighting Trouble (1957), Hold That Hypnotist (1957), and the final "Bowery" release, 1958's "In the Money." The seven latter features are presented in 16:9 (1.85) with 4:3 (1.33) B&W transfers on the remaining productions. A must for Bowery buffs!
---
Gory, graphic and ghoulishly entertaining, Season 2 of NBC's acclaimed HANNIBAL (561 mins., 2013) finds Hugh Dancy's Will Graham confined to a mental asylum, blamed for Hannibal's (Mads Mikkelsen) devious behavior. Even Will's boss (Laurence Fishburne) questions his behavior, even as he picks up the slack, taking on new cases with Dr. Lecter advising Graham's superior. Critics seem to be more enamored with "Hannibal" than viewers, seeing as the NBC series has only mustered minor ratings. These days, though, even consistently "marginal" numbers is better than nothing, and "Hannibal" has been renewed for a third season – to the delight of fans everywhere. Lionsgate's Season 2 Blu-Ray release includes the "This is My Design" documentary; several featurettes; commentaries with cast and crew members; a gag reel; deleted scenes; and a "Post-Mortem with Scott Thompson." Digital HD copies are included along with 1080p (1.78) transfers and 5.1 DTS MA soundtracks…More wholesome entertainment is certainly present in Season Three of LITTLE HOUSE ON THE PRAIRIE (aprx. 18 hours, 1976-77), Michael Landon's classic NBC series. 21 complete and uncut episodes have been fully remastered here in splendid 1080p (4:3) transfers with DTS MA audio. Added bonuses: a Digital Ultraviolet HD copy and "The Little House Phenomenon Part Three," examining "Casting Walnut Grove." Highly recommended!
Guy Pearce and Robert Pattinson muddle their way through a post-Apocalyptic Outback – but manage to miss Mad Max – in David Michod's depressing if stylish ROVER (102 mins., 2014, R). Lionsgate brings the slow-moving, futuristic character drama to Blu-Ray September 23rd boasting a featurette, Digital HD copy, 1080p (2.40) transfer and 5.1 DTS MA audio…GAME OF ASSASSINS (80 mins., 2013, R) finds a group of disparate losers holed up together in an incinerator, realizing that they have to work together in order to escape their fate. This low-budget cash-in on "The Maze Runner" seems to have been perfectly timed to hit video at the same time that young-adult movie reaches theaters – coincidence? (Ha!). Lionsgate's DVD includes a 16:9 transfer, Digital HD copy, and deleted scenes…PETALS ON THE WIND (90 mins., 2014) is the second of author V.C. Andrews' books to receive a Lifetime TV-movie treatment this year. Heather Graham and Ellen Burstyn return in this follow-up, with Rose McIver and Wyatt Nash inheriting the roles of an older Cathy and Christopher, respectively. Lionsgate's DVD comes with a digital copy, 16:9 transfer and 5.1 soundtrack…WARRIOR PRINCESS (96 mins., 2014, R) finds its title character having to choose between her husband and her father – ruler of a rival land – in this Mongolian import. Lionsgate's DVD includes a 16:9 transfer, digital copy and 5.1 soundtrack in either Mangolian or English dubbed…JUNGLE MASTER (82 mins., 2014, PG) offers the voices of David Spade, Christopher Lloyd, Jon Lovitz, Jane Lynch and Victoria Justice in a wacky CGI-rendered animated adventure set in a magical rainforest. A featurette, bonus episodes, 16:9 (2.35) transfer and 5.1 Dolby Digital sound are included in Lionsgate's DVD, currently a Walmart exclusive…Ethan Embry, Ving Rhames, Clea DuVall, Vinnie Jones and Cary Elwes star in ARMED RESPONSE (94 mins., 2013, R), a thriller about a home security company that decides to start robbing homes in order to drive up business! Lionsgate's DVD once again includes a digital copy and 16:9 (2.35) transfer with 5.1 Dolby Digital sound and a commentary track.
---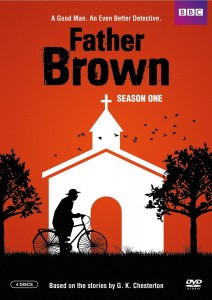 BBC Home Entertainment New Releases
BBC has a number of new titles available this month, starting with the first season of FATHER BROWN (469 mins., 2014), the enjoyable adaptation of G.K,. Chesterton's books shot on location in the Cotswolds. Mark Williams stars as the title character – a crime-solving priest who uncovers the mysteries surrounding the otherwise quaint village of Kembleford during the 1950s. Good-natured and well-acted, "Father Brown''s first season has been compiled in a four-disc DVD set from BBC. Extras include behind-the-scenes footage and interviews with the cast and crew.
Also new from BBC this month: Season 2 of DEATH IN PARADISE (466 mins., 2013) again stars Ben Miller as British cop Richard Poole, who's assigned to investigate crimes on the the lovely island of Saint Marie alongside local Camille Bordey, who assists Poole in a series of cases – runing the gamut from murdered nuns to a pirate curse. BBC's multi-dsc DVD set includes lovely 16:9 transfers and stereo soundtracks…Suzanne Jones and Lesley Sharp return in Season 2 of SCOTT AND BAILEY (359 mins., 2013) as detectives Janet and Rachel, who here tackle the murder of two men while trying to set various domestic issues – including Janet's decision to leave her husband and Rachel's brother appearing on the scene – straight. A behind-the-scenes segment is included in BBC's double-disc DVD set sporting 16:9 transfers and stereo soundtracks…In Season 2 of DCI BANKS (270 mins., 2012), Stephen Tompkinson reprises his role as Peter Robinson's Detective Chief Inspector Alan Banks, here having to work with Annie Cabbott's replacement, the placid Helen Morton (Caroline Catz), in a myriad of new cases. Banks also finds himself linked to a murder during the second season, which aired domestically on PBS. BBC's DVD release includes 16:9 transfers and stereo soundtracks…Finally, Peter Capaldi takes over as DOCTOR WHO in DEEP BREATH (80 mins., 2014), the introductory episode to the new Doctor with Jenna Coleman reprising her role as Clara. A number of extras (Prequel Scene, Behind the Scenes, Doctor Who Live, Real History of Science Fiction: Time) add value to this fan-geared release offering a 1080i transfer and 5.1 DTS MA sound.
STAGEFRIGHT Blu-Ray (90 mins., 1987, Not Rated; Blue Underground): "Cemetary Man" director Michele Soavi made his directorial debut with this oddball, gory 1987 thriller about a killer and asylum escapee who threatens the lives of actors rehearsing a musical – coincidentally about a mass murderer – in a theater nearby! "Stagefright" is filled with the expected gore and should be of chief interest for Italian horror buffs, particularly since Soavi was a disciple of genre great Dario Argento. Blue Underground's new Blu-Ray, available September 23rd, is loaded with extras, including interviews with Soavi, stars David Brandon and Giovanni Lombardo Radice, make-up artist Pietro Tenoglio, and composer Simon Boswell. The 1080p transfer is crisp and both 5.1 and 2.0 DTS MA sound add the icing to the (bloody) cake.
A LONG WAY DOWN Blu-Ray (96 mins., 2014, R; Magnolia): Four strangers (Pierce Brosnan, Toni Collette, "Breaking Bad"'s Aaron Paul and Imogen Poots) decide to end their lives on New Year's Eve before they meet on a London rooftop and opt to take six weeks to see if life is worth living. The results are fairly predictable in this adaptation of Nick Horby's ("About a Boy") novel, but the performances are appealing and director Pascal Chaumeil keeps the material moving. Co-starring Rosamund Pike and Sam Neill, Magnolia brings "A Long Way Down" to Blu-Ray offering a robust assortment of extras (deleted scenes, outtakes, Making Of, interviews, featurettes, the trailer) plus a 1080p (2.35) transfer with 5.1 DTS MA audio.
NEXT TIME: THE INNOCENTS and Polanski's MACBETH join the Criterion Collection. Until then, don't forget to drop in on the official Aisle Seat Message Boards and direct any emails to our email address. Cheers everyone!