Not a horror film per se but a striking, bold and unforgettable rendition of Shakespeare's play with many chilling moments, Roman Polanski's MACBETH (***½, 141 mins., 1971, R) has, at last, received a Criterion Collection release that ranks among the year's finest.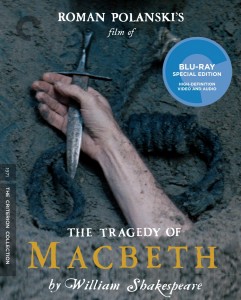 Back in 8th grade, we studied "Macbeth" and, following a full couple of weeks on the play, were treated to a VHS screening of Polanski's film. It might have been a 20-something inch TV, and a lousy, ugly pan-and-scan transfer of the picture, but even in those less-than-optimal viewing conditions, the power of Polanski's film was something that struck me as a young viewer – and it certainly wasn't dull!
Investing the play with a striking visual pallet, Polanski's "Macbeth" is first and foremost a motion picture experience, a cinematic rendering of Shakespeare, as opposed to a slavishly faithful, stage-bound version of its source material. Polanski and his co-writer Kenneth Tynan pared down some elements of the original text and altered others, but did so in order to produce a truly eerie film that follows the title character (memorably played by Jon Finch) and his descent into madness after he and his scheming wife (the intoxicatingly attractive Francesca Annis) murder King Duncan of Scotland in order to gain the throne.
Though much was made of Polanski having made "Macbeth" as his first feature after the murder of his wife Sharon Tate, one can simply look at the film as a companion piece to his earlier outings in the horror genre. The spooky witches who relay to Macbeth the prophecy that sets him on his murder spree, the supernatural dagger that appears before him, and the ghostly corpse of Banquo (Martin Shaw) that hounds Macbeth make for an unsettling and creepy picture – as haunting as any Shakespeare film you'll ever see.
Just as impressive is the sheer look and design of the film. Cinematographer Gil Taylor, who also shot – among dozens and dozens of pictures – "Star Wars" and John Badham's "Dracula," artfully frames the entire movie with atmosphere and detail. Filmed at Shepperton Studios as well as on-location in the British Isles, "Macbeth" is a dark, gritty and also breathtakingly alive production – a true cinematic achievement for Polanski, who took a number of hits from critics of the day for the movie's violence and nudity (as well as the involvement of "Playboy Productions" and publisher Hugh Hefner, who bankrolled the film with Columbia Pictures). These days, it has aged incredibly well – a daring and exciting picture that ranks with the finest interpretations of The Bard ever committed to celluloid.
Criterion's transfer is marvelous, capturing all the Wales locales, costumes and authentic period detail in a 4K digital restoration supervised by the director. Suffice to say it looks far better than any home video release I've seen of the movie (and, indeed, puts that 8th grade screening to shame). The audio has been encoded as a 3.0 (LCR) DTS MA track, with the weird score by the Third Ear Band being one of the film's lesser aesthetic attributes (thankfully there isn't a whole lot of it, though what there is stamps the soundtrack as a product of its era).
Special features include a rich, hour-long documentary on the film, sporting new interviews with Polanski, producer Andrew Braunsberg, Annis, and her co-star Martin Shaw. Running the gamut from pre-production through filming and the movie's disappointing theatrical release, this is a compelling look at the creation of Polanski's "Macbeth." Given Finch's superb central performance, it's especially interesting to hear Annis' recollections of working with the actor, who was once in the running to play James Bond but turned it down – and, in general, shunned what may have been a hugely successful career as a "movie star." There's also a vintage, 47-minute on-set documentary; a conversation with Tynan from the Dick Cavett Show (which only briefly discusses "Macbeth"); a 1972 segment from the British series "Aquarius" on the film; and original trailers, one of which heralds the opening of the brand-new Playboy Theater.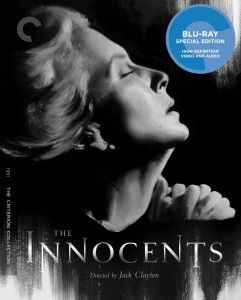 Jack Clayton's THE INNOCENTS (****, 100 mins., 1961) ranks as one of the all-time great supernatural chillers and also joins the Criterion Collection this month in a similarly spellbinding new 4K restoration on Blu-Ray.
Deborah Kerr plays a governess to a pair of children (Pamela Franklin, Martin Stephens) haunted by the deaths of their previous caretaker and the estate's sadistic handyman. The question in William Archibald and Truman Capote's script (adapted from Henry James' "Turn of the Screw") is whether or not the behavior of the children was influenced by their peers, or if something supernatural is tormenting them still.
Eloquently shot in Cinemascope by Freddie Francis, "The Innocents" is a sterling example of the genre at its finest. Maturely directed and written, this is a movie that not just holds up to multiple viewings but actually encourages them. Though ambiguous enough that any explanation can be viewed as valid, Clayton still seasons his film with ample evidence that something ghostly is indeed occurring…regardless of Kerr's mounting insanity. The performances of Kerr, Stephens and Franklin are eerie and pitch-perfect, and George Auric's score (which was reportedly reworked by credited music supervisor Lambert Williamson) offers a creepy main theme with lyrics by Paul Dehn that's nearly as unsettling as the film itself.
Making its U.S. debut from Criterion, their "Innocents" sports a new and much improved transfer over the BFI UK Blu-Ray. Restored in 4K, it boasts gorgeous detail that enables viewers to gain an even fuller appreciation of Freddie Francis' cinematography, with the entire image looking much more consistent from start to end than I've ever seen it before. The uncompressed LPCM audio, meanwhile, does as much as it can to relay the film's original monophonic recording.
Special features are highlighted by a 13-minute segment comprised of 2006 interviews with editor Jim Clark, cinematographer Freddie Francis and script supervisor Pamela Mann. The featurette provides a general overview of the film in material exclusively shot for the Criterion release. There's also a 20-minute conversation with veteran cinematographer John Bailey, who discusses Fox's early use of widescreen and how Francis applied the Cinemascope mandate to his work on the picture; the trailer; and Sir Christopher Frayling's commentary and 23-minute on-screen monologue about the film, both carried over from the BFI release.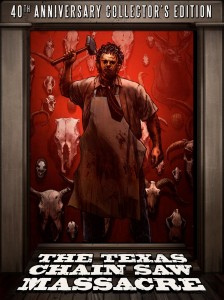 One of my personal favorites, "The Innocents" was rightly touted as one of the first cinematic ghost stories "for adults." Even today the picture holds up remarkably well, with unnerving moments, fantastic performances, and an ending that still sends shivers up my spine. Essential for any genre buff's home video collection, this Criterion release improves, immeasurably, on all previous home video releases of the picture.
Horror fans, meanwhile, will also want to add Dark Sky's new TEXAS CHAINSAW MASSACRE (***, 83 mins., 1974, R) 40th Anniversary Edition to their libraries. A fully restored 4K transfer is the main draw to the four-disc, multi-format BD/DVD package, and although the film's 16MM cinematography will always limit the amount of detail present in the image, it's still a nice enhancement on the film's prior Blu-Ray release.
Extras are bountiful, starting off with four different commentaries (two of which have been carried over from prior releases): one from director Tobe Hooper, "Leatherface" himself Gunnar Hansen and cinematographer Daniel Pearl; a cast commentary featuring Marilyn Burns; and two brand-new, release-exclusive commentaries with Hooper and another with cinematographer Daniel Pearl, editor J. Larry Carroll and sound recordist (and later Full Moon filmmaker) Ted Nicolaou. The "Collector's Edition" bonus disc includes multiple documentaries; brand-new deleted scenes and outtakes; bloopers; a Horror's Hallowed Grounds featurette; 40th anniversary trailer; radio, TV and trailers. Highly recommended!
---
Remember a time when most summer movies weren't sequels, prequels or remakes? Sure, there were some sequels that were big hits in the Summer of 1984 ("Indiana Jones and the Temple of Doom" and "Star Trek III: The Search for Spock" fitting the bill on that end), but the season was populated with blockbusters that today would be called "original intellectual properties": "Gremlins," "The Karate Kid," "The Last Starfighter," "Red Dawn," "Revenge of the Nerds," and even films that have gone on to achieve some degree of a cult following like "Buckaroo Banzai," "Dreamscape," and the Henry Thomas-Dabney Coleman thriller "Cloak and Dagger."
The biggest of them all was GHOSTBUSTERS (***½, 105 mins., 1984, PG), Columbia's expensive scare comedy with Bill Murray, Dan Aykroyd and Harold Ramis starring as a trio of New York City's finest paranormal investigators. Ivan Reitman's film was certainly cutting edge for its day thanks to Richard Edlund's superb F/X as well as a script that married a healthy dose of humor with supernatural horror, the latter in the form of a demon named Gozer seeking to cross over into our world via the apartment building of unknowing classical musician Sigourney Weaver.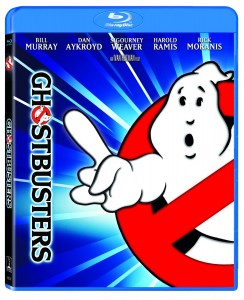 Unlike many prior attempts at mixing genres up to that point, the movie took its fantasy elements seriously enough so that its technology wasn't laughed off the screen (indeed, the technical wizardry earned the film a well-deserved Oscar nomination for visual effects), while allowing the laughs to flow naturally through character interaction and Murray's wisecracks, all perfectly punctuated in the script by Aykroyd and Ramis (which, as legend has it, was once supposed to star Aykroyd's late "Blues Brothers" cohort John Belushi as well as John Candy).
Only a bit of the freshness of "Ghostbusters" has worn off in the 30 years since the movie's original release, no surprise seeing that countless imitators and other "genre-blenders" followed in the film's wake. What stands out in the film especially today are the bouncy soundtrack, offering one of Elmer Bernstein's most memorable '80s scores as well as Ray Parker, Jr.'s classic theme song; Edlund's effects and Laszlo Kovacs' superb Panavision cinematography; and, of course, the performances, particularly the smaller character bits filled out by Rick Moranis as Weaver's yuppie accountant neighbor (Moranis is absolutely hysterical once he's possessed, to the degree where one wishes there had been more of him on-screen); Annie Potts as Janine, the boys' sarcastic secretary; and William Atherton as an obnoxious EPA rep who ultimately closes the Ghostbusters down, unleashing a swarm of supernatural activity in the process. Together with the chemistry between Murray, Weaver, Aykroyd and Ramis, "Ghostbusters" still functions as an uproarious '80s comic fantasy.
That's regrettably not the case with GHOSTBUSTERS II (**½, 108 mins., 1989, PG), which – much like "Gremlins 2″ – took too long to get made and was viewed as a major letdown when it was eventually released in the busy summer of '89. Though the film is still entertaining simply because of its reunion of the original cast, the contrived screenplay by Aykoyd and Ramis comes across as an engine that's forever trying to get into first gear but sputters along with only occasional flashes of inspiration.
Driven far more by plot than laughs, the sequel reunites the Ghostbusters when a stream of slime under the streets of New York City starts to rise and a painting housing the spirit of the vile "Vigo the Carpathian" wants to be reborn in the guise of Sigourney Weaver's infant son. Cue the original team, who take on Vigo as well as the slime stream, whose power is generated by the foul mood of the NYC populace (one of the few truly bright ideas in Aykroyd and Ramis' script).
Despite all the visual trimmings and nice, early-digital FX work from ILM – including a re-animated Statue of Liberty walking down the streets of the city – "Ghostbusters II" really does feel like a labored affair. The first section of the film is the funniest, finding Murray as a host of a shlocky cable talk show, in material that might have been better served if it had been better developed. Once the gang gets back together again, they have to convince the Mayor, yet again, that there's a menace out there, while Peter MacNicol mugs to little effect as Weaver's artist boss, who becomes infected with Vigo's soul (Vigo himself is voiced by an uncredited Max Von Sydow). I've always thought that MacNicol's performance was based on Bronson Pinchot's "Beverly Hills Cop" turn as Serge, but whatever the case may be, it's always been one of the movie's major weaknesses. There are a couple of funny moments along the way but the shift in characterization among some of the supporting players – namely Rick Moranis' Louis Tully and Annie Potts' secretary Janine – was also poorly conceived. Moranis especially has little to do here, and once can sense the filmmakers attempting to shoehorn the character into assorted places just to give him screen time. William Atherton's bureaucratic villainy is also sorely missed, with Kurt Fuller a weak substitute as the Mayor's new Doubting Thomas.
Though the sequel was a box-office success, it was far from the phenomenon of its predecessor. When compared to the original, it's glaringly pedestrian, relying on the plot to drive it forward instead of the organic comedy that was generated in the first film. Still, Murray and Weaver in particular work well together again here, and the film is entertaining in spite of its shortcomings – it just has the feel of a retread coasting on past glories.
To commemorate the 30th Anniversary of "Ghostbusters," Sony has rolled out new, 4K-mastered Blu-Ray editions of both pictures, the former with new special features and the latter making its high-definition format debut.
"Ghostbusters"' AVC encoded 1080p BD transfer seems to be on-par with Sony's "Mastered in 4K" Blu-Ray re-issue from a year ago, which housed a notably stronger – if still not flawless – visual presentation than the movie's initial Blu-Ray release. This time around, most of the extras from prior Blu-Ray and DVD releases – left off the 4K disc – have been brought back here, including deleted scenes, the trailer, vintage featurettes, storyboard and multi-angle comparisons, the DVD commentary, and a "Slimer Mode" picture-in-picture interview track.
What's new is a 24-minute "roundtable" discussion with Aykroyd and Reitman recalling their work on the film, along with a poster gallery and several alternate takes from the TV version. Also making its home video debut here – incredibly – is the memorable music video of Ray Parker, Jr.'s "Ghostbusters" hit single. Interspersing the requisite film clips with Parker dancing around sparsely-decorated, neon-lit sets, the video is most notable for its interesting array of cameos, with Chevy Chase, John Candy, Irene Cara, Melissa Gilbert, Carly Simon, Peter Falk, Teri Garr and George Wendt among others all popping up to exclaim "Ghostbusters!"
As for "Ghostbusters II," the transfer is as outstanding as any I've seen for a catalog release. Almost three-dimensional detail and deep, gorgeous colors mark a spotless presentation from Sony, with a continuation of the Aykroyd-Reitman "Roundtable" from part 1 leading the way on the supplemental side. Their discussion is a bit too bland here for my tastes, glossing over some of the obvious issues with the sequel; more interesting is Aykroyd's brief discussion of the multiple drafts he's written for the "Ghostbusters III" fans are still waiting for (as of this writing, it's unclear if Sony is going with any of his material since Paul Feig has since been hired to take his own stab at the long-gestating sequel).
Trailers and seven minutes of discarded scenes are shown for the first time, with at least one sequence – involving Moranis and Slimer – hinting at a subplot that could've resulted in something legitimately funny had it been developed. As it is, Slimer's involvement was unwisely reduced to a mere cameo – a particularly misguided decision given the character's popularity on the animated "Real Ghostbusters" series. Several trailers and a music video for Bobby Brown's "On Our Own" are also on-hand, the latter boasting a number of cameos (Moranis, Christopher Reeve, Donald Trump, Iman, Sally Kirkland, Lori Singer) as the then-superstar's visage pops up on billboards around the Big Apple.
Another catalog comedy has been dusted off by the Warner Archives in a gorgeous new HD transfer.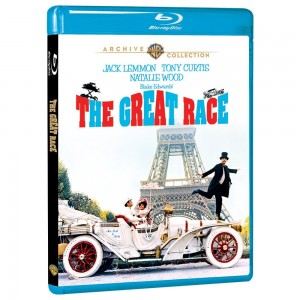 Blake Edwards' THE GREAT RACE (***, 171 mins., 1965, PG) was one of several "wacky race" pictures produced in the wake of Michael Todd's "Around the World in 80 Days," all involving period settings and international casts. This expensive Warner Bros. production was the best of the bunch, even though Edwards' film serves up a bloated running time in following the good-hearted Great Leslie (Tony Curtis) as he tries to triumph over nefarious Professor Fate (Jack Lemmon) – and henchman Peter Falk – at the finish line in a New York to Paris automobile race. Natalie Wood is the journalist/suffragette who joins the fun in a movie filled with slapstick, glorious widescreen cinematography, goofy performances and a fantastic Henry Mancini score featuring one of his loveliest melodies in "The Sweetheart Tree," with lyrics by Johnny Mercer. In fact, hearing Mancini's music again has me wondering why there's never been a better soundtrack than the original LP, which offered limited, dated acoustics (with vocals and orchestra often coming out of separate channels).
There's no issue, at least, with Warner's fantastic Blu-Ray release. The 1080p (2.35) transfer is spectacular, the 5.1 DTS MA audio terrific (Mancini's music sounds far better here than it does on the RCA album), with extras including the trailer and a vintage documentary.
Also new from the Warner Archive this month is LOOPY DeLOOP: THE COMPLETE COLLECTION (315 mins.), a mostly-forgotten Hanna-Barbera cartoon about a French-Canadian wolf trying to change everyone's preconceptions about lupines around the globe. All 48 original theatrical Loopy shorts are collected here in Warner's Archive DVD set…THE DESERT SONG (111 mins., 1953) stars Kathryn Grayson and Gordon MacRae in the second of three Warner Bros. adaptations of the Sigmund Romberg/Oscar Hammerstein II musical. Appealing Technicolor cinematography and mono audio comprise Warner's 4:3 DVD transfer here, with an earlier version of the picture also now available from the Archives as well.
---
CHEF Blu-Ray (***, 115 mins., 2014, R; Universal): Jon Favreau returns to the land of the living with a starring role in his own "indie" about a hot-tempered chef – played by Favreau, and seemingly based somewhat on Guy Fieri – who loses his livelihood when he engages in a Twitter war with a top food critic (Oliver Platt) and is axed from his gig at a local restaurant run by Dustin Hoffman. On the road in Miami with his son and ex-wife (Sofia Vergara), Favreau's Carl Casper subsequently opts to start a food truck serving local specialties – and reconnect with his child in the process.
There aren't many surprises in Favreau's script, but this is a – to use the cliche – zesty character study with some big laughs and a series of appealing performances, particularly by Favreau himself. Recruiting numerous associates from past works – from Scarlett Johansson to John Leguizamo and a cameo by Robert Downey, Jr. – Favreau has served up a warm-hearted, serio-comic picture that's constantly entertaining and ultimately quite satisfying.
A nice tonic to most of this past summer's bloated blockbusters, "Chef" earned solid reviews and a highly respectable $25 million domestic gross. It's also poised to win over more viewers when it hits Blu-Ray and DVD September 30th from Universal. The BD/DVD combo pack includes some deleted scenes and a commentary from Favreau and chef/co-producer Roy Choi, who also produces the most appealing grilled cheese I've ever seen at one point in the picture.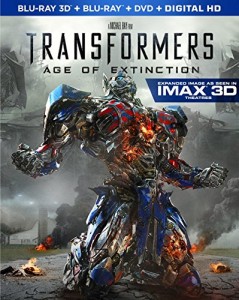 TRANSFORMERS: AGE OF EXTINCTION 3D Blu-Ray Combo Pack (**, 164 mins., 2014, PG-13; Paramount): After the Transformers are banished from our world after causing major damage to Chicago (among other venues), inventor Mark Wahlberg (really?) comes across an exiled Optimus Prime, who's called back into action to save the world again. This time the threat comes from our government, led by a shady business tycoon (a mugging Stanley Tucci) who's created his own brand of Transformers – one of which bears a passing resemblance to Megatron…
There's not a whole lot to write about "Age of Extinction." It's loud, impossibly overlong, and technically dazzling – much like the prior films in the series. Wahlberg is more acceptable than Shia LaBeouf, who's nowhere to be found here, though the remaining cast is mostly as bland as its predecessors (of course, nobody is going to see a "Transformers" film caring about the human cast to begin with). The plot isn't engaging, and it's all too much (as is, of course, the case with most of Michael Bay's films), but I assume kids and fans of the franchise will be captivated with the bombastic battle scenes and ILM's FX– beautifully rendered here in a reference-quality 3D transfer from Paramount – just the same.
Paramount's 3D combo pack is a four-disc set featuring a 3D Blu-Ray presentation that, between its depth of field effects and crisply detailed image, is just outstanding. This presentation of the film includes the "expanded image" as seen in IMAX theaters, while a standard BD offers the regular theatrical version on a second platter. A third disc boasts ample extras and behind-the-scenes documentaries, with a DVD and Ultraviolet digital copy rounding out the package. It's for fans only – but we all knew that already.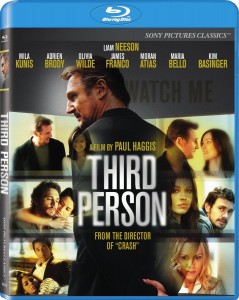 THIRD PERSON Blu-Ray (136 mins., 2014, R; Sony): Paul Haggis' latest didn't make a lot of noise last year, but it's at least a well-acted story of three couples around the world and their respective relationships with one another and their children. Liam Neeson, Kim Basinger and Olivia Wilde star in the Paris portion; Adrien Brody and and Moran Atias topline the Rome section; while in New York, Maria Bello, Mila Kunis and James Franco appear in a plot revolving around a custody dispute. Sony's Blu-Ray, out September 30th, includes a commentary with Haggis and members of the cast; a Making Of; Q&A with the director; 1080p (2.35) transfer and 5.1 DTS MA audio sporting a score by Dario Marianelli.
ARE YOU HERE Blu-Ray (114 mins., 2013, R; Millennium): "Mad Men"'s Matthew Weiner made his directorial debut and recruited a top-flight cast in Owen Wilson, Zach Galifanakis, and Amy Poehler for his first feature. So why is "Are You Here" bypassing a theatrical run and basically going straight to video and on-demand? The answers are fairly obvious in this disappointing drama-edy with Wilson playing a philandering weatherman who pals around with his bi-polar/often intoxicated best friend (a real stretch for Galifanakis given his past cinematic roles). Poehler plays Galifanakis's sister, who brings a legal challenge to the family fortune left to him. Weiner, who wrote and directed the film, can't seem to decide if he's making "Pineapple Express" or "Terms of Endearment," leaving the cast floundering in a near-total misfire. Millennium's Blu-Ray, out September 30th, includes a 1080p transfer, 5.1 Dolby TrueHD soundtrack and Weiner's commentary.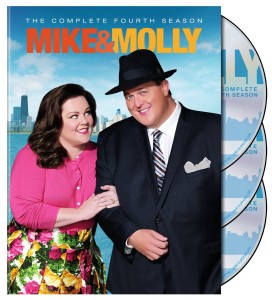 MIKE & MOLLY Season 4 DVD (433 mins., 2013-14; Warner): The fourth season of Melissa McCarthy's CBS sitcom tries to take more advantage of its star's comedic talents. First, McCarthy's Molly Flynn quits her teaching job and tries her hand at a number of prospective careers – failing spectacularly (of course) at all of them. Eventually, with the guiding help of a boozy, gay author (Susan Sarandon), Molly channels her inner Sue Grafton and attempts to become a mystery novelist – much to the consternation of husband Mike (the underrated Billy Gardell). Though the early episodes of "Mike & Molly"'s fourth season seem to be straining to give McCarthy more physical comedy, eventually the series settles down into a nice groove, playing off the talents of its ensemble cast. Warner's DVD, available September 30th, includes all 22 episodes in 16:9 (1.78) transfers and 5.1 soundtracks with a gag reel on the supplemental side
Now available this week from Warner is Season 1 of another Chuck Lorre-produced CBS sitcom, MOM (459 mins., 2013-14), starring Anna Faris as a recovering single mother who rekindles her relationship with her own mom (Allison Janney). Some cutting humor and somewhat more serious storylines mark "Mom," which I didn't particularly care for, though some friends have said it improves over the course of its first season. Either way, Warner's DVD is now in-stores offering all 22 episodes with 16:9 (1.78) transfers, 5.1 soundtracks and another gag reel.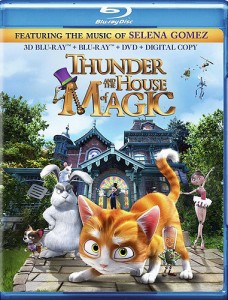 IVORY TOWER Blu-Ray (90 mins., 2014, PG-13; Paramount): Andrew Rossi's documentary looks at the rising cost of college tuition, where the money goes, and whether or not a degree is worth what it once was. This CNN documentary – one of several the network has launched recently in the hopes of propping up sagging ratings – posits a number of interesting questions throughout its 90 minutes. Paramount's Blu-Ray, available September 30th, includes a 1080p transfer, deleted scenes, Q&A session and 5.1 DTS MA audio.
DISASTER L.A.: THE LAST ZOMBIE APOCALYPSE BEGINS HERE Blu-Ray (83 mins., 2014, Not Rated; Warner): Turney Clay wrote, produced, directed, edited, photographed and composed the score for this low-budget shlocker about a zombie outbreak that impacts L.A. after a meteorite strikes the City of Angels. Predictable and short, this is a by-the-numbers small-screen affair brought to Blu-Ray this month from Warner Home Video offering a 1080p transfer and 5.1 DTS MA audio.
Upcoming From Shout: A pair of foreign animated films make their debuts on Blu-Ray and DVD shortly from Shout! Factory. The superior of the duo is THUNDER AND THE HOUSE OF MAGIC (87 mins., 2012), a Belgian film about a lost cat who ventures into a mansion owned by a retired magician with a fetish for Rube Goldberg devices. Colorfully animated with both 3D and 2D versions presented in Shout's combo pack, kids should enjoy the fun when the disc hits Walmart exclusively on September 30th. In addition to 1080p transfers and 5.1 DTS MA audio., the release includes a digital copy, Making Of featurettes and other goodies. Less successful is JACK AND THE CUCKOO-CLOCK HEART (89 mins., 2013, PG), a French-animated film from Europacorp set in Edinburgh circa 1874 where a young boy is born with a frozen heart, causing a midwife to save his life with a cuckoo-clock inserted inside his body. The animation, which looks like something out of a Tim Burton production, is agreeable, but the music by Dionysos is just atrocious, and likely will appeal only to French viewers. Shout's Blu-Ray combo pack, out October 7th, includes a digital copy, a couple of featurettes, and a DVD.
---
SORDID LIVES Blu-Ray/DVD (111 mins., R; Wolfe Video): Del Shores' offbeat comedy follows a gay actor who returns to his Texas hometown for a funeral, and runs into a variety of eclectic characters from his own family in the process. Shores receives a number of memorable turns from a game cast including Delta Burke, Olivia Newton-John, Bonnie Bedelia and Leslie Jordan in a cult film Wolfe Video brings to Blu-Ray on September 30th. The BD/DVD combo pack includes new interviews with the cast and crew, commentary from the previous DVD, 5.1 surround and a 1080p transfer.
Coming from Virgil Films is AFTER (101 mins., R), Pieter Gaspersz's film that strives to be "Ordinary People" in upstate NY circa 2002. Kathleen Quinlan is the sole recognizable face in the crowd in this indie, which Virgil releases on DVD September 23rd featuring a 16:9 transfer and 5.1 Dolby Digital sound.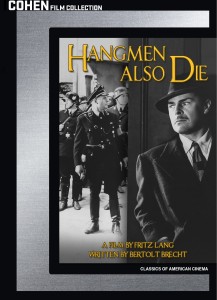 New From Cohen Film Collection: Fritz Lang's 1943 drama HANGMEN ALSO DIE (135 mins.) has landed on Blu-Ray in high-definition from Cohen. This gorgeously shot espionage thriller – kudos to the great James Wong Howe – boasts a script by Bertolt Brecht and Lang and comes complete with a minute of previously censored footage, here restored to the film thanks to a restoration funded by Cohen with the BFI and Pinewood Studios. Extras include a half-hour talk with historian Rober Gerwarth; an illustrated essay from professor Peter Ellenbrunch; a commentary from Richard Pena; a 1942 German newsreel; 2014 re-release trailer; and a restoration demo. The 1080p transfer and LPCM audio are perfectly fine for a film that makes an interesting companion piece with Twilight Time's recent Blu-Ray of Lang's "Man Hunt."
From Cinedigm: Brian Netto's DELIVERY: THE BEAST WITHIN (88 mins., 2014, Not Rated) follows a young couple (Laurel Vail, Danny Barclay) who decide to participate in a reality show about their first baby. Little do they know there's an ulterior motive to the production in this "Rosemary's Baby Meets Found Footage" horror outing that's creeper in concept than execution. Cinedigm's DVD, out September 30th, includes a 16:9 transfer and 5.1 Dolby Digital soundtrack.
Well Go New Releases: Nick Principe stars in Ravi Dhar's gory AMERICAN MUSCLE (78 mins., 2013, Not Rated), a brief thriller about an ex-con who heads out on the Yucca Valley to exact revenge on the men who put him behind bars. Straightforward and viscerally interesting though, dramatically, the film doesn't really register, "American Mustle" is a not-bad exploittation piece for genre fans. Well Go's Blu-Ray hits stores September 30th with extras including commentary from Dhar, the trailer, a 1080p transfer and DTS MA audio.
NEXT TIME: The latest from Twilight Time! Until then, don't forget to drop in on the official Aisle Seat Message Boards and direct any emails to our email address. Cheers everyone!