Revolution is one of the shared narrative components in the bulk of Twilight Time's September releases, which are highlighted by one of James Woods' finest performances.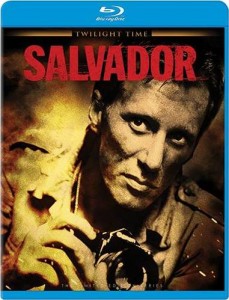 In SALVADOR (123 mins., 1986, R), Woods plays Richard Boyle, an erratic journalist/hustler who heads down to El Salvador to document the country's peasant revolution along with his pal Doctor Rick (Jim Belushi). In the process, Boyle falls for a single mother (Elpedia Carrillo) with a pair of children caught up in the struggle against military oppression. With a strong Georges Delerue score, "Salvador" is a typically undisciplined – and occasionally powerful – project from Stone, whose political ideology comes across loud and clear throughout the movie's two hours. What's less clear is his script, written with Boyle, that's a bit all over the place in terms of tenor and tone. While there's no mistaking the movie's energy, the story doesn't feel entirely authentic as it plays out, nor does Belushi, just playing Belushi, in a performance that nearly looks like it belonged in an SNL sketch. What holds the film together is Woods' performance as an bottom-feeder opportunist, anchoring the chaotic nature of Stone's "Salvador" in a turn that ranks as one of the actor's best.
A Hemdale release, "Salvador" earned some strong reviews that would be mostly forgotten by the time Stone's "Platoon" opened later in 1986. Twilight Time's Blu-Ray includes an isolated score track, Stone's commentary, Making Of, deleted scenes and the trailer, as well as a detailed and healthy 1080p (1.85) transfer with 5.1 DTS MA audio.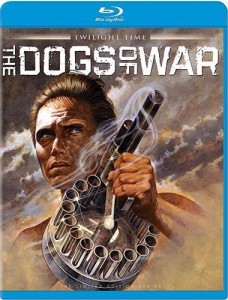 Derided as one of the biggest cinematic jokes of its era, Richard Fleischer's CHE! (96 mins., 1968, PG) is an interesting film from a fascinating cinematic era, right about the time when studios began venturing away from reliable studio conventions and towards the experimental approach of the 1970s. Fleischer was coming off one of his best films – "The Boston Strangler" – when he helmed "Che!," a comic-booky treatment of revolutionary Che Guevara's (Omar Sharif) involvement with the Cuban Revolution and Fidel Castro…played by, yes, Jack Palance. Beyond the insanity of Palace's casting, "Che!" isn't nearly as bad as its reputation would lead you to believe. It's something of a hybrid of an old-time Hollywood studio picture, with a plot concocted by Sy Bartlett and Michael Wilson, meshed with some eclectic filmmaking touches, including faux interviews about how Che helped to define present-day Cuba. Lalo Schifrin's score and striking widescreen cinematography mark this odd Fox production, along with a serviceable 1080p (2.35) transfer, 2.0 DTS MA mono audio, isolated score track, vintage featurette, TV spot and the trailer.
THE DOGS OF WAR (119/104 mins., 1980, R) finds Christopher Walken leading a team of mercenaries trying to topple the regime of an African nation in a solemn adaptation of Frederick Forsyth's novel. Tom Berenger and Colin Blakely co-star in John Irvin's 1980 film (be on the lookout for early appearances by JoBeth Williams and Ed O'Neill as well), which is superbly shot by the great Jack Cardiff and marked by a mature, realistic tone. That said, the movie lacks the kind of fun one might expect from its cast and subject matter – far removed from the likes of "The Wild Geese," "The Dogs of War"'s leisurely pacing and dour mood don't translate all that well to repeat viewing, no matter how "authentic" the picture is. TT's Blu includes the original 119-minute British version as well as a cut-down 104 minute U.S. cut, which was no doubt intended to address the movie's sluggish pace. The trailer and an isolated score track of Geoffrey Burgon's soundtrack are also on tap plus a satisfying 1080p (1.85) transfer with 2.0 DTS MA sound.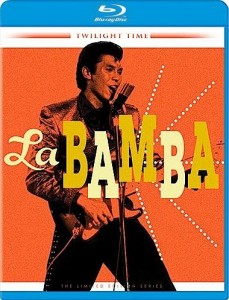 One of Sam Peckinpah's lesser pictures, THE KILLER ELITE (123 mins., 1975, PG) finds James Caan and Robert Duvall as contract killers working for hire with the CIA who become wrapped up in double-crosses and government spooks. Marc Norman and Stirling Silliphant are credited with this adaptation of Robert Rostand's novel, but despite a couple of well-executed action scenes and a terrific cast – with Gig Young, Arthur Hill, Bo Hopkins, Burt Young and Mako lending support – this is rightfully regarded as one of Peckinpah's weakest outings, marked by a convoluted story that's not particularly entertaining. What's more satisfying is the 1966 Peckinpah television adaptation of "Noon Wine," an hour-long drama produced as part of ABC's short-lived "Stage 67," starring Jason Robards, Olivia de Havilland and Theodore Bikel. Coming off troubled projects like "Major Dundee," Peckinpah fashioned a memorable filming of Katherine Anne Porter's downbeat short novel about a Texas farmer whose life is turned upside down after the arrival of a mysterious stranger. Transferred off a standard-def videotape, "Noon Wine" has more to offer than "The Killer Elite," which is presented in a 1080p (2.35) HD transfer preserving Philip Lathrop's fine Panavision cinematography. Jerry Fielding's score is isolated with other extras including a couple of featurettes, TV/radio spots, the trailer, and commentary on both productions from Peckinpah experts Nick Redman, Paul Seydor, and Garner Simmons.
Rounding out Twilight Time's first releases of fall is LA BAMBA (109 mins., 1987, PG-13), the straightforward and rock-solid biopic of Ritchie Valens, who quickly shot from a high-school student in the San Fernando Valley to become one of pop music's hottest rising stars – only to see that life prematurely extinguished in the same plane crash that killed Buddy Holly (see Twilight Time's release of "The Buddy Holly Story" last month). Taylor Hackford produced Luis Valdez's finely-acted drama, which turned Lou Diamond Phillips into an overnight star and sold millions of soundtrack albums through Los Lobos' cover of the title song. There's also an underscore composed by Carlos Santana and Miles Goodman, which has been isolated here, plus other extras including commentaries with Valdez, Phillips and Esai Morales, who essays Valens' hot-tempered older brother, and another chat with Hackford and Daniel Valdez. The 1080p (1.85) transfer and 5.1 DTS MA soundtrack are top-notch, as you'd anticipate from a Sony licensed title.
---
SNIPER: LEGACY DVD (98 mins., 2014, R; Sony): This latest entry in the long-running "Sniper" series is the franchise's fifth – with Tom Berenger back as Thomas Beckett, who first essayed the role in the original "Sniper" 21 years (!) ago. If that doesn't take you back, then this agreeably old-school, direct-to-video affair scripted by veterans John Fasano and director Don Michael Paul might, as Beckett's son, Brandon (Chad Michael Collins), is sent to dispatch an assassin killing off high-ranking military officers. Dennis Haysbert co-stars in this new "Sniper," which Sony releases on DVD this week offering a 16:9 (1.78) transfer with 5.1 Dolby Digital sound.
REIGN Season 1 DVD (900 mins., 2013-14; Warner): CW series follows the life of Mary Stuart after she heads to France to marry the King in a more lightweight, soapy treatment of the historical record than we've seen in the past. Fans of "Reign" have said the show doesn't take itself too seriously and knows exactly what it is – a teen-oriented series that's not exactly Merchant-Ivory in nature – and Warner's Season 1 DVD set preserves the freshman year of the program in 16:9 transfers with 5.1 Dolby Digital soundtracks. Extras include two featurettes and deleted scenes.
FROM DUSK TILL DAWN – Season 1 Blu-Ray (452 mins., 2014; E One): Many viewers may not have access to Robert Rodriguez's new "El Rey" cable channel, making E One's release of the first season of "From Dusk Till Dawn" the first opportunity they have had to see the series. This small-screen reworking of Rodriguez and Quentin Tarantino's overhyped '90s vampire-thriller (never one of my favorites) proves to be more satisfying than the film it was based on, even though it utilizes the same scenario – with bank robbers the Gecko brothers running afoul of vampires in rural Texas. E One's Blu-Ray is packed with extras, including commentary from Rodriguez, cast members and the producers; on-set featurettes; behind-the-scenes segments; commercials; a SXSW featurette; Alamo Drafthouse Q&A; 1080p (1.78) transfers and DTS MA soundtracks.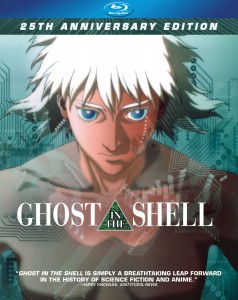 GHOST IN THE SHELL 25TH ANNIVERSARY Blu-Ray (82 mins., 1995, Not Rated; Anchor Bay): One of the seminal films of the anime generation, "Ghost in the Shell" has received a good-looking Blu-Ray transfer from Anchor Bay. Shirow Masamune's original magna is regarded as a cyberpunk classic, with government cyborg agents working to take down the sentient being known as "The Puppet Master" that threatens the world with a virus that can possess human hosts. A violent and thought-provoking film that's long captivated genre fans, Anchor Bay's 1080p (1.78) transfer is generally clean with strong colors. The movie's Japanese audio is here mixed in 2.0 Dolby Digital while the English track receives a stronger 5.1 DTS mix. Despite the lack of extras, this is a fine catalog release from Anchor Bay and well worth tracking down for anime buffs.
Also new from Anchor Bay is GRAVE HALLOWEEN (89 mins., 2013, R), a Syfy Channel movie about an American exchange student (the lovely Kaitlyn Leeb) who heads to a forest near Mount Fuji looking for information about her dead birth mother – only to run into a sacred burial site packed with ghosts and other 'J-Horror' cliches. Cinetel Films is one of the better producers of Syfy's original movies, but this is a pretty limp horror exercise rated R for some added gore on Anchor Bay's DVD. The disc also includes a 16:9 (1.78) transfer and 5.1 Dolby Digital soundtrack.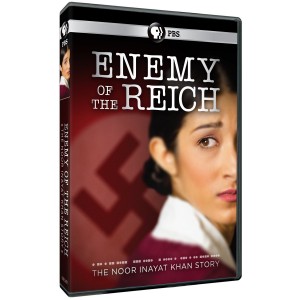 PBS New Releases: Available this week on DVD, ENEMY OF THE REICH: THE NOOR INAYAT KHAN STORY (55 mins., 2014) is a fascinating profile of a British agent – with an American mother and Indian-Muslim father – who grew up in Paris and became an op in Winston Churchill's Special Operations Executive. Her work as the only surviving radio operator who linked the British to the French Resistance in Paris is given a compelling, hour-long treatment in this PBS documentary, narrated by Helen Mirren. PBS' DVD includes a 16:9 transfer and stereo soundtrack. Highly recommended.
Coming next week from PBS is THE ALMIGHTY JOHNSONS (465 mins., 2011), a New Zealand produced series about four brothers who find out that they're Norse gods upon turning 21. Unfortunately, none of the guys have particularly strong powers, leading the youngest – Axl – to embark on a quest to find his beloved and unite the house of Asgard in the present day. The creators of "Whale Rider" produced this easy-going, entertaining series that's been recently running on the SyFy Channel, with PBS' Blu-Ray offering 1080i video, 2.0 stereo soundtracks and fully uncut episodes…Also available October 7th on DVD is MR. CIVIL RIGHTS: THURGOOD MARSHALL & THE NAACP (60 mins., 2014), a look at the civil rights attorney's – and eventual Supreme Court justice – victory in the landmark 1954 Brown V. Board of Education Supreme Court decision. Marshall's background is profiled in this hour-long PBS documentary narrated by Mary Easter, with bonus interviews with justices Elena Kagan and John Paul Stevens included on the supplemental side.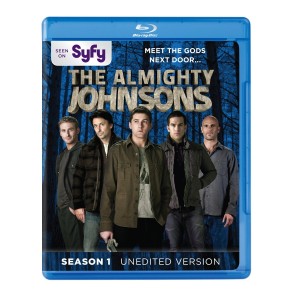 THE LAST OF THE UNJUST Blu-Ray (220 mins., 2013, PG-13; Cohen Film Collection): Claude Lanzmann, director of the outstanding "Shoah," returns to present a new documentary on the Holocaust. The subject here is Benjamin Murmelstein, the last Jewish elder of Theresienstadt (a "model ghetto"), whose comments are contrasted with footage of the director visitng sites in Vienna and the Czech Republic. Cohen's two-disc Blu-Ray includes an interview with the director, a still gallery, DTS MA audio and a 1080p transfer spread across two discs.
Also new this week from Cohen Film Collection is NIGHTCAP (99 mins., 2000, Not Rated), a French concoction from Claude Chabrol starring Isabelle Huppert as the propreitor of a Swiss chocolate company who serves up a special blend of hot chocolate — laced with sedatives — to her family. Wade Major and Andy Klein contribute a commentary to this 2000 release — known as "Merci Pour Le Chocolat" in its native country — making its Blu-Ray debut from Cohen this week. Also included is a new essay from critic Peter Tonguette, the 2014 re-release trailer, a 1080p transfer and 5.1 DTS MA audio in French with English subtitles.
COLD IN JULY Blu-Ray (110 mins., 2014, R; IFC/MPI): Jim Mickle directed this gritty adaptation of Joe R. Lansdale's crime novel about a Texas man (Michael C. Hall) who shoots a low life burglar – only to see the man's father (Sam Shepard) show up thirsting for revenge. Vinessa Shaw, Don Johnson and Nick Damici – who scripted "Cold in July" with the director – co-star in a flavorful thriller heavy on character and atmosphere. IFC's Blu-Ray, available September 30th, includes cast/crew commentaries, deleted scenes, previsualization tests, the trailer, an isolated score track of Jeff Grace's moody music, a 1080p transfer and 5.1 DTS MA sound.
Magnolia New Releases: WE ARE THE BEST! (102 mins., 2013, Not Rated) arrives from Sweden this month from Magnolia. Lukas Moodysson's drama looks at the life of three outcast girls in early '80s Stockholm and how they embrace the punk movement as a means of channeling their energy. Magnolia's Blu includes Swedish 5.1 DTS MA audio with English subtitles.
NEXT TIME: ONCE UPON A TIME IN AMERICA – The Extended Director's Cut! Until then, don't forget to drop in on the official Aisle Seat Message Boards and direct any emails to our email address. Cheers everyone!