Sergio Leone's weird, acclaimed gangster epic ONCE UPON A TIME IN AMERICA (***, 251 mins., 1984, R) returns to Blu-Ray this month in an extended Director's Cut release, restoring an additional 22 minutes of footage found after an exhaustive search.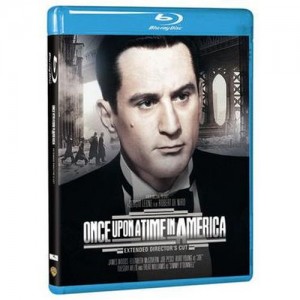 A lengthy, sprawling crime saga featuring Robert DeNiro and James Woods as Jewish gangsters in NYC, chronicling their childhood days and rise to power during the Prohibition era, Leone's final film was infamously cut by the Ladd Company for its initial, disastrous U.S. release in 1984. The studio trimmed Leone's original 229-minute version down to a mere 134 minutes, re-assembled its narrative in chronological order, and turned Leone's original, epic vision into a mess of a movie that bordered frequently on the incoherent.
After being restored to Leone's intended length, "Once Upon a Time" – which features strong performances (in addition to DeNiro and Woods, Elizabeth McGovern, Tuesday Weld, Treat Williams and a young Jennifer Connelly are all effective in support) – received a much warmer reaction, with critics praising its depiction of time and place and Ennio Morricone's memorable score. Personally, though, I've always felt the movie is a little bit odd – unique in that Leone applied his own point of view to a decidedly American genre of film, but with an almost overwhelming preoccupation with sex (including a pair of uncomfortable rape scenes) accompanying that perspective. What's more, the final, post-"Intermission" hour of the film is frustratingly impenetrable, ending on a heavily ambiguous note that has mostly perplexed or angered viewers in equal measure (I have to side in the latter camp).
The newly inserted footage doesn't make the ending any clearer, but it does clarify some elements of the 1968-set sequences wherein an elderly Noodles (DeNiro) receives a final mission and a caseload of cash from a mysterious benefactor. Pulled off the only surviving scraps remaining of these sequences, the "new" 22 minutes stand out visually from the rest of the film, appearing faded and lacking proper color. The sound, fortunately, is mostly fine outside of unbalanced dialogue, showing that Morricone had fully scored the footage. Despite their less than pristine condition, admirers of the film are likely to find the scenes a welcome new addition, as they also bolster Darlanne Fluegel's role as a prostitute who takes up with Noodles.
Warner's Blu-Ray disc proves to be quite satisfying technically. Outside of the new footage's shortcomings, the AVC encoded 1080p transfer otherwise only shows only a bit of DNR filtering, with most of the film gaining appreciable detail over its prior DVD release. The DTS Master sound is gently effective, while supplements include the trailer and a 20-minute segment from a Leone documentary about the film's production. Richard Schickel's commentary from the prior Blu-Ray remains an exclusive to that disc.
---
AUDREY HEPBURN COLLECTION Blu-Ray (Warner): "Breakfast at Tiffany's" is one part of Warner's new high-def Audrey Hepburn retrospective, and despite Mickey Rooney's stereotypical (and, these days, controversial) performance, Blake Edwards' Oscar-winning 1961 film remains one of the more enduring films of the early '60s, with its classic Henry Mancini score and memorable Hepburn performance.
Warner's Blu-Ray edition of the film – a reissue of the Paramount BD – that gave us "Moon River" reprises the extras from its 2006 DVD release (producer Richard Shepherd's commentary, a number of short featurettes) while also adding some material from the 2009 "Centennial" edition (all in high-def): "A Go Glightly Gathering," "Henry Mancini: More than Music" (giving proper respect to the composer's unforgettable contribution to the movie), and "Mr. Yunioshi: An Asian Perspective," which attempts to put a modern explanation for Mickey Rooney's cartoonish, if not racist, portrayal of Hepburn's upstairs neighbor. The original trailer and both a satisfying AVC encoded 1080p transfer and either DTS MA stereo or original mono audio are also on-hand.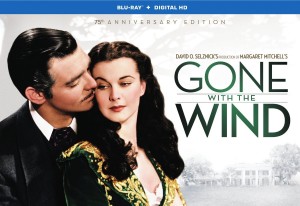 Also included in the box-set are Hepburn's memorable star turns in "Sabrina" and "Funny Face" – check the Archives for individual reviews of those titles.
Warner has also released a new, 75th Anniversary Edition of GONE WITH THE WIND (****), the classic 1939 David O. Selznick production that needs scant introduction for movie buffs.
Warner's box-set reprises the same contents from earlier Blu-Ray releases, with the first disc containing a 1080p (1.33) transfer with Dolby TrueHD audio and a commentary by historian Rudy Behlmer. Disc two houses most of the extras, including "The Making of a Legend: Gone With the Wind," a featurette on "1939: Hollywood's Greatest Year," featurettes on Clark Gable, Olivia de Havilland and Vivien Leigh, newsreels, trailers, the TV film "Moviola: The Scarlett O'Hara War," and other goodies. A DVD contains the entire six-hour "MGM: When the Lion Roars" documentary produced by TNT and narrated by Patrick Stewart, also carried over from the prior release.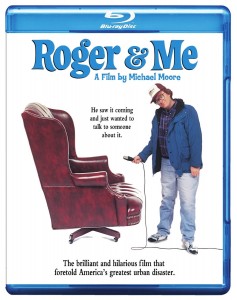 What's new – in addition to a Digital HD Ultraviolet Copy – is a third Blu-Ray including "Old South/New South," examining the real-life locations depicted in the film, and "Gone With the Wind: Hollywood Comes to Atlanta," boasting premiere and tour of Atlanta footage. The set is packaged with a handkerchief and 36-page look at the film's fashion. Likely not worth a re-purchase for fans, though those who haven't picked up the prior Blu-Ray boxes might do well to check it out, particularly considering its affordable price tag.
Finally, Warner brings Michael Moore's ROGER & ME (**½, 90 mins., 1989, R) to Blu-Ray on October 7th. This first production from the political activist/documentarian follows Moore's phony "man on the street" shtick as he attempts to corner General Motors CEO Roger Smith in an effort to get him to visit ailing Flint, Michigan. Though Moore generates a few laughs in the picture, he's disingenuous to several of his interview subjects, and a moment when a rabbit gets clubbed to death seems entirely unnecessary. Moore fans will want to check out Warner's Blu-Ray, offering a 1080p transfer and plain 2.0 Dolby Digital soundtrack (it's highly doubtful lossless audio would do anything for the movie's low-fi sound) and a commentary with the director.
---
Also New on Blu-Ray
Described quite accurately in its earliest blurbs as a sci-fi variation on "Groundhog Day" – and now (sort of) retitled LIVE DIE REPEAT in the wake of the film's mediocre box-office – is the Tom Cruise futuristic adventure EDGE OF TOMORROW (***, 113 mins., 2014, PG-13; Warner), another sturdy, entertaining addition to the star's growing roster of genre outings.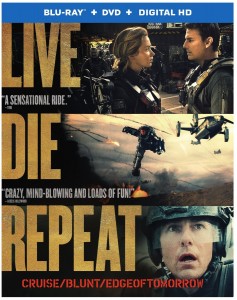 The plot, concocted by Christopher McQuarrie, Jez Butterowrth and John-Henry Butterworth (based on a Japanese young adult novel), stars Cruise as a U.S. military PR person who's improbably swept up in the battle against an extraterrestrial invasion. Despite having no combat experience, the international "United Defense Force" commander (Brendan Gleeson) assigns Cruise's William Cage right to the battlefront in an effort to blitz the aliens through France. Unfortunately, the military's plan is squashed from the outset, and Cage seemingly dies in the fight after encountering an advanced "Mimic" (tentacle-laden creatures that burrow through the ground) – only to wake up and relive the exact same day over again. Cage ultimately discovers that he's gained the extraterrestrials' upper-hand – the ability to consciously relive time, thereby adjusting to its enemy's behavior – and seeks out the help of a decorated soldier (Emily Blunt) who once had the same ability.
"Bourne Identity" director Doug Liman seems right at home in "Edge of Tomorrow," which offers the regulation battle sequences and special effects, albeit with a twisty, if straightforward, story that truly does mimic (no pun intended) the 1993 Bill Murray comedy. Cage relives each day, remembering every moment and attempting to adjust his actions accordingly, while trying to persuade – often futilely – his superiors that he knows how the enemy is able to consistently win each battle. He – much like Murray's beleaguered weatherman – also runs the gamut of emotions, from fascination to depression over being unable to advance the clock forward, though his connection with Blunt's Rita Vrataski ultimately gives him just enough motivation to keep going.
It's a film that's naturally repetitive, but Liman does a good job mixing up the various scene reprisals with an effective alteration in camera work and good humor. This isn't a comedic film by any stretch, but it's also one that doesn't take itself overly seriously. Cruise is engaged and charismatic as his character grows from a pampered official to a genuine force on the battlefront as believably as such a premise allows, while Blunt is likewise strong as humanity's only prior victor against the creatures.
Eventually, "Edge of Tomorrow" wears itself out with a dreary climax set under the Louvre where our heroes have just one chance at saving the planet. With the action taking place in a dank, murky setting, I lost count – and interest – in the resolution of Cage and his team, as Liman's shaky-cam and excessively rapid-fire editing pushed this viewer's tolerance level one too many times. It's a bit of a disappointment, but not enough to put a damper on what's an otherwise well-constructed and satisfying piece of summer escapism.
Warner's 3D Combo Pack of "Edge of Tomorrow" is highlighted by a good looking conversion of the film – not a requirement to enjoying the action, but a nice enhancement for those with 3D set-ups. The 1080p AVC encoded standard transfer (2.40) is also crisp and excellent. Special features include several featurettes (Storming the Beach, Weapons of the Future, On the Edge with Doug Liman), deleted scenes and an Ultraviolet HD copy plus DVD. No matter what iteration you screen the film, the DTS MA 7.1 audio packs a potent punch.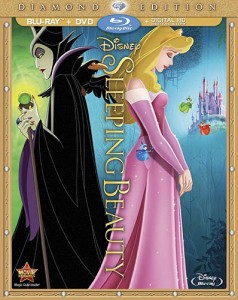 SLEEPING BEAUTY Diamond Edition (***, 75 mins., 1959, G; Disney): Disney's gorgeous Cinemascope fairy tale was the studio's first animated "classic" to arrive on Blu-Ray, and now, some six years later, is being re-issued as part of the studio's Diamond Editions. However, this package is lighter on extras while offering what looks like the same transfer as its predecessor, making it recommended for newcomers only.
The highlight of the release is Disney's superb AVC-encoded transfer (2.35) with an "enhanced" DTS Master Audio soundtrack, both of which are hugely satisfying. The meticulously cleaned up 1080p transfer offers eye popping visuals and enables viewers at home to experience the majesty of "Sleeping Beauty"'s theatrical dimensions and scope really for the first time; even prior DVD renditions, which looked fine for their time, fail to compare to the depth and clarity of the high-definition Blu-Ray image. The audio end has been likewise punched up a bit, though purists may want to stick to the "restored" original theatrical soundtrack, which has also been preserved here.
What's new are three storyboarded deleted scenes, a segment with Disney animation artists, "Modern Family"'s Sarah Hyland touring Disney World's new "Festival of Fantasy" parade, and a couple of assorted odds and ends. What's missing are the vast majority of the prior release's extras – namely, behind-the-scenes featurettes on the movie's production and legacy as a unique entry in the Disney canon (it's still a bit of a cold fish story-wise, just a spectacular looking one), plus a classic Disney Cinemascope short, "Grand Canyon," presented in HD…material that's nowhere to be found here. In fact, only a handful of extras have been carried over from those releases.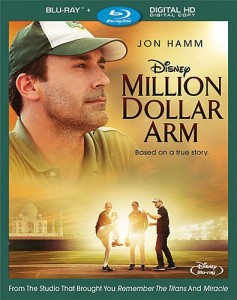 With a DVD and digital copy included, this is still a worthwhile release – but only for those who never owned the prior Platinum Edition.
Also new this week from Disney is MILLION DOLLAR ARM (***, 124 mins., 2014, PG), the feel-good – if formulaic – Disney-nified story of a baseball scout (Jon Hamm) who heads to India where he recruits two cricket players and brings them back to America. The predictable "culture shock" follows in Craig "Miracle" Gillespie's film, but the good-natured humor and appealing performances of the cast (with Asif Mandvi and Suraj Sharma as the young men "adopted" by Hamm's JB Bernstein) make the mostly routine story worthwhile. Disney's Blu-Ray includes a look at the real Bernstein and "Rinku and Dinesh", a profile of A.R. Rahman's score, a "Training Camp" featurette, alternate ending, deleted scenes, outtakes, a 1080p (2.35) transfer, 5.1 DTS MA soundtrack and itunes digital copy.
---
Warner Archive New Releases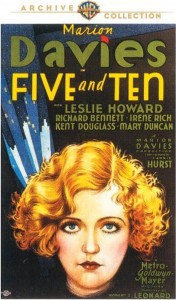 In Season 9 of THE FBI (1174 mins., 1973-74), William Reynolds' Agent Colby is out, and Special Agent Chris Daniels is in – played by none other than former San Diego Chargers star Shelly Novack. Unfortunately, Novack only made it to midseason before he was "reassigned", leading Erskine (Efrem Zimbalist Jr.) and Ward (Philip Abbott) to finish carrying the torch in the final 23 episodes of the long-running series. Special guests include Jackie Cooper, Leslie Nielsen, Star Trek vets Gary Lockwood and Susan Oliver, plus Joan Van Ark and Dabney Coleman in this swan song for "The FBI," presented in Warner's 6-disc DVD set…The Three Stooges – or, at least "Howard, Fine and Howard" – are the subject of CLASSIC SHORTS FROM THE DREAM FACTORY VOLUME 3 (112 minutes). Plane Nuts, Roast Beef and Movies, The Big Idea, Beer and Pretzels, Nertsery Rhymes and the recently re-discovered Hello Pop! – shorts filmed for MGM between 1933 and 1934, with several in two-color Technicolor – are included in Warner's single disc DVD release…Marion Davies stars in FIVE AND TEN (89 mins., 1931), a self-produced MGM picture that affords the comedienne a straight dramatic role opposite Leslie Howard. Warner's DVD of this early talkie, based on the novel by Fannie Hurst about a convenience store magnate who heads to New York City to open up new corporate headquarters, includes a B&W transfer from the healthiest surviving materials.
Young Johnny Ringo goes hunting for the man who killed his mother in the 1964 MGM sagebrush saga SON OF A GUNFIGHTER (92 mins., 1964), a Cinemascope black-and-white oater influenced by the increasing amount of spaghetti westerns arriving from overseas. Russ Tamblyn stars as Ringo in a film so admired by Quentin Tarantino that he brought Tamblyn and his daughter Amber in for cameos in "Django Unchained." Warner's 16:9 widescreen transfer of this exciting B-programmer is quite solid, as it is for RINGO AND HIS GOLDEN PISTOL (88 mins., 1966), an Italian production starring Mark Damon as Ringo, here a bounty hunter who heads off after taking care of several criminal brothers while letting a fourth go free. The remaining sibling opts to exact revenge for Ringo's actions in this genre exercise from Sergio Corbucci, who helmed the original "Django." Warner's DVD of this non-anamorphically shot film boasts a 16:9 (1.66) transfer with mono sound…Also new from the Archives this month is THE LUSTY MEN (113 mins., 1952), an RKO film certain to appeal to aficionados of cult director Nicholas Ray. Robert Mitchum plays a rodeo star who finds favor with a ranch hand (Arthur Kennedy) and his wife (Susan Hayward), who naturally has eyes for the former star of the ring. An interestingly drawn western-drama with solid performances and Ray's trademark character development, "The Lusty Men" also bows on DVD this month from Warner offering a 4:3 B&W transfer with mono sound.
---
SILENT NIGHT, DEADLY NIGHT Blu-Ray (**, 85 mins., 1984, R; Anchor Bay): Remember all the controversy that spiraled out of control due to Tri-Star Pictures' 1984 "Killer Santa" slasher film? This new Anniversary Blu-Ray from Anchor Bay offers the original movie that started it all in high-def for the first time – and it's junky '80s horror at its pulpiest, though Anchor Bay has does an excellent job by touching upon the original's back story, by including a phone interview with its director, Charles E. Sellier, Jr. I distinctly recall the first movie opening locally in Rhode Island just days prior to Christmas '84, and critic Mike Janusonis ripping its tasteless Christmas setting (sure enough, Mike's review is excerpted in the the disc's critic comments, dubbed "Santa's Stocking Of Outrage"). It's also interesting to note that Tri-Star's logo and credit on the movie have been totally blacked out (apparently the movie really was a black eye in their view).
In addition to a mediocre 1080p (1.85) AVC encoded transfer – one that seldom exhibits any true high-def detail – and 5.1 Dolby TrueHD soundtrack, the Blu-Ray boasts a new commentary with writer Michael Hickey, composer Perry Botkin and other crew members.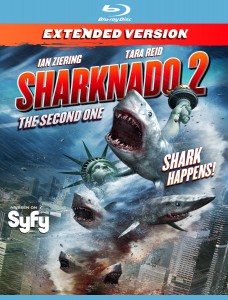 SHARKNADO 2: THE SECOND ONE Blu-Ray (95 mins., 2014, Not Rated; Cinedigm): Bigger and better Syfy Channel sequel to the improbably high-rated "Sharknado" finds Ian Ziering's sharkhunter brought to NYC along with estranged ex Tara Reid, only to run into – yet again – another shark infestation from the skies above. Anthony C. Ferrante's follow-up is funnier and even more outlandish than the original, throwing in a myriad of star cameos – including Today Show anchors, "Kelly & Michael," Judd Hirsch and Robert Hays among others – that are fairly inspired even by the low standards of the material. Cinedigm's Blu-Ray includes a couple of commentaries, deleted scenes, trailers, a gag reel, featurettes, a 1080p (1.78) transfer and 5.1 DTS MA sound.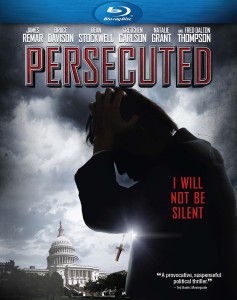 PERSECUTED Blu-Ray (91 mins., 2014, PG-13; Millennium): James Remar stars as a religious leader hoping to pass equal-time legislation for all faiths when he's framed for the murder of a young girl. It's a faith-based political thriller co-starring Bruce Davison, Dean Stockwell and Fred Dalton Thompson, with writer-director Daniel Lusko's script preaching to its audience and, if nothing else, thankfully not overstaying its welcome at 91 minutes. Millennium's Blu-Ray boasts a commentary with Rusko and fellow crew members, a behind-the-scenes featurette, interviews, a 1080p transfer and 5.1 Dolby TrueHD audio.
From MPI/IFC: Aaron Paul stars as a single father struggling to raise his two sons in HELLION (99 mins., 2014, R), an independent drama from writer-director Kat Chandler. Addicted to heavy metal and motocross, Paul's Hollis sees his family unit dissolve throughout the course of this acclaimed picture co-starring Juliette Lewis and Josh Wiggins. IFC's DVD includes the original short, a behind-the-scenes featurette, 16:9 transfer, 5.1 soundtrack and Sundance premiere footage…Toni Collette gives a fine performance as an immature, veteran rock journalist who goes hunting after her former boyfriend – a reclusive music icon – in LUCKY THEM (96 mins., 2013, R). Megan Griffith's amusing, appealing comedy-drama also boasts a terrific turn from Thomas Haden Church as a documentary filmmaker and Oliver Platt as Collette's boss. One of the more enjoyable indies I've seen in a while, IFC's DVD of "Lucky Them" includes a behind the scenes segment, featurette, 16:9 transfer and 5.1 soundtrack…WOLF (123 mins., 2013, Not Rated) is a Dutch gangster picture that IFC has given a full-fledged Special Edition release. The disc boasts a Making Of, music documentary, music videos, featurette, the trailer, a 16:9 transfer and 5.1 audio in both Dutch and English dubbed.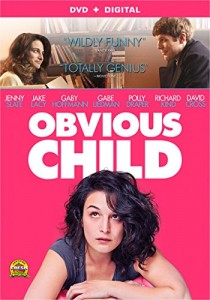 New From Lionsgate: Tom Berenger stars and narrates DOC HOLLIDAY'S REVENGE (87 mins., 2014, PG-13), a low-budget western with Ashley Hayes, William McNamara, and Eric Roberts struggling to make sense of a languid pace established by director David DeCoteau. Lionsgate's DVD includes a 16:9 transfer (1.78) and 5.1 Dolby Digital sound plus a digital Ultraviolet copy…the comedy SCHOOL DANCE (86 mins., 2014, R) offers Bobb'e J. Thompson in Nick Cannon's comedy about a high school dance crew. Lionsgate's DVD includes a 16:9 transfer, 5.1 sound and a digital Ultraviolet copy plus a commentary with Cannon and deleted scenes…Jenny Slate stars in OBVIOUS CHILD (84 mins., 2013, R) as a Brooklyn stand-up comic who ends up pregnant after a one-night stand. David Cross, Polly Draper, Richard Kind and Gaby Hoffman co-star in Gilliam Robiespierre's comedy Lionsgate brings to DVD offering extended scenes, commentary, the 2009 short film and a Making Of, along with 16:9 transfer (2.35) and an Ultraviolet copy…the indie horror outing CHEMICAL PEEL (95 mins., 2013, R) is a gross affair that finds a group of youngsters falling prey to a chemical outbreak that's been unleashed after a train accident in a nearby valley. Two commentaries, a Making Of, outtakes, 16:9 (2.35) transfer and digital Ultraviolet copy are all included in Lionsgate's DVD.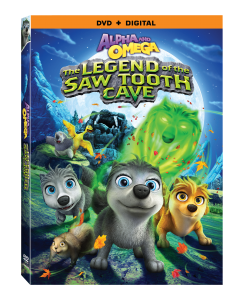 THE LITTLE PENGUIN: PORORO'S RACING ADVENTURE (77 mins., 2013, G) finds the racing penguin Pororo heading off for adventure in the ice metropolis of Northpia along with pals Toto and Mango. A recording session featurette, four bonus episodes, 16:9 (1.78) widescreen transfer and 5.1 in audio in either English or Korean are included in Lionsgate's DVD…Kate, Humphrey and the wolf cubs are back in a pair of new adventures. In ALPHA AND OMEGA 2: A HOWL-IDAY ADVENTURE (45 mins., 2013), the gang heads off looking for Runt, the smallest cub in the family, who's wandered off just before winter sets in. Numerous extras in Lionsgate's Blu-Ray include interactive games for kids, 1080p (1.78) widescreen, a 5.1 DTS MA soundtrack, DVD and digital Ultraviolet copy. New on DVD and exclusive to Walmart stores is ALPHA AND OMEGA: THE LEGEND OF THE SAW TOOTH CAVE (45 mins., 2014), a Halloween-themed adventure with Runt – once again – causing trouble after he explores the haunted Saw Tooth Cave and runs into a wolf who's been ostracized from her pack for "being different." A couple of games, an Ultraviolet copy, a 16:9 transfer (1.78) and 5.1 Dolby Digital soundtrack are on-hand in Lionsgate's DVD.
ANCIENT ALIENS – Season 6, Volume 1 (aprx. 6 hours, 2013-14) beams down on Blu-Ray boasting eight episodes from the popular History Channel series: Aliens and Forbidden Islands; Aliens and the Lost Ark; Aliens and Mysterious Mountains; Aliens and Stargates; Aliens in America; The Star Children; Treasures of the Gods; and Aliens and the Red Planet, all in 1080p (1.78) AVC encoded transfers with 5.1 DTS MA soundtracks…Season 6 of DUCK DYNASTY (220 mins., 2014) includes nine episodes from the A&E reality series, which has begun to sag in the ratings. Band of Brothers, Quack Draft, Governor's Travels, Hands on a Woodchipper, Return of the Beavers, Quack and Gown, Men Vs. Wild, De-bug Life, and Lake Boss are included in the two-disc set along with never-before-seen footage, 1080p (1.78) transfers and 2.0 DTS MA stereo soundtracks.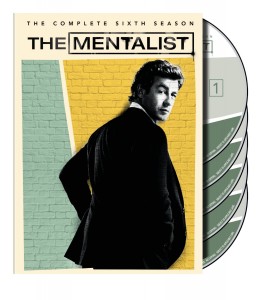 THE MENTALIST Season 6 DVD (930 mins., 2013-14; Warner): Con artist Patrick Jane (Simon Baker) is back with the CBI team in order to track a serial killer that could be related to the elusive Red John. Other cases take the gang to a series of mysteries across California, with all 22 sixth-season episodes of "The Mentalist" included in Warner's DVD box-set. Among the extras are "Patrick Jane: Redeemed, Recovered, Restored," where series creator Bruno Heller looks at the history of Red John (which culminates in a memorable season finale here) plus unaired scenes, 16:9 (1.78) transfers and 5.1 Dolby Digital soundtracks.
TO BE TAKEI DVD (93 mins., 2014; Anchor Bay): Terrific documentary looks at the life of the 77-year-old ensign on the Enterprise, from his time on the series to his background and recent life as an activist and online celebrity. William Shatner, Leonard Nimoy, Nichelle Nichols, Walter Koenig, and others pay tribute to Takei and his career, with ample warmth and humanity on-hand. Anchor Bay's DVD, an Amazon exclusive, includes bonus scenes, a 16:9 (1.78) transfer and 5.1 Dolby Digital soundtrack.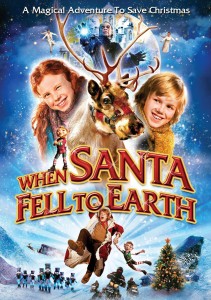 WHEN SANTA FELL TO EARTH DVD (107 mins., 2014, PG; Anchor Bay): Christmas-set fantasy finds Santa fleeing from the new leader of the "Great Christmas Council" who wants to banish Mr. Claus from Christmas Land. A pair of resourceful kids help Kris Kringle out in this German production brought to DVD on October 14th featuring a dubbed 5.1 soundtrack and 16:9 transfer from Anchor Bay.
New From Virgil Films: MONEY FOR NOTHING (78 mins., 2014) takes viewers on a tour of the music video, from the days of vintage B&W musical shorts to its revolution during the MTV years. Ample clips are present in this adaptation of Saul Asuterlitz's book, directed by Jamin Bricker. Virgil's DVD includes a 16:9 transfer and 5.1 soundtrack.
TEENAGE MUTANT NINJA TURTLES: THE BEGINNING Complete Season 1 DVD (625 mins., 2012-13; Nickelodeon/Paramount): The gang is back in a new animated series from Nickelodeon, collected here in a compilation comprised of the prior DVD volumes in the series (Enter Shredder, Rise of the Turtles, and Ultimate Showdown). Transfers and soundtracks are all fine, and a sneak peek of an upcoming TMNT coffee-table book and brand-new bonus content round out the package.
Also new from Nickelodeon is PAW PATROL: WINTER RESCUES, offering seven episodes from the popular canine animated series: Pups Save Christmas, Pups On Ice, Pups and the Snow Monster, Pups Save the Treats, Pups Get a Lift, Pups Get a Rubble and Pups Save a Walrus are all included with 16:9 transfers and 2.0 stereo soundtracks on Nickelodeon's DVD.
NEXT TIME: NIGHTBREED unleashed in the long-awaited Director's Cut! Until then, don't forget to drop in on the official Aisle Seat Message Boards and direct any emails to our email address. Cheers everyone!