An extended Director's Cut long coveted by fans, Shout! Factory has made the restored version of Clive Barker's NIGHTBREED (**½, 120 mins., 1990, R) a reality at last. The label's meticulous reconstruction of the horror auteur's original version – recklessly cut down and reshot at the insistence of Morgan Creek executives – is cause for celebration for the movie's admirers, who have long believed that a better, more consistent cinematic vision existed on the cutting room floor.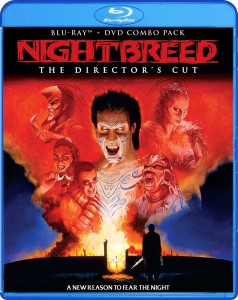 "Nightbreed" is certainly a flawed movie even in Barker's 120-minute new cut, but at least it's an entertaining and occasionally inspired monster mash, mixed with slasher horror and capped by a love story. If nothing else, the picture is certainly unique, and comes much closer to being a satisfying product in the Director's Cut.
Barker's adaptation of his short novel "Cabal" tells the story of Boone (Craig Sheffer), a troubled young man with visions of a nightmarish monster land named "Midian." His psychiatrist, Decker (played by director David Cronenberg), though, is the real monster in the movie – a serial killer who pins his killings on Boone. With nowhere else to go, Boone finds Midian, a sanctuary for shapeshifters, demons and other creatures of the night, but the group initially rejects him because he's a mere human. After Decker pursues Boone, though, our hero is killed and resurrected as part of the Nightbreed, leading him to help the cause of the persecuted monster-outsiders and fight back against humans who believe Boone is responsible for the murders.
Morgan Creek didn't care for Barker's original cut of "Nightbreed," which balances horror with a strong love story between Boone and his girlfriend Lori (Anne Bobby), and also focuses heavily on the monster community of Midian. By the time "Nightbreed" reached theaters in the winter of 1990, the movie had been cut down and reshot, shifting much of the focus away from the monsters and towards Cronenberg's Decker. Apparently thinking Decker's slasher-villain would be more marketable to the Freddy & Jason-loving masses than the gallery of ghouls living in Midian, Morgan Creek changed the shape and very intent of Barker's story.
The final product didn't work and fizzled out at the box-office – yet enough of Barker's intent seeped through, allowing for "Nightbreed" to generate a cult following. The film's admirers have, for years, hoped that Barker's intended cut would see a release – and several years ago, a crudely-packaged "Cabal Cut" surfaced, restoring all kinds of lost scenes off a VHS workprint dub and mixing them together with the theatrical version. The result was reportedly a bloated and unfocused 160-minute cut that needed some trimming – yet it was long thought that the deleted footage was lost in the Morgan Creek archives. The prospects of a genuine restoration appeared bleak, with murmurs floating about that some restored scenes would have to originate from a VHS source, or might be lacking audio and would necessitate subtitles.
All of those early reports, thankfully, were completely inaccurate in so far as to the newly minted Director's Cut edited by Barker and restoration producer Mark Allan Miller goes. Showing a consistently crisp and healthy image from start to finish, with just a bit of dirt in the added scenes visible once in a while, this new cut of "Nightbreed" is a triumph for all involved. There's little disparity between the new scenes and material derived from the theatrical version, which was sourced from an interpositive at Warner Bros., which currently distributes the film as part of an arrangement with Morgan Creek (the film was theatrically released by Fox). The 5.1 DTS MA and 2.0 DTS MA stereo mixes are wonderfully handled, offering an active sound design with a glorious Danny Elfman score (more on that in a moment).
Barker opted not to include every last scrap of material here – a wise idea since at the two-hour mark, the running time for "Nightbreed" feels just about right. Barker and Miller removed the reshot Morgan Creek scenes and added some 40 minutes of new/alternate material, resulting in a film that's 20 minutes longer than its theatrical cut but contains more many alterations than the time disparity alone suggests. In every way, this is a superior version of the picture – the story has time to breathe in its early going, allowing for Boone and Lori's relationship to more satisfyingly develop. The monsters are also given more focus, and that's key to this new version of "Nightbreed." Morgan Creek wanted more of a straight-ahead slasher movie – but Barker's story was more of a dark fantasy than a pure horror film, and this new "Nightbreed" is, naturally, much more aligned with what was intended all along.
Not that the movie isn't without its faults. Barker's limitations as a director are evident throughout the picture, which – despite having been shot on an expansive set at Pinewood Studios – is claustrophobically staged and executed. There's no real sense of scale or scope in the movie, with Barker's style exhibiting a vanilla, "point and shoot" type of approach. The make-up effects are striking and some stop motion animation is utilized at one point, but one can only imagine how much more visually powerful the film may have been in the hands of a veteran director.
Thankfully, Danny Elfman's music compensates for the movie's weaker aesthetic elements. For every composer there's a particularly fruitful era in their filmographies, and for Elfman, there's little disputing that "Nightbreed" fell during one of the most creative and successful times of his career. His first score written after "Batman" and prior to "Dick Tracy" and "Edward Scissorhands," Elfman's "Nightbreed" is, quite simply, one of the most appealing scores in the composer's oeuvre. Sure, it's as dark, pulse-pounding and exciting – colored by tribal percussion and chanting choral passages – as you'd expect, but it's also gorgeous. Otherworldly, melodic and surprisingly romantic, it's the most polished technical element in the picture (Barker has said as much), and its orchestrations are striking. At times Elfman sustains scenes with an almost Herrmann-like use of strings, while in others, he characterizes the monsters and their plight with a genuinely poignant sensitivity. It all culminates in a lovely ending – one that was unceremoniously dropped from the original theatrical release – and an End Credits track that was likewise trimmed, leaving off the redemptive final notes of the composer's music that's, at last, restored here.
Shout's Blu-Ray/DVD combo pack of the "Nightbreed" Director's Cut is highlighted by a commentary with Barker and Miller. It's an engaging track occasionally stymied by a lack of focus, but fans ought to enjoy it just the same. Craig Sheffer, Anne Bobby and members of the supporting cast are on-hand – minus Barker – in a 72-minute new documentary on the film that's heavy on the actors' anecdotes about the production, and light on the recutting of the picture (save for a few minutes at the very end). Separate featurettes on the 2nd unit directors and make-up artists were also newly produced for this release, and it's rounded out with Fox's brief original theatrical trailer, narrated by Charles Aidman and partially underscored with "Enemy Mine" music.
"Nightbreed" may still be a flawed film, but it's nevertheless an entertaining, offbeat genre-bending experience that's stuffed with imaginative elements and a sumptuous Danny Elfman score. Backed by a more satisfying ending and more emotional content throughout, it's well worth a visit this Halloween season.
---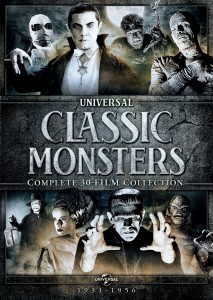 The Universal monster movies first made their way to DVD in the late '90s, where a few of the studio's classics were treated to Special Edition packages, including documentary features and historian commentary tracks. All of them were eventually reissued with new transfers as part of Universal's "Legacy" collection DVD box-sets – releases that have now been compiled in the studio's lavish CLASSIC MONSTERS COMPLETE 30-FILM COLLECTION DVD release. This delectable set, naturally, comes with a hearty recommendation for Halloween viewing.
Essentially reprising the contents of the "Legacy" DVD releases (check the Archives for my full reviews of those discs), the set offers 30 films plus all of the commentary tracks, Making Of specials, trailers, and production/photo archives from those earlier discs.
The FRANKENSTEIN package is highlighted by "Bride of Frankenstein" – the greatest of all the Universal Monster chillers – and also includes the original 1931 film, of course, in its "Restored Version," plus the later sequels "Son of Frankenstein," "Ghost of Frankenstein," and "House of Frankenstein." These run the gamut from the series' origins as part of the Golden Age of Horror to their B-movie status by the genre's fading post-WWII period, but each has its own merits. Both "The Frankenstein Files" and "She's Alive!" (documentaries produced for the earlier DVDs on the 1931 film and its 1935 sequel) are included, along with the short "Boo!", poster and photo galleries for both "Frankenstein" and "Bride of Frankenstein," trailers for all the movies, and commentaries on the '31 original (by Rudy Behlmer) and the '35 follow-up (from Scott MacQueen).
The DRACULA compilation offers our favorite bloodsucker's studio output which includes the 1931 original – sporting both the original soundtrack and Philip Glass' new score — plus the Spanish version, "Dracula's Daughter," "Son of Dracula," and "House of Dracula," the unofficial end of the Universal Monster cycle. (Check the Archives for comments on the special features, which have all been carried over from those prior DVD editions)
THE WOLF MAN anthology includes the original, classic 1941 "Wolf Man" plus the forgettable "Werewolf of London" (1935) and "She-Wolf of London" (1946). Before Larry Talbot's tale was continued in the "House Of" all-star monster mashes, a sequel to "The Wolf Man" surfaced in 1943's "Frankenstein Meets the Wolf Man," which also continued the Frank saga from "Ghost of Frankenstein." That entertaining team-up is also included here, along with all of the special features from the "Wolf Man" special edition including the John Landis-hosted "Monster By Moonlight" documentary and Tom Weaver's audio commentary.
Also receiving their due: THE MUMMY (from the original "Mummy" through its four sequels produced between 1940 and 1944), THE CREATURE FROM THE BLACK LAGOON (in three pictures produced between 1954 and 1956), and THE INVISIBLE MAN (from James Whale's outstanding 1933 film to its four follow-ups, none of which are connected with the original, and one of which is an outright comedy).
Add in the 1943 "Phantom of the Opera" plus "Abbott & Costello Meet Frankenstein" – the seminal 1948 horror comedy – along with "Abbott & Costello Meet the Invisible Man," (1951) and "Abbott & Costello Meet the Mummy" (1955), and you've got a Universal set that fully covers the bases as far as their Classic Monsters catalog goes.
The box also houses a 48-page exclusive book and comes at a time when the studio has recently announced plans to resurrect their monster heritage in the form of an interconnected (read: Marvel-like) series of franchise pictures, several of which are now being written. Let's hope their plan comes to fruition and gives the legendary creatures new life on the silver screen again.
---
THE VINCENT PRICE COLLECTION II is due out shortly from Shout! and ranks as yet another must-have package for Golden Age horror fans. Following on the label's superb anthology of titles culled from the MGM vaults last year, Shout has assembled three additional films from the Roger Corman/AIP Poe cycle: the elegiac "The Tomb of Ligeia" plus the lighter "The Comedy of Terrors" and "The Raven," all three in 1080p (2.35) transfers with extras primarily culled from the prior MGM Midnight Movies releases (these include featurettes on screenwriter Richard Matheson, trailers, and still galleries). "Ligeia" adds a new commentary with Elizabeth Shepherd in addition to the Roger Corman track from the earlier MGM release.
Disc 2 of the set offers "Dr. Phibes Rises Again" ("The Abominable Dr. Phibes" was included in Shout's Price Vol. 1 set), "The Last Man on Earth" (with a commentary from historians David Del Valle and Derek Bothelo), "The Return of the Fly" (featuring commentary from star Brett Halsey and De Valle), and "House on Haunted Hill," the latter including commentary from historian Steve Haberman and three Price featurettes. A 32-page booklet, trailers and introductions from the Iowa PBS series Price hosted back in the '70s round out another essential, must-have release perfectly timed for Halloween consumption.
Season One of HEMLOCK GROVE (12 hours, 2013) hails from executive producer Eli Roth. Set in a small Pennsylvania town, "Hemlock Grove" opens – like "Twin Peaks" – with the slaying of a teenage girl, sending a seemingly ordinary town into chaos as the hunt for the killer ensues. Famke Janssen and Dougray Scott star in this vivid, gory Netflix series – produced by France's Gaumont – which is now available on Blu-Ray from Shout! Commentary with Roth and guest Lorenza Ivvo, numerous featurettes, 1080p transfers and 5.1 DTS MA soundtracks comprise the multi-disc Blu-Ray set...THE SQUAD (100 mins., 2011, Not Rated) is a Spanish chiller set in the wastelands of Colombia after a group of soldiers come across a mute woman in chains. Unable to contact the outside world, the men turn on each other in a weird, atmospheric film from writer-director Jaime Osorio Marquez. Shout's Blu-Ray includes DTS MA Spanish audio with English subtitles, the trailer, Making Of, and an attractive 1080p (2.35) transfer…Scream Factory brings Jeff Lieberman's electrically-charged worm thriller SQUIRM (93 mins., 1976, PG) to Blu-Ray this month as well. This low-budget affair is set in rural Georgia where a storm sends an electrical current into the ground, resulting in a frenzy of killer worms who surface and cause trouble for the locals. This is a nostalgic drive-in affair Shout has treated to their customary deluxe packaging, with commentary with Lieberman, interviews with Lieberman, star Don Scardino and effects artist Bill Milling, a location tour with Lieberman, trailers, still galleries, a 1080p (1.85) transfer and DTS MA mono all on-hand.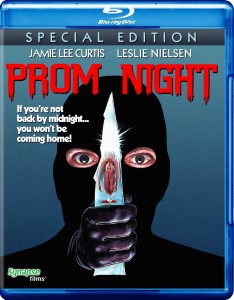 PROM NIGHT Blu-Ray (93 mins., 1980, R; Synapse): Jamie Lee Curtis starred in this Canadian-lensed slasher inbetween installments of John Carpenter's "Halloween" series. Here, Curtis is a senior at Hamilton High whose class is under siege from a killer – one that wants revenge after the death of Robin Hammond, who died in a tragic accident some six years prior. Leslie Nielsen co-stars in a disco-era, minor genre outing that's fairly bland and slow-going at times, and will appeal mostly to genre addicts with a nostalgia for the era. All that being said, Synapse has made "Prom Night" infinitely more watchable thanks to their restored, 2K high-def transfer that's immeasurably stronger than any prior video release I've ever seen of the picture. Colors pop, detail is strong, and the image is crisp and satisfying from start to end. Extras are the icing on the cake, starting with a newly remixed 5.1 track (the original 2.0 mono is on-hand as well); commentary with director Paul Lynch and writer William Gray; a Making Of; trailers; a collection of scenes added to NBC's network TV airings of the film plus never-before-seen outtakes, the latter exclusive to Blu-Ray, as are a still gallery and radio spots. A great package of an otherwise mediocre picture given extraordinary care from Synapse.
PENNY DREADFUL – Season 1 Blu-Ray (aprx. 7 hours, 2014; CBS):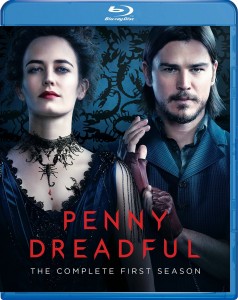 A more satisfying take on mashing up genre literary characters than "The League of Extraordinary Gentlemen," creator-writer John Logan's Showtime series offers sophisticated horror fare for Halloween. In Season 1 of "Penny Dreadful," set in Victorian England, washed-up American actor Josh Hartnett is recruited by Timothy Dalton and the mysterious Eva Green to find Dalton's daughter, Mina, who's been abducted by soul-sucking vamps. Run-ins with Victor Frankenstein ad Dorian Gray are among the ingredients in Logan's eight-episode first season of "Penny Dreadful," which offers a fair amount of blood and guts but also a compelling mystery that plays out with superior performances. It's well-done and entertaining, with CBS' Blu-Ray including numerous featurettes, 1080p transfers, Dolby TrueHD 5.1 audio and a pair of bonus episodes from "Ray Donovan."
THE TAKING OF DEBORAH LOGAN DVD (90 mins., 2014, R; Millennium Films): An Alzheimer's study goes seriously wrong when mom Deborah Logan (Jill Larson) and her daughter Sarah (Anne Ramsay) are studied in a found-footage documentary from graduate student Mia Medina (Michelle Ang). Bryan Singer produced this effective if predictable thriller from director Adam Robitel, who co-wrote the picture with Gavin Heffernan. Millennium's DVD, available October 21st on electronic/digital sell-through and November 4th on DVD, includes a Making Of featurette, 16:9 transfer and 5.1 Dolby Digital soundtrack.
Mill Creek Spooky Treats: A pair of affordable bargain DVD releases might prove to be a tasty proposition for Halloween viewing. TV GUIDE SPOTLIGHT: TV'S SPOOKIEST HALLOWEEN EPISODES is a very strong assortment of 13 seasonal episodes from the Sony vaults, with "Bewitched," "The Jeffersons," "The Facts of Life," "Roseanne," "Newsradio, "3rd Rock From the Sun," "I Dream of Jeannie," "Square Pegs," "Married With Children," "The Cosby Show," "Mad About You," "Ned and Stacey" and "That '70s Show" all represented in the single-DVD anthology. WITCH'S NIGHT OUT (1978) was an NBC Halloween special offering the voice of Gilda Radner, and makes its very long-overdue DVD debut in a Mill Creek DVD that also includes over 90 minutes of bonus vintage cartoons starring the likes of Popeye, Casper and "New 3 Stooges."
---
NEIGHBORS Blu-Ray Combo Pack (***, 97 mins., 2014, R; Universal): Breezy and often quite funny comedy pits married couple Seth Rogen and Rose Byrne – along with their toddler daughter – against a fraternity that moves in next door. At first, Rogen tries to buddy-up with the brothers, including Zac Efron's president, but the duo end up escalating a few pranks to absurd levels in a comedy from director Nicholas Stoller that refuses to pad the story with any type of dramatic content. "Neighbors" is just a series of gags that mostly hit the mark, and Rogen gives one of his more appealing performances as the new father who decides to make good on his parental responsibilities – but not until a number of ridiculous laughs ensue. Universal's Blu-Ray includes an alternate opening and deleted/extended scenes (exclusive to the BD platter), along with a number of other extras (gag reel, featurettes) also available on DVD. The combo pack also includes a digital copy and DVD, plus a 16:9 (2.35) transfer and 5.1 DTS MA audio.
Also new from Universal is Seth MacFarlane's misfired follow-up to "Ted," the western spoof A MILLION WAYS TO DIE IN THE WEST (**½, 116 mins., 2014, R), starring the "Family Guy" creator as a farmer who loses his girl (Amanda Seyfried) and takes on the nefarious, estranged husband (Liam Neeson) of lovely Charlize Theron. There are some scattered laughs in the script by MacFarlane and his "Family Guy" cohorts Alec Sulkind and Wellesley Wild, but the film runs on much too long, and even Mel Brooks knew it was best to have Gene Wilder play the leading man in "Blazing Saddles." Universal's Blu-Ray boasts the 116-minute theatrical version of "Million Ways" plus an even longer, 135-minute extended cut along with ample deleted and alternate scenes, gag reel, commentaries, a DVD and digital HD copy for good measure. Joel McNeely's fine, old-time western score deserves a mention as well.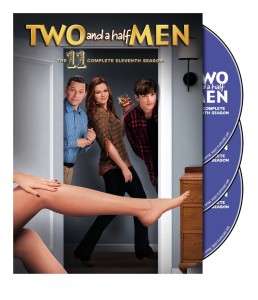 PERRY MASON: MOVIE COLLECTION Volume 4 (1991-92; CBS): CBS' latest box-set offers six NBC TV films starring Raymond Burr and company: "Case of the Glass Coffin" (1991) guest stars Peter Scolari; "Case of the Fatal Fashion" offers Diana Muldaur, Valerie Harper and Bruce Kirby; "Case of the Fatal Framing" kicks off the 1992 portion of the slate; "Case Of the Reckless Romeo" boasts a guest star turn from Geraldo Rivera; "Case of the Heartbroken Bride" co-stas Beau Starr; and "Case of the Skin-Deep Scandal" boasts Scott Thompson and Jonathan Banks. Full-screen transfers and stereo soundtracks round out CBS' six-disc set.
TWO AND A HALF MEN – Season 11 DVD (484 mins., 2013-14; Warner): The prime of this long-running CBS sitcom may be long behind it, but viewers continue to watch (for whatever reason) "Two and a Half Men"…even though it's now missing two of its title characters, with Charlie Sheen having long fled the program and now Angus T. Jones joining him. Season 11 of the show introduces Amber Tamblyn into the Jon Cryer-Ashton Kutcher dynamic, with the latter two simply cashing their checks – and the series producers adding to their syndication pot of gold – by this point. Warner's DVD includes a gag reel, 16:9 (1.78) transfers and 5.1 soundtracks. In Season 3 of 2 BROKE GIRLS (512 mins., 2013-14; Warner), Max and Caroline (Kat Dennings and Beth Behrs) open a cupcake window at the back of their diner while simultaneously starting a work-study program at the Manhattan School of Pastry. Tart humor served up by the duo fuels this third season of the series, now available on DVD from Warner boasting 16:9 transfers, 5.1 soundtracks, a gag reel and unaired scenes.
Also new from Warner on the TV on DVD end is Season 2 of THE FOLLOWING (649 mins., 2014), the serial killer thriller from producer Kevin Williamson. With Joe Carroll (James Purefoy) supposedly dead, former FBI agent Ryan Hardy has to contend with another killing spree and suits up with his former partner (Shawn Ashomore) to contact the melee's only survivor (Connie Nielsen). 15 episodes of gory killings and some shocking twists mark this sophomore season of the hit Fox series, with Warner's Blu-Ray/DVD combo pack including no less than 14 behind-the-scenes featurettes, an alternate ending, 2013 Comic Con panel, a gag reel, deleted scenes, DVD, and digital HD copy. The 1080p (1.78) transfers and 5.1 DTS MA soundtracks are all superb.
KINGPIN Blu-Ray (***, 113/117 mins., 1996, R; Paramount): The Farrelly Brothers' bowling epic reaches Blu-Ray in a top-notch disc from its new distributor, Paramount (MGM theatrically released the picture but has seen its distribution rights lapse). This second film from the Farrellys after the massive success of 1994's "Dumb & Dumber" stars Woody Harrelson as a one-time bowling prodigy who finds an unlikely prospect in an Amish man (Randy Quaid); meanwhile, Bill Murray, billed below the credits, appears as the champion who once ruined Harrelson's career. Uneven and raunchy, "Kingpin" has several big laughs and ranks, if nothing else, as one of the directors' more consistent efforts. Paramount's Blu-Ray offers both the theatrical and R-rated versions of the movie along with a new retrospective featurette and commentary from the Farrellys. The 5.1 DTS MA audio and 1080p transfer are both just fine.
---
BBC Home Entertainment New Releases: In the second season of IN THE FLESH (342 mins., 2014), Kieren Walker takes center stage as a "recovered zombie" ("Partially Deceased Syndrome" sufferer) stuck in the midst of a battle between the living and undead inhabitants of Roaton. This UK zombie drama looks nifty in 2.35 widescreen and the story offers a more introspective element than "The Walking Dead" and comparable genre fare. BBC's DVD set includes 16:9 transfers and stereo soundtracks…Also new from BBC is AFTERLIFE Season 2 (370 mins., 2014), starring Lesley Sharp as Alison Mundy, the psychic medium who helps Robert Bridge (Andrew Lincoln) after nearly not making it back from a seance that nearly took her life. Season 2 of "Afterlife" offers a behind-the-scenes look of Steven Volk's program plus 16:9 transfers and stereo soundtracks…The first and latest seasons of one of the UK's longest-running crime dramas, SILENT WITNESS, also bow this month from BBC. Season 1 (363 mins., 1996) stars Amanda Burton as forensic pathologist Dr. Samantha Ryan, who works with Cambridge police detectives in solving a series of crimes. Emilia Fox leads the team in Season 17 (512 mins., 2014) of the series, with cases involving a football celeb caught on a sex tape. 16:9 transfers on the most recent "Witness" and 4:3 transfers on the freshman season adorn BBC's individual DVD releases…Maggie Gyllenhaal stars opposite Andrew Buchan in Hugo Blick's THE HONORABLE WOMAN (468 mins., 2014), a drama about an Anglo-Israeli entrepreneur trying to navigate between the CIA and MI6 during the Israeli-Palestinian peace process. A Making Of is also included in BBC's three-disc DVD set offering 16:9 transfers and 2.0 stereo sound.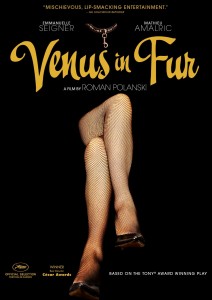 New From IFC/MPI: Roman Polanski's latest, VENUS IN FUR (96 mins., 2013, R), is a French adaptation of David Ives' Broadway play starring a sultry Emmanuelle Seigner as an unconventional ball of fire who comes in to audition for a role in front of playwright/director Mathieu Amalric. Their evolving dynamic is at the heart of this powerfully performed cinematic rendering of Ives' work, scripted by the author and Polanski for the screen. IFC's DVD includes interviews with Polanski, Seigner and Amalric, the trailer, a 16:9 (2.40) transfer and 5.1 French Dolby Digital soundtrack…WITCHING & BITCHING (114 mins., 2013, Not Rated) is a weird Spanish comic-horror mixture focusing on a pair of bank robbers who, with hostages in tow, end up in a small town where they immediately become the interest of witches about to stage an ancient ritual. Offbeat, to be sure, with IFC's DVD including featurettes, the trailer, and a 5.1 Dolby Digital soundtrack in Spanish with English subtitles.
PBS New Releases: HOW WE GOT TO NOW (360 mins., 2014) is Steven Johnson's fascinating series profiling six elements and how they instigated a series of innovations that defined the modern world. Clean profiles water; Time looks at how it advanced navigation, travel, technology and factors in our work day; Glass chronicles art, science, and global communication; Light is viewed in terms of its relation to sleep and architecture; Cold takes a glimpse at how man has been able to temper harsh weather conditions; and Sound is broadly looked at, from its look at medical advancements and, generally, in the world around us. PBS' DVD includes 16:9 transfers and stereo soundtracks on two discs.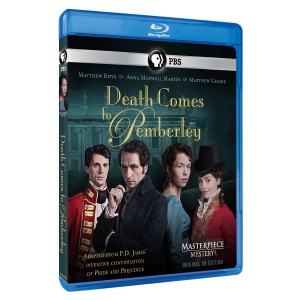 SECRETS OF ICONIC BRITISH ESTATES is a glorious five-DVD box-set, available October 14th, taking viewers to Highclere Castle, Hampton Court Palace, Althorp, and Chatsworth, with a fifth disc included in "Secrets of the Manor House." PBS' DVD includes widescreen transfers and stereo soundtracks, along with a lavish hardcover book. An excellent early Christmas present for those with an interest in British architecture!
Also new from PBS is DEATH COMES TO PEMBERLEY (180 mins., 2013), a scintillating adaptation of P.D. James' mystery – a playful continuation of (and homage to) "Pride and Prejudice" – starring Anna Maxwell Martin, Matthew Rhys (from "The Americans"), Matthew Goode and Jenna Coleman in a whoduneit with plenty of style and fun. PBS' Blu-Ray, available October 28th, includes the uncut UK release of the limited series with a 1080i transfer and 2.0 stereo soundtrack…the powerful 1994 American Experience documentary AMERICA AND THE HOLOCAUST: DECEIT AND INDIFFERENCE (90 mins.) makes a return to DVD on October 21st. This disturbing and essential look at life for Jews in America during the late '30s is narrated by Hal Linden and is presented in a 4:3 full-screen aspect ratio.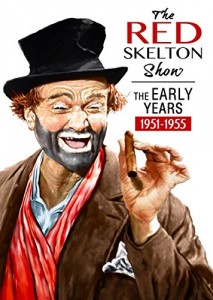 Lionsgate New Releases: Yet another zombie comedy, LIFE AFTER BETH (89 mins., 2013, R) proved to be a misfire for "I Heart Huckabees" writer Jeff Baena, who directed this uneven and mostly unfunny tale of a couple (Aubrey Plaza, Dane Dehaan) whose relationship is severely compromised when Plaza dies and comes back as a zombie. Molly Shannon, John C. Reilly, Cheryl Hines and Paul Reiser lead an expert supporting cast in a film that was wisely buried before it received widespread theatrical play. Lionsgate's Blu-Ray includes commentary, deleted scenes and a Making Of featurette, plus a digital HD copy, 1080p transfer and 5.1 DTS MA sound…Ben Barnes, Sarah Roemer and Eliza Dushku star in LOCKED IN (78 mins., 2010, R), a slight – and brief – thriller about a man reeling from an auto accident that's sent his daughter into a coma. Lionsgate's DVD includes a 16:9 (2.35) transfer and 5.1 Dolby Digital soundtrack…PAWN STARS: A VERY VEGAS CHRISTMAS SPECIAL (112 mins.) includes the Vegas special starring the casts of "Pawn Stars," "Counting Cars" and "American Restoration." Bonus episodes from "Pawn Stars" and "American Restoration" are included in the single disc Lionsgate title with 2.0 stereo sound and 16:9 transfers…Vinnie Jones stars in THROWDOWN (76 mins., 2013, R), another very short action effort from director Timothy Woodward, Jr., co-starring Misca Barton, Luke Goss, Danny Trejo and the director himself. Lionsgate's DVD includes an Ultraviolet copy, behind the scenes featurette, 16:9 (2.35) transfer and 5.1 Dolby Digital soundtrack…Justin Mosley's DEVIL'S DEAL (101 mins., 2013, R) is an independent western set in the town of Burning Bush, where the devil arrives to collect on a contract signed long ago. Lionsgate's DVD boasts an Ultraviolet copy and 16:9 transfer.
Coming From Timeless Media Group: THE RED SKELTON SHOW: THE EARLY YEARS, 1951-55 is one of the year's best vintage TV releases on DVD. An 11-disc salute to one of the funniest comic talents of the 20th century, Timeless has unearthed a series of classic episodes, many never before seen on DVD, with appearances by John Wayne, Johnny Carson, Jackie Gleason and many others. A bonus disc offers the special-episode "The Look Magazine Movie Awards," plus a practice performance comparison and a biography of Skelton. Since "The Red Skelton Show" was never put into syndication, the late comedian's output hasn't been seen by several generations of fans – making this release all the more important.
---
THE RECKONING DVD (85 mins., 2013, R; Anchor Bay/Starz): Jonathan LaPaglia stars as a detective who comes across a video while investigating the death of his partner (played by another Hemsworth brother – Luke). A connection with a hit and run is uncovered in a slow-moving mystery-thriller co-starring Viva Bianca and Alix Williams. Anchor Bay's DVD, out October 28th, includes a Making Of, interviews, photo gallery, 16:9 (2.40) transfer and 5.1 Dolby Digital sound.
Well Go New Release: KUNDO (138 mins., 2014, Not Rated) is set in the final days of the Joseon Dynasty, where a group of bandits rise against tyrants who steal from the rich and give (of course) to the impoverished. This Korean "Robin Hood" offers exciting action and a leisurely pace, and is stylishly designed. Well Go's Blu-Ray, out October 21st, includes a 1080p transfer with 5.1 DTS MA audio.
SUPERMENSCH: THE LEGEND OF SHEP GORDON Blu-Ray (85 mins., 2014, R; Anchor Bay): The only time I recall seeing the name Shep Gordon on-screen was when his credit appeared at the start of John Carpenter's "Prince of Darkness" and "They Live." Yet this Hollywood insider was more than just an occasional film producer, having managed streams of celebrities in a career spanning decades. Comedian Mike Myers here pays tribute to Gordon's life and times in a thoroughly entertaining documentary, directed and produced by Myers, that's just now available on home video. The Amazon exclusive Blu-Ray includes a 1080p transfer and 5.1 DTS MA soundtrack. Free-wheeling and good fun.
SPACE STATION 76 DVD (95 mins., 2014, R; Sony): Disappointing indie tries – and fails – to evoke a '70s sci-fi vibe as a new captain (Liv Tyler) arrives on a floating space station presided over by Captain Patrick Wilson. Matt Bomer, Jerry O'Connell and Keir Dullea – yes, Dave Bowman himself – appear in a well-intentioned film that's neither here nor there in terms of comedy and drama…nearly as inert as the space station itself, "Space Station 76″ is an unfortunate misfire. Sony's DVD of Jack Plotnick's film includes a Making Of, outtakes, deleted scenes, 16:9 (2.40) widescreen transfer and 5.1 Dolby Digital sound.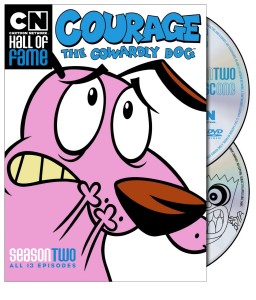 COURAGE THE COWARDLY DOG – Season 2 DVD (286 mins.; Warner): One of the earlier Cartoon Network series receives its Season 2 DVD release belatedly from Warner. All 13 episodes from the surrealistic cartoon are included here in 4:3 transfers with stereo audio. Worth it for "Courage" fans and adventurous animation lovers.
BILLY CRYSTAL: 700 SUNDAYS DVD (134 mins., 2014; HBO): HBO taping of Billy Crystal's Tony-winning one-man show is one of his most enjoyable creations, looking back on his childhood and adolescence. HBO's DVD is out October 21st and preserves the Broadway production in a 16:9 transfer with 5.1 sound.
BENEATH THE HARVEST SKY Blu-Ray (116 mins., 2013, Not Rated; Cinedigm): Two friends living in a tiny town on the Maine-Canadian border try to break out of their surroundings – with tragic consequences – in this gritty, depressing, and well-acted indie from writer-directors Aron Guadet and Gita Pullapilly. Cinedigm's Blu-Ray includes deleted scenes, two featurettes, a 1080p transfer and 5.1 and 2.0 DTS MA audio options. Other new releases from Cinedigm this October include A GOLDEN CHRISTMAS TRIPLE FEATURE, which includes the wholesome holiday cable films "A Golden Christmas," "A Golden Christmas 2: The Second Tail," and "Home For Christmas: A Golden Christmas 3." Folks who enjoy the annual Hallmark holiday movie marathon are also certain to enjoy the 10 MOVIE FAMILY & ROMANCE HOLIDAY COLLECTION, which includes the Hallmark flicks 12 Days of Christmas Eve; Holiday Baggage; A Christmas Proposal; Annie Claus Is Coming to Town; Christmas in Canaan; The Christmas Pageant; Moonlight & Mistletoe; The Most Wonderful Time of the Year; Holiday Engagement and Merry-In-Laws…Coming from Random Media/Cinedigm is THE LAST SUPPER (116 mins., 2012, Not Rated), a Hong Kong period epic from Lu Chuan, which mixes big action scenes with political intrigue. Cinedigm's BD/DVD combo is available this week in 1080p HD widescreen and 5.1 DTS MA Mandarin audio with English subtitles.
From Magnolia: TASTING MENU (88 mins., 2013, PG-13) is Roger Gaul's ensemble comedy set during the closing of one of the world's most famous restaurants. Magnolia's DVD includes a 16:9 (2.40) transfer and 5.1 Dolby Digital sound.
BEYOND BORDERS: STORIES OF INTERFAITH FRIENDSHIP DVD (Film Movement): Three award-winning features celebrating interfaith friendships that cut across geographic and cultural borders are included in Film Movement's three-disc DVD set: "Arranged," directed by Diane Crespo and Stefan Schaefer; Ela Thier's "Foreign Letters"; and Thierry Binisti's French drama "A Bottle in the Gaza." Additional short movies are included in the newly-released DVD box. Also newly available from Film Movement are FACES OF ISRAEL: NEW ISRAELI CINEMA, featuring the films "Campfire," "For My Father," "Seven Minutes in Heaven," and "The Human Resources Manager," as well as THE FEMALE GAZE: CONTEMPORARY FILMS BY WOMEN FROM AROUND THE WORLD. Represented in the set are "Arcadia," "Madeinusa," "Watchower," "Foreign Letters," "Queen of Hearts," Inch'Allah Dimanche," and "The Forest For the Trees." Both sets also include specially selected short films.
UNDER WRAPS DVD (48 mins., 2014; Arc Entertainment): Kids might enjoy this forgettable tale of a young boy who unknowingly unleashes a mummy's curse. Routine animation mark this hour-long affair featuring vocal work by Brooke Shields, Drake Bell, and Matthew Lillard. Arc's DVD, out this week, includes a 16:9 transfer and 5.1 Dolby Digital soundtrack.
THE LIST DVD (91 mins., 2014, Not Rated; Level 33 Entertainment): Sienna Guillroy stars as the wife of Anthony Flanagan's ad agency man, who starts up a website intended to out corrupt individuals. When one of the men voted tops on "The List" turns up dead, Flanagan finds himself targeted by the police and the killer himself. Klaus Huettmann directed this British production co-starring Clive Russell and Bill Patterson, with Level 33's DVD including a 16:9 transfer and 5.1 soundtrack.
NEXT TIME: An Aisle Seat Video Vault with 1492 and CHRISTOPHER COLUMBUS: THE DISCOVERY. Until then, don't forget to drop in on the official Aisle Seat Message Boards and direct any emails to our email address. Cheers everyone!