When THE WONDER YEARS debuted following the Super Bowl in January, 1988, the American TV sitcom would be changed forever. The ABC comedy-drama from creators Neal Marlens and Carol Black made an immediate impact on viewers – with its perceptive nostalgia and lack of a laugh track, the series helped to innovate the stagnant genre and has remained a fan favorite ever since.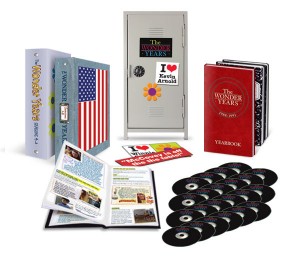 "The Wonder Years" chronicles the life of the Arnolds, a typical American family during the turbulent late '60s, through the prism of youngest son Kevin (Fred Savage). Mom (Allie Mills) is the understanding, compassionate wife to Kevin's domineering father (Dan Lauria), while older brother Wayne (Jason Hervey) is an obnoxious bully and sister Karen (Olivia d'Abo) is the rebellious free spirit caught up in the hippie craze. The family's dynamic is balanced with stories revolving around Kevin's school life, friends, and relationship with first crush Winnie (Danica McKellar), making for a vivid coming-of-age story based on incidents from Marlens and Black's actual adolescence.
Though I wasn't huge into "The Wonder Years" myself growing up, it's hard not to be impressed by the show's legacy. Often imitated over the years, the series was appealingly performed and sensitively written, often with sharp dialogue and colored by Daniel Stern's wry narration as the elder Kevin. The program made an immediate star out of Fred Savage, who appeared on everything from "Saturday Night Live" to starring in a couple of a trio of theatrical features – some more fondly remembered ("The Wizard") than others ("Little Monsters").
The New World-produced series has been a mainstay on TV via syndicated reruns – and basically has never left the airwaves since the show ended in 1993 – but has never received a comprehensive home video release until now. Starvista's Complete Series DVD box not only gives you all the bells and whistles you'd expect, but has also – like the label's prior "China Beach" box – gone the extra mile to ensure that all the licensed music (and there's a lot of it in "The Wonder Years") was restored, intact to the program. This Herculean effort has resulted in a release that's a love letter to "Wonder Years" fans, packaged with 26 DVDs including the entire run of the series – in their original 4:3 transfers and stereo soundtracks – and enough extras to keep viewers occupied for hours. Freshly produced retrospective interviews and nearly a dozen featurettes offer comments from all the principal cast and crew members, from Fred Savage to Neal Marlens and Carol Black, plus assorted outtakes, two different versions of the hour-long series finale (one with deleted footage), a set tour with producer Mark. B Perry, and other goodies.
The "locker box" offers stickers and binder replicas reminiscent of those used by the kids in the series, adding further nostalgic value to a set that's just sublime. With this release, Starvista has really taken up the mantle as the premiere producer of TV catalog content on DVD, and I can't see any fan of "The Wonder Years" not being thrilled with the presentation of the much-beloved series. Highly recommended as one of 2014's best!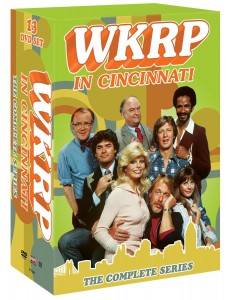 Making its debut on DVD later on this month from Shout, at last, is another much-requested sitcom favorite: Hugh Wilson's hilarious WKRP IN CINCINNATI (1978-82, 22 Episodes).
This CBS sitcom about a wild radio station that turns from classical to rock to garner ratings has long been a cult favorite. With Howard Hesseman leading the way as Dr. Johnny Fever, Wilson's series looks at the on-air and off-air shenanigans at Cinci's hottest (now)-rock station. Gary Sandy, Tim Reid, Gordon Jump, Frank Bonner, Richard Sanders, Jan Smithers and Loni Anderson comprise an outstanding ensemble cast in a show that outlasted its relatively brief tenure on the air. While the series only played on network TV for a few seasons, WKRP's fan base has long been one of the more rabid of all sitcoms – enough so that the show was brought back in syndication early in the '90s for new episodes, albeit for a short period of time.
Shout's complete series box (sans the later, "New WKRP" syndicated run) offers all 88 episodes from the series with transfers superior to Fox's Season 1 DVD release from 2007 and mono audio – along with a few nice extras.
However, looming over this set – just as it did with the prior Fox release – is the rather large issue of "re-edited music," which in WKRP is a major problem (and has long been the hang-up in releasing the series to DVD in the first place). The program used a wide array of rock tracks during its run from all kinds of major artists — and sometimes even made references to the songs that were playing in assorted jokes. Understandably, this created a huge issue when WKRP re-appeared in syndication with many of the original songs having been replaced. However, you can't entirely blame MTM or Fox for the problems — given the scope of the artists and number of songs involved, it would be difficult from an economic standpoint for any studio to pay licensing fees for all the individual tracks.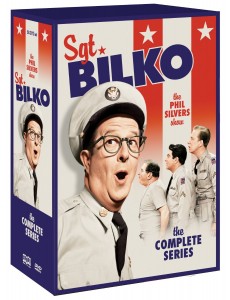 Having not been a major WKRP fan in the past, I'm not overly familiar with what songs were originally utilized in the show. A Shout disclaimer here relays that "WKRP has had a complicated history of music rights restrictions. To make this the most comprehensive DVD release possible, we have done our best to include every scene uncut and to license as much music as possible." Subsequently, fans will have to check the set out for themselves and weigh whether the alterations are diminished from the syndicated edits (and by all accounts they have been substantially), or if it's still a dealbreaker.
What's not a dealbreaker is Shout's general presentation, which boasts 13 DVDs including a bonus disc offering two featurettes and a video of the Paley Center WKRP reunion. Though a booklet would've been welcome with titles/airdates provided, this is still a superior package than the earlier Fox edition and will undoubtedly be on the dial of many WKRP fans when it hits stores October 28th.
Finally, Shout's Complete Series DVD set of SGT. BILKO (1955-59) includes all 142 episodes from the classic "Phil Silvers Show." One of the earliest sitcom successes of TV's Golden Age, the show starred Silvers as the ever-scheming motor pool sergeant forever trying to dodge serious work at Fort Baxter. Harvey Lembeck, Joe E. Ross, Allan Melvin and Paul Ford starred with Silvers in the program, which has been remastered by Shout and CBS in this multi-disc set arriving in stores early next month. In addition to interviews with Silvers, "New Phil Silvers Show" episode and promos, and footage from a 1959 TV special "Keep In Step," the set boasts brand new episode commentaries and crisply remastered B&W 1.33 transfers. Highly recommended for any Silvers fan!
NEXT TIME: Back with Twilight Time's latest including a frightful array of Halloween titles (THE BLOB!). Until then, don't forget to drop in on the official Aisle Seat Message Boards and direct any emails to our email address. Cheers everyone!