Of the handful of '50s sci-fi/horror remakes that were released in the '80s, there's more of a fan base now for the 1988 re-do of THE BLOB (***, 93 mins., R) than even David Cronenberg's version of "The Fly." Falling a bit behind the pinnacle of John Carpenter's "The Thing" but ahead of Tobe Hooper's stylishly designed but otherwise vapid "Invaders From Mars," the '88 "Blob" is a fun, fast-paced and gooey opus – a clever update on the '50s Jack H. Harris production that launched the career of Steve McQueen.
Co-scripted by Frank Darabont ("The Shawshank Redemption") and Chuck Russell ("The Mask"), their "Blob" is set in a small northern California town awaiting the start of ski season. As in its predecessor, a glutinous mass emerges from a meteorite that crashes in the remote hills, consuming everything in its path. A high school outcast (Kevin Dillon), his school's star quarterback (Donovan Leitch) and a resourceful cheerleader (Shawnee Smith) are the first to encounter the Blob, which exponentially grows the more bodies it consumes. A team of scientists in Hazmat suits – perfectly timed for this year's current Ebola crisis – arrives on the scene after local authorities prove fruitless to contain it, but there's an ulterior motive in the actions of one particular scientist (Joe Seneca, who I recognized from his role in the "Amazing Stories" episode "Dorothy & Ben") that fits the '80s "evil scientist" stereotype to a tee.
Despite having been shot on a low budget, the Tri-Star released "Blob" is nifty, fast-moving genre entertainment. The make-up and practical effects are impressive for their time, especially given the absence of CGI, and a number of death sequences – from the Blob consuming a victim via a kitchen sink and an attack on a movie theater that reprises the signature moment from the 1958 version – are amusingly designed and executed. The cast is also solid, with Dillon, Leitch and Smith serving as a sort of "Breakfast Club" triumvirate – the movie doesn't go to great lengths to develop their characters, but there's enough set-up to their parts that the character arcs are satisfying. On the musical end, Michael Hoenig's synthesized score doesn't plod along like some of John Carpenter's efforts, aspiring at times for an orchestral sound – which likely would've helped the film.
Sensing fan interest, Twilight Time was wise to increase their limited edition Blu-Ray run of "The Blob" from 3000 to 5000 copies – particularly seeing as a recent announcement from the label claimed only 600 copies were remaining. This is another marvelous transfer (1.78 1080p) from the Sony vaults, offering the kind of detail we only see infrequently in catalog releases and solid colors to go along with it. The 5.1 DTS MA mix is mostly contained to the L/C/R front channels (in keeping with its original Dolby Stereo exhibition), with two trailers in HD and an isolated score track on the supplemental side. Additional, brand-new extras boast a commentary with Chuck Russell and horror guru Ryan Turek plus an 18-minute featurette from a 2013 screening at 'The Cinefamily' featuring Russell.
Three other Twilight Time October releases will offer a bit of frightful entertainment for genre fans as well.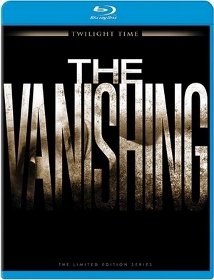 Robert Wise's 1977 adaptation of Frank De Felitta's novel AUDREY ROSE (**½, 113 mins., PG) is a well-acted yet unsatisfying tale of a young girl (Susan Swift) who's visited one day by a mysterious man (Anthony Hopkins) that believes she's the reincarnation of his dead daughter. Marsha Mason and John Beck essay Ivy/Audrey Rose's parents, who ultimately wage a legal battle against Audrey Rose's father in a sensational trial played out in front of the media. "Audrey Rose" shuns bombastic shocks – the film doesn't resemble "The Exorcist" or "The Omen" as much as you might anticipate given the era in which it was produced – and Mason is terrific as the mother trying to make peace with whatever fragments of a former life reside within her daughter. Unfortunately, the film's third act is wholly unsatisfying, fizzling out with an ending heavy on new-age sentiment that Shirley MacLaine would've been happy with. Culled from the MGM vaults, TT's 1080p (1.85) transfer is a little bit soft but generally pleasing with DTS MA mono audio, the trailer, and an isolated score track of Michael Small's music rounding out the package.
In THE BELIEVERS (**, 114 mins., 1987, R), Martin Sheen stars as a police psychologist probing the existence of a voodoo cult infiltrating New York City – the reaches of which extend to both white collar individuals as well as the slums of the Big Apple. This John Schlesinger-directed adaptation of Nicholas Conde's novel "The Religion" – scripted by David Lynch's "Twin Peaks" collaborator Mark Frost – has a few effective moments but the movie becomes more hysterical and less believable as it goes along, ending with a ridiculous twist you can see coming from a mile away. Robert Loggia, Richard Masur, Jimmy Smits and Helen Shaver co-star. Twilight Time's BD offers a satisfying 1080p (1.85) transfer from the MGM/Orion vaults with 2.0 DTS MA audio, the trailer, and an isolated score track of J. Peter Robinson's music on the supplemental side.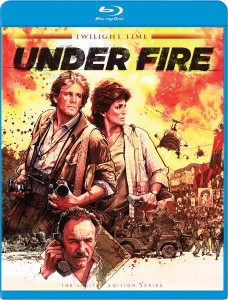 The third and final "fright-tastic" title in TT's October line-up is director George Sluizer's critically-lambasted remake of his own THE VANISHING (**½, 110 mins., 1993, R). A watchable variation on Sluizer's 1988 Dutch film of the same name, writer Todd Graff's American redo has aged a bit better than I anticipated and is mostly faithful to its source – with a psycho (Jeff Bridges) abducting the girlfriend of Kiefer Sutherland, who obsessively spends years looking for her – until its altered, and decidedly more "upbeat," finale. Though well-made and shot by Peter Suschitzky, the film is dragged down by a particularly poor performance from the usually reliable Bridges as the marble-mouthed killer – so self-consciously mannered that it's initially hard to tell if he's playing for comedic or dramatic effect. As Sutherland's unfortunate lost love, Sandra Bullock, at least, used the film as a springboard for her subsequent stardom, and Nancy Travis lends solid support as Sutherland's later love interest. The latter, along with Kiefer's haunted performance, make this "Vanishing" more compelling than I recall it being upon my initial viewing two decades ago, in spite of a weaker second hour (one that unwisely moves the focus off Sutherland) and Bridges' ineffective performance. TT's Blu boasts a generally acceptable – if a tad soft – AVC encoded (1.85) transfer from the Fox vaults with both 5.1 and 2.0 DTS MA stereo tracks, the trailer, and an isolated score of Jerry Goldsmith's musical contribution, which – in its more satisfying passages – utilizes a theme from his rejected score for "Gladiator" (1988).
Goldsmith's music is front and center in Roger Spottiswoode's acclaimed 1983 film UNDER FIRE (***, 128 mins., R), a fictional account of photo-journalist Nick Nolte and his attempt to "shoot the truth" of the Nicaraguan Revolution of the late '70s. Gene Hackman, Joanna Cassidy, Ed Harris, Richard Masur and Jean-Louis Trintignant co-star in the Orion release, scripted by historical film specialist Clayton Frohman and future "Bull Durham" director Ron Shelton. This is a compelling and well-acted film across the board, though the relationship between Nolte and Cassidy feels a little bit contrived. Goldsmith's flavorful "ethnic" score is one of the movie's highlights, and is paid proper tribute here in a commentary with Goldsmith's producer Bruce Botnick, music editor Ken Hall, and TT's Nick Redman, Julie Kirgo and Jeff Bond. There's also a commentary with Spottiswoode, assistant editor/TT regular Paul Seydor, Nick Redman and photo journalist Matthew Naythons, along with photos from the latter's gallery. Finally, in addition to an isolated score track (with some sections offering FX) and the trailer, there's a brief, three-minute interview with Cassidy reflecting on her work on the film.
---
THE DOCTOR AND THE DEVILS Blu-Ray (**, 92 mins., 1985, R; Shout! Factory): Dylan Thomas' original screenplay about grave robbers (Stephen Rea and Jonathan Pryce) who steal bodies — and fresh ones at that — for a misguided doctor (Timothy Dalton) in 19th century England finally became a Brooksfilms production in the mid '80s. Alas, despite a terrific cast – Dalton, Pryce and Rea are joined by Julian Sands, Sian Phillips and Patrick Stewart – "The Doctor and the Devils" was a box-office flop. Freddie Francis – the great cinematographer of "The Innocents" and Hammer Films vet – shot the film atmospherically in widescreen, but the movie is a short, forgettable affair, worth a view for genre fans based on the cast but with little else to recommend it.
Shout's Blu-Ray of "The Doctor and the Devils," out November 4th, premieres a satisfying 1080p (2.35) rendering of the original JDC Scope (2.35) format. The transfer is solid, though John Morris' score offers a borderline-grating main theme also heard in the movie's theatrical trailer. New extras include a fun, enlightening conversation between producer Brooks, line producer Jonathan Sanger and Randy Auerbach and a solid commentary with Steve Haberman.
A noble (and reportedly expensive) attempt at crafting a "serious" horror film, "The Doctor and the Devils" is well-acted but dreary and dull. Shout's Blu-Ray offers a fine transfer and some enlightening extras that are, in fact, more compelling than the film itself.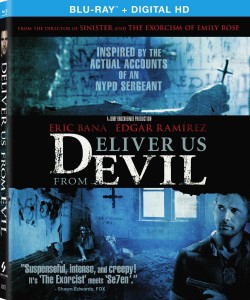 SNOWPIERCER Blu-Ray (*½, 126 mins., 2014, R; Anchor Bay): Utterly ridiculous genre nonsense – overpraised by most of the critics who saw it – is set on a super-train after another Ice Age has decimated most of the Earth's population. Reading like a liberal fever dream, Korean director Bong Joo Ho throws in global warming, class warfare, evil rich white people, religious zealots and a gaggle of stereotypes as the "steerage" class – led by Chris Evans and Jamie Bell's revolutionaries – attempt to overthrow the one-percenters who are in full control of the little engine bound for nowhere. Adapted from a French graphic novel, this South Korean production trots out an eclectic cast – with a laughable Tilda Swinton among them – in a silly mismash of half-baked ideas and tepid action…but a lot of people found it "brilliant!", so you may well enjoy it more than I did. Anchor Bay's Blu is a superb two-disc set featuring ample extras, interviews, behind-the-scenes materials, a "critics commentary," 1080p transfer and 5.1 DTS MA soundtrack in English and Korean with English subtitles.
DELIVER US FROM EVIL Blu-Ray (**½, 118 mins., 2014, R; Sony): Slickly produced horror tale aspires – at least a little – for something different by focusing its storyline on the actual account of a NYPD sergeant, Ralph Sarchie, here essayed by Eric Bana. Investigating a series of supernatural occurrences – leading to a variety of hideous physical crimes – Sarchie teams up with a priest (Edgar Ramirez) to uncover the source of the evil, which is connected to group of marines who unlocked a demon in Iraq while fighting in 2010. Capably directed by Scott Derrickson, who filmed the effective "Exorcism of Emily Rose" and the less satisfying "Sinister," "Deliver Us From Evil" is grounded in a pair of fine performances from Bana and Rodriguez. The problem is the story, which is never as compelling or scary as I hoped, and at-times resembles a horrorific, R-rated episode of "CSI" (perhaps no surprise with producer Jerry Bruckheimer involved). Still a superior genre outing by today's standards, Sony brings "Deliver Us From Evil" to Blu-Ray this week sporting format-exclusive featurettes, commentary, a Making Of, 1080p transfer, 5.1 DTS MA soundtrack and Digital Ultraviolet copy.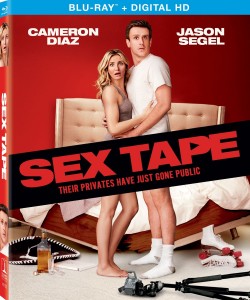 Also new from Sony this week is the unfortunate comedy misfire SEX TAPE (*½, 94 mins., 2014, R), a would-be hilarious farce that finds married couple Cameron Diaz and Jason Segel scrambling to take back their homemade sex tape after it (kill me now for using this overstated cliche) "goes viral." Rob Lowe manages a couple of mild chuckles but this box-office disappointment from last summer is pretty meager stuff, straining to find amusement from situations that could've been funnier in the hands of other filmmakers. As it is, director Jake Kasdan has fared better elsewhere, as has Segel, who co-wrote the script with partner Nicholas Stoller. Bloopers, deleted scenes, and other goodies are exclusive to the Blu-Ray plus a 1080p transfer and 5.1 DTS MA soundtrack along with an Ultraviolet copy.
THE HOBBIT, THE DESOLATION OF SMAUG: Extended Edition 3D Blu-Ray (**½, 186 mins., 2013, PG-13; Warner): This second part of Peter Jackson's Tolkien "prequel trilogy" leaves no doubt that the filmmaker has extended the author's original work into the bloated category — adding characters (including Evangeline Lilly's female elf, Tauriel), secondary subplots, and action sequences that never existed in the original text. That being said, "Smaug" is at least a more watchable picture than the first part of Jackson's prequel trilogy to Lord of the Rings, once again picking up the action with Bilbo (Martin Freeman), Gandalf (Ian McKellen) and the dwarves attempting to unite the latter's lost kingdom and hike to the Lonely Mountain — where a giant, deadly dragon named Smaug resides, presiding over a fortune in untold riches.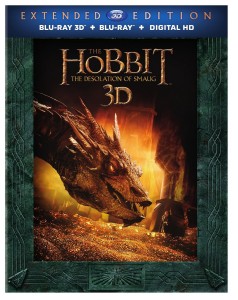 "Smaug" dispenses with some of the talky, dull stretches that marred its predecessor and heavily favors action throughout its 2 ½ hour running time. From hand-to-hand combat to fanciful creatures, Jackson has stuffed the picture with so many "things" — for lack of a better word — that it's easy to look at any number of individual set-pieces and marvel at the visual effects packed into each and every frame. The problem, as it has been with Jackson's body of work as a whole, is that it never knows when to quit, running on beyond the point of merely fulfilling its requirement as the middle part in what's become far less than a straight adaptation of Tolkien's story than another "event franchise" designed to gobble up mass quantities of box-office dollars.
Some 25 minutes of footage has been restored to Warner's new Extended Edition of "Smaug," which presents the film in a five-disc Blu-Ray package. Discs 1 and 2 house the superbly engineered 3D presentation of the film; Disc 3 includes the Extended Edition on Blu-Ray with commentary, along with "New Zealand: Home of Middle Earth Part 2″; and Discs 4 and 5 include loads of extras via Jackson's outstanding "Appendices" supplemental material. A Digital HD Ultraviolet copy rounds out the release.
BEGIN AGAIN (**½, 104 mins., 2014, R; Anchor Bay): Keira Knightley, Mark Ruffalo, Adam Levine and Hailee Steinfeld star in the follow-up feature from "Once" director John Carney. Set once again in the music world, Carney's amiable if unsurprising drama-edy follows Knightley and Levine as Gretta and Dave, a songwriting couple after they move to NYC where Dave soon lands a major record deal. Unsure of where to go, Gretta finds her own voice with the help of a record executive (Ruffalo) who believes in her music. A Making Of, music video, 1080p (1.85) transfer, and 5.1 DTS MA sound comprise Anchor Bay's BD along with a digital copy.
---
RAW FORCE Blu-Ray/DVD (86 mins., 1982; Vinegar Syndrome)
DRACULA SUCKS DVD (95 mins., 1979; Vinegar Syndrome): A pair of cult titles are back in circulation this month thanks to Vinegar Syndrome.
"Raw Force" – also titled "Kung Fu Cannibals" – is a weird little early '80s gem that chronicles the adventures of the "Burbank Kung Fu Club," which travels to Warriors Island, where both undead kung fu masters, zombies, monks and sex traffickers await. A bit of T&A, some terrible performances, and an agreeably goofy tone suit this favorite from the VHS era, and Vinegar Syndrome has once again gone above and beyond the call of duty with their Blu/DVD combo pack. The 2K restored 1080p transfer is lush and terrific, with extras including a Making Of retrospective with director Ed Murphy (Walter Murphy from "Family Guy" scored the picture), the trailer and a brief phone conversation with editor Jim Wynorski.
"Dracula Sucks," meanwhile, was a wacky X-rated take on the Dracula legend – not to be confused with the same year's 'Love at First Bite.' In fact, an alternate, watered-down cut named "Lust at First Bite" is also included in Vinegar Syndrome's two-disc DVD set along with commentary with co-star/writer Bill Margold, the trailer, a locations featurette and plenty more.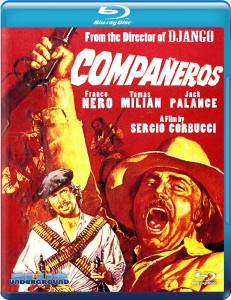 COMPANEROS Blu-Ray (115/119 mins., 1970; Blue Underground): Spaghetti western fans will want to check out this one and only teaming of Franco Nero and Tomas Milian in Sergio Corbucci's western about a Mexican bandit and a Swedish arms dealer who team up to find a fortune in gold. Jack Palance and Fernando Rey co-star with a predictably eclectic Ennio Morricone score heightening the widescreen shenanigans. This Italian production isn't exactly Sergio Leone territory, but folks who enjoyed "Django" are likely to appreciate this later effort from the same director. Blue Underground's Blu-Ray, out next week, includes both the Italian and (shorter by four minutes) English release print with DTS MA mono audio, interviews with Nero, Milian and Morricone; commentary with film historians C. Courtney Joyner and Henry Parke; trailers; TV spots, and a good looking 1080p transfer.
GOOD PEOPLE Blu-Ray (91 mins., 2013, R; Millennium Entertainment): An American couple (James Franco and Kate Hudson), having fallen into debt, believe they may have found a way out when they discover $400,000 belonging to the previous (murdered) tenant is stashed in the ceiling of their new home. Things spiral downhill from there in Henrik Ruben Genz's film co-starring Tom Wilkinson, Anna Friel and Omar Sy. Millennium's Blu-Ray is out this week and includes a Making Of and 5.1 Dolby TrueHD soundtrack.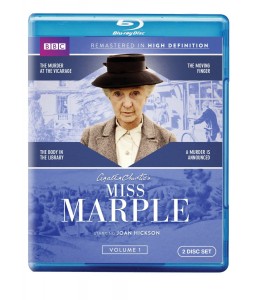 Agatha Christie Corner: Growing up in the '80s, I can recall my dad watching PBS' "Mystery!" hosted by Vincent Price every Thursday night. While the theme song and Edward Gorey animation remain permanently attached to my memory, so does the theme from MISS MARPLE, the '80s BBC adaptation of Agatha Christie's doting elderly sleuth as embodied by wry Joan Hickson. These spirited and mostly faithful adaptations of Christie's books remain some of the best, and BBC Home Entertainment has resurrected, restored and remastered them on Blu-Ray in gorgeous new 1080p (4:3) transfers that are light years beyond those PBS broadcasts from the '80s.
Volume 1 offers the initial episodes from the series: The Murder at the Vicarage, The Body in the Library, The Moving Finger and A Murder Is Announced. All four feature-length productions look just splendid here in high-def, with extras including part 1 of "A Very British Murder," examining the "British fascination with murder."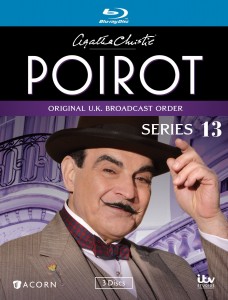 On November 4th, Acorn Media says goodbye to David Suchet with Series 13 of POIROT, the final mysteries to feature Suchet's trademark portrayals of Christie's master detective. With Hugh Fraser back as Captain Hastings for the grand finale, "Curtain," this is a terrific swan song for Suchet's Poirot, with a bittersweet tone comprising the final five ITV productions: Elephants Can Remember, The Big Four, Dead Man's Folly, The Labours of Hercules, and Curtain. Acorn's Blu-Ray includes 1080p transfers, DTS MA 2.0 stereo sound, a photo gallery, and a 20-minute conversation with Suchet, whose work here is never likely to be bettered. Highly recommended!
Finally, PBS has released THE MYSTERY OF AGATHA CHRISTIE (60 mins., 2013), a profile of Christie's life hosted by Poirot himself, David Suchet. The documentary examines Christie's turbulent love life to her oft-discussed disappearance in 1926. PBS' DVD includes a 16:9 transfer and stereo soundtrack.
Lionsgate New Releases: An ill-fated Elmore Leonard comedic crime caper, LIFE OF CRIME (101 mins., 2014, R) stars Jennifer Anison as a housewife kidnapped by a couple of ex-cons trying to extort money from her real estate mogul hubby (Tim Robbins). Will Forte, Isla Fisher and John Hawkes co-star in this watchable but highly uneven film from writer-director Daniel Schechter, which bypassed a theatrical run. Lionsgate's BD includes commentary, featurettes, deleted scenes, a 1080p transfer, 5.1 DTS MA audio and a digital copy…A MOST WANTED MAN (122 mins., 2014, R) offers one of Philip Seymour Hoffman's final performances, as a German intelligence officer trying to determine if one of the men he's investigating is a terrorist. Rachel McAdams, Willem Dafoe and Robin Wright co-star in this international production, an adaptation of John LeCarre's bestseller by director Anton Corbijn. Lionsgate's Blu-Ray includes two behind-the-scenes featurettes, a 1080p (2.35) transfer and 5.1 DTS MA audio plus an Ultraviolet copy…this month's latest Sad Bruce Willis film is THE PRINCE (91 mins., 2014, R), starring Jason Patric as a mechanic who has to save his daughter from underworld goons. Bruno essays one of the latter while John Cusack co-stars as his former partner in a feeble direct-to-vid thriller. Lionsgate's BD boasts commentary, extended scenes, interviews, a Digital HD copy and 5.1 DTS MA audio…Dinesh D'Souza's AMERICA: IMAGINE THE WORLD WITHOUT HER (105 mins., 2014, PG-13) envisions a world without the United States, and even offers some critical comments to D'Souza's right-wing point of view. The result is a highly entertaining, enlightening documentary Lionsgate brings to Blu-Ray this week offering extended interviews and scenes, a digital copy, 1080p transfer and 5.1 DTS MA sound…STEP UP: ALL IN (111 mins., 2014, PG-13) is, amazingly, the fifth installment in the long-running dance series, here including several cast members from prior installments gathering together in Las Vegas for another competition. Impressive choreography marks this franchise, which has become the "Breakin'" of the 21st century. Lionsgate/Summit's Blu-Ray boasts several featurettes; commentary; deleted scenes; a "Vortex Dance Index"; 1080p (1.78) transfer, 5.1 Dolby TrueHD audio, and an Ultraviolet copy. The disc is noteworthy for also being one of the first to include a Dolby Atmos soundtrack option — the latest Dolby HD audio format that works with speakers that would hang overhead (good luck getting your spouse to agree to that one!).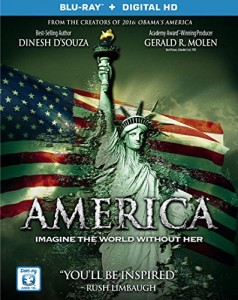 Available on DVD, CARE BEARS: BELLY BADGE ROCK (88 mins., 2012) includes four colorful episodes from the most recent animated adventures of the Care Bears crew: Show of Shyness, Bully Exposed, Over-Bearing, and Untruths and Consequences. A digital copy and 16:9 transfers comprise the single-disc Lionsgate release…LITTLE HOUSE ON THE PRAIRIE: A MERRY INGALLS CHRISTMAS (100 mins.) is a bargain-priced compilation of two vintage episodes from the series: "Christmas At Plum Creek" and "A Christmas They Never Forgot," along with a digital Ultraviolet copy. More yuletide festivities are on tap in the LIFETIME HOLIDAY TRIPLE FEATURE that includes three holiday TV-films: "A Country Christmas Story," "The Twelves Trees of Christmas" and "Kristin's Christmas Past" starring Shiri Appleby…BIRDS OF PARADISE (82 mins., 2014, PG) is a lightly entertaining animated feature for kids with a definite "Rio" flair to it. Drake Bell, Ashley Tisdale, Ken Jeong, Jane Lynch, and Jon Lovitz provide some of the voices with Lionsgate's DVD boasting a crisp 16:9 transfer with a digital Ultraviolet copy…Finally, THE UNAUTHORIZED SAVED BY THE BELL STORY (90 mins., 2014) is a low-rent Lifetime dramatization of the behind-the-scenes shenanigans revolving around NBC's '90s kids sitcom – filtered through the lens of "Screech," Dustin Diamond (who also produced). Lionsgate's DVD includes a digital copy, 16:9 transfer and Dolby Digital sound.
HBO New Releases: THE NEWSROOM: Season 2 Blu-Ray (540 mins., 2014; HBO) is back for another go-around from HBO. Mixing incisive, intelligent dialogue with occasional trips onto creator Aaron Sorkin's soapbox, "The Newsroom" is a typical concoction from the talented writer, following the lives of on and off-air personnel at the fictitious AICN network, where its tart anchor (Jeff Daniels) spars with new producer Emily Mortimer while the off-air staff (including Alison Pill, Olivia Munn and Dev Patel) try and produce the best newscast in spite of various obstacles. Sam Waterston, in a virtual reprise of his "Law & Order" role, essays the sage news division boss who helps them put it all together in a show that's constantly watchable, yet often smug and pretentious at the same time. Those who warmed to Sorkin's "West Wing" among his other endeavors are most likely to be satisfied with it. HBO's Blu-Ray of "Newsroom"'s second season boasts sterling 1080p Blu-Ray transfers, DTS MA soundtracks, a digital copy/Ultraviolet, commentaries, deleted scenes, and Inside the Episode featurettes…Season 7 of TRUE BLOOD (600 mins., 2014) is the final season of HBO's long-running, initially top-rated dramatic series. Fans will undoubtedly want to see how everything turns out for Sookie Stackhouse and the rest of the gang in Alan Ball's adaptation of Charlaine Harris' novels, presented here in a solid Blu-Ray package. HBO's BD set boasts BD-exclusive extras like "The Final Days on Set" and "True Blood Lines" along with five episode commentaries, "A Farewell to Bon Temps" featurette, 1080p transfer, 5.1 DTS MA sound and a Digital Ultraviolet copy.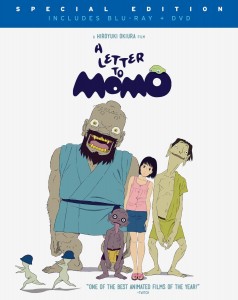 Cinedigm New Releases: A LETTER TO MOMO (120 mins., 2012; Not Rated) is a Japanese animated film from the creators of "Ghost in the Shell," following a girl who has a fight with her father and attempts to uncover what happened to him – with the help of a trio of "yokai" spirits only she can see. While "Momo"'s story may have been regional in its appeal to local Japanese audiences, this is nevertheless a well-crafted picture Cinedigm brings to Blu-Ray offering a Making Of, trailers, a vivid 1080p transfer, and DTS MA audio in both English and the original Japanese with subtitles…available November 4th, THE DOG (101 mins., 2013) focuses on the life and times of John Mojtowicz — better known to most as the "Dog" in "Dog Day Afternoon."  This documentary from Allison Berg and Frank Keraudren profiles the true story behind the film and hits Blu-Ray from Drafthouse and Cinedigm offering commentary, deleted scenes, the trailer, a 12-page booklet, the trailer, a 1080p (2.35) transfer and 5.1 DTS MA audio.
From Magnolia: WHITEY: THE UNITED STATES VS. JAMES J. BULGER (107 mins., 2014, R) is Joe Berlinger's taut examination of the notorious Boston gangster and his recent trial. You could wait for the upcoming Johnny Depp movie to shed light on Bulger's life and times, or you could simply watch Berlinger's true-crime documentary, which Magnolia has brought to Blu-Ray offering deleted scenes, interviews, the trailer, a 1080p (1.78) transfer and 5.1 DTS MA audio.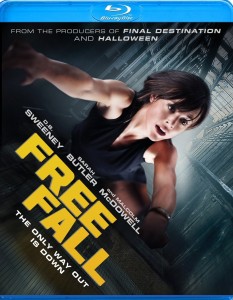 VCI New Release: Gail Davis' ANNIE OAKLEY (1954-57, 36 hours) was one of the earliest TV heroines, and previous DVD releases have included a myriad of inferior looking transfers of the 1950s TV series. VCI's brand-new, restored set offers a Special Edition of the classic program with all kinds of extras, from the original pilot "Bulls' Eye" to a full episode guide, original commercials, extensive archival photo galleries (from comic book covers to memorabilia), a featurette on the series' directors with historian C. Courtney Joyner, an episode synopsis booklet, and "Pig Tails & Six Shooters: The Making Of TV's Annie Oakley," an all-new doc featuring comments from Davis' daughter Terrie, Joyner, and an archival conversation with the star. The set includes all 81 episodes from the series' three seasons spread across 11 discs. Another candidate for one of the year's top TV on DVD vintage releases!
Anchor Bay New Releases: Malek Akkad, son of producing guru Moustapha, makes his directorial debut with FREE FALL (90 mins., 2014, R), a thriller starring Sarah Butler as a protege to a high-powered executive who took his own life – or so it seems. Butler eventually uncovers the truth – but not until D.B. Sweeney pursues her in this so-so thriller co-starring Malcolm McDowell and Ian Gomez. Anchor Bay's Blu-Ray includes a 1080p (2.40) transfer and 5.1 Dolby TrueHD soundtrack.
MOEBIUS Blu-Ray (88 mins., 2014, Not Rated; RAM Releasing): Kim Ki-Duk's repellent thriller – apparently banned for a time in its native Korea – certainly isn't for all tastes, as it follows a scorned wife who takes her revenge on her husband's philandering by removing their son's…well, reproductive organ. Yes, "Moebius" is one of those bonkers Asian thrillers RAM brings to Blu-Ray this week offering interviews, a 1080p transfer and stereo soundtrack.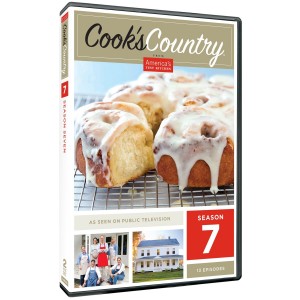 PBS New Releases: DOROTHA LANGE: GRAB A HUNK OF LIGHTNING (108 mins., 2014) is an exceptional new documentary about the Depression-era photographer, who captured indelible images that have lingered in the American consciousness. This feature-length production from Dyanna Taylor, Lange's granddaughter, profiles her work as well as her life away from the lens. PBS' DVD includes a widescreen transfer and stereo sound…Season 7 of COOK'S COUNTRY FROM AMERICA'S TEST KITCHEN (345 mins., 2014) offers host Christopher Kimball and the rest of the staff cooking up a delectable blend of 26 "home cookin'" favorites, from Short Order Breakfast Classics to "Old-Fashioned Sunday Suppers," ribs, desserts, burgers and Baked Ziti – not necessarily in that order. PBS' two-disc set offers printable versions of all the recipes…ICE WARRIORS: USA SLED HOCKEY (86 mins., 2014) is a superb, feature-length look at the new Olympic sport of sled hockey, which allows players with disabilities to hit the ice and play a fast, rough physical game. PBS' DVD includes a widescreen transfer and stereo soundtrack.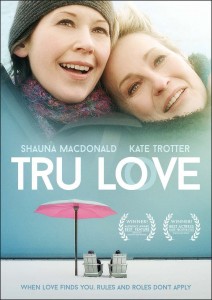 From Wolfe Video: TRU LOVE (87 mins., 2014, Not Rated) is an unusual drama for its portrayal of a relationship between an aging lesbian (Kate Trotter) and a younger woman (Shauna MacDonald, who also co-directed the film with Kate Johnston). Wolfe Video's DVD of this sensitively performed and written picture includes deleted scenes, the short film "Stormcloud," 5.1 audio, the trailer, and a 16:9 transfer. Available November 4th.
Cohen Film Collection New Release: LE CHEF (84 mins., 2012, PG-13) is a new import from France arriving on Blu-Ray from Cohen. Michael Youn is an aspiring chef who teams up with veteran cook Jean Reno in a lightweight comic souffle from director Daniel Cohen. Cohen's Blu includes deleted scenes, a blooper reel, the trailer, "Two Chefs" featurette, 1080p transfer and DTS MA French audio with English subtitles.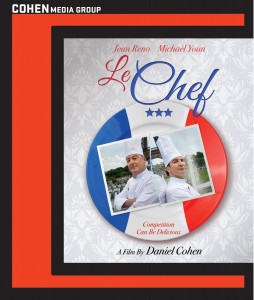 RUNNING FROM CRAZY DVD (102 mins., 2014, Not Rated; Virgil Films): Award-winning documentary filmmaker Barbara Kopple profiles actress Mariel Hemingway's family battle with mental illness, which consumed her sisters Marguax and Joan "Muffet" Hemingway. A fascinating and important look at mental illness done in Kopple's no-nonsense, effective filmmaking manner, "Running From Crazy" bows on DVD this week sporting a 16:9 transfer and stereo soundtrack. Currently available from Virgil is MONA LISA IS MISSING (88 mins., 2013, Not Rated), Joe Medeiros' documentary about the life of Vincenzo Peruggia, the Italian immigrant who held the Mona Lisa in his possession for nearly three years in 1911. 90 minutes of enlightening bonus materials, deleted scenes and commentary are on-tap in Virgil's DVD.
From MPI: The wacky Swedish import LPO (98 mins., 2014, Not Rated) stars Patrick Karlson as an aspiring scientist and amateur audio dabbler who invents a frequency that can turn anyone who hears it into a zombie that'll do his bidding. This modern Pied Piper tale hits DVD this week from MPI offering the trailer, a behind-the-scenes featurette, 16:9 (2.35) transfer and 5.1 Swedish audio with English subtitles…available November 4th, PREMATURE (93 mins., 2013, R) is a raunchy teen comedy concerning a high school student (John Karna) who has a big day lined up — involving a college interview and date with his school's hottest girl — and ends up reliving it over and over again a la "Groundhog Day" when it all goes horribly wrong. Dan Beers' indie hits DVD from IFC and MPI offering commentary, interviews, featurettes, an alternate ending, the trailer, a 16:9 transfer (2.40) and 5.1 Dolby Digital sound…the story of Daisy and Violet Hilton is examined in the documentary BOUND BY FLESH (90 mins., 2013, Not Rated), Leslie Zemeckis' look at the conjoined twins who became media sensations in the 1930s. A fascinating and memorable look at how the media machine could chew up and spit out people decades ago, "Bound by Flesh" comes to DVD from IFC sporting additional interviews, a Making Of, photo gallery, the trailer, a 16:9 (1.78) transfer and 5.1 Dolby Digital sound…finally, BENEATH (89 mins., 2014, Not Rated) is a disappointing horror outing from director Ben Ketai, following a group of coal miners — including veteran Jeff Fahey — struggling to get out after a collapse traps them beneath the surface. Routine and thoroughly unappealing, IFC's DVD includes commentary, ample behind-the-scenes segments, a trailer, a 16:9 (2.39) transfer and 5.1 Dolby Digital sound.
SATELLITE DVD (100 mins., 2005): Indie-circuit fave starring Stephanie Szostak and Karl Geary comes to DVD at long last. Jeff Winner's interesting and certainly memorable picture follows a couple who have just met and decide to throw caution to the wind, quitting their jobs and taking on a rollercoaster of emotion that comes with the territory. A commentary with Winner and a producer interview are included in the "Satellite" DVD, which is presented in a 16:9 (1.78) transfer with 2.0 Dolby Digital sound.
AUTUMN BLOOD DVD (100 mins., 2012, R; Arc Entertainment): Off-putting German production from Markus Blunder turns out to be a cinematic blunder, with a 16-year-old teen (Sophie Lowe) and her brother living in the Tirolian Mountains, away from ignorant and evil townspeople. Eventually, the forces of darkness come after them in a nasty, ugly film with only Lowe's strong performance as a redeeming attribute (Lowe would fare better in the short-lived "Once Upon a Time in Wonderland" series). Arc's DVD includes a 16:9 transfer and 5.1 Dolby Digital soundtrack.
NEXT TIME: More of the latest releases! Until then, don't forget to drop in on the official Aisle Seat Message Boards and direct any emails to our email address. Cheers everyone!