The gorgeously shot — kudos to director Robert Stromberg and cinematographer Dean Semler — but flawed "revisionist fairy tale" MALEFICENT (**½, 97 mins., PG; Disney) takes the perspective of the title villainess (a perfectly cast Angelina Jolie) as she curses Aurora, the King's daughter (Elle Fanning), to a lifetime slumber upon her reaching the age of 16. Until that time, Maleficent actually becomes — grudgingly — some kind of fairy godmother to the girl, who lives in the forest, secluded from the castle and her increasingly deranged father, who wants only to destroy Malefcent and her fairy kingdom.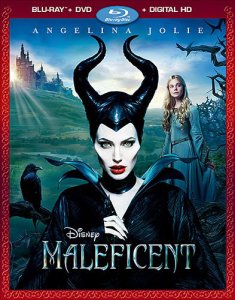 "Maleficent," the latest Disney live-action fantasy to follow in the footsteps of Sam Raimi's "Oz: The Great and Powerful" and Tim Burton's "Alice in Wonderland," falls inbetween the two in terms of quality. It's livelier and more fun than Burton's picture, yet not as satisfyingly scripted as last year's sojourn to Frank Baum's magical province. Part of the problem is its obvious identity crisis, wherein the film wants to place a more adult spin on "Sleeping Beauty" while retaining the wholesome qualities of a Disney production. This results in Maleficent herself being not "bad" but rather understandably outraged by the horrendous behavior of the king (a terribly one-note Sharlto Copley), who strips away her wings and the ability to fly.
Jolie is just fine in the lead, and Fanning is lovely as Sleeping Beauty — but other roles in the picture prove to be a bust, particularly the "three fairies" (played by Juno Temple, Lesley Manville and Imelda Staunton) who become the girl's surrogate caretakers and would-be comic relief. Abrasively unfunny and obnoxious, they're just as worthless as Copley's gruff, wooden performance as the King — and the less said, the better about Prince Philip (Brenton Thwaites), who's treated here like a refugee from the last "Twilight" movie.
Technically the film delivers: the effects are impressive and the cinematography, especially early on, features some striking, evocative shots of Maleficent sitting on the top of a hill, contemplating her existence with clouds billowing in the background. With first-time director Stromberg coming from a background in special effects animation, it's no surprise this is a sumptuously designed picture that often looks, in its best moments, like a painting come to life. For that reason, adults can at least appreciate the pretty pictures even if the story (credited to veteran Disney scribe Linda Woolverton) doesn't come together, and relies heavily on the studio's now-standard "female empowerment" themes (like "Frozen," the male leads are spectacularly weak).
"Maleficent" also shows ample evidence of having being worked over in post-production — with a scant 97-minute running time, it's obvious Disney executives poured over every aspect of the picture, with the entire opening having been reshot after principal photography concluded. This resulted in the deletion of Miranda Richardson and Peter Capaldi's scenes as the Queen and King of the Moors, as well as India Eisley (Olivia Hussey's daughter) being replaced by another actress as a young Maleficent in scenes rewritten and shot under the guidance of director John Lee Hancock. While one can only imagine Disney executives didn't like the direction the movie was taking, the finished product — tellingly — never settles into a comfortable editorial rhythm.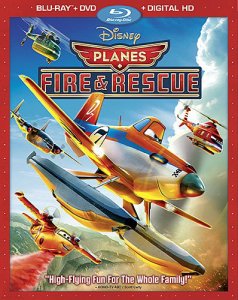 On the whole, "Maleficent" is a mixed bag with some memorable elements and numerous shortcomings, though between the visual design and James Newton Howard's effectively emotive score (which only hits a false note with an odd, "wicked witch" type of fanfare in its concluding seconds), at least it gives the viewer something interesting to look at and listen to.
Disney's Blu-Ray of "Maleficent" looks and sounds as impressive as you'd anticipate from a present-day studio picture. The 1080p (2.40) transfer is marvelous, and the 7.1 DTS MA sound is equally outstanding in its delivery. Extras include several deleted scenes (though none of the sequences involving Eisley, Richardson and Capaldi) and a handful of mostly fluffy behind-the-scenes featurettes. A digital copy and DVD are also bundled in Disney's combo pack.
Also new from Disney is PLANES: FIRE AND RESCUE (84 mins., 2014, PG), the sequel to a film that was previously intended as a direct-to-video project. This follow-up finds the gang now protecting Piston Peak National Park from wildfires, allowing for messages about teamwork and some fairly good animation that will hook younger viewers. Disney's combo pack includes the animated short "Vitaminamulch: Air Spectacular," music videos, TV promos and featurettes, along with a DVD and digital copy. Both the 1080p (2.39) Blu-Ray transfer and 7.1 DTS MA audio are spectacular.
---
New From Criterion
Criterion's terrific THE COMPLETE JACQUES TATI is one of the year's strongest home video retrospectives: a seven-disc Blu-Ray anthology that takes viewers through the career of the multi-talented French comedian/filmmaker, from seven different shorts through his later, full-length features.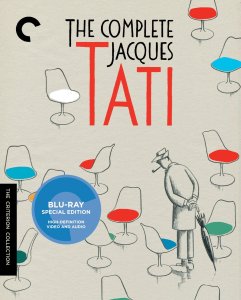 JOUR DE FETE (86 mins., 1949), MONSIEUR HULOT'S HOLIDAY (84 mins., 1953), MON ONCLE (116 mins., 1958), the widescreen PLAYTIME (124 mins., 1967), TRAFIC (97 mins., 1971) and PARADE (89 mins., 1974) are all included here, each in new digital restorations with uncompressed PCM mono sound – plus a three-channel DTS MA mix on "Playtime."
An abundance of riches in terms of supplemental materials include a healthy dose of new extras in addition to materials carried over from prior Criterion releases. Two alternate versions of "Jour de Fete" are included – a partial 1964 colorized version as well as a full color 1995 rerelease print; the 1953 theatrical release version of "Monsieur Hulot's Holiday" is also included, as is "My Uncle," the English-language version of "Mon Oncle" Tati expressly produced for American audiences of the day.
Monty Python alumnus Terry Jones provides introductions to "Monsieur Hulot's Holiday," "Mon Oncle" and "Playtime," while "In the Footsteps of Monsieur Holot" is a 1989 documentary examining Tati's cinematic on-screen persona. Five visual essays and a classroom lecture from historian Stephane Goudet places Tati's works in a more academic context, while Michel Chion documents Tati's sound design. "Jour De Fete: In Search of the Lost Color" profiles the search for Tati's original color version of his 1949 debut feature, while a 2008 documentary and 2005 chronicle on the architecture and physical production of "Mon Oncle" further examine the lasting legacy of Tati's third picture. Selected-scene commentary is available on "Playtime" by Goudet, theater director Jerome Deschamps and critic Philip Kemp, while a 2002 documentary short includes rare on-set footage from the film.
"A Homage to Jacques Tati," meanwhile, is a 1982 retrospective that examines Tati's life featuring a conversation with colleague Jacques Lagrange, with 2002's "Tati Story" giving more background information on the diector. A full array of trailers and alternate "international" soundtracks on "Hulot's Holiday" and "Playtime" round out a comprehensive package that's a must for all fans of Tati and Golden Age cinematic comedy – with a decidedly French flavor.
---
New Warner Archives Titles
New to Blu-Ray this month from the Warner Archive are a pair of 1940s B&W classics.
While Joan Crawford's poitboiler POSSESSED (***, 108 mins., 1947) gives the actress a scenery-chewing turn in an early, '40s film noir version of "Fatal Attraction," Jimmy Cagney netted one of his most popular roles in YANKEE DOODLE DANDY (***½, 126 mins., 1942).
Cagney stars as George M. Cohan, the prolific showman/songwriter who penned a number of standards that have become not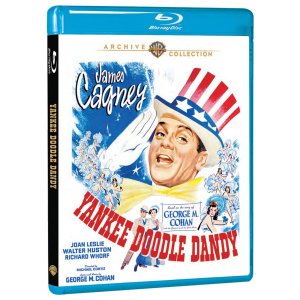 just classics but longstanding, patriotic traditions in and around the 4th of July. The film is pure, unabashed Hollywood entertainment from beginning to end, glossing over some of the events of Cohan's own life, and repurposing others for dramatic effect. Yet when it comes to the recreations of Cohan's stage successes, and capturing his tireless work ethic and ability to entertain, the film captures the man's essence reportedly to a tee.
It's a fantastically entertaining film that Warner has done another spectacular job bringing to Blu-Ray. The finely textured, crisp and DNR-freed 1080p (4:3) transfer is just marvelous, and the DTS MA audio presents the original mono mix as it was recorded, instead of giving us yet another stereo remix. Extras are ported over from the 2003 DVD, including historian Rudy Behlmer's commentary, "Warner Night at the Movies" extras, a 45-minute retrospective documentary, audio outtakes, John Travolta interview, and a Looney tunes short, "Yankee Doodle Daffy," presented in 1080p. Highly recommended! As for "Obsessed," the disc includes a similarly good-looking 1080p (4:3) B&W transfer with a featurette and commentary from historian Drew Casper on-hand.
Cagney also stars in THE IRISH IN US (84 mins., 1935), a Warner Bros-First National picture offering Cagney and Pat O'Brien as brothers whose lives and temperaments are decidedly unique: Cagney's Danny is a fast-talking boxing promoter while O'Brien's good-natured Pat is a straight-arrow beat cop. The two, along with fireman brother Mike (Frank McHugh), get along fine, at least until Danny has the hots for Pat's girl (Olivia De Havilland). Old-fashioned shenanigans ensue in theLloyd Bacon-directed programmer, available in a B&W 4:3 transfer with mono sound.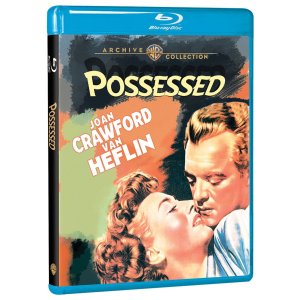 A trio of archival titles starring Olivia de Havilland have also been recently released on DVD. WINGS OF THE NAVY (89 mins., 1939) finds de Havilland as the girl who comes between pilot brothers George Brent and John Wayne. One of five de Havilland films released in 1939 (the same year as a certain adaptation of a Margaret Mitchell novel), the Warner Bros. film offers impressive flying sequences. Michael Curtiz's GOLD IS WHERE YOU FIND IT (94 mins., 1938) is a Warner Bros. three-strip Technicolor historical drama set in 1874 where de Havilland's landowner's daughter falls for a mining engineer (Brent again). Sweeping studio fare co-starring Claude Rains and Margaret Lindsay. Finally, in GOVERNMENT GIRL (93 mins., 1943), de Havilland nabs top billing in Dudley Nichols' war-time comedy farce opposite Sunny Tufts. Warner's Archive disc includes a crisp B&W transfer with all three films presented in mono and their original 4:3 (1.33) aspect ratios.
Rounding out the Archive's recent releases is BRONCO: THE COMPLETE SECOND SEASON (994 mins., 1959-60), starring Ty Hardin as Bronco Layne in the second season of his adventures across the Wild West. Warner's five-disc DVD set includes all 20-episodes from the series, with Bronco solving a murder, running afoul of outlaws Cole Younger and Jesse James (James Coburn), and seeing his Civil War past catch up to him. Warren Oates, Adam West, Alan Hale, Troy Donahue, Joel Grey, and Mary Tyler Moore are among the guest stars in the 1959-60 season.
---
TAMMY Blu-Ray (**, 97/100 mins., 2014, R; Warner): Disappointing summer comedy stars Melissa McCarthy as a woman who loses everything – from her fast-food job to her husband – and promptly sets out on a road trip to forget all about it along with her free-wheeling grandmother (Susan Sarandon). McCarthy's broad appeal managed to turn "Tammy" into a moderate hit at the box-office, grossing over $80 million, yet one can only imagine how much better the film might've fared had it been more consistently funny. Instead, McCarthy, who wrote the film along with her husband, Ben Falcone (the two also co-directed the film although only Falcone receives credit), has trouble finding a cohesive tone to hold "Tammy" together, veering from mildly raunchy gags to heart-tugging dramatic beats. When the movie does generate a bona-fide laugh – for example, when Sarandon's grandmother wakes up from what's initially believed to be an eternal slumber – the film unwisely cuts away just when it's building up a head of steam. Sarandon also seems miscast here, wearing heavy old-age makeup that's none too convincing (she ought to be playing McCarthy's mom, not her grandparent). Playing better on home video than it did in theaters, at least, "Tammy"'s Blu-Ray release includes a gag reel, deleted scenes, featurette, digital copy, and the usual theatrical and slightly-extended unrated versions. The 1080p (1.85) AVC encoded BD transfer and 5.1 DTS MA audio are perfectly fine.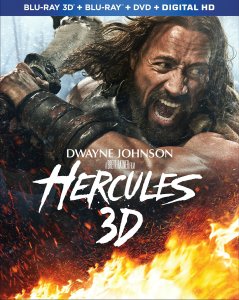 HERCULES 3D Blu-Ray (**½, 98/101 mins., 2014, PG-13; Paramount): One of director Brett Ratner's better films, "Hercules" is a breezy, if forgettable, adventure based on Steve Moore's comic book, which fashions the invincible half-human/half-god Herc as a mercenary working for hire across ancient Greece. With his team of "Merry Mercenaries" in tow – including Ian McShane and Rufus Sewell – Dwayne Johnson's Herc is hired by an elderly ruler (John Hurt) of a kingdom under attack from dastardly Joseph Fiennes (amusingly over the top). Not everything, though, is at it seems in this "Hercules," which balances routine if well-executed action with a decent story and a surprisingly "realistic" tone. Paramount's 3D Blu-Ray offers a strong 3D presentation for home theater owners, while the 2D platter includes both the theatrical cut of the movie along with a unrated version running three minutes longer. A full pallet of deleted scenes, commentary, featurettes, a 1080p (2.35) transfer and 7.1 DTS MA audio round out the combo pack along with a digital copy.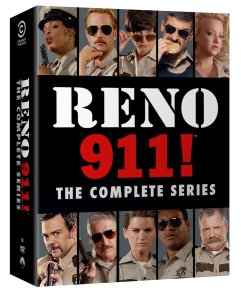 RENO 911 – The Complete Series DVD (1945 mins., 2003-09; Paramount): The misadventures of the deputies of the Reno, Nevada Sheriff's Department are collected in Paramount's massive box-set of the long-running Comedy Central series. Commentary for all 32 episodes; over an hour of deleted/alternate scenes; two full hours of outtakes; featurettes; bonuses from the prior DVD releases; and 16:9 (1.85) transfers and 5.1 soundtracks comprise Paramount's impressive anthology. Also new from Paramount is Seasons 1 and 2 of the TV Land sitcom THE EXES (479 mins., 2011-12), a contrived though enjoyably performed story of three divorcees (Donald Faison, Wayne Knight, David Alan Basche) who live with their divorce attorney/landlord Kristen Johnson. Cast/crew interviews are on-tap in Paramount's double-disc DVD package.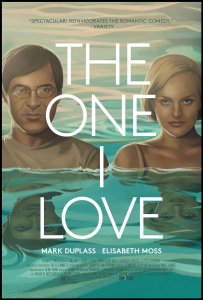 Coming on DVD November 11th is HAPPY CHRISTMAS (**, 82 mins., 2014, R; Paramount), a disappointing dramaedy from writer-director Joe Swanberg about a troubled young woman (Anna Kendrick) who brings a stocking full of Christmas coal to sister Melanie Lynskey, her husband (Swanberg himself) and family. Lena Dunham co-stars in this misfired "dysfunctional holiday" farce which strains itself just to reach its 82-minute running time. Paramount's DVD includes a 16:9 transfer and 5.1 Dolby Digital soundtrack.
THE ONE I LOVE Blu-Ray (***, 91 mins., 2013, R; Anchor Bay): Mark Duplass and Elisabeth Moss play a bickering couple whose therapist (Ted Danson) sends them to a quaint country home for a vacation – where they promptly run into "alternate' versions of themselves. Justin Lader's script aspires for a type of rom-com-meets-Twilight Zone vibe, but it's really the appealing performances of Duplass and Moss that put director Charlie McDowell's film over the top. Anchor Bay's Blu-Ray, out this week, includes commentary from McDowell and Duplass, a VFX reel, 1080p (2.35) transfer and 5.1 DTS MA sound.
---
Cinedigm Animation Releases: Cinedigm brings a trio of internationally-produced animated films to Blu-Ray on November 11th, offering something for admirers of more eclectic foreign fare. Two of the pictures hail from Japan: Yasuhiro Yoshiura's PATEMA INVERTED (98 mins., 2013) is a futuristic sci-fi adventure from the director of "Time of Eve," following the adventures of a Princess from an underground society and a student from the surface whose lives intersect. Cinedigm's Blu-Ray includes both English and Japanese audio; commentary; interviews; trailers; premiere footage; and a 1080p transfer with DTS MA audio. The other Japanese offering, WELCOME TO THE SPACE SHOW (136 mins., 2013), is director Koji Masunari's lengthy, sprawling debut feature with outlandish characters and anime-like design. A Making Of, trailers, and both English and Japanese audio are on-hand in Cinedigm's Blu-Ray set.
The third and final feature, NOCTURNA (88 mins., 2007) spins an "Alice in Wonderland"-like tale of a young orphan boy who finds another world outside in the night time. A Making Of, 1080p transfer, and DTS MA sound comprise this latest addition to Cinedigm's line of impressive independent features on November 11th.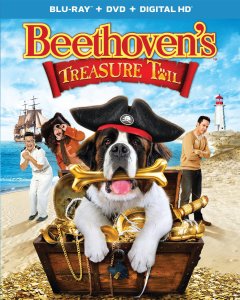 BEETHOVEN'S TREASURE TAIL Blu-Ray Combo Pack (98 mins., 2014, PG; Universal): Cute, inoffensive comedy stars Jonathan Silverman – a vet of the more recent entries in the series – as Beethoven's trainer, who finds himself in a small coastal town where a legend of a buried treasure exists. The sweet St. Bernard spearheads an adventure to find it in "Beethoven's Treasure Tail," which assembles a better-than-expected supporting cast with Kristy Swanson, Jeffrey Combs, and Udo Kier among them. Kids ought to enjoy it. Universal's Blu-Ray includes a DVD, digital copy, 1080p transfer and 5.1 DTS MA soundtrack.
DRIVE HARD Blu-Ray/DVD (96 mins., 2014, Not Rated; RLJ): Australian-produced nonsense is at least unpretentious enough. Tom Jane plays a former champion racer who's now a beginning driving instructor when he's hyjacked by a mysterious out-of-towner (John Cusack) who wants Jane to race his way into a multi-million heist. Veteran B-director Brian Trenchard-Smith manages to keep "Drive Hard" moving fast enough so that you gloss over the generic action sequences and dumb plot – but as direct-to-vid flicks go, it's not entirely awful, with a dash of inherent ridiculousness added for good measure. RLJ's Blu-Ray includes a 1080p transfer and 5.1 DTS MA audio plus a DVD copy.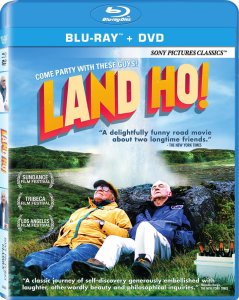 LAND HO! Blu-Ray/DVD (96 mins., 2014, R; Sony): Mitch (Earl Lynn Nelson) is a retired surgeon, who asks ex-brother-in-law Colin (Paul Eenhoorn) to embark on a road trip into Reykjavik and beyond. Martha Stephens and Aaron Katz's independently-produced comedy is a warm-hearted and highly entertaining travelogue that also serves as a commentary on aging and friendship – and it's certainly more fun than "The Bucket List." Sony's Blu-Ray/DVD combo pack includes deleted scenes, commentary, a Q&A with the cast, a 1080p transfer and 5.1 DTS MA audio.
DVD Premieres
Mira Sorvino, Ed Asner and Drake Bell lend their voices to FROZEN IN TIME (46 mins., 2014, G; Arc Entertainment), an animated yuletide variation on "Groundhog Day" for kids. Okay animation marks this pleasant, easy-going cartoon, now available on DVD from Arc with a 16:9 transfer and 5.1 audio...QUEENS OF THE RING (97 mins., 2013, Not Rated; RLJ) is a French production starring Marilou Berry and Nathalie Baye in a tale of a mom who wants to reconnect with her estranged son – a WWE fan. While the promise of a French take on American pro wrestling might sound novel, this is a pretty routine picture made notable only because of its setting. RLJ's DVD includes English and French audio (with English subs), a featurette, 16:9 transfer and 5.1 Dolby Digital sound.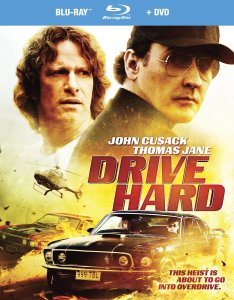 IMPRACTICAL JOKERS – Season 2 DVD (572 mins., 2014; Warner): Q, Murr, Joe and Sal – the gang behind the hidden-camera series "Impractical Jokers" – are back for more mayhem in the second season of the popular TrueTV series. Wackier but less raunchy than the likes of "Jackass," this is an entertaining series for those who like this kind of thing. Warner's Season 2 DVD includes deleted scenes, uncensored commentaries, Inside Jokes, behind-the-scenes material, a 16:9 transfer and 2.0 stereo sound.
Holiday Releases
A BELLE FOR CHRISTMAS DVD (91 mins., 2014, PG; Anchor Bay): Inoffensive, Hallmark-like cable movie stars Dean Cain as a nice guy widower raising two precocious kids. After the family adopts a cute puppy named Belle, Cain's Glenn Barrows is targeted by all kinds of single moms including Kristy Swanson's obnoxious dog-hating wench and a more hospitable younger woman (Haylie Duff). Anchor Bay brings the family-friendly charm of "A Belle For Christmas" to DVD this week sporting a 16:9 transfer (1.85) and 5.1 Dolby Digital soundtrack.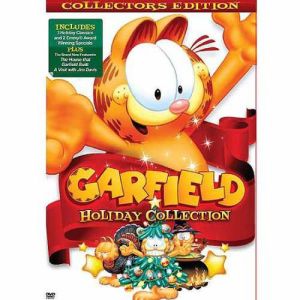 GARFIELD HOLIDAY COLLECTION DVD (150 mins.; Anderson Digital): New compilation brings together a handful of Garfield's CBS network TV specials: "A Garfield Christmas" is one of the best of the animated Jim Davis adventures, with an engaging story line and satisfying mix of mirth and merriment. "Garfield's Thanksgiving" is mostly forgettable, though there's some nifty animation in the satisfying and sometimes spooky "Garfield's Halloween Adventure" (that recalls the ghostly apparitions in John Carpenter's "The Fog" — OK, well, just a little!). Also included are "Garfield on the Town" and "Garfield in Paradise." Full-screen transfers and stereo soundtracks are all top notch in the Walmart-exclusive release.
CARTOON NETWORK HOLIDAY COLLECTION DVD (77 mins., Warner): Yuletide-flavored DVD anthology includes episodes from "Adventure Time" (Holly Jolly Secrets Parts 1 and 2), "Regular Show" (The Christmas Special) and "The Amazing World of Gumball" (Christmas) plus bonus, non-holiday episodes from "Clarence" and "Steven Universe." A no-frills single-disc DVD featuring a 16:9 transfer and 2.0 stereo sound.
NEXT TIME: JERSEY BOYS and Shout's newest chillers, including THE DARK HALF and MONKEY SHINES. Until then, don't forget to drop in on the official Aisle Seat Message Boards and direct any emails to our email address. Cheers everyone!