It's tough to rag too much on a sci-fi film that does, at least, attempt to tell a genuine story augmented with "real science" in today's age of mindless comic book fantasies. On the other hand, is it too much to ask for a film like Christopher Nolan's INTERSTELLAR (**½, 169 mins., PG-13) to be less convoluted and more emotional – and by that I mean, actually move the viewer and not just throw up a group of characters crying hysterically on-screen?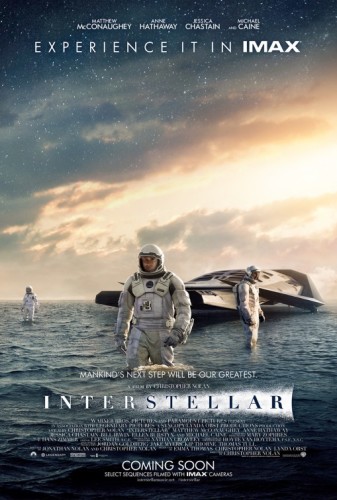 A frustrating film in that Nolan manages to captivate, and occasionally enthrall, the audience for nearly all of its lengthy running time, while remaining as clinical and unmoving as most of his works, "Interstellar" clearly displays both the strengths and weaknesses of its talented director.
On the one hand, this tale of a depleted Earth in dire need of food is believably rendered, with farmer Matthew McConaughey called into captain a last-ditch mission at finding another home in a galaxy that, ordinarily, would be far, far away. However, thanks to a wormhole dispatched near Saturn, McConaughey and his band of fellow astronauts (including Anne Hathaway) are able to spearhead an expedition to several planets that offer the potential of sustaining life. Meanwhile, back on Earth, McConaughey's family carries on without him while circumstances take a turn for the worse – and are exaggerated by the fact that hours that the crew passes in the remote galaxy are the equivalent of years back in the Milky Way.
Saying anything more about the plot, written by Nolan and his brother Jonathan, would be spoiling too much of the journey. Suffice to say a major actor (purposefully not mentioned in pre-release advertising) appears midway through the movie in a role that's transparent in its dramatic function and instigates a downward spiral which "Interstellar" never breaks out of. The opening act of the film effectively sets up the film's setting and premise – which is remarkably free of environmental proselytizing – as well as McConaughey's connection to his family. Yet once the journey begins – and the astronauts experience an initial stop on a planet with waves reaching the height of mountains – the film tends to move from one "event" to the next on an emotional flatline, while there are seemingly endless scenes with characters arguing over wormholes, relativity, gravity, black holes, and 5th dimensional beings. These conversations eventually become so dense that the movie nearly feels like the equivalent of a bad Universal '50s monster movie where someone like J. Carroll Naish would outline the reason why a giant insect was cavorting around the desert. It's all techno-babble mumbo-jumbo, interesting to a point but overstuffed to a degree that you can just sense "Interstellar" is going to have a hard time appealing to audiences other than hardcore sci-fi geeks.
The performances are all fine, though Nolan – who's never been good at generating warmth to begin with – suffers the same problems here in terms of producing human feeling on-screen. Just because you put a group of great actors together who tear up to the often bombastic strains of a Hans Zimmer score – so overbearing in places that key dialogue is unintelligible – doesn't mean that the audience is actually going to feel something. I was compelled by the film's set-up and commend its attempt at making a "thoughtful" and inspiring sci-fi picture – with a laudable message about "thinking big" and mankind's adaptability to move forward against all odds – but with the human dimension grounded at Earth level, there's only so far for "Interstellar" to fly.
---
When Orion Pictures declared bankruptcy in 1991, the studio – which had produced "Dances With Wolves," "Silence of the Lambs," "Amadeus" and a slew of Woody Allen's best films – had nearly a dozen movies left in the can. Hoping their release would enable Orion to get back on their proverbial feet, "The Bankruptcy Bunch" trickled out one by one over the next couple of years to negligible box-office returns. One of them – George Romero's adaptation of Stephen King's novel THE DARK HALF – proved to be the most financially successful of the lot, for what little that was worth.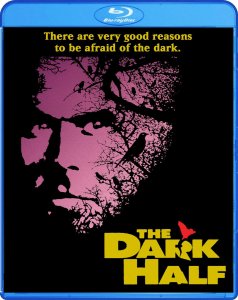 Completed in 1991, copyrighted 1992, and released in the spring of 1993, "The Dark Half" (**½, 122 mins., 1993, R) is an odd picture: well acted and more intriguing than the bulk of King flicks that saturated theaters back in the day, yet still manages to leave the viewer cold and underwhelmed.
Timothy Hutton stars in the film as novelist/college professor Thad Beaumont, who's scored most of his successes writing novels under the pseudonym George Stark. Much like King's own works published under the name "Richard Bachman," Stark's horror novels are hot sellers, but Beaumont's tranquil existence is threatened when a crazed fan threatens to go public with the knowledge of Stark's true identity. Beaumont instead opts to tell the world his secret anyway, a decision that instigates a series of murders that claim the lives of Beaumont's publishing staff and associates. Initially pegged as a suspect by a local cop (Michael Rooker), Beaumont soon realizes the killings are the work of George Stark himself – a veritable doppleganger of the author.
"The Dark Half" sets itself up well with Romero leisurely pacing the picture, establishing character and a sense of time and place (the movie was the last Romero film to be shot in his hometown of Pittsburgh, Pa.). The second half of the film, regrettably, fails to pay off, with Stark's presence turning the movie into just another slasher film – leaving the mystery surrounding his origin by the wayside. Perhaps the fact that an hour of "The Dark Half" was left on the cutting room floor explains the movie's disconnected story – or a turbulent shoot that found Romero at odds with its leading man and Rooker in a combative position with the rest of the cast. It's certainly a watchable and mildly engaging film – especially by the standards of most King films – but one that never gels into a cohesive whole.
That behind the scenes friction fuels the supplements in Shout Factory's Blu-Ray of "The Dark Half." We've heard many a lame, tedious commentary track over the years, but this is clearly one of the better ones, with Romero pulling no punches in explaining how he and Timothy Hutton found themselves in arguments that took their toll on the production itself. Hutton's "method" acting caused constant problems on the set, clashing with Romero's no-nonsense approach, and apparently applied a great deal of pressure on the shoot from start to finish. While Romero ultimately lauds Hutton's performance (even though he was at least the third choice for the role, falling behind Willem Dafoe and Gary Oldman, who both turned the movie down), one gets the sense that "The Dark Half" was a genuine nightmare to be a part of.
The 40-minute retrospective documentary, which includes comments from Romero, editor Pasquale Buba, composer Christopher Young (who contributes a fine score that was recorded overseas, without Romero's involvement), and Rooker, is equally fascinating. Again Hutton's diva-like behavior is raised several times, with Rooker explaining how his involvement in a play that he was performing in at the time also impacted his relationship with Hutton and Amy Madigan (who plays Beaumont's wife). Rooker's comment that the other actors in the film weren't his friends and still aren't is a telling comment in a juicy, more compelling than expected behind-the-scenes profile.
Romero's commentary is also terrific and enlightening, touching upon topics as vast as Hutton and the filming locations to working with Orion and the film's eventual, disappointing theatrical run (though with an $8 mil box-office gross, it at least outperformed every other release among Orion's "Bankruptcy Bunch"). Other extras include about eight minutes of deleted scenes from the workprint, vintage EPK materials, storyboards and the trailer. The 1080p (1.78) AVC encoded transfer is generally pretty solid, though I noticed some sections in the second half of the movie appear softer than the rest. Both 5.1 and 2.0 DTS MA stereo soundtracks round out the disc.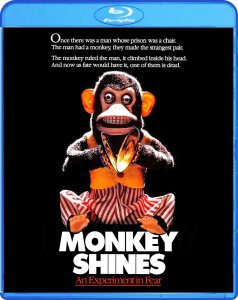 Romero is also newly represented on Blu by his superior, earlier Orion picture – MONKEY SHINES (***, 113 mins., 1988, R) – a taut and entertaining thriller about a homicidal, amped-up monkey who becomes the possession of a recently paralyzed law student (Jason Beghe). Romero's adaptation of Michael Stewart's book is strong in its depiction of Beghe's paralysis and his relationship with his friends and family, including his overbearing mother (Joyce Van Patten) and the girlfriend (Janine Turner) who can't adjust to Beghe's new life. This makes the horror elements all the more effective when they do occur, creating a splendid little late '80s effort that ranks with Romero's best, and capped by both a fine supporting cast (look for a young Stanley Tucci among them) and an excellent David Shire score. Shout's Blu-Ray includes another strong commentary from Romero, who discusses his problems with Orion and working within the studio system, a terrific retrospective doc, deleted scenes, an alternate ending, vintage EPK material, a strong 1080p (1.78) transfer and both 5.1 and 2.0 DTS MA soundtracks.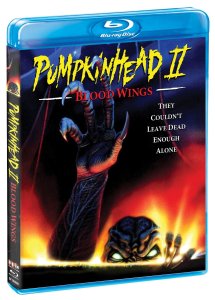 Another Scream Factory title, PUMPKINHEAD II: BLOOD WINGS (88 mins., 1994, R), lands on Blu-Ray next week. The belated sequel to the UA funded, Stan Winston-directed picture is a workmanlike affair missing the rural atmosphere of its predecessor, with director Jeff Burr resurrecting Pumpkinhead as the monster takes on a new group of unsuspecting teens including Ami Dolenz and Soleil Moon Frye. Interviews with Burr, makeup artists Greg Nicotero and Gino Crognale, a 1080p (1.85) AVC encoded transfer and 2.0 DTS MA stereo audio comprise a solid disc of a fairly middling sequel, worth it only for die-hard Pumpkinhead buffs.
UHF (**½, 97 mins., 1989, PG-13; Shout! Factory): "Weird Al" Yankovic's tenure as a leading man lasted almost as long as Prince's reign at the box-office, but UHF has remained a cult favorite due to Yankovic's fans and the simple fact that the movie is actually, surprisingly funny in spots. Yankovic is joined by Michael Richards, SNL's Victoria Jackson (one of my fave SNL performers), comic Emo Philips, and a pre- "Nanny" Fran Drescher in a plot that provides a flimsy excuse for a film (Yankovic takes over his uncle's UHF station and tries to drive up ratings by airing his own programming) but a good one for a series of sketch-comedy spoofs. The Yankovic-Jay Levey script has some amusing gags and the movie — while obviously filled with dated references to '80s pop culture — provides an amiable good time for 90 minutes. Shout Factory's long-awaited Blu-Ray includes materials from MGM's prior Special Edition DVD – deleted scenes, behind-the-scenes footage, audio commentary (featuring Weird Al, Richards, Philips and Jackson), promo materials, Weird Al's music video – while adding in a retrospective panel fresh from the 2014 San Diego Comic Con. The 1080p (1.85) transfer and 2.0 DTS MA audio are both just fine.
Weird Al fans might want to check out Shout's WEIRD AL YANKOVIC: THE COMPLEAT AL (102 mins.), a 1985 "mockumentary" on the musical parodist with eight full-length videos included for good measure. The CBS/Fox release has been out of print for some time, making its DVD release a long-awaited happening for Yankovic aficionados.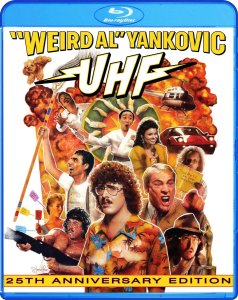 THE BRUCE LEE PREMIERE COLLECTION Blu-Ray (Shout!): I didn't get a chance to review last year's Bruce Lee Blu-Ray anthology from Shout, so this was my first look at the controversial transfers the label licensed from Fortune Star in HK. While the presentations remain something of a mixed bag, this is nevertheless a recommended, and more affordable, package than the bulkier, more expensive Lee release from a year ago. On-hand here are "The Big Boss," "Fist of Fury," "The Way of the Dragon" and "Game of Death" – the latter presented in an upscaled 1080p presentation that's bested by a Japanese print genuinely in HD, albeit with burned-in Japanese subtitles on the right hand edge of the frame. Numerous extras run the gamut from alternate openings/endings from a myriad of different releases, interviews, featurettes, commentaries with Mike Leeder, trailers, and all the footage shot for "Game of Death" – most of which wasn't utilized in the picture. Kung fu fans might also want to check out THE JIMMY WANG YU COLLECTION, a Shout DVD anthology featuring four early '70s pictures: "One-Armed Boxer," "The Tattooed Dragon," "Beach of the War Gods" and "Man Called Tiger."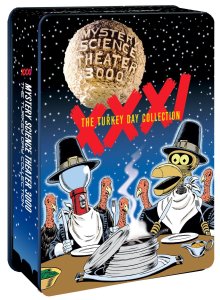 MYSTERY SCIENCE THEATER 3000 XXXI: THE TURKEY DAY COLLECTION DVD (Shout!): When I was in high school, there were few things more entertaining than Comedy Central's annual "Turkey Day" marathon of Mystery Science Theater 3000 episodes. The marathons were packaged with hilarious new scenes of Joel and the Bots along with A&E host "Jack Perkins" (Mike Nelson) enjoying their own slice of Thanksgiving dinner. Those nostalgic memories many MST3K fans have of the Turkey Day marathons are likely to be rekindled – a bit – by Shout's latest MST3K box-set. Packaged in a limited edition tin, the Turkey Day Collection offers four so-so episodes from the show (Jungle Goddess, The Painted Hills, The Screaming Skull, and Squirm) with supplements that celebrate the TD marathons and their specially created segments. Joel Hodgson provides new & exclusive Turkey Day intros with featurettes and an interview with "Squirm" star Don Scardino comprising a special features section that's more satisfying than the features lampooned within.
Also on DVD from Shout: Timeless Media Group brings one of the earliest TV crime dramas to DVD in a massive 16-disc set. M SQUAD (3066 mins.) starred Lee Marvin as Lt. Frank Ballinger, a Chicago cop working for the elite M-Squad Division, led by Paul Newlan's Captain Grey. All 117 episodes from the series – which includes dynamic early soundtracks by Stanley Wilson augmented by session players like Benny Carter and John Williams – make their way to DVD in TMG's special edition package with extras including a bonus disc that feature Marvin's appearances on a number of other Golden Age shows (Wagon Train, Checkmate, The Virginian, Lawbreaker)…Season 3 of HILL STREET BLUES (18 hours, 1982-83) boasts 22 episodes from the NBC crime drama in its prime, with Daniel J. Travanti, Veronica Hamel, Michael Conrad, Bruce Weitz, Barbara Bosson, Joe Spano and Betty Thomas starring in the Emmy-winning series' third go-around. Full-screen transfers and mono soundtracks comprise Shout's DVD set…GENE AUTRY COLLECTION 8 rounds up four additional B-westerns starring the crooning cowboy: Trail to San Antone, Riders in the Sky, Riders of the Whistling Pines, and Saginaw Trail, all in 4:3 B&W transfers from Timeless Media Group.
---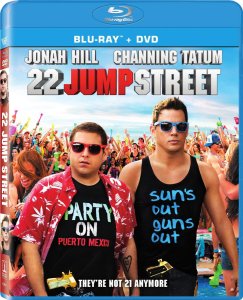 Also New & Upcoming
22 JUMP STREET Blu-Ray Combo Pack (***, 112 mins., 2014, R; Sony): One of the rare sequels that surpasses its predecessor, the fitfully funny "22 Jump Street" sends young cops Schmidt (Jonah Hill) and Jenko (Channing Tatum) back undercover – this time at a local college where they attempt to track down the source of a deadly narcotic circulating around campus. As with the prior installment, the plot is merely an excuse for Hill and Tatum to engage in some hilarious "bromance" hyjinks, and returning directors Phil Lord and Christopher Miller here wisely dial back some of the bombast in order to concentrate on the comedy. The result is a funnier and more entertaining picture than the original "21 Jump Street," with some big laughs and a surprising reduction in raunchy gags to go along with them. Sony's Blu-Ray combo pack, out November 18th, includes format-exclusive deleted scenes (17 in fact), a handful of featurettes, plus additional deleted scenes, commentary with Lord and Miller, Tatum and Hill, a DVD, digital Ultraviolet copy, and a 1080p (2.40) AVC encoded transfer with 5.1 DTS MA sound.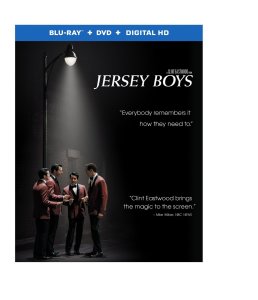 JERSEY BOYS Blu-Ray Combo Pack (***, 134 mins., 2014, R; Warner): Sure, it might have been more exciting in the hands of someone like Martin Scorsese and, admittedly, trimming down some of its music likely wasn't a wise decision. That being said, and in spite of its flaws, director Clint Eastwood's filming of the hit Broadway musical "Jersey Boys" is still a highly entertaining affair. More a straightforward biopic of Frankie Valli and the Four Seasons — with a sampling of their many wonderful songs — than a straight musical, "Jersey Boys" traces the development of the group and its individual members, from its rise to fame through to its bitter end, as scripted by the show's writers, Marshall Brickman and Rick Elise.
There are times when you'd wish Eastwood would loosen up on his usual directorial approach, since "Jersey Boys" is laid back to a fault, and is likewise marred by pallid cinematography by Tom Stern that's not much fun either. Despite the lack of visual and editorial pizzazz, though, the movie still offers sufficient entertainment in its portrayal of the group, most especially Valli (John Lloyd Young, repeating his Tony-winning stage performance), whose loyalty to his friends comes at a steep price literally and figuratively. While some of the music has been trimmed down from its source material, when the movie does break into song, "Jersey Boys" really does come to life, and ends with a spirited performance of "December 1963" — making one wonder what the film would've been like if the entire movie was as much fun as its final 15 minutes, which also boasts a superb arrangement of "Can't Take My Eyes Off You."
Warner's Blu-Ray combo pack of "Jersey Boys" offers a clear 1080p (2.40) transfer that reproduces Stern's washed-out cinematography as well as it can, with a dynamically mixed 5.1 DTS MA soundtrack on the audio end. A few behind the scenes feaurettes comprise the supplemental material, with both a DVD and digital HD copy included as well.
GETTING ON Blu-Ray/Digital HD (180 mins., 2014; HBO): Extremely funny HBO comedy follows the staff at a Long Beach, California hospital, where nurses, doctors and their fellow staff attempt to take care of predominantly elderly patients. Laurie Metcalf, Alex Borstein, Niecy Nash and Mel Rodriguez star in this effective American remake of the BBC series of the same name, which hits Blu-Ray this week from HBO. In addition to 1080p transfers and 5.1 DTS MA soundtracks, the set includes deleted scenes, a gag reel, and a digital HD Ultraviolet copy. (Note – Season 2 has just premiered on HBO).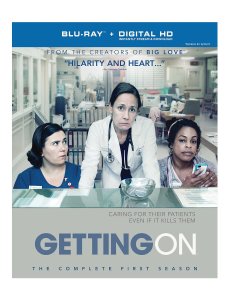 JAMES CAMERON'S DEEPSEA CHALLENGE 3D Blu-Ray Combo Pack (91 mins., 2013, PG; Millennium Entertainment): Superb 3D photography highlights Cameron's latest solo dive under the sea – this time to the Mariana Trench, some seven miles below the ocean's surface. For all his faults, Cameron walks the walk when it comes to the science and technology involved in deepsea expeditions, with Cameron designing his own submersible and utilizing it in his newest endeavor. An interesting National Geographic documentary brought to Blu-Ray this week by Millennium in a combo pack also offering a 2D BD transfer and DVD, along with Dolby TrueHD audio.
I AM ALI Blu-Ray Combo Pack (112 mins., 2014, PG; Universal): Documentary examines the life and times of the boxing great, thanks to unprecedented access to Ali's own, personal archive of recordings and interviews with friends and family members. Clare Lewins' doc treads over ground that countless documentaries have before, but the family material lends added warmth and humanity to Ali's story. Universal's Blu-Ray, available this week, includes additional interviews with Ali's friends and family, plus bonus featurettes looking at the production, a 1080p transfer, digital HD copy and DTS MA sound.
HOUSEBOUND Blu-Ray (112 mins., 2014, Not Rated; XLRator Media): Better-than-average horror film stars Morgana O'Reilly as a troubled young woman placed on home confinement – in a dwelling her mom believes is haunted. O'Reilly is terrific in Gerald Johnstone's engaging mix of horror-comedy and mystery, which XLRator releases on Blu-Ray November 18th. The BD is an Amazon exclusive and contains deleted scenes, commentary, a DTS MA 5.1 soundtrack and 1080p AVC encoded transfer. Recommended for genre enthusiasts.
PERRY MASON MOVIE COLLECTION Double Features DVD (CBS): Three more double-feature DVD pairings of the later (1990-91) NBC TV movies include Volume 7's The Case of the Poisoned Pen (with Cindy Williams) and The Case of the Desperate Deception (with Ian McShane, Yvette Mimueux and Terry O'Quinn); Volume 8's pairing of The Case of the Silenced Singer (guest starring Tim Reid, Vanessa Williams and Angela Bassett) and The Case of the Defiant Daughter (with Jere Burns, Robert Culp, Kevin Tighe and Robert Vaughn); and Volume 9's two-fer of "The Case of the Ruthless Reporter" (guest stars include Jerry Orbach and Susan Sullivan) and "The Case of the Maligned Mobser," featuring Mason Adams and Paul Anka. Full-screen transfers and stereo soundtracks comprise each disc.
---
PBS New Releases: ANIMAL MISFITS (60 mins., 2014) is an engaging look at numerous creatures whose survival instincts have enabled them to maintain their existence despite issues involving their respective size(s) and surroundings. This BBC co-production offers tiny chameleons, penguins who live in forests, and Arctic caterpillars – who spend most of their comparatively lengthy lives frozen – all wrapped up in an appealing presentation from writer-producer Gavin Boyland. PBS' DVD includes a 16:9 transfer and stereo soundtrack, and is available November 18th….Available November 25th, FIRST AIR WAR (60 mins.) examines the evolution of air warfare from the onset of WWI through the incredible advances in technology by the war's conclusion. Historian interviews and a look at a New Zealand aviation group restoring vintage WWI fighters comprise this hour-long Nova documentary with a 16:9 transfer and 2.0 stereo audio…BEN FRANKLIN'S BALLOONS (60 mins., 2014) is a fascinating documentary looking at Ben Franklin's experiments in aviation, including the first manned hot air balloon voyage in 1783. PBS' DVD includes a widescreen transfer and stereo soundtrack…Now available on DVD, ART 21: ART IN THE 21st CENTURY SEASON 7 (4 hours, 2014) looks at some of the most popular and influential contemporary artists, from Thomas Hirschhorn to Wolfgang Laib and Omer Fast. PBS' DVD includes the entire 7th season of "Art 21″ in 16:9 transfers and stereo soundtracks.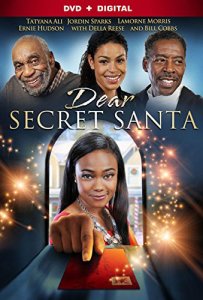 From Cinedigm: EL DESIERTO (100 mins., 2014; Not Rated) stars Lautro Delgado in a Spanish chiller with a 16:9 transfer and English subtitles…The documentary WE COULD BE KING (80 mins., 2014) profiles the merging of Pennsylvania's Germantown High School with its bitter rival Martin Luther King, resulting in a single football team rising out of the ashes. Cinedigm's DVD includes a 16:9 transfer and 5.1 soundtrack plus deleted scenes.
Magnolia New Releases: Ed Harris, Michael Pena, Eva Longoria and Amy Madigan star in FRONTERA (103 mins., 2014, R), a true-crime tale of life along the Arizona-Mexico border, where Pena's character is accusing of a murder he didn't commit. Michael Berry's film is now available on Blu-ay including a 1080p transfer and 5.1 DTS MA sound.
Lionsgate New Releases: All six seasons of the hit History Channel series ANCIENT ALIENS (68 hours, 2010-14) have been compiled in a massive new DVD box-set from Lionsgate. 82 episodes – including 12 that have never been released on video before – comprise this 23-disc set, with 16:9 transfers and stereo soundtracks on tap. Check the Aisle Seat Archives for individual season reviews…ONCE UPON A TIME IN QUEENS (100 mins., 2014) stars Paul Sorvino, Michael Rapaport, and Chazz Palmintieri in a drama from writer-director David Rodriguez about a long-time mafioso (Sorvino) trying to live outside "the family" after he's let out of prison. Lionsgate's DVD includes a 16:9 (1.85) transfer, 5.1 Dolby Digital sound, Making Of, and digital copy…DUCK DYNASTY: DUCK THE HALLS (64 mins., 2012-13) includes two holiday episodes from the A&E reality series: O Little Town of West Monroe and Winner Winner Turkey Dinner, along with the bonus "Duck Roasting on an Open Fire," 16:9 transfer and stereo soundtrack…DEAR SECRET SANTA (89 mins., 2014, PG) is a Christmas-time drama about a young woman who receives a group of cards from a secret admirer – who perished in a car accident years before. Tatyana Ali, Jordin Sparks, Ernie Hudson and Della Reese star in the feel-good picture with Lionsgate's DVD including a featurette, 16:9 transfer, and digital copy…COVERT OPERATION (89 mins., 2013) tasks a bounty hunter with breaking prisoners out of a North Korean military lockup. Mathieu Weschler's film hits DVD this week from Lionsgate boasting a digital copy, Making Of featurette, 16:9 transfer and 5.1 sound…Finally, Halloween may have passed but horror fans may want to check out the weird GINGERCLOWN (83 mins., 2014, R), a 3D outing about a group of teens who find monsters living in a Budapest amusement park. Tim Curry co-stars but "Gingerclown," shot in 3D, is only presented here in a 2D DVD from Lionsgate also including a featurette, 16:9 transfer, 5.1 audio and digital copy.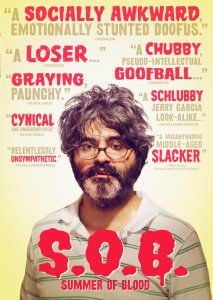 MPI New Releases: SUMMER OF BLOOD (85 mins., 201, Not Rated) finds wirter/director Onur Turkel starring as a man who's dumped by his girlfriend and proceeds to become a vampire after going on a series of online dates. Tukel's horror-comedy lands on DVD November 11th with deleted scenes, commentary, a behind the scenes featurette, 16:9 transfer and 5.1 soundtrack…THE HOUSE AT THE END OF TIME (101 mins., 2013) is Alejandro Hidalgo's chiller about a woman, sentenced to prison for the death of her husband and two children, who has to return to the scene of the crime where it happened – and confront the supernatural force truly responsible for the horrors. Dark Sky's DVD boasts a 16:9 transfer and 5.1 soundtrack in Spanish with English subtitles.
Well Go New Releases: TOUCH OF THE LIGHT (110 mins., 2012) comes to DVD on November 25th. This Hong Kong drama follows a blind piano prodigy who befriends an aspiring dancer in a true story starring Huang Yu-Siang as himself. Well Go's DVD includes a 16:9 transfer and 5.1 Mandarin soundtrack with English subtitles…Coming November 18th, AS THE LIGHT GOES OUT (115 mins., 2014) is another Hong Kong import chronicling the lives of several firefighters whose skills and friendships are put to the test during a city-wide blackout. On Blu-Ray, Well Go's 1080p transfer and 5.1 DTS MA soundtrack come with English subtitles.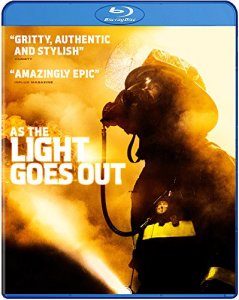 LINES OF WELLINGTON DVD (151 mins., 2014; Film Movement): An all-star cast appears in this odd Portugese production set during the Napoleonic Wars of 1810. John Malkvoich, Mathieu Amalric, Vicent Perez, Catherine Deneuve, and Isabella Huppert star in a lengthy and interesting – if a tad off-kilter given its international pedigree – picture that balances character drama with battle sequences. Film Movement's DVD boasts a 16:9 transfer and a Making Of featurette. Coming November 25th from Film Movement is Wiktor Ericsson's A LIFE IN DIRTY MOVIES (80 mins., 2014; Not Rated), a profile of exploitation director Joe Sarno and his wife and collaborator Peggy, as the 88-year-old Sarno tries to get another porno off the ground. Not for every taste, obviously, but an intriguing picture Film Movement will release on DVD with a 16:9 transfer, 5.1 audio, interviews and featurettes.
NEXT TIME: The latest from the Warner Archives! Until then, don't forget to drop in on the official Aisle Seat Message Boards and direct any emails to our email address. Cheers everyone!