Lifted by one of Bill Murray's more memorable and believable performances, Theodore Melfi's ST. VINCENT (***½, 103 mins., 2014, PG-13) might be formulaic, but its earnest and warmhearted story makes it a refreshing change of pace for viewers disappointed with the likes of Christopher Nolan's "Interstellar" and other, recent assaults on the senses coming out of Hollywood.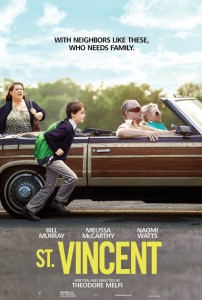 Perhaps because I had just sat through "Interstellar," I was more than ready for a character-driven piece like "St. Vincent," wherein Oliver, the precocious 10-year-old son (Jaeden Lieberher) of a newly-single mom (Melissa McCarthy), ends up being babysat – quite unexpectedly – by new neighbor Vincent MacKenna (Murray). Vincent is a hard-drinking, cantankerous louse, one who's lost at the track too many times and barely has enough funds to scrape up for his Russian hooker girlfriend (Naomi Watts), who's also carrying his child. Vincent looks at babysitting young Oliver as a means of generating some income at a time when he desperately needs it, particularly because of his ailing, Alzheimer's-afflicted wife, whose care he's barely able to afford. After Oliver has a hard time in the new Catholic school he's attending, Vincent is able to – of course – tutor the boy in defending himself and providing an education in life while Oliver's mother – facing a custody battle with her ex – works away at a hospital job in order to support them both.
Melfi wrote and directed "St. Vincent," which sounds predictable – and is, really – but works because of the sincerity of the film's performances and its all-around good nature. Murray refrains from showboating too much here and delivers a credible turn that ranks with some of his finest screen work, even if there are times when the star seems to slip in and out of a New York accent. McCarthy is also quite appealing in a more dramatic role than she's ever played on-screen, dating back to her work on "Gilmore Girls" years ago, while Watts delivers a surprisingly funny, on-target turn as Vincent's unrefined "lady of the night." It helps that Leiberher is also a natural on-screen, and that all of the actors are able to handle the more dramatic – if not contrived – elements of the story's final act with ease.
"St. Vincent" may not be a great film – and one wishes the story didn't resolve itself quite as quickly as it does, with Melfi throwing one plot device after another at the viewer – but it's nevertheless a heartwarming picture, and one that seems particularly welcome given the year we've had at the movies.
---
INTO THE STORM (**, 89 mins., 2014, PG-13; Warner): All the advances in digital effects since the mid '90s can't shake off the fact that this meager rip-off of "Twister" makes its predecessor seem like a classic by comparison. Granted, Michael Crichton, Steven Spielberg and Jan DeBont's box-office smash worked mostly because of its FX and little else (though I always liked Jami Gertz back in those days), and "Into the Storm" follows the same formula. The result is a loud, visually impressive, sub-90 minute lark that balances two plots (would-be stormchasers hoping to document an F5 while a high school reunion stands in the storm's path) with the expected visual effects and thunderous sound design…but dramatically, there's nothing to Steven Quale's film, with a bland, uninteresting cast adding little to its formulaic story. Warner's Blu-Ray combo pack carries top flight audio (DTS MA 5.1) and video (1080p AVC 1.85) with a digital Ultraviolet copy, DVD, and a trio of fluffy featurettes on the supplemental side.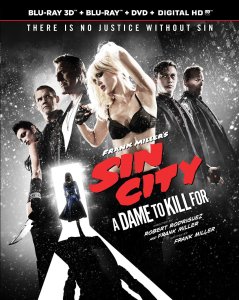 SIN CITY: A DAME TO KILL FOR Blu-Ray Combo Pack (*½, 102 mins., 2014, R; Anchor Bay): Making one of the all-time fastest theatrical-to-video progressions in recent memory, this too-little, too-late sequel to Frank Miller and Robert Rodriguez's 2005 collaboration (never one of my favorites to begin with) is likely to evoke more memories of Miller's ill-fated turkey "The Spirit" than its predecessor even among fanboys. This green-screened affair brings back Jessica Alba, Mickey Rourke, and Bruce Willis among others (Clive Owen wisely bypassed the picture with Josh Brolin stepping into his role) for another assembly of stylized cinematic mayhem filled with comic book action and film noir cliches – but the novelty is gone, the story isn't appealing, and the visuals come off like a one-trick pony you've seen by now a dozen times. A massive bomb at the box-office this past August, "A Dame to Kill For" has received a satisfying treatment from Anchor Bay, with a "green screen only" version and several featurettes rounding out a Blu-Ray combo pack that also includes a 3D presentation, DVD and digital HD Ultraviolet copy.
Holiday-Related New Releases
The Hallmark Channel has become one of the top destinations for yuletide-themed TV movies, as evidenced by their top ratings from November 1st (they start early, like everyone else these days) through to the New Year.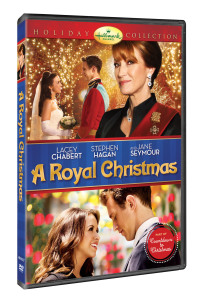 Cinedigm brings four of the newest Hallmark titles to DVD this month. Currently available are A COOKIE CUTTER CHRISTMAS (87 mins., 2014) starring Erin Krakow as an elementary school teacher involved in a bakeoff with a childhood rival while falling for the affections of a widower (David Haydn-Jones), and THE NINE LIVES OF CHRISTMAS (87 mins., 2014), featuring one-time Superman Brandon Routh as a firefighter who rescues a cat that leads to a romance with a cute veterinary student (Kimberley Sustad). Available on November 25th, shortly after their broadcast debuts, are A ROYAL CHRISTMAS (87 mins., 2014), which finds Hallmark favorite Lacey Chabert as a working class Philly girl with a fiancee (Stephen Hagan) who's really European royalty, and SIGNED, SEALED, DELIVERED FOR CHRISTMAS (87 mins., 2014), a holiday spinoff of the Hallmark original series with Eric Mabius and guest stars Rob Estes and Marion Ross. All four Cinedigm DVDs include 16:9 (1.78) transfers and 5.1 sound.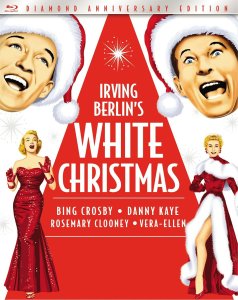 Paramount has jumped into the holiday fray with a "Diamond Anniversary Edition" Blu-Ray of WHITE CHRISTMAS (***, 120 mins., 1954), Irving Berlin's musical which borrowed elements from the earlier Bing Crosby hit "Holiday Inn" and reworked it as a vehicle for Crosby and Danny Kaye, who was the third choice after Fred Astaire (who starred in "Holiday Inn") and Donald O'Connor turned them down. With Rosemary Clooney and Vera-Ellen also on-hand, this slight but tuneful affair was one of the biggest box-office hits of the mid '50s, and has been a perennial on the tube at this time of year. Paramount's four-disc set includes a Blu-Ray presentation mostly in line with its earlier format release, albeit with some new extras featuring current crooner Michael Buble in a "virtual duet" with Bing and Danny and a 1954 UNICEF documentary with Kaye introduced by Buble. Photo galleries and five Christmas TV appearances with the stars are also new, along with a sing-along function. A 12-song Christmas CD, DVDs and extras from the prior Blu are also included with a nice 1080p (1.85) transfer and DTS MA 5.1 and mono sound.
I AM SANTA CLAUS DVD (89 mins., 2014; Virgil Films): Morgan Spurlock produced this documentary following five "professional" Santa Claus and how they not only prepare for the yuletide season, but attempt to "uphold" the code of conduct befitting any St. Nicholas. Tommy Avallone's film is engaging as it balances a portrait of the real life men behind the beard with the image they attempt to convey to kids throughout the Christmas season. Virgil's DVD includes a commentary and short film/deleted scene. Also new from Virgil, albeit without a holiday tie-in, is LEGENDS OF THE KNIGHT (76 mins., 2014), a documentary from Brett Culp focusing on individuals who sport a similar love of Batman which they carry into their real lives. 14 minutes of deleted scenes and a trailer comprise Virgil's DVD release.
---
Some extremely eclectic '70s offerings kick off our new round-up of recent Warner Archives releases.
WICKED WICKED (95 mins., 1973, PG) is one of the most intriguing recent Archive discs for horror buffs – the first home video release of an oddball 1973 MGM production about a killer knocking off lovely young ladies at a California resort. The plot doesn't offer anything particularly interesting – it's the "Duo Vision" filming that gives this picture its novelty value, with the anamorphic 2.35 frame chopped in half: one devoted to the exploits of the killer, the other (typically) his next victim. Warner's 2.35 transfer looks quite good, making for a definite curio well worth tracking down on DVD for genre buffs…Another early '70s MGM release, CORKY (88 mins., 1972, PG), offers Robert Blake in a pre-Baretta role of a disenfranchised race car driver whose temperament gets the best of him. Charlotte Rampling and a number of NASCAR '70s stars – Cale Yarborough, Richard Petty and Bobby Allison among them – also appear in Leonard Horn's well-shot, albeit typically downbeat '70s drama, presented in a 16:9 transfer (2.35) that preserves the original widescreen aspect ratio…Hanna-Barbera fans ought to get a kick out of THE SUPER GLOBETROTTERS (298 mins.), the off-the-wall exploits of the basketball stars, who here fight crime via the "Globetrotter Crime Globe" in 13 episodes of '70s animated goodness. Warner's Archive release includes a two-disc set with full-screen (1.37) transfers and mono sound.
Also newly available from the Archives: the crisp Cinemascope/Warnercolor hues of PETE KELLY'S BLUES (95 mins., 1955) provide a splendid high-def viewing for Blu-Ray enthusiasts. Jack Webb's 1955 melodrama with a raucous soundtrack of dixieland/jazz boasts the "Dragnet" star as a Kansas City musician who dares to take on a local crime boss (Edmond O'Brien) with musical support from Peggy Lee and Ella Fitzgerald. Lee Marvin, Andy Devine and Janet Leigh also star in this highly entertaining '50s production directed by Webb, with Warner's outstanding BD including a 1080p AVC encoded (2.55) transfer with 5.1 DTS MA audio. Extras include the Oscar nominated short "Gadgets Galore" and the cartoon The Hole Idea" along with trailers…Season 4 of SUGARFOOT (452 mis., 1960-61) saddles up for the final series of adventures for Will Hutchins' hero. In this goodbye year for the character – which alternated its timeslot with Clint Walker's Cheyenne and Ty Hardin's Bronco – Sugarfoot crosses paths with Native Americans and pioneer settlers. Warner's DVD set offers 4:3 B&W transfers and mono soundtracks…Finally, FOSTER'S HOME FOR IMAGINARY FRIENDS – SEASON 3 (322 mins.) debuts exclusively as a manufactured-on-demand disc from Warner. With Mac having outgrown his pal Bloo and settled him in Madame Foster's Home for Imaginary Friends, the young boy is tasked with visiting his friend daily or Bloo will be adopted out. All 13 episodes from the series' third season are on-hand in 4:3 transfers with stereo audio.
---
SHOCK WAVES Blu-Ray (85 mins., 1977, Not Rated; Blue Underground): Memorable low-budget chiller from director Ken Wiederhorn stars Peter Cushing as a Nazi standing watch over a German wreck housing the undead remnants of one of the last Nazi scientific experiments – an elite SS unit known as The Death Corps. Isolated on an island off the Florida coast, these zombified soldiers come back to haunt a stranded boat with passengers including the lovely Brooke Adams.
Well-shot given its budget and backed by a moody Richard Einhorn score, "Shock Waves" has generated a loyal cult following since its original release – most of whom will have never seen the picture look anywhere near as detailed as it does in Blue Underground's Blu-Ray. Available next week, the label's 1080p (1.85) transfer is as detailed as you'd hope, allowing for every last nick and scratch to be seen in all its glory. Extras include a commentary with Weiderhorn and friends; interviews with Einhorn, Adams, cinematographer Reuben Trane, the trailer, TV spot, and a conversation with one-time "Flipper" childhood star Luke Halprin, who counted "Shock Waves" as one of his sole "adult" features.
RAGNAROK Blu-Ray (96 mins., 2013, PG-13; Magnolia): Norwegian import offers an agreeable Spielbergian-styled fantasy with an archeologist (Pal Sverre) and several kids trying to decipher a number of Viking inscriptions that reveal the secret to the end of the world. Fairly well done given its modest budget, "Ragnarok" bows on Blu-Ray this week from Magnolia, offering a 1080p (2.35) transfer, DTS MA 5.1 audio in Norwegian or English (dubbed), a visual FX featurette and the trailer.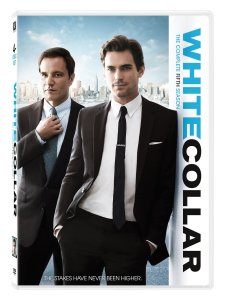 WHITE COLLAR Season 5 DVD (572 mins., 2013-14; Fox): Penultimate season of the USA series finds the gang trying to track down nearly $2 million in missing gold coins, with Neal (Matt Bomer) also having to tackle both a new handler as well as a new love interest. Tiffani Thiessen and Willie Garson are also back in the fifth season of "White Collar," which is now available on DVD from Fox. The three-disc set includes all 13 episodes with commentary on the season finale, deleted scenes, a gag reel, and featurette on Garson directing one of the episodes. The 16:9 transfers and 5.1 soundtracks are all right on par.
PHOBIA DVD (84 mins., 2014, Not Rated; Image/RLJ): Michael Jefferson stars in Rory Abel's thriller as an agoraphobic man – already tormented by visions of the accident that claimed his wife's life – who may or may not be haunted by a supernatural force. Some gruesome FX work is on-tap in this low-budget affair, brought to DVD next week by RLJ featuring a producer commentary, deleted scenes, concept art, a 16:9 (1.78) transfer and 5.1 Dolby Digital sound.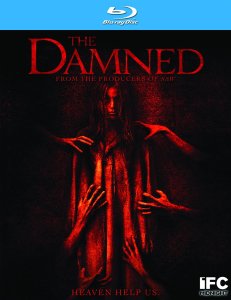 IFC/MPI New Releases: Victor Garcia's THE DAMNED (87 mins., 2014, R) is a disappointing horror outing starring Peter Facinelli as a man, trying to track down his daughter in Colombia, who wrecks his car and runs into a woman chained up in the basement of a home – for a very good reason. Though the story offers a fleeting glimpse or two of terror, there's little payoff in the finished product co-starring Sophia Myles and Nathalia Ramos. IFC's Blu includes cast/crew commentaries, a Making Of, featurette, the trailer, 1080p transfer and 5.1 DTS MA sound…WAR STORY (89 mins., 2014, Not Rated) stars Catherine Keener as a female journalist attacked while on assignment in Libya. Ben Kingsley co-stars in Mark Jackson's slow-going political thriller that's not very thrilling or particularly interesting. IFC's DVD includes the trailer, a 16:9 (2.35) transfer and 5.1 Dolby Digital sound…Much more interesting in Leanne Pooley's documentary on Sir Edmund Hillary's trek to the top of Mount Everest, BEYOND THE EDGE (90 mins., 2013, Not Rated), which uses color footage, photographs and dramatic reenactments. This Sundance Selects DVD from MPI includes a 16:9 (1.78) transfer and 5.1 Dolby Digital sound.
I AM YOURS DVD (100 mins., 2014; Film Movement): Iram Haq's drama looks at a Pakistani woman, living in Oslo, who falls for a local man from Stockholm. Their respective cultural differences are dissected in an interesting romantic drama brought to DVD this month by Film Movement. The disc includes a 16:9 transfer with Norwegian, Swedish and Urdu audio subtitled in English.
NEXT TIME: A Thanksgiving Feast with CHRISTMAS EVIL/YOU BETTER WATCH OUT on Blu-Ray, EXPENDABLES 3 and more! Until then, don't forget to drop in on the official Aisle Seat Message Boards and direct any emails to our email address. Cheers everyone!