Not to be confused with the controversial, more exploitive "Silent Night, Deadly Night," writer-director Lewis Jackson's YOU BETTER WATCH OUT — also known as the pulpier titled CHRISTMAS EVIL — has been issued on DVD a few times over the years, but never more satisfyingly than Vinegar Syndrome's new Blu-Ray edition (***, 1980, 95 mins., R).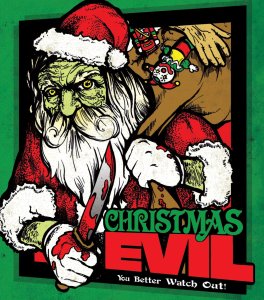 If you've never seen Jackson's film – and have the right perspective on it – you're in for a treat. Neither a gratuitous slasher film (despite having several bursts of gore) nor a perverse black comedy (despite John Waters' presence on one of the disc's commentary tracks), "Christmas Evil" is a bizarre, at-times surreal psychological thriller about a toy maker (Brandon Maggart) wounded by a childhood trauma who simply loses all connection with reality one Christmas Eve. You see, Maggart's character, Harry, watched as his mother had an affair with Santa Claus one Christmas, and he's spent seemingly forever since whistling yuletide carols and wishing he was Santa Claus.
Seemingly harmless and put upon (except for his obsession with marking down the peculiar "naughty and nice" patterns of neighboring kids), Harry eventually loses it after he's pushed around at work by his boss and ridiculed by church-going yuppies…to the point where Harry's Santa becomes one of his city's most wanted while the body count begins to mount.
Though billed as a typical slasher movie of its era, "You Better Watch Out" is too slowly-paced and not violent enough in the long run to satisfy most horror fans. But at the same time, that's not the kind of film Jackson's movie is trying to be: though it's clear that Harry is a few steps over the line in the sanity department, you come to sympathize with him as his obnoxious bosses care only about the bottom line and not the sick kids at the hospital where Harry wants to donate toys. Harry's helpless victims are the people who've taken advantage of the purity of Christmas, as it were – a message rammed home in the movie's outrageously demented finale, which mixes elements of Clement Moore and "Frankenstein" and needs to be seen to be fully appreciated.
With an eclectic soundtrack that mixes portions of classic perennial tunes with an electronic score typical of the era, "You Better Watch Out" is one of the weirdest films of its type but also one of the most interesting "alternative holiday" offerings out there.
Vinegar Syndrome's Blu-Ray/DVD combo pack boasts a terrific, DNR-free 4K restoration of a film that's occasionally been part of numerous low-budget video releases. The disc's 1080p AVC encoded transfer is culled from Jackson's own print of the film, bearing his preferred title ("You Better Watch Out") and running time, which is a few minutes shorter than other released versions. Jackson is on-hand here to contribute a brand-new commentary track, along with a commentary from Troma's old, out of print DVD, plus Synapse's DVD track featuring film director (and fan) John Waters and Jackson. Waters is actually quite good at asking Jackson questions about the production and its distribution, so the talk is a nice compliment to the director's own, more technically oriented commentary and will come as a nice bonus for fans.
Other special features – mostly carried over from the Synapse DVD – include some 26 minutes of audition tapes featuring tests from JoBeth Williams, George Dzunda, David Rasche, Michael Beck and Lindsay Crouse (what a bizarre alternate version that would've made!) among others, plus seven minutes of deleted scenes, storyboards, and highly amusing screening comment cards (my favorite: "Why???").
"Christmas Evil"/"You Better Watch Out" isn't a classic but it's a unique and wild ride that's managed to attract its own, small following over the years, though not horror addicts by and large, who undoubtedly prefer the less subtle and more crass thrills of the hideous "Silent Night, Deadly Night" films.
For curious viewers, Vinegar Syndrome's Blu-Ray/DVD is a most welcome release perfectly timed for holiday consumption. If you've had enough of the sweetness and can't stand to watch the continued, crass commercialization of Christmas in general — definitely give it a spin with eggnog by your side.
---
THE GIVER Blu-Ray Combo Pack (**½, 97 mins., 2014, PG-13; Anchor Bay): Lois Lowry's rightfully celebrated young adult novel – written decades before the likes of "Twilight" and "The Hunger Games" – finally made it to the screen in the form of a serviceable, if ultimately unsatisfying, film from producer Jeff Bridges (who also stars) and director Philip Noyce.
Michael Mitnick and Robert Weide's script follows a young man (Brenton Thwaites) in a future world where feeling is regulated by a governing body that prevents anyone and anything unique from flourishing in its environment. "The Giver" film starts off well with Thwaites – designated as a "receiver" for the suppressed memories and feelings of a past civilization – realizing what parts of life have been drained from the society he's living in, and Bridges is fine as the title character – a sage who attempts to show the young man what he's been missing. Other roles, though, are thinly drawn, from Meryl Streep's government authority figure to Alexander Skarsgard and Katie Holmes as Thwaites' parents.
Lowry's themes are developed here to a degree, but in literalizing her heavily ambiguous tale, the film has to come up with a standard-issue third act, which plays out like an underwhelming teenage version of "Logan's Run." The end result is too bland to effectively convey the range of emotion in Lowry's book, though it's at least more thoughtfully rendered than most of the "young adult" flicks currently infiltrating the market.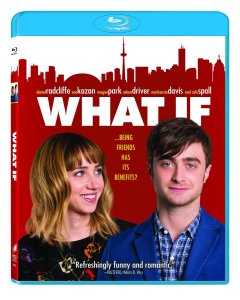 Anchor Bay's Blu-Ray includes a 1080p (2.35) transfer that replicates the film's striking visuals, which begin in black-and-white before slowly shifting into full color (representing Thwaites' own awakening to the world around him). Extras include an original script reading featuring Bridges' late father, Lloyd; a discussion with Lowry; one deleted scene; featurettes; a DVD and digital copy. The DTS MA 5.1 audio boasts a strong score by Marco Beltrami that stands out from most of the dreck we hear today as well.
WHAT IF Blu-Ray (***, 98 mins., 2014, PG-13; Sony): Better-than-average romantic comedy follows British medical school dropout Wallace (Daniel Radcliffe), living in Seattle, who falls for the quirky animator girlfriend (Zoe Kazan) of her long-time boyfriend Ben (Rafe Spall). Elan Mastai's script nicely develops the characters as Wallace and Chantry do a lengthy tango before the inevitable coupling, with some legitimate laughs and believable situations balancing director Michael Dowse's film, which was shot as "The F Word" and released that way in some international markets. Sony's Blu-Ray includes a digital copy plus format-exclusive deleted scenes and two behind the scenes featurettes, a pair of additional production vignettes, a 1080p (2.35) transfer and 5.1 DTS MA sound.
---
Lionsgate New Releases: TYLER PERRY'S A MADEA CHRISTMAS: The Movie (100 mins., 2013, PG-13) stars writer-director-producer-star Perry as his cinematic alter-ego Madea, who spreads holiday cheer after meeting her best friend's family for the holidays. An eclectic cast includes Larry the Cable Guy, Alicia Witt, Chad Michael Murray, Kathy Najimy, Tika Sumpter and "Facts of Life" star Lisa Welchel for good measure (still looking mighty fine in her 50s). Lionsgate's BD/DVD combo pack boasts a gag reel, "Madea's Tough Love" featurette, digital copy, 1080p transfer and 5.1 sound. One of Perry's plays, HELL HATH NO FURY LIKE A WOMAN SCORNED (117 mins., 2013) also comes to DVD this week from Lionsgate featuring a 16:9 transfer, behind the scenes interviews and a digital copy…The two-disc WOMEN OF THE BIBLE (aprx. 5 hours) includes seven History/Bio documentaries: Mary of Nazareth, Queen Esther, Scarlet Women of the Bible, Mary Magdalene, Adam & Eve, Solomon & Sheba, and Samson & Delilah, all in 4:3 full-screen transfers on DVD…Coming December 2nd are a pair of WWE Official Workout Videos: POWER SERIES – TRIPLE H (96 mins.) includes six different workouts featuring the WWE wrestling star, while WWE founder Vince McMahon's daughter Stephanie provides a workout of her own in FIT SERIES – STEPHANIE McMAHON (65 mins.). Both DVDs include custom workout options and music-only alternative audio tracks.
BBC New Releases: Season 2 of THE PARADISE (464 mins., 2014) finds the triangle between John Moray, his love Denise Lovett and ex-fiancee Katherine Glendenning renewed while John and Denise attempt to regain control of his department store. More romantic intrigue and character-driven drama is on hand in this second season of the BBC series, which airs domestically on BBC America. BBC Home Entertainment's Blu-Ray includes full 1080p transfers and 2.0 DTS MA soundtracks on two discs…A VERY FUNNY CHRISTMAS (124 mins., 2014) includes two adaptations of David Williams' bestselling books: "Gangsta Granny" and "Mr. Stink," starring Julia McKenzie and Joanna Lumley in the former and Hugh Bonneville in the latter. BBC's single-disc DVD boasts 16:9 transfers, behind-the-scenes featurettes, an interview with Williams and stereo sound.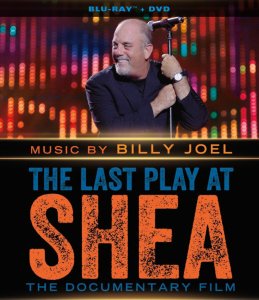 Upcoming From Film Movement: Thierry de Perretti's APACHES (84 mins.) is a fascinating French drama about five teens in Corsica who become the target of a crime boss after they party at an empty vacation villa. This French import comes to DVD on December 2nd from Film Movement with a 16:9 transfer, 5.1 French audio and English subtitles. Also coming from Film Movement is TO KILL A MAN (82 mins.), a Chilean thriller from director Alejandro Fernandez Almendras. The DVD contains a 16:9 transfer with 5.1 stereo sound.
Quick Takes
AUTOMATA Blu-Ray (110 mins., 2013, R; Millennium): Derivative sci-fi effort stars Antonio Banderas as a man who attempts to find peace through a robot-apocalypse that's being backed by a group of automatons who just want a better existence for themselves. Melanie Griffith nearly looks like a robot herself, showing off her latest plastic surgery in a co-starring role in ex-hubby Banderas' weak starring effort, though director Gabe Ibanez displays a little bit of visual flair even working here in the confines of a modest budget. Millennium's Blu-Ray, now available, includes a 1080p transfer, 5.1 Dolby TrueHD soundtrack and a Making Of featurette.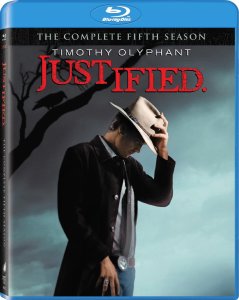 JUSTIFIED – Season 5 Blu-Ray (667 mins., 2014; Sony): Penultimate season of the FX drama based on Elmore Leonard's short story "Fire in the Hole" sees U.S. Marshal Raylan Givens (Timothy Olyphant) once again taking on the violent Crowe family, which reestablishes itself in Harlan County just in time to score on a group of criminal conspiracies. Alicia Witt, Michael Rapaport and Mary Steenburgen are a few of the supporting faces who appear in the fifth season of "Justified," which hits Blu-Ray on December 2nd in a fine special edition from Sony. In addition to commentaries, deleted scenes and a Making Of, the BD/Ultraviolet combo pack includes a number of BD-exclusive featurettes taking fans further behind the scenes. The 1080p (1.78) transfers and 5.1 DTS MA soundtracks are all spot on.
THE LAST PLAY AT SHEA Blu-Ray/DVD (90 mins., 2014, Not Rated; Virgil Films): Billy Joel played Shea Stadium – longtime home of the New York Mets – in a goodbye concert for the late stadium. This documentary from director Paul Crowder includes ample footage from the 2008 Joel performances, backed by a history of both the musician and the stadium itself, with comments from Joel's ex, Christie Brinkley, plus admirers Tony Bennett, Garth Brooks, John Mayer and others. Narrated by Alec Baldwin, Virgil Films' combo pack of "The Last Play at Shea" includes a 1080p transfer and 5.1 DTS MA and 2.0 DTS MA audio tracks. Extras include additional performances, an interview with Joel by Steve Cohen and other goodies.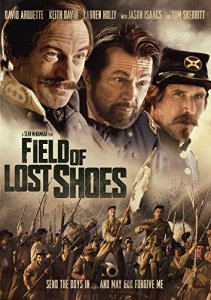 FIELD OF LOST SHOES DVD (96 mins., 2014, PG-13; Arc Entertainment): Interesting, independently-produced Civil War film from director Sean McNamara – co-scripted by veteran scribe Ron Bass – profiles a group of cadets at the Virginia Military Institute, who have to defend the Shenandoah Valley from the Union forces of General Ulysses S. Grant (Tom Skerritt). David Arquette plays the troop's commanding officer in this workmanlike, yet compelling, picture that likely could've used a longer running time to develop its characterizations. That said, "Field of Lost Shoes" is still a worthy effort, with Arc Entertainment's DVD including a 16:9 transfer with 5.1 Dolby Digital sound. Available December 2nd.
NEXT TIME: A Black Friday Special with Part 1 of the annual Aisle Seat Holiday Gift Guide. Until then, don't forget to drop in on the official Aisle Seat Message Boards and direct any emails to our email address. Cheers everyone!