Throughout the busy holiday season I'll be running a special Aisle Seat highlighting a number of new home video titles that would make for solid gift giving for the movie buff in your life. With Christmas less than a month away, let's get right to it!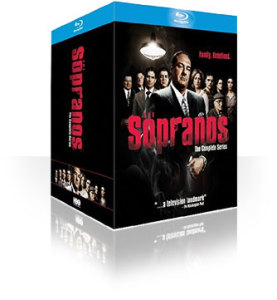 For the Mob-Obssessed (and Blu-Ray Capable): HBO's gorgeous, 28-disc Blu-Ray box-set of THE SOPRANOS (83 hours) includes all seven seasons of David Chase's celebrated, acclaimed, award-winning series. Including 1080p AVC encoded (1.78) transfers of the series' entire run for the first time in the format (only a couple of individual seasons had previously made it onto Blu-Ray), the set also includes roundtable discussions with the cast and crew; a two-part interview with Chase; 25 audio commentaries; and an exclusive featurette, "Defining a Television Landmark." Sweetening the pot: digital HD Ultraviolet copies for the complete series. A nice box with 5.1 DTS MA audio rounding out one of the year's top TV on DVD releases.
For the Cultured Film Buff: Twilight Time has given us a tremendous year of releases in 2014, and their November slate of limited-edition Blu-Rays – available exclusively as always through Screen Archives – includes another diverse assortment of titles.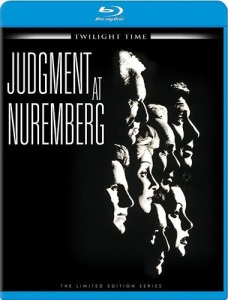 '60s fans in particular will get the most mileage out of TT's latest releases, which are highlighted by John Frankenheimer's taut portrayal of Robert Stroud, the killer who became THE BIRDMAN OF ALCATRAZ (149 mins.) and eventually offered career-defining work for its director, star Burt Lancaster and composer Elmer Bernstein. Evocatively shot by Burnett Guffey, "Birdman" remains a compelling character portrait with a top-flight supporting cast comprised of Karl Malden, Thelma Ritter, Neville Brand, Edmond O'Brien, Betty Field and Telly Savalas. With a highly respectable 1080p (1.66) AVC encoded transfer licensed from MGM, TT's Blu-Ray also boasts a new commentary from Nick Redman, Julie Kirgo and Paul Seydor reflecting on the film's historical background along with the trailer and an isolated score track.
Even if some of director Stanley Kramer's movies come off as preachy and heavy-handed, there's still a great deal of power – and strong performances – in his 1961 classic JUDGEMENT AT NUREMBERG (179 mins.), which makes its domestic Blu-Ray debut from Twilight Time. The Spencer Tracy-led ensemble cast – also including Burt Lancaster, Richard Widmark, Maximilian Schell, Montgomery Clift, a young William Shatner, and star turns from Judy Garland and Marlene Deitrich – does a commendable job turning Abby Mann's script (based on his prior Playhouse 90 play) into an unforgettable drama that ranks as one of the era's finest. For that reason, it's hard to believe the film has been out of print for some time, making TT's Blu-Ray even more vital for preserving this 1961 UA release. Featuring another nicely textured 1080p (1.66) MGM transfer, the disc includes "In Conversation with Abby Mann and Maximilian Schell," "The Value of a Single Human Being," "A Tribute to Stanley Kramer," the trailer, and an isolated music/FX track.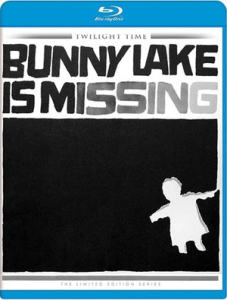 TT's other '60s releases include a vivid HD presentation of BUNNY LAKE IS MISSING (107 mins., 1965), Otto Preminger's offbeat, visceral look at a brooding mid '60s London where a young American mother (Carol Lynley) claims her daughter has been abducted, leading to suspicion of both her – and her own psyche – in an investigation spearheaded by Laurence Olivier's detective. Keir Dullea co-stars in this adaptation of Evelyn Piper's novel, scripted by John and Penelope Mortimer and scored by Paul Glass. With its stark, widescreen cinematography (2.35) and Saul Bass' credits, "Bunny Lake" is a fascinating curio from its era, with TT's Blu including a top-notch AVC encoded transfer from the Sony vaults, DTS MA mono audio and extras including trailers, an isolated score track and a new commentary with Nick Redman, Julie Kirgo and frequent TT commentator/screenwriter Lem Dobbs. Finally, you couldn't get any further away from Preminger country than FLAMING STAR (92 mins., 1960), a Fox Cinemascope production starring Elvis Presley in a reasonably entertaining western directed by Don Siegel and scripted by Nunnally Johnson and Clair Huffaker from the latter's novel. Steve Forrest, Barbara Eden, Dolores Del Rio and John McIntre co-star in one of its star's better non-musical efforts, captured here in a satisfying 1080p (2.35) transfer from the Fox vaults. A new commentary with Nick Redman and Lem Dobbs highlights the supplemental side with a trailer and isolated score of Cyril Mockridge's orchestral soundtrack capping the release.
Rounding out Twilight Time's November releases are the depressing 1986 animated adaptation of Raymond Briggs' cautionary nuclear war story WHEN THE WIND BLOWS (84 mins.), a bleak portrait of an elderly English couple struggling to survive after a Holocaust, and Yuji Yamada's 2002 award-winning THE TWILIGHT SAMURAI (129 mins.). The former includes an isolated music/FX track, commentary with Nick Redman and assistant editor Joe Fordham, a Making Of, interview with Briggs, and a feature-length profile of its director, Jimmy Murakami. The 1080p (1.33) transfer is strong and the DTS MA 2.0 audio just fine. "Twilight Samurai" includes an isolated score track, 1080p (1.85) transfer and 5.1 DTS MA soundtrack.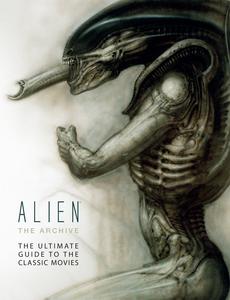 For the Alien Fan: Titan Books' ALIEN – THE ARCHIVE ought to be on any xenomorph's list of must-reading this holiday season. A gorgeously rendered hardcover coffee table tome, "The Archive" extensively profiles "Alien," "Aliens," Alien 3″ and "Alien Resurrection" with comments from the filmmakers, Sigourney Weaver and loads of photos and storyboards. Among the highlights are a look at Vincent Ward's unproduced "Alien 3″ with its lavish concept of a wooden planet (an idea that, in hindsight, likely would've made for a more offbeat and interesting sequel than the one David Fincher ultimately produced), as well as some publicity photographs for each film I don't recall ever seeing before. The text portion of the book is a bit more honest than one might anticipate as well, particularly where the problematic "Alien 3″ is concerned, though it's the glossy visuals that ought to make this a recommended purchase for "Alien" fans.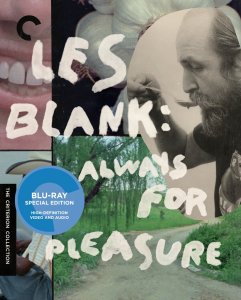 For Independent Cinema Fans: LES BLANK: ALWAYS FOR PLEASURE, Criterion's box-set retrospective of iconoclastic filmmaker Les Blank, makes for a fascinating package for independent cinema fans. New 2K restorations are included in the three-disc Blu-Ray anthology of "The Blues Accordin' to Lightnin' Hopkins" (1968), "God Respects Us When We Work, But Loves Us When We Dance" (1968), "Spend It All" (1971), "A Well Spent Life" (1971), "Dry Wood" (1973), "Hot Pepper" (1973), "Always For Pleasure" (1978), "Garlic is as Good as Ten Mothers" (1980), "Sprout Wings and Fly" (1983), "In Heaven There is No Beer?" (1984), "Gap-Toothed Women" (1987), "Yum Yum Yum! A Taste of Cajun and Creole Cooking" (1990), "The Maestro: King of the Cowboy Artists" (1994), and "Sworn to the Drum: A Tribute to Francisco Aguabella" (1995). In addition to an excerpt from "Les Blank: A Quiet Revelation," Criterion has included new interviews with Blanks' sons and collaborators plus a handful of shorts and two outtakes from "Lightnin' Hopkins." The 1080p transfers in 1.33 are natural and detailed, with mono and stereo audio included along with booklet notes by critic Andrew Horton.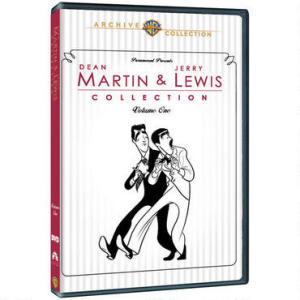 For the Martin & Lewis Buff: Newly available as part of the Warner Archive Collection, THE DEAN MARTIN & JERRY LEWIS COLLECTION reissues Martin and Lewis' vintage Paramount screen comedies, which the latter studio previously brought to DVD in 2007. Long out of print and commanding big bucks on the secondary market, viewers now have affordable access to these '50s hits that cemented the box-office appeal of the team.
The four-disc Volume 1 includes "My Friend Irma" (1949), which introduced the boys in a screen version of Marie Wilson's radio show, as well as its sequel "My friend Irma Goes West" (1950). The duo quickly graduated to starring roles in "That's My Boy" (1951), "Sailor Beware" (1951), "Jumping Jacks" (1952), "The Stooge" (1951), "Scared Stiff" (1952) and "The Caddy" (1953), with all titles here presented in 4:3 (1.33) black-and-white transfers. Volume 2 includes the remaining (color) films featuring the boys, though not in chronological order, on three discs. Featured therein are "Pardners" (1956), "Hollywood or Bust" (1956), "Living It Up" (1954), "You're Never Too Young" (1955) and "Artists and Models" (1955), with all films save "Living It Up" presented in 16:9 (1.85) from Vistavision elements.
While Martin & Lewis' comedy is a matter of personal taste, for fans of the tandem, the Archives' set reprises the prior Paramount discs in a convenient and affordable package.
Another out-of-print Paramount disc, THE FAN (94 mins., 1981, R), returns to circulation this month through the Archive. This uninspired 1981 thriller about a veteran Broadway star (Lauren Bacall) stalked by a crazy young fan (Michael Biehn, billed as, of course, "The Fan") sounds like it could provide a fair amount of entertainment between its terrific cast (James Garner, Maureen Stapleton and Hector Elizondo co-star) and its premise. Unfortunately, Edward Bianchi's direction is far from exciting, and not even a Pino Donaggio score – augmented by the forgettable (forgotten?) Marvin Hamlisch-Tim Rice song "Hearts, Not Diamonds" – can stir up much in the way of entertainment. Warner's Archive DVD includes a 16:9 (1.85) transfer and mono soundtrack identical to the prior Paramount release.
Golden Age fans will want to stuff their stockings with FORBIDDEN HOLLYWOOD: VOLUME 8, which includes four more pre-Code favorites on DVD: the 1931 James Cagney/Joan Blondell collaboration "Blonde Crazy" (79 mins.) plus Norma Shearer in "Strangers May Kiss," co-starring Robert Montgomery also from that same year. Paul Muni, meanwhile, takes a stab at comedy in the 1934 WB-Vitaphone production "Hi Nellie" with Edward G. Robinson putting the cap on the fun with "Dark Hazard" (73 mins., 1934). On Blu-Ray, Warner has produced a strong presentation of MGM's 1945 version of THE PICTURE OF DORIAN GRAY (110 mins.) starring Hurd Hatfield as Oscar Wilde's title creation, surrounded by a dynamite supporting cast (George Sanders, Donna Reed, Angela Lansbury, and Peter Lawford among others). Warner's AVC encoded 1080p (1.33) transfer is smashing and extras include a Lansbury-Steve Haberman commentary, the short "Stairway to Light," the cartoon "Quiet Please" and the original trailer.
Also for the Golden Age Fan: Newly available at retail from Warner Home Video are a pair of vintage holiday favorites. While the 1938 version of A CHRISTMAS CAROL (69 mins.) may be a bit "abridged" for some tastes, this Reginald Owen interpretation of Scrooge is one that many viewers grew up with during the '50s, '60s and '70s. A breezy and enjoyable MGM studio product, Warner's Blu-Ray of the '38 "Carol" generally offers fine detail except during sequences involving optical effects, when the image turns soft and blurry (the result of DNR having been applied). Extras include some shorts carried over all the way from the movie's '90s laserdisc release (Jackie Cooper's Christmas Party, Judy Garland Sings "Silent Night," and the cartoon "Peace on Earth"). Also new from Warner on Blu-Ray is CHRISTMAS IN CONNECTICUT (101 mins., 1945), the Barbara Stanwyck-Dennis Morgan comedy that was later remade by director Arnold Schwarzenegger as a forgettable '90s TNT telefilm with Dyan Cannon and Kris Kristofferson. Warner's Blu includes a solid 1080p transfer and the vintage short "Star in the Night."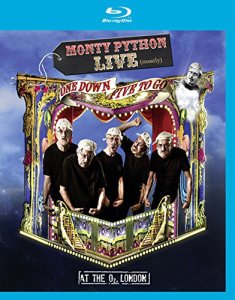 For the Monty Python Aficionado: The long-awaited stage reunion of the surviving Monty Python members, MONTY PYTHON LIVE (MOSTLY): ONE DOWN, FIVE TO GO (136 mins., 2014; Eagle Vision), is something of a mixed bag. On the one hand, the production – taped during the Python's 10 performances at the O2 in London this past summer – does offer the novelty of seeing John Cleese, Terry Gilliam, Eric Idle, Terry Jones, and Michael Palin together again, reprising classic sketches and songs from their groundbreaking TV series and subsequent motion pictures, as well as the classic "Contractual Obligation Album". Graham Chapman is paid tribute in film footage interspersed with other vintage Python routines throughout – and yet, despite the effort that went into the production, there's just something flat and stale about the affair, whether it's the overproduced numbers (try an endless, unfunny 10-minute "Penis Song" song-and-dance bit) or the seemingly half-engaged participation of the Pythons themselves (you can just sense Gilliam was only involved to make another run at filming his "Don Quixote" project). Perhaps some of this worked better live and in-person, but in any event, the faithful are still likely to appreciate this souvenir filming of the London performances, with Eagle Vision's Blu offering a 1080p transfer and both LPCM stereo audio and DTS MA 5.1 sound. A series of short extras take fans behind the scenes from the show's announcement a year ago through to its performances this past summer, with some star cameos included for good measure.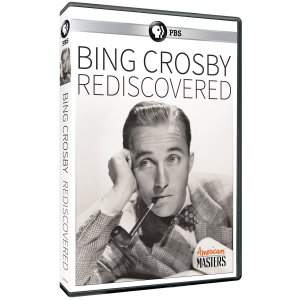 For the Cultured Entertainment-Phile: PBS' new releases include a pair of tributes to two entertainers whose legacies are likely to endure for generations to come. BING CROSBY REDISCOVERED (90 mins., 20214) is a thoroughly compelling profile of the multi-talented crooner and his success across films, radio and music. A compelling portrait of one of the first multi-media superstars, director Robert Trachtenberg's American Masters documentary is a must-watch, both for Crosby fans and for those too young to have understood his impact on the entertainment world for most of the 20th century. PBS' DVD includes deleted interviews, a conversation with Trachtenberg, a 16:9 transfer and 5.1 Dolby Digital sound…While it's far too early to gauge the lasting impact of Robin Williams' work in film, television and stand-up comedy, ROBIN WILLIAMS REMEMBERED (60 mins., 2014) is a superb look back on the life and times of the brilliantly talented late comedian. An exclusive interview with Williams' "Mork & Mindy" co-star Pam Dawber is among the highlights of the hour-long "Pioneers of Television" DVD special (both titles are available December 2nd)…also coming soon from PBS is Denis Delestrac's striking look at a depleting natural resource in SAND WARS (75 mins., 2014) and RISE OF THE BLACK PHARAOHS (60 mins., 2014), which follows archeologists Geoff Emberling and Tim Kendall as they attempt to gather evidence that dark-skinned Africans ruled Kush, an Egyptian state circa 800 BC. Both discs include widescreen 16:9 transfers and stereo soundtracks.
More PBS titles of note, available this week and throughout December, include: AUSTIN CITY LIMITS CELEBRATES 40 YEARS (110 mins., 2014), a retrospective special featuring live performances from Jeff Bridges to Willie Nelson, Bonnie Raitt, Emmylou Harris and Lyle Lovett among many others. Some 45 minutes of additional performances are also included in PBS' DVD…Coming December 16th, MAKERS: VOLUME 2 (6 hours, 2014) profiles the accomplishments of women in forums as diverse as comedy and Hollywood to space and politics. The two-disc set includes 16:9 transfers and stereo sound….New releases from "Nova" include FIRST MAN ON THE MOON (60 mins., 2013), a documentary on Neil Armstrong, and BIGGER THAN T. REX (60 mins., 2014), an examination of a 53-foot dinosaur even larger than a Tyrannosaurus Rex. Both DVDs offer 16:9 transfers and stereo sound…RESURRECTING RICHARD III (60 mins., 2014) is the latest "Secrets of the Dead" documentary, chronicling the unlikely, remarkable 2011 archaeological find that unearthed the remnants of King Richard III.. Finally, MAGNUS NILSSON: THE MIND OF A CHEF Season 3 (4 hours, 2014) looks at the life and culinary mind of Sweden's internationally renowned chef Magnus Nilsson. Bonus footage is likely to whet your pallet for fine dining in PBS' DVD.
For WWI/WWII Buffs: The History Channel's spectacular 20-disc THE DEFINITIVE WWI & WWII COLLECTION includes the new "World Wars" plus the previously-released "100 Years of WWI," "75 Years of WWII," and "WWII in HD," plus "WWII in HD: The Air War" and "The Battle For Iowa Jima," "WWII From Space," "The Color of War," and "Patton 360." This comprehensive DVD release offers over 44 hours of acclaimed documentaries with 16:9 transfers and stereo soundtracks. Check the Aisle Seat archives for individual reviews of the specific titles.
Also new from Lionsgate: Sly and the boys are back in THE EXPENDABLES 3 (**½, 131 mins., PG-13, 2014), another watchable-yet-underwhelming affair stuffed with more aging action stars than before, with Wesley Snipes, Antonio Banderas, Harrison Ford (subbing for a missing Bruce Willis), and Mel Gibson joining the fun. With Stallone again delegating directorial chores — this time to Patrick Hughes — "Expendables 3" is good for a few laughs even though it leaves the viewer, once again, feeling as if a far more satisfying picture could've been produced with all of these talented veterans. Lionsgate's Blu/DVD combo pack includes an unrated version of the film (that's not necessarily that much bloodier), a digital copy, gag reel, featurettes, digital copy, 1080p (2.35) transfer, and Dolby TrueHD soundtrack (with a Dolby Atmos mix also included)…Other new Lionsgate releases on DVD include the Spanish biopic of Mario Moreno, better known as CANTINFLAS (102 mins., 2014, PG), which hits DVD with a digital copy; Steven Seagal toplining the direct-to-vid affair GUTSHOT STRAIGHT (89 mins., 2014, R), which streets on DVD featuring commentary; deleted scenes; interviews; a 16:9 transfer (2.40), 5.1 sound and a digital copy; and SPEAK NO EVIL (74 mins., 2014, R), a low-budget horror effort from writer/director "Roze," following a mother's attempt to find her daughter after she goes missing. Lionsgate's DVD includes a digital copy, 16:9 (1.85) transfer and 5.1 Dolby Digital sound.
NEXT TIME: The latest Cinerama restorations on Blu-Ray plus the newest releases! Until then, don't forget to drop in on the official Aisle Seat Message Boards and direct any emails to our email address. Cheers everyone!