Mark Rydell's 1981 filming of the Ernest Thompson play ON GOLDEN POND (***, 109 mins., PG) kicks off Shout Factory's 2015 slate of releases, with its New England summer setting functioning as a perfect antidote to the cold, icy winter that's settled in across the nation.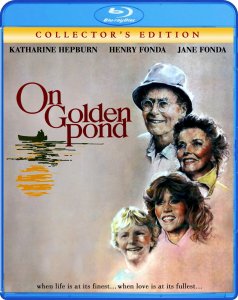 The movie earned Oscars for both Henry Fonda (in his final film) and Katharine Hepburn (who took home her record-setting fourth Best Actress Oscar), playing an elderly married couple about to celebrate the former's birthday at their Maine vacation cabin. Fonda's Norman Thayer is a retired professor who reacts to his advancing years often by lashing out at others, while the long-suffering, sympathetic Ethel puts up with her perennially cranky husband with as much humor as possible. The duo are visited by their daughter, Chelsea (Jane Fonda), her new fiancé (Dabney Coleman) and his son Billy (Doug McKeon), each of whom bring out a decidedly unique element of Norman's personality.
"On Golden Pond" is best looked at today as an actor's showcase, and for movie buffs, it remains an enduring film for its coupling of Fonda and Hepburn, both of whom deservedly generated unanimous acclaim for their portrait of an old couple still fiery in their zest for life – even if physical and mental obstacles have taken something of a toll on the duo. Thompson's screenplay, from his play, isn't entirely up to the challenge of supporting its leads, veering at times from believable interplay between the characters to contrived moments resembling a TV sitcom and lines of dialogue that seem to have been designed to elicit laughs from stage audiences. At times these sections function well – such as Norman's interrogation of Chelsea's dentist boyfriend (well played by Coleman in a limited role) – while there's a decidedly phony element to others (Norman mixing it up with a couple of teenagers at a local marina). In retrospect, it's Hepburn's character, and her performance, that feel the most truthful, with Ethel trying to balance her husband's mounting frustration with aging and her grown daughter's disappointment at being raised with an iron fist by Norman.
Rydell shot "On Golden Pond" on location in New Hampshire, and in addition to the lead performances, the film's major technical assets are Billy Williams' golden cinematography and Dave Grusin's lyrical, lovely score. With its plaintive piano solos and gentle string passages, this is one of Grusin's finest scores, and enhances the characters and their relationships in equal measure.
Though theatrically released by Universal, "On Golden Pond" was produced by Lord Grade's ITC Films, and has been distributed on video through various carriers like Artisan (now Lionsgate) and Carlton over the years. Shout's Blu-Ray was licensed through ITV and offers a satisfying, at times soft, 1080p (1.85) image. Colors are generally strong though the print utilized shows a bit of age at times. The DTS MA mono sound is crisp and clear, and extras are carried over from the Artisan DVD, including Rydell's commentary, two featurettes and the trailer (note that a commentary by Thompson recorded for that release has not been ported over here).
Also New From Shout! Factory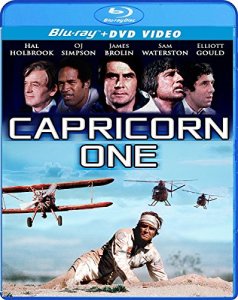 CAPRICORN ONE Blu-Ray (***, 123 mins., 1978, PG; Lionsgate): Peter Hyams' splendid mix of a '70s political conspiracy thriller and old-fashioned escapist entertainment – backed by Jerry Goldsmith's pulse-pounding, outstanding score – gets a much-needed Blu-Ray edition from Shout! Factory – its first domestic edition on this side of the Atlantic. The disc is essentially a port of Network's UK release from last year, which itself was a remastered affair from an early-format ITV Blu-Ray. The 1080p AVC encoded transfer (2.35) is quite good, with 2.0 DTS MA stereo audio that does a solid job of replicating the film's original Dolby Stereo mix. Extras on Shout's disc are limited to a trailer, while the Network release contained a couple of archival segments on the film's production (sadly, the disc doesn't contain Peter Hyams' commentary from the U.S. Lionsgate DVD, which also included a 5.1 Dolby Digital track).
SUPERNOVA Blu-Ray (*½, 91 mins., 2000, R; Shout! Factory): The Director's Guild of America apparently has no intention to retire the pseudonym "Alan Smithee," though why they deprived our favorite filmmaker of awful movies a credit on this long-delayed, troubled sci-fi effort is anybody's guess.
James Spader and Angela Bassett play two members of a deep-space medical ship called to the scene of a distress signal ignited by the son of a former Bassett flame. Meanwhile, Robin Tunney hooks up with Lou Diamond Phillips before the ship finds the young man, who discovered a strange alien relic on a mining station in the far reaches of space.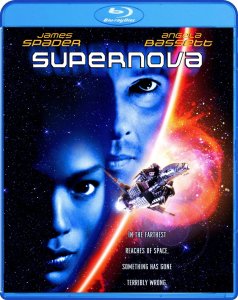 To make a long description short, the movie is equal parts "Sphere," "Outland," "Lost Horizon," "Event Horizon" and "Alien" all in one, though not nearly as good as any of those individual efforts. Initially conceived as a low-budget film barely classifiable as sci-fi (the fact that the film was set in outerspace was just an afterthought in the initial screenplay), MGM continuously upped the budget on the film, adding action and turning the film into a special effects piece. Behind the scenes, they fired the original director, hired "Romper Stomper" auteur Geoffrey Wright, and then dumped Wright for "Alien" co-producer Walter Hill once shooting commenced.
This kind of studio meddling usually spells doom for a movie, and that was the case with "Supernova," which Hill had his name removed from (in his place is the pseudonym "Thomas Lee") once MGM recut the movie after principal photography. Francis Ford Coppola – as he did with the long-delayed "Fantasticks" movie – came in and oversaw this final version of the film, which would make sense since post-production credits abound for his Zoetrope Studios company.
Ultimately, Coppola couldn't do anything to save this sinking ship, which sports adequate effects and production design, but also a herky-jerky handheld camera by Hill that makes it appear as if this is an early season episode of "NYPD Blue." Too bad Dennis Franz wasn't around to give citations for poor performances by the ensemble cast, though we do get ample bare-butt shots and a brief topless bit by Tunney that would fit right in with Steven Bochco's police drama.
"Supernova" isn't unwatchable, but it isn't much fun, either. In fact, it commits the worst kind of bad movie-making sin: it's just plain boring.
Shout Factory's Blu-Ray tries to get to the bottom of the movie's problems by including fresh interviews with Phillips, Robert Forster, producer Daniel Chuba (who co-wrote the film), and veteran genre director Jack Sholder, who supervised post-production and first recut the film before Coppola took over; deleted/alternate scenes from the DVD; the trailer; a good-looking 1080p (1.85) transfer and 5.1 and 2.0 DTS MA stereo audio.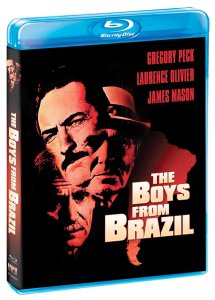 THE BOYS FROM BRAZIL Blu-Ray (**½, 125 mins., 1977, R; Shout! Factory): Adaptation of Ira Levin's novel about a conspiracy to resurrect the Third Reich boasts a mixed bag of performances, from a miscast Gregory Peck to a hammy Laurence Olivier essaying Nazi hunter Ezra Lieberman. There's also James Mason and a young Steve Guttenberg on-hand in director Franklin J. Schaffner's leisurely affair, which never quite gels but remains a quite watchable late '70s thriller with intermittently effective moments of paranoia. Jerry Goldsmith's score is one of the film's strongest assets, and makes its Blu-Ray debut in a no-frills 1080p (1.85) AVC encoded transfer and DTS MA mono audio. The disc offers a superior encoding of an earlier UK Blu-Ray release, though nothing in the way of extras save the trailer.

CANDYMAN: FAREWELL TO THE FLESH Blu-Ray (*½, 93 mins., 1995, R; Shout! Factory): While Bernard Rose's excellent 1992 "Candyman" remains inexplicably unavailable on Blu-Ray in the U.S. (Universal has released it, at least, in many overseas territories), Shout has dusted off this tepid 1995 sequel, which finds the title ghoul (Tony Todd once again) haunting New Orleans and a young woman (Kelly Rowan) whose descendant he shared a "connection" with. Writer-director Bill Condon's sequel is a slow-going, bland affair, lacking Rose's visual sense and all of the scares its predecessor generated. While Philip Glass returned to score the picture, it's a big comedown from the original "Candyman," despite its attempts to craft a proper origin for Todd's character. Shout's Blu-Ray is more interesting for its extras than the movie itself (which looks and sounds fine in its 1080p [1.85] AVC encoded transfer and 5.1/2.0 DTS MA mixes), including new conversations with Tony Todd, Condon and Veronica Cartwright, who also makes an appearance in the picture.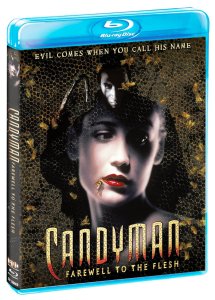 STINGRAY: The Complete Series DVD (Timeless Media Group): Gerry Anderson's full-color sci-fi series is back on DVD this month in a new, complete series set from Timeless. Presenting all 39 adventures of the World Aquanaut Security Patrol and Captain Troy Tempest, Timeless' five-disc set includes good-looking 4:3 transfers licensed from ITV along with an archival interview (never before seen) with the late Anderson himself. More TV on DVD is now available from Shout this month thanks to the individual-season releases of WELCOME BACK, KOTTER (9 hours, 1975-76)'s Second Season and the Eighth Season of NYPD BLUE (16 hours, 2001), which found Rick(y) Schroder's Detective Danny Sorensen losing control and long-time cast member James MacDaniel (Lieutenant Fancy) saying goodbye. Both sets include 4:3 transfers and street on January 13th.
FITZCARRALDO Blu-Ray (158 mins., 1982, PG; Shout! Factory): If Shout's excellent Werner Herzog Blu-Ray retrospective from a year ago was a bit on the pricey side for you, this single-disc edition of one of Herzog's finest – "Fitzcarraldo," with Klaus Kinski as the borderline-insane resident of a Peruvian village who wants to bring opera to his fellow townspeople – should suffice. Shout's Blu-Ray includes a 1080p (1.66) transfer with 2.0 DTS MA German audio as well as 5.1 and 2.0 DTS MA English tracks. Extras include a commentary with Herzog, producer Lucki Stipetic and moderator Norman Hill, a German commentary with Herzog and Laurens Straub (subtitled in English), and the original trailer.
---
BOYHOOD Blu-Ray Combo Pack (***, 164 mins., 2014, R; Paramount): Writer-director Richard Linklater's rambling, occasionally poignant – if somewhat overpraised – picture profiles 12 years in the life of a young boy (Ellar Coltrane), his single mother (Patricia Arquette) and sister (Lorelei Linklater, the director's daughter), growing up in Texas from the early part of the 21st century through the present. Linklater's picture was – as I'm sure you've seen or heard by now – shot routinely over the course of 12 actual years, allowing for the cast to age in "real time." Take out that hook, however, and "Boyhood" isn't quite the earth shattering drama some proclaimed it to be – many scenes come across as perfunctory or pointless, and while some might argue "but that's the point", as an overall motion picture experience, Linklater's ambitious effort doesn't quite hit the mark. Still, for its curiosity value, and also a fine performance from Ethan Hawke as the boy's father, "Boyhood" is worth a look. Paramount's Blu-Ray includes a look behind the scenes, Q&A with the cast and director, a 1080p (1.85) transfer, 5.1 DTS MA soundtrack, DVD and digital copy.
THE SCORPION KING 4: QUEST FOR POWER Blu-Ray Combo Pack (105 mins., 2015, PG-13; Universal): Sequel to 2012's "Scorpion King 3″ brings back Victor Webster as Mathayus, the "Scorpion King' who here battles an evil king with aspirations of taking over the throne of the king of Norvania – whom Mathayus has been framed of murdering. Ellen Hoffman co-stars in this agreeably lightweight direct-to-video production featuring cameos from the likes of Lou Ferrigno (top billed on the front cover!), Roy "Big Country" Nelson, Royce Gracie and Rutger Hauer. Universal's Blu-Ray combo pack features a digital HD copy, DVD, format-exclusive deleted scenes and Making Of segments, plus a gag reel, commentary and additional featurettes. The 1080p (2.35) transfer and 5.1 DTS MA sound are both top-notch.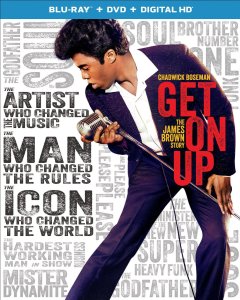 GET ON UP Blu-Ray Combo Pack (139 mins. 2014, PG-13; Universal): The life and times of the great James Brown are given a formulaic, though still entertaining, treatment in this biopic from director Tate Taylor. Chadwick Bosman – quietly understated as Jackie Robinson in "42″ – here gives an equally strong performance as the decidedly more flamboyant stage performer, with dynamic musical performances mixed with a standard-issue biopic treatment of Brown's life. The excellent supporting cast includes Viola Davis, Octavia Spencer, Jill Scott, Craig Robinson and Dan Aykroyd. Universal's Blu-Ray combo pack, now available, includes a fine 1080p (1.85) transfer, 5.1 DTS MA sound, format-exclusive extras (deleted scenes, full/extended song performances, featurettes), additional supplements (commentary, featurettes), a DVD and digital HD copy.
ANNABELLE Blu-Ray Combo Pack (**, 98 mins., 2014, R; Warner):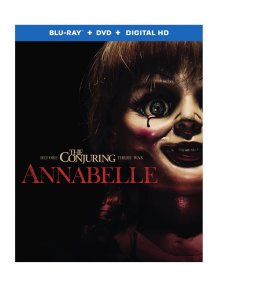 The success of "The Conjuring" lead to this cheapjack spin-off directed by the original's cinematographer, John R. Leonetti. "Annabelle" attempts to tell the tale of the haunted doll that would later become part of the collection of paranormal investigators Ed and Lorraine Warren – but writer Gary Dauberman's script is an entirely fabricated affair without a shred of alleged truth associated with it, as a young couple (Annabelle Wallis, Ward Horton) come in possession of Annabelle and her (absurdly) convoluted backstory. Produced on a fraction of "The Conjuring"'s budget, "Annabelle" was a big hit at the box-office last fall, but most genre fans should wait until the real "Conjuring 2″ hits theaters sometime in 2016. Warner's Blu-Ray of "Annabelle" is a combo pack featuring a DVD and digital copy, plus a number of featurettes (Curse of Annabelle; Bloody Tears of Possession; Dolls of the Demon; A Demonic Process), deleted scenes, a fine 1080p (2.35) transfer and 5.1 DTS MA audio. Available January 20th.
DALLAS – The Complete Third Season DVD (633 mins., 2014; Warner): John Ross continues to prove he's as cunning as his dad, J.R., as he tries to swindle Christopher (Jesse Metcalfe) and Bobby (Patrick Duffy) out of their fair share, while Elena (Jordana Brewser) reappears in Southfork with an agenda of her own. These are a few of the story lines that fuel the third season of TNT's resurrected "Dallas" series, which streets this week on DVD from Warner in a multi-disc set with deleted scenes, 16:9 (1.85) transfers and 5.1 Dolby Digital soundtracks. Fair warning, though, to fans – this third year of the new "Dallas" is also its last, as the series was canceled, leaving multiple plot lines dangling with no hope – unlike J.R. – of a resurrection.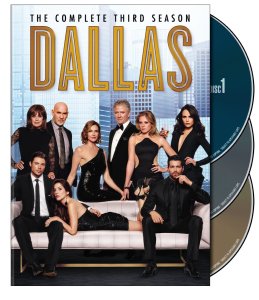 THE TOM & JERRY SHOW – Funny Side Up DVD (276 mins.; Warner): The remaining episodes from the first season of the animated TV series hit DVD for the first time. On-hand are the following episodes: Turn About/The Plight Before Christmas; Tuffy Love / Poof!; Top Cat/Mummy Dearest; Domestic Kingdom/Molecular Break Up; Just Plane Nuts/Pets Not Welcome; Cruisin' For A Bruisin' /Road Trippin'; Magic Mirror / Bone Dry; My Bot-Y Guard/Little Quacker and Mister Fuzzy Hide; Pipeline/No Brain, No Gain; Cat Napped/Black Cat; Hunger Strikes/Gravi-Tom; Ghost Party/Cat-Astrophe and Curse Case Scenario/Say Cheese. 16:9 (1.85) transfers and 2.0 Dolby Digital soundtracks comprise Warner's two-DVD set.
MEN, WOMEN & CHILDREN Blu-Ray (**, 119 mins., 2014, R; Paramount): Jason Reitman's latest is a misfired take on parents, their high-school aged kids and the problems that sex and social media can bring to each one of them. Adam Sandler, Jennifer Garner, Rosemary DeWitt, Dean Norris and Judy Greer play the grown-ups, whose behavior is scarcely more mature than their off-spring in a pretentious film, adapted from Chad Kultgen's novel, that aims for "American Beauty" levels of suburban psychosis but ended up (deservedly) being scarcely released. Paramount's Blu-Ray includes deleted scenes – including an additional storyline – plus two featurettes, a 1080p transfer, DTS MA 5.1 audio and a digital copy.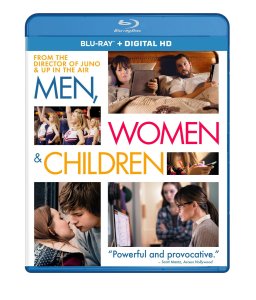 RUDDERLESS DVD (105 mins., 2014, R; Paramount): William H. Macy made his directorial debut with "Rudderless," a moving, if a bit contrived, story of a father (Billy Crudup) who bonds with a young musician (Anton Yelchin) after he finds a demo from his college-aged son, who perished in a campus shooting. Macy co-wrote the film with Casey Twenter and Jeff Robison, and recruited a strong supporting cast, from his wife Felicity Huffman to Jamie Chung, Selena Gomez and Laurence Fishburne, all of whom lend the needed heart and soul to this character-driven drama. Paramount bows "Rudderless" on DVD next week with deleted scenes, a music video, featurette, 16:9 transfer and 5.1 Dolby Digital sound comprising the package.
BOARDWALK EMPIRE – Complete Fifth Season Blu-Ray (460 mins., 2014; HBO): The fifth and final season of HBO's top-rated series is set in 1931, six years following the end of its prior season. Here, Nucky attempts to legitimize his business with liquor producers as Prohibition comes to an end. Four commentaries, a Making Of, digital HD copies, 1080p (1.78) transfers and 5.1 DTS MA soundtracks comprise HBO's box-set.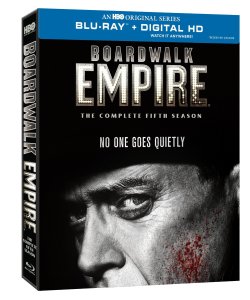 SHAMELESS – Season 4 Blu-Ray (642 mins., 2014; Warner): The off-the-wall comedy and dramatic stakes are raised in this fourth season of the Showtime series "Shameless," which finds the Gallagher clan struggling to make it in the midst of yet another tough Chicago winter. Warner's Blu-Ray includes a DVD, digital HD copy, two all-new featurettes (Being Gallagjer and Shameless Neighbors), plus unaired scenes, 1080p transfers and DTS MA 5.1 audio.
PBS New Releases
Now available, MOVEABLE FEAST WITH FINE COOKING – Season 1 (aprx. 7 hours, 2014) is an Emmy-nominated series hosted by Australia's award-winning chef Pete Evans. Utilizing the culinary talents of Pacques Pepin and Tom Douglas, Evans stages a number of meals across the U.S. – from a New England farm to a California vineyard – and talks specifically about how these dishes can be served in your own kitchen. Season 1 of the series is now available on DVD in a two-disc PBS set featuring printable recipes, widescreen transfers and stereo sound…RIPLEY: BELIEVE IT OR NOT (60 MINS., 2014) is an American Experience documentary about the raconteur who conquered all forms of mass entertainment in the 20th century: radio, film and eventually TV. PBS' DVD, narrated by Oliver Platt, includes a 16:9 transfer and stereo audio…Nature's INVASION OF THE KILLER WHALES (60 mins., 2014) chronicles the balance between the melting of polar ice with providing Orcas with a wider hunting ground. PBS' DVD offers stereo audio and another fine 16:9 transfer…NAVY SEALS: THEIR UNTOLD STORY (120 mins., 2014) profiles the elite commandos who've tackled threats from Hitler to bin Laden, from their creation during WWII and involvement in top-secret missions over the decades. PBS' DVD, now available, is narrated by Gary Sinise and includes a 16:9 transfer and stereo sound…SACRED JOURNEYS WITH BRUCE FEILER (360 mins.) is an enlightening travelogue that brings best-selling author Feiler to Jerusalem, Japan, France, Mecca, India and Nigeria, looking at local religious festivals and pilgrimages around the world. Stereo sound and a good-looking widescreen transfer adorn PBS' DVD release.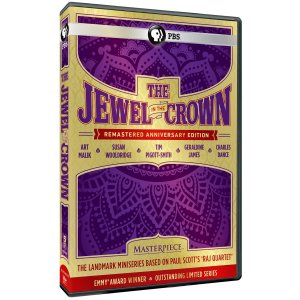 One of the most acclaimed British imports of the early '80s, THE JEWEL IN THE CROWN (14 hours) receives a much-needed remastered DVD presentation from PBS. Licensed through ITV Studios, the 4:3 transfer is colorful and detailed, and one would imagine far superior to prior format releases which were heavily criticized for their image quality. "Masterpiece Theatre" host Alistair Cooke's introductions have been retained in this five-disc set with commentary from stars Art Malik and Tim Pigott-Smith (Episode 1), Geraldine James and Charles Dance (Episodes 13-14) and director commentary (Episode 4) making their debuts in PBS' new DVD…GREAT ESTATES OF SCOTLAND (240 mins., 2013) includes profiles of Iveraray Castle, Dumfries House, Kincardine Castle and Rosslyn Chapel, all in 16:9 DVD transfers and stereo sound…The amazing journey of the Rosetta spacecraft that landed last year on the surface of a comet is chronicled in the fascinating documentary TO CATCH A COMET (60 mins., 2014), available this week on DVD with a 5.1 audio track…Finally, with the new season of "Downton Abbey" now airing in the U.S., fans might want to check out THE MANNERS OF DOWNTON ABBEY (60 mins., 2014), an hour-long documentary hosted by the series' historical advisor, Alastair Bruce. Offering an examination of British turn-of-the-century customs, the special includes ample interviews with the cast, a 16:9 DVD transfer and stereo sound.
---
MY LEFT FOOT Blu-Ray (***½, 103 mins., 1989, R): Daniel Day-Lewis' Oscar-winning performance as Irishman Christy Brown gets a welcome Blu-Ray release courtesy of Lionsgate, sporting two featurettes, a still gallery, reviews, a generally pleasing 1080p (1.85) transfer, 5.1 DTS MA audio and a digital HD copy.
THE TWILIGHT SAGA: Extended Editions Triple Feature (2008-10): Triple-disc Blu-Ray set offers the extended, unrated versions of Stephenie Meyer's bestsellers "Twilight," "New Moon" and "Eclipse", all with DTS MA 5.1 audio and digital HD copies plus 1080p (2.35) transfers.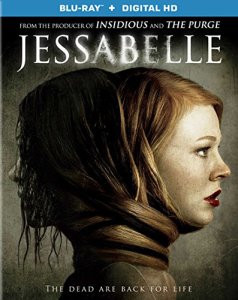 Also New from Lionsgate: Andrew Lau and Andrew Loo's REVENGE OF THE GREEN DRAGONS (94 mins., 2014, R) provides a hum-drum reunion for executive producer Martin Scorsese and his "Goodfellas" star Ray Liotta. This tale of two HK immigrants who join a NYC street gang in the 1980s is fairly unremarkable, with scant development in its 94-minute running time. Lionsgate's Blu includes deleted scenes, commentary with the directors; featurettes; a Digital HD copy, 1080p (2.40) transfer and 5.1 DTS MA audio…MIDDLE OF NOWHERE (92 mins., 2014, R) won Ava DuVernay the Best Director Award at the 2012 Sundance Film Festival. Her film follows Emayatzy Corinealdi as a medical student choosing between two men in an urban drama making its way to DVD this week from Lionsgate. Commentary, a digital copy, 16:9 (2.35) transfer and 5.1 sound comprise Lionsgate's DVD release…DUCK COMMANDER: BEFORE THE DYNASTY (198 mins., 2014) offers nine episodes from the Robertson family's adventures, in a single-disc DVD set with 2.0 stereo audio and 16:9 (1.78) transfers…Sarah Snook's performance as a young woman, trying to recuperate from a car accident, who runs afoul of a ghost dubbed JESSABELLE (90 mins., 2014, PG-13) is the most notable element in a routine, blah effort from producer Jason Blum and writer Robert Ben Garant. Lionsgate's Blu-Ray boasts a digital copy, 1080p (1.78) transfer, commentary, deleted scenes, outtakes, and an extended ending. Not worth scaring up…SABRINA: SECRETS OF A TEENAGE WITCH, MAGIC OF THE RED ROSE (88 mins., 2014) includes four episodes from the animated series: Scream It with Flowers, Faking Up is Hard to Do, Hic Hic Boom, and Best Friends Fighting. 16:9 transfers and stereo soundtracks comprise Lionsgate's single-disc DVD…FINDERS KEEPERS (88 mins., 2014) reuses the old killer doll motif in a thriller starring Jaime Pressly and Patrick Muldoon, with appearances by Marina Sirtis and Tobin Bell. Lionsgate's DVD includes a behind the scenes segment, digital copy, 5.1 sound and 16:9 (1.78) transfer….the documentary DINOSAUR 13 (100 mins., 2014) paints an interesting, if decidedly one-sided, portrait of paleontologist Peter Larson's 1990 discovery of an intact T. Rex fossil and his subsequent legal fight to control it. Deleted scenes, featurettes, a digital HD copy, 1080p (2.40) transfer and 5.1 DTS MA audio comprise Lionsgate's combo package.
THE IDENTICAL Blu-Ray (107 mins., 2014, PG): Uplifting, if decidedly sappy, film about a pair of twins, separated at birth during the Great Depression, whose lives eventually intersect through their separate love of music. Something of a Christian take on the Elvis legend, Dustin Marcellino's picture is earnest but sloppily written, rambling around with melodramatic plot turns but without a grounding in reality. It's suitable for family viewing and bad-movie lover passerbys, who might appreciate some of the film's more jaw-dropping moments. Cinedigm's Blu-Ray includes a Making Of, deleted scenes, commentary, music and promotional segments, a 1080p (2.35) transfer, 5.1 DTS MA audio and a DVD.
MYTHBUSTERS: 10th Anniversary Collection DVD (2205 mins.): Adam, Jamie, Kari, Tory and Grant pick the top 50 episodes from the popular Discovery series in this nicely packaged, deluxe 10-disc set from Cinedigm. 16:9 transfers and stereo soundtracks are included in a must-have release for "Mythbusters" fans.
TWO FACES OF JANUARY (97 mins., 2014, PG-13) is an agreeable thriller based on Patricia Highsmith's "The Two Faces of Mr. January." Written and directed by Hossein Amini, this stylish Magnolia/Studiocanal co-production offers Viggo Mortensen as an American man who, along with his wife (Kirsten Dunst), take up with a mysterious stranger (Oscar Isaac) while on a European trip. Magnolia's Blu-Ray is highlighted by a good-looking 1080p (2.39) transfer, 5.1 DTS MA sound (sporting a solid Alberto Iglesias score), deleted scenes, bloopers, and ample behind-the-scenes material…Laura Kasischke's novel WHITE BIRD IN A BLIZZARD (91 mins., 2014, R) makes for a twisty, offbeat psychological drama in the hands of writer-director Gregg Araki. Shailene Woodley is beguiling in one of her more adult roles to date, as a teen, growing up in the '80s, whose mother (Eva Green), seen only in flashbacks, has mysteriously vanished. Christopher Meloni, Shiloh Fernandez, Gabourey Sibide, Thomas Jane and Angela Bassett co-star in this good looking but strange picture whose meaning may be best left to readers of the book. Magnolia's Blu-Ray includes a 1080p (2.35) transfer, 5.1 DTS MA audio commentary, deleted scenes, interviews and the trailer.
LIFE'S A BREEZE (83 mins., 2014, R) stars Fionnula Flanagan as an elderly woman who stashes her life savings in a mattress – which is sent off to the dump after her son (Pat Shortt) and his niece (Kelly Thornton) unknowingly clean out her home. Magnolia's Blu-Ray of this Irish import includes a 1080p (2.35) transfer and 5.1 DTS MA soundtrack…HONEYMOON (87 mins., 2013, R) is a creepy horror effort from first-time director Leigh Janiak about a pair of newlyweds (Harry Treadaway, Rose Leslie) who run into a bizarre presence in the woods near the cottage they're staying in for their honeymoon. Though the story isn't entirely developed, and ends unsatisfactorily, this is nevertheless an above-average genre outing with effective sound design and performances. Magnolia's Blu-Ray boasts interviews with the stars and director, behind the scenes content, a 1080p (1.85) transfer and 5.1 DTS MA audio.
BY THE GUN Blu-Ray (109 mins., 2014, R; Millennium Entertainment): Ben Barnes plays a young mafioso whose family and girlfriend (Leighton Meester) are placed in jeopardy after he becomes a "made man." Harvey Keitel co-stars in James Mottern's 2014 thriller, which streets January 20th. Millennium's Blu-Ray includes commentary, deleted scenes, a 1080p transfer and 5.1 Dolby TrueHD audio.
88 Blu-Ray (88 mins., 2014, Not Rated; Millennium Entertainment): Canadian thriller stars Katharine Isabelle as a woman with no knowledge of her identity, who tries to piece her past together by flashing back into two distinct timelines – one of which involves her exacting revenge for the death of her lover. Christopher Lloyd, Jesse McCartney and Michael Ironside co-star in April Mullen's film, now available from Millennium. In addition to a 1080p transfer and 5.1 Dolby TrueHD audio, "88″'s Blu-Ray includes over 40 minutes of behind the scenes cast and crew content.
HAPPY END DVD (86 mins., 2014; Wolfe Video): German drama about a law student (Sinha Girke) who befriends a free-spirited woman (Verena Wustkamp), leading to a romantic relationship as the duo bring the ashes of their friend to her final resting place. "Happy End"'s DVD from Wolfe Video is now available and includes 5.1 audio (German with English subtitles) along with a 16:9 transfer.
THE SKIN Blu-Ray (142 mins., 1981, Not Rated; Cohen Film Collection): Liliana Cavani's controversial 1981 film looks at the fallout from the German occupation of Italy, from the point of view of Marcello Mastroianni as a writer who profiles the desperate actions of his countrymen. Burt Lancaster also appears along with Claudia Cardinale and Ken Marshall in a strange, and often quite disturbing, picture making its Blu-Ray debut this week from the Cohen Film Collection. Cohen's Blu offers an Italian 2.0 PCM track with a 1080p transfer, four featurettes, commentary from a pair of critics, trailers, and English subtitles.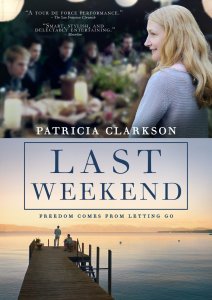 From IFC/MPI: KELLY & CAL (113 mins., 2014, R; IFC/MPI) spins a "Harold & Maude" type of tale between young Jonny Weston and a punk-rocker/struggling mom (Juliette Lewis). (Now available; includes featurette, trailer; 16:9 [2.35] widescreen, 5.1 Dolby Digital)…LAST WEEKEND (94 mins., 2014, Not Rated; IFC/MPI) offers Patricia Clarkson a strong forum as a married woman who wants more out of life, and gathers her family together in turn to announce her future plans. (Now available; includes commentary with director Tom Dolby and co-director Tom Williams; a featurette; deleted scenes; the trailer; 1.78 widescreen transfer; 5.1 Dolby Digital)
ZODIAC: SIGNS OF THE APOCALYPSE DVD (90 mins., 2014; Anchor Bay): Once again, Canadian production outfit Cinetel Films delivers a superior Syfy Channel TV effort with "Zodiac: Signs of the Apocalypse." Here, Joel Gretsch, Christopher Lloyd and Aaron Douglas attempt to stave off certain doom for the planet after giant storms erupt around the globe. Silly but superior stuff for this genre, Anchor Bay brings "Zodiac" to DVD this week featuring a 16:9 transfer and 5.1 soundtrack.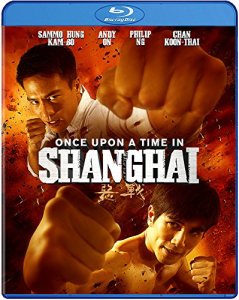 BAD TURN WORSE DVD (92 mins., 2014, Not Rated; Anchor Bay): When three Texas teenagers (Jeremy Allen White, Logan Huffman and Mackenzie Davis) run afoul of a psycho (Mark Pellegrino), they're forced to steal from their gangster boss (William Devane), in this pungent debut picture from directors Zeke and Simon Hawkins. Anchor Bay's DVD, out this week, includes a 16:9 transfer and 5.1 Dolby Digital sound. Atmospheric and recommended.
ONCE UPON A TIME IN SHANGHAI Blu-Ray (96 mins., 2014, Not Rated; Well Go): Zesty fight sequences, courtesy of writer-director Wong Ching Po and choreographer Yuen Cheung Yan, fuel this HK import about a pair of young men (Philip Ng, Andy On) trying to make it in Shanghai despite coming from rival gangs. Sammo Hung and Michelle Hu co-star in a film that's likely to satisfy martial arts fans, thanks to its crisply edited and designed action sequences. Well Go's Blu, out this week, includes a Making Of, 1080p transfer and both English (dubbed) and Cantonese (subtitled) DTS MA audio tracks.
ZARRA'S LAW DVD (79 mins., 2014, R; Arc Entertainment): Slight mob thriller stars Tony Sirico as a retired cop who goes after the mobster he holds responsible for the death of his younger brother. Brendan Fehr and Burt Young co-star in Juha Wuolijoki's film, which is cut so tightly there's scarcely room to develop any of its characters or subplots. Arc's DVD, out this week, includes a 16:9 transfer and 5.1 Dolby Digital soundtrack.
NEXT TIME: JEAN DE FLORETTE, THE FACTS OF LIFE, and more new releases guaranteed to warm your chilled winter surroundings. Until then, don't forget to drop in on the official Aisle Seat Message Boards and direct any emails to our email address. Cheers everyone!