Last year's passing of Mike Nichols adds a bittersweet component to Fox's Blu-Ray release of one of his most satisfying films, WORKING GIRL (***½, 113 mins., 1988, R). This splendidly performed late '80s comedy launched Melanie Griffith's career thanks to her Oscar-nominated turn as Tess McGill, a Staten Island secretary trying to work her way up Wall Street.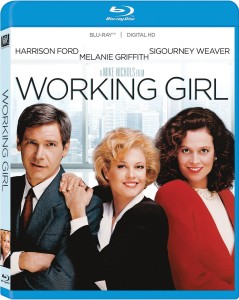 Kevin Wade's original script utilizes late '80s stereotypes – workaholic yuppies, backstabbing female bosses and aspiring secretaries stuck in the lower levels of corporate living – and crafts a truly entertaining picture that manages to avoid both a broad farcical tone and an obvious "Cinderella" parallel. Instead, "Working Girl" grounds itself in a believable reality as Tess tries to push a stock deal through her new boss (a delicious Sigourney Weaver performance), only to see her take credit for the impending deal. With Weaver's duplicitous Katharine Parker sidelined with a skiing injury, Tess takes matters into her own hands and negotiates her plan with an executive (Harrison Ford) who just happens to be Parker's boyfriend.
While some of the characterizations feel slight (especially in regards to Tess' back story and her colleagues, one of whom is played by Joan Cusack in a role that also generated an Oscar nomination), "Working Girl" is one of director Nichols' best films. Certainly it's one of his most entertaining, with a marvelous cast finding just the right note for the material. Griffith shines in what was a star-making performance, though equally fine are Weaver, in a part that could've been played with a much broader or heavier hand (see Meryl Streep in "The Devil Wears Prada" for comparison's sake), and particularly Ford. Looking spry and thrilled to be in a movie that was neither part of the Spielberg/Lucas cycle or the heavier dramatic pictures (i.e. "The Mosquito Coast") he was starring in at the time, Ford is right at home in a genre one wishes he worked more often in.
The supporting cast, meanwhile, is chock full of familiar faces – a few just on the cusp of stardom – including Kevin Spacey as a coke-snorting yuppie who Tess has a "job interview" with, and Alec Baldwin, who makes the most of a limited role as Tess' boyfriend from the old neighborhood. Oliver Platt, Nora Dunn and Philip Bosco fill other roles in a film that never veers into outright comedy, thanks to the grounded performances of a cast working with superior material, and the pitch-perfect direction of Nichols.
Making his second film of 1988 (following the fairly well-received adaptation of Neil Simon's "Biloxi Blues"), Nichols opens and closes the picture with sweeping shots of the New York City skyline, bookending the film with the notion that Tess' story is just one in a million in the greatest city on earth. "Working Girl" may not be viewed as Nichols' finest hour, but in a decidedly uneven filmmaking career that would see several misfires in its wake, it's a picture that's an exemplary example of Nichols' work with actors and his understanding of how to play a comedy with a basis in reality, avoiding slapstick and excessive gags. "Working Girl" is '80s studio filmmaking at its highest level, and has aged particularly well beyond being just a product of its time.
Fox's no-frills Blu-Ray edition of "Working Girl" looks and sounds fine, with a 5.1 DTS MA mix and 1080p (1.85) transfer doing justice to its cinematic source material. Carly Simon's score (arranged by Rob Mounsey) is mostly limited to a theme-and-variations treatment on her Oscar-winning song "Let the River Run," but if you're going to base a whole score around a single song, at least it's a good one. Two trailers and TV spots round out a decent catalog release from Fox.
Also New From Fox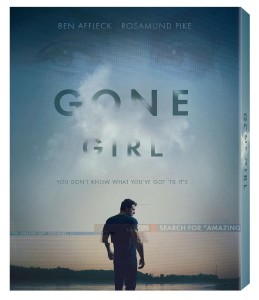 GONE GIRL Blu-Ray (**, 145 mins., 2014, R; Fox): Well made, well acted adaptation of Gillian Flynn's vapid book about the disappearance of a wealthy woman (Rosamund Pike) whose philandering husband (Ben Affleck) becomes the chief suspect in an investigation that takes on mass levels of media coverage.
Director David Fincher paces "Gone Girl" effectively, rolling out all the fluid camera work from Jeff Cronenweth you'd anticipate in a film that's never boring despite its lengthy running time. Yet all of the technical excellence can't disguise an empty story populated with narcissistic, unlikeable characters, capped by a groan-inducing ending that recalled a certain Scott Turow novel that became a popular, though similarly unsatisfying, Harrison Ford-Sydney Pollack film back in 1990.
A major hit at the box-office, "Gone Girl" is one of Fincher's lesser features, and is unlikely to inspire the kinds of repeat viewing that devotees associate with his work. Fox's Blu-Ray package includes an enlightening Fincher commentary along with a digital HD copy for Ultraviolet or itunes and a copy of the "Amazing Amy" book "Tattle Tale." The 1080p (2.40) transfer and 5.1 DTS MA soundtrack are each outstanding, though the music score credited to Trent Reznor and Atticus Ross is more horrific "sound design" than anything else, coming across like a stuck note on a keyboard in several places.
TYRANT: Season 1 DVD (475 mins., 2014; Fox): After a rocky start that seemed to involve too many rapes and needless supporting characters, FX's controversial "Tyrant" – from the producers of Showtime's '"Homeland" – settled in to become one of last summer's more satisfying series. Following the American-educated son (Adam Rayner) of a Middle Eastern dictator who passes away, leaving the country in the hands of his unpredictable, impulsive brother (Ashraf Barhom), "Tyrant" takes viewers into a fictional country seemingly forever on the verge of an insurgent coup.
Seen through the prism of Rayner's "Barry" Al-Fayeed, "Tyrant" generated a degree of negative press when some objected to the casting of the British Rayner in the lead role, and likewise drew jeers for its omni-present sexual situations in its opening episodes. Subplots involving Barry's American family also feel shoehorned into the series, coming off as contrived and unnecessary, though the producers wisely scaled their appearances back as the show found its footing. If you stick with it, "Tyrant" proves to be an absorbing mix of Middle Eastern soap opera and political thriller, and Barhom's scenery-chewing performance as Barry's hot-tempered sibling, Jamal, is thoroughly entertaining to watch.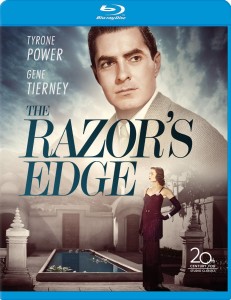 "Tyrant"'s first season comes to DVD this week from Fox. The multi-disc set includes a featurette and deleted scenes, along with a 16:9 transfer and 5.1 sound. Season 2 is scheduled to run on FX this summer.
GLEE: The Complete Fifth Season DVD (877 mins., 2013-14; Fox): Fifth season of Ryan Murphy's Fox drama-edy tries to write around the tragic death of star Cory Monteith, with the gang splitting time between New York (where Kurt and Santana aspire for bigger and better things) and Lima, as the New Directions team tries for another win at nationals. Fans of the series, obviously, will get the most mileage out of these 20 fifth-season episodes, now available on DVD from Fox. The six-disc set includes "Glee: Celebrating 100 Episodes," "Glee in the City" and a music box featurette, plus 16:9 (1.78) transfers and 5.1 Dolby Digital soundtracks.
ARCHER: The Complete Fifth Season Blu-Ray (271 mins., 2014; Fox): Archer and the gang attempt to start their own "Scarface" operation after inheriting an abundance of cocaine and forming their own cartel. Kenny Loggins is also a South American dictator (!) in this fifth season of the popular FX animated series, which is back on Blu-Ray this month from Fox. The multi-disc set includes a "Midnight Blues" music video by Cherlene Tunt; an interview on "Wake Up Country"; 1080p (1.78) transfers and 5.1 DTS MA sound. Also new from Fox this week is the second season of THE BRIDGE (580 mins., 2014), the FX series about a Mexican cop (Demian Bichir) who teams up with an American detective (Diane Kruger) to solve a crime along the US-Texas border. Despite decent reviews, "The Bridge" was canceled after this sophomore season, making Fox's DVD release the final one from the program. Fox's four-disc set features all 13 second-season episodes in 16:9 transfers and 5.1 sound, plus two featurettes and deleted scenes.
THE RAZOR'S EDGE Blu-Ray (145 mins., 1946; Fox): W. Somerset Maugham's novel about a WWI veteran who finds his heart in the Far East makes for a glossy Fox production starring Tyrone Power as Larry Darrell with Gene Tierney as the woman who loses patience with his "vision quest" and Anne Baxter as Sophie, the troubled girl he reconnects with. The 1946 Darryl F. Zanuck production receives a robust Fox Blu-Ray with a historian commentary, Fox Movietone news reel, 1080p (1.33) transfer and DTS MA mono audio on-hand.
---
LITTLE HOUSE ON THE PRAIRIE Season 4 Blu-Ray (19 hours, 1977-78; Lionsgate): Season four of Michael Landon's classic NBC prime-time drama ups the tragedy and tears, not to mention sounds like a police blotter, with Laura being kidnapped, Walnut Grove besieged by bandits, and the Ingalls enduring a seemingly neverending litany of tragedies, most notably Mary's blindness. It'd be easy to classify "Little House"'s 1977-78 campaign as being one of its most downbeat, yet there's still ample heart and strong performances on-hand to carry even the most sensitive younger viewer through its more melodramatic moments.
Lionsgate's Season 4 Blu-Ray of "Little House" boasts another stellar restoration of the series in crisp, colorful 1080p (4:3) transfers of the original broadcast-length episodes and mono DTS MA soundtracks, plus the fourth part of "The Little House Phenomenon" documentary and a digital HD copy.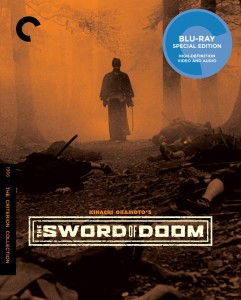 Also New From Lionsgate: it's nice to see Verne Troyer getting work again in the ridiculous horror outing GNOME ALONE (94 mins., 2014, R), a knockoff of the "Leprechaun" movies as cheap as its predecessors. Lionsgate's DVD includes a Making Of, 16:9 (1.78) transfer and 5.1 sound…the direct-to-video LOST LEGION (107 mins., 2014, R) is a low-budget "Gladiator" rip-off from director Petr Kubik. A 16:9 (1.78) transfer, 5.1 audio and a digital copy are included in Lionsgate's DVD…SWAMP PEOPLE: SEASON 5 (16 hours, 2014) brings back the cast of the popular History Channel series as the Louisiana hunters try to shoot up some of the biggest alligators they can find, while avoiding poachers and "cursed" zones. All 21 episodes from "Swamp People"'s fifth season are included in Lionsgate's five-disc set, along with over 25 minutes of never-broadcast special features.
THE SWORD OF DOOM Blu-Ray (121 mins., 1966; Criterion): Toshiro Mifune and Tatsuya Nakadai star in Kihachi Okamoto's 1966 samurai classic. Nakadai plays a ruthless samurai – a veritable killing machine – who meets his match in a fellow warrior (Mifune) who causes him to doubt his impenetrable nature, while others are sent to assassinate him. With its unforgettable final duel, "The Sword of Doom" is a classic Japanese samurai drama, tautly performed and directed, with Okamoto making strong use of the wide 2.35 scope frame throughout. There's also an abrupt ending – one that was supposed to be continued in sequels that, regrettably, never panned out. Criterion's new hi-def digital restoration includes a glorious B&W transfer and a commentary from historian Stephen Prince and a trailer.
A WALK AMONG THE TOMBSTONES Blu-Ray (114 mins., 2014, R; Universal): Liam Neeson shows he has a particular set of skills — again — in Scott Frank's competent yet uninspired adaptation of Lawrence Block's novel. Here, Neeson plays Scudder, a former cop turned recovering-alcoholic P.I. who helps out a drug trafficker (Dan Stevens from "Downton Abbey") in tracking down the men who killed his wife. Block's novels are apparently quite popular, but Frank's overly-leisurely film doesn't really illustrate why, as "A Walk Among the Tombstones" is awash in well-worn characters and cliches you've seen many times before. Neeson is fine, as always, but this lacks the pep from some of his better "geriatric action hero" outings. Universal's Blu-Ray combo pack, now available, includes a DVD and digital copy, plus a 1080p (2.40) transfer, 5.1 DTS MA audio, and two featurettes (one exclusive to the Blu-Ray).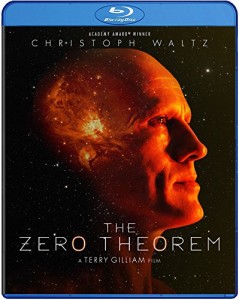 THE ZERO THOREM (111 mins., 2013, R; Well Go USA): Terry Gilliam's 2013 tale of a computer expert (Christoph Waltz) who tries to uncover the meaning of humanity's existence was greeted with mixed critical reaction in 2013, despite Waltz's presence and a supporting role for Matt Damon as a "Management" higher-up who commands Waltz's Qohen Leth to find out why we're all here. Tilda Swinton, David Thewlis and Mélanie Thierry co-star in a Gilliam film that's unsurprisingly "quirky" but – like too much of the director's recent work – dramatically muddled and often shrill, despite a game effort by Waltz to hold it all together. Well Go's Blu-Ray includes two featurettes, the trailer, a 1080p transfer and 5.1 DTS MA soundtrack that reunites Gilliam with George Fenton, though the composer's score is often dialed back and so restrained you're often scarcely aware of it.
THE COLOR OF TIME DVD (76 mins., 2014, R; Anchor Bay): James Franco recruited his fellow NYU classmates to helm segments of a pet project – a series of adaptations of poems by author C.K. Williams. Stars from Zach Braff to Jessica Chastain, Mila Kunis and even Bruce Campbell appear throughout these vignettes, which Franco produced and also (of course) makes an appearance in. Despite the pedigree, though, "The Color of Time" is a predictably uneven and fractured cinematic venture, utilizing Malick's "Tree of Life"/"Thin Red Line" styled movie poetry as a guide. Williams devotees are likely the only ones who will find this to be of interest, though it's certainly a good-looking production with Anchor Bay's DVD offering a crisp 16:9 (1.85) transfer with 5.1 Dolby Digital sound. (Available January 27th)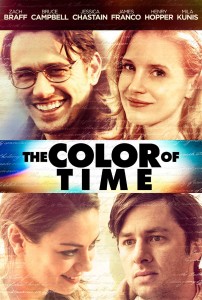 THE PIRATES Blu-Ray (130 mins., 2014; Well Go USA): Korean swashbuckler is set at the beginning of the Juseon Dynasty, where a whale swallows an Emperor's Royal Seal. A bounty is set on its safe return, sending a veritable rogue's gallery of pirates, warriors, and thieves out to attempt any means necessary at retrieving it. Lengthy but fun. Well Go's Blu-Ray includes a 1080p transfer and DTS MA 5.1 audio in Korean with English subtitles.
Cinedigm New Releases: Actors Jennifer Finnigan (who also stars) and Jonathan Silverman make their directorial debuts with A BET'S A BET (97 mins., 2014, Not Rated), a romantic comedy about a New England divorce atorney (Geoff Stults) who meets his match in Mena Suvari's cutthroat attorney. Kristin Chenoweth and Finnigan (who stars in the FX series "Tyrant") co-star. Cinedigm's DVD includes a 16:9 trasnfer and 5.1 soundtrack…Mami Sunada's THE KINGDOM OF DREAMS AND MADNESS (118 mins., 2013, Not Rated) is a probing behind-the-scenes look at Japan's Studio Ghibli. With unprecedented access to the acclaimed production company, Sunada spends a year with Hayao Miyazaki and the Ghlibi team as they prepare the release of "The Wind Rises" and "The Tale of Princess Kaguya." Well-done, but obviously of most interest for Miyazaki and Ghibli fans. Cinedigm's DVD, out January 20th, includes a short film "Digest," trailers, "The Kingdom According to Ushiko," a 16:9 transfer and 5.1 sound.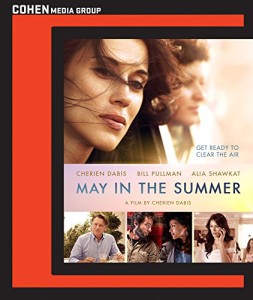 THE DANIEL PLAN: IN ACTION DVD (134 mins., 2014; Sony): Physical activity and healthy living are balanced in this 40-day fitness program underscored with Christian music. Sony's DVD is a two-disc set featuring cardio, cardio abs, and total body upper/lower workouts along with "Pastor Rick's Sermon."
THE ATTICUS INSTITUTE Blu-Ray (83 mins., 2014, R; Anchor Bay): Low-budget horror is set at a Pennsylvania lab in the 1970s, where a case of demonic possession was recognized by the U.S. government. Producer Peter Safran was involved with "The Conjuring" and writer-director Chris Sparling penned "Buried," and there are portions of "The Atticus Institute" that are creepy enough to satisfy hard-core horror fans. Unfortunately, whatever momentum the movie generates fades whenever the movie cuts out to "present day" interviews that stop the film in its tracks. Anchor Bay's Blu-Ray, out this week, includes a Making Of, deleted scenes, 1080p transfer and 5.1 Dolby Digital sound.
MAY IN THE SUMMER Blu-Ray (99 mins., 2013; Cohen Film Collection): Cherien Dabis' comedy stars Dabis as a woman trying to balance her Muslim husband's belief system with her born-again Christian mom's values. A modern comedy-drama co-starring Bill Pullman, Cohen brings "May in the Summer" to Blu-Ray this week. The 1080p transfer is terrific and extras include the trailer, a promotional featurette and stills gallery.
NEXT TIME: THE FACTS OF LIFE, HEARTBREAK HOTEL and more new releases guaranteed to warm your chilled winter surroundings. Until then, don't forget to drop in on the official Aisle Seat Message Boards and direct any emails to our email address. Cheers everyone!