Not just one of the great French imports of the 1980s but a glistening cinematic accomplishment that possesses a timeless quality, Claude Berri's adaptations of Marcel Pagnol's JEAN DE FLORETTE and MANON OF THE SPRING (****, 123 mins./113 mins., 1986, PG) have at last arrived in a beautiful Blu-Ray double feature this week from Shout Factory.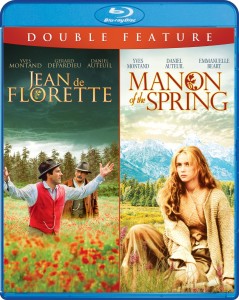 The two-part story is set in Provence after WWI and spans 10 years chronicling the pursuit of Cesar Soubeyran (Yves Montand), who conspires to take over a neighboring farm for his pathetic nephew Ugolin (Daniel Auteuil), who envisions carnations flowing from its fertile land. The area is particularly lush because of a spring – one that Soubeyran and Ugolin cover up so that the property's new owner, Jean Cadoret (Gerard Depardieu), won't ever find it.
Instead, Jean, a hard-working hunchback who represents modern "city folk" to the suspicious locals, struggles to keep things afloat for his wife and his young daughter, hoping for rain that never comes and attempting to create a cistern to provide more water for his ailing crops. All the while, Ugolin tries to put forth the appearance of being helpful while Soubeyran stands on the sidelines, waiting and watching for the opportune moment when he can kindly offer his charity to buy the land out from under him.
"Jean De Florette" is both gorgeous to look at and thoroughly compelling from start to finish. It's a film that's leisurely told by Berri – who adapted Pagnol's novel with Gerard Brach – but is never anything less than enthralling as the story unfolds. The gorgeous French locations are so spectacularly shot by Bruno Nyutten that you can virtually feel the warmth of the land, the scent of its flowers and breezes cascading through the hills right off the screen. Reportedly the most expensive French production ever mounted at the time of its release, "Jean De Florette" is a memorably rendered work of art for its aesthetic attributes alone.
However, the movie's opening part is just a teaser for "Manon of the Spring," which was shot along with its predecessor and released six months following "Jean De Florette"'s theatrical run both in France and a year later in the United States. The story so carefully laid out in "Jean De Florette" comes to a dramatic breaking point in this worthy sequel, one that's even more delicious than its predecessor. Here, Manon (Emmanuelle Beart), the now-grown (and quite fetching), free-spirited daughter of Jean, finally figures out what the Soubeyans did to her father and goes about exacting revenge on both of the men responsible for their provincial passive-aggressiveness.
It's a searing second half that shows how beautifully Berri established the groundwork in the movie's opening portion, as seemingly innocuous scenes in "Jean De Florette" connect with powerhouse dramatic confrontations in "Manon of the Spring."
Shout's Blu-Ray double-feature includes each film on its own platter. The 1080p (2.35) transfers are simply outstanding – and represent, arguably, the finest visual presentations Shout has rendered from an MGM licensed property to date. Filled with detail and sumptuous color, this is a breathtaking visual presentation, especially if you've only seen the films previously on non-anamorphic DVD. The subtitles were supposedly improved from MGM's last DVD edition, and both 5.1 and 2.0 DTS MA soundtracks are included along with the original "Orion Classics" U.S. trailers.
An essential addition to any Blu-Ray library, this double-feature is already my favorite release of the new year. In fact, it might be hard to top it as far as catalog releases go.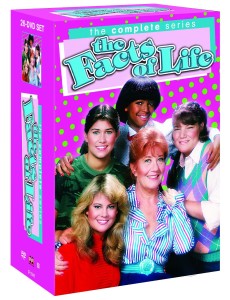 HENRY V Blu-Ray (***½, 138 mins., 1989, PG-13; Shout! Factory): Another late '80s art house hit receives a similarly strong Blu-Ray presentation from Shout. "Henry V" remains Kenneth Branagh's shining cinematic moment, a brilliantly realized, marvelously acted adaptation of Shakespeare's play – staring Branagh along with Paul Scofield, Derek Jacobi, Ian Holm, Emma Thompson, Judi Dench, Christian Bale and Alec McCowen – that's powerfully scored by Patrick Doyle. The 1080p (1.85) transfer and 2.0 DTS MA soundtrack are each notable upgrades on the prior MGM DVD edition, though because "Henry V" is such a gritty, grainy film to begin with, the visual enhancements may not be noticeable unless you have a larger set.
THE FACTS OF LIFE – The Complete Series DVD (1979-1988; Shout! Factory): The classic NBC sitcom at last gets a full series box-set from Shout! Factory. All 201 episodes from "The Facts of Life" are here compiled on disc for the first time, starting with the rocky first season of the show – peppered with too many Eastland girls for good measure and a weak supporting cast – and its later, far more successful years, which wisely pared down the cast and concentrated on the core group of Blair (Lisa Whelchel), Jo (Nancy McKeon, added to the series after its first year), Tootie (Kim Fields) and Natalie (Mindy Cohn), trying to navigate growing up with the help of sage Mrs. Garrett (Charlotte Rae).
Shout's box includes 26 DVDs with uncut, broadcast-length episodes of the series, plus its two TV-movies (The Facts of Life Goes to Paris and The Facts of Life Down Uunder), a trivia game, featurettes from Sony's prior DVD, and a brand-new 2014 Paley Center cast reunion. The "backdoor pilot" episode of "Dif'frent Strokes" that was meant to plant the seeds for "The Facts of Life" is also a welcome addition on the bonus side.
More TV-on-DVD Coming from Shout: Seasons 5 and 6 of THE BOB NEWHART SHOW (aprx. 10 and 9 hours each, 1976-78) receive a standalone release from Shout on February 3rd. Fans who didn't splurge for Shout's Complete Series DVD of the show last year should be happy to add these separate releases to complete their collections, with each set including decent transfers and mono sound…Due out in late February from Timeless Media Group is GENE AUTRY COLLECTION 9 (1936-39), a two-disc DVD set featuring the adventures of the singing cowboy and his horse Champion in four features: Comin' Round the Mountain, Git Along Little Dogies, Man From Music Mountain, and Mountain Rhythm, all in 4:3 (1.33) B&W transfers restored from Autry's family archive.
---
THE JUDGE Blu-Ray (**, 141 mins., 2014, R; Warner): There are times when you know a movie is shooting blanks right from the start, and "The Judge," alas, is one of those instances.
A pet project for star Robert Downey, Jr., "The Judge" would like to be a heart-tugging family drama about a hotshot defense attorney (guess who) who returns to his Indiana hometown after the death of his mother. Naturally, things are fragmented back home, primarily due to Downey's fractured relationship with his dad – a tough old judge (Robert Duvall) who's waging a health battle of his own. There's also Downey's challenged younger brother (Jeremy Strong), gruff older sibling (Vincent D'onofrio), and then a court case that brings – of course – father and son together at last.
Every actor in "The Judge" tries their best, and one can sense what Downey might have seen in the material, at least in an outline form. The problem is the feeble, pedestrian screenplay credited to Nick Schenk and Bill Dubuque, which never hits a truthful note and is contrived at every turn. Nothing feels real in "The Judge" – not the phony midwestern setting (the film was actually shot in Massachusetts!), the predictable squabbles Downey has with his ex-wife, his relationship with the girl (Vera Fermiga) he left behind 20 years before, and especially not the drawn-out ending. Bloated to a 2.5-hour running time, it's no surprise "The Judge" failed to muster much of an audience last fall, even among adults Downey was hoping to court (no pun intended) with the picture. Guilty of being a misfire.
Warner's Blu-Ray/DVD combo pack, out this week, offers a 1080p (2.35) transfer, 5.1 DTS MA soundtrack, commentary with director David Dobkin, deleted scenes, two featurettes, and a Ultraviolet digital copy.
THE DROP Blu-Ray (***, 107 mins., 2014, R; Fox): Flavorful adaptation of Dennis Lehane's short story "Animal Rescue," a comparatively low-key crime drama compared to the likes of "Mystic River" but powerful in its own, character-driven way.
Tom Hardy gives a stellar performance as Bob, a bartender in a small Brooklyn watering hole that's used as a waypoint – a drop – for local gangsters funneling their cash. When a robbery goes wrong, both Bob and his coworker/cousin Marv (James Gandolfini) face pressure not only from police but the local Chechen mobsters who now own it. Meanwhile, the withdrawn Bob strikes up a relationship with a local woman (Noomi Rapace) who rescues a pit-bull puppy that's been badly beaten.
Lehane wrote the script for "The Drop," which opened and performed modestly at the box-office last fall. This is one of those atmospheric little films that takes its time setting the scene and its respective characters, and then gives viewers a solid pay off with twists and turns. While the latter are mostly predictable, there's something to be said for the movie's pleasures, as director Michael R. Roskam favors the actors and Lehane's dialogue over flashy editorial technique and camera work, making for a genuine sleeper well worth checking out on home video.
Fox's Blu-Ray includes a commentary with Lehane and Roskam, deleted scenes, a handful of featurettes, a 1080p transfer (2.35), 5.1 DTS MA audio (backed by a fine Marco Beltrami score) and a digital copy.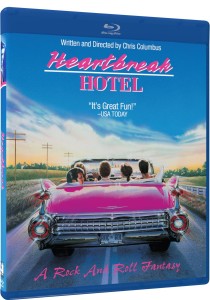 HEARTBREAK HOTEL Blu-Ray (**, 100 mins., 1988, PG-13; Mill Creek): Chris Columbus followed up his 1987 directorial debut, "Adventures in Babysitting," with another comedy for Disney's Touchstone Pictures. Directing his own original screenplay, "Heartbreak Hotel" – which opened late in September, 1988 – is a disjointed, disappointing effort that never gels into the moving period piece it'd like to be.
Charlie Schlatter plays a small-town, peace-loving high school student who loves to rock out – and whose mom (Tuesday Weld) is a sad sack recently beat up by her most recent beau. Hoping to cheer her up, Schlatter decides to kidnap Elvis while he's in-town – something The King (David Keith) doesn't like one bit…at least initially. Once he comes to know Schlatter's fractured clan, however, Presley digs right into domestic life, offering advice on everything from picking up girls to fixing Schlatter's lawn mower.
"Heartbreak Hotel" is a weird movie from start to finish. Something just feels "off" about it, which is strange since Columbus was working from his own story. On the surface, the picture seems to want to blend an early '70s "slice of life" drama with a more whimsical comedy featuring Elvis at its center. The two elements don't mix, however, with the movie falling apart once Schlatter decides "I'm going to kidnap Elvis" – a moment that comes off as totally contrived and which no amount of goodwill on the part of the cast can overcome. The "Elvis in Suburbia" moments are also oddly edited, with Presley functioning like a Mary Poppins-type figure in episodic scenes that aren't established particularly well. Finally, there's a rousing musical finale and a feel-good conclusion – complete with a fairy-tale like score by Georges Delerue that appears only in the second half of the film – but all told, "Heartbreak Hotel" comes off as a flop that's little but a curiosity item in Columbus' career.
Making its Blu-Ray debut from Mill Creek, "Heartbreak Hotel" offers an adequate 1080p (1.85) transfer from an obviously dated HD master. At least there's a lack of DNR in play here, and some detail present over prior DVD editions. The Dolby Digital 2.0 sound is limp, mainly because it's in mono – doubly disappointing since the film was released in stereo.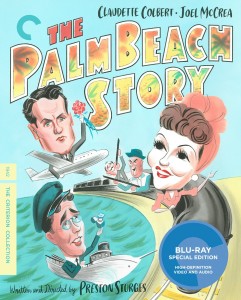 THE PALM BEACH STORY Blu-Ray (88 mins., 1942; Criterion Collection): Rollicking 1942 farce from writer-director Preston Sturges sparkles with punchy dialogue and splendid performances from Claudette Colbert and Joel McCrea, a married New York City couple who head to Palm Beach where Colbert – trying to make ends meet – attempts to court a wealthy millionaire (Rudy Vallee) with a sister (Mary Astor) seeking a husband. "The Palm Beach Story" may not be as well-known as some of Sturges' pictures, but its Blu-Ray release is most welcome, as Criterion's 4K digital restoration presents the 1942 Paramount picture in a wonderful new package. Enlightening extras include a new interview with writer/historian James Harvey; a conversation with writer/actor/SNL alumnus Bill Hader; a 1941 WWII propaganda short, "Safeguarding Military Information," written by Sturges; and a 1943 Screen Guild Theater radio adaptation. Highly recommended for Golden Age fans!
DOWNTON ABBEY: Season 5 Blu-Ray (533 mins., 2014; PBS): Fans of "Downton Abbey" – particularly my Mom – have been enthralled with the fifth season of the award-winning, massively popular British series. With some of the heavier plots and melodramatic moments of "Downton"'s fourth season in the rear view mirror, creator-writer Julian Fellowes' series goes back to its roots, emphasizing soapy entanglements with a touch of class and delicious performances – at least that's what I've heard from the experts, who are currently eating the series up in its PBS broadcasts here in the U.S.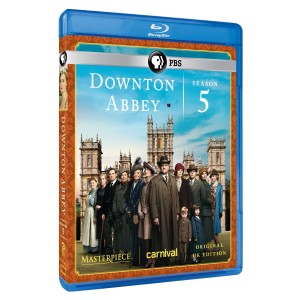 For those who don't want to wait for PBS to roll out the remaining episodes, the complete fifth season Blu-Ray is already available, and offers a quality package on par with the label's prior HD releases. The 1080p AVC encoded transfers are terrific, the 2.0 DTS MA stereo soundtracks are crisp and effectively render the dialogue, and three featurettes totaling about 40 minutes give fans a look behind the scenes.
THE DISAPPEARANCE OF ELEANOR RIGBY Blu-Ray (123 mins., 2014, R; Anchor Bay): Strange, well-acted but ultimately unsatisfying tale of a couple (Jessica Chastain, James McAvoy) who struggle to stay together – a premise that forms the basis of no less than three (!) different versions of "The Disappearance of Eleanor Rigby" from director Ned Benson. "Him" followed the story from McAvoy's point of view, "Her" from Chastain's, and the "official" version of the picture streamlines both into a disjointed solitary feature. Bill Hader, Viola Davis and William Hurt co-star in an unusual movie-going experience that's likely best viewed in the separate "Him" and "Her" features – both collected here on a separate Blu-Ray disc with 5.1 audio and 1080p transfers. The single film receives a 1080p transfer with DTS MA 5.1 audio, and a Q&A with the stars is the set's sole extra feature.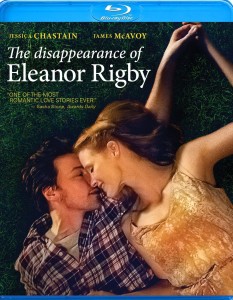 JUSTICE LEAGUE: THRONE OF ATLANTIS Blu-Ray Combo Pack (72 mins., 2015, PG-13; Warner): The newest DC Comics animated film focuses on the adventures of Aquaman, whose kingdom – Atlantis – in on the verge of war that might encompass all of Earth and not just the hidden underseas world below. Superman, Batman, Cyborg and Wonder Woman offer support in a so-so outing that questions once again whether Aquaman can ever be made interesting. Four exclusive featurettes – including a "Throne of Atlantis" soundtrack and scoring featuette on Frederik Wiedman – can be found only on Blu-Ray, with four bonus cartoons, "Villains of the Deep" featurette, and a look at "Batman Vs. Robin" rounding out the release. The 1080p (1.78) transfer and 5.1 DTS MA audio are both top notch, and a DVD and digital copy are also on-hand.
MY OLD LADY Blu-Ray (108 mins., 2014, PG-13; Universal): Israel Horovitz's play reaches the screen in an adaptation written and directed by Horovitz himself. Kevin Kline stars as an American who inherits a Paris apartment from his father, only to find out it's occupied by an English woman (Maggie Smith) and her daughter (Kristin Scott Thomas). Melodramatic and mostly solemn, "My Old Lady" is a predictably stagy experience, but the performances of Kline, Smith and Thomas are terrific, and keep you glued through the story's twists and (mostly expected) turns. Universal's Blu-Ray, out this week, includes an Annette Insdorf interview with Kline and Horovitz, plus a 1080p (2.40) transfer, 5.1 DTS MA sound and a digital copy.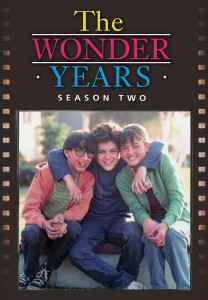 Starvista TV on DVD New Releases: Fans of "The Wonder Years" and "Mama's Family" who may have bypassed Starvista's exceptional – if expensive – Complete Series DVD box-sets last year will want to catch up with individual season releases coming soon from Starvista.
THE WONDER YEARS: Season 2 (520 mins., 1988-89) boasts all 17 episodes from the ABC comedy-drama's second year, with original songs restored for the first time on home video. Over two hours of bonuses include interviews with Dan Lauria, Alley Mills and Daniel Stern, along with a round-table talk with Fred Savage, Danica McKellar and Josh Saviano, and the featurette "The Times They Are A-Changin'."
Coming February 10th is MAMA'S FAMILY: The Complete Sixth Season (522 mins., 1989-90), which includes the comedy's final season with various crew interviews; and available this week is MAMA'S FAMILY: MAMA'S FAVORITES SEASON 4 (165 mins.), which includes six favorite episodes hand selected by star Vicki Lawrence herself.
Lionsgate New Releases: Tyler Perry gets animated for the first time in TYLER PERRY'S MADEA'S TOUGH LOVE (64 mins., 2014, PG), wherein our heroine rallies to save the Moms Mabley Youth Center. It's colorful antics aimed at a younger audience than Madea's typical adventures. Lionsgate's DVD includes two featurettes, a digital copy, 16:9 (1.78) transfer and 5.1 sound…BORN OF WAR (105 mins., 2014, R) stars Sofia Black D'Elia as a college student who's recruited to go up against her terrorist father in a thriller from Vicky Jewson. Lionsgate's DVD boasts a digital copy, featurette, 16:9 (2.35) transfer and 5.1 Dolby Digital sound…Stephen King and Lifetime mix for the first time in the better-than-average cable-film BIG DRIVER (90 mins., 2014), a thriller that meshes "Misery" with "Duel" as Maria Bello's mystery author tackles a serial killer after taking a wrong turn. Joan Jett and Olympia Dukakis co-star under the direction of Mikael Salomon, the veteran cinematographer who more recently helmed TNT's misfired "Salem's Lot" mini-series. Lionsgate's DVD, out this week, offers a 16:9 (1.78) transfer, 5.1 sound and a digital copy…MAS NEGRO QUE LA NOCHE (110 mins., 2014, R) is a Spanish thriller about a young woman who inherits a terrifying haunted mansion. Lionsgate's DVD boasts 5.1 Spanish audio, English subtitles, a 16:9 (2.40) transfer and digital copy.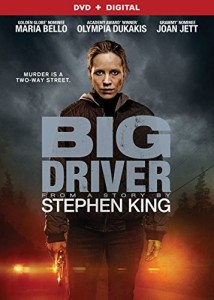 Cinedigm New Releases: After winning a contest, a fan (Elijah Wood) of a popular actress (Sasha Grey) loses the chance to meet her – but gains the ability to look at her via web cam in Nacho Vigalondo's OPEN WINDOWS (110 mins., 2014, Not Rated), a thriller with aspirations of being a modern "Rear Window" that can't hold a candle (no shock there) to its inspiration. Cinedigm's Blu-Ray of the Spanish production includes a Making Of, visual FX reel, the trailer, 1080p transfer and DTS MA sound…James Sizemore's THE DEMON'S ROOK (103 mins., 2013, Not Rated) is an ultra low-budget horror opus with Sizemore starring, writing, and directing. Cinedigm's DVD includes a Sizemore short film, deleted scenes, gag reel, Making Of, 16:9 transfer and 2.0 Dolby Digital sound (available February 3rd)…STARRED UP (106 mins., 2013) focuses on a troubled 19-year-old (Jack O'Connell) who ends up in the same prison as his father, and questions whether or not he can count on his old man when he's ruthlessly attacked. Rupert Friend from "Homeland" co-stars in David Mackenzie's film, available February 3rd from Cinedigm in a 16:9 transfer with a behind the scenes featurette and 5.1 Dolby Digital audio.
IFC/MPI New Releases: "Dexter"'s Christian Camargo makes his directorial debut in DAYS AND NIGHTS (91 mins., 2014, Not Rated), a comic spin on Chekhov's "The Seagull," starring Allison Janney as an actress who comes home for a memorable visit with her family. Katie Holmes, William Hurt, Cherry Jones and Jean Reno co-star in a well-acted if uneven film that hits DVD this week from IFC. The disc includes a 16:9 (1.85) transfer and 5.1 Dolby Digital soundtrack…Josh Charles and Anais Demoustier top line Pascale Ferran's BIRD PEOPLE (128 mins., 2014), an offbeat tale of an American tech guy (Charles) who holes up in a hotel room to escape his existence, only to connect with a maid (Demoustier). MPI's DVD includes a 16:9 (1.85) transfer and 5.1 English/French soundtrack…Christina Voros' film KINK (80 mins., 2013) offers a look at porn website Kink.com. James Franco produced the documentary with Dark Sky's DVD boasting a 16:9 transfer, 2.0 stereo and the trailer.
GOING UNDER Blu-Ray (98 mins., 2004, Not Rated; Blue Underground): Surprisingly sensitive tale of a psychologist and a professional domiatrix, who decide to make their relationship work outside the bedroom. Roger Rees and Gend Lechner do a credible job during the sex scenes (more low-key than you might anticipate given the material) and, more significantly, make the emotional component of Eric Werthman's film function effectively. Blue Underground's Blu-Ray, out this week, includes commentary with Werthman and Rees; interviews with Rees and Lechner; trailers; "NYC Black & Blue Ball"; a 1080p (1.85) transfer and 5.1 and 2.0 DTS MA audio.
EMANCIPATION ROAD Blu-Ray (aprx. 6 hours, 2015; Mill Creek): Seven-part documentary chronicles slavery in America in a new production from the makers of "Up From Slavery." Mll Creek's Blu-Ray spans the gamut from "The Emancipation Proclamation" through "The Civil Rights Era," and includes 1080p (1.78) transfers and Dolby Digital soundtracks on two Blu-Ray discs.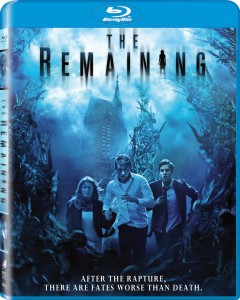 THE REMAINING Blu-Ray (88 mins., 2014, PG-13; Sony): Members of a wedding party – including former "Spy Kid" Alexa Vega – are besieged by The Rapture in a faith-based apocalyptic thriller from director Casey La Scala, who scripted "The Remaining" with Chris Dowling. Sony's Blu-Ray, available this week, includes a 1080p (1.85) transfer, 5.1 DTS MA soundtrack, a deleted scene, and a Making Of featurette, "Divine Rvelations: Making The Remaining."
BOYS DVD (76 mins., 2014, Not Rated; Wolfe Video): Sensitive Dutch drama about a 15-year-old (Gijs Blom) who falls for a classmate (Ko Zandvilet) in a gay teen story that, at just 76 minutes, nearly feels like an imported "Afterschool Special." Wolfe Video's DVD, out February 3rd, includes a 16:9 transfer and 5.1 soundtrack.
REGULAR SHOW: MORDECAI PACK DVD (176 mins., 2015; Warner): 16 episodes from the Cartoon Network series make their way to DVD for the first time. Included are "Bet to be Blonde," "Country Club," "Paint Job," "Guy's Night," "Caveman," "Every Meat Burritos," "Real Date," "Saving Time," "New Year's Kiss," "Laundry Woes," "Dodge This," "Portable Toilet," "Play Date," "Tants, ""Bad Portrait" and "Maxin' and Relaxin'," with 16:9 (1.78) widescreen transfers and 2.0 stereo soundtracks.
NEXT TIME: Twilight Time's January batch and new titles from Olive Films! Until then, don't forget to drop in on the official Aisle Seat Message Boards and direct any emails to our email address. Cheers everyone!