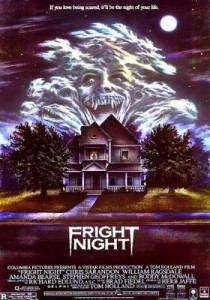 Tom Holland's FRIGHT NIGHT (***½, 106 mins., R, 1985) was released at the tail end of summer 1985 and became an instant sleeper hit. Not just a silly "teen vampire flick," "Fright Night" captivated many critics who appreciated the film's characters and sense of humor, along with its salute to old-fashioned horror, particularly at a time when slasher films had become all the rage. With Richard Edlund's special effects giving the film a modern sensibility, the film bridged the gap between the old and the new, and remains a viewer favorite in the genre nearly 30 years after its original release.
Holland's original script works as a clever variation on "The Boy Who Cried Wolf," with high schooler Charley Brewster (William Ragsdale) suspecting that his new, smooth-talking, suave neighbor Jerry Dandridge (Chris Sarandon, just brilliant here) is a vampire. Jerry, who sleeps by day and has a curiously protective caretaker (Jonathan Stark), actually is a vampire, but one who simply would like to live a typically quiet suburban existence – and who offers Charley the choice to either overlook his undead lifestyle or cause trouble.
Charley has trouble convincing anyone of his plight – neither his mom, girlfriend (Amanda Bearse) or off-kilter high school pal "Evil Ed" (Stephen Geoffreys) take him seriously, but once Brewster can't stand to let a vampire live in his neighborhood, Jerry begins to take a personal vengeance on the young man. In a last-case resort, Charley turns to aging horror TV show host Peter Vincent (Roddy McDowall, in one of his best performances), an old ham who likewise doesn't believe Charley…until he sees that Jerry doesn't cast a reflection in a mirror.
Holland's film is well constructed, old fashioned in its monster love, amusingly written and splendidly cast. I know Amanda Bearse may have gone onto become a lesbian activist but she's perfectly convincing as a hetero teen in this film, but more over — Chris Sarandon is sensual and overpowering as Dandridge, and Roddy McDowall contributes unquestionably one of his finest performances ever as Vincent, the TV vampire hunter who has to take on the undead for real at Charley's behest. McDowall brings an enormous amount of heart to the film and his relationship with Ragsdale's sympathetic Charley is appealing, giving the picture an enhanced emotional component.
Holland pushes all the right buttons in this film, whether it's a Hitchcock "Rear Window" homage, or a truly sexual seduction sequence where Sarandon gets to Bearse — or in the grade-A (for their time) Richard Edlund FX that close out the film. The movie manages to be "R" with fairly light gore and adult elements which aren't gratuitous — about the only thing that heavily dates the movie is Brad Fiedel's brittle synth score, which sports a memorable love theme in his "Come to Me" track but otherwise fails with its sledgehammer approach to dramatic underscoring (thankfully there's the memorably bouncy J. Geils Band theme song which finishes the movie on a similarly dated, yet much more melodic, note).
"Fright Night" returns to Blu-Ray this month in Twilight Time's second release of the title in a limited-edition package. This time, TT has produced 5,000 copies of the "30th Anniversary Edition" (which have already sold out), which boasts the same strong 1080p (2.35) transfer, 5.1 DTS MA soundtrack, trailers and isolated score track as the prior Blu-Ray. What adds particular value to this release, however, are a number of extras. Two commentaries, previously recorded for the internet, were licensed by TT – one featuring Tom Holland, Chris Sarandon and Jonathan Stark, the other with Holland, William Ragsdale, Stephen Geoffreys and FX artist Randall Cook. There's also a 2008 reunion panel and a three-part "Shock Till You Drop" interview with Holland and the website's Ryan Turek. While some of the technical quality of these extras is spotty (wildly fluctuating volume levels on the commentaries; a fragmented feel to the Holland interview), the fact that TT went the extra mile to include them adds enormous value to the disc.
Best of all is the inclusion of the original EPK, offering over 90 minutes of "open ended" interviews with the cast, Holland, and Richard Edlund among others, plus the J. Giels Band music video among other archival materials. Frightfully good!
Also New from Twilight Time this month:
BREAKING AWAY Blu-Ray (***½, 101 mins., 1979, PG): One of the true sleepers of the late '70s, "Breaking Away" was writer Steve Tesich's ode to growing up in the Midwest, as seen through the prism of a local Bloomington, Indiana high school graduate (Dennis Christopher) who pals around with his friends (Dennis Quaid, Daniel Stern, Jackie Earle Haley) and loves cycling so much that he pretends to be an Italian exchange student in order to impress a local Indiana University girl (Robyn Douglass). Comedy, character drama and a clash between the locals and wealthier IU students mix perfectly in this Fox release, which was produced and directed by Peter Yates, a Brit who may not have grown up in the Midwest, but certainly understood how to translate Tesich's script to the screen, capping the picture with an inspiring finale. Barbara Barrie and Paul Dooley are also pitch-perfect as Christopher's parents, leading to near-universal critical acclaim, multiple Oscar nominations and the creation of a short-lived TV series that brought back Haley, Barrie and John Ashton (playing Quaid's older cop brother) in their original roles.
An isolated score track of Patrick Williams' musical effort is one of the extras on TT's Blu-Ray, with the composer having the bulk of his score thrown out in favor of classical adaptations that Yates became overly enamored with from the movie's temp-track. The 1080p (1.85) transfer is crisp and detailed despite its inherently drab "70s look," the DTS MA 1.0 mono audio perfectly acceptable given the limitations of its source, and the trailer, TV spots and an engaging new commentary with Christopher and TT's Nick Redman and Julie Kirgo round out another fantastic catalog release limited to 3,000 copies.
THE BRIDE WORE BLACK (***, 107 mins., 1968): Francois Truffaut found a perfect vehicle to pay homage to Alfred Hitchcock in Cornell Woolrich's novel, as "The Bride Wore Black" follows a widow (Jeanne Moreau) goes after the men who murdered her husband on their wedding day. Truffaut went so far as to recruit Bernard Herrmann to score "The Bride Wore Black," which is an interesting attempt to play off the tension and suspense of Hitch's works. The movie doesn't quite build up a head of steam – at times it feels too leisurely for the genre – but it's certainly an intriguing piece for both Truffaut and Hitchcock aficionados. TT's Blu offers a satisfying 1080p (1.66) transfer in French with English subtitles; an isolated music/effects track; new commentary with Nick Redman, Julie Kirgo and Steven C. Smith; the trailer; the English dubbed version; and particularly of note for Herrmann enthusiasts, a 79-minute bonus CD, "Conversation Piece: An Unvarnished Chat with Bernard Herrmann," which offers the composer in a 1970 interview with the Los Angeles Free Press.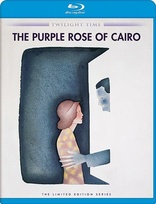 THE PURPLE ROSE OF CAIRO (***, 82 mins., 1985, PG): One of Woody Allen's numerous fine films from the '80s, "The Purple Rose of Cairo" is – like "Radio Days" – a period piece, though with a decidedly more realistic, melancholy component.
Mia Farrow gives one of her best performances as the sad, beaten wife of out-of-work louse Danny Aiello, and who finds her escape at the movies – specifically a new film that's just arrived in town named "The Purple Rose of Cairo." Her affection for the picture and, in particular, one of its characters (Jeff Daniels) leads to the young, intrepid explorer literally walking off the screen and into the real world…something that causes a commotion not only for Farrow, but also for Hollywood itself, who sends the real actor out to New Jersey to corral his fictional, on-screen alter-ego.
One of Allen's least successful commercial ventures, "The Purple Rose of Cairo" is gorgeously shot by Gordon Willis, who captures both the Depression-era setting and the B&W look of its era's films as only he can. It's also beautifully acted by Farrow and Daniels, who find the perfect pitch for Allen's alternately funny and realistic (some might say depressing) story. What hurts the film, ultimately, isn't so much the lack of a "Hollywood" ending – in fact, I've always found that Allen was trying to show the importance of escapism even for people leading prohibitively unhappy lives – but more that the movie peters out just a bit with a weak final act.
The MGM 1080p (1.85) transfer TT licensed is a little bit aged and shows some occasional wear on the print, though it still ranks as a notable enhancement on the studio's out-of-print DVD. An isolated score track (featuring more original music than usual by Dick Hyman) and the brief theatrical trailer are also included.
BANDIT QUEEN (119 mins., 1994): Shekhar Kapur's 1994 film chronicles the life of Phoolan Devi (Seema Biswas), from her horrifying upbringing in India to becoming a warrior after finding her freedom. An interesting, if controversial biopic from Kapur, with Twilight Time's Blu including the director's commentary, isolated score track, 1080p (1.78) transfer and 2.0 DTS MA audio.
---
Add Olive to the ranks of labels licensing titles from MGM, which is only a good thing for movie buffs hungering for vintage films on Blu-Ray. Two of Olive's initial MGM titles are newly available this month and fit comfortably with the label's penchant for releasing interesting, occasionally eclectic, catalog titles.
Old-fashioned, warm and thoroughly charming, Bonnie Hunt's one-and-only directorial feature, RETURN TO ME (***, 115 mins., 2000, PG), ought to make for an ideal Valentine's Day viewing.
David Duchovny – looking quite relaxed away from the constrains of "The X-Files" – stars as a Chicago architect whose wife (Joely Richardson) dies in a car accident. Her heart ends up being transplanted in the body of Grace (Minnie Driver), a waitress at her Irish grandfather's Italian restaurant. The two coincidentally meet, and instantly generate an attraction for one another, although Grace's reluctance to talk about her surgery provides the eventual dramatic conflict that comes between them.
From reading that plot description – and really the movie is as direct as it sounds – "Return to Me" comes across like any generic Hallmark movie or – even worse – the forgettable Christian Slater-Marisa Tomei flick "Untamed Heart." What separates it from other genre ventures is Hunt's development of the story and its supporting players, filled by the likes of Carroll O'Connor (in his final film) as Grace's grandfather, Robert Loggia as his brother-in-law and resident chef, Hunt herself as Grace's friend and Jim Belushi as her husband. Hunt and Don Lake's script hits exactly the right note in letting all of these characters have their moment, adding not just humanity but gentle, realistic humor into the story as well. It's a truly delightful film, one that makes you disappointed Hunt never directed another picture.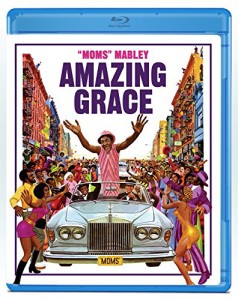 Shot on-location by Laszlo Kovacs, "Return to Me" makes for an attractive Blu-Ray from Olive. The 1080p (1.85) transfer has nice detail and warm colors, and the 5.1 DTS MA soundtrack is fine, offering a pleasant array of oldies and Nicholas Pike's low-key score. Extras brought over from the DVD include a commentary by Lake and Hunt, a music video and one deleted scene culled from a workprint.
Also new from Olive this winter is a far more obscure and rarely-screened United Artists comedy, AMAZING GRACE (**½, 99 mins., 1974, G), a vehicle for the groundbreaking African-American comedienne Moms Mabley.
Mabley stars as a cantankerous elderly woman who returns to her Baltimore home, only to find her community is besieged by corrupt politicians campaigning for Mayor, utilizing the race as a means of stripping their urban neighborhood dry. "Moms" subsequently comes to the rescue in a slow-going yet fascinating curio of its era, with Slappy White, Rosalind Cash, Moses Gunn and cameo appearances from Stepin Fetchit and Butterfly McQueen comprising this comedy from writer-producer Matt Robinson and director Stan Lathan (whose daughter is the lovely Sanaa Lathan).
Seldom shown on TV, "Amazing Grace" finds its way onto Blu-Ray in a surprisingly well detailed 1080p (1.85) transfer capturing the somewhat flat cinematography of the picture, while dialogue is as satisfying as it can be rendered in a DTS MA mono mix. No extras are included.
---
Kicking off the new year for the Warner Archives is THE RKO BROWN & CARNEY COMEDY COLLECTION, which includes four of the more entertaining '40s comedies starring Wally Brown and Alan Carney as their on-screen alter-egos Jerry Miles and Mike Strager. Warner's Archive DVD includes the duo in 1943's "The Adventures of a Rookie" and "Rookies in Burma," with Brown and Carney playing a pair of soldiers who get into all kinds of trouble. 1944's "Girl Rush" mixes up the formula and takes the boys out west while they try to mount an all-female revue for a mining town (including Robert Mitchum in drag!). Finally, 1946's "Genius at Work" – Brown and Carney's swan song – satirizes the mystery-thriller genre with Lionel Atwill and Bela Lugosi co-starring. All four RKO features are here included in their original 4:3 B&W presentations.
RATBOY (104 mins., 1986, PG-13) was a barely-released film from actress/director Sondra Locke, who utilized most of then-beau Clint Eastwood's production team (composer Lennie Niehaus, producers David Valdes and Fritz Manes among them) for a strange, offbeat tale of a woman who comes across a young boy that resembles a rat. A weird picture arriving on DVD for the first time in an Archive release sporting a 16:9 (1.85) transfer and 2.0 stereo sound…DUMB & DUMBER: THE ANIMATED SERIES (291 mins.) boasts 13 episodes of the short-lived small-screen animated adventures of the Farrelly Brothers' comic creations. Bill Fagerbakke and Matt Frewer voiced Harry and Lloyd in a series that recalls the kinds of broad TV/film-to-cartoon adaptations of years past. Warner's two-disc set includes 4:3 transfers and stereo sound.
---
JOHN WICK Blu-Ray/DVD (***, 101 mins., 2014, R; Summit/Lionsgate): Better-than-expected action flick offers Keanu Reeves one of his best roles in some time. As a hitman trying to leave the criminal underworld behind, Reeves' John Wick is brought back to his profession after thugs beat him and his new puppy, who was a gift from his late wife (Bridget Moynahan). A series of encounters with relentless assassins fuels Wick's quest for vengeance, which makes for a straightforward, impressive visceral ride from writer Derek Kolstad and director Chad Stahelski. Summit's Blu0-Ray includes several featurettes, a digital copy, 1080p (2.40) transfer, Dolby TrueHD Atmos sound and a DVD. Not a classic but a fine action film for genre fans.
OUIJA Blu-Ray Combo Pack (90 mins., 2014, PG-13; Universal): Savaged by critics, this Michael Bay production ended up nearly grossing as much domestically as Universal's prior attempt at bringing a Parker Brothers board game to life – "Battleship" – with a budget some $204 million (!) less than its predecessor. "Ouija" certainly isn't anything special, though, with a group of teens opening up a portal to the unknown after fooling around with the title game – it's pretty much a by-the-numbers affair for the PG-13 crowd, though leads Olivia Cooke ("Bates Motel") and Daren Kagasoff ("Secret Life of the American Teenager") are appealing enough and director/co-writer Styles White's picture isn't any worse than most of the genre dreck we see these days ("The Conjuring" excepted). Universal's Blu-Ray combo pack includes a DVD, digital copy, two BD-exclusive featurettes, an additional Making Of segment, 1080p transfer and 5.1 DTS MA audio.
BEFORE I GO TO SLEEP Blu-Ray (92 mins., 2014, R; Fox): Busted thriller adapted from S.J. Watson's bestselling book stars Nicole Kidman as a woman who awakens daily without any prior knowledge of her current standing in the world – but when the dots begin to connect, everyone's a suspect, including her husband (Colin Firth) and doctor (Mark Strong). Rowan Joffe wrote and directed "Before I Go to Sleep," which manages to be watchable because of the cast, but unfolds in such a way you just know whatever Joffe throws in front of you is simply eating up time before the inevitable twist at the end. Fox's Blu-Ray includes multiple featurettes, a 1080p transfer and 5.1 DTS MA sound along with a digital copy.
MAISON CLOSE – Season One (440 mins., 2014; Music Box Films): French TV series is set in Paris circa 1871, where a young woman – searching for her mother – is coerced into serving at one of the city's most popular brothels. Though "Maison Close" treads over ground you've seen before, this is a well-told, absorbing series – one of the few French TV series I can recall receiving a domestic Blu-Ray release here in the U.S. Music Box's BD set, out this week, includes a collector's booklet with production notes, photos and interviews; 1080p (1.78) transfers, 5.1 French DTS MA audio tracks and English subtitles.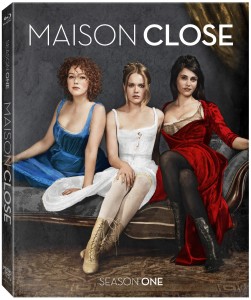 HBO New Releases: GAME OF THRONES: The Complete Fourth Season (545 mins., 2014) continues its adaptation of George R. R. Martin's bestsellers. Here, the Lannisters' control over the Iron Throne is still on firm ground, while Stannis tries to resurrect his military forces on Dragonstone while the south offers a challenge from the "Red Viper of Dorne." Fans should appreciate HBO's typically excellent 1080p (1.78) transfers and 5.1 DTS MA soundtracks with Digital HD copies; BD exclusives like an "In Episode Guide" and "Histories and Lore" options; 11 audio commentaries; a blooper reel; character & locations featurette; two deleted scenes; and extensive interviews with the cast and crew on the production of the enormously successful series. Available February 17th...OLIVE KITTERIDGE (240 mins., 2014) is a layered, moody adaptation of Elziabeth Stout's Pulitzer Prize-winning novel about the assorted trials, tribulations, triumphs and tragedies in the life of a Maine teacher (Frances McDormand). McDormand's performance was rightly praised and she works brilliantly opposite Richard Jenkins as her husband, while Bill Murray is effective in a limited role in later episodes. Lisa Cholodenko directed "Olive Kitteridge" which was beautifully shot by Frederick Elmes and scored by Carter Burwell – bringing feature quality to this four part HBO mini-series. HBO's Blu includes a digital copy for Ultraviilet and itunes, a 1080p transfer and 5.1 DTS MA audio.
Magnolia New Releases: An excellent look back at Richard Pryor's life and times, RICHARD PRYOR – OMIT THE LOGIC (83 mins., 2015) is a must-watch documentary for Pryor enthusiasts, covering his career with new/archival interviews featuring Mel Brooks, Dave Chappelle, Mike Epps, Robin Williams, Damon Wayans, and his widow, Jennifer Lee Pryor. Longer interview extracts are included as extras alongside the film, directed by Marina Zenovich and co-produced by Jennifer Lee Pryor. Magnolia's Blu includes a 1080p (1.78) transfer and 2.0 DTS MA stereo sound…ABCs OF DEATH 2 (122 mins., 2015, Not Rated) boasts another zany assortment of horror vignettes covering the alphabet with alternately horrific/humorous results. Fans of the original will be most likely to appreciate the macabre nature of this production, which Magnolia brings to Blu-Ray this week offering commentary from over 26 directors who worked on "ABCs of Death 2," along with an AXS TV special and Making Of, 1080p (1.78) transfer and 5.1 DTS MA sound.
Well Go New Releases: BROTHERHOOD OF THE BLADES (112 mins., 2014, Not Rated) finds three members of the Imperial Guard's Secret Police in the midst of betrayals and conspiracies. A potent Hong Kong import with a better than average story and solid martial arts sequences, Well Go's Blu-Ray streets February 10th and offers Mandarin and English dubbed DTS MA tracks and a fine 1080p transfer…Also on February 10th comes THE LOOKALIKE (101 mins., 2014, Not Rated), a film from director Richard Gray concerning a drug lord who has to find a lookalike actress to fill the role of a girl who died prior to a major operation. John Corbett, Steven Bauer, Justin Long, Gillian Jacobs and Jerry O'Connell star. Well Go's Blu includes deleted scenes, the trailer, a featurette a 1080p transfer and DTS MA 5.1 audio.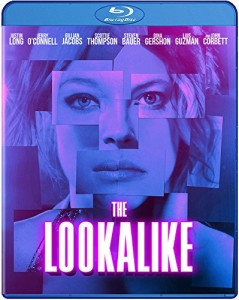 New From Lionsgate: EXISTS (81 mins., 2014, R) is the latest from "Blair Witch Project" co-director Eduardo Sanchez. Once again following a group of unsuspecting campers – who this time come across a sasquatch-like monster – Sanchez mines similar types of scares from the low-budget effort, which, if anything, is a cut above for the found footage genre – provided you haven't seen enough of it already. Commentary, two featurettes, deleted scenes, a digital copy, 16:9 (1.78) transfer and 5.1 Dolby Digital audio comprise Lionsgate's DVD…CARE BEARS: SHARE YOUR CARE (66 mins., 2012) includes three episodes from the animated series – Feeling Flu, Share Squared, More Fun With Grumpy – plus a digital copy, 2.0 sound and 16:9 (1.78) transfers.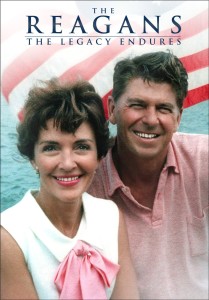 BBC Home Entertainment New Releases: CRACKED (293 mins., 2015, Not Rated) is something a little bit different for BBC America: a Canadian series starring "Gilmore Girls" vet David Sutcliffe as a former SWAT-like team member who has a breakdown, sending him to the Psych Crimes and Crisis Unit where he's partnered with Stephanie von Pfetten's Dr. Daniella Ridley. BBC's two-disc "What Lies Beneath" compilation offers, reportedly, about half of the series' initial 13 episodes with 16:9 transfers and 5.1 sound…Another offbeat offering from BBC is SAVE OUR SKINS (86 mins., 2015), an entertaining and goofy tale of two British sci-fi fans (Chris Hayward and Nat Saunders, who also wrote the script) who wake up in New York City, following a convention, only to find all – or nearly all – signs of life having vanished off the planet. BBC's DVD includes a 16:9 transfer and 2.0 stereo soundtrack.
THE REAGANS: THE LEGACY ENDURES (91 mins., 2014; RLJ): Robert Kline wrote and directed this superior documentary portrait of Ronald Reagan, from his upbringing in rural Illinois through to broadcasting, film and TV stardom, and political career. His relationship with Nancy Davis is given a thorough overview as well in this fine portrait of the Reagans, augmented with film and photos from the Ronald Reagan Presidential Library. RLJ's DVD, out February 3rd, includes a 1.33 transfer and 2.0 stereo soundtrack.
LEFT BEHIND Blu-Ray (110 mins., 2014, PG-13; E One): Feeble adaptation of the best-selling books falls behind even Kirk Cameron's low-budget effort from years back. This Stoney Lake Entertainment production stars Nicolas Cage as the pilot who flies around during the Rapture with a plane load of passengers; Chad Michael Murray, Cassi Thompson, Jordin Sparks, Nicky Whelan and Lea Thompson co-star in this ridiculous and poorly staged faith-based thriller shot by the great Jack N. Green but with very little else to distinguish it. E One's Blu-Ray includes promo videos, featurettes, interviews, a 1080p transfer and 5.1 Dolby Digital sound.
NEXT TIME: Shout's latest including HIGH SPIRITS, PHANTOM OF THE OPERA and more! Until then, don't forget to drop in on the official Aisle Seat Message Boards and direct any emails to our email address. Cheers everyone!