Just before Roger Ebert passed away, I was emailed by one of his assistants, who had watched a video I uploaded on Youtube of one of Siskel & Ebert's "Holiday Gift Guides." These annual shows – wherein the critics stepped outside the balcony to review home theater equipment, tech gadgets and the occasional video games – were among the tapes I had saved recording Gene and Roger's show growing up, and her email enabled me to get in contact with the ailing Pulitzer Prize-winning author before his death.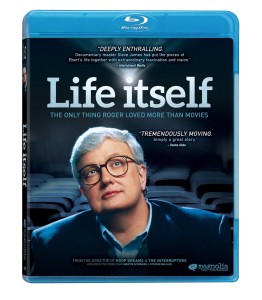 She had told me Roger watched the video I uploaded, and not only was happy to see the program for the first time since it aired, but wanted to know if I could pass along my copy to him. Not only was I thrilled to do so, but some weeks later, I received a package from Chicago with personally signed copies of Ebert's recent works – books which I'll obviously always treasure.
I write this not to confirm my lifelong affection for Siskel & Ebert, but to say how difficult it is for me to review ROGER EBERT: LIFE ITSELF (122 mins., 2014, R; Magnolia), an uneven documentary from Steve James which both recounts Ebert's life and times as well as his painful battles with cancer that eventually took his life at the age of 70 in 2013.
"Life Itself" has some wonderful moments – especially in how it chronicles Ebert's relationship with Gene Siskel and his later marriage to Chaz Ebert – but suffers from trying to balance a straightforward biography of Ebert with an unflinching portrait of his medical problems. While uplifting in illustrating Ebert's will to live, these sequences also show – in close-up, high-def detail – the medical procedures which kept him alive towards the end, and are, frankly, difficult to endure. Compounding things is the bloated running time, which is unlikely to hold the attention of anyone but hardcore devotees of Ebert's writing and Siskel & Ebert in general – cutting the production down to 90 minutes or shorter would've resulted in a more manageable running time for most viewers.
Magnolia's Blu-Ray of "Life Itself" offers an interview with James, deleted scenes, making of materials, a 1080p (1.78) transfer and 5.1 DTS MA sound. In spite of my reservations, this is still a worthwhile production that illustrates the influence Ebert carried in his prime, as evidenced by Martin Scorsese discussing how devastated he was over their negative review of "The Color of Money" – and tearing up when recalling the time he spent with the duo.
---
LOVE AT FIRST BITE/ONCE BITTEN Blu-Ray Double Feature (Shout!): Shout's Blu-Ray comic vampire double-bill couples "Love at First Bite," George Hamilton's 1979 box-office hit, with the inferior 1985 Samuel Goldwyn comedy "Once Bitten."
LOVE AT FIRST BITE (***, 96 mins., 1979, PG) is a breezy, if dated, comedy that opens with Hamilton's Count Dracula being evicted from his Transylvania home. Along with faithful, deranged manservant Renfield (an inspired Arte Johnson), Drac heads for the Big Apple and the gritty, disco-era '70s wherein he attempts to lure a supermodel (Susan Saint James) into becoming his bride.
With multiple "Roots" jokes and a bit of heavy ethnic stereotyping, "Love at First Bite" is most definitely a product of its time – something that weakens its then-contemporary comic perspective. While I wouldn't say the film quite reaches Mel Brooks levels of hilarity, there are still some inspired moments here, and Hamilton, Saint James and Richard Benjamin (as her boyfriend/shrink – a Van Helsing descendant) play off Robert Kaufman's script and Stan Dragoti's direction splendidly.
Making its Blu-Ray debut, "Love at First Bite" receives a natural and pleasing 1080p (1.85) AVC encoded transfer from Shout. The DTS MA 2.0 audio is fine, and especially noteworthy is that Alicia Bridges' popular disco track "I Love the Night Life" has been restored to its rightful place in the film – underscoring Hamilton and James' disco ballet – for the first time on home video. The trailer is the sole extra.
Paired with Hamilton's jokey Count is the lame Samuel Goldwyn release ONCE BITTEN (*½, 94 mins., 1985, PG-13) – a truly feeble teen comedy with L.A. vamp Lauren Hutton trying to put her fangs on a high school virgin (Jim Carrey). Cleavon Little is wasted as Hutton's servant in a tired, unfunny mess that made a few "Worst of the Year" lists as memory serves for 1985 – and even Carrey's talents are put to little effect in a bland straight-man role. Shout's 1080p (1.85) transfer seems to have been derived from a newish MGM master (as evidenced by the latest studio logo at the feature's start), and the 2.0 DTS MA mono audio features an okay score by John DuPrez. The trailer rounds out the package.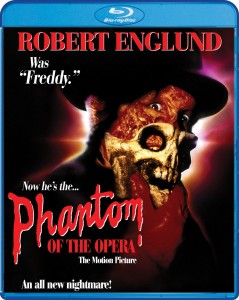 THE PHANTOM OF THE OPERA Blu-Ray (**½, 93 mins., 1989, R, 1989; Shout!): Finally available on Blu-Ray, Shout's inaugural Blu-Ray rendering of the '89 Robert Englund horror-ization of Gaston Leroux's book ought to be a welcome winter release for horror fans.
One of only a few releases to originate from Menahem Golan's post-Cannon tenure at 21st Century Films, this reasonably stylish and entertaining effort stars Englund as Leroux's dark hero, and Jill Schoelen at the peak of her B-movie fame as Christine. Misha Segal's score is surprisingly good, the Kevin Yagher effects are solid, and Dwight Little helms the whole show with more class than most of its genre brethren from the period. (Also, be on the lookout for future SNL star Molly Shannon basically playing herself).
While it's true that the film may have benefitted from a less-is-more approach in keeping with the Hammer period films it's paying tribute to (the violent kills likely repelled the audience that would've best appreciated it), this "Phantom" is still a solid production all things considered. Shout's Blu offers commentary with Englund and Little; an excellent 37-minute retrospective discussing the production's strengths and weaknesses as well as its unproduced sequel, "Phantom of Manhattan"; DTS MA 5.1 and 2.0 soundtracks; and an attractive 1080p (1.85) transfer.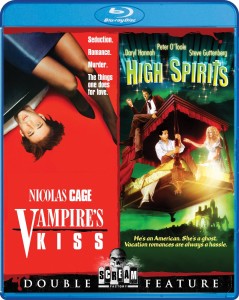 NEW YEAR'S EVIL Blu-Ray (*½, 86 mins., 1980, R; Shout!): Standard-issue '80s slasher from the Cannon Group ought to appeal strictly to undemanding horror aficionados thanks to its no-nonsense direction and score from "In Search Of…" composers W. Michael Lewis and Laurin Rinder. Alas, that's pretty much all there is to say about this mostly tedious slasher that has precious little to distinguish it from the bulk of its genre brethren being produced around that time. Nostalgic genre buffs – and fans of "Happy Days"' Pinky Tuscadero, Roz Kelly (who stars) – might get a kick out of Shout's Blu-Ray effort just the same, with a brand-new 1080p transfer (1.85) struck expressly for this release leading the way. Extras include a commentary with director Emmett Alston, interviews with co-star Kip Niven, cinematographer Thomas Ackerman and other crew members; the trailer; and a DTS MA mono soundtrack.
VAMPIRE'S KISS/HIGH SPIRITS Blu-Ray Double Feature (Shout!): Odd coupling of two late '80s box-office misfires should nevertheless generate some enthusiasm among genre buffs.
VAMPIRE'S KISS (*½ , 103 mins., 1989, R) is a film I've frankly never cared for – a nasty and unpleasant chronicle of a New York City literary agent (Nicolas Cage) who descends into madness after being bitten by a "vampiress" (Jennifer Beals). Director Robert Bierman's film isn't funny enough to work as a comedy, isn't sharp enough to function as a satire, and isn't horrific enough to pass as a horror film – it's a cinematic no man's land that might be worthwhile for Cage fans to check out his first post-"Moonstruck" role but little more.
Director Neil Jordan, meanwhile, disowned HIGH SPIRITS (**½, 99 mins., 1989, PG-13), a wacky supernatural comedy about American tourists (including Steve Guttenberg, Beverly D'Angelo, Peter Gallagher and Jennifer Tilly) who cross paths with feuding ghosts (Daryl Hannah and Liam Neeson) while on vacation at owner Peter O'Toole's ailing Irish castle. Once you get past the movie's disjointed opening act (which may well have been compromised in the editing room), "High Spirits" offers a decent amount of fun – stylishly shot by Alex Thomson, designed (by Tim Burton collaborator Anton Furst), and scored in a sparkling manner by George Fenton.
"High Spirits" has been out of print for some time, making its return to circulation here in Shout's Blu-Ray double-feature a welcome occurrence for fans. The 1080p (1.85) transfer is exceptionally good, restoring the color and texture to Thomson and Jordan's visuals, though no extras are on-hand. For "Vampire's Kiss," Shout reprised the prior DVD commentary with Bierman and Cage and also included the trailer from the 1989 Hemdale release. That film's 1080p (1.85) transfer is strong though comparatively less impressive, mainly because of imperfections that pop up in the source materials.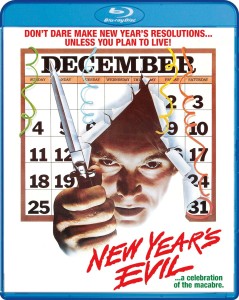 TV on DVD from Shout: HART TO HART: THE COMPLETE FOURTH SEASON (17 hours, 1982-83) continues the elegant adventures of Jonathan and Jennifer Hart (Robert Wagner and Stefanie Powers), who here take part in 22 fourth-season episodes from "Hart to Hart"'s 1982-83 season. Guest stars include Eva Gabor, Cesar Romero and Julie Newmar, and Shout's DVD offers all the mystery and romance in a six-disc set with attractive transfers licensed through Sony…CAPTAIN SCARLET AND MYSTERONS (832 mins., 1967) is one of the more fondly remembered "Supermarionation" efforts from Gerry Anderson, with Captain Scarlet and his Spectrum crew taking on a race of aliens from Mars hoping to conquer earth in 2068. A number of extras culled from the most recent UK DVD release of the series are on-hand in Timeless Media Group's DVD along with two episode commentaries and a never-before-released Anderson interview. All 32 episodes are included in a standard-sized DVD case…SUPER SENTAI ZYURANGER: The Complete Series (16 hours, 1992) offers the first complete U.S. DVD release of a live-action Japanese TV series that inspired the later "Power Rangers" phenomenon in the US. A panel discussion from a 2014 convention is included in Shout's conveniently packaged DVD box-set along with stereo sound (2.0 Japanese with English subtitles) and full-screen transfers…TOM SAWYER (***½, 1973, G) returns to DVD next month in a simple, no-frills DVD from Timeless Media Group. The 1973 Twain musicalization stars "Family Affair"'s Johnny Whittaker as Tom, Jodie Foster as Becky, future Clark Kent Jeff East as Huck Finn, and veterans Celeste Holm and Warren Oates. Director Don Taylor's movie benefits from a spirited Sherman Brothers score — marvelously orchestrated and arranged by John Williams — and exceptional scope cinematography. Timeless' DVD looks and sounds fine with a 16:9 transfer and 2.0 stereo sound – and given that the prior MGM DVD is out of print, this will come as a welcome release for many. However, here's hoping we'll see a BD double-bill of this and producer Arthur P. Jacobs' sequel adaptation of "Huckleberry Finn" one day.
---
DRACULA UNTOLD Blu-Ray (**½, 93 mins., 2014, PG-13; Universal): Well-produced, reasonably exciting "revisionist" take on the legend of Dracula stars Luke Evans as a decidedly more sympathetic Count. Here, Transylvania's King Vlad is a reformed warrior trying to take care of his wife and son when the evil Sultan demands that the kingdom's children join his army. That springs Vlad into action by any means necessary – including obtaining the ancient powers of darkness from a master vampire (Charles Dance) living nearby.
This Legendary Pictures production tries to position Dracula as some kind of supernatural super-hero, in a movie that feels as if it's gone through a realm of post-production tinkering. From the presence of deleted scenes that would've better developed the film to an ending obviously reshot to tie the film in with Universal's upcoming slate of Monster mash-ups, "Dracula Untold" is a flawed but generally entertaining picture with some effective visuals (particularly once Vlad gains the power of the undead and develops a "Drac sense" of his surroundings) and stylish cinematography by John Schwartzman. Worth a rental at least for genre buffs.
Universal's Blu-Ray combo pack includes an alternate opening, deleted scenes, featurettes, commentary, Making Of materials, a 1080p (2.40) transfer, 5.1 DTS MA audio, a DVD and digital copy.
NIGHTCRAWLER Blu-Ray Combo Pack (***, 118 mins., 2014, R; Universal): Taut examination of a low-life opportunist (an electrifying Jake Gyllenhaal) who claws his way into providing crime scene footage to the third place Los Angeles TV station, where its overnight news director (Rene Russo) turns Gyllenhaal's Louis Bloom into an aspiring media exploiter. Dan Gilroy wrote and directed this thoroughly compelling character drama that's exciting and unpredictable, with Gyllenhaal anchoring the film with one of his most effective performances to date. Universal's combo pack includes a Making Of and commentary, 1080p (2.35) transfer and 5.1 DTS MA sound, with an effective James Newton Howard score probing Bloom's twisted psyche.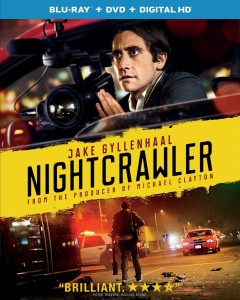 THE BEST OF ME Blu-Ray (**, 115/118 mins., 2014, PG-13; Fox): The latest Nicholas Sparks romantic drama tells the tale of Dawson and Amanda – a teen from the wrong side of the tracks and his girlfriend, a well-to-do high schooler from a wealthy family. Sparks' story alternates between the couple in their more idyllic past (as played by Luke Bracey and Liana Liberato) and the more fractured present (James Marsden and Michelle Monaghan), where the death of a loved one brings the duo back together.
Michael Hoffman's film is attractively lensed and the scenes between the couple in high school are nicely played by the younger actors. Part of the problem here, though, is that Bracey and Liberato look nothing like Marsden and Monaghan, with the latter sleepwalking through her role of an unhappy housewife. Eventually, tepid dramatics conspire to get in the way of the duo – and it's even worse in the theatrical cut of "The Best of Me," which has the gall to end on an almost sadistic downbeat note just for the sake of doing so.
If you're a fan of Sparks or this film, Fox's Blu-Ray does offer an alternate cut of the film dubbed "Tears of Joy" (even carrying this subtitle on-screen), running a couple of minutes shorter and with a much more acceptable "storybook" ending. Both cuts are included here along with interviews, commentary, deleted scenes, a music video, 1080p (2.40) transfer, 5.1 DTS MA sound and a digital copy.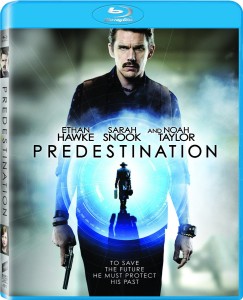 PREDESTINATION Blu-Ray (**, 98 mins., 2014, R; Sony): If the idea of crossing "12 Monkeys" with "Orlando" sounds like fun, then the Aussie import "Predestination" might be for you.
This unbelievably odd sci-fi time travel story is essentially a two-character piece wherein time traveler Ethan Hawke – sent back to stop a mad bomber in the 1970s – tends a New York City bar and listens to the sad story of an androgynous looking man with quite a history to tell.
Australian filmmakers Peter and Michael Spierig wrote and directed this adaptation of Robert A. Heinlein's short story "All You Zombies," which is strange, only somewhat satisfying and yet oddly watchable throughout. Sarah Snook really delivers the breakout performance in the film as a girl who goes through more than a few changes as she grows up in the restrictive 1960s – saying anything more would spoil the plot, though it's safe to say most seasoned genre viewers will put all of the pieces together long before the film's eventual "big reveal." It's an interesting film to be sure, though from an emotional or dramatic standpoint, it's hard to figure out what exactly "Predestination" is trying to accomplish.
Sony's Blu-Ray includes a lengthy, feature-length documentary on the low-budget film plus bloopers, a 1080p (2.35) transfer and 5.1 DTS MA audio.
BATMAN – Season 2, Part 1 DVD (755 mins., 1966; Warner): I wasn't able to cover Warner's Blu-Ray set of the 60s "Batman" (not enough copies to go around, unfortunately) but judging from the label's remastered DVD editions, they must look quite good indeed. This first set of episodes from "Batman"'s swingin' second season make their way onto DVD for the first time, with 30 episodes of wild comic-book fun on-hand that ought to entertain Bat-fans old and young alike. The 4:3 full-screen transfers are colorful and highly detailed for standard-definition.
101 DALMATIANS: 2-Disc Diamond Edition (***½, 79 mins., 1961, G; Disney): Classic Disney feature is the latest to receive the "Diamond" treatment on Blu-Ray. Presented in its original full-screen (1.33) format, the movie's restored transfer and 7.1 DTS MA audio are an appreciable upgrade on prior DVD editions, with original mono audio, the 1961 Disney TV production "The Best Doggoned Dog in the World," the new animated short "The Further Adventures of Thunderball" (running a hair under two minutes), conversations with the filmmakers and other extras culled from the prior Platinum DVD on hand. These include a Making Of documentary, deleted songs, a profile of the correspondence between Walt and the author of the original "101 Dalmatians" book, and other extras, plus a DVD and digital copy.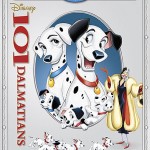 A genuine Disney charmer, "101 Dalmatians" has taken quite a while to make it to Blu-Ray but the presentation was worth the wait. Highly recommended!
LEGO DC COMICS SUPER HEROES: JUSTICE LEAGUE VS. BIZARRO LEAGUE (49 mins., 2015; Warner): Superman takes on clone Bizarro and his alternate alter-egos in this "feature" (if 49 minutes counts) cartoon from the Lego stable. Young kids ought to enjoy the colorful shenanigans, though true be told, this isn't exactly "The Lego Movie" in terms of the quality of its writing. Bloopers, a TV special, featurette, digital HD copy, a DVD and limited-edition Batzarro minifigure are all included in Warner's combo package, out this week.
---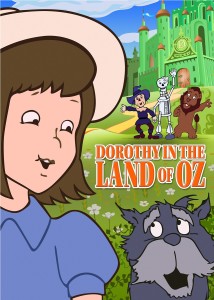 Catalog Corner: New From CBS and Paramount
GREATEST HEROES OF THE BIBLE Volumes 1-3 DVD (aprx. 11 hours, 1978): Sunn Classic Pictures – the '70s production outfit behind such titles as "In Search of Noah's Ark" – produced this TV series for NBC, offering adaptations of The Ten Commandments, David & Goliath, Joseph, The Tower of Babel and others. Victor Jory, Victoria Principal, Frank Gorshin, Donny Most, Dorothy Malone, Bernie Kopell, David Hedison, Robert Culp, William Daniels and many others – both dramatic and comedic actors of their eras – appear throughout the mini-series, collected here by CBS in a three-volume DVD set with 4:3 transfers and mono sound.
Several cartoons from the late '70s and '80s have also made their way onto DVD for the first time from CBS. DOROTHY IN THE LAND OF OZ (25 mins., 1980) originally aired as a Thanksgiving cartoon in 1980, and finds Dorothy heading back to Oz with an assist from several characters – Jack Pumpkinhead and others – who would be seen in Disney's later, live-action "Return to Oz." PETER & THE MAGIC EGG (24 mins., 1983) is an appropriately colorful Easter cartoon that aired in April of 1983. PUFF THE MAGIC DRAGON (71 mins., 1978, 1980, 1982) includes all three CBS animated cartoons featuring the title dragon (voiced by Burgess Meredith) from Peter, Paul & Mary's classic song: 1978's "Puff the Magic Dragon," 1980's "Puff the Magic Dragon in the Land of Living Lies," and "Puff and the Incredible Mr. Nobody." Finally, STRAWBERRY SHORTCAKE (47 mins., 1980-81) includes the two prime-time specials featuring Stawberry Shortcake and friends: "The World of Strawberry Shortcake" and "Strawberry Shortcake in Big Apple City."
Finally, THE EASTER PROMISE and ADDIE AND THE KING OF HEARTS (1975-76) follow the adventures of Addie Mills (Lisa Lucas), her father (Jason Robards) and grandmother (Mildred Natwick) in a continuation of the prior tele-films "The Thanksgiving Promise" and "The House Without a Christmas Tree." CBS' single-disc DVD includes both movies in 4:3 transfers with mono audio.
RACE FOR YOUR LIFE, CHARLIE BROWN DVD (76 mins., 1977, G; Paramount):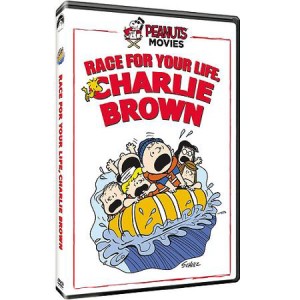 The last two, unreleased-on-DVD Peanuts theatrical features are due out for a digital rendering in 2015. First up is "Race For Your Life, Charlie Brown," which sends Charlie Brown, Snoopy, Linus, Lucy and Woodstock off to summer camp where they engage in a number of contests with the elements and one another. This 1977 feature doesn't quite have the charm of the initial Peanuts movies ("A Boy Named Charlie Brown" and "Snoopy Come Home"), and at times feels like an extended special that you'd see on CBS, but Charles M. Schulz's script has its endearing moments and ought to entertain kids just the same. The highlight of Paramount's DVD is a new 16:9 (1.85) widescreen transfer with mono audio. "Bon Voyage, Charlie Brown" – the fourth and final Peanuts movie – ought to hit DVD later this year, when the much-anticipated new Fox big-screen "Peanuts" production arrives in theaters.
---
Warner Archives New Releases
Two of Shirley Temple's later features have received a fresh DVD release from Warner. ADVENTURE IN BALTIMORE (89 mins., 1949) pairs Temple with Robert Young (her prior co-star in "Stowaway") and her real-life, then-husband John Agar in a tale of a young suffragette who makes life difficult for a Baltimore ladies' art institute. This period piece from director Richard Wallace is enjoyable and breezy, as is the earlier RKO Temple vehicle HONEYMOON (74 mins., 1947), wherein Temple plays a young bride who's whisked off to Mexico City where she's supposed to marry a GI (Guy Madison) – at least until she meets an American vice-consul (Franchot Tone). Both pictures, from the tail end of Temple's big-screen career, include 4:3 B&W transfers in reasonably good shape and mono audio.
William Shatner fans can rejoice thanks to a new, properly remastered DVD edition of WHITE COMANCHE (94 mins;., 1968), a Euro-western "The Shat" starred in during a hiatus from Star Trek. Shatner plays a dual role as mixed-race twins: one a drifter and the other a Comanche renegade whose path crosses with sibling "Johnny Moon." At his over-the-top best, "White Comanche" is a riot for Shatner buffs, and Warner's 16:9 (1.66) DVD presentation is hands down the best the oft-bootlegged film has ever looked on home video to boot.
---
TARZAN Blu-Ray Combo Pack (**, 94 mins., 2013, PG; Lionsgate): Germany's Constantin Film produced this low-grade – though not entirely unwatchable – new animated adventure featuring Edgar Rice Borroughs' hero. Here, Tarzan starts off as young "JJ Greystoke," whose parents perish in the jungle while trying to track down the remnants of a meteor that may have extinguished life in the prehistoric age. After being nursed back to health by a group of apes, the boy, naturally, grows into Tarzan and attempts to save the universe from his human family's corporation exploiting the meteor rock for profit. Slow-going and overly plotty, this "Tarzan" boasts adequate animation but little more – however, young kids might enjoy it just the same, particularly once Tarzan takes center stage and the story (finally) gets going. Lionsgate's Blu-Ray combo pack – previously a Walmart exclusive – includes a trio of featurettes, a 1080p transfer (2.40), 5.1 DTS MA soundtrack, digital Ultraviolet copy and a DVD.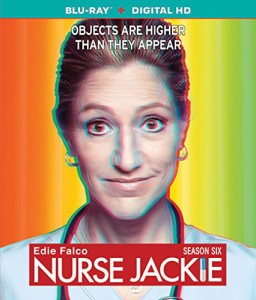 Also new from Lionsgate: animated hyjinks comprise A MOUSE TALE (92 mins., 2014, PG), a fantasy-adventure about a mouse kingdom featuring the voices of Drake Bell, Cary Elwes, Jon Heder, Tom Arnold and Miranda Cosgrove. Lionsgate's DVD includes a featurette, digital copy, 16:9 (2.35) transfer and 5.1 Dolby Digital sound…POWER RANGERS SUPER MEGAFORCE: THE SILVER WARRIOR (92 mins.) includes four episodes from the series – Samurai Surprise, Spirit of the Tiger, Silver Lining Part 1 and 2 – along with a digital copy…NURSE JACKIE: Season 6 (326 mins., 2014) finds Jackie Peyton dabbling in the high life (literally) before she pays the piper in this sixth season of the offbeat Showtime series. Lionsgate's Blu-Ray includes deleted scenes, two featurettes, commentaries, and a digital copy along with 1080p transfers and 5.1 DTS MA sound….ADDICTED (105 mins., 2014, R) adapts the bestseller by Zane, which illustrates what happens when a seemingly mild-mannered businesswoman falls for a sexy sculptor. Kind of an African-American twist on "50 Shades of Grey" (kinda), Lionsgate's DVD boasts two featurettes, deleted scenes, a 16:9 (1.78) transfer and a digital copy…Lynn Shelton's LAGGIES (100 mins., 2014, R) is a disappointing comedy starring Kiera Knightley and Chloe Grace Moretz as mismatched friends who help one another out with their respective hang-ups. Sam Rockwell, Ellie Kemper co-star in a movie that ought to be more appealing than it is. Lionsgate's Blu includes commentary, featurettes, deleted scenes, a digital copy, 1080p (1.85) transfer and 5.1 DTS MA sound.
Season 2 of WAHLBURGERS (198 mins., 2014) continues the antics with the Wahlburg clan – from thespians Donnie and Mark to chef Paul, who is tasked with expanding the family's dining brand around the world. Pleasant stuff for the reality genre, though a little bit goes a long way – making this for fans only (and who's surprised by that?). All nine second-season episodes are included in Lionsgate's double-disc DVD set with over an hour of bonus features and a 4th of July special…Tommy Lee Jones' directorial sojourn THE HOMESMAN (123 mins., 2014, R) is a disappointingly tedious, depressing western starring Jones as gruff drifter who's hired to help a group of troubled women – including a spinster farmer (Hilary Swank) – cross the frontier to the refuge of an Iowa churchwoman (a Meryl Streep cameo). Atmospherically shot by Rodrigo Prieto and nicely scored by Marco Beltrami, "The Homesman" is a dreary slog adapted from Glendon Swarthout's novel of the same name. Lionsgate's Blu-Ray offers three featurettes, a 1080p transfer (2.40) and 5.1 DTS MA sound.
Coming From Cinedigm: EASTER FAMILY FUN PACK (293 mins.) includes six different animated specials for kids: Prince of Egypt: The Story of Moses; Easter in Bunnyland; Noah's Magic Ark; The Ten Commandments; The Great Easter Egg Hunt; and Joseph and the Coat of Many Colors. 4:3 transfers and stereo soundtracks comprise Cinedigm's DVD, available February 17th…Available February 24th, THE SHIFT (77 mins.) stars Danny Glover in a drama about a 12-hour shift in a hospital ER. Cinedigm's DVD includes a 16:9 transfer and 5.1 Dolby Digital sound…Now available, THE AVIATORS (77 mins., 2008) is a Spanish language cartoon newly revoiced by Jeff Foxworthy and Brad Garrett. Cinedigm's Blu-Ray/DVD combo pack includes a 1080p transfer and 5.1 DTS MA audio…ALTAR (94 mins., 2014, Not Rated) is Nick Willing's tale of a family that awakens a ghostly force when they move into a new country home. Matthew Modine and Olivia Williams star with Cinedigm's DVD now available.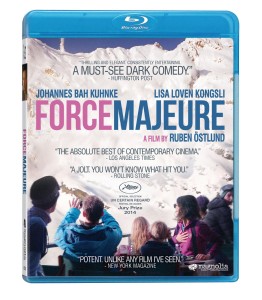 Magnolia New Releases: V/H/S VIRAL (81 mins., 2014, R) is the L.A.-set latest entry in the horror series, finding a host of teens capturing a pursuit between police and an ice cream truck that's really a facade for something far more sinister. Commentary, featurettes, cast interviews, a 1080p (1.78) transfer and 5.1 audio adorn Magnolia's Blu-Ray, which comes recommended only for hard-core fans of this series…the French drama FORCE MAJEURE (119 mins., 2014, R) examines what happens when the father of a good-looking "model" family cowardly runs away from his fam during an avalanche while on vacation in the Alps. The fallout from his decision forms the basis of Ruben Ostlund's acclaimed import, on Blu-Ray and DVD this week from Magnolia. An interview and behind-the-scene segment comprise Magnolia's release.
EDISON: AMERICAN EXPERIENCE DVD (120 mins., 2015; PBS): Excellent profile of Thomas Edison, from his achievements to his inventions and cutthroat maneuvers in the corporate world. A feature-length profile narrated by Michael Murphy that's now available on DVD from PBS sporting a 16:9 transfer and 5.1 surround sound.. .Coming Soon from PBS is SHAKESPEARE UNCOVERED SERIES 2 (6 hours, 2014), the second round of "Bard Unplugged," so to speak, with actors ranging from Kim Cattrall (Antony and Cleopatra) and Joseph Fiennes (Romeo and Juliet) to Morgan Freeman (The Taming of the Shrew), Christopher Plummer (King Lear), Hugh Bonneville (A Midsummer Night's Dream) and David Harewood (Othello) bringing viewers behind the scenes into – and out of – the respective plays. PBS' two-disc set is available February 24th and features 16:9 transfers and stereo soundtracks.
---
HECTOR AND THE SEARCH FOR HAPPINESS DVD (114 mins., 2014, R; Fox): "Hear My Song" director Peter Chelsom helmed this adaptation of a French novel, following a successful psychiatrist (Simon Pegg) who travels the world in search of the genuine happiness he attempts to provide for his patients. Toni Collette, Rosamund Pike, Jean Reno and Christopher Plummer co-star in this internationally-produced picture Fox has brought to DVD. The disc includes a Chelsom commentary plus two featurettes, a 16:9 (2.40) transfer and 5.1 Dolby Digital audio.
ROSEWATER Blu-Ray Combo Pack (104 mins., 2014, R; Universal): "Daily Show" host Jon Stewart made his directorial debut with the true story of a Tehran-born journalist (Gael Garcia Bernal) who returns to Iran to cover the 2009 election – only to be brutally tortured by a local interrogator (Kim Bodnia) who accuses him of being a spy. Universal's Blu, out this week, includes several featurettes with material related to the actual case, a 1080p (1.85) transfer, 5.1 DTS MA sound (featuring a score by Howard Shore), a DVD and digital copy on-hand.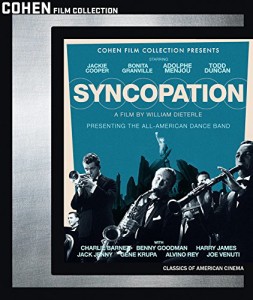 SYNCOPATION Blu-Ray (89 mins., 1942; Cohen Film Collection): Jazz lovers will want to check out this early '40s buried treasure starring Jackie Cooper and Bonita Granville as a young couple who fall in love while swinging out to some seriously good tunes in New Orleans. Performances from Charlie Barnes, Benny Goodman, Harry James, Gene Krupa and others grace this newly restored (in crisp 2K) presentation from the Cohen Film Collection, which also houses nine archival short jazz films and uncompressed PCM audio on Blu-Ray.
ZOMBIE KILLERS: ELEPHANT'S GRAVEYARD Blu-Ray (104 mins., 2014, R; Anchor Bay): After the town of Elwood is overrun by zombies, a group of young "Zombie Killers" under the tutelage of military vet Billy Zane is sent out to save the day. A bit lengthy in duration, this is a decent, low-grade horror outing with Dee Wallace and Mischa Barton chipping in supporting turns to the otherwise no-name cast. B Harrison Smith's film is on Blu-Ray – via a Best Buy exclusive – with three featurettes, a 1080p transfer (2.35) and 5.1 Dolby TrueHD audio comprising the technical specs.
FEAR CLINIC Blu-Ray (95 mins., 2014, R; Anchor Bay): Until the wheels come off the wagon in its final third, this adaptation of a FEARNet web series provides decent genre entertainment. Robert Englund stars as a doctor who tries to scare the pants off his patients in order to help them deal with their fears – of course, something is getting involved in the process, making the doc's hallucinations more real than they appear. Robert Hall directed and co-wrote "Fear Clinic," which hits Blu-Ray as a Best Buy exclusive along with a Making Of featurette, 1080p (2.40) transfer and 5.1 Dolby TrueHD sound.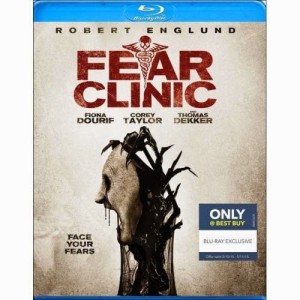 THE CHAIR Season 1 DVD (667 mins., 2014; Starz): Chris Moore, who spearheaded "Project Greenlight," returns with another indie filmmaking "reality" series. "The Chair" chronicles two aspiring directors – Shane Dawson and Anna Martemucci – who each produce their own respective films from the same screenplay. The series documents their struggles along with mentors like actor Zachary Quinto who appear to help guide the productions through to the finish line. Both finished features, "Not Cool" and "Hollidaysburg," are included in Anchor Bay's Season 1 DVD set in 16:9 transfers and 5.1 soundtracks.
RPG REAL PLAYING GAME DVD (102 mins., 2014, R; Arc Entertainment): Better-than-expected sci-fi drama stars Rutger Hauer as a dying millionaire who takes part in a game wherein a group of contestants vie for the opportunity to live forever. Arc's DVD, out this week, includes a 16:9 transfer and 5.1 Dolby Digital sound.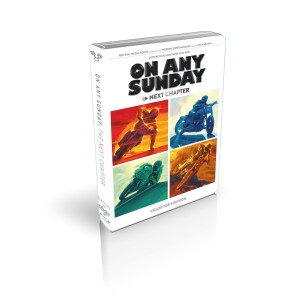 HORSE CAMP DVD (107 mins., 2013, PG; Arc Entertainment): A teen (Jordan Trovillion) who wants to attend a horse camp for girls takes on the school's resident meanie while contending for the title of Camp Princess – all following a rodeo accident that injured her father. Joel Paul Reisig's picture is a warm-hearted and appealing movie for family viewers and particularly young girls, who should appreciate its themes of friendship and perseverance. Arc's DVD, available February 24th, includes a 16:9 transfer and 5.1 soundtrack.
GLADIATORS OF ROME DVD (94 mins., 2014, PG; Paramount): Nicely designed Italian animated movie fills the need of young viewers desiring a PG-rated "Gladiator" cartoon (how many of them are out there is anyone's guess). This Rainbow production follows a young boy, separated from his mother after the destruction of Pompeii, who works his way up the ladder to become a champion gladiator in ancient Rome. Paramount's DVD boasts a 16:9 transfer and 5.1 audio. (Available February 17th)
NO TEARS FOR THE DEAD Blu-Ray (116 mins., 2014, Not Rated; CJ Entertainment): Lee Jeong-beom collaborates with star Jang Dong-gun in this Korean thriller about a hitman (Jang), raised in the American mafia system, who kills a young girl by mistake – and ends up meeting her mother once he returns to South Korea and gets his next assignment. CJ's Blu-Ray, out February 17th, includes commentary, a Making Of, 1080p transfer and 5.1 Dolby Digital sound.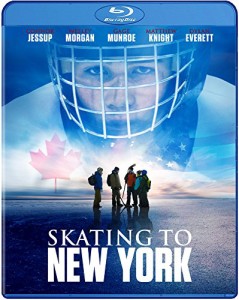 SKATING TO NEW YORK Blu-Ray (93 mins., 2013, PG-13; Well Go): A group of Canadian high school hockey players decides to shake off their frustrations following a tough loss by skating across Lake Ontario to New York. Charles Minsky's film is a predictable but likeable enough teen drama scripted by Monte Merrick and starring Connor Jessup from TNT's "Falling Skies." Well Go's Blu offers a 1080p transfer and DTS MA 5.1 audio.
ON ANY SUNDAY: THE NEXT CHAPTER Blu-Ray Combo Pack (2015, PG; Red Bull Media House): Bruce Brown's son, Dana, directed this updated look at the world of competitive motorcycling, offering spellbinding 4K cinematography and intense editing. Red Bull's Blu-Ray boasts a very attractive 1080p transfer with a DVD and digital download also included in the combo pack.
THE WORLD MADE STRAIGHT Blu-Ray (119 mins., 2013, R; Millennium Films): Ron Rash's contemporary story of a family struggle dating back to a Civil War massacre makes for a slow-going film with Noah Wyle, Jeremy Irvine, Minka Kelly, Adelaide Clemens and Haley Joel Osment starring. Millennium's Blu-Ray, now available, includes a 1080p transfer and 5.1 Dolby TrueHD soundtrack.
FORECLOSURE DVD (86 mins., 2014; Virgil Films): Dense dramatic thriller from writer-director Richard Ledes stars Michael Imperioli as a man who moves into the home of a deceased relative with his son and father-in-law; dramatic stakes ensue once their old family heritage is dredged up. Virgil's DVD includes a 16:9 transfer and 2.0 stereo soundtrack.
NEXT TIME: Twilight Time's February releases, Criterion's WATERSHIP DOWN and more! Until then, don't forget to drop in on the official Aisle Seat Message Boards and direct any emails to our email address. Cheers everyone!