Lifted by one of Bill Murray's more memorable and believable performances, Theodore Melfi's ST. VINCENT (***½, 103 mins., 2014, PG-13; Anchor Bay) might be formulaic, but its earnest and warmhearted story makes it a refreshing change of pace for viewers disappointed with the likes of Christopher Nolan's "Interstellar" and other, recent assaults on the senses coming out of Hollywood.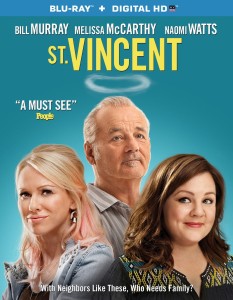 Perhaps because I had just sat through "Interstellar," I was more than ready for a character-driven piece like "St. Vincent," wherein Oliver, the precocious 10-year-old son (Jaeden Lieberher) of a newly-single mom (Melissa McCarthy), ends up being babysat – quite unexpectedly – by new neighbor Vincent MacKenna (Murray). Vincent is a hard-drinking, cantankerous louse, one who's lost at the track too many times and barely has enough funds to scrape up for his Russian hooker girlfriend (Naomi Watts), who's also carrying his child. Vincent looks at babysitting young Oliver as a means of generating some income at a time when he desperately needs it, particularly because of his ailing, Alzheimer's-afflicted wife, whose care he's barely able to afford. After Oliver has a hard time in the new Catholic school he's attending, Vincent is able to – of course – tutor the boy in defending himself and providing an education in life while Oliver's mother – facing a custody battle with her ex – works away at a hospital job in order to support them both.
Melfi wrote and directed "St. Vincent," which sounds predictable – and is, really – but works because of the sincerity of the film's performances and its all-around good nature. Murray refrains from showboating too much here and delivers a credible turn that ranks with some of his finest screen work, even if there are times when the star seems to slip in and out of a New York accent. McCarthy is also quite appealing in a more dramatic role than she's ever played on-screen, dating back to her work on "Gilmore Girls" years ago, while Watts delivers a surprisingly funny, on-target turn as Vincent's unrefined "lady of the night." It helps that Leiberher is also a natural on-screen, and that all of the actors are able to handle the more dramatic – if not contrived – elements of the story's final act with ease.
"St. Vincent" may not be a great film – and one wishes the story didn't resolve itself quite as quickly as it does, with Melfi throwing one plot device after another at the viewer – but it's nevertheless a heartwarming picture, and one that seems particularly welcome given the last year at the movies.
Anchor Bay's Blu-Ray, out this week, includes deleted scenes, two featurettes and an Ultraviolet copy along with a 1080p transfer and 5.1 DTS MA sound.
---
A quartet of '60s comedies debut on Blu-Ray this month from Olive, each offering a good-looking 1080p AVC encoded transfer from the MGM vaults.
The belated final entry in the Bob Hope-Bing Crosby "Road" series, THE ROAD TO HONG KONG (91 mins., 1962) isn't regarded as the best film in the hugely successful series – in fact, the picture is generally looked down upon as being an inferior footnote to the comic heights scaled by its predecessors. With that being said, "The Road to Hong Kong" is still good for a few laughs, with Crosby's Harry Turner and Hope's Chester Babcock trying to sell a "do-it-yourself space kit" in Calcutta when Chester loses his memory. An Indian doctor (a funny Peter Sellers cameo) informs the duo that the only way for Chester to regain his lost memories is to head to Tibet – therein setting in motion a madcap adventure wherein the boys unknowingly cross paths with a secretive spy organization and one of its alluring female members (Joan Collins).
With Dorothy Lamour reappearing in an extended cameo, Norman Panama and Melvin Frank's film updates the "Road" formula to accommodate the trappings of a '60s spy film. In that regard, the picture was prescient of the Bond craze that would soon take hold of the world in "Dr. No," which UA would release just a few months later. Backed by cameos from Sellers and Robert Morley, this is a good-natured if scattershot comedy that's been nicely remastered here on Blu-Ray. Olive's 1080p (1.66) transfer of the original B&W cinematography is leagues ahead of MGM's earlier non-anamorphic DVD rendering with mono sound and the trailer included as an extra.
Olive also goes back to the beach this month with the Blu-Ray bow of two entries in American-International's hugely successful "Beach Party" films with Frankie Avalon and Annette Funicello.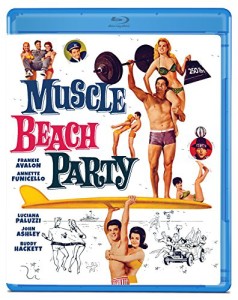 MUSCLE BEACH PARTY (94 mins., 1964) finds Frankie, Annette and the gang having to take on bodybuilders and their abrasive coach (Don Rickles) who've overrun the group's favorite seaside party spot. Of course, that doesn't mean there isn't time for a few songs and some laughs along the way, as Dick Dale and the Del Tones, Morey Amsterdam, Little Stevie Wonder, Buddy Hackett and Luciana Paluzzi appear in an entry written by Robert Dillon, who would – among later credits – author films as diverse as Michael Ritchie's "Prime Cut" and Mark Rydell's "The River."
"Muscle Beach" was followed by the entry that many regard as the Beach Party series' high water mark, BEACH BLANKET BINGO (98 mins., 1965), with Frankie and Annette this time dealing with a young songstress (Linda Evans), her bombastic manager (Paul Lynde), Harvey Lembeck's biker and a mermaid played by Marta Kristen. Deborah Walley nabs third billing in William Asher's 1965 series entry, which – like the other Beach Party films – was shot in good-looking Panavision (2.35), and benefits enormously from Olive's 1080p AVC encoded transfer. Highly detailed with attractive colors and just the occasional scratch on the source materials, the HD transfers of both "Muscle Beach Party" and "Beach Blanket Bingo" enhance these '60s pop-culture relics, allowing them to be appreciated by nostalgic fans and a new generation of home theater-philes with a willingness to get into the proper spirit. Recommended!
A troubled production from writer-producer Norman Lear, THE NIGHT THEY RAIDED MINSKY'S (99 mins., 1968, PG-13) is a strange, fictional account of the creation of the striptease – as improbably caused by an innocent Amish girl (Britt Ekland) who hits the big city, where she becomes involved in Billy Minsky's (Elliott Gould) vaudeville show and a pair of veteran stage entertainers (Jason Robards, Norman Wisdom).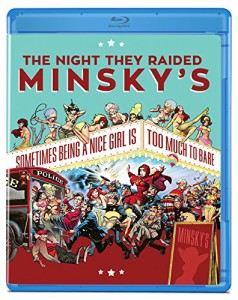 Lear, along with Arnold Schulman and Sidney Michaels, wrote the film and handed it over to William Friedkin to direct. The young director had an admittedly hard time finding the right tone for this period piece, necessitating months of post-production doctoring and cutting by editor Ralph Rosenblum to whip the film into shape. The result is absolutely uneven and, at times, purposefully off-kilter, as Rosenblum intercut archival film footage into sequences in order to jazz up what was, reportedly, a moribund production as filmed. Charles Strouse's music has some occasionally effective passages – along with a dated, Bacharach-esque sound at others that stamps it as a product of its era – and there are a number of great character actors on-hand, from Harry Andrews (as Ekland's father) to Joseph Wiseman, Denholm Elliott and Bert Lahr in his final performance (Lahr died during shooting, requiring further editorial work to complete his on-screen role). The finished product doesn't work, but it's a fascinating curio for movie buffs just the same. "Minsky's" 1080p AVC encoded (1.85) transfer from the MGM vaults shows its age but does offer far more natural detail than the prior DVD release and is capped with the original trailer.
Finally, Olive has tapped into the Cannon library with the release of DANGEROUSLY CLOSE (95 mins., 1986, R), the story of a kinda-crusading high school journalist (J. Eddie Peck, who later starred in Golan-Globus' classic "Lambada") who becomes friendly with the head (John Stockwell) of the "Sentinels," a would-be watchdog group that's doing more than just monitoring the halls. B-movie auteur Albert Pyun helmed this uninspired high school melodrama that takes a while to get going and only offers fleeting entertainment once it does, mainly because of the drab, downbeat helming of Pyun and a solemn script credited to Stockwell, Scott Fields and Marty Ross. On the plus side, there's an early appearance by a softer-looking Carey Lowell, three years prior to her role in Timothy Dalton's James Bond swan song, "Licence to Kill," but you'll have to muster some serious nostalgia for the era to mine much satisfaction out of "Dangerously Close." Minted from a newer MGM transfer (1.85, 1080p AVC), Olive's Blu-Ray looks as good as the movie – shot in a lot of dark, blueish hues – will allow, with DTS MA mono audio and the trailer rounding out the disc.
---
Martin Rosen's filming of Richard Adams' bestselling, beloved book WATERSHIP DOWN (92 mins., 1978, PG) has been available overseas on Blu-Ray for some time. This first U.S. Blu-Ray hails from the Criterion Collection, which offers an improved 4K transfer of the animated cult favorite.
In addition to the transfer, Criterion's disc includes a brand-new talk with producer Martin Rosen, who discusses the film's financing and production, replacing a conversation between Rosen and editor Terry Rawlings from various overseas releases (and certain DVD packages, including a Region 1 edition from Warner Home Video). That featurette offered the duo discussing the problems they encountered when original composer Malcolm Williamson had to leave the country after writing just one cue — and with a full orchestra contracted to record the score! As Rosen relayed, composer Jeff Wayne took the orchestra for his own use while recording his rock version of "War of the Worlds," while Angela Morley was quickly brought in to compose the score in just two weeks. While the omission of that conversation is unfortunate, another featurette from that edition – "Defining a Style" – has been carried over to Criterion's Blu-Ray, offering comments from animators, while a new, 14-minute interview with admirer Guillermo Del Toro, storyboards, and the trailer round out the package.
Visually, the disc's 4K transfer (1.85) is brilliant in its clarity and detail, even if the print still shows its age at times — no surprise given that the film was independently produced and distributed by a myriad of different international outlets upon its original 1978 release (Avco Embassy, in fact, released the film in North America). The 2.0 uncompressed PCM audio is just fine as well.
"Watership Down" isn't a perfect film but it's an effective enough distillation of Adams' original book, voiced by an excellent ensemble of British actors (from Ralph Richardson and Denholm Elliott to John Hurt and others) and beautifully animated in classic hand-drawn style. Writer-producer-director Rosen, meanwhile, manages to balance the darker elements of the story within the confines of a "family" film, without robbing the picture of its intensity or overriding message — a mix that Rosen later failed to recreate when producing his ill-fated, endlessly depressing adaptation of Adams' "Plague Dogs" in 1982.
Also newly available from Criterion is a superlative Blu-Ray of Yasujiro Ozu's AN AUTUMN AFTERNOON (113 mins., 1962), a meditation on relationships, parents, aging and life in general from the great Japanese filmmaker.
Criterion's Blu-Rau of this 1962 effort includes a restored 4K high-def transfer (1.37:1) with new English subtitles; a commentary with film historian David Bordwell, author of "Ozu and the Poetics of Cinema"; extracts from a 1978 French television retrospective on Ozu's works; the trailer; and a booklet sporting essays from critics Geoff Andrew and Donald Richie.
---
Long before some viewers discovered it on video, prior to it becoming a classic film that was embraced by the masses, Frank Darabont's THE SHAWSHANK REDEMPTION (****, 136 mins., 1994, R; Warner) was a little movie that almost nobody saw.
Yet for those of us who did see the movie upon its original release in September 1994, you knew immediately that Darabont — adapting a Stephen King novella — had produced something truly extraordinary: an absorbing, beautifully acted and masterfully told period story about the relationship between two men (Tim Robbins' Andy Dufrense and Morgan Freeman's "Red" Redding) in a Maine prison, their aspirations to live outside the confines of their existence and eventually break free, both spiritually and physically, from their surroundings.
Splendidly shot by Roger Deakins, designed by Terence Marsh, and scored by Thomas Newman (writing one of his finest and most memorable works), "Shawshank" is one of those rare films where every element of it clicks. Robbins and Freeman are extraordinary, while supporting roles are filled by an array of character actors, from the late James Whitmore to Bob Gunton, Bill Sadler, Clancy Brown and Gil Bellows. All of them are flawless in their articulation of Darabont's perfectly pitched script, which culminates in one of the most satisfying endings you'll see in any film. Now some two decades (it that even possible?) after its initial, disappointing theatrical release, and thanks to a myriad of video releases and broadcasts on TNT, the movie is regarded almost unanimously as one of the finest films of the '90s, which is what some of us who watched it the first time knew all along: in every facet, "The Shawshank Redemption" is pure cinematic gold.
Darabont returned to King country in 1999's THE GREEN MILE (**½, 188 mins., 1999, R), adapting yet another King prison story, though what was a far more layered and developed literary source than "Shawshank" turns into far less of an involving cinematic experience by comparison.
This death row tale with supernatural elements, chronicling the gentle giant John Coffey's tenure on death row in Louisiana during the Great Depression, is depressingly bland and dramatically static, plodding through its bloated running time with an air of self-importance while disregarding the pulpy, serialized nature of King's source material. Part of the problem is that Darabont's obvious faithfulness to the novel's plot is contrasted with his rather bland filmmaking approach. There's no substance to the drama, none of King's biting commentary. While Darabont captures the "Point A to Point B" narrative events, he misses the grit and heart that King's book provided in spades. What results is a film that moves so slowly and on such an even dramatic keel that it never conveys the life and energy that the story held on the page, in effect turning a low-key emotional tale into a bloated "Hollywood movie" that doesn't appear to be worth all the fuss after three-plus hours of celluloid.
Tom Hanks (as prison guard Paul Edgecombe), Michael Clarke Duncan (as John Coffey), and David Morse (as another guard on the "Mile") are all terrific, but "The Green Mile" is so downright maudlin at times — as opposed to the novel's more balanced, bittersweet examination of life and death — that it never captures the atmosphere and various layers that made King's serial so moving and captivating. While the movie may be worth a look for patient viewers, despite its high-profile cast and filmmakers, I'm not too certain that "The Green Mile" wouldn't have been better off being adapted as a made-for-television project, where the multi-night form and lower budget might have been more ideally suited for one of King's finest works.
"Shawshank" and "The Green Mile" have previously been released on Blu-Ray, but return to disc again this week as part of THE FRANK DARABONT COLLECTION – a nicely packaged Warner Blu-Ray box-set that includes both discs with their respective extras (commentaries, deleted scenes on "The Green Mile," featurettes on both films and the bonus, extended "Walking the Mile" disc). The set also houses the premiere Blu-Ray release of THE MAJESTIC (**, 153 mins., 2001, PG), Darabont's overly earnest, bloated box-office flop starring Jim Carrey as a screenwriter with amnesia. A would-be venture into Sturges/Capra territory, this throwback film is a bloated bore, though fans of the picture will appreciate Warner's Blu-Ray, which includes additional scenes, the trailer, and extras from the earlier DVD edition. The 1080p transfer and 5.1 DTS MA audio are both top notch in a set that includes glossy, book-styled packaging.
---
BIG HERO 6 Blu-Ray Combo Pack (***, 102 mins., 2014, PG; Disney): Before it succumbs to a formulaic, frenetic action climax, "Big Hero 6″ is an agreeable Disney animated feature with a central likeable protagonist.
Based on a Marvel comic (though curiously branded strictly as a Disney product), this appropriately colorful tale follows Hiro Hamada, a smart whiz-kid who develops a robot named Baymax – a white glob with a big heart who eventually comes to the aid of Hiro and his brother when a bad guy threatens the greater good of "San Fransokyo." Along with his suited-up pals – who form a rag-tag, would-be super-hero team – the group tries to save the day, with predictably chaotic results.
The animation is as brilliant and eye-poppingly colorful as you'd anticipate, yet there's just something missing from "Big Hero 6″ – the movie is fast-paced and looks attractive enough, but the underlying story is rather bland and by-the-numbers. Kids ought to enjoy it, no doubt, but I didn't find it as entertaining as "Wreck It Ralph" or several other, recent offerings from the studio.
Disney's Blu-Ray combo pack includes a stellar 1080p (2.39) transfer, 7.1 DTS MA audio, the "Feast" theatrical short, deleted scenes, multiple featurettes, a DVD and itunes-compatible digital copy.
BIRDMAN Blu-Ray (119 mins., 2014, R; Fox): Alejandro G. Inarritu's acclaimed "Birdman" is undisputably brilliantly shot – but also a mean-spirited, strident, obnoxious show-business story of a former super-hero actor (Michael Keaton) trying to mount a Broadway play based on Raymond Carver short stories. Keaton's attempts at bringing his artistic vision to life are fraught with problems both on-stage – where his hot-tempered co-star (Edward Norton) poses constant challenges – and off, where his ex-wife (Amy Ryan) and troubled daughter (Emma Stone) criticize the actor's every move. "Birdman" is precisely the kind of overpraised, pretentious indie that critics love to rave about but is, on nearly every level save its cinematography (where Inarritu shoots in beautifully flowing, continuous takes), a picture that's difficult to like. Keaton gives a strong performance all things considered, and is likely to walk away with the Oscar, but the caustic characters are off-putting and the "comedy" mostly self-indulgent, thinly veiled references to the lead actors' real-life backgrounds (Norton's diva-esque behavior, Keaton's Batman past, etc.). Fox's Blu-Ray isn't packed with extras but admirers of the film are likely to appreciate the few supplements that are here, including a talk with Inarritu and Keaton, a gallery and "All Access" behind the scenes footage. The 5.1 DTS MA audio is brilliantly mixed with constant directional activity, and the 1080p (1.85) transfer is flawless. A digital copy rounds out the release.
GOD TOLD ME TO Blu-Ray (90 mins., 1976, Not Rated; Blue Underground):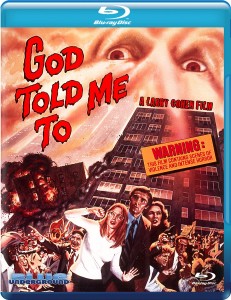 One of Larry Cohen's most controversial outings stars Tony Lo Bianco as a cop investigating a series of nonsensical murders – a father killing his family, a sniper shooting down a dozen people – in New York City. Where the case takes him involves the second coming of Christ, alien abductions, and (of course) Richard Lynch, in a nutty film that's best admired by Cohen devotees.
Blue Underground's potent Blu-Ray of "God Told Me To" is headlined by commentary from writer/director Cohen; an interview with Tony Lo Bianco; a conversation with effects artist Steve Neill; a New Beverly Q&A with Cohen; Lincoln Center question and answer session also with Cohen; plus trailers, TV spots and a poster/stills gallery. The 1080p (1.85) transfer is fine and a robust array of audio options includes a new 7.1 DTS MA mix as well as the original mono audio also in DTS MA.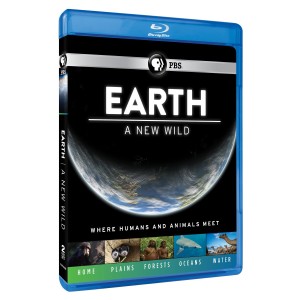 PBS New Releases: EARTH: A NEW WILD (5 hrs., 2014) offers scintillating HD imagery to go along with Dr. M. Sanjayan's globe-trotting look at how man and beast can co-exist on the planet. The five-episode PBS series takes Sanjayan to the Plains, Forests, Oceans, Water, and finally back Home across five continents, looking at how humans and the natural world intersect. A bonus interview with our host is included in PBS' two-disc Blu-Ray, packaged with 1080i HD video and 2.0 stereo sound…Dr. Lucy Worsley, Chief Curator of Historic Royal Palaces, takes viewers behind the scenes to TALES FROM THE ROYAL BEDCHAMBER (60 mins., 2013), an hour-long documentary profiling the initially public nature of bedchambers in the Monarchy and how they eventually became private – along with their political ramifications. PBS' DVD includes a stereo soundtrack and 16:9 widescreen transfer..Tom Hanks and Gary Goetzman produced THE SIXTIES (aprx. 9 hours, 2013), a multi-part examination of America's cultural and historical transformation during the 1960s. Previously broadcast (to strong ratings) on CNN, PBS' DVD set includes all 10 episodes from the series, which touch upon the major moments of the decade, on three discs with 2.0 stereo sound and 16:9 transfers…From the American Experience comes KLANSVILLE USA (60 mins., 2015), Callie T. Wiser's disturbing look at the rise of the Klu Klux Klan in the 1960s as seen through the prism of Bob Jones. PBS' DVD includes a widescreen transfer and 2.0 stereo sound.
Coming March 3rd: NAZI MEGAWEAPONS Season 2 (6 hours, 2014) continues its look at some of the stunning military weapons worked on by the Nazis prior to and during WWII. All six episodes from the series' second season have been collected by PBS in a two-disc set with 16:9 transfers and stereo sound…THE QUEEN'S GARDEN (60 mins., 2014) gives viewers unprecedented access behind the scenes in Buckingham Palace Gardens, chronicling the five-century history of the gardens as well as the seasonal transitions as cultivated by 21st century botanists. A terrific view for Royal enthusiasts, available March 3rd on DVD in widescreen and stereo sound…Finally, SURVIVING EBOLA, now available, presents a look at the Ebola-scarred West African battlefront where health officials continue to fight to contain the disease. The hour-long Nova special includes a 16:9 transfer and 2.0 stereo sound on DVD.
---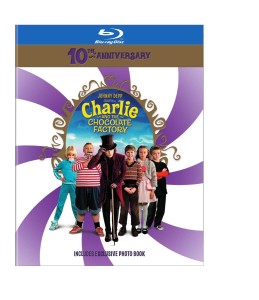 Also New from Warner Home Video
CHARLIE AND THE CHOCOLATE FACTORY 10th Anniversary Blu-Ray (***½, 115 mins., 2005, PG; Warner): Tim Burton's wonderful adaptation of the Roald Dahl book seems to have – in spite of its huge box-office intake – joined the ranks of other, derided "quirky Johnny Depp vehicles" since its original release. That's a shame, since Burton's take on the material is funny, inventive, colorful, fascinating visually, and filled with eccentric and equally delightful performances.
Though diminished in its effectiveness given Depp's similarly "wacky" performances over the last 10 years, the actor's chocolate entrepreneur was, at the time, a bold new creation and a far cry from Gene Wilder's frazzled Wonka. With a heartbreaking relationship with his estranged father (Christopher Lee) to blame for his isolated existence, this Wonka comes across as a little boy tutored in growing up by the valiant Charlie (the terrific Freddie Highmore, who worked with Depp the year prior in "Finding Neverland").
The John August script adheres more closely to Dahl than the '70s perennial, but the charm is in Burton's imaginative visual trappings. From Alex McDowell's sets to Philippe Rousselot's cinematography, this is a captivating aesthetic experience, and Burton's twists on the material — particularly having Deep Roy portray all the Oompa-Loompas — are fresh enough that one can forget all about Anthony Newley's songs and the comparatively plastic design of the original "Willy Wonka," while still embracing the same core story. Just as impressive is the music: Danny Elfman's score is one of his most inspired and effective recent works. His songs — written to lyrics culled directly from Dahl's text — encompass a wide variety of genres, while his use of electronics is wickedly entertaining, no more so than in the striking opening credits.
Needless to say, all of it goes down sweeter than one of Wonka's candies, and the cherry on top is the heartfelt narration performed by Geoffrey Holder.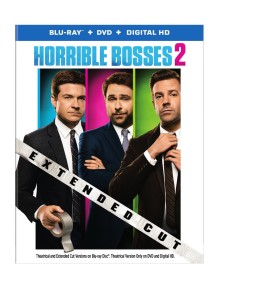 Warner's 10th Anniversary Blu-Ray regrettably houses the same BD as before (Dolby TrueHD audio, 1080p HD transfer, In-Movie Experience; Commentary; music-only track; featurettes), just in a glossier package with an exclusive photo book and letter from Burton. No need to upgrade if you've already purchased the existing Blu release.
HORRIBLE BOSSES 2 Blu-Ray Combo Pack (**, 108/116 mins., 2014, R/Unrated; Warner): Sorry sequel to the box-office smash of 2012 generated less than half of its predecessor's box-office in-take, and it's easy to see why. Sean Anders' unnecessary follow-up brings back frustrated company men Jason Bateman, Charlie Day and Jason Sudeikis, now running their own business, when they decide to get even with an investor (Christoph Waltz) and his son (Chris Pine), who bilked them out of a deal. Kevin Spacey, Jamie Foxx and Jennifer Aniston return to cash checks from the original – it's all by-the-numbers stuff without the energy of the original, and laughs are in short supply. Warner's Blu-Ray offers both the R-rated theatrical cut of "Horrible Bosses 2″ plus its unrated, extended version, which adds eight minutes of footage; several featurettes; a 1080p (2.40) transfer and DTS MA 5.1 sound.
---
Family Finds: ZOEY TO THE MAX (86 mins., 2014) is a family-friendly film about a 13-year-old girl (Cassidy Max) who goes on a wild journey to retrieve her foster family's dog after he's abducted by a pair of thieves looking to cash in on his show dog status. Amy Smart and Grant Bowler co-star in the production, available this week on DVD from Cinedigm with a 16:9 transfer and 5.1 Dolby Digital sound…Lionsgate brings JULIUS JR.: PIRATES AND SUPERHEROES ( 66 mins., 2013) to DVD this week as well, offering six episodes from the popular kids series along with a digital copy, 16:9 (1.78) transfer and 5.1 Dolby Digital sound…Shout Factory's MY LITTLE PONY: ADVENTURES OF THE CUTIE MARK CRUSADERS (110 mins., 2014) offers five episodes from the newest, popular iteration of the Hasbro heroines on DVD. Extras include a sing-along and downloadable wallpapers plus 16:9 (1.78) transfers and 5.1 audio.
THE INTRUDERS DVD (92 mins., 2014, PG-13; Sony): When Miranda Cosgrove moves with her father (Donal Logue) into their new home – a classically cliched cinematic haunted house – she comes across a presence inside that sends the girl into a tizzy trying to figure out what it is…and what became of the home's previous tenant, who mysteriously disappeared. Tim Sizemore co-stars in this watchable teen thriller produced in Canada by director Adam Massey. Sony's DVD, available this week, includes two behind-the-scenes featurettes, a 16:9 (2.35) transfer and 5.1 Dolby Digital sound.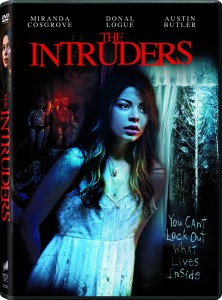 LET'S KILL WARD'S WIFE Blu-Ray (83 mins., 2014, Not Rated; Well Go): "Felicity" star Scott Foley makes his directorial debut with this black comedy about a man (Donald Faison) who – like everyone else – wants to get rid out of his obnoxious wife. When that fantasy becomes a reality, the group has issues disposing of the evidence in an occasionally funny film that feels awfully familiar. Still, the cast – which includes Greg Grunberg, Patrick Wilson, Amy Acker and Nicolette Sheridan – does their best, making for an okay rental choice. Well Go's Blu, available March 3rd, includes outtakes, the trailer, a 1080p transfer and 5.1 DTS MA sound.
Virgil Films New Releases: GIVE ME SHELTER (91 mins., 2015) is Katie Clearly and Kristin Rizzo's award-winning documentary about the work of numerous individuals and wildlife rescue organizations trying to do right for animal welfare around the globe. A heartbreaking, important documentary that's available this week from Virgil on DVD. Recommended viewing for any animal lover…Tim Sisarich hosts IRREPLACEABLE (104 mins., 2014-15), a documentary that examines the role of family in the 21st century and its importance to binding children and people together. Strong, moving stuff with Virgil's DVD offering a panel discussion of the film and numerous extras.
NEXT TIME: FAR FROM THE MADDING CROWD and the newest Twilight Time releases! Until then, don't forget to drop in on the official Aisle Seat Message Boards and direct any emails to our email address. Cheers everyone!