The charming, engaging teen comedy THE SURE THING (***½, 95 mins., 1985, PG-13) from the winter of '85 is still one of director Rob Reiner's finest hours, and comes to Blu-Ray next week in another terrific Blu-Ray package from the fine folks at Shout! Factory.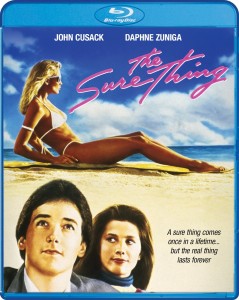 John Cusack stars as an overly verbose college student whose buddy (Anthony Edwards) in L.A. secures a "sure thing" (Nicolette Sheridan) for him to romance during winter break. In order to travel cross-country to get there, though, Cusack has to reluctantly take up with a seemingly stuck-up, straight-arrow girl (Daphne Zuniga) from his English class. It's a clash of opposites who eventually fall for one another, though the journey to the pre-ordained conclusion is filled with often poignant and/or funny episodes, most notably Tim Robbins' ultra-Preppie who agrees to take the couple along for the ride.
Written by Brown University graduates Steven Bloom and Jonathan Roberts, "The Sure Thing" has all the classic ingredients of both the teen movie and romantic comedy genres. The film has a young, enthusiastic cast, a smart and consistently amusing script, and two lead characters who you come to care a great deal about. Cusack and Zuniga don't overplay their parts (and watching this again, it's a shame Zuniga's future roles were comprised of "The Fly II" and "Melrose Place"), and Reiner wisely avoids the pitfalls of the genre by refusing to clutter the movie with cliches and stupid gross-out gags. "The Sure Thing" is a surprisingly warm and winning movie of its kind, and one that holds up splendidly some 30 years (my god!) after its original release.
Shout's Blu-Ray offers a good-looking, nicely detailed 1080p (1.85) transfer from the MGM vaults with 5.1 DTS MA audio – so sharp you can tell more than ever that the movie's supposedly Northeastern college campus is really southern California. The supplemental section is a straight reprise of MGM's 2003 Special Edition DVD, boasting a documentary on the making of the movie, tracing the film's genesis as a spec script to Reiner's involvement and the casting of Cusack and Zuniga. The interviews are candid and informative, discussing how Embassy Films became attached to the project, its filming and the acclaim the movie received upon its release. Reiner's commentary and the trailer round out the disc.
Werner Herzog's AGUIRRE, THE WRATH OF GOD (***½, 94 mins., 1972, Not Rated) receives a standalone release from Shout! this month on Blu-Ray. One of Herzog's most memorable films – marked by unforgettable imagery – "Aguirre" stars Klaus Kinski as the Spanish soldier attempting to find El Dorado and pushing his men to the brink as they battle the elements, natives and a lack of food in South America. The director's classic here offers two commentaries: a new track with Herzog, and a German language track with Herzog and Laurens Straub (with English subtitles), plus the trailer, a detailed 1080p transfer and 5.1 and 2.0 DTS MA German audio as well as a 2.0 English dubbed track…Also newly available on Blu this month from Shout is A MUSICARES TRIBUTE TO PAUL McCARTNEY (60 mins., 20125) which houses highlights from a 2012 tribute that honored McCartney as the Musicares Person of the Year. Performances of McCartney and the Beetles' classics by Alicia Keys, Alison Krauss, Norah Jones, Neil Young, Sergio Mendes, James Taylor, Coldplay, Diana Krall, and McCartney himself are included in 1080i video with DTS MA audio.
Aptly described by critic Tom Shales as the "wittiest, sassiest, smartest and most elegant of all the sitcoms" spun off from Norman Lear's "All in the Family," the classic TV sitcom MAUDE (1972-78) has received a long overdue Complete Series release from Shout! Factory, one that confirms its status as one of its genre's finest.
A brashly liberal Woman of the '70s, Bea Arthur's Maude Findlay began life as Edith Bunker's cousin on Lear's seminal "All in the Family," leading to her own show that was launched on a Tuesday night in September of 1972. What followed was a series that was both uproariously funny and notoriously controversial, as Maude's social crusades didn't just generate laughs but sticky subject matter that was ahead of its time. Abortion, alcoholism, menopause, race – all of them were grist for stories that balanced humor with topicality, and – as Shales points out in his booklet notes for Shout's release – weren't afraid to satirize Maude's progressive views much in the same way "Family" did to Archie Bunker's abrasively right-wing persona.
"Maude"'s social issues, however, did not lend themselves to as much success in re-run syndication as the series' peers, and indeed, the show previously only produced a first season DVD release. Shout's Complete Series box finally gives "Maude" the respect it deserves, capturing all six seasons of the series which ran for the bulk of the 1970s on Monday nights before shifting to Saturdays in early 1978. By then, the ratings had diminished and CBS hoped that by introducing Maude to Congress, viewers would reattach themselves to the series. Fortunately, Arthur decided to nix continuing on in the new format (the final episodes of Season 6 give an indication as to what might have been) and the show ended its run before it could jettison its supporting cast and original premise.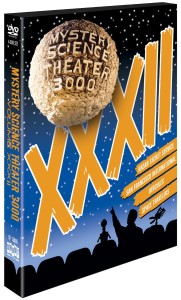 Shout's DVD includes all six seasons of "Maude" in a terrific box-set that also features a full episode guide with Shales' liner notes and a bonus disc of extras. These are particularly interesting, as they include two, never-before-seen unaired episodes: Season 1's "The Double Standard" and Season 3's "Maude's New Friends." Both of these episodes were eventually shot with the same scripts in later seasons, but seeing their original versions – recently found in the Sony vaults – ought to be fascinating for "Maude" fans. Other extras include Maude's two episodes on "All in the Family" (including the backdoor pilot) plus a Syndication Sales presentation with Norman Lear. Two featurettes are here joined by the new "Memories of Maude," sporting recent interviews with Barbeau and Bill Macy, who co-starred as Maude's loving yet constantly frustrated husband. Highly recommended!
This month MYSTERY SCIENCE THEATER 3000: VOLUME XXXII beams down on DVD from Shout! for MST3K fans near and far. This up-and-down assortment of four episodes offers the hilarious, cut-down version of the stilted late '60s Gregory Peck sci-fi opus "Marooned," here redubbed "Space Travelers"; Steve Reeves in the original sword-and-sandal cult fave "Hercules"; a 1970 TV-movie, "San Francisco International"; and the early '50s crime drama "Radar Secret Service." The former two episodes are quite consistently funny – less so with the minor latter outings. Shout's DVD boasts new introductions from Frank Conniff; a look at producer Joseph E. Levine's early films; "Marooned: A Forgotten Odyssey"; trailers; and four mini-posters by Steve Vance.
Coming next week are standalone Season 1 and 2 DVD releases of Hugh Wilson's hilarious WKRP IN CINCINNATI (1978-82, 22 Episodes).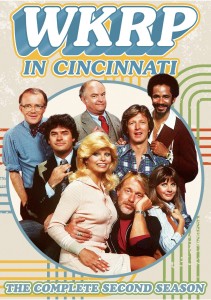 This CBS sitcom about a wild radio station that turns from classical to rock to garner ratings has long been a cult favorite. With Howard Hesseman leading the way as Dr. Johnny Fever, Wilson's series looks at the on-air and off-air shenanigans at Cinci's hottest (now)-rock station. Gary Sandy, Tim Reid, Gordon Jump, Frank Bonner, Richard Sanders, Jan Smithers and Loni Anderson comprise an outstanding ensemble cast in a show that outlasted its relatively brief tenure on the air. While the series only played on network TV for a few seasons, WKRP's fan base has long been one of the more rabid of all sitcoms – enough so that the show was brought back in syndication early in the '90s for new episodes, albeit for a short period of time.
Shout's Season 1 and 2 sets include the initial 22 and 23 episodes, respectively, from the series in transfers generally superior to Fox's comparable Season 1 release. However, looming over this set – just as it did with the prior Fox release – is the rather large issue of "re-edited music," which in WKRP is a major problem (and has long been the hang-up in releasing the series to DVD in the first place). The program used a wide array of rock tracks during its run from all kinds of major artists — and sometimes even made references to the songs that were playing in assorted jokes. Understandably, this created a huge issue when WKRP re-appeared in syndication with many of the original songs having been replaced. However, you can't entirely blame MTM or Fox for the problems — given the scope of the artists and number of songs involved, it would be difficult from an economic standpoint for any studio to pay licensing fees for all the individual tracks.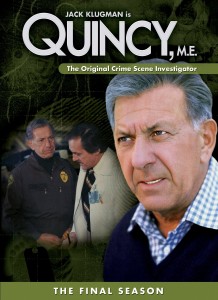 Having not been a major WKRP fan in the past, I'm not overly familiar with what songs were originally utilized in the show. A Shout disclaimer here relays that "WKRP has had a complicated history of music rights restrictions. To make this the most comprehensive DVD release possible, we have done our best to include every scene uncut and to license as much music as possible." Subsequently, fans will have to check the sets out for themselves and weigh whether the alterations are diminished from the syndicated edits (and by all accounts they have been substantially), or if it's still a dealbreaker.
Also new from Shout on DVD is the Final Season of QUINCY, M.E. (Aprx. 19 hours, 1982-83), the goodbye year for the irrepressible L.A. medical examiner as played by Jack Klugman. Shout's DVD includes the entire Eighth season of "Quincy," including its final episode, on six discs with 4:3 transfers and mono soundtracks…Finally, MR. BEAN: THE WHOLE BEAN (350 mins.; Shout/Fabulous Films) offers a digitally remastered 25th Anniversary Collection starring Rowan Atkinson's hapless clown. All 14 original episodes of the series are on-hand here with missing scenes, a 40-minute documentary, never-before-seen TV sketches, a trailer for the animated series, and a 72-minute "Best of Bean" clip special comprising the supplemental side. (Available March 24th)
---
FOXCATCHER Blu-Ray (**½, 134 mins., 2014, R; Sony). THE MOVIE: "Moneyball" director Bennett Miller spins a true story about power, murder, and wrestling, as seen in the relationship between wacko millionaire John Du Pont (Steve Carell) and Olympic wrestlers Mark (Channing Tatum) and Dave (Mark Ruffalo) Schultz. "Foxcatcher" is an extremely slow-moving film that lays all its cards on the table early in terms of portraying the difference between DuPont's extravagance and the comparatively working-class Schultz brothers, but then has nowhere else to go. In fact, the film is so leisurely that the first 40 minutes are essentially comprised of Tatum staring out windows and having a handful of conversations with Carell's wealthy industrialist – both of whom are portrayed in strange, overly mannered turns by the actors under prosthetic make-up. BLU-RAY SPECS: Sony's 1080p (1.85) transfer is excellent, capturing the naturalistic hues of Miller and cinematographer Greig Fraser; the DTS MA 5.1 sound is fine; and extras include deleted scenes and a Making Of that touches upon the real case. A digital copy is also included. AISLE SEAT BOTTOM LINE: Some people loved "Foxcatcher", others were baffled by it…I have to say I fall somewhere in the middle, finding little reason why the picture had to move as slowly as it does.
TOP FIVE Blu-Ray (**½, 101 mins., 2014, R; Paramount): Chris Rock, in a semi-autobiographical piece (allegedly), plays a formerly successful comic who shot to fame starring in a number of dumb comedies. Now trying to get back to the top with a dramatic performance – and following a stint in rehab – Rock's Andre Allen finds that the world isn't as receptive of his new endeavor, as he tells a New York Times reporter (Rosario Dawson) whose own career parallels Allen's struggles. Rock wrote and directed "Top Five," which has a number of funny and heartfelt moments but eventually comes off as a self-indulgent, excessive piece that tries to pack too much into its feature format. Perhaps if Rock worked with another screenwriter "Top Five" could have been pared down into something more focused and satisfying, though fans of the star will find much to appreciate (along with supporting turns from some of his SNL cohorts, Whoopi Goldberg and Gabrielle Union as the reality star he's set to wed). Paramount's Blu-Ray includes deleted scenes, commentary, Making Of materials, a digital copy, flawless 1080p transfer and active 5.1 DTS MA soundtrack.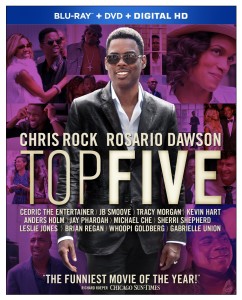 NEW ENGLAND PATRIOTS: SUPER BOWL XLIX CHAMPIONS (140 mins., 2015; NFL/Cinedigm): It's with great pride that I can recommend NFL Films' Patriots highlight video for the 2014-15 season – one that found coach Bill Belichick and QB Tom Brady back on top of the heap yet again after a deliriously nailbiting Super Bowl win over Pete Carroll's Seattle Seahawks. Suffice to say, I was so wound up I had to hide my eyes on the now-legendary (or is it infamous for Seattle fans?) final play wherein the Seahawks opted to throw the ball from the 1-yard line with seconds left. Patriots' defensive back Malcolm Butler made an enormous, aggressive play to make an interception and send the Pats off to their 4th Super Bowl victory, and tear the hearts out of Seattle fans (and Patriots haters!) across the country. NFL' s single-disc Blu-Ray includes just what you'd expect: a casual overview of the season, with half of the running time devoted to the Pats' playoff run, which also included a thrilling come-from-behind win against the Baltimore Ravens. Though packed with extra features, fans might want to hold off for a more elaborate set that's likely to hit stores this summer and will include the actual playoff games. The disc's 1080p video, though, is exceptional, and 2.0 DTS MA stereo audio rounds out the release.
---
For those of us who've long believed there aren't nearly enough Revolutionary War films and television series, AMC's TURN: WASHINGTON'S SPIES (452 mins., 2014; Anchor Bay) fills a major hole indeed. This slickly produced series – the first episode is directed by Rupert Wyatt ("Rise of the Planet of the Apes") and scored by Marco Beltrami – adapts Alexander Rose's book, which follows Abraham Woodhull (Jamie Bell), a Long Island farmer who becomes a part of one of the nation's first spy rings. Working for Washington against the Red Coats, Woodhull's adventures – while simultaneously trying to stay off the grid in order to protect his family – make for an exciting series amped up with just a dash of sex and violence (but thankfully not on HBO/Showtime levels). A handsome looking production, "Turn" comes to Blu-Ray this week from Anchor Bay. Deleted scenes, a featurette, "Art-to-Image" examination, 1080p (1.78) transfers and 5.1 Dolby TrueHD soundtracks comprise the set, which also comes with a digital Ultraviolet copy.
Also new this week from Anchor Bay is THE RED ROAD: The Complete First Season (264 mins., 2014), the Sundance Channel series starring Martin Henderson as a cop who works in both the New York community where he was born and a neighboring mountain town populated by a Native American tribe. Julianne Nicholson and Tom Sizemore co-star in this offbeat crime drama. Anchor Bay's DVD includes three featurettes, 16:9 (1.78) transfers and 5.1 Dolby Digital soundtracks.
---
TO WRITE LOVE ON HER ARMS DVD (102 mins., 2014, PG-13; Sony): Kat Dennings plays a Florida girl struggling with addiction and abuse who overcomes her hardships thanks to the arts and a strong group of friends. Based on a true story, Kate King Lynch's script and Nathan Frankowski's direction are well-meaning and Dennings does a good job in the lead. Chad Michael Murray and "Homeland"'s Rupert Friend co-star. Sony's DVD includes deleted scenes, Making Of featurettes, video blogs, a 16:9 (2.39) transfer and 5.1 Dolby Digital soundtrack.
HALO: NIGHTFALL Blu-Ray (98 mins., 2015; Microsoft/343): While fans may continue to lament that Neill Blomkamp's "Halo" movie never got off the ground at Fox, the hardcore might find sufficient entertainment in this Microsoft-produced Xbox series starring Mike Colter as an ONI agent whose team hears terrorist chatter coming from an off-world colony named Sedra. Ridley Scott was one of the producers of "Halo: Nightfall," which offers slickly produced sci-fi thrills in a precursor to the release of "Halo 5″ later this year. The "Nightfall" Blu, out March 17th, includes over 35 minutes of behind-the-scenes extras, over 45 minutes of "Second Story Extras," attractive 1080p transfers and 7.1 DTS MA audio.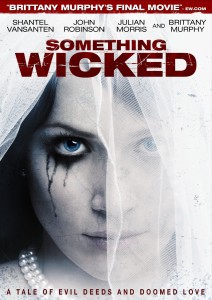 SOMETHING WICKED DVD (91 mins., 2015, R; Arc Entertainment): A young couple (Shantel VanSanten, John Robinson) are stalked by possibly supernatural forces after they're involved in a car accident that claims the lives of her parents; Brittany Murphy, in her last feature, plays her sister-in-law, a shrink who attempts to help them out. Darin Scott's picture is pretty much by-the-numbers all the way through – despite being "inspired by true events" (!) – and it's sad to see a frail Murphy just prior to her death. Arc's DVD, out March 17th, includes a 16:9 transfer and 5.1 Dolby Digital soundtrack.
WOLFCOP Blu-Ray (79 mins., 2014, Not Rated; RLJ): Wacky, self-aware Canadian import offers Leo Fafard as a drunken cop who reignites his passion for the job by becoming a werewolf. His pursuit of justice — which takes him down several mysterious scents — comprises this agreeably entertaining, low-budget thriller, out on Blu-Ray this week from RLJ. In addition to a 1080p transfer (1.78), the disc includes 5.1 DTS MA sound and plenty of extras: outtakes, trailers, a music video, behind-the-scenes featurette, commentary and other goodies. Also out this week on DVD from RLJ is TEETH AND BLOOD (101 mins., 2013), an "urban" vampire thriller about a pair of detectives who stumble across a battle between warring covens of the undead. Glenn Plummer stars in Al Franklin's film, which RLJ has brought to disc featuring a 16:9 (1.78) transfer and 5.1 Dolby Digital sound. 
THE DIVINE MOVIE Blu-Ray (118 mins., 2014; CJ Entertainment): A professional GO player ends up being framed for his brother's death after he loses to an underground gambler. After spending time in prison, Jung Woo-Sung's Tae-seok decides to exact revenge en route to a final confrontation with the villain who ruined his life. Violent, action-filled Korean import comes to Blu-Ray March 17th from CJ sporting a Making Of, both Korean and English soundtracks, and a 1080p transfer.
BBC Home Entertainment New Releases: THE GAME Season 1 (354 mins., 2015) is a Cold War-set BBC drama following Jonathan Aris as a KGB defector who exposes "Operation Glass" – a Russian plot to activate terrorist sleeper cells across the UK. Brian Cox, Tom Hughes and Shaun Dooley co-star in the acclaimed period series, now available on DVD from BBC featuring a 16:9 transfer and 2.0 stereo sound…Season 2, Part 1 of ATLANTIS (270 mins., 2015) finds Jason, Hercules and Pythagoras tracking down the disappearance of Jason's father and trying to decode the head of the Argonauts' ancient destiny. 1080p transfers and 5.1 DTS MA soundtracks adorn BBC's Blu-Ray set, which is now available in stores.
Lionsgate New Releases: Alexandra Shipp stars as the talented R&B songstress AALIYAH: THE PRINCESS OF R&B (88 mins., 2014), a routine if watchable cable biopic of the young singer/actress who was tragically killed in a car accident at age 22. Lionsgate's DVD includes a one-hour special and digital copy, plus a 16:9 (1.78) transfer and 5.1 audio…ALPHA AND OMEGA 3: THE GREAT WOLF GAMES (45 mins., 2014) brings back the gang for another adventure, with Coach Humphrey leading his forest-friend (i.e. non wolves) underdogs in a competition to see who's the tops of the woods. This third go-around for "Alpha and Omega" should entertain young kids, though the reduced running time gives off the feel that this is just a couple of TV episodes strung together, albeit under the direction of veteran animator Richard Rich. Lionsgate's Blu-Ray/DVD combo pack includes a digital copy and two games for kids along with a 1080p (1.78) transfer and 5.1 DTS MA sound…An above-average, low-budget submarine thriller, SUBCONSCIOUS (122 mins., 2014, R) follows a present-day investigation into whereabouts of a 1943 Navy sub. Some supernatural dealings follow in an entertaining, if leisurely paced, picture from director Georgia Hilton. Lionsgate's DVD includes a digital copy, deleted scenes, alternate ending, gag reel, two featurettes, a 16:9 (1.78) transfer and 5.1 Dolby Digital sound.
From Magnolia: LIFE PARTNERS (93 mins., 2014 R) pairs Leighton Meester and Gillian Jacobs as a pair of friends whose relationship takes a turn towards the awkward when Meester's Paige meets Tim (Adam Brody) and the duo get serious. Susanna Fogel's comedy offers engaging performances from the stars along with a 1080p (2.40) transfer, 5.1 DTS MA sound, featurettes and the trailer.
Cinedigm New Releases:  In CONFESSIONS OF A PRODIGAL SON (90 mins., 2015), Nathan Clarkson stars as a young man who leaves his father (Kevin Sorbo) and attends college where he meets a feisty young woman (Rachael Lee) while his beliefs are challenged by a professor (Darwin Harris). Allan Spiers' inspirational, "faith based" genre production offers sincere performances without a lot of surprises. Clarkson also wrote and produced the picture. Cinedigm's DVD includes a 16:9 transfer and 2.0 stereo sound…3D Blu-Ray owners who've been content deprived of late might want to check out JUNGLE SHUFFLE (82 mins., 2013), a Chinese import from the animators of "The Reef." Good looking 3D imagery is here matched with a story of two coatis living in the Mexican rainforest who fall for each other – despite their mismatched pedigrees. It's the kind of kid stuff young 'uns might appreciate (our son is too young still – thankfully – to test it out), with Cinedigm's Blu-Ray offering a 3D presentation, 2D transfer, DVD and bonus stickers plus 5.1 DTS MA sound.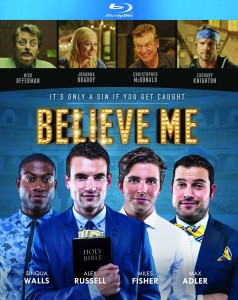 LATE PHASES: NIGHT OF THE LONE WOLF Blu-Ray (96 mins. 2014, Not Rated; Dark Sky/MPI): Adrian Garcia Bogliano's first English language feature pits a blind military vet (Nick Damici) against a werewolf, who he takes on personally after his guide dog is killed. Ethan Embry and old friend Lance "The Last Starfighter" Guest co-star in this adequate B-movie, new on Blu-Ray this week from MPI sporting a commentary, Making Of, FX featurette, the trailer, a 1080p (2.39) transfer and 5.1 Dolby Digital sound.
ADVENTURE TIME: FROST & FIRE DVD (176 mins., 2015; Warner): 16 episodes from the uber-popular Cartoon Network series are newly available on DVD, complete with 16:9 transfers and 2.0 stereo soundtracks. Episodes include Frost & Fire; Earth & Water; Jake the Brick; The Prince Who Wanted Everything; Something Big; Return to the Nightosphere; Daddy's Little Monster; Joshua and Margaret Investigations; Davey; The Pit; Freak City; Memories of Boom Boom Mountain; James; The Sandwich; Apple Thief; and Thanks for the Crabapples, Guiseppe.
BELIEVE ME Blu-Ray (93 mins., 2014, PG-13; Virgil Films): Comedy about a quartet of college students – led by an enterprising senior (Alex Russell) – who decide to generate a scam charity in order to produce enough funds to pay for his tuition. Eventually the boys have a change of heart in this offering from director Will Bakke that's more entertaining than the typical "religious" film, with the appealing Johanna Braddy co-starring as the kindhearted girl who turns Russell's intentions around. Virgil's Blu-Ray boasts a 1080p transfer and 5.1 Dolby Digital sound along with deleted scenes, outtakes and trailers.
NEXT TIME: More of the latest releases! Until then, don't forget to drop in on the official Aisle Seat Message Boards and direct any emails to our email address. Cheers everyone!