While we finally dig out from the snow, ice, and multiple layers of winter grime that's accumulated over New England since the middle of January, this month's TV on DVD offerings include a variety of exciting new releases, highlighted by one of my favorite series of 2014: HBO's SILICON VALLEY (228 mins.).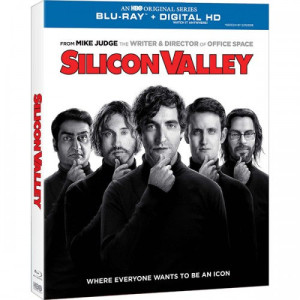 Mike Judge, John Altschuler and Dave Krinsky created this razor-sharp, often uproarious tale of a fledgling software designer (Thomas Middleditch) working with a group of rag-tag hackers at an internet start-up presided over by a drunken web entrepreneur (T.J. Miller). Middleditch's newest project, a music site named Pied Piper, doesn't seem to hold many prospects, either, until a Google-esque corporation he's also working at discovers a compression algorithm buried within that suddenly makes his creation a very hot commodity.
"Silicon Valley" works on a number of levels, but it's mostly just plain funny. The cast is ideally suited for the material, with the dynamic between the disparate personalities perfectly cultivated by Judge and co-executive producer Alec Berg, and smart, incisive writing flourishing throughout its eight episodes. You needn't be a tech-savvy computer nerd to enjoy it either, though it certainly doesn't hurt. HBO's First Season set of "Silicon Valley" offers a digital HD copy, three featurettes, 1080p transfers and 5.1 DTS MA soundtracks.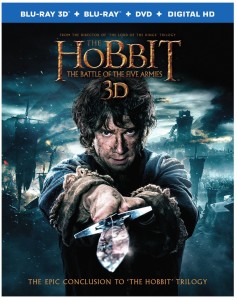 Also coming from HBO is the Third Season of VEEP (307 mins., 2014), which finds Julia Louis-Dreyfus' Selina Meyer facing the prospects of losing her position when the President stuns everyone by admitting he's not running for re-election. Louis-Dreyfus' multiple Emmy-wins for her performance on "Veep" are the main hook to Armando Iannucci's series, which returns to Blu-Ray on March 31st in a multi-disc set boasting four commentaries, deleted scenes, 1080p transfers, 5.1 sound and digital Ultraviolet copies.
THE HOBBIT: THE BATTLE OF THE FIVE ARMIES 3D Blu-Ray Combo Pack (**½, 144 mins., 2014, PG-13; Warner). WHAT IT IS: Bilbo and his merry men partake in the final battle in this concluding installment in Peter Jackson's bloated "Lord of the Rings" prequel trilogy. This installment – while the shortest at 144 minutes – in some ways feels like the longest, seeing as Jackson spends most of the running time on lengthy special effects sequences involving the climactic confrontation between Middle Earth's various factions, Sauron and the Dragon Smaug – material that apparently comprised a total of a half-dozen pages (!) in the actual "Hobbit" book. Character interplay is dialed back from the prior entries as well, though fans will still enjoy seeing how the story plays into the opening of Jackson's first trip to Tolkien land as, once again, several "LOTR" veterans show up in cameos (Cate Blanchett, Christopher Lee, Hugo Weaving, Orlando Bloom and Ian Holm). Overall, it's mostly a film for fans, with lots of FX wizardry, bombast and excessiveness that's become synonymous with Jackson's filmmaking. TECH SPECS: Warner's 3D combo pack of "The Hobbit" Part III benefits from a detailed 3D presentation with effective depth of field effects, though as with the prior "Hobbit" movies, the often dark cinematography curtails some of the format's effectiveness. "Recruiting the Five Armies," "Completing Middle Earth," "New Zealand: Home of Middle Earth Part 3″ and a music video comprise the supplemental side of things, with a 2D Blu, DVD, and digital copy rounding out the package. A 7.1 DTS MA soundtrack is, naturally, elaborately engineered with sound effects that whizz around you, plus one last hurrah for composer Howard Shore. AISLE SEAT BOTTOM LINE: Fans of J.R.R. Tolkien's "The Hobbit" – the book – might have issues with how Jackson turned what was first and foremost a children's book into an overproduced, overlong "trilogy" that you can't help but feel was a cash-grab on the part of Jackson, Warner and MGM. While the box-office returns were down for this third installment – especially in the U.S. – the hardcore Jacksonites will still find enough to savor here as the director closes the cinematic door to Middle Earth for good….right??!?
---
CHATTAHOOCHEE (**½, 97 mins., 1990, R)
CONVICTS (**, 93 mins., 1991, Not Rated)
VINCENT & THEO (***, 138 mins., 1990, PG-13)
Three early '90s dramas lead off Olive Films' latest Blu-Ray releases.
Two of the films hail from John Daly and Derek Gibson's Hemdale Film Corporation, which struggled post-"Platoon" and "Hoosiers" to produce a commercial success. One of their better productions was "Vincent & Theo," director Robert Altman's look at the relationship between the tortured artist Vincent Van Gogh (Tim Roth) and his brother Theo (Paul Rhys), who made it his life's mission to showcase his brother's genius.
More traditional in its structure than most Altman films, this 2½-hour feature was cut down from a four-hour TV mini-series format (Network released a full-screen DVD of the longer version in the UK) but nevertheless feels "complete" in terms of the themes Julian Mitchell's screenplay touches upon, in terms of Vincent's physical and mental pain, his frustration in seeing his artwork accepted, and Theo's relentless work in helping his brother achieve that dream. The movie hits upon the major elements of Van Gogh's life and times, picking up his story with Vincent struggling to survive in 19th century Paris, and Altman does a superb job illustrating that Vincent's main mode of communication with the world was through his art.
"Chattahoochee" is one of those well-intentioned social dramas that imparts a strong message, yet the portrayal of its subject – the despicable treatment of a Korean war veteran (Gary Oldman) in a Florida mental institution during the 1950s – is unconvincing. Mick Jackson ("L.A. Story") fashioned an odd and unsatisfying character drama that starts off on the wrong foot, with Oldman's Emmet Foley running around his suburban surroundings and horrifying various '50s stereotypes (including a surprisingly one-note performance from Frances McDormand as Foley's wife). It's so bombastic that it nearly functions as a comedy, and this broad tone similarly distinguishes Foley's subsequent time in the Chattahoochee facility, where he and his fellow inmates (Dennis Hopper, M. Emmet Walsh, Matt Craven among them) are deplorably treated by a system Foley ultimately works to change. A good film could have been made from this material, but "Chattahoochee" sadly falls short.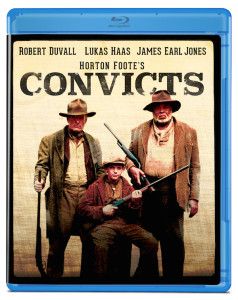 Also something of a letdown is "Convicts," a lackluster drama from the usually reliable Horton Foote. Adapting his stage play – set in turn of the century Texas – "Convicts" looks at life on a fading Texas plantation through the eyes of young Lukas Haas, serving as a hand for land owner Robert Duvall – himself an ailing relic of a soon-to-be-distant world. James Earl Jones co-stars as one of the veterans working for Duvall in a low-budget production helmed by Peter Masterson (his wife, Carlin Gylnn, co-stars) that's slow-going and often seems to ramble on pointlessly in spite of strong effort from the actors.
All three films have been mastered in high-def from MGM licensed transfers. "Vincent & Theo" looks the best of the bunch, with nice detail and color in its 1080p (1.85) AVC encoded presentation; the 2.0 DTS MA audio, meanwhile, houses a fine Gabriel Yared original score. "Chattahoochee" boasts a generally satisfying 1080p (1.85) transfer as well, with 2.0 DTS MA stereo sound featuring an uneven score by John Keane. Finally, "Convicts"' 1080p (1.85) transfer is fine, but the source materials appear to be in the weakest condition, with occasional wear and tear and fluctuating brightness making the film look older than it appears. Trailers are included for all three films.
JOHN FORD: DREAMING THE QUIET MAN Blu-Ray (92 mins., 2012): Se Merry Doyle's documentary looks back at the production of John Ford's 1950 classic, as well as its enduring legacy, with new interviews featuring Maureen O'Hara and admirers like Martin Scorsese, Peter Bogdanovich, and Ireland's own Jim Sheridan. In addition to archival home movie footage of the shoot, Doyle's film examines the impact the production made on the western locales it utilized and how much it continues to mean to audiences – as well as tourism. Straightforward and essential viewing for the movie's fans, with narration by Gabriel Byrne. Olive's Blu-Ray includes an extended interview with O'Hara and a number of featurettes comprised of footage that didn't make the final cut; a 1080p (1.77) transfer and DTS MA stereo sound.
---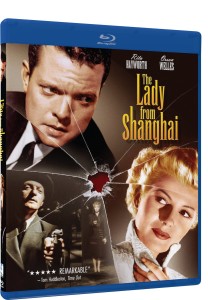 Mill Creek New Releases
Orson Welles' sensational film noir THE LADY FROM SHANGHAI (87 mins., 1947) has already been released on Blu-Ray through Turner Classic Movies' website as a "TCM Vault Collection" exclusive – yet that release was marred by two distinct issues. The first problem came with TCM's initial pressing, where the VC-1 transfer suffered from a low-bit rate and lossy audio. TCM eventually "corrected" the problem by pressing a second, different version of the disc, this time with a more detailed, higher-bit rate AVC encode and Dolby TrueHD "lossless" audio – but with a different and even larger shortcoming. This time, the transfer was too dark, obscuring what should have been plainly visible details in the image.
The good news is that Mill Creek has come to the rescue and issued their own Blu-Ray, sourced from the same 4K Sony restoration that TCM's second pressing originated from – but with corrected brightness levels. Now, details that should've been in clear view in that TCM release are visible yet again, while the crisp B&W cinematography of Charles Lawson is highly detailed with a natural grain structure intact. Extras aren't included (the TCM release sported a Peter Bogdanovich commentary and a few other supplements), but for under $10 in most outlets, this is an easy recommendation for an essential genre film.
Also new on the catalog front from Mill Creek is THE WILD ONE (79 mins., 1953), another Columbia title that helped establish Marlon Brando as a cinematic icon, in an early performance as "Johnny," the biker who falls for a nice girl (Mary Murphy) who's also the daughter of a cop (Robert Keith) in a small California town. Lee Marvin co-stars as Johnny's rival, Chino, in this highly entertaining – if dated – Stanley Kramer production that receives a similarly satisfying 1080p (1.37) transfer with 2.0 DTS MA mono sound. Again, no extras are included, but the strong transfer and bargain price make it a recommended purchase for catalog-starved Blu-Ray owners.
---
ANNIE Blu-Ray Combo Pack (**, 118 mins., 2014, PG; Sony): I confess that I never thought that John Huston's overblown 1982 filming of the mega-succcessful Broadway musical "Annie" was an untouchable cinematic property. Truth be told, Huston's movie – though a hit at the box-office and a movie fondly remembered by many kids who grew up during the era – was a miscalculation through and through, blowing up the inherent charm of its source material in favor of a brash, obnoxious "spectacle."
What's unfortunate is that neither director Will Gluck, his co-writer Aline Brosh McKenna (both of whom have produced terrific work elsewhere), or a stable of producers including Will Smith learned a lesson from Huston's misguided film, and produced a loud, modern "revamp" of "Annie" that commits most of the same sins as its cinematic predecessor.
Here, Annie and Daddy Warbucks – now named "William Stacks" (get it?) – have been fashioned as modern and, indeed, African-American, though race plays no real part of the retooled script. Quvenzhane Wallis makes for a feistier, more snark-castic Annie, though in eliminating some of the character's innocence, some of the source material's charm goes along with it. Jamie Foxx, meanwhile, is fine here as Stacks, though Rose Bryne seems out of place as the female lead and Cameron Diaz is a comic misfire in a heavy-handed turn as Miss Hannigan. Gluck retains several songs from the Charles Strouse-Martin Charnin Broadway score, though they've been – predictably – remixed and amped up in their production. What's worse, a few new songs have been added, co-written by executive music producer Greg Kurstin, that bring nothing to the table.
It's possible young girls might enjoy this "Annie" for its colorful visuals and upbeat tone, but for those who remember the character and her various adventures in and around the world of comic strips and Broadway, you can't help but feel it's just one more misguided "reboot" that Hollywood mucked up.
Sony's Blu-Ray combo pack includes a number of BD exclusive special features: a deleted song; five sing-along tracks; bloopers; trivia; outtakes; featurettes; plus a director commentary, Making Of, music video; DVD and digital copy. The 1080p (2.40) transfer and 5.1 DTS MA sound are both exemplary.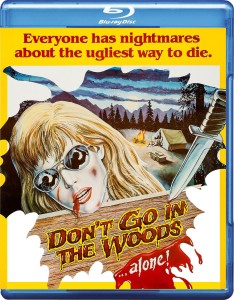 DON'T GO IN THE WOODS Blu-Ray (82 mins., 1981; Vinegar Syndrome): Another cinematic curiosity from the early '80s has been dusted off and given loving treatment from Vinegar Syndrome – though admittedly, you need to be a hardcore slasher fan to get a kick out of it. Director James Bryan's 1981 low-budget quickie "Don't Go in the Woods" plays, nearly, like a parody of the genre, even if there are times it's difficult to figure out if the film – which follows a succession of campers who are knocked off by a madman – is trying to play the flimsy material straight or not. In either case, this is a wild, wacky, and badly acted (to put it mildly) "regional slasher" that should be best savored by nostalgia buffs and genre historians. Vinegar Syndrome's Blu-Ray/DVD combo pack is all-region coded and includes a surprisingly solid 2K restoration from the 35mm Interpositive, DTS HD mono audio, three different commentaries with Bryan and others, an hour-long retrospective, half-hour "Autograph Signing Party" featurette, a TV promo compilation, numerous still galleries and the trailer.
THE THIN BLUE LINE Blu-Ray (102 mins., 1988; Criterion): Errol Morris first made a name for himself with this searing 1988 documentary about the death of a Texas state trooper and Randall Dale Adams – a drifter who was convicted for the crime and sent to death row, until Morris' 1988 film helped expose the truth, leading to his release a year later. Philip Glass' score and Morris' cinematography make for a still-relevant documentary that uses interviews and some re-enactments to push forward a clear point of view that was entirely successful in getting the public's attention and Adams' case reviewed. Criterion's Blu-Ray includes a new high-def restoration with DTS MA 2.0 audio; a new interview with the director; a 1989 NBC News report on Adams' release from prison; a conversation with Joshua Oppenheimer; and an essay from scholar Charles Musser.
---
Four "Best Of" DVD anthologies highlight CBS' March releases.
STAR TREK: CAPTAIN KIRK'S BOLDEST MISSIONS (aprx. 7 hours, 1966-68) offers eight episodes from the original series including "The Corbomite Maneuver," "The Doomsday Machine" and "The City On the Edge of Forever"…DEXTER: MOST SHOCKING EPISODES (aprx. 9 hours, 2006-12) boasts ten episodes from the Showtime series, including the pilot, the Trinity Killer climax "The Getaway," and eight other episodes. Multiple featurettes are also included in the three-disc set plus the first episode of "Penny Dreadful"…Both B&W and color episodes are included in the eight episode anthology PETTICOAT JUNCTION: FAMILY FAVORITE EPISODES (aprx. 3 hours, 1964-65), while MATLOCK: GREATEST CASES (aprx. 10 hours, 1986-94) offers Andy Griffith's criminal defense attorney in 12 episodes from the long running network drama.
For fans of these series who didn't want to spend a lot on their complete series sets, CBS' low-cost releases offer the same quality transfers and soundtracks as the more elaborate DVD releases, along with affordable price tags.
On the Complete Series front, CBS has dusted off GOMER PYLE U.S.M.C. (Aprx 63 hours, 1964-69), the spin-off from the "Andy Griffith Show" that sent Mayberry good o'l boy Gomer (Jim Nabors) off to the Army, where he made life hell for brash commanding officer Sergeant Carter (Frank Sutton).
Though "Gomer Pyle" was before my time, I became familiar with the show as a kid growing up in the '80s when it was syndicated to a local station up in Boston. Nabors' broad comedy was immediately appealing to my juvenile viewing tastes, and the show continues to provide good-natured fun for fans.
CBS' complete series set offers the entire run of the show – from its B&W opening season to its full-color subsequent years – in good-looking 4:3 transfers with mono sound. Extras include commentaries by Jim Nabors and Ronnie Schell on select episodes; audio intros by Nabors on certain shows; the "Andy Griffith Show" backdoor pilot; Nabors on "The David Frost Show"; and a clip from the "Jim Nabors Hour." The packager is similar to CBS' recent Complete sets ("Mork & Mindy" among them) with all 24 discs stacked in an oversized plastic container.
---
DIGGING UP THE MARROW Blu-Ray (88 mins., 2014, Not Rated; RLJ): Ray Wise stars as a man who can prove that monsters exist in Adam Green's ersatz-documentary about a filmmaker who gets more than he bargained for when he responds to Wise's claims. Soon, Green himself is plunged into a subterranean lair of beasts that Guillermo Del Toro would be proud of. Not a bad low-budget thriller, "Digging Up the Marrow" hits Blu-Ray on March 24th from RLJ sporting extended/deleted scenes, commentary, featurettes, a 1080p (1.l78) transfer and 5.1 DTS MA sound.
PIONEER Blu-Ray (111 mins., 2013, R; Magnolia): Norwegian drama follows the efforts by a pair of brothers to tap into oil and gas deposits some 500 meters down in the North Sea. Shades of "The Big Blue" in this import newly available on Blu-Ray from Magnolia, featuring a behind-the-scenes featurette, AXS TV special, 1080p (2.35) transfer and 5.1 DTS MA audio in Norwegian and English with subtitles.
SON OF A GUN Blu-Ray (109 mins., 2014, R; Lionsgate): Aussie import features Ewan McGregor as one of Down Under's Most Wanted, who recruits a 19-year-old (Brenton Thwaites) to participate in his newest heist – only to have things, predictably, go wrong. Lionsgate's Blu of Julis Avery's film includes a 1080p (2.40) transfer, commentary with the director, a Making Of, 5.1 DTS MA sound and a digital copy.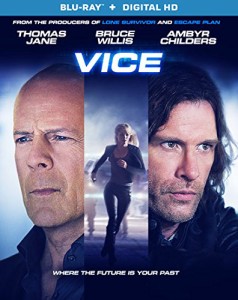 Also New From Lionsgate: Bruce Willis' latest video enterprise, VICE (96 mins., 2014, R), offers Bruno as "Julian Michaels," an entrepreneur who's designed a resort filled with artificial intelligence bots. When one disappears (Ambyr Childers), she works with a cop (Thomas Jane – so much for "Tom") in shutting down the resort. By-the-numbers stuff from director Brian A. Miller with an aging Jane and Willis reminding us all how far they've fallen from their glory days. Lionsgate's Blu includes commentary, a featurette, interviews, 1080p (2.40) transfer, 5.1 DTS MA sound and a digital copy…The History Channel "speculative mini-series" REVELATION: THE END OF DAYS (172 mins., 2014) posits what might happen in seven years of apocalyptic wars, plagues and general nastiness. The two-part mini-series is collected on a single disc Lionsgate DVD in a 16:9 transfer with 5.1 sound.
Cinedigm New Releases: WHAT WOULD JESUS DO? – THE JOURNEY CONTINUES (94 mins., 2014, Not Rated) offers John Schneider and Lorenzo Lamas in a faith-based family drama about a pastor who reconciles with his ex-con brother in order to renovate a church. When the church is robbed, the family is put to the test in a sincere drama from director Gabriel Sabloff and writer-producer Joseph Nasser. Cinedigm's DVD includes a 16:9 transfer and 5.1 Dolby Digital audio.
GRACE DVD (93 mins., 2015, Not Rated; E One): Annika Marks plays a young woman who ends up in jail after a weekend drinking and partying; she subsequently tries to turn over a new leaf by attending AA in this drama co-starring Sharon Lawrence and Chase Mowen. E One's DVD includes a 16:9 transfer, 5.1 sound, and extended/deleted scenes.
CAROL BURNETT SHOW: TOGETHER AGAIN DVD (158 mins., Starvista): Three uncut episodes from Burnett's classic comedy series – #705, #712, #1115 – are collected in a single-disc Starvista release for those who don't already own the label's prior DVD anthologies.
NEXT TIME: Twilight Time's March releases, Warner Archive titles and more! Until then, don't forget to drop in on the official Aisle Seat Message Boards and direct any emails to our email address. Cheers everyone!