It's tough to rag too much on a sci-fi film that does, at least, attempt to tell a genuine story augmented with "real science" in today's age of mindless comic book fantasies. On the other hand, is it too much to ask for a film like Christopher Nolan's INTERSTELLAR (**½, 169 mins., PG-13; Paramount) to be less convoluted and more emotional – and by that I mean, actually move the viewer and not just throw up a group of characters crying hysterically on-screen?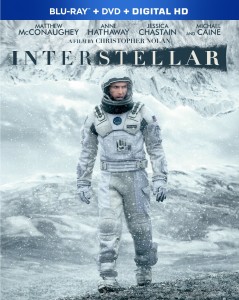 A frustrating film in that Nolan manages to captivate, and occasionally enthrall, the audience for nearly all of its lengthy running time, while remaining as clinical and unmoving as most of his works, "Interstellar" clearly displays both the strengths and weaknesses of its talented director.
On the one hand, this tale of a depleted Earth in dire need of food is believably rendered, with farmer Matthew McConaughey called into captain a last-ditch mission at finding another home in a galaxy that, ordinarily, would be far, far away. However, thanks to a wormhole dispatched near Saturn, McConaughey and his band of fellow astronauts (including Anne Hathaway) are able to spearhead an expedition to several planets that offer the potential of sustaining life. Meanwhile, back on Earth, McConaughey's family carries on without him while circumstances take a turn for the worse – and are exaggerated by the fact that hours that the crew passes in the remote galaxy are the equivalent of years back in the Milky Way.
Saying anything more about the plot, written by Nolan and his brother Jonathan, would be spoiling too much of the journey. Suffice to say a major actor (purposefully not mentioned in pre-release advertising) appears midway through the movie in a role that's transparent in its dramatic function and instigates a downward spiral which "Interstellar" never breaks out of. The opening act of the film effectively sets up the film's setting and premise – which is remarkably free of environmental proselytizing – as well as McConaughey's connection to his family. Yet once the journey begins – and the astronauts experience an initial stop on a planet with waves reaching the height of mountains – the film tends to move from one "event" to the next on an emotional flatline, while there are seemingly endless scenes with characters arguing over wormholes, relativity, gravity, black holes, and 5th dimensional beings. These conversations eventually become so dense that the movie nearly feels like the equivalent of a bad Universal '50s monster movie where someone like J. Carroll Naish would outline the reason why a giant insect was cavorting around the desert. It's all techno-babble mumbo-jumbo, interesting to a point but overstuffed to a degree that you can just sense "Interstellar" is going to have a hard time appealing to audiences other than hardcore sci-fi geeks.
The performances are all fine, though Nolan – who's never been good at generating warmth to begin with – suffers the same problems here in terms of producing human feeling on-screen. Just because you put a group of great actors together who tear up to the often bombastic strains of a Hans Zimmer score – so overbearing in places that key dialogue is unintelligible – doesn't mean that the audience is actually going to feel something. I was compelled by the film's set-up and commend its attempt at making a "thoughtful" and inspiring sci-fi picture – with a laudable message about "thinking big" and mankind's adaptability to move forward against all odds – but with the human dimension grounded at Earth level, there's only so far for "Interstellar" to fly.
Paramount's Blu-Ray combo pack of "Interstellar" lands on home video next week. Three hours of bonus features explore, though a series of featurettes, the production of the film in sufficient detail to satisfy Nolan fans, with the extras mostly resembling those found on the last go-around of "Dark Knight" Blu-Rays. The 1080p (2.40) transfer is outstanding, the 5.1 DTS MA sound allows for viewers to raise the center channel at their leisure (and therefore instantly ranks as being superior to the problematic theatrical mix), and a DVD and digital copy round out the presentation.
---
EXODUS: GODS AND KINGS Blu-Ray (***, 150 mins., 2014, PG-13; Fox). LOWDOWN: The story of Moses is retold yet again, this time in Ridley Scott's fascinating, uneven and generally exciting new film. Much like Scott's prior picture, the divisive sci-fi pic "Prometheus" (which I seemed to enjoy more than most), "Exodus" has its flaws – including some erratic performances – but they're dwarfed by a film that manages to be both more spectacular in terms of visuals than prior Biblical epics and yet more human at the same time. The latter can be particularly seen in Christian Bale's turn as a determined, yet relatable, Moses, here defying the Pharoah Ramses (Joel Edgerton) and leading the slaves out of Egypt. No less than four credited screenwriters – including "Schindler's List" Oscar-winner Steven Zaillian – put their own stamp on the material, something that angered Biblical scholars when "Exodus" was released to generally disappointing box-office returns last Christmas. Yet, this is a solid, even haunting film, beautifully shot in 3D by Dariusz Wolski and scored with a refreshingly Zimmer-free sound by Alberto Iglesias. BLU-RAY SPECS: Fox's 3D Blu-Ray combo pack houses most of the goodies for "Exodus," including a full documentary and Making Of materials. The standard Blu-Ray combo pack includes a few deleted/extended scenes, commentary with Scott and screenwriter Jeffrey Caine, plus "The Exodus Historical Guide," and digital copy. The 1080p (2.40) transfer and 7.1 DTS MA audio are both outstanding, as you'd anticipate from a Scott picture. AISLE SEAT BOTTOM LINE: I'm not much of a Biblical scholar to begin with, so whatever liberties "Exodus" takes with its source text aren't the sort of thing that would bug me. That said, this is a visually robust and fresh take on the genre with sufficient character development and FX spectacle – and, if nothing else, is far more satisfying than the likes of Darren Aronofsky's "Noah."
THE HUNGER GAMES: MOCKINGJAY Part 1 Blu-Ray/DVD (**, 123 mins., 2014, PG-13; Lionsgate).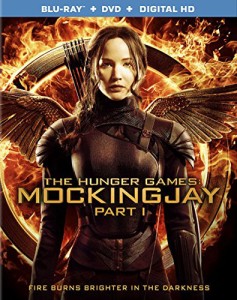 LOWDOWN: Suzanne Collins' final novel in her "Hunger Games" trilogy has – as is the fashion these days – been split into two separate installments, all the better to faithfully adapt its source (and, of course, spread the box-office in-take across two movies instead of one). This first half of "Mockingjay" is, to be blunt, the weakest portion of the series yet – a rather tedious tale of Katniss being swept up in the revolution that's started since the end of "Catching Fire." Even with most of the principal players behind the scenes returning, "Mockingjay" makes for a slow grind, spending inordinate amounts of time with drawn-out conversations between the leading characters. Unsurprisingly, its most exciting moments come late – right when the film ends, making you think a fair chunk of this could've been cut and a single film adapting this particular book would've sufficed. BLU-RAY SPECS: Lionsgate's Blu-Ray combo pack includes commentary with director Francis Lawrence and producer Nina Johnson; "The Mockingjay Lives" documentary; a tribute to Philip Seymour Hoffman; deleted scenes; Lorde's music video and a featurette with the singer on her work with the film; a sneak peak of the new "Divergent" sequel, "Insurgent"; a 1080p (2.40) transfer and Dolby TrueHD audio, fully compatible with Dolby Atmos technology. AISLE SEAT BOTTOM LINE: Fans flocked to "Mockingjay" as expected, with the movie ranking as the 2nd highest grossing film of 2014 (now behind "American Sniper"). Alas, this installment is a tiresome grind, biding the time before the fireworks come (we hope) in "Mockingjay, Part 2″ later this year.
PENGUINS OF MADAGASCAR Blu-Ray/DVD (**½, 92 mins., 2014, PG; Dreamworks/Fox). LOWDOWN: The popular supporting characters from "Madagascar" get their own movie, as Skipper, Kowalski, Rico and Private team up with the North Wind team to save the world. Big things were expected from "Penguins" at the box-office, but like many recent Dreamworks outings, the film underperformed at the box-office, leading one to surmise that the company has been taking too many trips to the same well with their cinematic properties of late. "Penguins" is certainly OK, passable entertainment for kids, but it's fairly formula in every aspect of its execution. BLU-RAY SPECS: A full compliment of supplements includes a deleted scene, interactive games for kids, music videos, a DVD, digital copy, beautifully detailed 1080p (1.85) transfer and 5.1 DTS MA sound. AISLE SEAT BOTTOM LINE: Though little ones will likely be entertained by it, here's hoping the "Minions" from "Despicable Me" fare better with their solo animated feature this summer.
---
THE BREAKFAST CLUB 30th Anniversary Edition (***½, 97 mins., 1985, R; Universal): John Hughes' seminal high school genre classic garners a second release on Blu-Ray in an improved technical package from Universal. This disc's new AVC encoded 1080p transfer, derived from a 4K scan, is a marked improvement over the prior Blu-Ray/HD-DVD edition, offering higher detail and less noise inherent in its image.
Though the late Hughes wrote a number of scripts and produced even more films throughout the 1980s, his finest work as a director came with this 1985 tale of a group of divergent high schoolers who ultimately form a bond during a Saturday detention session. Hughes' incisive script is one of his best, and he receives memorable work from an ensemble cast of "brat packers" (Emilio Estevez, Molly Ringwald, Anthony Michael Hall, Judd Nelson and Ally Sheedy) who bring the picture to life.
For special features, this 30th Anniversary Blu-Ray adds a trivia track but otherwise reprieves the extras of prior format releases (as well as the 2008 DVD release), which were highlighted by a lengthy documentary on the film's production and cult status, offering comments from stars Sheedy, Nelson and Hall, plus filmmakers like Amy Heckerling, "Heathers"' Michael Lehmann and "Juno" writer Diablo Cody. This extended doc pays proper respect to the film and Hughes' legacy, while commentary from Nelson and Hall makes for an entertaining listen on its own. Another extra touches upon the "Brat Pack" phenomenon, and while all of it is nice enough, the absence of Hughes himself (who was alive during its production) along with Molly Ringwald is baffling.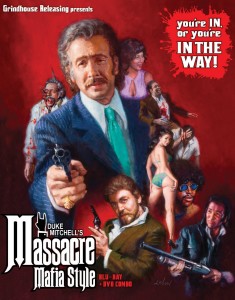 MASSACRE MAFIA STYLE Blu-Ray Combo Pack (82 mins., 1974; Grindhouse Releasing). LOWDOWN: Grindhouse hits another home run with a unique product of the 1970s – crooner/entertainer/raconteur Duke Mitchell's nearly indescribable mafia drama "Massacre Mafia Style," which was also known as "Like Father, Like Son." A B-grade exploitation cash-in on "The Godfather," "Massacre Mafia Style" stars Mitchell as the Americanized son of a Sicilian mob boss who causes a raucous in southern California as he muscles his way into the porn industry. Mitchell's anti-hero eventually crosses too many of his associates – the ones he doesn't kill – in a wacked-out, almost phantasmagorical collage of violence, music and travelogue, filled with awkward performances, off-kilter line readings (a couple of actors seem to be visibly staring at cue cards), musical interludes and an appropriately violent ending that puts the cherry on top for exploitation fans. There's probably nothing else like it, and that can be both a good and a bad thing – depending on your point of view. BLU-RAY SPECS: Grindhouse's definitive Blu-Ray/DVD combo pack of this rarely-screened low-budget pet project of Mitchell's not only restores the film in a razor-sharp, naturally filmic 1080p (1.85) transfer, but adds numerous supplements taking viewers behind the scenes. Most of them paint a portrait of Mitchell's fascinating time in show business, starting out on-screen as a leading man in the infamous "Bela Lugosi Meets a Brooklyn Gorilla" (the feature itself included here in a decent standard-def transfer), gaining fame on the lounge circuit, and even performing odds and ends like Fred Flinstone's singing voice in the early years of the Hanna-Barbera cartoon. Interviews with his son, Jeffrey, plus associates Frankie Ray, George Jacobs and others are included, along with a 1960 audio recording with Mitchell in concert; an unaired TV special, "An Impressionistic Tribute to Jimmy Durante"; an hour of Mitchell's home movies; still galleries, trailers; and thorough, insightful booklet notes by David Szulkin. AISLE SEAT BOTTOM LINE: A must for exploitation buffs and already one of the year's top catalog releases, "Massacre Mafia Style" is a wild and woolly slice of the '70s through Mitchell's prism. If you're up for the ride, don't miss it.
THE ROOMMATES/A WOMAN FOR ALL MEN Blu-Ray/DVD (Gorgon Video/MPI): A pair of '70s exploitation films from director Arthur Marks receive surprisingly robust 2K transfers from Gorgon and MPI. "The Roommates" is a groovy thriller wherein a quartet of young women are pursued by a murderer while on vacation. Gorgon's release marks the first home-video appearance of "The Rommates" in any form, while "A Woman For All Men" stars Judy Brown as a mysterious girl who works her way into the (love) life of millionaire Keenan Wynn, much to the shagrin of his twentysomething sons. Interviews with Marks and Brown, commentary by Marks on "The Roommates," a featurette on the latter, trailer and TV spots adorn Gorgon's Blu/DVD combo pack along with standard Dolby Digital mono soundtracks.
---
I'm a fan of the many Agatha Christie film adaptations, and Warner Archive's new release of MGM's THE ALPHABET MURDERS (90 mins., 1966) fills a major void as it's the last of the major-studio Christie films to see a release on DVD.
This curious offspring of MGM's successful Miss Marple films starring Margaret Rutherford attempted to launch a series of Hercule Poirot mysteries starring none other than Tony Randall. The result is an unsuccessful yet oddly entertaining picture that falls somewhere between an adaptation of Christie's "The A.B.C. Murders" and a Pink Panther-esque comedy, with Randall's broad portrayal of Poirot carrying a decided Clouseau feel. Frank Tashlin's direction tries hard to punch up the meager David Pursall-Jack Seddon script, and the sleek B&W cinematography, supporting turns by Robert Morley, Anita Ekberg and Julian Glover, and – best of all – Ron Goodwin's breezy, tuneful score do compensate to a degree (Goodwin's main theme is even more appealing than his work on the Marple series). Ultimately, though, if it's easy to see why MGM decided to nix any future adventures of Randall's Poirot.
The Archive DVD comes with a detailed 1.85 (16:9) transfer with mono sound and the trailer. Recommended for Christie completists and curiosity seekers, though purists will want to stay far away.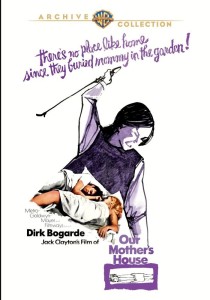 Jack Clayton's creepy OUR MOTHER'S HOUSE (105 mins., 1967) also makes its long-overdue DVD debut courtesy of the Warner Archive. Clayton's strange, thoroughly compelling film follows a group of children – led by Clayton's "Innocents" alumnus Pamela Franklin – after the death of their religiously obsessed mother. Even without parental supervision, the clan ably tries to hold it together until their wayward father (Dirk Bogarde) reappears, though as the group soon discovers, they may have been better off without him.
Georges Delerue wrote a superb score for this MGM/Filmways production, which represents some of Clayton's finest screen work and makes for an intriguing companion piece with his earlier supernatural classic "The Innocents." Warner's Archive DVD includes a perfectly acceptable 16:9 (1.66) transfer with mono sound and the trailer.
Also new from the Archives are a pair of Fredric March classics: ANTHONY ADVERSE (140 mins., 1936) adapted Hervey Allen's adventure offering March in the title role along with an outstanding Erich Wolfgang Korngold score under the guidance of Mervyn LeRoy. Gale Sondergaard won a Supporting Actress Oscar for her role in a film co-starring Olivia De Havilland, Claude Rains, Louis Hayward and numerous other familiar faces. Warner's Archive DVD includes the vintage featurette "The Making of a Great Motion Picture," the trailer and a 1.37 BW transfer. THE ADVENTURES OF MARK TWAIN (130 mins., 1944) stars March as Mark Twain in a Hollywoodized bio-pic co-starring Alexis Smith and backed by a strong Max Steiner score. The disc's B&W transfer is agreeable…One of Humphrey Bogart's earlier starring vehicles, THE BIG SHOT (82 mins., 1942), offers Bogie as Duke Berne – a gangster who falls in, once again, with the wrong crowd, in an entertaining Warner Bros. vehicle that was released the year after "The Maltese Falcon." Warner's Archive disc offers a 1.37 B&W transfer and mono audio both in satisfactory condition.
Finally, children of the '80s will want to check out CHALLENGE OF THE GOBOTS – The Series, Volume 2 (662 mins.), which completes the run of the Transformers-like animated program with the classic five-part episode "GoBotron Saga." As with the Archive's first DVD release, the full-screen 1.33 transfers have been fully remastered from the original film elements, making for colorful, great-looking images that are even better than what was broadcast to young eyes back in the '80s. A bonus TV special, "Robo-Force: The Revenge of Nazgar," is included as an extra.
NEXT TIME: Olive's new releases, INTO THE WOODS and more. Until then, don't forget to drop in on the official Aisle Seat Message Boards and direct any emails to our email address. Cheers everyone!