Arrow Video has long been one of the Blu-Ray format's champions when it comes to catalog content, having released an eclectic array of titles in the UK that included spectacular restorations of both independent fare as well as American studio films. From the likes of Tobe Hooper's "The Funhouse" to Joe Dante's "The 'Burbs," Arrow's output has been prolific and appreciated by audiences on both sides of the pond – at least those with multi-region capability. For buffs with domestic-only players, Arrow's first set of US releases are now available and offer the exact same, sterling presentation as their British counterparts.
DAY OF ANGER (86/114 mins., 1967) kicks off the group with a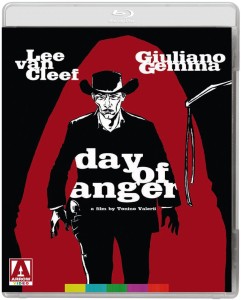 bang: a must-watch for spaghetti western fans, with Tonino Valerii – a one-time assistant to Sergio Leone – directing a spirited, exciting tale of a dusty town in the Old West where a lowly street cleaner (Guiliano Gemma) seizes the opportunity to rise above his status when a seasoned gunslinger (Lee Van Cleef) rides into town.
"Day of Anger" was released in the US by National General in an 86-minute English dub that was also seen in most international markets. Arrow's Blu-Ray/DVD combo includes this edit, as well as a much longer, 114-minute release print seen in Italian theaters – this version is likewise dubbed in English, though Italian audio and English subtitles are also available for this superior, more developed version. The 1080p (2.35) transfers are razor sharp, gorgeously rendering the original scope frame without any overt use of DNR, while uncompressed PCM mono audio captures its source as best it can. Extras include a new interview with Valerii biographer Roberto Curti; a 2008 interview with Valerii; a deleted scene; trailers from the US and Europe, plus TV spots; a conversation with screenwriter Roberto Curti; reversible artwork and liner notes from Howard Hughes.
Hardhore horror fans have long pointed at MARK OF THE DEVIL (98 mins., 1969) as a defining moment in the genre, as Michael Armstrong's film chronicles – in ghastly detail – the work of a witch hunter (Herbert Lom) whose apprentice (Udo Kier) begins to see that the witch trials they're carrying out in early 1700s Austria are a sham. Alas, Kier's revelation comes too late, as Armstrong spends an extensive amount of time depicting torture, rape, beatings and general unpleasantness in a film that broke the boundaries of on-screen gore and violence for its era.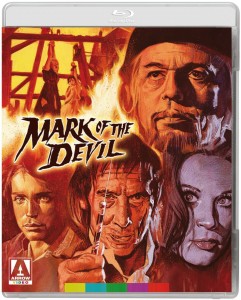 Aficionados of the picture – which makes for an intriguing companion piece with Ken Russell's more elegantly shot (but equally disturbing) "The Devils" – ought to be pleased with Arrow's restoration. The Blu-Ray/DVD combo pack boasts a 1080p (1.66) transfer derived from the original film elements, with both PCM English and German audio. Newly translated English subtitles are included for the German portions, with extras including an Armstrong/Calum Waddell commentary; "Mark of the Times," a feature-length documentary on the British "new wave" horror directors of the 60s and 70s, including Armstrong; "Hallmark of the Devil," a documentary on the US distributor of the film; interviews with composer Michael Holm, stars Udo Kier and Lom; "Mark of the Devil: Now and Then," a location comparison; outtakes; a stills gallery; and another great booklet sporting writing by Adrian Smith, David Del Valle (interviewing star Reggie Nalder) and plenty more.
Finally, coming in April is BLIND WOMAN'S CURSE (85 mins., 1970), director Teruo Ishii's wild action film that stars Meiko Kajo as the female leader of a Yakuza gang. After blinding a girl in a rival gang, Kajo's clan is beset by killings and bad luck – with the hint of the supernatural – in a wacky picture with vibrant visuals brilliantly captured by Arrow.
The label's Blu-Ray/DVD combo pack, which was recently pushed back to mid-April due to some region coding issues with the DVD portion, boasts a crisp and satisfying 1080p (2.44) transfer, PCM audio, commentary by Japanese scholar Jasper Sharp; trailers for all four of the Kajo-starring "Stray Cat Rock" series; liner notes by Tom Mes, and newly translated English subtitles.
---
WITHOUT A CLUE Blu-Ray (***, 107 mins., 1988, PG; Olive Films). THE LOWDOWN: Michael Caine stars as master detective Sherlock Holmes – who's really an actor, programmed under the guidance of brilliant mastermind Dr. John Watson (Ben Kingsley) – in this funny, underrated 1988 ITC production. Released in the US by Orion, "Without a Clue" offers genial interplay between Caine, who's just terrific here (one can only imagine how it must have felt to be off "Jaws the Revenge"), and Kingsley, with the script by American TV comedy scribes Gary Murphy and Larry Strawther supporting the duo with a constant stream of laughs. Jeffrey Jones (as Inspector Lestrade) and Paul Freeman (Moriarty) join Peter Cook and Lysette Anthony in the superb supporting cast, while Henry Mancini's memorably upbeat score – one of his best from the era – adds the icing on the cake. BLU-RAY TECH SPECS: Though the DTS MA stereo audio has a few rocky patches (Mancini's opening title is riddled with a little distortion), it's generally crisp and effective, while the 1080p (1.66) transfer fares better, marked by clear detail. The trailer is included in a disc that marks the first home video release of "Without a Clue" in the US since the VHS/laserdisc era – incredibly, MGM never got around to releasing a widescreen DVD (subsequently, Olive is wisely releasing the film on DVD as well). AISLE SEAT BOTTOM LINE: A sleeper from the late '80s, "Without a Clue" is spirited fun, and grounded through Caine and Kingsley's breezy interplay and palpable chemistry with one another. Highly recommended!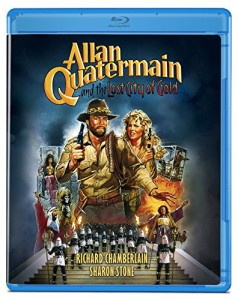 ALLAN QUATERMAIN AND THE LOST CITY OF GOLD Blu-Ray (*½, 99 mins., 1987, PG; Olive Films). THE LOWDOWN: Cannon's immediate follow-up to their 1986 adaptation of "King Solomon's Mines" (curiously yet to be released on Blu-Ray) makes its predecessor seem like "Raiders of the Lost Ark" by comparison. Richard Chamberlain is back as strapping Allan Quatermain, here on the hunt for his missing brother. What he and female squeeze Jesse Huston (a returning Sharon Stone) stumble onto is the legendary Lost City of Gold, presided over by Henry Silva in a performance that seems about 20 years out of step. Adding insult to injury: a demeaning role for James Earl Jones as African warrior "Umslopogas" and a tepid soundtrack, with new music credited to Michael Linn, that includes (uncredited) tracked portions of Jerry Goldsmith's score from "King Solomon's Mines." It's a plodding film that drags on and on, minus even the modest pleasures of Chamberlain's first Quatermain adventure. BLU-RAY TECH SPECS: Olive's 1080p (2.35) transfer, licensed from MGM, looks fairly well detailed, though there are speckles and occasional issues inherent in the source materials. The mono DTS MA sound is okay and a trailer that tries hard to sell the picture is included – but it's worth noting the film was theatrically released in stereo, so much like Kino's "Meteor" Blu-Ray, the original mix has been downgraded here (not Olive's fault but rather MGM's). AISLE SEAT BOTTOM LINE: Under the direction of "The Black Hole"'s Gary Nelson, "Allan Quatermain" is a tepid affair, worth it only for Cannon completists, Stone fanatics and curiosity seekers who may, even then, not last the full 99 minutes.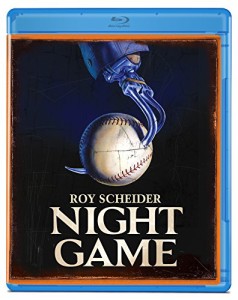 NIGHT GAME Blu-Ray (**, 95 mins., 1989, R; Olive Films). THE LOWDOWN: Routine thriller offers one of Roy Scheider's final performances as a leading man. Starring as a Houston detective probing the work of a serial killer in and around the Houston/Galveston area, Scheider's Mike Seaver attempts to outwit both the killer as well as rival detectives (including a heavy-handed Paul Gleason) and political operatives from the governor's office (Lane Smith, always a fixture in this type of role). Peter Masterson directed this by-the-numbers affair, which is notable for its footage of the Houston Astrodome and surrounding locales, as well as a seasoned cast that, even by 1989, had seen better days – Scheider included. BLU-RAY TECH SPECS: A good-looking, natural 1080p (1.85) transfer marks Olive's "Night Games" release along with a fairly well-mixed 2.0 DTS MA stereo track of the movie's "Ultra Stereo" soundtrack. Pino Donaggio's seductive score – which sports a rapturous saxophone solo that opens and closes the film – is one of "Night Games"' most polished technical elements. This Epic Productions/Transworld Entertainment release received scant distribution in the fall of 1989 before running to video the following year. No extras are included. AISLE SEAT BOTTOM LINE: Back in 1989, "Night Game" was quickly dismissed, though the passage of time has at least made it watchable through its cast, with Scheider making the most of one of his last top-billed theatrical performances. It's not exactly a home run – more like a runner awarded 1st base on a throwing error.
HOW TO BEAT THE HIGH COST OF LIVING Blu-Ray (**½, 105 mins., 1980, PG; Olive Films). THE LOWDOWN: If you're hungering for a time capsule of the year 1980, look no further than this agreeable American-International comedy, which ended up being released by Filmways after they purchased AIP. Robert Kaufman's script follows three friends, all with financial difficulties – divorced mom Susan Saint James struggles to make ends meet for her kids; Jessica Lange's antique business is shuttered when hubby Richard Benjamin is shaken down by the IRS; and Jane Curtin nearly loses it all when her boyfriend walks out on her. Undaunted by the debris left over by the Carter administration, the girls decide to steal thousands from a "Money Ball" at a local mall. Director Robert Scheerer lets the ladies do their thing, and it's fun to see Curtin in what appears to have been a star-launching vehicle to her big-screen career (one that ended up having more success on the small-screen, opposite Saint James, in CBS' '80s sitcom fave "Kate & Allie"). Her fellow SNL cohort Garrett Morris contributes a "Special Appearance," with an ace (if not particularly well-utilized) supporting cast – Dabney Coleman, Fred Willard, Eddie Albert – backing up the shenanigans. There's really just one problem: the film's not particularly funny. BLU-RAY TECH SPECS: A natural looking 1080p (1.85) transfer and DTS MA mono soundtrack adorn Olive's Blu-Ray plus the theatrical trailer. AISLE SEAT BOTTOM LINE: Sure, it might be laugh-deprived, but when taken as a look back on its era, with its fashions, cars, malls and music (Patrick Williams' jazzy score sounds like something you might've heard in a supermarket back in the day), "How to Beat the High Cost of Living" provides a decent enough time.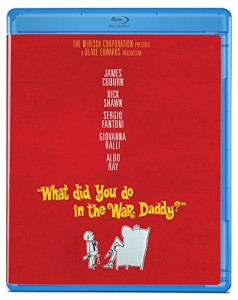 WHAT DID YOU DO IN THE WAR, DADDY? Blu-Ray (**½, 116 mins., 1966; Olive Films). THE LOWDOWN: One of director Blake Edwards' more forgotten films, this William Peter Blatty-scripted WWII outing – a precursor to the likes of "Hogan's Heroes" and "MASH" – is mostly a comedic affair. James Coburn stars as an American soldier whose squad takes over an Italian village – whose residents only want to party – while German forces lurk nearby. Dick Shawn, Harry Morgan and Carroll O'Connor co-star in Edwards' overlong 1966 UA production, which is perfectly likeable but drags on minus a surplus of laughs. As a point of comparison, Stanley Kramer's similarly-themed "The Secret of Santa Vittoria" packed more of a dramatic punch and overall entertainment value. BLU-RAY TECH SPECS: With its last DVD edition out-of-print, Olive's Blu will come as a welcome release for the film's fans. The 1080p transfer preserves Edwards' trademark use of 2.35 widescreen with DTS MA mono audio and the trailer rounding out the disc. Henry Mancini's score is, like the film, perfectly acceptable, but doesn't rank as one of his more memorable outings. AISLE SEAT BOTTOM LINE: Appealingly performed and perfectly agreeable, "What Did You Do in the War, Daddy?" ultimately ranks as a relatively minor film in Edwards' filmography. With that said, the movie's fans will find Olive's Blu-Ray package to be quite excellent, with a top-notch transfer that does justice to the film's Panavision cinematography.
ALICE'S RESTAURANT Blu-Ray (111 mins., 1969, R; Olive Films). THE LOWDOWN: Arlo Guthrie's song "The Alice's Restaurant Massacree" was turned into a typically heavy-handed late '60s drama under the direction of Arthur Penn, whose script – co-written with Venable Herndon – takes the opportunity to sound off on issues of conformity, war, peace, drugs and booze. Guthrie stars in the picture as well, which starts off more on the comedic end before turning decidedly more fatalistic – in keeping with its era – during its concluding frames. BLU-RAY TECH SPECS: The 1.85, 1080p transfer licensed from MGM is generally in very good condition, with DTS MA mono audio and the trailer rounding out the disc. AISLE SEAT BOTTOM LINE: Those nostalgic for the late '60s – that era, its mores and its music – will likely find sufficient entertainment in Penn's uneven and weird cinematic endeavor. Others might find that a little bit goes a long way.
---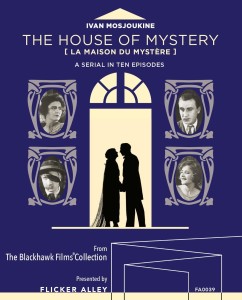 Coming Soon From Flicker Alley
THE HOUSE OF MYSTERY (LA MAISON DU MYSTERE) DVD (383 mins., 1921-23; Flicker Alley): The third French serial produced by Joseph Ermolieff comes to DVD this month from Flicker Alley in a multi-disc set that ought to captivate curious film historians and casual viewers alike.
Whereas the concept of the serial was primarily used as a vehicle for kids in the United States – be it Saturday Matinee-styled westerns or "Flash Gordon" – in France, the form was utilized early on as a means of providing a forum for adult entertainment. "The House of Mystery" took two years to produce, followed a pair of other serials (since lost to the ravages of time) based on the works of Jules Mary, and here followed a trio of characters: Julien (Ivan Mosjoukine), his love (Helene Darly), and her bitter, jealous associate (Charles Vanel).
Flicker Alley's DVD includes a new score by Neil Brand and English subtitles by Lenny Borger, as well as the complete, 6½-hour production in a carefully restored transfer. Extras include rare production stills, behind-the-scenes photos, and a 12-page booklet with extensive notes on the cast and filmmakers by Borger. (Available April 7th)
INTO THE WOODS Blu-Ray Combo Pack (***, 125 mins., 2014, PG; Disney). THE LOWDOWN: Long-awaited adaptation of Stephen Sondheim and James Lapine's hit Broadway musical tones down a bit of its source's more salacious content, while mostly keeping its melancholy tone and examination of life versus fantasy intact. Lapine, in fact, adapted his own book for the film's script, which follows a baker (James Corden) and his wife (Emily Blunt) on a mad dash to break the curse of a witch (Meryl Streep) that has rendered them childless. Red Riding Hood, the Big Bad Wolf (a single-scene turn by Johnny Depp), Cinderella (Anna Kendrick), Rapunzel and the kingdom's Prince (Chris Pine) stand in their way – as does a ticked-off giant after young Jack climbs up the beanstalk. With some of the silliness of the show dailed down because of director Rob Marshall's more literal film treatment, "Into the Woods" does feel more like a Disney corporate product than its source, but enough of the show's substance remains – as well as Sondheim's challenging score, here recorded, orchestrated and performed at a high level by the cast, under the direction of producer Mike Higham and co-supervisor Paul Gemignani. Colleen Atwood's costumes and Dion Bebe's cinematography are also outstanding. BLU-RAY TECH SPECS: Disney's Blu-Ray combo pack includes a glorious, reference-quality 1080p (2.35) transfer and exceptional 7.1 DTS MA sound. Extras include a digital copy, DVD, commentary, several featurettes and the deleted song "She'll Be Back," which was Sondheim's one original contribution to the film. AISLE SEAT BOTTOM LINE: Though I'm more a fan of "Sweeney Todd" than "Into the Woods," Rob Marshall's film is a polished, good-looking and performed fantasy that comes recommended for musical lovers, Sondheim nuts and older kids who may appreciate its cautionary morals in fractured fairy tale form.
THE IMITATION GAME Blu-Ray (**½, 114 mins., 2014, PG-13; Anchor Bay). THE LOWDOWN: Benedict Cumberbatch gives a fine performance as Alan Turing, the man who cracked Germany's Enigma code during WWII and who later, sadly, suffered persecution at the hands of the British government for being homosexual. "The Imitation Game" seeks to convey Turing's story both during the war and afterwards, but it's a lot for a sub-two hour film to chew. Writer Graham Moore and director Morten Tyldum do a mostly workmanlike job hitting all the major beats, and the supporting cast – Keira Knightley, Matthew Goode, Charles Dance and Mark Strong among them – is able and willing…but the film itself is seldom inspired. BLU-RAY TECH SPECS: Anchor Bay's Blu includes a good looking 1080p (2.39) transfer, 5.1 DTS MA audio, commentary from Tyldum and Moore, a Making Of, deleted scenes, Q&A highlights, and a digital copy. AISLE SEAT BOTTOM LINE: Well-acted, reasonably compelling and yet stilted at times, "The Imitation Game" is worth seeing in spite of its shortcomings.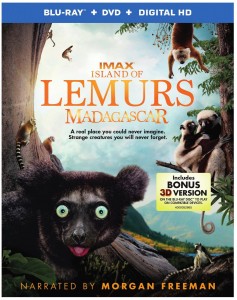 Also new from Anchor Bay is THE IMMIGRANT (**½, 117 mins., 2014, R), the great looking new film by James Gray. Gray and co-writer Richard Menello's original screenplay tells the story of a Polish woman (Marion Cotillard) who becomes separated from her sister (Angela Sarafyan) after arriving at Ellis Island in the '20s. She subsequently gets involved with prostitution after meeting Joaquin Phoenix's calculated villain, while his cousin – a magician played by Jeremy Renner – offers the possibility of salvation. Darius Kondji's beautiful cinematography is the main draw to the slow-moving, static "The Immigrant," which strives to be "meaningful," but ultimately comes off as aloof and dull. Anchor Bay's Blu-Ray includes a dynamite 1080p (2.40) transfer, 5.1 DTS MA audio, commentary with Gray, a featurette, the trailer, and a digital copy.
ISLAND OF LEMURS: MADAGASCAR Blu-Ray Combo Pack (41 mins., 2014, G; Warner):
This IMAX production profiles the kooky residents of Madagascar in their native environment, backed by Morgan Freeman's alternately authoritative and sympathetic narration. On a substance level, there's not a whole lot to "Island of Lemurs" that you couldn't learn from any typical Discovery or PBS documentary – it's the visual presentation that distinguishes this outing, and Mark Mothersbaugh's music helps as well. Warner's combo disc includes a marvelous, gorgeously detailed 3D transfer as well as the 2D version, plus a DVD and digital copy. The DTS MA 5.1 audio is also active from start to end.
---
There are all kinds of owls lurking out and about when I walk our lab late at night, many of whom hoot back and forth while occasionally flying around and scaring the bejesus out of me. OWL POWER, a PBS Nature documentary, offers a fascinating look at the nocturnal birds, utilizing night-vision cameras, computer graphics, X-rays and sound recording to illustrate their behavior. An enlightening documentary on DVD March 31st from PBS offering a 16:9 transfer and stereo sound…Coming April 7th, GRANTCHESTER (6 hours, 2014; PBS) is set in the quaint title village outside Cambridge circa 1953, whrein vicar Sidney Chambers (James Norton) enjoys the quiet life – at least until one of his parishioners dies under mysterious circumstances. Together with detective Geordie Keating (Robson Green), the duo soon set off on a crime-solving trek that takes them through the class structure of 1950s England. An entertaining new mystery series, "Grantchester" receives an attractive 1080i transfer on Blu-Ray from PBS along with 2.0 stereo audio. Extras include behind-the-scenes materials, cast interviews, a Making Of and more.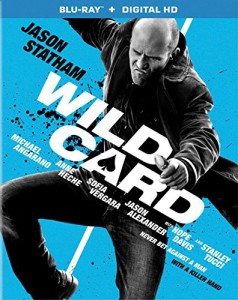 Lionsgate New Releases: Jason Statham's latest solo outing, WILD CARD (92 mins., 2014, R), is a decidedly minor outing for the star, here playing a Las Vegas bodyguard with a gambling problem – one that leads him into a heap of trouble with the criminal underworld. Former Jerry Bruckheimer protege Simon West ("Con-Air") directed this distressingly by-the-numbers effort with a wasted supporting cast including Sofia Vergara, Hope Davis, Stanley Tucci, Anne Heche, Jason Alexander and Michael Angarano. Lionsgate's Blu-Ray includes a 1080p (2.35) transfer, 5.1 DTS MA audio (sporting a Dario Marianelli score!), digital copy, commentary, Making Of and script vignette. A major disappointment given all the talent involved…Tom Berenger plays a preacher in the Old West whose son is accused of murder in the Nasser Group production LONESOME DOVE CHURCH (90 mins., 2014, Not Rated), loosely based on the founding of the actual Lonesome Dove Church. Greyston Holt co-stars as Berenger's cast-off son in this Terry Miles-directed production, now on DVD from Lionsgate featuring a 16:9 (1.78) transfer and 5.1 Dolby Digital sound…Also new this week on DVD is HOUSEKEEPING (90 mins., 2014, PG-13), the latest After Dark effort about a female medical student (Adrianna Solis) who gets more than she bargained for after she takes a housekeeper position to make ends meet. Lionsgate's DVD of Jennifer Harrington's film is out this week and sports a 16:9 (1.78) transfer, 5.1 Dolby Digital sound and an Ultraviolet copy.
---
THE CIRCLE DVD (102 mins., 2014; Wolf Video): Switzerland's entry into this past year's Foreign Film Oscars is a compelling chronicle of a gay teacher (Matthias Hungerbuhler) who falls in love with a female impersonator (Sven Schelker) while belonging to to "Der Kreis" – "The Circle" – a Swiss community of homosexuals in the 1950s. Documentary and dramatization meld in this impressively told piece of history. Wolfe's DVD includes a 16:9 transfer and 5.1 audio in German with English subtitles.
SHIPS DVD (92 mins., 2012 Indiepix): Turkish film from Elif Refig receives a DVD release from Indiepix, complete with Refig's short film "Man to Be." Both features are presented in Turkish with English subtitles.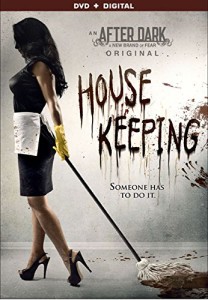 UNCLE GRANDPA: GOOD MORNIN' DVD (132 mins., Warner): 12 episodes from the Cartoon Network series (Brain Game, Moustache Cream, Nickname, Locked Out, Mystery Noise, Bad Morning, Beat Friends, Hide and Seek, The History of Wrestling, Vacation, Aunt Grandma, Grounded) hit DVD from Warner. The single-disc release includes 16:9 transfers and stereo soundtracks.
HARLOCK: SPACE PIRATE DVD (111 mins., 2013, Not Rated; Ketchup Entertainment): The popular anime character returns in a feature-length, elaborately animated new production from Toei, focusing on Harlock's efforts to save the Earth by traveling back in time – but destroying his present as he knows it. Fans of the character will find much to savor in this good-looking film, now available in the US on DVD courtesy of Ketchup. The label's DVD includes an attractive 16:9 transfer with both 5.1 English and Japanese soundtracks in its original, 111-minute Japanese release version.
NEXT TIME: Twilight Time's latest and more! Until then, don't forget to drop in on the official Aisle Seat Message Boards and direct any emails to our email address. Cheers everyone!