Highlighted by a dynamite score from Bernard Herrmann, 20th Century Fox's old-fashioned Jules Verne adventure JOURNEY TO THE CENTER OF THE EARTH (***, 129 mins., 1959) returns to Blu-Ray this month from Twilight Time in a limited edition release that offers an appreciable enhancement on label's prior effort.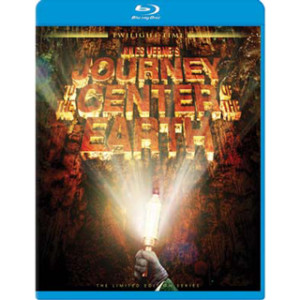 The free adaptation of Verne's novel from writer-producer Charles Brackett, Walter Reisch and director Henry Levin stars James Mason as a Victorian era professor who, after getting his hands on a meteorite with an inscription from a long-lost explorer, leads an expedition into the center of the Earth including student Pat Boone, widow Arlene Dahl, and a precocious duck named Gertrude.
Shot after Disney's classic "20,000 Leagues Under the Sea," Fox's "Journey to the Center of the Earth" isn't on the level of that Richard Fleischer-directed '50s staple, but it's an engaging and leisurely paced fantasy that will primarily appeal to nostalgic viewers (I'm not sure younger viewers will be able to tolerate the at-times languid pacing, though the humor and adventure is certainly suitable for kids). In fact, lighthearted humor and engaging turns from Mason and Boone carry us through the film's first third; once the journey gets cracking, nearly a full hour has passed before the group engage in a series of adventures through dark caverns, underground waterfalls, giant mushrooms and, ultimately, decidedly less-than-fantastic lizards masquerading as dinosaurs (effects that I was quite disappointed in when I saw the film on TV, as a kid, back in the '80s). "Journey" seems to be most admired by baby boomers who grew up on the picture, with its strongest attribute being Herrmann's majestic, marvelous score.
I didn't have as much of an issue with Twilight Time's first Blu-Ray of "Journey" as some pundits seemed to. That disc was derived from an older Fox transfer but nevertheless offered little DNR and an obvious enhancement over the prior DVD release. This new Blu, however, trumps them all thanks to a meticulously restored 4K transfer, offering a fresh scan with all the expected improvements you'd anticipate from the presentation – colors are more accurately rendered and details come into clearer focus, just for starters. In place of the 4.0 DTS MA mix from the first TT release are matching 5.1 and 2.0 DTS MA stereo options, which effectively convey Herrmann's score and boast directional dialogue faithful to the original stereo mix. An isolated score, the trailer, and a new commentary – exclusive to this edition – with Nick Redman, Steven C. Smith and Diane Baker will be of primary interest to the film's fans.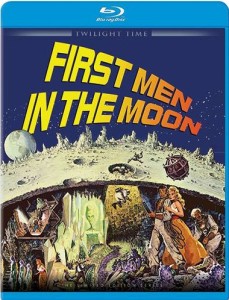 More "Golden Age" fantasy is on-hand in FIRST MEN IN THE MOON (***, 103 mins., 1964), the lone widescreen collaboration between special effects master Ray Harryhausen and producer Charles H. Schneer. Nigel Kneale and Jan Read adapted H.G. Wells' novel for this tale of a madcap inventor (Lionel Jeffries) who whisks away a struggling playwright (Edward Judd) and his girlfriend (Martha Hyer) to a moon that's inhabited with insect-like creatures and a giant centipede.
Though opening and closing with a "present day" tale of the first moon landing (via 1964 sensibilities), "First Men" plays like a cross between a typical Harryhausen fantasy and "Around the World in 80 Days," with broad comedy sustaining the first 45 minutes of the film. Nearly half of the picture has passed before the trio land on the moon's surface, making for what might feel like a grind for some viewers (especially those accustomed to some of Harryhausen's shorter, punchier efforts). In spite of the quite-leisurely pace established by director Nathan Juran, though, "First Men" is good fun for genre buffs, with its colorful Panavision lensing and vibrantly recorded Laurie Johnson score both receiving a splendid high-def makeover here in Twilight Time's 3000-copy Blu-Ray edition: the music, especially, has a pleasing stereophonic presence in the wonderful 5.1 DTS MA stereo mix, while the 1080p (2.35) transfer is exactly what you'd anticipate from a Sony-licensed transfer.
Special features include an introduction from Randall William Cook and commentary between Cook and Harryhausen; the vintage promo featurette "Tomorrow the Moon," trailers, and an isolated score track.
Twilight Time's three other Blu-Ray offerings this month include a Biblical epic, one of Oliver Stone's pulpiest efforts, and a slick rendering of the oft-told "Mutiny on the Bounty."
THE BOUNTY (***½, 131 mins., 1984, PG): Originally intended as an epic, two-film collaboration between director David Lean and writer Robert Bolt, the rough seas of development hell took a toll on their planned adaptation of "Mutiny on the Bounty." By the time the film was made, the passage of time had dropped Lean and an ailing Bolt out of the project, but producer Dino DeLaurentiis continued undaunted after star Mel Gibson expressed an interest in the material.
The eventual film that was made from Bolt's script, "The Bounty" is an underrated, highly entertaining film presenting a Captain Bligh (Anthony Hopkins) and Spencer Christian (Gibson) that are neither "good" nor "bad," but rather each sympathetic to a degree. That "neutral" rendering on the part of director Roger Donaldson and the stars was intentional, and makes for an absorbing character study played out against spectacular widescreen visuals courtesy of Donaldson and cinematographer Arthur Ibbetson. Also outstanding is Vangelis' synthesized score, which is unconventional yet never feels out of place save for a "drum machine" end credits arrangement of the main theme.
TT's Blu-Ray offers a truly gorgeous 1080p (2.35) transfer of the film, offering bold colors and crisp detail without any obvious use of filtering. It goes hand in hand with a healthy 5.1 DTS MA stereo soundtrack, plus the trailer, an isolated score track (in mono), and two commentaries previously heard in a European DVD release (one by historical consultant Stephen Walters, the other with Donaldson, producer Bernie Williams and production designer John Graysmark). Highly recommended!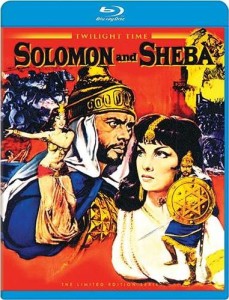 SOLOMON AND SHEBA (**½, 141 mins., 1959): Perhaps it's because star Tyrone Power died before shooting completed that this expensive – yet tedious – Biblical epic feels like the work of a skilled cast and crew going through the motions. King Vidor's 1959 telling of the relationship between Solomon (Yul Brynner, replacing the original star) and the sultry Sheba (Gina Lollobrigida) required huge sections of the film to be reshot after Power's death, resulting in a good-looking yet rather uninspired film with a story that feels more like a 1930s B-movie than "The Ten Commandments." Freddie Young's cinematography and Mario Nascimbene's music are both excellent, but the film itself feels hollow – not to mention long…really long. TT's Blu boasts a 2.0 DTS MA soundtrack that does justice to Nascimbene's soundtrack, an attractive 1080p (2.35) transfer, trailers and an isolated music/effects track.
U-TURN (**, 124 mins., 1997, R): Oliver Stone has "fun" – as much as the controversial filmmaker possibly can – in this pulpy noir tale of an outsider – here played by Sean Penn – who ends up in a dusty Arizona town after his car breaks down. There, he winds up in the middle of a fractured relationship between a femme fatale (Jennifer Lopez) and her husband (Nick Nolte), who asks Penn to kill her on his way out of town! There's also not-so-fun couple Claire Danes and Joaquin Phoenix, a mechanic played by Billy Bob Thornton, and the threat of gangsters coming to collect on Penn's debt…oh, and Jon Voight as a blind Indian soothsayer. These are just a few of the ingredients in John Ridley's adaptation of his own book, which makes for an overheated "desert noir" on the part of Stone, dominated by off-kilter cinematography by the great Robert Richardson. Needless to say, enthusiasts of the director will likely enjoy it the most. TT's Blu includes a top notch 1080p (1.85) transfer, 5.1 DTS MA sound sporting an Ennio Morricone score, commentary with Stone, an enlightening new commentary with TT's Nick Redman and Phoenix Pictures executive Mike Medavoy, an isolated score track, the trailer, and an introduction from the director.
---
HOOP DREAMS Blu-Ray (***½, 172 mins., 1994; Criterion): One of the most acclaimed films of the '90s receives a magnificent new Blu-Ray transfer from Criterion.
Peter Gilbert, Steve James and Frederick Marx's documentary follows budding Chicago hoop stars Arthur Agee and William Gates over a five-year-period. Their struggles to reach the next level form the centerpiece of this honest and compelling three-hour feature, which many regard as the finest documentaries ever made.
Criterion's Blu-Ray offers a new high-def (1.33) restoration of the film – which was mostly shot on video – with 4.0 DTS MA audio. Though not a "knockout in HD," there's still ample gain to be found in the image over earlier DVD releases. A brand-new documentary, "Life After Hoop Dreams," catches up with the principal players, while additional scenes, a vintage music video, and Siskel & Ebert clips convey the film's widespread acclaim at the time of its release – as well as its outrageous Oscar omission. There are also a pair of commentaries: one from the filmmakers, and another with the now-grown Agee and Gates (these date from Criterion's 2005 DVD edition). The latter basically provides a running epilogue to their story, one that resonates as strongly today as it did 20 years ago.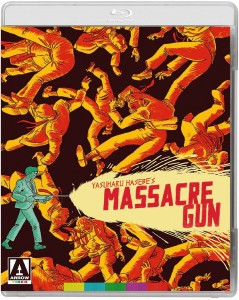 MASSACRE GUN Blu-Ray (89 mins., 1967; Arrow): Yasuharu Hasebe's Japanese thriller stars genre fave Jo Shishido as a Yakuza hitman who – after being assigned to rub out his lover – decides to turn the tables on his employers by saddling up with two other hitmen who've also been wronged (Tatsuya Fuji, Jiro Okazaki). The result is a wildly violent, visceral B&W Yakuza story that makes for a pungent Arrow Blu-Ray. Limited to 3000 copies, Arrow's fourth US Blu-Ray is a combo pack release sporting a brilliantly detailed 1080p (2.35) transfer on the HD side, uncompressed PCM audio, a new interview with Shishido; a conversation with Japanese cinema expert Tony Rayns; the trailer; a promo gallery; and extensive booklet notes. The DVD is also included, and both offer newly translated English subtitles.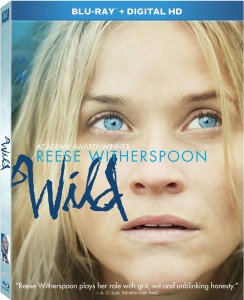 THE REWRITE Blu-Ray (**½, 107 mins., 2014, Not Rated; Image): Star Hugh Grant and director Marc Lawrence have previously collaborated on three different films that met with varying results at the box-office. Their fourth go-around didn't even receive a theatrical release – much less an MPAA rating – but for anyone who's enjoyed watching Grant do his shtick, this easy-going, likeable comedy should fit the bill. Grant here plays a Hollywood screenwriter who, after being spurned on his latest development pitch, takes a job as a writer-in-residence at the University of Binghamton. There he clashes with the faculty (including Austen-loving professor Allison Janney), has a quick relationship with a student (Bella Heathcote) and eventually warms up to a single mom (Marisa Tomei) who works in the bookstore and also takes his class. There are scant surprises in "The Rewrite," and while not every aspect of Lawrence's script pays off (despite all the ingredients being there), the cast – which also includes J.K. Simmons and Chris Elliott as Grant's fellow instructors – makes it an amiable enough throwback to the kinds of movies we used to see in theaters. Image's Blu-Ray includes deleted scenes and a Making Of, plus a 1080p (2.40) transfer and 5.1 DTS MA soundtrack featuring an appealing, jazzy Clyde Lawrence underscore.
WILD Blu-Ray (***, 115 mins., 2014, R; Fox): Reese Witherspoon's rightfully praised performance as Cheryl Strayed is the whole show in this absorbing adaptation of Stayed's memoir, recounting her 1,000 trek along the Pacific Coast trail following the break-up of her marriage, loss of her mother and subsequent wayward dealings with sex and drugs. Impressively shot by Yves Belanger and director Jean-Marc Valee, "Wild" is an absorbing film that ranks as one of Witherspoon's most impressive screen performances – a throwback to some of the harder-edged work from the actresses' early days. Fox's Blu-Ray includes a digital copy, commentary, deleted scenes, galleries, multiple behind-the-scenes featurettes, a 1080p (2.35) transfer and 5.1 sound.
---
In time for "Record Store Day" come a trio of '90s music-oriented catalog titles, new to Blu-Ray from Warner.
Cameron Crowe's SINGLES (**½, 99 mins., 1992, PG-13) is the best of the batch, though not one of the director's strongest efforts, as it follows a group of twentysomethings – rocker Matt Dillon, groupie girlfriend Bridget Fonda, and "young professionals" Campbell Scott and Kyra Sedgwick among them – through assorted trials and tribulations of the dating world. Some grungy hair goes hand in hand with a popular soundtrack of the era, plus a score by Paul Westerberg, though Crowe's script is often contrived and overly cute. Warner's Blu-Ray includes an attractive 1080p (1.85) transfer with extras bought over from the DVD, including 25 deleted scenes (mostly comprised of an entire 16-minute sequence between Fonda and Bill Pullman), gag reel, live performances from Soundgarden and Alice in Chains, the trailer, and a 2.0 DTS MA stereo soundtrack.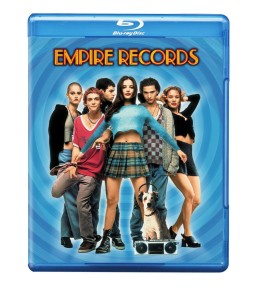 EMPIRE RECORDS (**½, 90 mins., 1995, PG-13) is writer Carol Heikkinen's coming-of-age tale of a group of youngsters working in a popular record store circa the mid '90s. Liv Tyler, Renee Zellweger and Robin Tunney are the standouts in this lightly entertaining film that bombed in theaters but became a modest success on home video, not to mention sold a healthy amount of soundtrack albums thanks to hit songs by the Gin Blossoms, the Cranberries, Toad the Wet Sprocket and others. Warner's Blu-Ray offers the movie's 90-minute theatrical cut – not its extended "Remix" version that supplanted it on DVD – along with deleted scenes, music videos, the trailer, a satisfying 1080p (1.85) transfer and 5.1 DTS MA audio.
Finally, DETROIT ROCK CITY (**, 94 mins., 1999, R) sends Edward Furlong, Guiseppe Andrews, James DeBello and Sam Huntington off on a pilgrimage to a KISS concert in a routine coming-of-age comedy from director Adam Rifkin. Over 15 minutes of deleted scenes, three commentaries, two music videos, trailers, and other extras from New Line's old "Platinum Series" DVD are on-hand in Warner's Blu-Ray plus a detailed 1080p (2.40) transfer and 5.1 DTS MA sound.
Also coming on DVD April 14th from Warner is TEEN TITANS GO! APPETITE FOR DISRUPTION (286 mins.), sporting over four hours of previously unreleased content from the popular Cartoon Network series. Warner's double-disc set includes the episodes Mr. Butt; Man Person; Pirates; Money Grandma; I See You; Brian; Nature; Salty Codgers; Knowledge; Slumber Party; Love Monsters; Baby Hands; Carmel Apples; Sandwich Thief; Friendship; Vegetables; The Mask; Serious Business; Halloween; Boys Vs Girls; Body Adventure; Road Trip; Thanksgiving; The Best Robin; Mouth Hole and Hot Garbage, all in 16:9 transfers with 2.0 Dolby Digital audio.
---
When it premiered on ABC on September 29th, 1985, few had any idea that MACGYVER would become one of the more enduring series of the decade. "The Fonz," Henry Winkler, was one of the producers of the action-adventure series, which mostly aired on Monday nights for the duration of its run, and followed the adventures of a former Special Forces agent who used violence as little as possible in taking down bad guys around the world. Social issues at times came into play involving the environment, but for the most part, this "Green James Bond" was ahead of his time, displaying plucky resourcefulness in saving the world with everyday gadgets.
CBS' complete series DVD box-set has been newly reissued in slim-line packaging (though what they sent me for review was the 2007 release!) and offers good-looking 4:3 transfers, stereo soundtracks (sporting Randy Edelman's upbeat theme), and extras including the two "Macgyver" TV movies that aired after the show ended in 1992.
WALKER, TEXAS RANGER Flashback DVD (91 mins., 1996; CBS): Feature-length extension of the TV series sends Walker and Trivette out to investigate missing gold that could be connected to an older murder of a Texas Ranger. CBS' DVD includes a Vudu digital copy, 4:3 transfer and stereo sound.
---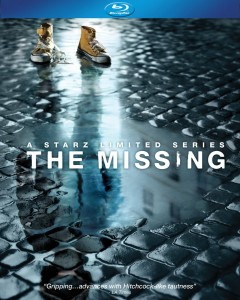 April New Releases
THE MISSING Blu-Ray (472 mins., 2014; Anchor Bay): Unlike the somewhat overpraised "Whitechapel," this compelling British import – a riff on the real-life Madeline McCann case – follows the pursuit of a distraught British father (James Nesbitt) who hires a French detective (Tcheky Karyo) to find his five-year-old son after he goes missing on holiday. This intricate, densely plotted eight-part mini-series boasts strong performances and a compelling mystery that doesn't entirely pay off with an underwhelming final episode – but until then, "The Missing" is top notch, and the conclusion isn't enough of a dealbreaker to not recommend it. Anchor Bay's Blu includes Dolby TrueHD 5.1 sound, three featurettes, and superb 1080p (1.78) transfers.
ECHOES Blu-Ray (88 mins., 2013, Not Rated; Anchor Bay): Spooky horror film from writer-director Nils Timm sends a young writer with sleep paralysis (Kate French) off to a desert retreat with her boyfriend (Steven Brand). There, she encounters a series of seemingly supernatural occurrences with a creepy figure lurking outside their glass house. Well-done for this kind of thing, "Echoes" hits Blu-Ray April 14th from Anchor Bay sporting a Dolby TrueHD 5.1 soundtrack and 1080p (2.40) transfer. Worth it for horror buffs.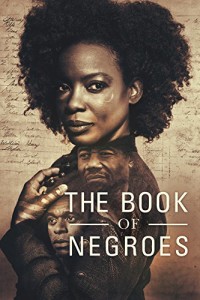 THE BOOK OF NEGROES DVD (450 mins., 2015;E One): Well-acted, well-made chronicle of Aminata Diallo, an African woman sold into slavery, sold again in South Carolina, and her journey to New York, through to Canada, back to Africa and eventually to London where she tries to abolish the slave trade. Both a love story and a historical account of its era, this is an excellent Canadian production that aired on the BET network, adapting Lawrence Hill's novel and directed by Clement Virgo, with ace performances from Aunjanue Ellis and Lyriq Bent. E One's DVD, out this week, offers over three hours of extras: interviews with the cast and Hill, deleted scenes, a 28-page story by Hill, a 16:9 (1.78) transfer and 5.1 Dolby Digital sound.
HOME SWEET HELL Blu-Ray (98 mins., 2015, R; Sony): Katherine Heigl tries something different – a role of an uptight, psycho housewife who schedules sex with her husband (Patrick Wilson), and who predictably goes off the deep end after hearing about his affair with a co-worker (Jordana Brewster). Anthony Burns' black comedy aims for a John Waters, "Serial Mom" type of suburban satire but mostly shoots blanks, though it's somewhat amusing watching the cast trying to make good on the material – at least for a while. Sony's Blu-Ray includes BD-format extras (seven deleted scenes, outtakes, Champagne Furniture commercial), along with two additional deleted scenes, a Making Of, 1080p transfer and 5.1 DTS MA audio.
JOHN DOE: VIGILANTE DVD (93 mins., 2015, R; Arc Entertainment): Jamie Bamber stars in this Australian action-adventure as a man who decides to take matters into his own hands when he's frustrated by the criminal justice system. Donning a mask and taking on the "real criminals," Doe's path to vengeance is complicated by other vigilantes doing the same. Kelly Dolen's film offers decent action for its type and Arc's DVD is packed with extras: two commentaries, three behind-the-scenes segments, interviews with the crew, Bamber and Dolen, plus a 16:9 transfer and 5.1 Dolby Digital sound.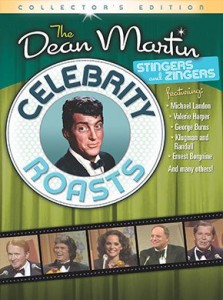 THE DEAN MARTIN CELEBRITY ROASTS: STINGERS AND ZINGERS (8 Disc Set; Starvista)
THE DEAN MARTIN CELEBRITY ROASTS: HALL OF FAMERS (Starvista): Two new compilations from the classic "Dean Martin Celebrity Roasts" land on DVD this month from Starvista/Time Life.
The eight-disc "Stingers and Zingers" is a full-fledged Collector's Edition offering 24 full-length roasts featuring Valerie Harper, Jack Klugman and Tony Randall, Michael Landon, Carroll O'Connor, Senator Hubert Humphey, Wilt Chamberlain, Danny Thomas, Ted Knight, Dan Haggerty, Mr. T, Jack Klugman (solo), Ed McMahion, Redd Foxx, Joe Garagiola, Evel Knievel, Hank Aaron, Peter Marshall, Truman Capote, William Conrad, Monty Hall, Leo Durocher, Bobby Riggs and two different roasts for Joe Namath. Over three hours of extras include interviews, bonus comedy sketches and two featurettes.
If the set is too rich for one's blood, the single-disc HALL OF FAMERS keeps the focus strictly on sports subjects, with three complete roasts featuring Joe Garagiola, Evel Knievel and Hank Aaron, along with an hour of bonus features.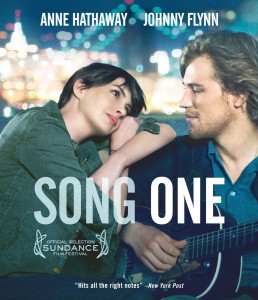 SONG ONE Blu-Ray (86 mins., 2014, PG-13; Cinedigm): Anne Hathaway stars as a woman whose brother ends up in a coma after an accident. Trying to piece together his life since their estrangement, Hathaway meets the New York musicians and artists who inspired him, including his musical idol (Johnny Flynn), where sparks ensue from his meeting with Hathaway. Kate Braker-Froyland's likeable, low-key character drama was produced by (among others) Jonathan Demme and includes nice performances from the two leads. Cinedigm's Blu-Ray includes deleted scenes, the trailer, and a look at the recording of the soundtrack.
KIDNAPPING MR. HEINEKEN Blu-Ray (95 mins., 2014, R; Alchemy): Disappointing take on a true story, set in Amsterdam in 1983, wherein a group of childhood friends (including Jim Sturgess and Sam Worthington) kidnapped the heir to the Heineken beer legacy (Anthony Hopkins) – only to have their crime fall apart afterwards. Daniel Afredson's film has a fine cast but seems awfully sparse in terms of character development, with "Kidnapping Mr. Heineken" clocking in at 90 minutes plus credits. Hopkins also seems to phone in his performance in a relatively uninspired film despite compelling subject matter. Available April 14th, Alchemy's Blu-Ray includes a perfectly acceptable 1080p transfer and Dolby TrueHD 5.1 audio.
VENGEANCE OF AN ASSASSIN (90 mins., 2014; Well Go) stars Dan Chupong in the final film from "Ong Bak" choreographer Panna Rittikrai, as a killer trying to piece together how his parents were murdered. Solid martial arts action in this 201 Thai production, which Well Go brings to Blu April14th sporting a 1080p transfer and 5.1 DTS MA audio in Thai with English subtitles.
NEXT TIME: CLASS OF 1984, EDDIE & THE CRUISERS and more in Shout's April Assault! Until then, don't forget to drop in on the official Aisle Seat Message Boards and direct any emails to our email address. Cheers everyone!