"Cult" is definitely the most appropriate word to describe Mark L. Lester's 1982 exploitation fave CLASS OF 1984 (***, 98 mins., R), a film that I've come to believe is one of the most purely entertaining films of its kind ever made: a delirious blend of "To Sir With Love" and "Death Wish," capped by its unique place in the cinematic spectrum. Where else can you see a film that crosses the paths of Roddy McDowall and Michael J. Fox, or has an Alice Cooper theme song – written by Lalo Schifrin?!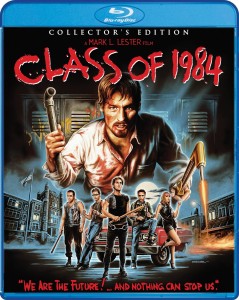 Don't be put off by director Lester's self-congratulatory statements about how "Class" predicted the future of high school violence (there's even a mention about Columbine in his commentary): this raunchy B-movie is wild fun, with new teacher Perry King fighting off a gang of despicable thugs led by Timothy Van Patten. In regards to the latter, this villainous punk-group has as more in common with similar, antagonistic thugs seen in gang movies of the late '70s ("The Warriors" and "The Wanderers") than they do in terms of making a statement about the future of American education, though Van Patten's passive mom and hapless school administrators – as portrayed in the film – do send off a foreboding alarm about what's to come.
"Class of 1984″ has sex, violence, dead rabbits, a sobbing McDowall, an over-the-top finale, a young Michael J. Fox (minus the "J"), and even a fine Schifrin score (appropriately bombastic, especially in an early gang rumble) complete with that bookending Cooper song. One can only imagine how much fun all those disparate elements are, and it's true this early '80s cult classic is indeed highly entertaining – a bit rough around the edges, and purposefully unpleasant at times, but well worth a look for the cult movie aficionado, complete with an applause-worthy finale.
Shout brings "Class of 1984″ to Blu-Ray for the first time this week and their presentation does not, in any way, disappoint: the 1080p (1.78) transfer has been remastered from the interpositive and displays a natural cinematic appearance with crisp detail and color. The 5.1 DTS MA mix seems to be based off the Anchor Bay DVD soundtrack, with lots of directional activity not heard in the standard 2.0 DTS MA stereo mix. Extra features include new interviews with Lester, Schifrin, and co-stars Lisa Langlois and Erin Noble, while the rest of the supplements ported over from the Anchor Bay disc including a 35-minute documentary, "Blood and Blackboards," with comments from Lester, King and co-star/executive producer Merrie Lynn Ross; a commentary with Lester, prompted by Anchor Bay producer Perry Martin; the trailer, TV spots and a stills gallery.
Lester would later re-work his premise as the more futuristic (and less effective) "Class of 1999," channeling "The Terminator" as much as its predecessor re-worked the dozens of one-man-wrecking-crew revenge thrillers we saw so often in the '70s and early '80s. The sequel would become a less-affectionately remembered, yet still amusing, video rental for many a high schooler in the early '90s. Hopefully it'll garner a Blu-Ray release one day with the same, superb treatment Shout has given to the original "Class" of '84. Class dismissed!
Although I'm a fan of John Carpenter's early work, I can't say I've ever been a big admirer of ESCAPE FROM NEW YORK. This 1981 sci-fi thriller does, however, have a large contingent of fans, and Snake Plissken buffs everywhere are certain to be excited by Shout's new double-disc Blu-Ray edition (**½, 99 mins., 1981, R), which sports a brand-new 2K restored transfer plus extensive supplements that have been missing from all prior Blu-Ray releases of the picture.
Kurt Russell's Clint Eastwood-esque performance as Carpenter's quintessential anti-hero anchors the movie, which does, admittedly, deliver a lot of visual bang for what was a quite economical budget back in the early '80s. The auteur's last movie for Avco Embassy Pictures boasts production design by Joe Alves (with work by a young James Cameron) in its telling of a futuristic Manhattan that's been turned into a full-scale prison. Into its motley assortment of criminals, scum and general villainy comes the President of the United States himself (Donald Pleasence), who crashes inside, leading the authorities to recruit Snake in a last-ditch attempt at saving his life.
"Escape From New York" is one of those movies that certainly sounds like it can't miss: Russell's performance and the picture's concept seem tailor-made for '80s action fun, yet ever since I first watched the movie in grade school (in a late-night, syndicated TV airing I recorded on VHS), I've been constantly let down by the film every time I've viewed it. Carpenter's lethargic pacing and often humorless script (written with Nick Castle) plays at odds with what ought to be a crackling action thriller, and despite a strong cast (Lee Van Cleef, Ernest Borgnine, Isaac Hayes, Harry Dean Stanton and Adrienne Barbeau among them), the movie pokes along when it ought to be racing ahead.
That said, the movie has generated a huge cult following over the years, even in spite of Carpenter's hideous 1996 sequel "Escape From L.A." And for Carpenter fans, Shout's Blu-Ray easily ranks as the most comprehensive presentation of the film on video to date: similar to MGM's prior Blu-Ray (which I felt looked pretty solid), crisp detail permeates through the low-light cinematography in a way that gives added depth to Dean Cundey's cinematography, especially when compared to prior, murky video releases. The DTS MA 5.1 audio is fine, but where the disc really shines is in its supplements – a mix of the new (a fresh commentary with Adrienne Barbeau and Dean Cundey; interviews with the Skotak brothers on the movie's FX; an interview with still photographer Kim Gottlieb-Walker) and the previously-released (two commentaries, one with Carpenter and Russell that dates back to the mid '90s laserdisc; the deleted "heist sequence" opening; trailers; photo galleries; and the "Return to Escape From New York" featurette). Most of the latter were last seen in MGM's two-disc DVD edition, but inexplicably left off the label's Blu-Ray release. Shout's release amends that wrong and then some, resulting in a must for Carpenter buffs.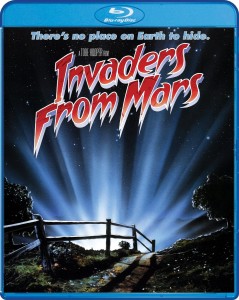 INVADERS FROM MARS Blu-Ray (**, 99 mins., 1986, PG): Tobe Hooper's remake of the early '50s William Cameron Menzies-directed cult favorite is splendidly designed by Leslie Dilley, conceptual artist William Stout, and creature master Stan Winston – but their visuals provide, regrettably, most of the appeal in this Cannon box-office flop from early summer '86.
In reworking the original "Invaders," Hooper attempted to make a PG-rated "nightmare for kids," and while he's successful enough in invoking the visual terror young David Gardner (a bland Hunter Carson) faces as he becomes witness to a Martian invasion, the tepid Dan O'Bannon-Don Jakoby script offers little in the way of humor, charm or appealing characters. Outside of Karen Black as a school nurse and David's confidant (she's also Carson's real-life mother), it's not particularly well acted, either, with Carson's juvenile lead displaying little pluck or emotion, and Timothy Bottoms and Laraine Newman coming across so plastic as David's parents that there's little differentiating them from their before/after encounter with the extraterrestrial invaders. What's worse, the dismal ending – which completely negates the entire film that came before it – is one of the most insulting climaxes to an audience imaginable, and so irritated viewers that the German distributor deleted it completely, abruptly ending the film instead at the end of its "first" conclusion.
The picture also had its share of production difficulties: crew personnel David Lipman and David Womark were listed as "final screenplay" authors in pre-publicity advertising (as well as in a "Making Of" TV featurette that aired at the time of the film's release), while composer Christopher Young had most of his music tossed (save for a few orchestral cues and a particularly nice, "Poltergeist"-esque end credits theme). Perhaps it's no surprise, then, that "Invaders From Mars" sank at the box-office when it opened in June of 1986, though it's still an attractive looking picture that you just wish had more of a heart.
Shout's Blu-Ray offers a 1080p (2.35) transfer of the original JDC anamorphic frame that has a lot of detail and also occasional lines, nicks and scratches in the print. The audio, available in both 2.0 and 5.1 DTS MA offerings, occasionally displays a bit of distortion also, though the "Ultra Stereo" mix is generally well engineered. An excellent array of special features starts with a new 37-minute retrospective documentary featuring Hooper, Carson, Christopher Young and others, while the trailer, TV spot, storyboards, a stills gallery with William Stout, and a fresh audio commentary with Hooper recalling his work on the picture are also on-hand.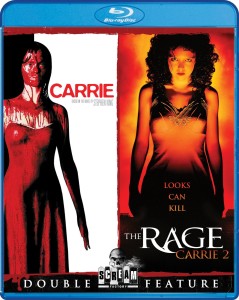 THE RAGE: CARRIE 2 (**½, 105 mins., 1999, R)
CARRIE [TV Movie] Double Feature Blu-Ray (132 mins., 2002, Not Rated)
Movies like "The Rage: Carrie 2″ aren't supposed to have good performances or even believable characters, but as improbable as it may seem, the 1999 belated sequel to the 1976 Brian DePalma hit boasts a terrific performance by newcomer Emily Bergl and a sensitively drawn relationship between Bergl and co-star Jason London. While both deserve better than to hone their talents in a generally pedestrian picture like this, they do go a long way to make "The Rage: Carrie 2″ an underrated piece of teen horror fodder.
Resembling DePalma's original film only by name, several flashbacks and the presence of co-star Amy Irving (given nothing to do here except whine), "The Rage" features Carrie's half-sister (Bergl) in that same small town where her kin tore up the high school with telekenetic powers after being humiliated on prom night. Following a friend's suicide, loner Bergl soon hits it off with good guy Jason London, one of the "in crowd," which doesn't sit well with his brainless football pals, who in turn decide to take their revenge upon the poor guy's new girlfriend – without knowing, of course, her rich family heritage.
The movie has a perfunctory, predictable finale, but for two-thirds of the way "The Rage" surprises with its amiable and satisfyingly developed relationship between the leads. Bergl is very good as the confused and yet headstrong young girl, and her scenes with London are quite believable and pleasant. So much so that it's unfortunate that their characters couldn't have been removed from the film's standard horror framework and placed in a traditional high school picture – in fact, even with its blood-drenching climax, "The Rage" is a far better teen "date movie" than 1999's tedious spring box-office hit "She's All That."
Nobody is going to be shocked that "The Rage: Carrie 2″ isn't a great movie even by genre standards, but it's surprisingly entertaining and competent for most of its running time, and Bergl's performance makes the cliched ending worth overlooking when it's all said and done.
Shout has brought the film to Blu-Ray offering a new commentary with director Katt Shea and various extras from the old MGM DVD (additional scenes, alternate ending, the trailer), a 1080p (1.85) transfer and 5.1 DTS MA stereo sound featuring a blah Todd Murphy score and dated rock tracks from the late '90s.
Also included in Shout's double-disc combo pack is the 2002 NBC TV-movie version of "Carrie," which – if you can look beyond its handheld, softly-shot HD imagery (typical of its era) – offers an interesting, and more straightforward, adaptation of King's book than either the 1976 or 2013 cinematic renderings. Angela Bettis is effective as the mousy lead character with Patricia Clarkson delivering a more credible, less hysterical turn as her mother. TV vet Bryan Fuller's script highlights some material that was either given short-shrift in the films or glossed over completely – save for an ambiguous ending that was intended to set up a weekly TV series that never happened.
A new commentary with director David Carson is included in Shout's Blu-Ray, along with an attractive 1080p (1.85) transfer – pay no attention to the disc's back cover, which lists the aspect ratio as 1.33 and the audio as mono.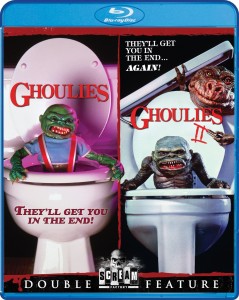 GHOULIES (*½, 81 mins., 1985, PG-13)
GHOULIES II (**, 89 mins., 1987, PG-13) Double Feature Blu-Ray
Double-feature edition of Empire Pictures' low-rent "Gremlins" knockoffs should entertain undemanding '80s nostalgia nuts. While "Ghoulies II" is, in some ways, a superior film to the slow-moving, original "Ghoulies," neither is what you'd call inspired genre fun – even by "Gremlins" rip-off standards, both fall below New Line's superior "Critters" series. In fact, despite good intentions, the series only fulfilled its goofy potential with the unabashedly comic, guilty-pleasure favorite "Ghoulies III: Ghoulies Go to College," which hopefully Shout will nab at some point down the road.
Shout's Blu-Ray does boast loads of extras: commentary with director Liuca Bercovici and new interviews with producer Charles Band, composer Richard Band others on "Ghoulies" I, with "Ghoulies II" including deleted scenes and new interviews, plus DTS MA mono audio tracks and generally good-looking 1080p (1.85) transfers. Also included are trailers, which try and sell the pictures as "Gremlins"-esque fantasies to unsuspecting kids, who quickly realized they weren't getting the same kind of entertainment out of either picture.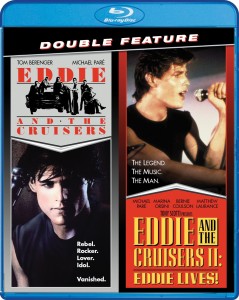 EDDIE AND THE CRUISERS (***, 94 mins., 1983, PG)/EDDIE AND THE CRUISERS II: EDDIE LIVES! (**, 103 mins., 1989, PG-13) Double Feature Blu-Ray
One of HBO's staples during the mid '80s, "Eddie and the Cruisers" was something of a notorious box-office flop that gained a cult following – as well as ultimately sold millions of soundtrack albums – once it started airing on the premium-cable outlet after a short-lived theatrical release.
It's a weird, uneven yet compelling film about the fleeting success of a '60s rock band fronted by hard-rocking Jersey lead vocalist Eddie Wilson (Michael Pare, then fresh from "The Greatest American Hero"), who ends up losing control of his car one fateful night and drowning…or did he? Director Martin Davidson's picture frames the band's story in the '60s within a modern-day mystery, wherein the surviving "Cruisers" (including keyboardist/songwriter Tom Berenger) wonder what might have happened to that long-lost, unreleased album that sank their commercial fates.
Ellen Barkin plays a reporter trying to get to the bottom of the mystery, which ultimately takes up too much time in the movie's concluding third. Until that point (and its Scooby-Doo like ending), the film works because of its music, thanks to John Cafferty and the Beaver Brown Band's phenomenal original songs. As performed on-screen by Pare with Cafferty's vocals, the soundtrack holds the material together, and while a better film could've been adapted from P.F. Kluge's novel, "Eddie and the Cruisers" has enough heart and great music on-hand to make for a satisfying piece of ersatz rock 'n roll nostalgia.
The needless sequel "Eddie and the Cruisers II" came about purely because record mavens the Scotti Brothers wanted a chart-topping soundtrack album – and a movie to go along with it. The resulting film is a low-budget Canadian affair that's totally unnecessary, amateurishly directed and rather embarrassing in how it tries to connect to its predecessor (only Mitchell Laurence returns as Eddie's old bass player from the first film). All that said, its inherent goofiness now only accentuates its charm, as Eddie – now working as a construction worker in Montreal! – finally decides to let the world know that he's still alive and ready to rock. John Cafferty returned to write a handful of original songs, a few of which are quite good and make for a rousing ending wherein Eddie and his new band perform in front of thousands at what appears to have been a real Bon Jovi concert up in Quebec.
Fans of "Eddie and the Cruisers" should be delighted with Shout's double-feature, single-disc Blu-Ray offering. The two 1080p (1.85) transfers are pretty solid all things considered, though there's more bass in the first film's 2.0 DTS MA stereo mix than the sequel, which sounds thin and pokey by comparison. In addition to trailers, Shout has unearthed several interesting extras for "Eddie Lives," including archival interviews with Tony Scotti and CBS record executives discussing the importance of marketing soundtrack albums (those were the days, weren't they?), Cafferty's background and the first film's unusual path to commercial success. There's also a ten-minute camcorder r
eel, taken from the first row, of the movie's climactic rock concert, with Pare and the cast thanking the audience for really rocking out to a film that ended up faring worse than its predecessor at the box-office (and unlike "Eddie" Part 1, didn't find much of an audience on home video). Recommended!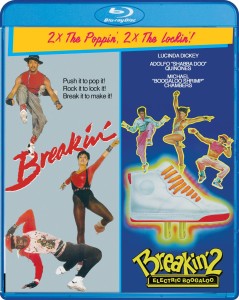 BREAKIN'
BREAKIN' 2: ELECTRIC BOOGALOO (**½, 1984-85, PG) Blu-Ray Double Feature
Single-disc Blu-Ray release couples both of the Cannon "Breakin'" box-office hits together in HD for the first time, while adding in extras from MGM's prior "Breakin' Collection" DVD anthology.
It certainly doesn't get any more "80's" than the original "Breakin'" – Cannon's box-office hit about a would-be classical dancer (Lucinda Dickey) who joins up with a pair of street dancers (Adolfo "Shabba Doo" Quinones, Michael "Boogaloo Shrimp" Chambers) in a pleasing mix of "Flashdance" and an old Judy Garland-Mickey Rooney musical. Early appearances by the likes of Ice-T (as a club DJ) and Christopher McDonald – chewing up the scenery even back in '84 – add a bit of flavor to the colorful moves and grooves in Joel Silberg's movie, while the quickly-filmed BREAKIN' 2: ELECTRIC BOOGALOO offers more of the same.
Shout's Blu-Ray includes a new commentary with "Breakin 2″ director Sam Firstenberg, editor Marcus Manton and Adolfo "Shabba Doo" Quinones, along with featurettes from the bonus disc of "The Breakin' Collection" and the trailers. Both 1080p (1.85) transfers are in reasonably good shape with DTS MA 2.0 stereo soundtracks on tap for both.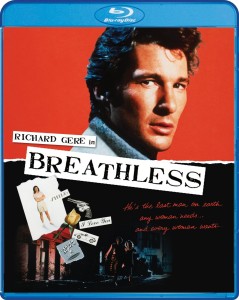 BREATHLESS (*½, 100 mins., 1983, R): Obnoxious is the operative word when it comes to describing this needless remake of the Godard French New Wave classic. In a smug lead performance – coming on the heels of his success in "An Officer and a Gentleman" – Richard Gere plays a Vegas loser who, after shooting a cop, sweeps French student Valerie Kaprisky off on a wild pursuit away from authorities. L.M. Kit Carson and director Jim McBride's script never engages you in Gere's plight, as his "Jesse Lujack" is a grating, annoying presence who you can't wait to see get his comeuppance – but the film doesn't even provide that level of satisfaction. Interested viewers should find Shout's Blu to be satisfying enough, with a 1080p (1.85) transfer and DTS MA mono audio doing justice to Richard H. Kline's cinematography, though detail isn't always crystal clear. The original trailer for this Orion flop is also included.
FROM A WHISPER TO A SCREAM (*½, 99 mins., 1987, R): Minor horror anthology from director Jeff Burr features Vincent Price as a small-town historian who shares a quartet of stories – set during a variety of time frames from the present to the Civil War – to reporter Susan Tyrell. Known as "The Offspring" for many years due to a home video retitling, this ultra low-budget affair, written by Burr, C. Courtney Joyner and Darin Scott, co-stars Clu Gulager, Terry Kiser and Rosalind Cash in mostly obvious and heavy-handed stories that only hardcore genre addicts will likely appreciate. Shout's Blu-Ray, available later this month, includes two new commentaries with Burr, Coyner and Scott; "A Decade Under the Influence" and "Return to Oldfield," documentaries; DTS MA 2.0 stereo audio and a 1080p (1.85) transfer.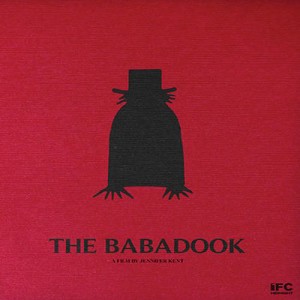 THE BABADOOK (***, 93 mins., 2014): Australian director Jennifer Kent's highly praised film about a mother (Essie Davis) and her son (Noah Wiseman) encountering a seemingly supernatural force that springs up from one of the child's pop-up books certainly has its share of creepy moments, as well as production value and performances that far outweigh the picture's modest budget. All that being said, "The Babadook" doesn't quite measure up to "Exorcist" director William Friedkin's claim that it's the most terrifying film he's ever seen, with the movie coming across as more psychologically disturbing than scary – and saddled with an ending that's more unsettling than totally satisfying. Still highly recommended for horror fans, with Shout and IFC's Blu-Ray offering a top-drawer 1080p (2.35) transfer, beautifully mixed 5.1 DTS MA sound, and extras including Kent's short movie, "Monster," along with deleted scenes, behind-the-scenes footage, trailers and cast/crew interviews. The pop-up slipcover packaging is another nice plus.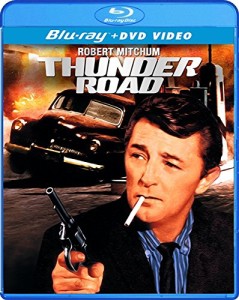 Shout Quick Takes: Season 7 of BARNEY MILLER (9 hours, 1980-81) offers 22 episodes from the classic TV sitcom's 1980-81 season. Episodes include Homicide – Parts 1 and 2; The Delegate; Dorsey; Agent Orange; Call Girl; Resignation; Field Associate; Movie – Parts 1 and 2; The Psychic; Stormy Weather; The Librarian; Rachel; Contempt Parts 1 and 2; The Doll; Lady and the Bomb; Riot; The Vests; The Rainmaker; and Liquidation. Broadcast-length episodes are on tap in Shout's multi-disc DVD. Coming later this month are the Seventh Season of THE JEFFERSONS (aprx. 9 hours), featuring the 1980-81 campaign for George, Weezie and the gang (including its four-part "The Jeffersons Go to Hawaii"), as well as Season 2 of THE PHIL SILVERS SHOW (apx. 16 hours, 1956-57), sporting all 36 episodes of the classic sitcom on five DVDs from Shout and CBS…Season 7 of A HAUNTING (750 mins., 2015) is newly available on DVD from Timeless Media Group. The long-running series, which airs on Discovery networks, offers more purportedly true stories involving poltergeists, phantoms and similar supernatural occurrences, along with dramatizations and interviews with the real participants. The multi-disc set includes 16:9 transfers and 2.0 stereo soundtracks. Timeless also has struck a satisfying Blu-Ray/DVD combo pack of Robert Mitchum's "moonshine thriller" THUNDER ROAD (**½, 92 mins.), a 1958 pet project of the actor's (he produced and also wrote the original story) that offers crisp B&W action as Mitchum's Korean war vet transports illegal fluids while eluding the police and gangsters alike. A minor but reasonably eentertaining B-movie licensed through MGM that boasts a detailed 1080p (1.85) transfer on the Blu-Ray side…New this week from Timeless is JOE 90: THE COMPLETE SERIES (750 mins.), one of producer Gerry Anderson's more entertaining series about a teen who becomes a secret agent for the World Intelligence Network. Full color "Supermarionation" excitement dominates the production, which is presented here on DVD by Timeless in a remastered presentation offering an Anderson interview, commentaries, a previously unreleased talk with Anderson, 4:3 transfers and 2.0 Dolby Digital sound.
Also Coming this month are DEEP IN THE DARKNESS (100 mins., 2013), a made-for-the-Chiller channel thriller about a New York City doctor (Sean Patrick Thomas) who ditches the big city for a small-town that's also home to evil creatures that live in the woods. Dean Stockwell, Kristen Bush and Blanche Baker co-star. Shout's Blu offers an expectedly solid 1080p (1.78) transfer and 2.0 DTS MA stereo sound…Finally, Shout brings the complete series of METAL HURLANT CHRONICLES (aprx. 5 hours, 2015) to Blu-Ray on April 14th. Rutger Hauer, Michael Biehn, James Marsters, Michelle Ryan and John Rhys-Davies headline the genre-favorite cast in this "Heavy Metal"-adapted story. Shout's Blu includes alternate French episodes, featurettes, interviews, Comic Con panel footage, 5.1 DTS MA sound and 1080p (1.78) transfers.
---
New & Noteworthy
BIG EYES Blu-Ray (**½, 1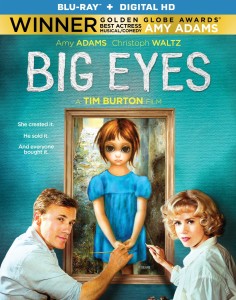 05 mins., 2014, PG-13; Anchor Bay): Director Tim Burton's new, "change of pace" film – a total wipeout at last winter's box-office – is a pleasant but bland outing that, at times, resembles a colorfully shot Lifetime movie.
Amy Adams stars as Margaret, a single mother artist who moves to San Francisco and quickly ends up married to Walter Keane (Christoph Waltz), a fellow aspiring painter (or so it seems) who's also a major realtor in town. Desperate to sell some of his artwork, Walter takes Margaret's trademark works – mournful looking characters with pitch black, alien-like eyes – and sells them as his own. The plan works as the money begins to pour in, but even with Margaret willingly opting to stand back in the shadows in the "man's world" of the 1950s and 60s, her conscience eventually pines for credit for her own creations.
"Big Eyes" is a watchable but very minor outing for Burton, who strays so far from his typical filmmaking approach here that the picture bears almost no distinctive stamp whatsoever of its director. It doesn't help that the script by Scott Alexander and Larry Karaszewski is also devoid of much character insight, with Adams infusing her lead character with as much emotion as the material – which is content to chronicle Margaret's plight on a simple surface level – allows. The result is a movie with one-dimensional, poorly drawn supporting players, from Danny Huston's third-billed reporter (is there any reason why he's narrating the film to begin with?) to Krysten Ritter as Margaret's friend, Jason Schwartzman as a San Francisco gallery owner and Terence Stamp in a worthless turn as an NY Times art critic. It even extends to Waltz's predictable performance as Walter – a variation, seemingly, on virtually every "charismatic villain" role we've seen Waltz essay in an English language film to date.
Scenes between Margaret and her daughter should have been given more time to percolate, the film's climactic trial comes off as more perfunctory than inspiring, and even Danny Elfman's score is unmemorable (it also strains to convey a "light" tone in scenes which could've gone either way). It's a disappointing film that just never comes together, with the superficiality extending to its limp portrayal of time and place.
Anchor Bay's Blu-Ray includes a colorful 1080p (1.85) transfer of Bruno Delbonnel's cinematography, which certainly looks more like video-like than film in its presentation here. Two featurettes, a digital copy, and 5.1 DTS MA sound round out the release.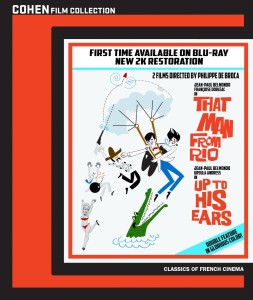 THAT MAN FROM RIO/UP TO HIS EARS Blu-Ray (Cohen Film Collection): A pair of colorful, entertaining spy spoofs from director Philippe De Broca remain enduring favorites of French cinephiles thanks to their freewheeling tone and the presence of charismatic star Jean-Paul Belmondo. The original, "That Man From Rio" (1964) is an agreeable Bondian parody, starring Belmondo opposite Francoise Dorleac (Catherine Deneuve's sister, who died tragically in a car accident at age 25), while "Up to His Ears" (1965) co-stars Ursula Andress in a more frenetic film that inspired set-pieces in "Raiders of the Lost Ark" and "Indiana Jones and the Temple of Doom." Cohen has done a marvelous job restoring both pictures with impeccable 1080p (1.66) transfers – newly remastered in 2K scans – with freshly translated English subtitles. Extras include a handful of featuretes, including a discussion on Georges Delerue's scores, which are also presented here in PCM uncompressed audio. Recommended.
BAD ASSES ON THE BAYOU DVD (85 mins., 2015, R; Fox): Danny Trejo and Danny Glover are back for another go-around in this third entry in the small-screen action series, with the boys this time exacting revenge after Carmen's wedding goes awry. John Amos (!) co-stars along with veteran Loni Love. A 16:9 transfer (1.85) adorns Fox's DVD along with a Making Of featurette and 5.1 Dolby Digital
audio.
---
Lionsgate New Releases: A MOST VIOLENT YEAR (**½, 125 mins.,, 2014, R) is J.C. Chandor's latest film: a slick-looking, detached tale of a New York City mogul (Oscar Isaac) who owns a gas company under attack from rivals. Jessica Chastain essays his wife in this 1981-set period drama, which is impressively shot in widescreen but aloof and ultimately disappointing – like a lot of recent crime sagas, this substitutes pretentiousness and a bloated running time for developed characters and compelling narrative. Lionsgate's Blu-Ray includes an attractive 1080p (2.35) transfer with 5.1 DTS MA audio, deleted scenes, and a digital copy.
LITTLE HOUSE ON THE PRAIRIE: Season 5 (21 hours, 1978-79) continues Lionsgate's high-def release of Michael Landon's classic NBC prime-time series. Compared to its previous year, the '78-'79 season calms down a little bit on the heartbreak with more uplifting story lines revolving around Mary's approaching wedding and Albert's arrival as the orphan who joins the Ingalls clan. Lionsgate's Blu-Ray of "Little House"'s fifth (1978-79) season boasts another spectacular restoration of the series in wonderfully detailed 1080p (4:3) transfers and also includes the fifth part of "The Little House Phenomenon" documentary along with an Ultraviolet HD copy.
Ryan Reynolds' career choices have bounced around with many a blunder along the way. THE VOICES (103 mins., 2014, R) is one more dud to add to the list, even with Anna Kendrick and Gemma Arterton supporting Reynolds' turn as a nutcase whose talking cat and dog egg on his psychotic tendencies. Marjane Satrapi directed this offbeat black comedy that wisely went straight to video, despite a solid cast. Lionsgate's Blu-Ray includes a numbero of featurettes, deleted and extended scenes, a digital copy, 1080p (2.35) transfer and 5.1 DTS MA audio. Skip it…WGN is off to a solid start crafting their own original series, as evidenced by the success of the guilty pleasure "Salem" and MANHATTAN (622 mins., 2015), an at-times leisurely drama about a group of scientists and their families, set against the creation of the first atomic bomb. Commentaries with the cast and crew, featurettes, excellent 1080p (1.78) transfers and digital HD copies mark Lionsgate's Season 1 release…WHITNEY (88 mins., 2014) stars Yaya DeCosta as ill-fated songstress Whitney Houston in a typical Lifetime documentary scripted by veteran Hollywood writer Shem Bitterman and directed by actress Angela Bassett. Lionsgate's DVD boasts a digital copy, 16:9 (1.85) transfer and 5.1 Dolby Digital audio...I REALLY REALLY HATE MY EX (86 mins., 2014, R) offers a "Female/Black Horrible Bosses" variant as four friends kidnap their exes in an effort at getting even. Lionsgate's DVD offers a 16:9 (1.78) transfer and 5.1 Dolby Digital sound, along with a digital copy. Another rom-com, WINGMAN INC. (105 mins., 2014, R) stars Kristopher Turner as a guy who starts up a business for guys struggling in the dating scene. Lionsgate's DVD includes commentary, a 16:9 (1.78) transfer, 5.1 sound and a digital copy…History buffs might want to check out THE END OF THE CIVIL WAR (6 hours, 2002-07) offering the two-hour History Channel programs Sherman's March, April 1865, The Hunt For John Wilkes Booth and Stealing Lincoln's Body, all in 16:9 (1.78) widescreen on two DVDs.
Kids might enjoy the animated hijinks of YELLOWBIRD (90 mins. 2014, PG), a French/Belgian-produced tale of an orphaned bird who tricks a migrating block into accompanying him on a globe-spanning adventure. A voice recording featurette for the US version is included with Lionsgates's DVD also sporting a clear 16:9 (1.85) transfer with 5.1 audio and a digital copy. Another family outing, BARK RANGER (92 mins., 2014, PG) follows a couple of kids and their wiseacre dog (voiced by Jon Lovitz) in a generally entertaining kid-pic Lionsgate brings to DVD along with a 16:9 (2.35) transfer, bonus webisodes and a digital copy…POWER RANGERS SUPER MEGAFORCE: THE PERFECT STORM (115 mins., 2014) includes five episodes from the series (Power of Six, The Perfect Storm, Love is in the Air, United as One, The Grass is Always Greener…) on DVD plus a digital copy.
---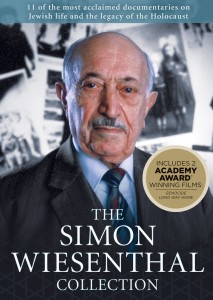 Cinedigm New Releases: THE SIMON WIESENTHAL COLLECTION (816 mins., 1982-2013) offers 11 films related to the Holocaust and Jewish life throughout WWII, with a pair of Oscar winners among them. Cinedigm's DVD box set includes "Genocide" (1982), "Echoes That Remain" (1991), "Liberation" (1994), "The Long Way Home" (1997), "In Search of Peace" (2001), "Unlikely Heroes" (2003), "Ever Again" (2006), "I Have Never Forgotten You: The Life and Legacy of Simon Wiesenthal" (2007), "Winston Churchill: Walking With Destiny" (2010), "It Is No Dream: The Life of Theodor Herzl" (2012) and "The Prime Ministers" (2013)…Two other new documentaries from Cinedigm look at the "appropriation" of African-American culture, BLEACHING BLACK CULTURE (50 mins., 2015), as well as an offbeat look at a pelican who's rehabilitated after landing on the Golden Gate Bridge in Judy Irving's PELICAN DREAMS (79 mins., 2015). Both DVDs include 16:9 transfers and Dolby Digital sound.
Coming April 21st on DVD, Discovery's NAKED AND AFRAID Season 1 (306 mins.) includes the episodes The Jungle Curse, Terror in Tanzania, Island From Hell, Punishment in Panama, Breaking Borneo, Beware the Bayou and Bares All, each in 16:9 transfers with stereo sound…one of the Hallmark Channel's newest productions, MOM'S DAY AWAY (87 mins.) features Bonnie Somerville and James Tupper in a story of a harried mom (Somerville) who feels underappreciated on Mother's Day, and takes a trip with one of her friends (Ona Grauer) away from her family. Cinedigm's DVD includes a sunny 16:9 transfer and 5.1 Dolby Digital sound…BESIDE STILL WATERS (77 mins., 2014) is "Veronica Mars" alumnus Chris Lowell's directorial debut: an effective interpersonal drama about childhood friends who reunite for a memorable trip down memory lane, all the while trying to improve their present situations. Cinedigm's DVD includes commentary, an alternate ending and deleted scenes, a 16:9 transfer and 5.1 Dolby Digital audio…Finally, aficionados of the Spanish telenovela might enjoy MENTIR PARA VIVIR (626 minutos, 2015) which includes over 10 horas from the popular series with stereo audio and 16:9 widescreen transfers in a multi-disc Cinedigm DVD.
---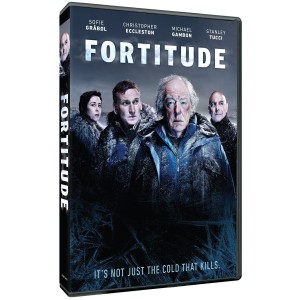 PBS New Releases: Coming April 21st on DVD, FORTITUDE (10 hours, 2015) is a compelling series set in a tiny town near the Arctic Circle – once the safest place to live on the planet, until a murder sends its residents reeling. Richard Dormer is the local Sheriff who investigates alongside an out-of-town detective (Stanley Tucci) in this mystery/character-drama co-starring Sofie Grabol and Michael Gambon. PBS' four-disc set boasts over 30 minutes of bonus content including cast/crew interviews, a 16:9 transfer and 2.0 stereo audio.
Also available April 21st, THE LAST ORANGUTAN EDEN (60 mins., 2015) features ecologist Chris Morgan as he travels to Northern Sumatra and Suaq Balimbing, where deforestation has taken its toll on the local orangutan population. Expert camera work gives viewers a glimpse into the world of these remarkable primates, who are being orphaned at an alarming rate. PBS' DVD sports a 16:9 transfer with stereo audio…BEING MORTAL (60 mins., 2015) adapts Atul Gawande's bestselling book of the same name for a Frontline documentary on how the medical profession can better facilitate communication between doctors and patients in the final stages of life – and help them live life to its fullest. PBS' DVD is available April 21st with a 16:9 transfer and stereo soundtrack…Ken Burns presents the new documentary CANCER: THE EMPEROR OF ALL MALADIES (6 hours., 2015) comes to Blu-Ray and DVD on April 28th. This lengthy, in-depth documentary, executive-produced by Burns and the late feature film producer Laura Ziskin, chronicles cancer from its "discovery" in ancient Egypt through the scientific battle against it, still being waged in the 21st century. Adapted from Siddhartha Mukherjee's Pulitzer-winning book, this fascinating production includes a 1080i HD transfer, Dolby Digital sound, and additional scenes for extra features in the Blu-Ray presentation.
---
Anchor Bay New Releases
EVERLY Blu-Ray (92 mins., 2015, R; Anchor Bay): Salma Hayek – apparently with little else to do – shoots her way through this cut-rate, straightforward thriller as a Mexican prostitute who takes on all comers who show up at her apartment – mostly assassins sent by a Yakuza mob boss – in director Joe Lynch's claustrophobic thriller. Plenty of bullets fly through the air in a movie where Hayek is the whole show – and how much of a fan of hers you happen to be will dictate one's tolerance for the slim material. Anchor Bay's Blu includes two commentaries with the creative team, a music video, 1080p (2.39) widescreen and 5.1 DTS MA audio sporting a score by Bear McCreary.
MANNY DVD (87 mins., 2015, PG-13; Anchor Bay): Documentary about Manny Pacquiao, the champion Filipino boxer who's about to square off in one of the most anticipated fights of our generation. A cut above (no pun intended) for its genre thanks to Ryan Moore's direction, Liam Neeson's narration and Lorne Balfe's score, "Manny" is must-viewing for boxing enthusiasts. Anchor Bay's DVD includes several additional behind-the-scenes segments, a music video, 16:9 (1.78) transfer and 5.1 sound. (Apparently rated PG-13 because boxing, by its very definition, generates a PG-13 rating!).
HIT BY LIGHTNING DVD (89 mins., 2015; Anchor Bay): Jon Cryer stars as a quiet bachelor who falls for a woman (Stephanie Szostak) he meets through online dating – but isn't prepared for the scheme involving murdering her crime novelist husband that soon follows. Ricky Blitt's comedy co-stars Will Sasso as Cryer's friend in a silly farce that only hits a truly funny note every now and then. Anchor Bay's DVD, out April 21st, includes a 16:9 (1.78) transfer and 5.1 Dolby Digital sound in a movie produced and scored by Chantal Chamandy.
ALWAYS WOODSTOCK DVD (97 mins., 2014, Not Rated; Anchor Bay): Predictable but easy-going drama about a young, would-be singer (Allison Miller) who rediscovers her inner potential after she ditches her big-city job and heads back to her family's home town, where she – of course – promptly falls for a handsome doctor (James Wolf). Rita Merson's film offers agreeable performances from Miller, Wolk, plus Brittany Snow, Jason Ritter and Katey Segal, who croons a tune on the soundtrack. Anchor Bay's DVD, out April 28th, is a no-frills affair featuring a 16:9 (1.85) transfer and 5.1 Dolby Digital soundtrack.
David Carradine returned to essay his trademark role of Kwai Chang Caine in the '90s series KUNG FU: THE LEGEND CONTINUES (1993-94, 966 mins.), a contemporary action adventure with Caine and his son (Chris Potter), now a cop, battling crime in the USA. This syndicated series ran for several seasons, the second of which arrives on DVD this month from the Warner Archives with full-screen transfers and stereo soundtracks. Among the more memorable moments: the boys taking on Martin Kove's "Shadow Assassin" and guest turns from Robert Vaughn, Patrick MacNee, Mako, a young Neve Campbell and Regis Philbin (as, naturally, himself!).
Also new this month from the Archive: Season 3 of HART OF DIXIE (928 mins., 2013-14) finds Rachel Bilson returning in this CW drama as Dr. Zoe Hart, an aspiring New York City heart surgeon who ends up in BlueBell, Alabama after being passed over for a fellowship. Usual "fish out of water" cliches mesh with a likeable ensemble cast in this variation on (among other things) the old Michael J. Fox film "Doc Hollywood," except with Bilson as the hotshot New Yorker who learns life and love from the good-natured, small-town Southerners she encounters. The Archive's Season 3 DVD includes 16:9 (1.78) transfers and 5.1 Dolby Digital soundtracks…Golden Age western fans should find ample entertainment in THE DAKOTAS – The Complete Series (1018 mins., 1962-63), a short lived series starring Larry Ward, Jack Elam, Chad Everett and Mike Greene as four disparate men who saddle up to thwart crime and injustice in a grittier genre outing than its contemporaries. Guest stars range from Telly Savalas to DeForest Kelley and Richard Jaeckel in Warner's Archive box-set, newly released with crisp B&W transfers.
NEXT TIME: Olive's new releases, including COOLEY HIGH and FIREWALKER, on Blu-Ray. Until then, don't forget to drop in on the official Aisle Seat Message Boards and direct any emails to our email address. Cheers everyone!