After nearly six years on the shelf, director Michael Ritchie's big-screen version of the classic musical THE FANTASTICKS (***, 109/87 mins., 1995/2000, PG) hit theaters and home video in early 2001, albeit sadly in a recut version that drastically edited Ritchie's original film. Twilight Time's new Blu-Ray edition gives viewers, for the first time, the opportunity to see the picture in Ritchie's 109-minute presentation courtesy of a standard-definition transfer, along with a new HD edition of Francis Ford Coppola's now even-more disposable 87-minute "recut."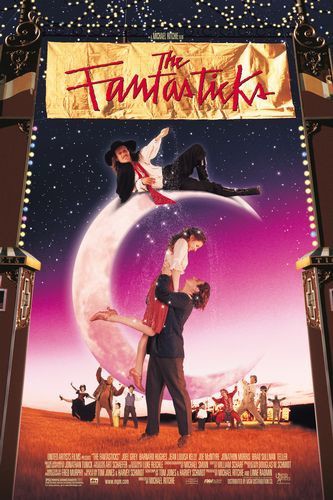 The story of "The Fantasticks"' road to the silver screen is almost as interesting as the film itself, having been completed in 1995 but then shelved by MGM/UA after several test screenings. After several shifts in the management of MGM, new board member Francis Ford Coppola took a look at the movie in 2000, around the same time he attempted to salvage another troubled studio picture (Walter Hill's dismal "Supernova"). Trimming some 25 minutes and streamlining the narrative to eliminate some of the movie's more "theatrical," stagey moments, Coppola screened his "revision" of the film for director/producer Ritchie and the show's creators — Tom Jones and Harvey Schmidt — whose contract necessitated that the movie receive a theatrical release before going to video.
Unlike Coppola's "Supernova" reworking, the changes worked enough to satisfy Ritchie, Jones, and Schmidt, who indicated in press releases that the shorter, reworked Coppola version was an improvement on their original 1995 cut (in hindsight, it's entirely possible the trio were being diplomatic, and just wanted to see the film released at all).
It's this 87-minute version that represents the print of the film that's long been available on video, and MGM – unwisely – decided to make it the sole version of the film to receive a 1080p high-def transfer. Fortunately for fans, Twilight Time's 3000-copy, limited edition Blu-Ray doesn't just include that version of the film – along with two new commentaries – but adds the 109-minute Ritchie version, complete for the first time. While the movie is flawed in several areas, the finished product boasts many positive attributes that should make it essential viewing for musical lovers – especially now with the Ritchie cut available at long last.
The show itself, which I saw once in a local production many years ago, is an intimate, ensemble drama that is deceptively simple, timeless and poignant, chronicling the relationship between a pair of lovestruck teens and their respective, feuding single fathers (who scheme to set their children up). A narrator, El Gallo, watches and ultimately tutors the couple in adversity and reality on the way to showing the teens what real love is all about.
Ritchie's film expands the intimacy of the play for the big-screen, using the concept of a traveling carnival to propel El Gallo and his lessons onto a vast, scenic Arizona landscape where the pair of seemingly warring fathers (Joel Grey, Brad Sullivan) seek to unite their children (Jean Lousia Kelly, Joe McIntyre).
This decision by itself creates some problems, in that the entire concept of a circus of motley folks who aren't what they appear to be has been worn out to death over the last half-century. At times, Ritchie's film almost turns into "Something Musical This Way Comes" with El Gallo (Jonathon Morris) establishing a sexual tension with the girl that's a bit heavy-handed and obvious, though in literalizing the small, intimate nature of its stage origins, it's understandable that "The Fantasticks" would lose its subtlety when blown up onto the big-screen.
Matters were not improved by Coppola's 87-minute recut, which didn't play all that well on its own terms, even without having the benefit of seeing Ritchie's original version. The director worked to tighten the film's pace and pare the El Gallo character down as much as possible in order to preserve his mystery – some of which worked to a degree, but most of which didn't. For no good reason, Coppola also cut down most of the songs – trimming most, removing one ("Plant a Radish") completely, and deleting the film's classic bookending song, "Try to Remember," from the beginning of the film. That drastic decision was heavily criticized at the time of its release and really impacts his version in a negative sense – it's not only a glorious, oft-recorded song, but it sets the scene, the mood and the tone of the story, and the picture feels lost without it.
Despite the misguided editorial decisions from the Zoetrope team, the film's strengths did manage to shine through, with Coppola's version specifically concentrating less on El Gallo and more on the central relationship between the two leads. There were few sequences that were excised that directly related to the teen couple, so in that regard it was understandable that Coppola tried to preserve the intimate nature of the film's central storyline as opposed to Ritchie's at-times unneeded attention to the carny folk.
That said, the 109-minute Ritchie cut results, overall, in a much improved viewing experience: the unexpurgated songs, the restoration of "Try to Remember," and bits and pieces of character development, especially related to Morris' El Gallo, all underscore how poor some of Coppola's editorial decisions were. Even though the film feels a bit flabby at times, and Ritchie's direction wavers between a full-blown, old-fashioned Hollywood musical and the kind of "revisionist" sensitivity that Rob Marshall later brought to "Chicago," "The Fantasticks" is best viewed in its fullest presentation, and one can sense the show's aficionados being much, much happier with this longer cut of the picture being available (albeit in standard-definition) at long last.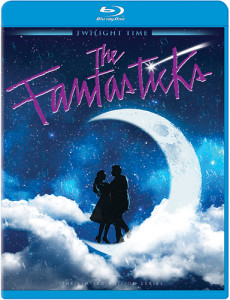 It helps that the movie looks and sounds the part. Fred Murphy's gorgeous widescreen lensing of its northern Arizona locations is one of the film's strengths, as is its cast. While McIntyre, a former member of the New Kids on the Block, has a decent singing voice, most of the film is stolen by Kelly (coming off her acclaimed turn in "Mr. Holland's Opus"), who fulfills both the acting and vocal requirements of the Luisa character in a bright, lovely performance – she seems to glow on-screen, making the film's failure all the more disappointing as her film career never really took off thereafter. On a similar note, Jonathan Morris is magnificent as El Gallo, anchoring the picture with a charismatic, sexually charged performance – and yet Morris' film career likewise went nowhere (apparently, the show's creators weren't enthused with his performance, which may have added to the problems).
On the musical side, Jonathan Tunick's colorful orchestrations are splendid, opening up the score on a larger canvas while retaining the lyricism of Harvey Schmidt's songs. It's a shame the soundtrack was never released – allegedly at the insistence of Schmidt and Jones, who apparently didn't care for the vocal performances. If that's true, then what a lamentable decision that was, as the 109-minute Ritchie cut even has a credit for the soundtrack album being available on Telarc – a credit scrubbed from the 2000 Coppola recut and a CD we're still waiting to hear 20 years later.
As a film, "The Fantasticks" is a flawed piece, and even after seeing Ritchie's version, I'm not sure that any cinematic approach would do appropriate justice to the show's close, personal nature. It is, however, an ambitious and admirable film, and for fans of musicals, it's a beautiful-looking production that will remain a major curiosity item in a long line of stage-to-screen adaptations – and one that comes much closer to legitimacy in its original 109-minute version.
Again, MGM opted to transfer only the 87-minute Coppola cut of "The Fantasticks" in high-definition – a poor decision which dates back to their equally bad choice of only releasing that version on DVD. That said, Twilight Time did manage to dig up the 109-minute version in a standard-definition transfer that was, presumably, intended for that DVD release back in 2001. There's naturally a major discrepancy in the clarity and color of the two transfers (the 1080p HD image is breathtaking at times) and their corresponding soundtracks (5.1 DTS MA versus standard 2.0 stereo), yet the anamorphic, standard-def 16:9 image of the Ritchie cut is still pretty solid for what it is. An original trailer that looks and sounds as if it was produced for the planned Thanksgiving '95 theatrical release that never happened is also included, as is an isolated score track (on the 87-minute cut) and three commentaries.
The most satisfying is easily Nick Redman's conversation with journalist Chris Willman. The duo are spot-on in their critical analysis of the movie and its strengths, praising the work of Kelly and Morris, and raising the seemingly tenuous relationship the movie has with show creators Tom Jones and Harvey Schmidt. It's an enlightening and informative conversation, while a second commentary between Bruce Kimmel and Jean Louisa Kelly adds more insight into the film's production. The third commentary is Michael Ritchie's disappointing track from the 2001 DVD, wherein the director discusses the film's production (he was deservedly proud of the film's look, having cost $10 million), but never really divulges the lengthy, turbulent history of the project's tenure on the shelf – or elaborates upon Coppola's reworking or anything of that nature. (It's worth noting the DVD also contained, culled from a workprint, a deleted performance of the original production's "Rape" song, which was also excised from the final version and is not present on the Blu-Ray).
ZARDOZ (***, 105 mins., 1974, R): If you're looking for a delirious slice of '70s filmmaking, this truly insane 1974 John Boorman sci-fi allegory (or is it?) manages to parade puffy Sean Connery around in a bikini as an "exterminator" who wants to know more about what lies beyond in a society run by artsy intellectuals who manage to keep the "brutals" – the ugly part of humanity – away at a comfortable distance. Charlotte Rampling co-stars in a movie that's absolutely cracked in more ways than one, and seems to have as many fans who celebrate its inherent goofiness as well as its audacious sci-fi concepts.
Boorman, coming off "Deliverance," delivered a movie that some felt was ahead of its time — but for me, it's just a crock of neat production design, cinematography (by Geoffrey Unsworth), and Boorman's imagination, which somehow mixes political and religious commentary with the gaudy loopiness that only a sci-fi film from the mid '70s could possibly provide (with one notable reference to "The Wizard of Oz"!). At times intriguing, at others unintentionally funny, this plays sometimes like an art-house version of "Logan's Run," with an unfocused and downright bizarre script that doesn't always make sense, but has weathered the years extremely well – especially given today's formulaic studio fare.
Bolstered by a new 4K remaster, "Zardoz" fans ought to be thrilled with Twilight Time's smashing Blu-Ray, which includes an exceptionally good 1080p (2.35) transfer, capturing all the color of the 2.35 Panavision frame, along with a 5.1 DTS MA stereo track (labeled as 2.0) that, much like prior releases, doesn't have much in the way of multi-channel presence, but seems to be more audible this time around.
The theatrical trailer, an isolated score mix, and a commentary track with Boorman is included, along with a handful of radio spots featuring Rod Serling! Boorman's commentary is a bit more cohesive here than his "Excalibur" talk was, and touches upon the film's budget (Connery's salary cost $200,000, which Boorman apparently paid most of himself) and trivia about the production. It's also useful in touching upon the story's thematic elements, with Boorman admitting that the weird "floating head" introduction didn't work well at all. TT has also added a new commentary with Nick Redman, Jeff Bond and Joe Fordham which analyzes the film within the context of the often odd pre-Star Wars, post-2001 genre universe.
"Zardoz" is definitely an acquired taste, and while the movie will prove dated and inaccessible for some, it will still entertain others with its bizarre imagery and offbeat presentation of new and well-worn "futuristic society" themes. Worth the trip!
THE REMAINS OF THE DAY Blu-Ray (***, 135 mins., 1993, PG): Acclaimed, stately 1993 adaptation of Kazuo Ishiguro's book from the Merchant Ivory team – specifically, writer Ruth Prawer Khabvala and director James Ivory – provides a showcase for Anthony Hopkins, as a butler at an English manor presided over by a British Lord (James Fox) who becomes a Nazi sympathizer. Emma Thompson is superb as a housekeeper who tries to ignite any passion inside Hopkins' fastidious, detached "Stevens" in this acclaimed picture, which earned eight Oscar nominations. Twilight Time's Blu boasts a nicely detailed 1080p (2.35) transfer along with 5.1 DTS MA audio, an isolated score track of Richard Robbins' music (not one of the film's stronger assets) and extras from the DVD release (featurettes, commentary, deleted scenes).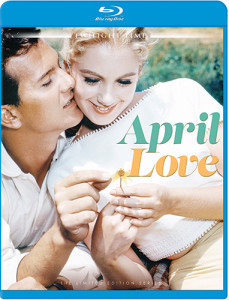 APRIL LOVE Blu-Ray (***, 97 mins., 1957): Colorful Cinemascope trappings lift this easy-going musical – perfectly timed for release prior to this year's Kentucky Derby – starring Pat Boone as a likeable "juvenile delinquent" (the term has certainly changed since 1957!) who moves to rural Kentucky to live with his aunt and uncle (Jeanette Nolan, Arthur O'Connell). There, Boone tries to forget his troubles, falls for a lovely neighbor (Shirley Jones), repairs his Uncle's tractor and races the family's fiery stallion – Tugfire – in a championship harness race. The location filming absolutely sings in the smashing 1080p (2.35) transfer Twilight Time licensed from Fox – this is a virtually eye-popping presentation for its color and detail, as good as any Cinemascope release we've seen from Twilight Time, and the appealing Paul Francis Webster-Sammy Fain songs are perfectly rendered in the 5.1 DTS MA soundtrack. The trailer, an isolated score track, and a highly entertaining chat between Shirley Jones and Nick Redman round out an appealing TT release on every front.
THE STORY OF ADELE H. Blu-Ray (***, 98 mins., 1975, PG): Francois Truffaut's 1975 film launched the career of beautiful Isabella Adjani, starring in the tragic, real-life role of Adele Hugo – the daughter of the "Les Miserables" author – who spent years following an English soldier (Bruce Robinson) around the world in a futile attempt at convincing him to love her. Truffaut's film is as depressing as it sounds, but is so beautifully shot – by Nestor Almendros – and acted by Adjani that it's hard not to be moved by it. The MGM 1080p (1.66) transfer captures the nuances of Almendros' cinematography in a satisfying presentation; extras include an isolated score track, original trailer, and an engaging commentary with Nick Redman and Julie Kirgo discussing the picture and its historical background.
RICHARD III Blu-Ray (***, 104 mins., 1995, R): Richard Loncraine's vivid, audacious Shakespeare adaptation transplants "Richard III" to the 1930s and configures its title character as the military leader of a fascist England, as embodied in a fiery performance by Ian McKellen. A phenomenal, eclectic cast (Annette Bening, Rober Downey, Jr., Maggie Smith, Jim Broadbent, Nigel Hawthorne, Kristin Scott Thomas) support McKellen, who scripted with Loncraine from a Royal National Theatre production staged by Richard Eyre. The evocatively shot 1995 United Artists release offers a music/effects track (with a score by Trevor Jones), the trailer, a strongly detailed 1080p (2.35) transfer and 5.1 DTS MA sound.
---
A taut, exciting portrait of a small-time Boston hood (Robert Mitchum) trapped between going back to prison and informing the government of other criminal activity he's aware of, THE FRIENDS OF EDDIE COYLE (***, 102 mins., 1970) is a film that many buffs have been clamoring to see for years, if not decades.
Criterion's newly-available Blu-Ray gives viewers the best opportunity to check out director Peter Yates' flavorful crime thriller (which spent years being unavailable on home video), shot entirely on location in venues that Bostonians will certainly recognize and which anyone who remembers the era will fondly appreciate: this is a movie that simply oozes atmosphere, backing up a straight, no-frills account of Mitchum's dealings with a government agent (Richard Jordan) trying to illicit information from as many crooks as he can find, to a local bartender (Peter Boyle) who might know more than he's letting on. Familiar faces (including Alex Rocco and Mitchell Ryan) pop up, Dave Grusin's score lends a typical period assist (but never gets in the way), and Yates gets enormous mileage out of Mitchum's on-target performance. This is one of Mitchum's finest roles and even if the ending seems pre-ordained (and ends up playing out in a patently matter-of-fact, abrupt "'70s" manner, following priceless footage of the Bruins and Bobby Orr playing at the old Boston Garden), "Eddie Coyle" is a terrific character study highly recommended now on Blu-Ray.
Criterion's Blu enhances its superb DVD effort, with a crisp, effective 1080p (1.85) AVC encoded transfer with uncompressed PCM audio – for a movie of that era recorded entirely on location the sound mix is surprisingly strong, while a commentary from Yates (appreciative that the movie is being resurrected after years of requests), a photo gallery, and comments from critic Kent Jones round out a marvelous release.
Also new from Criterion this month is a brand-new Blu-Ray edition of SULLIVAN'S TRAVELS (***½, 90 mins., 1941), Preston Sturges' classic about a Hollywood director – played by Joel McCrea – who takes a trip across the country, masquerading as a hobo, in order to better understand the human condition. Veronica Lake co-stars as the girl who helps him realize what life and love is all about in this enduring Sturges classic that receives the HD treatment thanks to a new digital restoration with uncompressed PCM audio. Extras include a 2001 commentary with Sturges admirers Noah Baumbach, Kenneth Bowser, Christopher Guest and Michael McKean; a 1990 feature-length Sturges documentary shot for PBS' American Masters; a video essay from David Cairns, featuring Scottish filmmaker Bill Forsyth; an interview with Sandy Sturges from 2001; a 1951 Hedda Hooper interview with Sturges; archival audio clips featuring the director; and Stuart Klawans' booklet notes.
---
COOLEY HIGH Blu-Ray (***, 107 mins., 1975, PG): Energetic, highly entertaining period piece was one of the first features to focus exclusively on African-American teenagers (including future "Welcome Back, Kotter" star Lawrence-Hilton Jacobs and Glynn Turman), growing up in the Chicago Cabrini-Green housing projects during the 1960s. Though labeled as a Black "American Graffiti," director Michael Schultz and writer Eric Monte's film is quite different in tenor and tone, with some laughout moments and a moving finale (the two would later reconfigure the material as part of the long-running TV sitcom "What's Happening!!"). The MGM licensed 1080p (1.85) transfer and DTS MA mono sound – packed with numerous Motown hits – are as satisfying as the varied source material allows.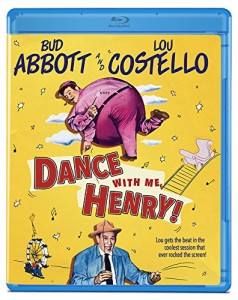 DANCE WITH ME HENRY Blu-Ray (**, 80 mins., 1956): Abbott and Costello's final film together is a disappointing, unnecessarily convoluted tale of "Kiddieland" funpark proprietor Lou getting mixed up with gambler Bud's debt that he owes to the mob; this ultimately throws the foster children Lou's housing into jeopardy when they're visited by welfare officer Mary Wickes. Veteran A&C director Charles Barton helmed this 1956 United Artists release, which offers only a few fleeting chuckles and is more often than not bogged down in too much plot. Olive's Blu-Ray (1.85) includes a DNR-free 1080p (1.66) B&W presentation from the best available print, which has its share of grainy and dirt-riddled passages, but at least looks like real film. The DTS MA mono audio is fine.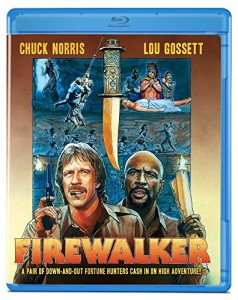 FIREWALKER Blu-Ray (*, 115 mins., 1986, PG): One of those Cannon Group productions that's just plain bad as opposed to providing so-bad-it's-good amusement, "Firewalker" is an interminable "action" flick with buddy adventurers Chuck Norris and Lou Gossett heading into Central America in search of gold at the request of lovely Melody Anderson ("Flash Gordon"'s Dale Arden). Slow-going nonsense confined to claustrophobic Mexican sets, "Firewalker" ranks with some of the weakest work turned out by its stars as well as director J. Lee Thompson, who displays no life whatsoever behind the lens. Along with a cameo from Will Sampson and John Rhys-Davies "As Corky," Gary Chang contributes a synthesized score that's as feeble as the film's pedestrian set-pieces. Olive's Blu-Ray offers a fine transfer (1.85, 1080p AVC encode) and DTS MA stereo audio of the movie's original "Ultra Stereo" mix. No extras are included.
BLUE SKY Blu-Ray (**½, 101 mins., 1994, PG-13): When Orion Pictures went bankrupt, a handful of films that were shot in 1990-91 went onto the shelf where they literally remained for years to come. Eventually, the likes of "Robocop 3," "Car 54, Where Are You?," "Clifford," "China Moon" and Tony Richardson's '60s period drama "Blue Sky" were released, all to negligible box-office returns. However, "Blue Sky" did earn Jessica Lange a surprise Best Actress Oscar win against a weak field in 1995, gaining this otherwise unremarkable film a degree of notoriety unlike its peers. Lange is, admittedly, terrific here, as the troubled, boozy wife of military man Tommy Lee Jones, who fights with her husband over all kinds of things, including competition in the form of Powers Boothe. The workmanlike script by Rama Laurie Stagner, Arlene Sarner and Jerry Leichtling is fairly formulaic in its portrayal of '60s suburban malaise but Lange and Jones are strong enough to keep the material afloat. The 1080p (1.85) transfer culled from the Orion vaults is perfectly acceptable, as is the DTS MA stereo audio offering a blah Jack Nitzsche score.
---
THE WOMAN IN BLACK 2 Blu-Ray (**, 93 mins., 2015, PG-13; Fox): A group of school children evacuated outside London during WWII run afoul of the legendary "Woman in Black" in this by-the-numbers sequel to the minor, albeit commercially successful 2012 Daniel Radcliffe film. Director Tom Harper is, at least, able to reprise its predecessor's mood and tone, which accentuates atmosphere over shock and gore, yet the final result is pretty tepid, and is only likely to send a chill up the spine of young viewers. Fox's Blu-Ray boasts a clear, crisp 1080p (2.40) transfer, DTS MA 5.1 audio (with a score credited to Marco Beltrami and two other composers), deleted scenes, four behind-the-scenes featurettes, and a digital copy.
GOD HELP THE GIRL DVD (**½, 112 mins., 2013, Not Rated; Anchor Bay): Study of a group of Scottish misfits – led by Emily Browning – who form an unlikely musical group makes for an enjoyable character drama under the guidance of writer-composer-director Stuart Murdoch of "Belle & Sebastian." Browning is quite good here and the songs, written by Murdoch and based off an earlier album he produced, buoy the material, despite a sluggish running time. Anchor Bay's DVD includes deleted scenes, an "Origins" featurette, music video, 16:9 (1.85) transfer and 5.1 Dolby Digital sound.
SUPREMACY Blu-Ray (111 mins., 2014, Not Rated; Well Go USA): Joe Anderson plays a cop-killing member of the Aryan Nation tracked by the police and a former ex-con (Danny Glover) who understands his psychological leanings. Anson Mount ("Hell on Wheels"), Dawn Olivieri, Derek Luke, and Lela Rochon co-star in Deon Taylor's film, which comes to Blu-Ray this week from Well Go. The disc includes a 1080p transfer, behind-the-scenes segment, the trailer, and a DTS MA 5.1 soundtrack.
NEXT TIME: More Olive new releases, including the 1990 remake of LORD OF THE FLIES, TEACHERS and more. Until then, don't forget to drop in on the official Aisle Seat Message Boards and direct any emails to our email address. Cheers everyone!