At some point during the carnage of THE AVENGERS: AGE OF ULTRON (**), Hawkeye (Jeremy Renner) quips "none of this makes any sense." Indeed, Joss Whedon's sure-fire box-office behemoth doesn't need to make any sense, because the film pushes enough buttons to satisfy most 8-year-olds and comic book fans, but does so in such a workmanlike, uninspired fashion that it's hard to imagine most audiences holding the same affection for the sequel as they did its predecessor.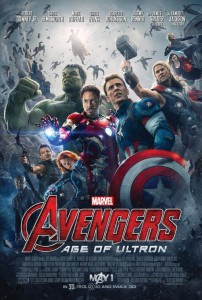 "Ultron" finds Tony Stark (Robert Downey, Jr. again, albeit without acknowledging the ending of "Iron Man 3″) playing Frankenstein as his dream of building an artificial intelligence to guard the planet backfires spectacularly, the result being the creation of a robot (voiced by James Spader) who decides the safest solution for Earth is exterminating humanity altogether. Iron Man's brash decision making sends the Avengers off on a globe-trotting adventure to stop Ultron before it's too late, meeting – in the process – the Maximoffs, a pair of super-powered twins in Quicksilver (Aaron-Taylor Johnson) and the Scarlet Witch (Elizabeth Olsen), both of whom want revenge for the death of their parents, who perished in a blitz where Stark's military weapons were utilized.
Marked by the blandest, most washed-out cinematography I've ever seen in a film of this type, "Age of Ultron" was written and directed by Whedon, repeating his chores from the original, though this picture feels as if it was assembled by a committee: a quip here, a lengthy dialogue exchange there, an occasional action sequence, a scene designed to give one of the team "something to do," a visit to an international locale (to better goose the foreign grosses), then an interminable finale (as haphazardly choreographed as any "Transformers" film) populated with repetitive fisticuffs and special effects.
The problem here is how by-the-numbers "Age of Ultron" is – the whole enterprise has a shocking lack of dramatic stakes, with various actors (like Downey and Hemsworth) filling out the remainder of their contractual duties and even Whedon doing a surprisingly poor job cultivating the film's story. The creation of Ultron happens faster than Boris Karloff getting on-screen in James Whale's 1931 classic, while the Maximoff twins – mutants who aren't branded mutants here because of their shared film ownership with Fox and the "X-Men" gang – never become an interesting presence in Whedon's simplistic plot. An attempt at developing a romance between Scarlet Johansson's Black Widow and Mark Ruffalo's David Banner feels totally forced, and a sojourn to the heartland seems to exist solely to give Hawkeye a reason for being (on the plus side, it's always nice to see Linda Cardellini again).
There's action here, of course, but also plenty of scenes with the team talking about what to do and where to go next – dialogue that seems to either set-up future sequels (like Thor's next movie) or veer dangerously close to being a "very special episode" of Marvel's unremarkable "Agents of SHIELD." The performances do what they can with the one-dimensional material, but ultimately none rise above the fray, and the concluding send-off for a couple of heroes whose time has come to an end (or, more specifically, contractual obligations of said actors) is unfathomably perfunctory (literally along the lines of "hey, our contracts are up, see you later guys!").
In the end, what we have here is yet another comic book movie that's going to rake in millions, if not billions – but is more evidence that these characters are better served by their own, separate cinematic adventures, and not by a picture that comes off as clinical but cold, soulless and disappointing. (141 mins., PG-13)
---
Martin Scorsese's masterwork, GOODFELLAS (****, 146 mins., 1990, R; Warner) celebrates its 25th anniversary this year with a brand new 4K Blu-Ray scan that – along with lossless DTS MA audio – easily trumps the prior Warner disc issued at the start of the format.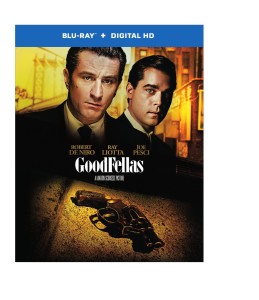 "Goodfellas" is one of my all-time favorite movies – a symphonic collage of sights, sounds, classic dialogue and a story that grabs you from its opening frames and never lets go, moving from decade to decade, celebrating the music and mood of its assorted eras while telling the story of Henry Hill's life in the mob. Based on Hill's own life as told by author Nicholas Pileggi in his book "Wiseguy" and adapted by Pileggi and Scorsese, "Goodfellas" is the director's finest feature – a movie that shows Scorsese in full command of his directorial talents, offering performances by Ray Liotta (as Hill), Robert DeNiro, Joe Pesci, Paul Sorvino, and Lorraine Bracco that are as indelible as some of its oft-quoted dialogue. Few films of its genre are as endlessly repeatable as "Goodfellas," and much more than the comparatively overrated "The Departed," the film engages the viewer to such a degree that you feel like you've been initiated into "the family," becoming privy to a life style as violent and reprehensible as it is seductive (I'd run a few "errands" just to try out Hill's pasta and meatballs).
Warner's original Blu-Ray was a decent effort for an early-format release, yet its VC-1 encoded transfer and vanilla 5.1 audio track are not up to the standards of today's catalog releases. The studio has rectified that disc with a brand-new package – complete with a digital copy and small hardback book – that hits stores May 5th, boasting an all-new 4K scan that gives viewers the benefits of a more detailed transfer with a finer, more accurate grain structure and detail to match. The source material still has some erratic elements at times with dirt and other issues, yet when the image is compared to the earlier Blu-Ray, there's no question which looks healthier and detailed. Sound wise, the DTS MA 5.1 audio is an appreciable upgrade on the Dolby Digital 5.1 track from the first Blu-Ray, while the disc recycles several extras from that release, including insightful commentaries (one by the real-life Henry Hill and the FBI agent who put him in witness protection; the other from assorted cast and crew members) and several featurettes.
Exclusive to this release is a half-hour Making Of from producer Brett Ratner, interviewing Scorsese, DeNiro, Liotta, Bracco, Pileggi and editor Thelma Schoonmaker. Contrary to the packaging claim that the documentary includes comments from Joe Pesci and Jack Nicholson (neither of whom appear) in a documentary about "Scorsese's greatest gangsters," this is a straightforward piece that treads over terrain previously covered in the earlier Blu-Ray/DVD Making Of (carried over here), while the Warner gangster documentary "Public Enemies" and a slew of Looney Tunes shorts are also included in standard-def.
Fans of the film ought to be satisfied with the new transfer and sound, and newcomers will gain a stronger appreciation of the work of both Scorsese and cinematographer Michael Ballhaus, whose visuals are more accurately rendered in the 4K scan.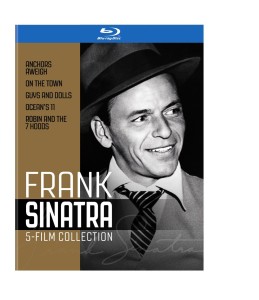 Also new from Warner on May 5th is THE FRANK SINATRA COLLECTION, a five-disc Blu-Ray anthology that debuts two MGM musicals in high-definition – ANCHORS AWEIGH (**½, 139 mins., 1945) and the classic ON THE TOWN (***½, 98 mins., 1949) – plus the final hurrah for the "Rat Pack," ROBIN AND THE 7 HOODS (**½, 123 mins., 1964), also premiering here on Blu-Ray for the first time.
The three films have each been treated to AVC encoded 1080p transfers (2.40 on "Robin," 1.37 full-frame on "Anchors Aweigh" and "On the Town") and DTS MA mono audio. Each looks quite good given the age of their respective elements with extras including "Hanna & Barbera on the Making of 'The Worry Song'" (Frank's memorable teaming with Jerry the Mouse on "Anchors Aweigh"), "Football Thrills of 1944″ and a vintage cartoon "Jerky Turkey," also on "Anchors Aweigh"; "Mr. Whitney Had a Notion" and the cartoon "Doggone Tired" on "On the Town"; and commentary from Frank Sinatra, Jr., three cartoons, and the vintage featurette "What They Did to Robin Hood" on "Robin and the 7 Hoods."
The two other discs in the set reprise their first Blu-Ray releases.
The irresistible casting of Rat-Packers Sinatra, Dean Martin, Sammy Davis Jr., Joey Bishop and Peter Lawford is pretty much the only reason to sit through the overlong OCEAN'S 11 (**½, 127 mins., 1960), which was later remade (and improved upon) by Steven Soderbergh in a newer version that was just as "cool" in its contemporary casting but a bit more interesting on the plot side. Lewis Milestone's original 1960 version coasts along on the goodwill of its cast, and also offers an enjoyable twist ending, but getting there becomes something of a chore as the original "Ocean's" starts slow (really slow) as the boys plot to knock over multiple casino vaults and mine the riches on the Vegas strip. Angie Dickinson, Henry Silva, Cesar Romero and "guest stars" Red Skelton and George Raft co-star in a film that sounds more fun than it really is, but one that still has an enduring curiosity value.
Warner's Blu-Ray release of "Ocean's 11″ looks fairly clean in its VC-1 encoded presentation, though the movie comes off as rather drab in its appearance to begin with. The DTS Master Audio sound is limited in its stereophonic effectiveness, while extras include commentary from Frank Sinatra, Jr. and Angie Dickinson, along with a brief clip of Angie on the Tonight Show with Frank hosting (filling in for Johnny Carson), along with the trailer and an interactive "Vegas Then and Now" map.
Finally, Warner has also reprieved Samuel Goldwyn's 1952 adaptation of the classic Loesser-Burrows musical GUYS AND DOLLS (***, 149 mins., MGM/Sony).
Joesph Mankiewicz's production of "Guys and Dolls" isn't regarded as a screen classic, but it's a generally faithful adaptation of the great Frank Loesser musical. Marlon Brando (who sings, dances and actually doesn't embarrass himself) and Frank Sinatra have a grand time as Sky Masterson and Nathan Detroit, respectively, while Jean Simmons and Broadway vet Vivian Blaine slide comfortably into the female leads. The production is a bit much at times but Michael Kidd's choreography, the mammoth Cinemascope framing and – of course – the music keep one interested, especially for those who've never seen the show live on stage.
This Samuel Goldwyn production was initially released on video, in a variety of formats, by CBS/Fox and MGM, respectively. Warner's Blu-Ray – their first stab at the picture – proves to be superior to any prior video release of the film, offering a fairly detailed 1080p transfer and 5.1 DTS MA soundtrack, plus several documentaries ("The Goldwyn Touch" and "From Stage to Screen", additional musical performances and "Guys and Dolls Stories") and a lengthy trailer with Ed Sullivan boasting about the film. Though not the screen classic many were hoping for, "Guys and Dolls" still provides classy '50s fun and the HD presentation enhances the film's virtues on home video, even if the source material utilized here still has its share of shortcomings (and is, overall, far from pristine).
The five-disc Blu-Ray comes with a small, hardbound glossy book and all five discs in an Amaray case. Recommended, especially for the debut of "On the Town" on Blu-Ray.
---
With the highly anticipated "Mad Max: Fury Road" due out in just a couple of weeks, Shout Factory brings a new Special Edition of MAD MAX (***½, 88 mins., 1979, R) to Blu-Ray on May 5th. The single-disc platter essentially offers an HD reprise of the prior (and still available) MGM Blu-Ray, while adding in a new, welcome half-hour set of interviews with Mel Gibson (appearing as healthy and together as he's seemingly been in years), Joanne Samuel and cinematographer David Eggby.
The first of too-many post-apocalyptic films that would follow throughout the 1980s (along with one brilliant sequel and a disappointing third entry), George Miller's first adventure starring our good pal Max (Mel Gibson) ranks as a top pick for Blu-Ray owners. The 1080p AVC encoded transfer is roughly the same as the MGM version, albeit with a slight amount of excess compression that seems to be typical of Shout's releases that originate from masters already seen on Blu-Ray (i.e. Shout's "Halloween II" isn't up to Universal's own "Halloween II" release). Nevertheless, you'd have to own a larger monitor to notice the difference, as most consumers will likely be satisfied with the presentation. DTS MA audio options run the gamut from 5.1 and 2.0 Australian audio to the U.S.-dubbed American-International mix in mono, plus a commentary with David Eggby and fellow crew members Jon Dowding, Tim Ridge and Chris Murray, all carried over from the MGM disc. Shout has also reprieved two MGM documentaries – one on the film (which is on the MGM Blu-Ray), another on Mel Gibson (which was last seen on an MGM DVD) – along with trailers.
The main new attraction on the Shout disc is a 30 minute assemblage of fresh interviews with Mel Gibson, Joanne Samuel and David Eggby. Gibson is outgoing and gives some interesting anecdotes about working on the film, though his video has a herky-jerky quality to it, almost like a frame is missing. There are also lots and lots of film clips interspersed, which I'm not a huge fan of as I'd rather see the interviews presented plainly without the clips breaking up the stories – yet this is still, overall, a nice bonus to have.
"Mad Max" highlights a handful of new discs coming this month from Shout Factory. Here's a look at several of them: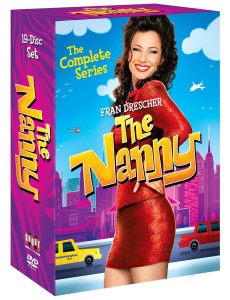 TV on DVD: Fran Drescher scored a big success with THE NANNY (1993-99, 55 hours), the long-running CBS sitcom that starred Drescher as Fran Fine, the tart, sage nanny for a Broadway producer (prim and proper Charles Shaughnessy) and his kids (Nicholle Tom, Benjamin Salisbury, Madeline Zima). Throughout the program's six seasons, Fran and Mr. Sheffield's relationship grew from grudging respect (a la a reverse "Who's the Boss") to eventual romance, while the trials and tribulations of the kids populated the premises of numerous episodes.
Drescher's comedy is a matter of personal taste – but more than enough viewers tuned in to make "The Nanny" one of the longest-running sitcoms of the '90s, and the show's fans should be satisfied with Shout's 19-disc complete series DVD set. All six seasons are on tap with extras including a new behind the scenes interview with Drescher and fellow executive producer Peter Marc Jacobson, selected-scene commentaries with Drescher, a Making Of, and 4:3 full-screen transfers and stereo soundtracks.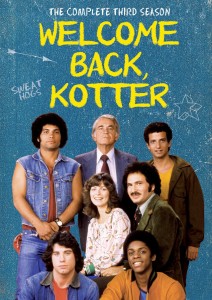 The sixth and final season of MR. ED (315 mins., 1965-66) wrapped up the exploits of Wilbur Post, Carol and their wise equine companion in a rather short 13-episode stint from the 1965-66 season. B&W transfers and mono soundtracks comprise Shout's release of a season that finds, among other wild plots, Ed getting in trouble with Bond-like spies…more comedy is on tap in the complete third season of WELCOME BACK, KOTTER (9 hours, 1977-78), which includes 27 episodes from the heyday of the classic ABC situation comedy starring Gabe Kaplan. With John Travolta's appearances as Vinnie Barbarino being scaled back, "Kotter" turned its attention to the rest of the Sweathogs plus Gabe's wife (Marcia Strassman), who gives birth for the first time. Shout's DVD includes broadcast-length episodes in decent shape from the original video tape masters…Season five of HILL STREET BLUES (19 hours, 1984-85) features 23 episodes from the celebrated NBC series' fifth season, returning its acclaimed cast (Daniel J. Travanti, Veronica Hamel, Bruce Weitz, Barbara Bosson, Betty Thomas) and writing-directorial talents including creators Steven Bochco and Michael Kozoll. Shout's DVD includes functional full-screen transfers and mono audio.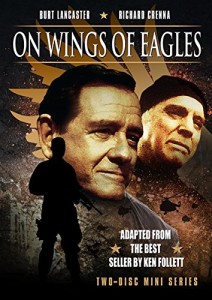 Timeless Media Group New Releases: Most remember billionaire Ross Perot from his presidential campaigns – and SNL parodies of same – yet ON WINGS OF EAGLES (222 mins.), a 1986 TV mini-series adapted from Ken Follett's bestseller, portrays a different Perot (Richard Crenna), who sends a group of military vets (including Burt Lancaster's Col. Arthur D. Simons) into Iran to rescue two American executives being held captive. Veteran Andrew V. McLaglen directed this two-part CBS mini-series, which co-stars Paul LeMat, is a class production all the way, from the cast down to Laurence Rosenthal's score. Timeless' DVD, licensed through CBS, is a two-disc DVD set with a standard 4:3 transfer and mono sound, and streets May 19th…Before the "Twilight Zone" and "The Outer Limits" there was SCIENCE FICTION THEATRE (1955-57, 2038 mins.), a vintage TV series hosted by Truman Bradley that's been resurrected on DVD for the first time this May from Timeless, licensed through MGM. This 78-episode series includes a litany of Golden Age stars – Vincent Price, Hugh Beaumont, Barbara Hale, Gene Barry, Macdonald Carey, Basil Rathbone, June Lockhart, and Deforest Kelley among them – in an anthology series that's highly recommended for sci-fi fans, with perfectly respectable B&W transfers given the show's vintage…In anticipation of the complete series of "Thunderbirds" due out shortly on Blu-Ray, Timeless has rolled out another superior Gerry Anderson Collection DVD, SUPERCAR: THE COMPLETE SERIES (1014 mins., 1960), one of the earliest "Supermationation" productions, here presented complete in a multi-disc Timeless DVD set. Extras include commentary by Sylvia Anderson on the episode "Rescue," interviews with Derek Meddings and Anderson with a conversation with the latter having never been seen before. The B&W 4:3 transfers are derived from the most recent ITV remasters…Finally, THE GENE AUTRY COLLECTION 10 (414 mins.) offers four more Gene Autry features on DVD: "The Singing Vagabond" (1935), 1936's "Oh, Susanna!," 1937's "Rottin Tootin' Rhythm" and "Western Jamboree" (1938), all derived from uncut masters licensed through the Gene Autry Trust and Foundation.
EXTRATERRESTRIAL Blu-Ray (101 mins., 2015, Not Rated; Shout Factory): The "Vicious Brothers" wrote and directed this decently-executed (considering its low budget) yet all too familiar tale of teens who run afoul of extraterrestrials while staying at a remote cabin in the woods. Gil Bellows and Michael Ironside make quick appearances in this IFC Midnight co-production, which beams down on Blu-Ray May 12th. The disc includes a commentary, a Making Of, the trailer, a 1080p (2.35) transfer and 5.1 DTS MA sound.
---
Kicking off the latest Warner Archive new releases is an essential new purchase for western fans: THE STRANGER COLLECTION, a two-disc DVD anthology of star "Tony Anthony"'s three spaghetti westerns from the late '60s. A STRANGER IN TOWN (86 mins., 1967, R) introduces Anthony's Stranger – a riff on Clint Eastwood's Man With No Name – in a scheme involving U.S. army gold. THE STRANGER RETURNS (95 mins., 1968, R) offers the Stranger in a plot revolving around a stagecoach theft, while the belated third entry, THE SILENT STRANGER (90 mins., 1975, PG) places Anthony's anti-hero in a Japanese-themed premise centering on a pricey antique scroll (according to reports, this sequel was shot around the time of the other installments but kept on the shelf by MGM for years due to a dispute with its producer).
All three MGM productions, shot in Italy under the direction of Luigi Vanzi (aka Vance Lewis), are on-hand here in generally good looking 16:9 (1.78) transfers and mono audio, sporting catchy scores by Benedetto Ghiglia (the original film) and Stelvio Cipriani (the sequels).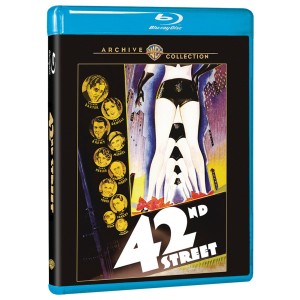 Also new from Warner on the TV end: Season 4 of GROWING PAINS (529 mins., 1988-89) hits DVD for the first time. In the 1988-89 broadcast year, Mike (Kirk Cameron) goes to college and Ben (Jeremy Miller) dates for the first time, with guest stars Cuba Gooding, Jr., Brad Pitt, Matthew Perry and Dick Van Patten making appearances throughout the year – along with baby Christine, who was added to the cast this season. Warner's DVD includes mono soundtracks and broadcast-length episodes…Also on the TV side, WANDA AT LARGE (128 mins., 2003) starred comedienne Wanda Sykes as a standup comic turned on-air correspondent on a political talk show. Ann Magnuson, Tammy Lauren, and Phil Morris co-starred in a series screened here for the first time in 16:9 (having aired around the dawn of the HDTV widescreen aspect ratio) with uncut episodes and full stereo soundtracks.
While the Archive's upcoming Blu-Ray slate includes '80s sci-fi/horror favorites "Ladyhawke" and "Wolfen,"musical – and Golden Age – fans can savor the new high-def release of 42ND STREET (89 mins., 1933), the landmark big-screen musical filled with classic Harry Warren/Al Dubin songs and the impressive design of Busby Berkeley's production numbers. Dick Powell, Ginger Rogers and Ruby Keeler lead the cast in this bona-fide classic, which has received an impressive AVC encoded 1080p transfer with deep blacks, crisp detail, and clear DTS MA mono audio.
Extra features include three featurettes (Harry Warren, America's Foremost Composer, Hollywood Newsreel, A Trip Through a Hollywood Studio), the retrospective Making Of from the DVD, and two vintage Warner Bros. cartoons (Shuffle Off to Buffalo, Young and Healthy). Highly recommended!
Finally, the Archive's new DVD offerings also include the 1957 George Montgomery "psychological western" BLACK PATCH (83 mins.), which was notable for being the first feature ever scored by Jerry Goldsmith, plus the entertaining 1953 MGM Technicolor production SOMBRERO (103 mins.), starring Richardo Montalban in a zesty Mexican-flavored "musical adventure" co-starring Cyd Charisse, Vittorio Gassman, Pier Angeli and Yvonne de Carlo. Both 4:3 transfers are in decent shape and include mono sound.
---
The Complete Series of HBO's BOARDWALK EMPIRE (732 mins., 2010-14) arrives on Blu-Ray this month in a typically superb package from HBO. The series, while much acclaimed, is a program I found to be a bit of a cold fish: a great looking, well-acted, yet somewhat detached account of Atlantic City circa 1920 – the dawn of prohibition, the duplicitous life of politician and bootlegger Steve Buscemi, gangsters, prostitutes, and rumrunners alike. "Boardwalk Empire" is extremely well done and cast (Michael Pitt is excellent as Buscemi's protégé over the first couple of seasons), but I never found the show as engaging or compelling as it should have been. Certainly others have disagreed, as the series earned numerous accolades en route to a second season that, admittedly, wasn't as well-received.
In fact, that second season of "Boardwalk Empire" basically reaffirmed how I felt about the Martin Scorsese/Terence Winter series' first season. Even some of the folks who were big fans of the program's initial season were disappointed with its meandering second year, while in Season 3, Jimmy's gone but the '20s continue to roar as Buscemi's Nucky Thompson fends off rival gangsters for control of Atlantic City's bootlegging business. Season 4, meanwhile, picks up eight months after the conclusion of its third season, with Nucky having survived an overthrow by fellow Atlantic City mobster Gyp Rosetti. Up next: a battle with a Harlem mobster, a confrontation with his brother Eli, and a growing set of opportunities in Florida. Finally, time jumps ahead for the final goodbye – the show's fifth and final season is set in 1931, six years following the end of its prior season. Here, Nucky attempts to legitimize his business as Prohibition nears an end.
HBO's 19-disc Blu-Ray anthology, out May 19th, includes all 56 episodes of the series with more than four hours of bonus content and an exclusive disc that includes a "Farewell to Boardwalk Empire," behind-the-scenes featurettes, DTS MA 5.1 audio, gorgeous 1080p (1.78) transfers and digital HD Ultraviolet copies.
---
MASTERS OF SEX Season Two Blu-Ray (699 mins., 2014; Sony): Dr. William Masters (Michael Sheen) and Virginia Johnson (Lizzy Caplan) find themselves at odds with one another while continuing their exploration of sex and the sexes in the second season of the popular Showtime series. Sort of Showtime's answer to "Mad Men" as the series charts the habits and attitudes of the Sexual Revolution during the Civil Rights era, "Masters of Sex" is fueled by tremendous work from both Sheen and Caplan as the married couple at the heart of an evolving social time in American history. Season 2 of the series, now on Blu-Ray, offers format extras (deleted scenes, The Women of Sex, The Men of Sex: Actors Roundtable) plus a Making Of, 1080p (1.78) transfers, 5.1 DTS MA soundtracks and a digital copy.
HALT AND CATCH FIRE Blu-Ray (435 mins., 2014; Anchor Bay): Another strong series from AMC, "Halt and Catch Fire" takes a fictional approach to illustrating how an electronics company – led by a former IBM employee (Lee Pace) and a reluctant engineer (Scott McNairy) – took on the giant of personal computing in Texas during the early '80s. This savvy show – a more serious counterpart to HBO's wonderful, contemporary "Silicon Valley" – offers an interesting dynamic in the relationship between Pace and McNairy, as well as Mackenzie Davis as a fiery student who works with the duo to reverse-engineer an IBM PC in order to build something greater. Entertaining and well worth the build-up, Season 1 of "Halt and Catch Fire" is now on Blu-Ray offering its complete first season with numerous Making Of featurettes, strong 1080p (1.78) transfers, Dolby TrueHD 5.1 soundtracks and digital copies.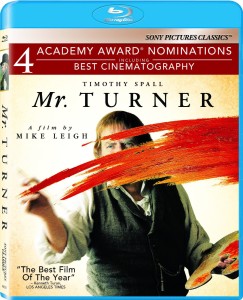 MR. TURNER Blu-Ray (***½, 150 mins., 2014, R; Sony): Timothy Spall gives a marvelous performance as the tempestuous artist John Turner in Mike Leigh's sumptuously designed bio-pic, scripted by the director. As Turner, Spall finds the perfect vehicle for his abrasive on-screen persona, sneering and moving through a series of dysfunctional relationships with both his relatives and female companions while – most significantly – producing artwork that still has aficionados talking today. Dick Pope's cinematography is also a major asset in "Mr. Turner," which Sony releases on Blu-Ray next week. The disc includes a commentary with Leigh, a deleted scene, and featurette, along with a Blu-Ray exclusive look at Pope's cinematography. The 1080p (2.39) transfer and 5.1 DTS MA sound are both exceptional.
Coming from Sony on May 19th is LEVIATHAN (141 mins., 2014, R), one of this past year's Oscar nominees for Best Foreign Film. This Russian import looks at modern life in a coastal town where a corrupt Mayor tries to take away the business, home and livelihood of a typical family led by Aleskey Serebryakov, his wife and son. An interesting parallel to Russia's evolution out of Communism, "Leviathan" is a lengthy, leisurely yet richly told drama Sony has brought to Blu-Ray in a strong HD package. In addition to a stellar 1080p (2.40) transfer with 5.1 DTS MA audio in Russian with English subtitles, the disc also includes commentary and a Making Of, plus format exclusive extras including deleted scenes and a Toronto International Film Festival Q&A with director Andrey Zvyagintsev.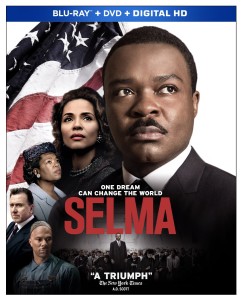 SELMA Blu-Ray (***, 126 mins., 2014, PG-13; Paramount): A straightforward account of Dr. Martin Luther King, Jr.'s civil rights crusade in Alabama during the mid '60s, this Oprah Winfrey production generated a fair amount of controversy when the film failed to land the mass Oscar nominations most analysts predicted. While "Selma" isn't a great film – there's something overly calculated about some of its dramatics, especially where MLK's relationships with then President LBJ (a heavy handed performance from Tom Wilkinson) and Gov. George Wallace (Tim Roth) are concerned – it's certainly a better picture than several of the films that did receive Oscar nominations, and the rest of its cast is superlative: David Oyelowo captures the essence of MLK in a magnetic turn and Carmen Ejogo is likewise excellent as Coretta Scott King. Winfrey herself even appears in a small but pivotal role. Paramount's Blu-Ray includes an hour of extras (commentary, deleted scenes, music video, Making Of), a 1080p transfer, digital copy and 5.1 DTS MA sound.
THE MARINE 4: MOVING TARGET Blu-Ray (90 mins., 2015, R; Fox): WWE stars Mike "The Miz" Mizann and Summer Rae take the reigns in this latest direct-to-video sequel to the original "Marine." Here, Mizann reprises his role of Jake Carter, who's working in the private sector and assigned to protect a "package" – a whistleblower (Melissa Roxburgh) trying to expose a corrupt military defense contractor. Veteran scribe Alan McElroy's script and William Kaufman's direction mix action with a standard plot in a slickly-made small-screen affair recommended for fans of the series. Fox's Blu-Ray includes three featurettes, a 1080p (1.78) transfer, 5.1 DTS MA audio and a digital copy.
THE COBBLER Blu-Ray/DVD (98 mins., 2014, PG-13; RLJ):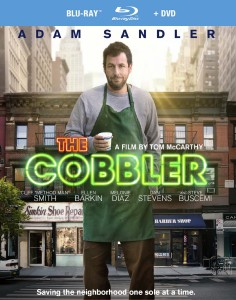 Adam Sandler's attempts to branch out from his usual comedic shenanigans have met with mixed-to-negative results. His most recent effort, "The Cobbler," is at least more palatable than the likes of "Grown Ups 2," despite its basic banishment to video and on-demand. In Tom McCarthy's film, Sandler stars as a New York City cobbler who realizes his family's old machine enables him to magically become the person whose shoes he's repairing – for both good and ill. The tone of "The Cobbler" veers a bit off course at times but despite the unevenness, this is still a quite watchable comic-fantasy co-starring Method Man, Ellen Barkin and Steve Buscemi. RLJ's Blu includes a Making Of, the trailer, a 1080p (1.85) transfer and 5.1 DTS MA audio featuring a score by John Debney and Nick Urata.
THESE FINAL HOURS Blu-Ray (87 mins., 2013, Not Rated; Well Go USA): Australia brings us another "end of the world" spectacular in this tale of a young man (Nathan Phillips) who forgoes partying like it's 1999 by helping a girl (Angourie Rice) trying to find her father. Zak Hilditch's picture offers strong characterizations in its leads but is pretty much a pedestrian apocalyptic affair – stick with a DVR viewing of "The Last Man on Earth" instead. Well Go's Blu-Ray, out May 12th, includes a 1080p transfer and 5.1 DTS MA audio.
---
MAHOGANY DVD (**½, 108 mins., 1975, PG; Paramount): Motown mogul Berry Gordy directed this glossy 1975 soap opera about a secretary (Diana Ross) who rises to fame as a model and fashionista. Billy Dee Williams is the man who falls for Mahogany with Anthony Perkins a delightful psycho (of course) who pulls the strings on the fledgling diva's career. Simultaneously watchable and terribly cliched, "Mahogany" is back in print courtesy of Paramount's "Couture Edition" which features collectible photography cards along with a 16:9 transfer and Dolby Digital mono sound.
LITTLE ACCIDENTS DVD (105 mins., 2014, Not Rated; Anchor Bay): Sara Colanfelo wrote and directed this atmospheric – as in, slow-going – drama bout a woman (Elizabeth Banks) hoping to find out what happened to her teenage son following a fatal mining accident. Banks' heroine partners with the only survivor (Boyd Holbrook) of that disaster while drifting away from her mining company exec husband (Josh Lucas) in this well-acted film that's flavorful and yet offers scant surprises. Chloe Sevigny co-stars in this Amplify release, now on DD from Anchor Bay sporting a 16:9 (2.35) transfer and 5.1 Dolby Digital sound.
BROADCHURCH: The Complete Second Season DVD (480 mins., 2015; E One): David Tennant (as DI Alec Hrdy) and Olivia Colman (as DS Ellie Miller) return to pick up the pieces following the resolution of the Lattimer case in Season 2 of "Broadchurch." This time, an old case is reopened while the Lattimer killer goes to trial as new characters and returning cast members intertwine in a generally well-received sophomore season for the series – certainly more successful than the Fox "Gracepoint" remake, which also starred Tennant. E One's DVD includes a Making Of, cast/crew interviews, deleted scenes, Making Of featurettes, 16:9 transfers and 5.1 Dolby Digital soundtracks.
Starvista/Time Life New Releases: THE BEST OF THE ED SULLIVAN SHOW (444 mins.) streets on May 12th from Starvista. The six-disc DVD box-set includes over seven hours of vintage TV from the seminal talk/variety show, bolstered by a good mix of talents from music (Elvis, The Beatles, Buddy Holly, The Rolling Stones, The Doors), stage (performances from the casts of "My Fair Lady," "Man of La Mancha" and "West Side Story"), screen (Barbra Streisand, Marlon Brando, Humphrey Bogart, Fred Astaire), comedy (Milton Berle, Carol Burnett, George Carlin, Rodney Dangerfield, Jackie Gleason, Richard Pryor, Bob Hope, The Smothers Brothers, Flip Wilson), and variety (Zippy the roller-skating chimp, the Lipizzaner stallions, various circus acts).
The set also includes the only surviving on-camera interview with Ed and Sylvia Sullivan, plus exclusive interviews with a good cross-section of veterans who appeared on the show, including Milton Berle, Phyliss Diller, Shari Lewis, Rich Little, Jackie Mason, Johnny Mathis, Michelle Phillips, Joan Rivers, Smokey Robinson, Senor Wences and others.
Coming later this month from Starvista is the Complete First Season of CPO SHARKEY (374 mins., 1976-77), a short-lived WWII comedy series that offered, by most accounts, one of Don Rickles' more memorable TV sojourns. As a CPO whipping recruits into shape at a San Diego naval base, Rickles is able to utilize his trademark humor in a series that Starvista warns has "jokes and ethnic references" that would "likely not be allowed on network TV today and reflect the tenor of the times." Season 1 of the series is available on DVD May 19th.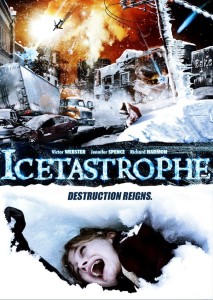 Lionsgate New Releases: Jessica Chastain stars as MISS JULIE (130 mins., 2014, PG-13) in Liv Ullman's adaptation of August Strindberg's Swedish play "Froken Julie" as an aristocratic woman who falls for her father's valet (Colin Farrell). Samantha Morton co-stars in a good-looking, if slow-going, drama now available on Lionsgate's DVD. Extras include interviews with Ullman and Chastain, a 16:9 (1.85) transfer, 5.1 audio and a digital copy…George Lopez plays a substitute science teacher who inspires a quartet of high schoolers to enter into a robotics competition in SPARE PARTS (114 mins., 2015, PG-13), a feel-good drama, based on a true story, from director Sean McNamara. Jamie Lee Curtis, Esai Morales and Marisa Tomei co-star in the Lionsgate release coming to DVD with a digital copy, 16:9 (2.40) transfer, 5.1 audio and deleted scenes for extras.
Alchemy New Releases: Coming May 12th, DINOSAUR ISLAND (82 mins., 2014, Not Rated) is a family adventure film starring Darius Williams and Kate Rasmussen as youngsters who improbably end up in a veritable Lost World filled with dinosaurs and similar prehistoric beasts. Hive Studios' special effects grace this low-budget adventure, suited for kids, with Alchemy's DVD including a 16:9 transfer and 5.1 Dolby Digital sound…Also coming May 12th is another Syfy Channel film, ICETRASTROPHE (87 mins., 2014), that focuses on a small town's ice-over that stems from a meteorite crashing down during a Christmas party. Canada's Cinetel Films traditionally produces some of the more entertaining (or at least watchable) Syfy Channel pictures, and this Victor Webster vehicle is no exception, with the crisp 87-minute running time making for an agreeable view for genre enthusiasts. Alchemy's DVD includes a 16:9 transfer and 5.1 audio.
NEXT TIME: More of Shout's latest releases! Until then, don't forget to drop in on the official Aisle Seat Message Boards and direct any emails to our email address. Cheers everyone!