Bombastic, blaring and bursting with action, George Miller's long-gestating MAD MAX: FURY ROAD (***) is the very definition of a "hardware movie": a spectacularly assembled collection of set-pieces that, ultimately, comprise one long, sensational chase through a post-apocalyptic wasteland.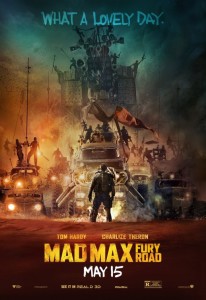 A very loose sequel to Miller's groundbreaking trilogy of the '70s and '80s only in that the thinly defined character of Mad Max – here played by Tom Hardy, taking over for Mel Gibson – becomes an unwitting part of the action, "Fury Road" scarcely resembles the films that came before it. Here, Max is taken prisoner by an insane gang presided over by "Joe," their psychotic leader (Hugh Keays-Byrne, who starred in the original) whose harem of young women – designated to produce his offspring – dare to escape their imprisonment. With the help of one of the Big Bad's top drivers, Furiosa (Charlize Theron), the girls break free from Joe's automotive battalion with Max in tow – just in time to take on the villains and other marauders of a desolate, nightmarish world in hot pursuit of the group.
"Fury Road" is an easy movie to review for the most part. There's so little room for character development that the cast is mostly there just to take part in the mayhem. There's so little story that the few fleeting moments in which Max recalls "something bad" in his past are both haunting but frustratingly spare, while the relationship between one of the girls and Nicholas Hoult's anemic "War Boy" feels like a minor aside that was concocted during reshoots. In fact, the opening narration from Max feels, ultimately, unnecessary given how sparse the narrative is – yet Miller also acknowledged this from the very start. "Fury Road" is, in every facet, one long chase designed by the director: every shot, angle, and edit is the work of Miller, who once planned on this sequel being made in 2001 with Gibson returning to the title role, then was nearly re-conceived as an animated film (you can sense some of the more outlandish action bearing some of that sensibility here).
Over a decade later, and after numerous stops and starts, Miller produced a film that spent as much time in post-production as any in recent memory, so it figures that the finished picture is a polished, kinetic blast of action filmmaking. This is a movie in which you, as a viewer, feel as if you're constantly moving: from the opening of Max fleeing from an assortment of albino-skinned warriors to the elaborately staged automotive battles, Miller keeps the film in a perpetual state of motion. There are a few quick interludes where the characters catch their breaths, but you'll have to read more into the story – crafted by Miller, Brendan McCarthy and Nico Lathouris – to extract a deeper meaning than what's really there.
The entire world Miller displays here is notably wilder, more violent and also grotesque than the earlier films. It's also louder and more insane, embodied most obviously by a "music truck" with a guitarist and drummers acting out the non-stop Zimmer Company score by Junkie XL – a far cry from the likes of Brian May and Maurice Jarre, but that's film music in 2015 as we all know. Of the cast, Theron registers the strongest as Furiosa, while Hardy's Max is a bit of an unfinished creation – daffy and depressed, but capable of being heroic, this Max lacks Gibson's grounded intensity and could've used more screen time…or at least a story that enabled him to play more of a role. Either way, Hardy is just fine, but one can sense the actor's admitted frustration with Miller over the character's lack of development and purpose on-screen. Ultimately, the real stars of the show are the roaring machines and rapid-fire editorial intensity set by Miller's directorial tour de force.
That might not bother some viewers, because as long as you don't think too much about it afterwards – and also separate your thoughts of the prior "Mad Max" films, which admittedly offered more in the way of emotional resonance and character development – "Fury Road" is mostly triumphant in achieving Miller's vision, years after it was originally supposed to happen. (120 mins).
---
Warner Archive New Releases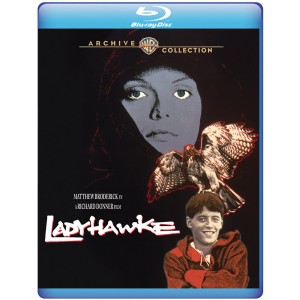 The '80s were filled with fantasy films, several of which tanked at the box-office ("Krull," "Legend"). One of the more expensive of that decade's batch was LADYHAWKE (***, 121 mins., 1985, PG-13), Richard Donner's tale of a knight (Rutger Hauer) who transforms into a wolf at night – and his lady love (Michelle Pfeiffer), who is also cursed into becoming a hawk during the day time. Their punishment, thanks to a nefarious bishop (John Wood), is to live separated for all eternity – until the duo find assistance in an unlikely place: a conniving thief (Matthew Broderick), who helps the couple break their supernatural affliction.
"Ladyhawke" was written by one-time Starlog magazine writer Edward Khmara, Michael Thomas and Donner's frequent associate Tom Mankiewicz (also billed as a "Consultant" on the film), and bears all the hallmarks of a classic genre story: cursed lovers, sweeping action, gorgeous locales, hissable villains and comic relief to spare. Much like "Legend," it also bears some of the concessions of commercial studio filmmaking at that time, both in Broderick's contemporary performance – which clashes with Hauer's solemn knight (Hauer was a replacement for Kurt Russell, who, in hindsight, may have been more in concert with Broderick's sensibilities) – as well as Andrew Powell's much discussed score.
I've reviewed Powell's music a few times over the years and have conflicting feelings even still about its "modern" synthesizers and Alan Parsons Project-like rock (Parsons, in fact, produced the score for his collaborator Powell). The opening credits, marked by blaring guitars and electronics, is jarring every time the music starts, and there are times when the score feels, indeed, all wrong, dominating the on-screen action. In other places, though, the music works well, mostly when it favors orchestra, while the thematic quality of the score holds up especially by today's bland "Wall of Sound" standards. Powell's rapturous love theme is a standout, and had the rock elements been toned down even a little, there likely never would've been so much negative press written about the music.
Meanwhile, Vittorio Storaro's cinematography is – no controversy here – sensational, capturing the lovely Italian countryside, old castles and other vivid settings brilliantly. Ultimately, "Ladyhawke" may not be a classic, but it's nevertheless a robust and energetic picture that ranks as one of Donner's more likeable films all told – especially in the later, post-"Superman" phase of his career.
"Ladyhawke" was previously released in most overseas territories by Fox on Blu-Ray. With the film being a co-production between Fox and Warner Bros., it's taken several years for the film's U.S. distributor to release the picture in high-def, but the wait was worth it. The 1080p AVC encoded, high bit-rate transfer is just stellar, capturing the color and various nuances of Storaro's photography, while the 5.1 DTS MA audio boasts surround activity throughout. I owned the Fox Blu-Ray and the transfer is roughly the same between the two releases (right down to their windowboxed opening credits), so while I'm not sure the Archive's disc is worth a repurchase for those outside the U.S., it's certainly a recommended purchase for fans who've waited patiently for a domestic edition. The underwhelming theatrical trailer is the sole extra.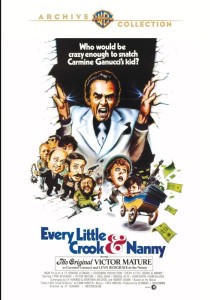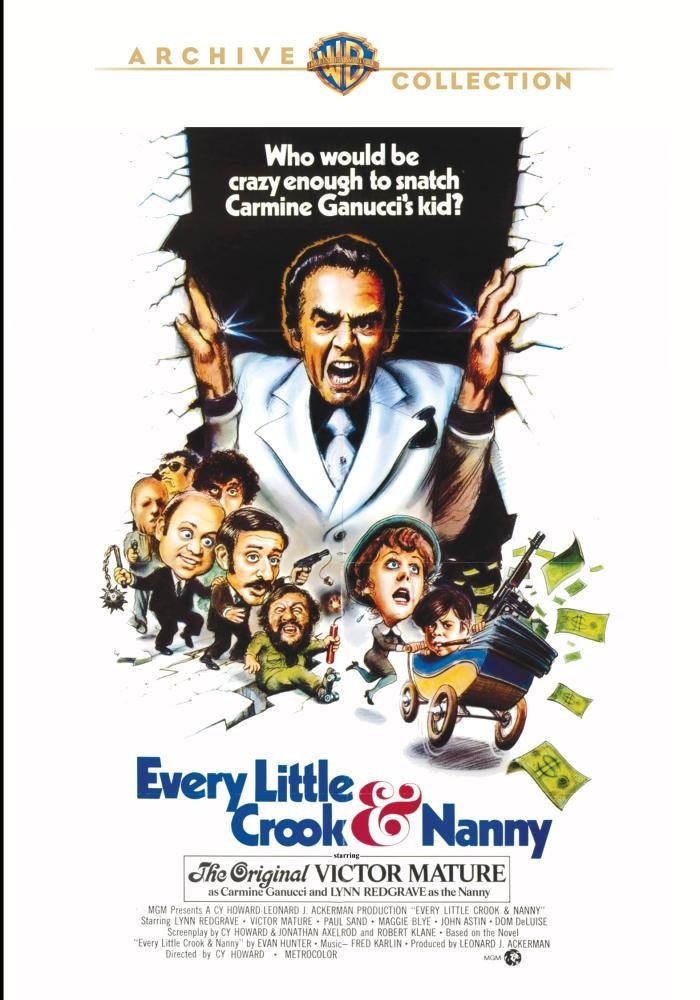 Also new from the Archives: Don Murray plays an East German man who tries to ESCAPE FROM EAST BERLIN (93 mins., 1962) along with dozens of others in Robert Siodmak's crisp B&W thriller, now on DVD for the first time from the Archives featuring a 16:9 (1.85) B&W transfer and mono sound…Victor Mature and Lynn Redgrave starred in the genial, if forgettable, farce EVERY LITTLE CROOK AND NANNY (92 mins., 1972), a MGM comedy revolving around a Mafia don (Mature) and a prim nanny (Redgrave) who runs an etiquette school. Paul Sand, Dom DeLuise, Austin Pendleton, Pat Morita, Isabel Sanford, Pat Harrington, Jr. and Vic Tayback lead a supporting cast of familiar sitcom faces in a film co-written by future "Weekend at Bernie's" scribe Robert Klane. The Archive's DVD includes a 16:9 (1.85) transfer and mono audio.
Golden Age buffs might want to check out the JOHN J. MALONE MYSTERY DOUBLE FEATURE, which includes two attempts at bringing Malone's popular mystery novels to the screen. Pat O'Brien played Malone in 1944's RKO release "Having Wonderful Crime," while James Whitmore took over the role in MGM's 1950 one-shot outing "Mrs. O'Malley and Mr. Malone," playing opposite Marjorie Main. The two films are included here in a single DVD with B&W (1.37) transfers…The Complete Fourth Season of DR. KILDARE (1610 mins.) offers a number of memorable episodes from the Richard Chamberlain-Raymond Massey series, including guest star turns from Kim Darby, Lee Marvin, Ron Howard, Robert Young, and Robert Culp, along with Leslie Nielsen and Angie Dickinson in a multi-episode story involving sexual addiction. There's also a three-part special, "Rome Will Never Leave You" sporting an original song from Burt Bacharach and Hal David in Warner's 8-disc DVD release…finally, Wallace Beery starred in the title role of VIVA VILLA! (112 mins., 1937), MGM's biopic of Pancho Villa with Fay Wray, Leo Carrillo and others in a fascinating David O. Selznick production, once again newly released on DVD featuring a B&W (1.37) transfer and mono sound.
---
Bette Midler's screen debut, THE ROSE (134 mins., 1979, R), has always been a polarizing film. This straightforward and rather one-note tale of a talented, popular songstress (the Divine Miss M), vaguely patterned after Janis Joplin, her troubled relationships, and combative manager (Alan Bates) who eventually pushes her over the edge was acclaimed for Midler's performance and its musical numbers – yet often derided for its melodramatic story, credited to Bill Kerby and Bo Goldman.
Mark Rydell had already directed a number of excellent films across various genres ("Cinderella Liberty," "The Cowboys") by the time he became involved in launching Midler's screen career, but "The Rose" feels more like a gaudy slice of the '70s than his prior works – a harder version of Barbra Streisand's "A Star is Born," and one that plays all its cards in its opening act and has nowhere else to go but repeat its declaration of the ills of fame for over two hours.
Midler does excellent work here under the circumstances, and there is vivid cinematography from Vilmos Zsigmond (augmented with work from similarly great DPs including Laszlo Kovacs, Owen Roizman and Haskell Wexler) along with several memorable songs, led by Amanda McBroom's title song, which she submitted for use in the film and became a more enduring pop-culture creation, ultimately, than the picture itself.
Recommended mostly for Midler fans, "The Rose" comes to Blu-Ray with a truly dazzling, supremely detailed 4K transfer (1.85) from Criterion and a fully realized 5.1 DTS MA soundtrack to match. Commentary from Rydell is carried over from the 2003 DVD, with extras including new interviews with Rydell, Midler and Zsigmond, plus archival Today Show material involving Midler and Gene Shalit, and on-set material.
Also new this month from Criterion is Charlie Chaplin's 1952 masterwork LIMELIGHT (137 mins.), the story of a former vaudeville great named Calvero – now an alcoholic whose life is brightened by the arrival of a ballerina (Claire Bloom) who moves into his London flat. Buster Keaton has a cameo in what's regarded as one of Chaplin's most personal films, despite having been neglected in the U.S. at the time of its original release. Criterion's Blu-Ray boasts a new 4K digital restoration in 1.37 (1080p) with extras including a video essay from Chaplin authority David Robinson; new interviews with Claire Bloom and Norman Lloyd; a 2002 documentary on the production; archival audio clips of Chaplin reading excerpts from his novella "Footlights"; two shorts by Chaplin, an outtake, two trailers, and booklet note essays.
---
PETER BENCHLEY'S CREATURE Blu-Ray (176 mins., 1998): After seeing "Jaws," "The Deep" and "The Island" become big-screen features, author Peter Benchley's later novels were turned into relatively successful – if workmanlike – TV mini-series.
NBC's version of "The Beast" – once intended to be a theatrical film directed by John Carpenter – was the superior of the two, and premiered to strong ratings in 1996. ABC greenlit a subsequent adaptation of Benchley's late novel "White Shark," retitled "Creature," a couple of years later, meeting with diminished (if modest) ratings and harsher reviews.
Nevertheless, "Creature" makes for a guilty-pleasure view for genre fans, as Rockne S. O'Bannon's script reworked Benchley's original story of a Nazi WWII biological weapon hunting a modern day Long Island sound into a tale of scientists trying to meld dolphins and sharks together. They go too far in the process, creating a literal landshark (kind of) that ends up being tracked by scientists Craig T. Nelson and Kim Cattrall. Colm Feore and Giancarlo Esposito chew up the scenery as military men in Stuart Gillard's production, backed with some dated, low-grade '90s CGI effects and a heavy-handed synth score by John Van Tongeren. The St. Lucia locales, though, are pleasant, and Stan Winston's creature is nicely executed in a modern updating of a '50s monster movie. It's not nearly as good as Benchley's book – or "The Beast" for that matter – but it's entertaining enough.
MGM's Blu-Ray includes the complete mini-series of "Creature" – split into two separate parts, as it originally aired – in a 1080p (1.85) transfer that's up to the technical limitations of the source material. A 2.0 DTS MA stereo track is just fine on the audio side, though Van Tongeren's music would've been far more listenable had it been orchestrated.
IT! THE TERROR FROM BEYOND SPACE (***, 69 mins., 1958): What was an effective, if relatively minor, late '50s sci-fi B-movie has gained something of a legendary rep in the genre because of its later influence on "Alien" (1979). This Vogue Pictures production tells, in flashback, the story of an astronaut whose crew was wiped out after landing on Mars. Nobody believes his claim that an alien creature was to blame – until it's nearly too late! Edwad L. Cahn directed "It!," which boasts an appropriately menacing score from Paul Sawtell and Bert Shefter, plus a better-than-average script by future "Twilight Zone" scribe Jerome Bixby. While it's a bit creaky by todays's standards, the film should provide ample amusement for '50s sci-fi/fantasy fans, and Olive's Blu-Ray includes a 1080p (1.85) transfer (listed as 1.37 on the back cover) with nice detail, some dirt and debris, and a thankful lack of DNR.
YELLOWBEARD (**, 1983, 96 mins., PG): Disappointing comedy from Monty Python's Graham Chapman tried to utilize a Mel Brooks-ian approach for this send-up of the pirate genre. Regrettably, despite a game cast, "Yellowbeard" died at the box-office during the busy '83 summer season and has been forgotten almost completely since. Chapman plays a pirate who finds out he has a son after spending 20 years in prison; an all-star supporting cast with numerous Brooks and Python alumnus (Peter Boyle, Marty Feldman, Madeline Kahn, John Cleese, Eric Idle) tries hard to support the Chapman-Peter Cook-Bernard McKenna script with laughs, but most of "Yellowbeard" is pretty desperate, with long stretches of tedium marking its 96 minute running time. Olive's Blu-Ray includes a robust 1080p (1.85) transfer sporting a lively, if, fairly forgettable, John Morris score.
SKI SCHOOL (**½, 89 mins., 1991, R): Endearingly goofy comedy was a late entry in the "Animal House"/"Porky's" genre of dumb teenager films. Here, a group of slacker skiiers (including "Summer School" alumus Dean Cameron) battles with a boorish snob for downhill supremacy in a film that had to have been a direct influence on the recent – and not particularly funny – comedy "Hot Tub Time Machine." The skiing sequences are well-executed, the comedy is juvenile but amusing, and producer-director Damian Lee handles it all in a strictly workmanlike manner. Nevertheless, there's a strong cult following for "Ski School," which fits comfortably into Olive's growing Blu-Ray library. The MGM licensed transfer boasts a 1080p (1.85) transfer that's colorful and on-par with most MGM presentations (some dirt, but not much in the way of DNR) and DTS MA 2.0 stereo sound.
EXTREMITIES (**½, 89 mins., 1986, R): Farrah Fawcett earned some acclaim for her portrayal of a sexually battered woman named Marjorie, who turns the tables on her assailant (James Russo), in a William Mastrosimone stage play. The ensuing film version enabled Fawcett to reprise her role, but the picture lost some of the play's impact as director Robert M. Young's film nearly resembles an R-rated TV movie. To their credit, Fawcett is convincing and Diana Scarwid and Alfre Woodard lend able support as Marjorie's roommates, but it's hard to shake off the feeling this material – scripted for the screen by Mastrosimone – likely had more impact on stage. Olive's Blu-Ray of the Atlantic Releasing picture offers a 1080p (1.85) transfer, 2.0 DTS MA audio and the original trailer.
FLAWLESS (**½, 112 mins., 1999, R): Joel Schumacher's uneven 1999 film profiles the relationship between a former cop (Robert DeNiro) recovering from a stroke, and a drag queen (Philip Seymour Hoffman) – also his neighbor – who he reluctantly accepts as a speech (and ultimately life) therapist. Schumacher's film makes some strong if obvious points about acceptance and bigotry, and both actors are in fine form, despite the material feeling stretched out with some subplots that could've been jettisoned. Both the 1080p (1.85) AVC encoded transfer and 2.0 DTS MA soundtrack are excellent.
---
A Spanish soldier (Franco Nero) develops an attraction for a gypsy (Tina Aumont) – only to kill a fellow Lieutenant who's also been seeing her – in the zesty spaghetti western MAN, PRIDE AND VENGEANCE (100 mins., 1967). This Luigi Bazzoni outing really picks up the pace when Nero's protagonist saddles up with the woman's vile husband (Klaus Kinski) in order to win her back – offbeat ingredients that make for a memorable outing, especially when the cinematographic stylings of Vittorio Storaro are added into the mix.
Blue Underground's Blu-Ray of a film known at times as "With Django Comes Death" gallops into release May 26th. The dual-layer presentation includes commentary with writers C. Courtney Joyner and Henry C. Parke; interviews with Nero and Storaro; international and Italian trailers; a still gallery; and a terrific 1080p (2.35) transfer, remastered from the original negative for the first time domestically, with both English or Italian DTS MA mono sound and optional English subtitles for the latter.
---
MOONLIGHTING Blu-Ray (97 mins., 1982; B2MP): No, it's not the Bruce Willis-Cybill Shepherd series – but rather a welcome Blu-Ray presentation of the acclaimed 1982 film of the same name by director Jerzy Skolimowski. Jeremy Irons stars in one of his most acclaimed early roles as a Polish man who brings several fellow workers to London – in order to work on the home of a wealthy government official – while their native country is in the midst of a revolution, with the government having imposed martial law. Irons keeps his countrymen at bay from the news of the upheaval while completing the job, in a heavily atmospheric picture about isolation, loneliness and exile, scored by Stanley Myers with an assist from Hans Zimmer. B2MP's Blu-Ray offers a highly detailed 1080p (1.85) transfer with natural grain and LPCM audio, along with insightful extras including comments from Irons, extensive booklet notes, the trailer, and an isolated score track of Myers/Zimmer's work.
JUST BEFORE I GO Blu-Ray ( 91 mins., 2013, R; Anchor Bay): Courtney Cox's directorial debut was a pet project she also co-produced. Unfortunately it's a typically uneven indie affair with Seann William Scott starring as a man who feels like he's lost everything after his wife leaves him, and nearly kills himself before turning the proverbial corner. Cox assembled a talented cast of familiar faces (from Kate Walsh to Rob Riggle, Garret Dillahunt and Elisha Cuthbert), and there are some sweet moments interspersed throughout the often difficult subject matter – yet the cumulative effect is negligible. Anchor Bay's Blu-Ray includes a commentary from Cox, a 1080p (2.40) transfer and 5.1 Dolby TrueHD audio.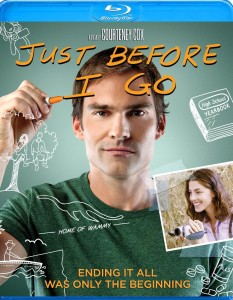 Lionsgate New Releases: "Single White Female" gets reworked with a younger cast in ROOMMATE WANTED (85 mins., 2014, R), starring Spencer Grammer and Alexa Vega as roomies who go nutty in Rob Margolies' watchable, if by-the-numbers indie outing. Lionsgate's DVD includes a digital copy, 16:9 transfer and 5.1 soundtrack…Season 2 of DUCK DYNASTY (233 mins., 2014-15) offers ten episodes from the seventh season of the A&E series: Glory is the Reward of Mallard, Good Night and Good Duck, Quack in the Saddle, A Home for the Holidays, The Cannonball Runs, No Math Mo Problems, Coop! There It Is, Friday Afternoon Lights, Master and Duck Commander, and Sweet Home Louisiana. Over 20 minutes of never-before-seen material highlights the two-disc Lionsgate DVD set's extras…AMERICAN HERCULES: BABE RUTH (63 mins., 2014) hails from Major League Baseball productions, and paints a broad, compelling overview of the life and times of Babe Ruth, from his off-field pursuits to his record-breaking performances on the field. Over an additional half-hour of archival footage featuring the "Great Bambino" is included in the Lionsgate DVD plus a 16:9 transfer and 5.1 Dolby Digital sound.
Available this week on Blu-Ray is an unfortunate Shakespeare adaptation, CYMBELINE (98 mins., 2014), a modern take from writer/director Michael Almereyda billed as a cross between "Game of Thrones" and "Sons of Anarchy." Ethan Hawke, Ed Harris, Milla Jovovich, Dakota Johnson, Anton Yelchin and Bill Pullman lead a strong cast through an unsatisfying rendition of one of Shakespeare's least-adapted works (some would argue for good reason). Lionsgate's Blu includes commentary, cast interviews, a featurette, digital copy, 1080p (1.85) transfer and 5.1 DTS MA sound.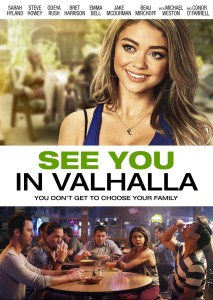 HELLO LADIES Complete Series DVD (320 mins., 2015; HBO): Stephen Merchant starred in, created and produced (with Gene Stupintsky and Lee Eisenberg, writers of the U.S. version of Merchant's "The Office") this series about a British man who wants desperately to fit into Los Angeles' social scene. HBO's Complete Series DVD includes "The Movie" along with the proper series in a multi-disc set available May 26th. Extra features include deleted scenes and behind-the-scenes interviews with cast and crew members.
Coming From Well Go: "Hammer of the Gods" auteur Jim Weedon is back with another gladiator-esque spectacle in SWORD OF VENGEANCE (87 mins., Not Rated), a tale of a Norman prince who seeks revenge for the death of his father at the hands of his uncle. Stanley Weber rallies a group of peasants to do battle against his kin in this action outing co-starring Annabelle Wallis. Well Go's Blu-Ray, out May 26th, includes interviews with Weedon and the producers, plus behind the scenes footage, the trailer, a 1080p transfer and 5.1 DTS MA soundtrack…Coming June 2nd is THE TAKING OF TIGER MOUNTAIN (107 mins., 2014), Hong Kong auteur Tsui Hark's adaptation of Qu Bo's popular adventure novel, starring Tony Leung as a bandit who rules Northeast China, and a Liberation Army uprising led by an investigator (Zhang Hanyu) planted on the inside. Interviews with Hark and the cast, a crisp 1080p transfer and 5.1 DTS MA audio mark Well Go's effort.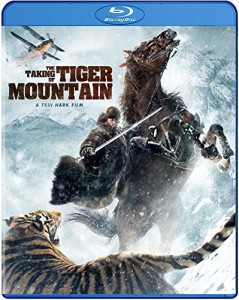 WHITE COLLAR Season 6 DVD (262 mins., 2014; Fox): The final season of the popular USA series finds Neal Caffrey (Matt Bomer) reteaming with Peter Burke (Tim DeKay) to pull off a sting involving a group of thieves. Fox's two-disc set includes the last six episodes of "White Collar" with extras including a retrospective on the series with cast/crew interviews, commentaries, deleted scenes, a gag reel, 16:9 (1.85) widescreen transfers and 5.1 Dolby Digital soundtracks.
SEE YOU IN VALHALLA DVD (82 mins., 2013, R; Arc Entertainment): "Modern Family"'s Sarah Hyland stars in Jarret Tarnol's predictable family drama as a young woman who returns to her dysfunctional clan of competitive siblings and their estranged father after the death of one of her brothers. Shot in 2013 but just making its debut on DVD, "See You in Valhalla" is pretty much standard-issue as these pictures go, with the various personalities jawing at one another until they come together at the end. Arc's DVD, out May 26th, includes a 16:9 transfer and 5.1 Dolby Digital sound.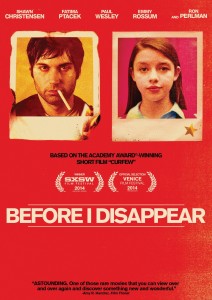 IFC/MPI New Releases: Mona Fastvold's psychological thriller THE SLEEPWALKER (91 mins., 2014) earned acclaim at Sundance, though it's hard to figure out why. Brady Corbet, who stars in the picture, also wrote this tale of a woman whose idyllic country life is disturbed by the arrival of her sister. Sondre Lerche's score is the most notable element in "The Sleepwalker," which is now on DVD from MPI as a Sundance Selects title sporting a 16:9 transfer, 5.1 audio and bonus interviews…Jeremy Workman's documentary MAGICAL UNIVERSE (77 mins., 2014) profiles the 88-year-old, eclectic Maine artist Al Carbee. IFC's DVD includes featurettes, a 16:9 transfer, 5.1 audio and the trailer…French cinephiles will want to check out THE BLUE ROOM (75 mins., 2014), actor Mathieu Amalric's own adaptation of Georges Simenon's novel starring Amalric as a salesman who wishes he never became involved in an affair with a married woman. Twisty stuff stylishly executed, with MPI's DVD offering a 1.33 transfer with 5.1 French audio and English subtitles…Last but not least is BEFORE I DISAPPEAR (98 mins., 2014), Shawn Christensen's feature extension of his Oscar-winning short about a down-on-his-luck man tasked with babysitting his niece (Fatima Ptacek) at the urging of his sister (Emmy Rossum). A heartfelt and sincere picture well worth tracking down on DVD, with IFC's release including a 16:9 (2.40) transfer and 5.1 Dolby Digial sound.
MY DAD IS A SOCCER MOM DVD (86 mins., 2014, Not Rated; Alchemy): Well, I suppose it beats "My Dad Reads 50 Shades of Grey." Lester Speight stars in this family film as a pro football veteran who's charged with taking care of his kids after his contract is dumped and his wife (Wendy Raquel Robinson) decides to pursue her own career goals. Terrell Owens and Tracey Gold appear in Randall Stevens' film, on DVD May 19th from Alchemy featuring a 16:9 transfer and 5.1 sound.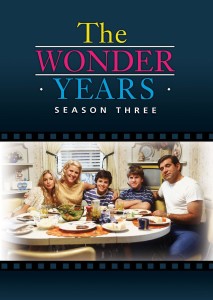 When THE WONDER YEARS debuted following the Super Bowl in January, 1988, the American TV sitcom would be changed forever. The ABC comedy-drama from creators Neal Marlens and Carol Black made an immediate impact on viewers – with its perceptive nostalgia and lack of a laugh track, the series helped to innovate the stagnant genre and has remained a fan favorite ever since.
"The Wonder Years" chronicles the life of the Arnolds, a typical American family during the turbulent late '60s, through the prism of youngest son Kevin (Fred Savage). Mom (Allie Mills) is the understanding, compassionate wife to Kevin's domineering father (Dan Lauria), while older brother Wayne (Jason Hervey) is an obnoxious bully and sister Karen (Olivia d'Abo) is the rebellious free spirit caught up in the hippie craze. The family's dynamic is balanced with stories revolving around Kevin's school life, friends, and relationship with first crush Winnie (Danica McKellar), making for a vivid coming-of-age story based on incidents from Marlens and Black's actual adolescence.
Though I wasn't huge into "The Wonder Years" myself growing up, it's hard not to be impressed by the show's legacy. Often imitated over the years, the series was appealingly performed and sensitively written, often with sharp dialogue and colored by Daniel Stern's wry narration as the elder Kevin. The program made an immediate star out of Fred Savage, who appeared on everything from "Saturday Night Live" to starring in a couple of a trio of theatrical features – some more fondly remembered ("The Wizard") than others ("Little Monsters").
The New World-produced series has been a mainstay on TV via syndicated reruns – and basically has never left the airwaves since the show ended in 1993 – but never received a comprehensive home video release until 2014 when Starvista released a complete series set. This month, the label releases the third season of the show in a standalone, 4-disc DVD edition. The package includes uncut episodes, interviews with Olivia d'Abo, Jason Hervey, Danica McKellar and Crystal McKellar, the featurette "A Family Affair: At Home with the Arnolds," a roundtable with Danica McKellar, Fred Savage and Josh Saviano, and over 50 songs restored, as they were originally broadcast.
NEXT TIME: Twilight Time's May releases including A MAN FOR ALL SEASONS! Until then, don't forget to drop in on the official Aisle Seat Message Boards and direct any emails to our email address. Cheers everyone!