At last available on Blu-Ray June 2nd, 1776 (****, 165/168 mins., 1972, PG; Sony) is Sherman Edwards and Peter Stone's unique musical on the signing of the Declaration of Independence. The straightforward Columbia film version, directed by Peter H. Hunt – repeating his stage duties – captures the essence of its source with a top notch cast mostly returning from the Broadway stage, including William Daniels as John Adams, Howard Da Silva as Ben Franklin and Ken Howard as Thomas Jefferson.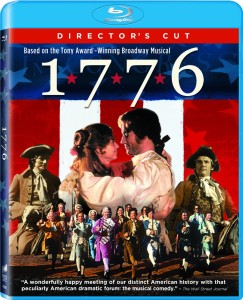 There have been numerous cuts of "1776," starting with a 141-minute theatrical version producer Jack L. Warner supervised, one that removed the song "Cool, Cool, Considerate Men," arbitrarily trimmed a pair of others and discarded various dialogue exchanges. It was also released in mono. Pioneer's Special Edition laserdisc from the early '90s restored all the missing bits, some from a rough B&W workprint, plus remastered the soundtrack in stereo for the first time. This 177-minute version, which Hunt signed off on at the time, came complete with an "editorially created" Overture and Intermission and has been the preferred choice for die-hards fans of the film, even after Hunt's DVD "Director's Cut" debuted a decade ago. The latter Hunt reworking ran 165 minutes but missed several components of the longer version, including the unexpurgated versions of early songs "Piddle, Twiddle and Resolve" and "The Lees of Old Virginia."
Sony's highly anticipated new Blu-Ray restores the "Piddle, Twiddle" and "Lees" numbers to their full length for the first time in HD – and since their laserdisc appearance – in a new "Extended Version" running 168 minutes. This version, exclusive to the Blu-Ray, is missing the controversial Overture/Intermission but only about a minute of actual footage from the laserdisc (a shot of Jefferson looking out a window at a little girl; Lyman Hall walking into Congress; and brief footage of a lamplighter at work while Franklin steals a piece of fruit from a Philadelphia market). Subsequently, this new edition should satisfy many viewers as it finally includes all the unexpurgated musical material from the picture in a beautiful 4K mastered transfer.
It should be noted, however, that those missing bits are not included in this disc's deleted scenes section, making that old Pioneer release still a valuable one for collectors. Instead, Sony's deleted scenes section merely includes the "Piddle Twiddle" and "Lees" extended bits separately with Hunt's commentary, along with an a cleaned-up line of dialogue, "Privy," that has been replaced for this edit. Sony's Blu-Ray also includes Hunt's 165-minute "Director's Cut," and it should be noted several sections of Ray Heindorf's sometimes unnecessary underscore have been removed – with one restoration from the DVD version – here, again making the Pioneer laserdisc edition relevant for fans.
The 1080p (2.40) high-def transfer offers a colorful, marvelously detailed 4K image, and the 5.1 DTS MA stereo audio bears the widest channel separation heard since the laserdisc release. Extra features, in addition to the underwhelming deleted scenes, include a new, only sporadically interesting commentary with Hunt, Daniels and Howard, plus the DVD's commentary with Hunt and Peter Stone, who has since passed on. A full array of screen tests, several seen here for the first time, and a pair of trailers round out a must-have release for "1776″ fans, available June 2nd from Sony with a digital copy also on-hand. Bravo!
---
One of Twilight Time's newest releases is also one of the crown jewels in their growing Blu-Ray stable: A MAN FOR ALL SEASONS (****, 1966, 120 mins., G).
Director Fred Zinnemann and screenwriter Robert Bolt collaborated with a cast that's second to none (Paul Scofield, Robert Shaw, Orson Welles, Wendy Hiller, Susannah York, Leo McKern, John Hurt) for this marvelous, moving, award-winning 1966 film. Bolt's script (adapted from his own play) chronicles the battle between King Henry VIII (Shaw) and Sir Thomas More (Scofield), who's put into an impossible position when the King requests approval from the Catholic More to divorce his wife and marry Anne Boleyn.
"A Man For All Seasons" chronicles the perfect storm of More being caught in the wrong situation at the wrong time, particularly after the passing of Cardinal Wolsey (Orson Welles) promoted More to the post of Chancellor of England, just as Henry established himself as the ruler of the Church of England. More's refusal to accept Henry over God is developed by Bolt and Zinnemann into a spectacular human drama, splendidly performed by all and shot by the great Ted Moore.
Winner of six Oscars (including Best Picture, Actor [Scofield], Script, Director, Cinematography and Costume Design), Twilight Time's Blu-Ray offers a magnificent 1080p (1.66) transfer from the Sony vaults, offering vivid color and high detail. The 5.1 DTS MA soundtrack preserves Georges Delerue's sparse but memorable score (also isolated on a stereo track), with extras including a 20-minute featurette on the real Sir Thomas (from the 2007 DVD) and an informative commentary with TT's Julie Kirgo, Nick Redman and veteran scribe Lem Dobbs.
HOMBRE (***, 111 mins., 1967, Not Rated): Good looking, offbeat western finds Paul Newman's Apache-raised white man having to fend off thieves and kidnappers after they attack a stagecoach populated with several individuals who can't stand to be near him. Martin Ritt directed and the great Irving Ravetch and Harriet Frank, Jr. wrote this adaptation of Elmore Leonard's novel, which is heavy on mood and the psychological probing of its lead characters, most especially Newman's John Russell, who fits in neither the white nor Indian worlds he's both lived in. While the plot is a variation on well-worn genre tropes, the characters and their relationships with one another were far more complex – and also downbeat – for a studio western at the time of its release, and James Wong Howe's cinematography is exceptional. TT's Blu-Ray enhances the latter with a clean, 1080p (2.35) transfer. Extras include a commentary with historian/authors Lee Pfeiffer and Paul Scrabo, the trailer, and an isolated score track of David Rose's functional, if unmemorable, score.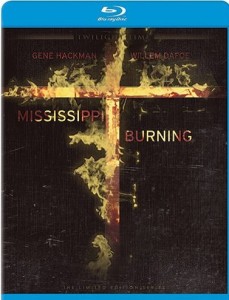 MISSISSIPPI BURNING (***½, 127 mins., 1988, R): Gene Hackman and Willem Dafoe play FBI agents assigned to investigate the murder of three Civil Rights activists in Mississippi during the turbulent summer of 1964. Their investigation leads them through a stone wall of townspeople and law enforcement officials – extending all the way to the town's mayor, and all of which are tied to the KKK – in Alan Parker's compelling thriller, one that was nominated for seven Oscars (including Best Picture and Hackman for Best Actor) and won for Peter Biziou's textured cinematography. It's a finely acted picture with a marvelous supporting cast, especially Frances McDormand – here a standout as the wife of local deputy Brad Dourif – with Michael Rooker, Stephen Tobolowsky and Gailard Sartain leading an impressive roster of character actors. Despite being criticized for screenwriter Chris Gerolmo's deviations from the actual events, "Mississippi Burning" is a superb, socially relevant film that receives a long-overdue Blu-Ray release from Twilight Time. The 1080p (1.85) AVC encoded transfer and 2.0 DTS MA stereo sound are equally strong, with extras including an older commentary from Parker, isolated track of Trevor Jones' workmanlike score and the theatrical trailer.
AMERICAN BUFFALO (**½, 87 mins., 1996, R): Rhode Island filmmaker Michael Corrente has had an up-and-down career, starting out with the indie hit "Federal Hill" and then following it with a big-name adaptation of David Mamet's play "American Buffalo" that didn't much noise upon its limited theatrical run in 1996. It's a predictably stagy piece – shot in Pawtucket, R.I. – about a pawn shop owner (Dennis Franz) who wants to steal back a coin from a costumer that he feels is worth more than what he sold it for; enter his friend Teach (Dustin Hoffman, stepping into Al Pacino's stage role), who becomes involved with the scheme – needless to say, things don't go as planned. Sean Nelson plays a young man who's the third wheel in Mamet's character drama, which is profane, provocative but also a bit dry, with Corrente doing little to break up the material's claustrophobic nature. That leaves "American Buffalo" strictly as an actor's showcase, and both Franz and Hoffman are well worth watching in what proves to be a film most recommended for the playwright's devotees. Nick Redman and Julie Kirgo provide a new commentary in Twilight Time's Blu-Ray, which also includes an isolated score track of Thomas Newman's work on the picture; the trailer; and a satisfying 1080p (1.85) AVC encoded transfer with 2.0 DTS MA stereo audio.
CARLA'S SONG (111 mins., 1996, Not Rated): Robert Carlyle stars as a Glaswegian bus driver who falls in love with a refuge from Nicaragua (Oyanka Cabezas) and promptly travels with her to her home land, ravaged by a civil war, in an effort to locate her former lover. Ken Loach's politically sensitive drama also functions as a love story with both actors doing fine work. Twilight Time's Blu-Ray includes a commentary with Loach and writer Paul Laverty, an isolated music/effects track of George Fenton's score, deleted scenes, the original trailer, a 1080p (1.66) AVC encoded transfer and 2.0 DTS MA stereo sound.
---
SAMURAI AVENGER: THE BLIND WOLF Blu-Ray (95 mins., 2009; Synapse): Kurando Mitsutake's wild action-adventure stars the director as the "Blind Wolf," a deadly swordsman who vows revenge for the death of his wife and daughter – but has to contend with seven undead assassins sent by the villain who took his family eight years prior. A whacked-out effort that eschews all the rules of typical Japanese samurai films, "Samurai Avenger" comes to Blu-Ray this week from Synapse. The single-disc set includes commentary with the director, producer Chiaki Yanagimoto and editor John Midgal; a sword fight choreography featurette; feature-length Making Of documentary; blooper reel; trailer; a great looking 1080p (2.35) transfer and 5.1 DTS MA audio.
ISLAND OF DEATH Blu-Ray/DVD (106 mins., 1976; Arrow Films): Arrow's latest offering is a deluxe-edition of director Nico Mastorakis' insane 1976 film about a young couple who end up on a Greek Island and fight back against local "perversion" in a grizzly, gross affair with torture, rape, murder, crucifixions and "sexual peeing" part of the menu. Mastorakis' picture was a response to the increasingly wild violence of '70s genre exercises and makes no bones about it, showcasing a series of gross-out moments with little story and even less dramatic development. "Island of Death" is a film for a very specific audience, and hardcore devotees are sure to warm to the label's presentation: a 2K restoration from the original camera negative, approved by the director; uncompressed PCM audio; and extras including historian Stephen Thrower looking at the making of the film in "Exploring Island of Death"; "Return to Island of Death" focuses on Mastorakis returning to the original shooting locations; an archival interview with the director; alternate opening titles; five original tracks from the soundtrack; the trailer; a four-part documentary on "The Films of Nico Mastorakis"; a trailer reel; plus liner notes and reverse sleeve artwork. A DVD is also included in a film that's best recommended for devotees of the director. You've been warned!
---
AMERICAN SNIPER Blu-Ray (***, 132 mins., 2014, R; Warner): The highest-grossing film of the past year was director Clint Eastwood's uneven but well-acted portrait of expert Navy SEA L sniper Chris Kyle, who kept the troops safe while taking out a myriad of targets while deployed overseas. As Kyle, Bradley Cooper gives a tremendous performance, convincingly portraying the marksman who had trouble – as many soldiers do – reacclimating to domestic life with his wife (Sienna Miller) and family while he served a series of tours in Iraq and Afghanistan.
I had no qualms with the performances, though there's a detached feel one develops while watching "American Sniper." Perhaps that's because writer Jason Hall's script settles into a repetitive pattern of contrasting Kyle's military service and harrowing ordeals with domestic scenes that play out as somewhat contrived, no matter how close to the truth they may be. Perhaps a more effective film could've been made that fully treated one element of Kyle's life or the other – as it stands, this is not a great picture but still a worthwhile one, particularly in its important portrayal of the turmoil our soldiers face when they return home from battle, regardless of how visible (or invisible) their scars may be.
Warner's Blu-Ray includes a pair of noteworthy featurettes that profile the production and how Kyle's life was brought to the screen. A digital copy, 1080p (2.40) transfer and 7.1 Dolby Atmos audio round out the package.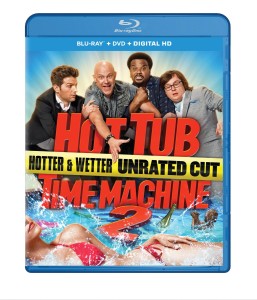 HOT TUB TIME MACHINE 2 Blu-Ray (*½, 93/99 mins., R/Unrated; Paramount): The sequel that nobody wanted, "Hot Tub Time Machine 2″ brings back Rob Corddry, Craig Robinson and Clark Duke as a trio of friends who create comic rifts in the space-time continuum – though notably minus the original's star, John Cusack, who's replaced here by the bland Adam Scott. Steve Pink returned to helm this feeble outing, set mostly in a mixed-up future that the boys have to change – there are a couple of sporadic laughs, but not enough of them to justify the project's existence. Judging from its tepid box-office returns ($12 million domestic), it seems even the original's fans felt the same. Paramount's Blu-Ray/DVD combo pack includes an R-rated and Unrated version, the latter sporting a Cusack cameo cut from the released print; commentary; Making Of featurettes; deleted scenes; bloopers; a 1080p transfer, 5.1 DTS MA audio, DVD and Ultraviolet/Itunes digital copy.
GLEE: THE FINAL SEASON DVD (570 mins., 2014-15; Fox): Four-disc DVD set contains the final 13 episodes from the once hugely-popular Fox series. This time out, Rachel and Kurt try to revitalize New Directions for a shot at the national title while Sue Sylvester (as always) attempts to shut down McKinley High's art programs. "Glee: the Final Curtain," a music jukebox and "Looking Back Video Yearbook" comprise the extras in Fox's DVD, which offers 16:9 (1.85) transfers and 5.1 Dolby Digital soundtracks.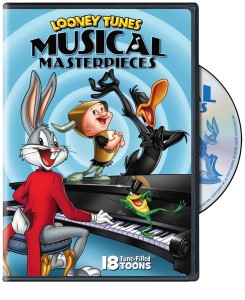 LOONEY TUNES MUSICAL MASTERPIECES DVD (133 mins., Warner): Back in the laserdisc era, Warner Home Video issued a compilation of Looney Tunes shorts with a musical theme. This single-disc compilation of 18 classics is a virtual reprise of that release (with more cartoons included), featuring the shorts A Corny Concerto; Rabbit of Seville; One Froggy Evening (of course); Rhapsody Rabbit; the quintessential What's Opera Doc?; Hillbilly Hare; Pizzicato Pussycat; Nelly's Folly; I Love to Singa; Page Miss Glory; Katnip Kollege; High Note; Pigs in a Polka; Three Little Bops; Rhapsody in Rivets; Back Alley Oproar; Holiday for Shoestrings; and Lights Fantastic. Extras include featurettes on "One Froggy Evening" and "What's Opera Doc," plus a segment on composer Carl Stalling and other goodies. There's nothing new here, obviously, for Looney Tunes fanatics, but casual viewers may find this to be an attractive enough compilation.
MAJOR CRIMES The Complete Third Season DVD (802 mins., 2014-15; Warner): Mary McDonnell returns in the third season of the popular TNT original series, which airs Mondays at 9 and is about to return for its fourth year. Here, McDonnell's Sharon Raydor leads her team of investigators as they once again pursue some of Los Angeles' most dangerous criminals. Meanwhile, her estranged hubby (Tom Berenger) reappears, just in time complicate her pending adoption of Rusty. Billy Burke guest stars as psycho Phillip Stroh in the third season, available this week from Warner on DVD. Deleted scenes and a gag reel are included in Warner's multi-disc DVD set along with 16:9 (1.78) transfers and 5.1 Dolby Digital soundtracks.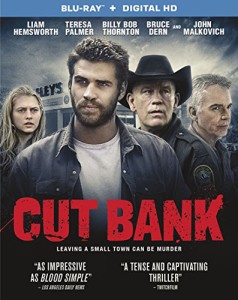 Lionsgate New Releases: Liam Hemsworth stars in CUT BANK (93 mins., 2015, R), the story of a young man trying to burst out of his sleepy hometown when he's unwittingly swept up in a murder investigation. Director Matt Shakman's black comic/thriller offers a terrific cast, including John Malkovich, Billy Bob Thornton, Bruce Dern and Oliver Platt, plus the lovely Teresa Palmer, but the dots don't entirely connect in Roberto Patino's script. Commentary from the director and writer, deleted/extended scenes, a Making Of featurette, digital copy, 1080p (2.40) transfer and 5.1 DTS MA grace Lionsgate's Blu-Ray.
On DVD from Lionsgate: a group of teens head out into the creepy Covington forest after one of their classmates takes their own life in NIGHTLIGHT (84 mins., 2015, R), a typical found-footage affair from writer-directors Scott Beck and Bryan Woods that ought to be of interest for genre die-hards, even if it's utterly forgettable. Lionsgate's DVD includes a digital copy plus extras like deleted scenes, a featurette and commentary; a 16:9 (2.40) transfer and 5.1 Dolby Digital sound…Not to be confused with "Assassin's Creed" or "Game of Assassins" comes Tom Sizemore in ASSASSIN'S GAME (83 mins., 2014, R), a very minor gangster thriller with Sizemore as a hitman whose son is put into the crosshairs by a mob boss. Deleted scenes, a 16:9 (1.85) transfer, 5.1 Dolby Digital sound and a digital copy comprise Lionsgate's DVD.
Also new on the Tim Sizemore front is BORDERING ON BAD BEHAVIOR (84 mins., 2013), an unusual tale of a Labanese soldier who walks onto an Israeli base and promptly mixes it up with an American soldier and an Israeli agent. Jac Mulder's film tries to score serious political points in the guise of a comedic character study – I'll let you be the judge how well it succeeds. Inception Media Group's DVD includes a 16:9 transfer and 5.1 soundtrack.
Magnolia New Releases: BALLET 422 (75 mins., 2015, PG) takes viewers behind the scenes at the New York City Ballet, where young choreographer Justin Peck works on a new production. This is a fascinating documentary from director Jody Lee Lipes which shows the company at work from first rehearsal to its world premiere. Magnolia's Blu-Ray, out this week, includes commentary with Lipes and Peck; deleted scenes; a documentary; costume design gallery; music/lightning/stage management gallery; the trailer; a 1080p (1.78) transfer and 5.1 DTS MA sound.
NEXT TIME: FOCUS with Will Smith, JUPITER ASCENDING, plus Shout's THUNDERBIRDS and THE POPE OF GREENWICH VILLAGE. Until then, don't forget to drop in on the official Aisle Seat Message Boards and direct any emails to our email address. Cheers everyone!