The most cartoonish live-action film that producer Steven Spielberg has been involved with since "The Flintstones," JURASSIC WORLD (**, 127 mins., PG-13) broke every record last weekend at the domestic and international box-office. That doesn't excuse the fact that the picture is an insult to both Michael Crichton's original "Jurassic Park" novel and the type of cinematic sci-fi that Spielberg himself captured in his 1993 screen version. While that groundbreaking blockbuster was flawed, it was at least an honest attempt at incorporating enough real-world science that one's suspension of disbelief was minimal for a story about bringing dinosaurs back to life.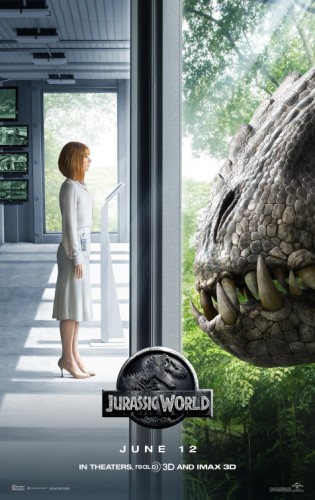 All that is negated in this belated series entry, which serves, more significantly, as a new entry point for today's 12-and-under set into the franchise – which makes sense, since "Jurassic World" is essentially a two-hour animated film with live actors (not to mention an ad for Comcast, Verizon Wireless, Mercedes, IMAX, and other companies whose products appear throughout).
Indie director Colin Trevorrow's film – scripted by Trevorrow and Derek Connolly from an earlier draft by Rick Jaffa and Amanda Silver – wastes little time in establishing its premise. On the island of Isla Nublar, nobody learned a lesson from the prior movies, since the shady InGen Corporation has not just built another park teeming with dinosaurs, but crossed some of the breeds, one of which – of course – gets out of its paddock and causes trouble. Park operations manager Bryce Dallas Howard can't figure out what to do, so she enlists the help of dinosaur whisperer Chris Pratt (more the new Brendan Fraser than Harrison Ford), who's been able to train a group of raptors that simultaneously draws the attention of InGen security head Vincent D'Onofrio, who has more sinister plans up his sleeve (elements retained from a derided draft by John Sayles years back). Oh, and there are also Howard's teen nephews, whose parents – of course! – are in the midst of getting a divorce, and who also (naturally) get stuck on the island.
"Jurassic World" is jammed with standard-issue effects from one second to the next (the complete reverse of "Jurassic Park" itself), but it's hollow, empty, dumb, poorly written and every bit the kind of brainless summer fare studios now crank out all year long. Unlike its predecessors, it has no sense of pacing or suspense — the characters are thinly drawn, the performances mostly vacant. The "genetically engineered" monsters now possess no surprise or interest on-screen, appearing early and often and presumably serving to retain the attention of restless kids who can't wait for "the good parts." Any connection to Crichton's scientific study or the history of the dinosaurs themselves is negated by a line of dialogue talking about how the monsters no longer look or act like the real thing, and then thrown out the window for a series of set-pieces that range from fairly effective to mind-bogglingly silly, culminating in the much-talked about "fan service" ending that, beyond its "emotional resonance", is so ridiculous words can't properly describe it.
The script also never bothers to stick to one plot thread long enough for any of them to connect. I laughed outloud at Vincent D'Onofrio's stock villainy (not to mention his demise) as well as Michael Giacchino's grotesquely bombastic score (in hindsight, he could have done both himself and John Williams a favor by not referencing his themes at all); I was immediately uninterested in the divorce of the central kids' parents, which has no payoff; and Pratt is completely unconvincing in the lead role, giving a performance that's basic posturing as the would-be Indiana Jones who saves the day. Howard, to her credit, does the most she can with a role that's not particularly sympathetic, while Judy Greer appears as the boys' mother in a role that could have (and should have) been left on the cutting room floor.
"Jurassic World" has a few, fleeting glimpses of cinematic inspiration, and the movie works best when Trevorrow indulges in the mayhem, including a surprisingly brutal pterodactyl attack on the park's guests. Even then, his entire approach is a drastic 180 from Spielberg's desire to make the original "Jurassic Park" not a "monster movie" at all but rather a thoughtful adventure about what would happen if Crichton's central scenario actually came to pass. Every possible pitfall Spielberg sought to avoid Trevorrow steps right into, creating a film that makes last year's "Godzilla" seem positively elegant by comparison.
Ultimately, despite a couple of fun moments and John Schwartzman's agreeably colorful cinematography, "Jurassic World" is just one more film to feed Hollywood's sequel/remake machine – one that reaffirms just how far the bar has been lowered in the 22 years since the original "Jurassic Park" was released, back when "summer fun" wasn't always dumb.
---
New From Criterion
THE FISHER KING (***½, 138 mins., 1991, R) is one of director Terry Gilliam's finest movies, even if he was essentially a "director-for-hire" adapting Richard LaGravenese's marvelous script to the screen. No matter, it's a shame Gilliam seldom refused to channel his talents back into the studio system after helming this well-received comedic-drama with fantastical overtones as ex-shock jock Jeff Bridges attempts to help a homeless history professor (Robin Williams) with delusions of retrieving the Holy Grail from a Manhattan building.
Both Bridges and Williams do some of their best work here, complimented by strong support from Amanda Plummer and Oscar-winner Mercedes Ruehl, who's just great as Bridges' long suffering girlfriend. The film is funny, insightful, romantic and thoroughly appealing; LaGravenese's script keeps Gilliam's flights of fancy grounded in reality, but when they do occur, they don't completely derail the film (though some would argue they're the weakest part of the picture).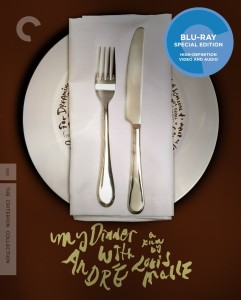 Criterion's Blu-Ray includes a finely detailed, brand new 1080p (1.85) AVC encoded 2K scan and a DTS MA 5.1 soundtrack, the latter offering some dated early '90s songs and a fine George Fenton score (there's also a pleasant rendition of "How About You" performed by Harry Nilsson over the end credits). There are also new interviews with Gilliam, producer Lynda Obst, LaGravenese, Bridges, Plummer and Ruehl; new interviews with artists Keith Greco and Vincent Jefferds on the creation of the Red Knight; a 2006 interview with Robin Williams; a new video essay with Bridges' on set photos; 1991 footage of Bridges training as a radio DJ; deleted scenes; costume tests; trailers; and an older commentary track with Gilliam.
Also this month, Criterion brings viewers a new Blu-Ray edition of Louis Malle's acclaimed 1981 film MY DINNER WITH ANDRE (***½, 111 mins.), which chronicles the conversation between Wallace Shawn and Andre Gregory at an NYC restaurant, tackling all kinds of topics from life and love to professional disappointments, death, money and pretty much anything else you can think of. It's also a movie about living each day and not forgetting to accept its gifts in the contemporary world around us — themes which all resonate today.
At the time of its original release "My Dinner With Andre" was looked at as a particularly audacious film; now, the chemistry between Gregory and Shawn is what marks it as one of the decade's biggest art-house hits.
Criterion's Blu-Ray features includes a 2K restored transfer (1.66) with 2009 interviews with the stars, conducted by Noah Baumbach; a booklet featuring a preface by Gregory and Shawn written for the 1981 publication of their screenplay; and "My Dinner with Louis," a 1982 episode of the BBC program "Arena" where Shawn interviews director Louis Malle.
---
If the likes of "Orca" (see my Video Vault retrospective for a thorough review), "Grizzly" and "Day of the Animals" were up your alley, don't miss TENTACLES (101 mins., 1977, PG), the 1977 "Jaws" rip-off with a slumming John Huston, Shelley Winters and Henry Fonda trying to remain calm while a giant octopus stalks a quaint seaside community. This AIP/Italian co-production – mostly shot in California – is hilarious fun, with solid underwater photography and some dubious dubbing making for a spicy cinematic seafood entrée, especially for devotees of "Jaws" cash-ins. Claude Akins and Bo Hopkins co-star with Stelvio Ciprani providing an appealingly ""70s" score.
Shout has brought "Tentacles" to Blu-Ray in a Double Feature release, pairing it with the immortal Danish monster opus REPTILICUS (81 mins., 1961), a (horrible) childhood fave that WLVI, Channel 56 in Boston routinely ran on their "Creature Double Feature" Saturday afternoon package while I was growing up. A new 1080p (1.66) transfer has been struck for "Reptilicus," enabling you to see the film in all its unadulterated, shoddy FX glory, while "Tentacles" is minted – as was its prior Midnight Movies DVD release – from the film's longer Italian release print (2.35), running over 10 minutes longer than the U.S. version and featuring full stereo sound. LPCM audio graces both pictures with trailers seemingly sourced from DVD or Youtube sources rounding out the supplemental packages.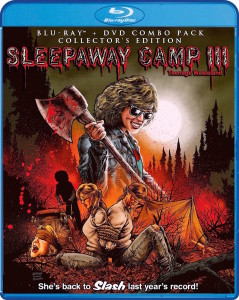 Also new from Shout are the sequels to SLEEPAWAY CAMP, the cult-favorite slasher series that was marked by a serious dose of camp (literally and figuratively). The original 1983 film was a surprise sleeper hit, thanks in large part to a dynamite twist ending. The two sequels, produced back-to-back in 1988, are more tongue-in-cheek, highlighted by the performances of Pamela Springsteen (yes, sister of The Boss) as the deranged killer.
Both SLEEPAWAY CAMP II: UNHAPPY CAMPERS (80 mins., 1987, R) and SLEEPAWAY CAMP III: TEENAGE WASTELAND (80 mins., 1988, R) star Pamela Springsteen as the now grown Angela Baker with Michael A. Simpson directing a cast that includes a mix of sibling stars (Tracy Griffith in the second, Renee Estevez in the third) and veteran character actors (Walter Gotell as "Uncle John" in "Campers," plus Michael J. Pollard in part three).
Shout has released the two sequels on Blu-Ray in individual releases with slipcovers and extensive extras. "Unhappy Campers" boasts a commentary with Simpson and writer Fritz Gordon; behind the scenes footage with Simpson's commentary; Part 1 of the documentary "A Tale of Two Sequels," video promos, and a 1080p (1.85) transfer with mono audio. "Teenage Wasteland" repeats the technical presentation, adding deleted "gore" footage, Part 2 of the documentary, a news promo and more.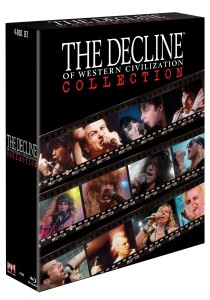 Also new this month from Shout! is a features-packed special edition of Neil Marshall's DOG SOLIDERS (105 mins., 2002, R), sporting a commentary with the director; a fresh Making Of featuring new interviews with Marshall, producer Christopher Figg, stars Kevin McKidd, Sean Pertwee, Darren Morfitt and Emma Cleasby, along with FX supervisor Dave Bonneywell, production designer Simon Bowles and cinematographer Sam McCurdy; the trailer; Marshall's short film "Combat"; a stills gallery, a 1080p (1.78) transfer and 5.1 DTS MA sound.
On June 30th Shout unleashes a Blu-Ray double-feature from the ghostly Italian "La Casa" series: GHOST HOUSE (94 mins., 1988) and WITCHERY (96 mins., 1988, R), the latter an unintentionally funny affair with David Hasselhoff and Linda Blair stranded on an island with evil spirits. There's one particular moment when Hasselhoff tries to flee the house and someone off-camera throws tennis rackets and another trash at him – something I found hilarious but might tell you about the picture's limited charms. Both films include mono audio and satisfying 1080p (1.66) transfers.
Finally, Penelope Spheeris' groundbreaking THE DECLINE OF WESTERN CIVILIZATION documentaries about the punk movement of the 1980s come to Blu-Ray for the first time later this month in an elaborate Blu-Ray box-set. All three of Spheeris' pictures chronicle the rise of punk music with musicians from Black Flag to Alice Cooper, KISS and Aerosmith all interviewed. New 2K scans of the three films – from 1981, 1988 and 1998 respectively – offer detailed transfers (full-frame 4:3 on the original; 1.78 on the sequels) plus never-before-seen footage, interviews and performances; vintage interviews with Spheeris; trailers; a 40 page booklet; commentaries from Spheeris and Dave Grohl; and plenty more. A must for music, punk and documentary aficionados.
---
Also New & Noteworthy
CHAPPIE Blu-Ray (**, 120 mins., 2015, R; Sony):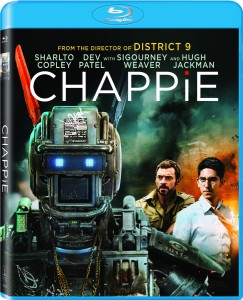 It's always tough when a talented filmmaker – especially in this day and age – strikes out with original material, but alas, it's two strikes running now for Neill Blomkamp. The South African director who made a name for himself thanks to the terrific "District 9″ followed that genre triumph with the meandering "Elysium" and now the severely misguided "Chappie" – a film that recycles elements from "Short Circuit" and "Robocop," as South African police droids patrol the decrepit streets of Johannesburg. A pair of gangsters decide to kidnap the AI's designer (Dev Patel) and demand that he reprogram one of the automatons, resulting in a child-like robot with a conscience whom the duo force to help pay out a debt to a local thug.
Veering uneasily from a reworking of Paul Verhoeven's 1987 sci-fi favorite to would-be heart-tugging scenes involving "Chappie" (the robot's nickname) learning about the world around him, Blomkamp's film never settles on a consistent tone. It also offers Blomkamp lecturing from the pulpit again, this time about mankind's relationship with A.I., its dangers and consequences – but the film is ultimately so silly and unbelievable – not to mention critically overlong – that it's hard to take any of it seriously.
"Chappie" co-stars a mullet-wearing Hugh Jackman and Sigourney Weaver, who apparently struck up enough of a relationship with Blomkamp that the director successfully lobbied to make his own "Alien" film, presumably with the actress (we're still awaiting official details) returning to her iconic role. That kind of familiar genre material might be the best recipe to get Blomkamp back on track after this commercial misstep, which was quickly jettisoned from theaters last winter.
Sony's Blu-Ray is a great looking Mastered in 4K affair on Blu, at least, thanks to a crisp 1080p (2.40) transfer and 7.1 DTS MA sound. Blomkamp continues to offer refreshingly natural cinematography in his films with a wide color pallet and an accent on realism, and that translates into a fine technical package once again here. The audio is constantly active, despite a Hans Zimmer score that's grating and ineffective. Extras include an alternate ending and one extended scene, a full range of extensive featurettes, and a digital copy.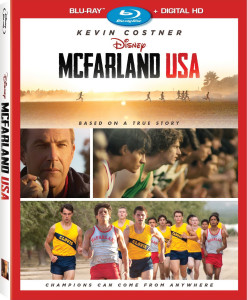 MACFARLAND USA Blu-Ray (**½, 2015, PG; Disney): Exceedingly well-meaning but predictable "true story" features Kevin Costner as a high school track coach who takes a trio of Latino students under his wing. The group overcome their cultural differences while battling for a state championship in Niki Caro's film, which offers the standard elements of underdog sports movies in a framework that's entertaining enough to satisfy young viewers and older audiences alike – provided they can get past the familiarity of the material. Disney's Blu-Ray includes an interview between Costner and the real coach, Jim White, he portrays, along with conversations with the cross country team members; deleted/extended scenes; a music video; digital copy; 1080p (2.39) AVC encoded transfer and 5.1 DTS MA audio; and the "Inspiring Macfarland" featurette.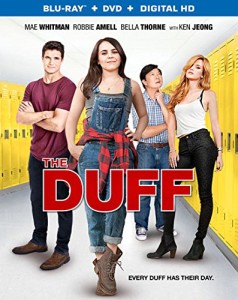 THE DUFF Blu-Ray Combo Pack (***, 101 mins., 2015, PG-13; Lionsgate): Mae Whitman's winning performance sells this agreeable, if unsurprising, trip back to John Hughes land. Josh Cagan's adaptation of Jody Keplinger's book follows Whitman as Bianca, a smart high school senior who finds out she's really a "Duff" – a front for her friends to use as a means of landing a good looking guy. Ari Samuel's film is high on energy and good humor, though the picture ultimately isn't anything you haven't seen before – just carried along by Whitman's superb central role. Lionsgate's Blu-Ray includes a handful of featurettes, digital HD/itunes copy, a 1080p (2.35) transfer and 5.1 DTS MA soundtrack.
RUN ALL NIGHT Blu-Ray (**½, 114 mins., 2015, R; Warner): One of Liam Neeson's more watchable cinematic efforts of the last few years didn't make much noise at the box-office – likely due to "Neeson fatigue" amongst genre viewers – but it's certainly worth a look for fans. A gritty crime drama involving Neeson's grizzled hitman for longtime friend/mob boss Ed Harris, "Run All Night" juggles a few subplots during its two hours involving Neeson's grown children, but Jaume Collet-Serra accentuates the grit and grime of its lead performances and assembles a superb supporting cast (Vincent D'Onofrio, Nick Nolte, Bruce McGill) to back up the veteran leading men. Certainly not great, but still better than the likes of "Taken 3″ on the Neeson scale. Warner's Blu-Ray combo pack includes a DVD, digital copy, 1080p (2.41) transfer, 5.1 DTS MA audio (with a Junkie XL score), two featurettes and deleted scenes.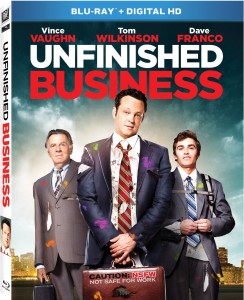 KINGSMAN: THE SECRET SERVICE Blu-Ray (**½, 128 mins., 2015, R; Fox): Matthew Vaughn's latest is a wild and woolly, hyper-James Bond affair based on a comic book about a clandestine British espionage unit, spearheaded by veteran spy Colin Firth. He adds a young kid from the wrong side of the tracks (Taron Egerton) as a recruit just as an American billionaire (Samuel L. Jackson) threatens the world in Vaughn and Jane Goldman's colorful, fast moving romp, which has as much energy as their "Kick-Ass" and visual inspiration to match. Regrettably, it also carries a bit of its excessiveness along with it, resulting in some jarringly violent moments that didn't need to be as extreme as they are – particularly given the material. For the most part, the picture is still entertaining with pitch-perfect performances from Firth and Jackson (and boasts a number of funny scenes), but this time, Vaughn's juvenile tendencies get the best of him, capped by an inexplicably gratuitous church massacre that's especially miscalculated. Fox's Blu-Ray combo pack of "Kingsman" boasts a six-part look behind the scenes, three image galleries, a digital HD copy, dynamic 1080p (2.40) transfer and 7.1 DTS MA sound.
UNFINISHED BUSINESS Blu-Ray (*½, 91 mins., 2015, R; Fox): Misfired comedy sends Vince Vaughn, Dave Franco and Tom Wilkinson over to Europe to close a business deal, where they essentially reenact a watered-down version of "The Hangover" in an utterly forgettable comedy from writer Steven Conrad and director Ken Scott. Vaughn's latest box-office flop following the likes of "Delivery Man" and "The Internship" winds its way to Blu-Ray this week. Fox's release includes deleted/alternate scenes, a Making Of, stills gallery, 1080p (2.40) transfer, 5.1 DTS MA audio and a digital copy.
---
BRONCO: Complete Season 4 DVD (906 mins., 1961-62): Ty Hardin's Bronco Layne saddles up for the final 18 episodes of one of TV's earliest and most successful westerns. Here, Bronco runs into Sean McClory's "The Harrigan," helps out Shakesperian actor Efrem Zimbalist, Jr., while taking on a final mission from slain President Lincoln. The four-disc DVD set from the Archive includes guest star appearances by Jack Elam, James Best and Chad Everett along with good looking B&W transfers.
Rowan & Martin lept from TV's "Laugh-In" to starring in their own comedy, THE MALTESE BIPPY (91 mins., 1969, G), a fascinating '60s curio dusted off from the MGM archives. Carol Lynley, Fritz Weaver and Mildred Natwick co-star in the picture, which has been seldom screened and premieres on DVD with a 16:9 transfer of the wide 2.35 Panavision frame. Recommended…long before Rowan & Martin tried a lighthearted take on the classic Dashiell Hammett mystery, Bette Davis and Warren William starred in SATAN MET A LADY (74 mins.), a 1936 Warner Bros. programmer that was notable for being the second screen adaptation of "The Maltese Falcon." Not exactly Humphrey Bogart and friends, but nevertheless an engaging comedic take on the material, "Satan Met a Lady" also bows on DVD this month from the Archive sporting a 4:3 transfer and mono audio in respectable shape.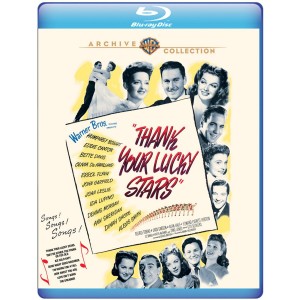 THANK YOUR LUCKY STARS Blu-Ray (124 mins., 1943): A zesty, entertaining Warner WWII "Cavalcade of Stars"-type of affair parades out the likes of Humphrey Bogart, Eddie Cantor, Better Davis, Olivia De Havilland, Errol Flynn, John Garfield, Ida Lupino, Ann Sheridan, Dinah Shore, Alexis Smith, Hattie McDaniel and Spike Jones in a flimsy story used as a vehicle for a veritable "revue" featuring Golden Age greats. Warner's Blu-Ray includes a crisp, DNR-free 1080p (1.37) transfer, DTS MA mono sound, and extras including two classic cartoons (Falling Hare, Little Red Riding Rabbit in HD), musical shorts, newsreels, trailers, the Screen Guilt Theater Radio broadcast (1943) and other goodies.
EDDIE CANTOR: Samuel Goldwyn Classics Four Film Collection DVD: Four early efforts from '30s superstar Eddie Cantor debut on DVD together this month from the Archive. In 1931's "Palmy Days," Eddie plays a baker who's used and abused by a several psychics; 1932's "The Kid From Spain" finds Cantor going undercover in Spain as a bullfighter in a comedy co-starring Robert Young; the classic "Roman Scandals" takes Cantor's Okie back to life in ancient Rome; and Ethel Merman plays opposite Cantor in 1936's "Strike Me Pink." A superb set for Golden Age buffs with 4:3 B&W transfers and mono audio.
---
THE LAST SHIP – Season 1 Blu-Ray (440 mins., 2014; Warner): Michael Bay is one of the producers of this successful TNT series, set in a world where a virus has wiped out most of the world's population. A Navy Destroyer, the USS Nathan James, managed to avoid being affected by the virus, and patrols the seas searching for survivors while holding out hope of developing a cure. Eric Dane, Rhona Mitra and Adam Baldwin star in the entertaining "The Last Ship," which comes to Blu-Ray this month from Warner in time for the series' second season premiere on TNT. Extras include commentaries, a 2014 Comic Con panel, featurettes, a 1080p (1.78) transfer and 5.1 DTS MA sound plus a digital HD copy.
FALLING SKIES – Season 4 Blu-Ray (528 mins., 2014; Warner): Rigor mortis has regrettably set in for this Steven Spielberg-produced TNT series following a group of survivors trying to survive after an alien apocalypse. Falling back on standard-issue genre tropes like half-breed alien kids with accelerated aging (shades of "V"), season four of "Falling Skies" is a big comedown from the series' first two, terrific seasons, though the cast, led by Noah Wylie, remains appealing. Warner's Blu-Ray includes a digital copy, featurette, episodic prequels, 2014 Comic Con panel, 1080p (1.78) transfers and 5.1 DTS MA sound.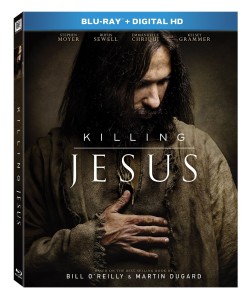 KILLING JESUS Blu-Ray (132 mins., 2015; Fox): Respectful take on the Passion from Bill O'Reilly and Martin Dugard's bestseller boasts a Walon Green script that accentuates the historical aspects of Jesus' crucifixion. Fox's Blu-Ray of the Ridley Scott production is now available and includes numerous featurettes, a digital copy, 1080p (1.78) transfer and 5.1 DTS MA audio.
BEAUTY AND THE BEAST Season 2 DVD (15 hours, 2014-15; CBS): Detective Cat Chandler reunites with Vincent Keller – who's mysteriously been changed by forces beyond her knowledge – in the second season of the CW series. CBS' DVD, now available, includes the complete second season with 16:9 (1.78) transfers and special features including Season in Review; From Script to Screen: Creating An Episode; Gag Reel; Deleted Scenes; Set Tour: The Gentlemen's Club; and 5.1 Dolby Digital soundtrracks.
UNFORGETTABLE Season 3 DVD (10 hours, 2014; CBS): Poppy Montgomery returns as Detective Carrie Wells, who helps the NYPD solve crimes that utilize her amazing memory recall along with ex-boyfriend Lieutenant Al Burns (Dylan Walsh) and friends. 13 third-season episodes of "Unforgettable" have landed on DVD from CBS in 16:9 (1.78) transfers and 5.1 soundtracks. Extras include a gag reel, deleted scenes and the "Inside Season 3: Unforgettable Moments" featurette.
BONANZA: The Complete Eighth Season DVD (1966-67; CBS): Eighth season of the classic western series offers 34 more episodes, digitally remastered from 35mm sources, complete with NBC opening logos and vintage cast commercials that close every episode. It's a treasure trove of '60s network TV entertainment for buffs, enhanced with CBS' special features, including three commentaries (one by guest star Wayne Newton on "A Christmas Story"), a vintage interview with producer William Witney (circa 1978), photo galleries, the lost short "Ponderosa Caravan" and an old Chevy promo short with Lorne Greene. As with the prior "Bonanza" releases from CBS, the transfers are top notch but fans will have to continue to support them or else the trail for additional DVD releases will come to an abrupt stop.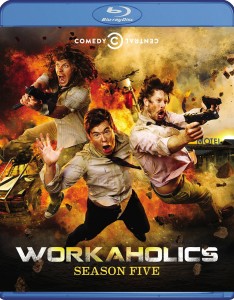 TEEN WOLF Season 4 DVD (535 mins., 2014; MGM/Fox): Scott, Stiles, Lydia and Kira head back to school more concerned with the classroom than lupine concerns, at least until Kate Argent returns, bringing a new supernatural threat along with her. MGM's Season 4 DVD of the popular MTV series includes gag reels; visual FX featurettes; another "Shirtless Montage" for fans; a 16:9 (1.78) transfer and 5.1 Dolby Digital sound.
TRANSPORTER Season 2 DVD (569 mins., 2014; Fox): Chris Vance takes over for Jason Statham as Frank Martin in this French/Canadian TV spin-off of the Luc Besson produced film series. This time out, Frank partners with an ex-DGSE agent (Violante Placido) while ensuring that dangerous and/or precious cargo reaches its destination. Fox's DVD includes a Making Of, On Location and various Behind the Scenes featurettes plus the entire Season 2 of "The Transporter" in 16:9 (1.78) widescreen transfers and 5.1 Dolby Digital sound.
WORKAHOLICS Season 5 Blu-Ray (286 mins., 2015; Paramount): Adam, Blake and Ders return in the fifth season of the Comedy Central series, debuting on Blu-Ray this week from Paramount. The single-disc set includes bloopers, deleted scenes, an uncensored trailer, behind the scenes, "#Freethebuttcheeks" and more extras, plus Dolby TrueHD 5.1 audio and 1080p (1.78) transfers.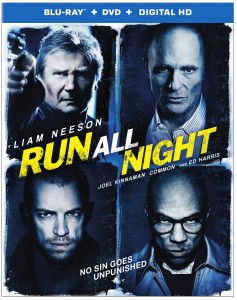 THE NEWSROOM: The Complete Third Season Blu-Ray/Digital HD (360 mins., 2015; HBO): The third and final season of Aaron Sorkin's series about life in front of and behind the camera at a cable news network finds the team fighting for control of the Atlantis Cable News Network. Meanwhile, an Edward Snowden-esque source provides documents that both bolsters – and threatens – ACN's future as they attempt to stay competitive in an increasingly digital world. Sorkin devotees will get the most mileage out of "The Newsroom''s third season, which arrives on Blu-Ray from HBO sporting Inside the Episode interviews and featurettes, a commentary on the series finale with Sorkin and producer Alan Poul, a digital copy, and 1080p (1.78) AVC encoded transfers and 5.1 DTS MA soundtracks,.
LITTLEST PET SHOP: PAWS FOR APPLAUSE DVD (110 mins., 2015; Shout! Factory): Animated kids cartoon hits DVD featuring five episodes from the series: Missing Blythe, Super Sunil, Blythe's Big Idea, Some Assistance Required and Back Window, plus 16:9 (1.78) transfers and 5.1 Dolby Digital sound.
WHEN CALLS THE HEART: HEART AND SOUL DVD (88 mins., 2014; Shout Factory): Erin Krakow, Lori Loughlin, Jack Wagner and Daniel Lissing star in the popular Hallmark Channel series based on Janette Oke's books. This standalone telefilm should appeal to its fans, with Shout's DVD including a 16:9 transfer and stereo sound.
---
Lionsgate New Releases: COUNTRY BUCKS Season 1 (176 mins., 2014) hits DVD running this week. Eight episodes comprise the reality show's first season, with over 10 minutes of never-before-seen footage, 16:9 transfers and 2.0 soundtracks contained on a single disc…John Travolta stars an art forger who strikes a deal with the mob to get out of prison early – but is tasked with forging a Monet painting and replacing it with the real thing in Philip Martin's THE FORGER (96 mins., 2013, R), a decent heist thriller co-starring Christopher Plummer as Travolta's father. A Making Of featurette, 1080p (2.40) transfer and 5.1 DTS MA sound comprise Lionsgate's Blu-Ray along with a digital copy….the third entry in the "Flowers in the Attic" series by V.C. Andrews, IF THERE BE THORNS (90 mins., 2015), comes to DVD this week after premiering on Lifetime earlier this year. Heather Graham reprises her role as Corrine, the troubled mom to married siblings Christopher (Jason Lewis) and Cathy (Rachael Carpani), in this continuation of the series. Lionsgate's DVD includes a digital copy, 16:9 (1.78) transfer and 5.1 Dolby Digital sound…Michael Douglas and Jeremy Irvine star in BEYOND THE REACH (96 mins., 2015), the story of a cocky big game hunter (Douglas) who takes a young guide (Irvine) out hunting in the Mojave Desert, only to kill another hunter by accident. Douglas wants to cover it up – Irvine doesn't – in this tepid adaptation of Robb White's novel "Deathwatch" by writer Stephen Susco and director Jean-Baptiste Leonetti. Ronny Cox co-stars with Lionsgate's Blu-Ray including a 1080p (2.40) transfer, 5.1 DTS MA audio, a Digital HD copy, commentary and two featurettes.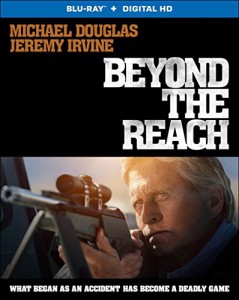 THE WRECKING CREW Blu-Ray (102 mins., 2015, PG; Magnolia): Fascinating documentary focuses on a group of background instrumentalists who became a part of hit records by Motown greats, Frank Sinatra, Elvis, Sonny & Cher and countless others during the '60s and '70s. Enlightening anecdotes and warm memories of a superior time in pop-music history inform Denny Tedesco's lovingly produced documentary. Magnolia's Blu-Ray offers over six hours (!) of bonus content, from deleted scenes to the trailer, a 1080p (1.78) transfer and 5.1 DTS MA sound. Recommended!
Cinedigm New Releases: in SONG ONE (86 mins., 2014, PG-13), Anne Hathaway stars as a woman whose brother ends up in a coma after an accident. Trying to piece together his life since their estrangement, Hathaway meets the New York musicians and artists who inspired him, including his musical idol (Johnny Flynn), where sparks ensue from his meeting with Hathaway. Kate Braker-Froyland's likeable, low-key character drama was produced by (among others) Jonathan Demme and includes nice performances from the two leads. Cinedigm's Blu-Ray includes deleted scenes, the trailer, and a look at the recording of the soundtrack…LA GATA (840 mins.) offers over 14 hours of Mexican Telenovela entertainment for Spanish speaking viewers, the series presented on four discs in 16:9 transfers with Spanish stereo soundtracks.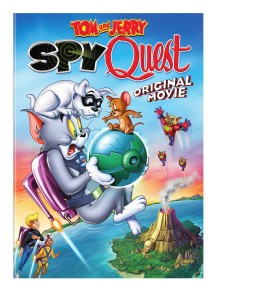 TOM AND JERRY: SPY QUEST DVD (73 mins., 2015; Warner): The worlds of Hanna-Barbera franchises collide when Tom and Jerry run into Jonny Quest, his pal Hadji and dog Bandit in this Warner Animation original movie. The group come together to stop Dr. Zin and his evil feline army from preventing Jonny's dad from solving the world's energy crisis. Goofy hyjinks abound in "Spy Quest," which makes its way to DVD this week from Warner. The 16:9 (1.78) transfer and 5.1 Dolby Digital sound are both fine, and extras include a number of bonus cartoons for young viewers starring the leads.
CAMP X-RAY (117 mins., 2014, R; MPI/IFC): Kristen Stewart stars as a young military recruit who becomes a guard at Guantanamo Bay, and eventually changes her mind about the nature of warfare and the detainees she comes to know. IFC's Blu-Ray includes a Making Of, the trailer, a 1080p transfer and 5.1 DTS MA sound.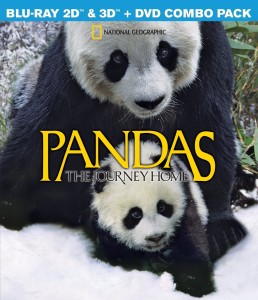 TIMBUTKU Blu-Ray (96 mins., 2014, PG-13; Cohen Media Group): Director Abderrahmane Sissako's film fascinatingly portrays life in modern Timbuktu for a family who are forced to conform to religious fundamentalists invading their land. A harrowing picture Cohen brings to Blu-Ray this week offering an interview with the director; a 1080p transfer; and 5.1 DTS MA sound in French, Arabic and English with subtitles.
PANDAS: THE JOURNEY HOME 3D/2D Blu-Ray Combo Pack (40 mins., 2015; Virgil Films): Marvelous National Geographic documentary, shot in 3D, looks at China's Wolong Panda Center and its efforts to keep Pandas alive and in the wild. Nicolas Brown directed this Oxford Scientific Films production, which follows a group of pandas that have been reintroduced to the wild after hitting the Center's repopulation goal. Terrific nature footage graces this delightful, worthy story for kids and adults alike. Virgil's 3D Blu-Ray transfer ought to please all 3D enthusiasts with a DVD and standard 2D Blu-Ray transfer also included. Highly recommended.
OF GIRLS AND HORSES DVD (82 mins., 2015; Wolfe Video): Sensitive German lesbian drama profiles life for a troubled teenage girl, who tries to set herself on the right path by falling for her instructor at a horse farm. Pleasant locations mark this import coming to DVD on June 30th from Wolfe Video, featuring a 16:9 transfer, stereo audio and English subtitles.
NEXT TIME: Huge catalog rundown including Twilight Time's latest, Flicker Alley's 3D RARITIES, WOLFEN from the Warner Archive, and Olive's latest! Until then, don't forget to drop in on the official Aisle Seat Message Boards and direct any emails to our email address. Cheers everyone!