When I first heard the tragic news of James Horner's death last week, I immediately thought about his music and its influence on my life and interest in the arts. His career essentially started when I was a kid, watching "Star Trek II" back in the early '80s, and was one of the major discussion points when I first met Lukas Kendall, through a Starlog letter to the editor, when both of us were in high school. In fact, it's not hyperbole to say that Horner's music was one of the cornerstones of Film Score Monthly's development – something that came at a time when Horner, Williams, Goldsmith, Barry, Jarre, Bernstein, Poledouris, and so many others were still working in their prime.
Now it seems like a truly golden era compared to the abyss which the medium has fallen into – formless, thankless, forgettable scores built on percussive rhythms and fragmented chords masquerading as themes. All of those attributes are the antithesis, of course, of what James Horner brought to the podium as a composer and artist.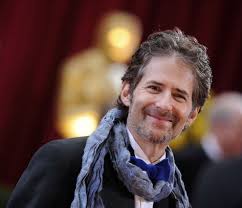 There will be tributes that dissect each and every one of Horner's works, but to me, his career falls into several categories: early genre works ("Khan," "Krull") that were bursting with energy and inspiration; an evolving use of romanticism whose seeds were planted in the likes of "Field of Dreams" and "The Rocketeer"; an even lusher, symphonic sound that informed '90s scores like "Legends of the Fall"; and then the pinnacle, his scores for Oscar winners "Braveheart" and "Titanic," that enhanced and heightened a pair of classic films that need no further analysis. Shortly thereafter he wrote one of his most magnificent scores for "The Mask of Zorro," another of my favorite Horner works, which fused the Golden Age with then-contemporary, romantic orchestral scoring that's now no longer in vogue.
Horner's music, whether it recycled thematic material from prior scores or not (long an argument among film score devotees), consistently made films better – no matter the subject matter. He was as adept at scoring action ("contemporary" '80s scores for "Commando" and "Red Heat") as he was science fiction; he showed his style could adapt to any number of "real world" stories ("Glory," "Apollo 13," "The Perfect Storm"); and much like John Williams, he was every bit as effective at scoring intimate dramas ("Searching For Bobby Fischer") as he was large-scale studio films. "To Gillian On Her 37th Birthday," to cite another example, has long been one of my most-played Horner scores – poignant and intimate, and heartbreakingly emotional.
In recent years, Hollywood's move away from adult movies to "tentpole" franchises and FX blockbusters kept Horner away from the multiplexes too many times. One can't blame him, either: his score for "The Amazing Spider-Man" was one of that disappointing film's most positive elements, but the studio decided to replace his memorable orchestral approach with a cacophony of wretched excess from the usual suspects in its even-worse sequel. And when Horner did get a prized, director-driven film to score – Terrence Malick's "The New World" – the director mostly tossed one of his most eloquent works in favor of classical music.
No matter, Horner's legacy will endure and his music will live on as long as any of us are still listening to film music. To me, he was second only to John Williams in his understanding of dramatic underscoring – when to use music to heighten a scene, when to let a scene breathe, and when to let a score flow freely and take center stage, which he often did in lengthy, flowing, beautiful cues…the likes of which no one else writes today. It was a rare ability few possessed, and one that leaves another gaping hole for which there are no replacements. As we've said too many times in recent years: Godspeed, maestro…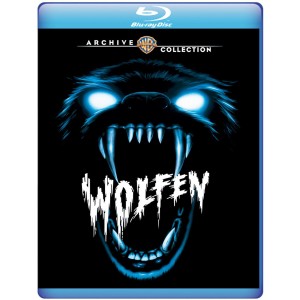 Horner's passing makes Warner Archive's new Blu-Ray release of WOLFEN (***, 114 mins., 1981, R) particularly bittersweet. This 1981 Orion Pictures production boasts one of Horner's earliest feature scores – one that was quickly written (and augmented all too obviously with cues from Horner's "The Hand') to replace a score by Craig Safan that was removed late in a turbulent post-production.
In fact, for a movie that had as many issues as it did – seeing director Michael Wadleigh removed from the editing room for one – "Wolfen" remains a surprisingly robust and exciting supernatural thriller. Wadleigh, best known for the '60s documentary "Woodstock," was an unconventional choice to direct this adaptation of Whitley Streiber's book, with the director and co-writer David Eyre basically junking Streiber's narrative in favor of a film that retained its central premise – that a group of intelligent wolves stalk their prey in modern day NYC, including a Bronx in the midst of urban decay – but streamlined it further into the form of a police procedural. Albert Finney stars as a veteran NYC detective charged with finding out who's responsible for the deaths of a wealthy corporate magnate and his wife. Criminal psychologist Diane Venora and coroner Gregory Hines offer him support, as the trail leads Finney – saddled with an unconvincing Brooklyn accent – to suspect that something beyond the natural world is responsible for their deaths.
Gerry Fisher's expert use of the scope frame works hand in hand with Garrett Brown's Steadicam and striking visual effects to create a fascinating visual scheme representing the Wolfen's point of view. This is a highly atmospheric and entertaining film, despite some thin characterizations (Finney's role in particular), that manages to be believable enough while still remaining firmly rooted in the horror genre."Wolfen" is a high-class genre exercise in every facet, and Warner's Blu-Ray boasts a marvelous, detailed new 1080p (2.35) high-def transfer that enhances the visual impact of the film. Colors are strong, details are striking, and the overall image ranks among the best of Warner's Archive releases to date.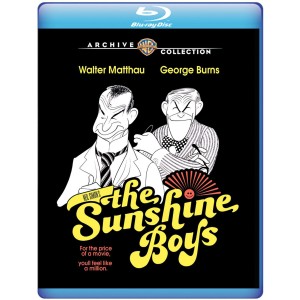 Horner's score is also housed in a pleasingly directional 5.1 DTS MA mix. It has a bit more form and melody than the Safan rejected work, though its overall tenor isn't far removed from the score it replaced. The lone extra is a theatrical trailer, which is unfortunate since much footage was reportedly left on the cutting room floor.
Also new this month from the Warner Archive on Blu-Ray is THE SUNSHINE BOYS (***, 111 mins., PG), the delightful 1975 MGM adaptation of Neil Simon's play. Scripted by the author, the movie offers George Burns – in an Oscar-winning role that spurred his career resurgence – and Walter Matthau as former Vaudeville greats who reunite for a TV special. Richard Benjamin co-stars in Herbert Ross' film, which makes for a satisfying Blu-Ray with a decent 1080p (1.85) transfer and DTS MA mono audio. Extras include the amusing 70s MGM promo short "The Lion Roars Again" plus Jack Benny (originally cast in the Burns role before he was stricken by cancer) and Phil Silvers screen tests and the trailer…new on DVD are a pair of enjoyable '60s comedies: the 1966 MGM release DOCTOR, YOU'VE GOT TO BE KIDDING! (94 mins.) finds Sandra Dee playing opposite George Hamilton, Dwayne Hickman, Bill Bixby and Dick Kallman, with Nichelle Nichols and Mort Sahl appearing in support. Meanwhile, the Cold War thaws out in the ridiculous Delbert Mann comic confection QUICK, BEFORE IT MELTS! (98 mins., 1964), another MGM production pairing George Maharis and Robert Morse, fresh off "How to Succeed in Business Without Really Trying." Both films ought to appeal to '60s comedy fans and offer pleasing 16:9 (2.35) transfers on DVD.
---
3-D HDTV owners who've had scant reason of late to dust off their glasses have new incentive to do so thanks to the combined efforts of the 3-D Film Archive and Flicker Alley. Their magnificent new 3-D Blu-Ray release, 3-D RARITIES, ranks as not just a gotta-have-it compilation for 3-D enthusiasts, but also one of the year's top catalog releases of any kind to date.
The disc includes no less than 22 3-D films – shorts, demonstrations, trailers and other oddities – that illustrate 3-D wasn't just a gimmick of the '50s (and later the '80s) but was an early part of the dawn of cinema itself. A slew of early tests from the 1920s kick things off, having been converted from anaglyphic sources, while tests from the 1930s and early '40s include a strip from the Pennsylvania Railroad and an animated Chrysler short selling the Plymouth. Shorts from Norman McLaren, a promo reel for the Bolex stereo camera, trailers for "It Came From Outer Space," the John Ireland western "Hannah Lee," and the first and only 3-D newsreel – documenting the 1953 fight between Rocky Marciano and Jersey Joe Walcott – also make for fascinating viewing. The disc is capped by a comedic short featuring "Slick Slavin," a rarely shown quasi-documentary "Doom Town" and a puppet short, "The Adventures of Sam Space," the latter shown here for the first time in its proper 1.75 aspect ratio.
Additional trailers and still galleries include Viewmaster reels and 3-D comic books, all presented in lovingly restored – and highly effective – stereoscopic 3-D transfers with excellent depth of field detail. Some of the elements of the various shorts involved are, to be expected, varied in quality, yet the restoration work is nothing short of miraculous when you see how effective the 3-D rendering is, say, for an early three-dimensional trip to our nation's capital circa 1923.
Extensive liner notes, including an introduction from Leonard Maltin, are included in Flicker Alley's superb 3-D package, which is viewable on standard 2-D Blu-Ray players but, naturally, is most effective when the full impact of the visuals can be seen in its native format. Highly recommended!
---
NIGHT OF THE GENERALS (148 mins., 1967): If you rattled off the names Peter O'Toole, Omar Sharif, Maurice Jarre and Sam Spiegel together and asked someone what film you'd be watching, most viewers would say "Lawrence of Arabia" – not the Columbia box-office disappointment "Night of the Generals." This 1967 reunion of several of "Lawrence"'s principal players wasn't well-received upon its release at the time, and for the most part, it's all too easy to see why.
"Planet of the Apes" scribe Paul Dehn's screenplay follows the investigation into the death of a Polish prostitute during WWII. Investigator Omar Sharif narrows the field of possible culprits down to a series of Nazi generals – played by O'Toole, Charles Gray and Donald Pleasance – in a case that eventually encompasses a plot to kill Hitler.
Convoluted and confusingly presented on the part of director Anatole Litvak, "Night of the Generals" is one of those fascinating failures that makes for a must-watch curiosity item for devotees of the cast. O'Toole gives a borderline hysterical performance while Sharif makes the most of his comparatively limited screen time; there's also a romance between Tom Courtenay and Joanna Pettet, plus a Jarre score that's so bombastic that it could've been used for a Hammer Dracula or Frankenstein film instead (and fit right in!).
Twilight Time's 1080p (2.35) transfer, licensed from Sony, is very strong though the source elements are not, for the most part, in pristine condition. An isolated score track and the original trailer comprise the supplemental side.
Also new this month from Twilight Time: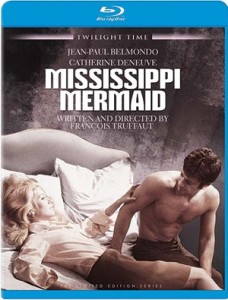 MISSISSIPPI MERMAID (123 mins., 1969). LOWDOWN: Though not regarded as one of the great Francois Truffaut's best works, this second adaptation by the director of a Cornell Woolrich novel – following "The Bride Wore Black" (also available on Blu-Ray from Twilight Time) – is an intriguing story of a French plantation owner (Jean-Paul Belmondo) who gets more than he bargained for after sending for a mail-order bride. She arrives in the form of Catherine Deneuve, but appearances prove to be deceiving in a film that was later reworked into the tepid Antonio Banderas-Angelina Jolie outing "Original Sin." TWILIGHT TIME SPECS: Nick Redman and Julie Kirgo perform their customary, even-handed analysis of "Mississippi Mermaid," touching upon its strengths, the two leads, and its place in Truffaut's filmography. An isolated score track of Antoine Duhamel's soundtrack and the trailer, narrated by Rod Serling, round out the disc. AISLE SEAT BOTTOM LINE: Regarded by some as a rare misfire for Truffaut, "Mississippi Mermaid" nevertheless makes for a satisfying view on Blu-Ray, with its 1080p (2.35) transfer of the original French release print and the two stars at the height of their on-screen charisma.
THE YOUNG LIONS (167 mins., 1958). LOWDOWN: A more "thoughtful" approach to the widescreen WWII blockbuster of the 1950s and 60s, Edward Dmytryk's 1958 Cinemascope production follows a trio of men on all sides of the conflict, from Marlon Brando's German soldier to an indifferent American (Dean Martin) who'd rather not be involved and a Jewish American (Montgomery Clift) who suffers prejudice from his platoon. Irwin Shaw's bestseller makes for an insightful, character-based picture, despite retaining all the polished technical attributes of a Cinemascope production, including Hugo Friedhofer's memorable score. TWILIGHT TIME SPECS: Nick Redman, Julie Kirgo and Lem Dobbs contribute a superb commentary discussing "The Young Lions"' unique place in the genre. A dynamite 1080p (2.35) transfer offers splendid detail while 5.1 DTS MA stereo audio delivers Friedhofer's score in an impressive mix. The trailer and an isolated score track round out the disc. AISLE SEAT BOTTOM LINE: Fascinating, superbly performed (with a great supporting cast including Hope Lange, Maximilian Schell, Lee Van Cleef and Barbara Rush among others) and backed with a sensational a/v presentation, "The Young Lions" comes highly recommended.
ABSOLUTE BEGINNERS (107 mins., 1986, PG-13). LOWDOWN: Julien Temple's vibrantly shot and performed musical tale of young love and lost dreams in the late '50s/early '60s London includes a wide range of talent, from leads Eddie O'Connell and Patsy Kensit to David Bowie, Anita Morris and Sade. The film loses some of its steam and grows more heavy-handed as it moves along, yet for aficionados of the era, "Absolute Beginners" is worth a look. TWILIGHT TIME SPECS: The MGM licensed 2.35 widescreen 1080p transfer is terrific, and 5.1 and 2.0 DTS MA stereo options make for a highly satisfying high-def package. The isolated score track is the sole extra.
STATE OF GRACE (134 mins., 1990, R): LOWDOWN: Life in and around Hell's Kitchen's Irish Mob drives this generally underrated 1990 Orion release. Scripted by Dennis McIntyre and directed by Phil Joanou, "State of Grace" offers Gary Oldman as the lifelong friend of Sean Penn, back in town after a 10 year absence, and who rekindles his relationship with Oldman as well as his brother (Ed Harris) and old flame Robin Wright. Jordan Cronenweth's stylish cinematography and Ennio Morricone's score add a touch of class to this well-acted film that flew under the radar at the time of its original release. TWILIGHT TIME SPECS: A new commentary by Joanou and Nick Redman, plus the trailer and an isolated score track of Morricone's contribution make for a recommended addition to Twilight Time's growing library of limited edition titles, as always available exclusively through Screen Archives.
---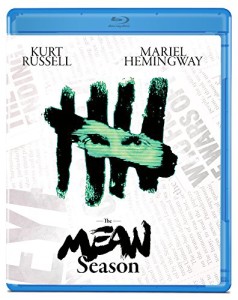 Olive Films New Blu-Ray Releases
THE MEAN SEASON (***, 103 mins., 1985, R): Director Phillip Borsos' interesting, regrettably short-lived (he died from leukemia at the age of 41) filmmaking career included this flawed but entertaining 1985 thriller.
Kurt Russell stars as a Miami newspaper reporter who becomes perilously close to a serial killer preying on young women. The duo form an unlikely relationship in a film based on John Katzenbach's book "In the Heat of the Summer," scripted by Leon Piedmont, entirely (and effectively) shot on-location in South Florida. Russell gives a strong performance as a harried, veteran newspaperman thrust into the middle of the story, with Mariel Hemingway as his girlfriend and Richard Jordan giving one of his more eclectic performances in support. Also on-hand are dependable character actors Richard Masur and Joe Pantoliano, plus Andy Garcia in one his earliest roles as a mostly combative cop.
"The Mean Season" isn't constructed as elegantly as one might hope, and doesn't muster much of a climax, but Borsos does execute several well-designed individual moments (particularly when Russell furiously runs up a draw bridge) and receives one of Lalo Schifrin's finest scores in support – one graced by a memorable love theme and exciting action cues. Olive's Blu-Ray of the February 1985 Orion release (first brought to home video by HBO back in the '80s) offers a very satisfying 1080p (1.85) transfer and DTS MA mono sound, which is so clear you can unfortunately tell how much of the dialogue was looped in post-production. Recommended.
THE THING WITH TWO HEADS (**½, 91 mins., 1972, PG): Infamous American-International genre mash-up brings Ray Milland and NFL great "Rosey" Grier together as a racist surgeon whose life is about to expire and a guy on death row, respectively, who are improbably coupled after Milland's head is grafted onto Grier's body. The two bicker as they flee from authorities while Grier tries to clear his name in this hilarious(ly bad) mix of Black-exploitation and sci-fi which at least has a sense of humor. Fans ought to have no qualms with Olive's 1080p (1.85) transfer and DTS MA mono audio – easily the best the cult favorite has ever looked on home video.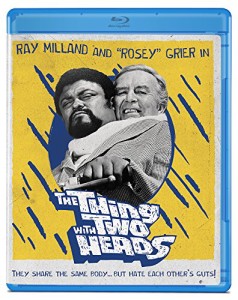 STONE COLD (**, 83 mins., 1991, R): College football star Brian Bosworth's big-screen career was launched with the release of this 1991 programmer, wherein "The Boz" stars as a tough undercover cop charged with infiltrating a southern white supremacist biker gang dubbed The Brotherhood. Lance Henriksen essays the group's leader in this strictly by-the-numbers – but guilty-pleasure entertaining – B-movie directed by Craig R. Baxley ("I Come in Peace') that's content to let Henriksen and William Forsyth do most of the heavy lifting playing opposite the movie's leading man. Baxley also seasons the movie with sufficient chase sequences, fisticuffs and action that should satisfy genre buffs. Olive's no-frills 1080p (1.85) transfer was licensed through MGM and also includes a DTS MA soundtrack sporting a Sylvester Levay score.
THRASHIN' (**, 92 mins., 1986, PG-13): Another '80s cult favorite surfaces on Blu-Ray this month from Olive. "Thrashin'" stars a post-Goonies Josh Brolin as Corey Webster, a teen skateboarder who arrives in L.A. to take part in a competition and gets wrapped up in a skating gang dubbed The Daggers, run by a charismatic tough guy (Robert Rusler) whose sister (Pamela Gidley) Corey walls for. Modestly entertaining, light '80s teen fare with a respectable 1080p (1.85) transfer and DTS MA sound on Olive's Blu-Ray.
JOHNNY BE GOOD (*½, 86 mins., 1988, PG-13): Weak teen comedy was one of Anthony Michael Hall's few starring vehicles in the '80s. Hall here plays a high school quarterback who turns into a prized collegiate recruit; his friend (Robert Downey, Jr.) pushes him to hold out for more money in this bland Orion release, co-starring a young Uma Thurman and Hall's "Breakfast Club" alumnus Paul Gleason. This 1988 Orion bust – noteworthy only for the presence of its future stars – was re-rated R for its initial home video release, where some sexual content was restored back into the film. For whatever reason, MGM's releases have been of the PG-13 rated theatrical cut, which is what we have here once again, along with a 1080p (1.85) transfer and DTS MA sound.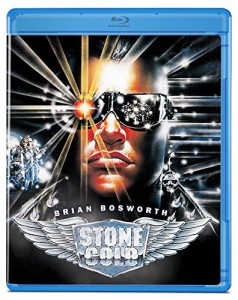 SOUL PLANE (*½, 92 mins., 2004, R): One of Kevin Hart's earliest roles stars the then-newcomer as a guy who decides to start his own airline after being awarded $100 million in a settlement. His line specifically targets African-Americans with its sassy security guard (Mo'Nique), smooth talking captain (Snoop Dogg) and a passenger (Method Man) who opens up a strip club. D.L. Hughley, Tom Arnold, Missi Pyle, and Terry Crews co-star in this 2004 MGM release from director Jessy Terrero, which opened to minimal box-office ($14 million) in late May of '04. Olive's Blu-Ray does retain the majority of the prior DVD's supplements, including cast commentary, outtakes, deleted scenes, featurettes, a 1080p (1.85) transfer, DTS MA stereo audio and both Unrated and R-rated versions of the film.
FLED (**, 98 mins., 1996, R): Tepid buddy-comedy offers Laurence Fishburne and Stephen Baldwin as a prisoners who escape – along with some evidence that could implicate the powers at be – from the scene after a fellow inmate kills several security guards. Kevin Hooks, who helmed the agreeable, if slight Wesley Snipes actioner "Passenger 57," brings the same sensitivity to "Fled," which co-stars Will Patton, Robert John Burke and Salma Hayek – but the Preston Whitmore script isn't very interesting, leaving the leads to try and carry much of the film on the basis of their own chemistry (which isn't that palpable to begin with). The 1080p (1.85) transfer and DTS MA soundtrack are both fine in Olive's Blu-Ray.
---
Arrow New Releases
Leading off Arrow's new releases this month is SPIDER BABY (84 mins., 1968), cult film director Jack Hill's craziest outing about a young girl – really an adult with an aging-regression disorder – who, along with her two siblings, cause all kinds of trouble in an exploitation favorite. Lon Chaney Jr. co-stars as the siblings' caretaker, who manages to cover up their dastardly deeds until relatives show up to take over the ancestral home.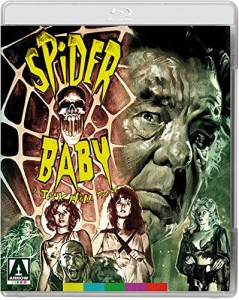 This Hill-approved Special Edition combo pack (with an accompanying DVD) offers a high-def transfer of the film (1080p B&W 1.66) with uncompressed PCM audio, supervised by the director. Extras include commentary by Hill and star Sid Haig; a panel discussion from the Academy of Motion Picture Arts and Sciences "Film to Film Festival" from 2012; "The Hatching of Spider Baby" documentary, sporting interviews with Hill, Haig, co-star Mary Mitchel, admirer Joe Dante and others; a featurette on composer Ronald Stein, who also scored "The Terror" and "Attack of the 50 Foot Woman"; "The Merrye House Revisited" takes Hill back to the original shooting locale; an alternate opening title sequence and extended scene; the trailer; Hill's 1960 short "The Host"; still galleries; and extensive booklet notes.
Hill followed "Spider Baby" with PIT STOP (91 mins., 1969), a wild exploitation-action affair that's a massive genre switch from its predecessor. Here, Richard Davalos plays a street racing punk bailed out by a race promoter who wants him to battle local champ Hawk Sidney (Sid Haig again). Brian Donlevy, Ellen Burstyn (here billed as Ellen McRae) and "Spider Baby"'s Beverly Washburn co-star in the fast-moving picture, graced with some impressive car racing sequences for a low-budget late '60s film.
This director-approved Special Edition will be released by Arrow later this month, with another version looming – licensed through Roger Corman's company – from Scorpion in early July. I haven't seen the latter to compare, but the 1080p B&W transfer here (1.78) is fairly good, and extras – which the Scorpion version won't contain – include a new Hill commentary; "Crash and Burn!" featuring Hill talking about the film; a conversation with Sid Haig on the movie; a talk with Roger Corman on the production; a restoration featurette; the trailer; and insightful booklet notes.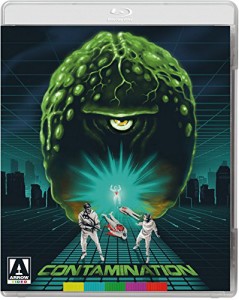 THE HAPPINESS OF THE KATAKURIS (113 mins., 2011) will rank as a must for devotees of Japanese filmmaker Takashi Miike. This 2011 effort chronicles a family who serve as innkeepers at a scenic spot at the base of Mount Fuji – all the better for murder, mayhem and other inexplicable goings-on. The subject matter may not sound like anything groundbreaking, but there are stop-motion sequences, musical numbers and other assorted insanities in a genre-bending effort best recommended for the director's fans.
Arrow's Blu-Ray/DVD combo pack includes a 1080p (1.78) transfer and uncompressed 2.0 PCM audio; commentary by Miike, along with another track featuring biographer Tom Mes; a new interview with the director; an original documentary from the film's production with behind the scenes footage and cast/crew interviews; additional cast/crew interviews; a look at the movie's animation sequences; a video essay on Miike by Mes; trailer, and TV spots.
Finally, hitting stores on July 7th is a new Special Edition of CONTAMINATION (95 mins., 1982), an unholy "Alien" rip-off from Luigi Cozzi ("Starcrash" and the Ferrigno/Cannon "Hercules" films) about a cargo ship with glowing eggs that arrives in New York City; calamity and plenty of bloody gore ensue. "Contamination" is not a good movie by any stretch but Italian horror fans are likely to get a kick out of the picture, which is here enhanced in a Blu-Ray/DVD combo pack by Arrow. A new 2K restored transfer has been minted from the original camera negative; Italian and English soundtracks (uncompressed PCM audio) abound with new English subtitles; a new commentary by Fangoria editor Chris Alexander is on-hand plus a new documentary that recounts the film's production with comments from Cozzi; a 2014 interview between Cozzi and star Ian McCulloch; a look at Goblin's score; a career-spanning interview with Cozzi; a featurette looking at Italian cashgrabs of American horror hits; the trailer; a graphic novel and extensive notes round out the package.
---
Timed to fall in line with the release of "Mad Max: Fury Road," Blue Underground has dusted off three Italian post-apocalyptic affairs influenced by the release of the first two Mel Gibson classics.
Enzo G. Castellari helmed all three of the films, forming a loose trilogy that began with 1990: THE BRONX WARRIORS (92 mins., 1982, R), which offers Mark Gregory as a gang member who falls for the runaway daughter of a ruthless politician. Shades of "The Warriors" and "Escape From New York" permeate this Italian production shot in New York, with a top billed Vic Morrow trying to save the day and widescreen cinematography making for a great looking 1080p Blu-Ray transfer. The movie itself is, unfortunately, not nearly as fun as its premise suggests, though fans will be interested in Blue Underground's extras, which include a commentary with Castellari, "Enzo G. Castellari and Fabrizio De Angelis in Conversation Part 1″; an interview with stuntman Massimo Vanni; trailers; poster/still galleries; a DTS MA mono soundtrack; and a segment where Castellari visits the "weapons rental house" of Paolo Ricci.
Gregory returned to his role in the immediate (and arguably more entertaining) follow-up ESCAPE FROM THE BRONX (89 mins., 1983, R), co-starring Henry Silva, while THE NEW BARBARIANS (91 mins., 1983, R) pairs Fred Williamson with Timothy Brent in a film set even further in the future, where warring gags scuffle in a most-nuclear wasteland.
Extras on "Escape From the Bronx" include Castellari's commentary, the third part of his interview with De Angelis; a conversation with "Bronx Warriors" superfan Lance Manley, trailers, and a still gallery. "The New Barbarians" boasts another commentary by the director, a talk with Fred Williamson, trailers, a still gallery, and the second portion of the Castellari-DeAngelis conversation. Both films also include 1080p (2.35) transfers – all of which are finely detailed and thankfully free of heavy DNR – and DTS MA mono sound.
Fans will eat up each release, which street this week from Blue Underground.
---
A JOHN WILLIAMS CELEBRATION Blu-Ray (85 mins., 2015; C Major Entertainment): Film music fans have precious little original content to enjoy on Blu-Ray, so C Major's release of last year's L.A. Philharmonic Opening Gala Concert fills a major void. This recording, under the baton of Gustavo Dudamel at the Walt Disney Concert Hall, offers a rich technical performance from the Philharmonic as they perform a series of Williams pieces, including the 15-minute original work "Soundings", written specifically for the venue's 2003 opening; the "Escapades" suite from "Catch Me If You Can"; a suite from "Schindler's List" with special guest Izthak Perlman, and assorted Williams staples ("Olympic Fanfare and Theme"; Throne Room and End Title from "Star Wars"; Cadenza and Variations from "Fiddler on the Roof"; and three encores from "Amistad," "Jaws," and the Imperial March, conducted by Williams himself). The video quality in 1080i is crisp and nicely encoded, the sound in either PCM stereo or DTS MA 5.1 is rich and full-bodied, and both a 15-minute interview between Dudamel and Williams – touching upon the individual pieces – and a shorter interview with Perlman comprise a short but welcome supplemental section. While there's always an issue with Williams concerts in that there's an embarrassment of selections to choose from, this is nevertheless a fine performance of Williams' music, and the interview sections ought to make it a strongly recommended release for the maestro's many fans (this one included). A DVD release is also available featuring 5.1 and stereo audio.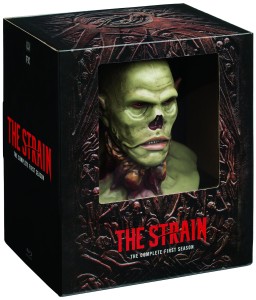 THE STRAIN Season 1 Blu-Ray Premium Collectible Edition (596 mins., 2014; Fox): Guillermo Del Toro is one of the producers behind this ambitious FX series about a modern-day vampiric virus that overtakes mankind, and the work of scientists and even a Holocaust survivor to try and prevent it from eradicating the living altogether. Despite the premise, though, "The Strain" made for a mostly slow-going Season 1, populated with many unappealing characters and situations that felt awfully familiar. The production, make-up and special effects are all feature-quality, but the writing fails to live up to them, making for a series that I eventually tuned out of.
For fans, Fox has re-issued its Season 1 Blu-Ray with a few new, extensive extras (deleted scenes, a gag reel, and two commentaries by Del Toro and Carlton Cuse, respectively) plus – most significantly – a superbly rendered bust (7.5 X 6 X 8.5) of the show's "big bad," The Master. The articulation and design of The Master ought to be sufficient reason for hardcore "Strain" devotees to invest in Fox's limited-edition box set, just as Season 2 debuts this summer on cable.
THE LAZARUS EFFECT Blu-Ray Combo Pack (*, 83 mins., PG-13, 2015; Fox): Whatever possessed talented stars like Olivia Wilde and Mark Duplass to star in this feeble Blumhouse co-production – once intended to be a Lionsgate release for 2014 – is anybody's guess (beyond the obvious monetary concerns). Needing credits to goose its running time over 80 minutes (!), "The Lazarus Effect" offers Duplass and Wilde as scientists who stumble upon the secret of reanimating the dead. Naturally, they soon wish they hadn't bothered, as director David Gelb's script trots out a series of horror movie cliches that are completely unsurprising from beginning to end. A movie that has no chance of being reanimated by audiences, "The Lazarus Effect" has been issued on Blu-Ray by Fox sporting a 1080p (2.40) transfer, 5.1 DTS MA sound, a digital copy, deleted/extended scenes, and two behind the scenes featurettes.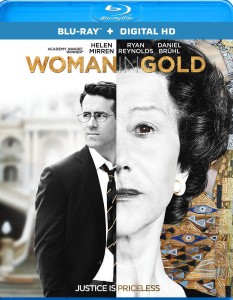 SURVIVOR Blu-Ray (**½, 96 mins., 2014, PG-13; Alchemy): Surprisingly good direct-to-video fare from director James McTiegue ("V For Vendetta") pits Milla Jovovich's U.S. security expert against Peirce Brosnan's cold-blooded assassin while she's on the run, fleeing from authorities after being framed for a terrorist attack. Dylan McDermott, Angela Bassett, Robert Forster and James D'Arcy comprise the solid supporting cast in this straightforward thriller that, maybe a decade ago, would've played in theaters with Jovovich and Brosnan at the height of their respective popularity. As it is, "Survivor" may not be great shakes but it's a perfectly decent rental candidate, especially on Blu-Ray where Alchemy's Blu includes a good looking 1080p transfer, Dolby TrueHD soundtrack, a Making Of and deleted scenes.
WOMAN IN GOLD Blu-Ray (***, 109 mins., 2015, PG-13; Anchor Bay): Standout performances from Helen Mirren as Maria Altmann and Ryan Reynolds as her young lawyer Randy Schoenberg immeasurably aid this true story about a Holocaust survivor who sues to retrieve family possessions – specifically, art work – that was taken by the Nazis during WWII. When Simon Curtis' film flashes back to the war, Tatiana Maslany (TV's "Orphan Black") is superb as the young Mirren, and Jonathan Pryce provides a strong cameo as Chief Justice William Rehnquist; it culminates in a particularly satisfying ending, well acted by its leads. Anchor Bay's Blu, out July 7th, includes a Making Of, press conference, commentary with Curtis and producer David Thompson, a 1080p (2.39) transfer and 5.1 DTS MA audio.
VANILLA SKY Blu-Ray (**, 135 mins., 2001, R; Warner): Tom Cruise is in nearly every scene of "Vanilla Sky" –Cameron Crowe's American remake of Alejandro Amenabar's overpraised "Abre Los Ojos" – and that should tell you something about this overheated relationship drama/sci-fi thriller that suffers from all of the same ailments that plagued Amenabar's original Spanish version.
Cruise plays a pretty boy magazine mogul who falls for gorgeous Penelope Cruz at the same time his jealous, long-time sex partner (Cameron Diaz) decides to commit suicide with Cruise along for the ride. What happens thereafter is difficult to describe without giving the entire film away, but it involves Cruise's possible disfigurement (or does it?), his murder of either Cruz or Diaz (or both?), a possible corporate takeover of his magazine, and a virtual reality company that intrigues not just Cruise but also psychiatrist Kurt Russell.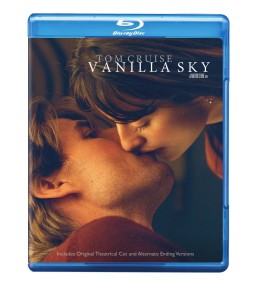 If you haven't seen Amenabar's film, "Vanilla Sky" offers few surprises, incorporating almost all of "Abre Los Ojos"' plot twists and developments as they occur. For a while, the film is fascinating, but as it unravels — with so many outlandish plot revelations thrown at the viewer — it becomes harder to stay with, with Cruise's memorable line "what the $&#! is going on?" a rallying cry for the audience as well. In the American version, Crowe slings some humor at the viewer, as well as a handful of pop culture references (from album covers to film references), but if anything, they serve to further clutter the already-tangled story, particularly for those who didn't see the Spanish film.
Warner's belated Blu-Ray of "Vanilla Sky" offers a number of new special features including 12 never-before-seen alternate sequences and two new vignettes, plus extras from the DVD (commentary, an interview with Paul McCartney), a gag reel, a 1080p (1.85) transfer that highlights John Toll's superb cinematography and 5.1 DTS MA sound.
---
AWAKEN DVD (89 mins., 2014, R; Arc Entertainment): A group of young adults wake up on a tropical island, only to find out they've been part of a human organ harvesting program, in Mark Atkins' film, which stars an assortment of young and veteran actors, some of whom (Edward Furlong, Daryl Hannah, Michael Pare) have seen better days. Arc's DVD includes a 16:9 transfer and 5.1 Dolby Digital sound.
SPIKE ISLAND DVD (113 mins., 2015; Level 33): Emilia Clarke (Game of Thrones, the new Terminator sequel) stars in this story of a group of Manchester teens who travel to hand deliver their demo tape to the Stone Roses. An enjoyable coming-of-age story with plenty of Stone Roses songs on the soundtrack. Level 33's DVD, out this week, includes three featurettes, a 16:9 transfer and 5.1 Dolby Digital sound.
Lionsgate New Releases: A mundane genre exercise funded by European and Asian sources, LAST KNIGHTS (114 mins., 2014, R) sends a slumming Clive Owen into battle as a medieval warrior trying to avenge his master's death. A mostly international cast that will be unfamiliar to U.S. viewers backs him up along with a cameo from Morgan Freeman in a forgettable affair Lionsgate brings to Blu-Ray this week. Cast and crew interviews, two featurettes and a digital copy are included along with a 1080p (2.40) transfer and 5.1 DTS MA sound…Noah Baumbach's latest, WHILE WE'RE YOUNG (97 mins., 2013, R), makes its home video debut this week from Lionsgate. Ben Stiller and Naomi Watts star as a coupe entering middle age who try and keep up with a pair of twentysomethings (Adam Driver, Amanda Seyfried). More genial than usual for Baumbach but still decidedly best appreciated by devotees of the director, "While We're Young" hits Blu-Ray with a 1080p (1.85) transfer, 5.1 DTS MA sound, and a digital copy…Kids might enjoy the animated feature FROG KINGDOM (88 mins., 2014, PG), which streets this week and follows a collection of candidates participating in a "Froglympics" to determine who will win the hand of the Frog King's daughter. Lionsgate's DVD boasts a recording session featurette (with voices provided by Keith David, Rob Schneider and Drake Bell among others), a 16:9 transfer (2.40), 5.1 Dolby Digital sound and a digital copy…GANGLAND UNDERCOVER: Season 1 (270 mins., 2015) profiles Charles Falco as he recounts his life as a government informant who broke into three outlaw biker gangs and lived to tell the tale. Six episodes of the History series are included in this real-life "Sons of Anarchy," with Lionsgate's DVD offering 16:9 (1.78) transfers and 5.1 Dolby Digital soundtracks.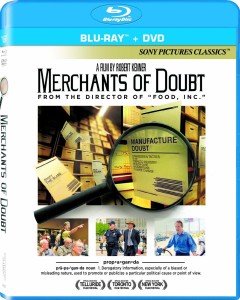 Well Go New Releases: Coming on July 7th from Well Go are a pair of new titles on Blu-Ray. FOR THE EMPEROR (105 mins., 2014) is a contemporary Korean thriller about a former baseball player who becomes involved with the mob and ends up butting heads with a loan shark who may be behind the disappearance of his girlfriend. Well Go's Blu includes a 1080p transfer and 5.1 DTS MA audio with English subtitles. Also on July 7th, Well Go releases THE ROAD WITHIN (102 mins., 2014, R), Gren Wells' film about a guy with Tourette's Syndrome (Robert Sheehan) who escapes from a facility after the death of his mother in order to take part in a road trip with his friends (Zoe Kravitz, Dev Patel). Well Go's Blu includes interviews with the cast and Wells, deleted scenes, a music video, the trailer, a 1080p transfer and 5.1 DTS MA sound.
Cinedigm New Releases: The parody film TOOKEN (81 mins., 2015, R) mashes up an innumerable amount of recent films when Lee Tergesen's ex-CIA agent starts working as a mall security guard. Are there more laughs than "Paul Blart"? You'll have to find out for yourself when Cinedigm rolls out "Tooken" on DVD July 7th sporting deleted scenes, a behind the scenes featurette and "Cribs" spoof. Reno Wilson, Margaret Cho and Joyce Builfant (a name from the past!) co-star…THE ENCORE OF TONY DURAN (86 mins., 2015) finds Gene Pietragallo's would-be crooner trying to make a go of it in Fred Sayeg's film co-starring Elliott Gould and William Katt as a tattooed drug kingpin! Commentary, interviews, a 16:9 transfer and 5.1 sound comprise Cinedigm's DVD.
INVISIBLE UNIVERSE REVEALED (60 mns., 2013) is a superb Nova examination of the Hubble Telescope – from its inauspicious beginnings (sending back poor images) to the rescue mission that helped the device become the groundbreaking telescope it was intended to be all along. The Hubble's accomplishments are profiled in this excellent offering from director Peter Yost, arriving on DVD June 30th with a 16:9 transfer and 2.0 stereo sound…NAZI ATTACK ON AMERICA (60 mins., 2015) is a terrific documentary that documents Bob Ballard's investigation into a German U-Boat that sunk off the coast of New Orleans, but not before claiming 5,000 lives. One of the best recent PBS documentaries I've seen, this NOVA special comes to DVD on July 14th. Highly recommended.
The BBC dramatic series THE CRIMSON FIELD (6 hours, 2014) is set on the French frontlines of WWI, where British doctors, nurses and volunteers tend to the sick and wounded. Sarah Phelps penned this well-acted series, with a cast led by Hermoine Norris and Kevin Doyle, yet viewership was meager, and the program was canceled after its first season. PBS' complete series Blu-Ray includes uncut UK episodes, 1080i HD transfers and stereo 2.0 soundtracks…THE DAY THE 60s DIED (60 mins., 2015) profiles the turbulent month of May, 1970, when the U.S. invaded Cambodia and campus protests spread across the U.S., culminating in the infamous Kent State shootings. PBS' hour-long documentary includes archival footage, a 16:9 transfer and stereo soundtrack…Finally, family audiences should eat up ANIMAL CHILDHOOD (60 mins., 2015), a Nova special that examines what happens when a variety of animals is forced to leave their proverbial (and sometimes literal) nests. Wonderful footage comprises this documentary, which streets later in July with a 16:9 widescreen transfer and stereo sound.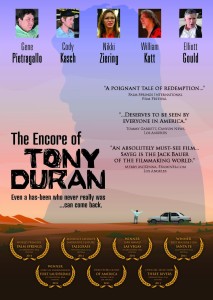 MERCHANTS OF DOUBT Blu-Ray (93 mins., 2015, PG-13; Sony): Robert Kenner, director of "Food, Inc.," returns with an adaptation of Naomi Oreskes and Erik M. Conway's book, which follows a group of spin doctors recruited by large corporations to cast doubt on issues ranging from global warning to tobacco use. Deleted scenes, "An Evening at the Toronto International Film Festival," commentary with the director, a 1080p (1.78) widescreen transfer and 5.1 DTS MA audio comprise the Blu/DVD combo pack, which streets on July 7th from Sony.
SOLDATE JEANNETTE DVD (79 mins., 2013; Indiepix): Two women (Johanna Orsini-Rosenberg, Christina Reichsthaler) leave their lives behind in a strange Austrian import from director Daniel Hoesl. Indiepix's DVD includes a bonus short, "Madness of the Day," plus a 16:9 transfer and 5.1 audio of the indie film, now available on DVD for the first time in North America.
NEXT TIME: A Shout summer sizzler with THE HOWLING II and more! Until then, don't forget to drop in on the official Aisle Seat Message Boards and direct any emails to our email address. Cheers everyone!