It's hard to believe that two of the best films of the 1970s – Steven Spielberg's "Jaws" and the Francis Coppola/Carroll Ballard production of THE BLACK STALLION (****, 117 mins., 1979, G) – both became classics through filmmaker improvisation and sheer luck. In fact, hearing the horror stories of how "The Black Stallion" was shelved by United Artists – who believed the film was basically un-releasable – makes you wonder how a film like it would ever be produced today in the same way – or at all.
Director Ballard's magical, spellbinding 1979 adaptation of Walter Farley's book – about the relationship between Alec Ramsay (Kelly Reno), a boy shipwrecked on a desert island, and a mysterious stallion who he immediately bonds with – remains one of the greatest "family" films ever made. That the picture became the enduring favorite it did wasn't just through the innovation of Ballard, his ace cinematographer Caleb Deschanel and crew, but also the cast, whom Ballard credits with saving a script that was in a constant state of flux due to the production's constant struggles to hold it together. Some of that situation was apparently caused by Ballard himself – at least depending on who you believe – since co-writer Jeanne Rosenberg, who worked with "E.T."s Melissa Mathison, has said that the film went into production without Ballard having committed to a script, causing the duo (who are credited on the picture with "Lonesome Dove"'s Bill Wittliff) to work on the picture daily in what was a borderline-chaotic shoot.
Add in a studio that was more invested in Coppola's "Apocalypse Now" and couldn't understand the "art house" mentality that Ballard and Coppola infused in their approach to "The Black Stallion," and you had the recipe for a movie that, for a time, never looked as if it would be theatrically released. Months passed, the film was completed and shelved, and only Coppola's clout led UA to release the film in late 1979 – where, of course, it was greeted with universal acclaim and shocking (to the studio) box-office receipts.
The movie's lack of narrative "hand holding" wasn't a problem for young viewers, whose intelligence is often undervalued by most studios, who feed them a steady diet of dumb cartoons and 3-D effects-filled extravaganzas these days. "The Black Stallion" offers none of that: just a beautiful, intelligent, handcrafted story with one of the strongest opening hours in film history. There are few children's films that open as hauntingly as "The Black Stallion" does, as Alec and "The Black" work with each other to stay alive in a beautiful but isolated island paradise. Deschanel's cinematography and the gorgeous Carmine Coppola score are the perfect accompaniment to the film, which moves gracefully without dialogue before Alec returns to civilization. There, he meets Henry (Mickey Rooney's defining screen performance), a former jockey who helps Alec train the Black into a thoroughbred contender. While this section of the film is often viewed as inferior to what came before, it's still a wonderfully presented slice of Americana, perfectly played by the cast – most especially Rooney, whom Ballard credits with improvising his character ("it IS Mickey Rooney," as Ballard states in a new Criterion interview) and helping to salvage the film's concluding portions.
"The Black Stallion" is marvelous filmmaking for any age, and one takes away from Criterion's new Blu-Ray with the depressing belief that a film like it would never be made today. No studio would let a film for this market play with so little dialogue for so long, not to mention enable a first-time feature director like Ballard to have so much creative freedom. As Ballard acknowledges in an interview recorded for Criterion's Blu-Ray, his inexperience was such that he wouldn't have blamed the studio for letting him go – yet the fact they did stand behind him, despite their later confusion over the film that resulted, is something that speaks volumes about where cinema was in the late '70s…and also, regrettably, where it is today.
Criterion's Blu-Ray of "The Black Stallion" follows MGM's vanilla Blu-Ray release from just a year ago (incredibly, it took that long for a properly anamorphic release of this classic to see the light of day). Criterion's 1080p (1.85) transfer, however, doesn't reprise that good looking disc, but instead improves upon it thanks to a new 4K restoration supervised by Caleb Deschanel. The image appears fresher with even clearer details than the prior Blu-Ray, all of it spectacularly preserved here in HD. The audio is housed in a fine 2-channel DTS MA stereo mix, preserving the movie's original Dolby soundtrack, while all-new extras include a wide-ranging interview with Ballard conducted by Variety critic Scott Foundas; a 20-minute conversation with Deschanel; an on-set photo gallery sporting an interview with photographer Mary Ellen Mark; and five shorts from Ballard, many shot by Deschanel, that served as a lead-in for his work on "The Black Stallion."
Also new from Criterion this month is THE KILLERS (102 mins., 94 mins., 1946-64), a Blu-Ray release that combines the two Universal adaptations of Ernest Hemingway's short story. The 1946 Robert Siodmak version is a straight, black-and-white film noir with Burt Lancaster and Ava Gardner – scored by Miklos Rozsa (with a pre-"Dragnet", similar sound) – that basically shuffles its title characters off to the side. "The Killers" themselves, however, take center stage in the pungent 1964 color version from director Don Siegel, which pairs Lee Marvin with Angie Dickinson and John Cassavetes, with Ronald Reagan essaying a ruthless crime boss in a memorable turn before the actor went straight into politics. The latter was conceived as a TV movie (and is presented, like the earlier version, in 1.33 as a result) but theatrically released after it was determined to be too strong for audiences of the day. Criterion's Blu couples both versions in AVC encoded 1080p transfers with mono sound and superb extras, including Andre Tarkovsky's 1956 short film version; an interview with Stuart M. Kaminsky about both films; Stacy Keach reading from the original short story; The Screen Directors' Playhouse radio adaptation from 1949 featuring Lancaster and Shelley Winters; a 2002 interview with Clu Gulager, who stars in the 1964 version; an audio excerpt from Siegel's autobiography, read by writer Hampton Fancher; essays and trailers, plus insightful liner notes. Recommended!
---
IT FOLLOWS Blu-Ray (**½, 100 mins., 2014, R; Anchor Bay): A stylish homage to John Carpenter's "Halloween" and other teen-centric horrors of the late '70s and '80s where sex was a constant undercurrent, "It Follows" stars Maika Monroe as a young woman whose most recent intimate relationship has caused a ghost – visible only to the afflicted, and often housed in the form of a loved one – to jump from her partner to her. Obvious metaphors for STDs abound in David Robert Mitchell's good looking film, which emulates the cinematography of Dean Cundey and the synthesized scoring of Carpenter and Alan Howarth in the sound design by "Disasterpeace." It's also scarcely as horrifying as some of its gushing reviews might lead you to believe, playing its hand early and repeating the same scare tactics throughout its overly leisurely 100-minute running time. Genre fans are likely to appreciate the film more than the average viewer, at least, though it might help Mitchell's cause to work with more appealing characters the next time around – something Carpenter clearly had a handle on. Anchor Bay's Blu-Ray offers a critics' commentary hosted by horror geek Scott Weinberg, a talk with Disasterpeace, the trailer, a poster art gallery, a flawless 1080p (2.40) transfer and active 5.1 DTS MA soundtrack.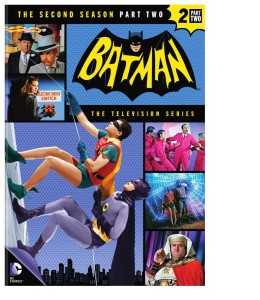 BATMAN: The Second Season, Part Two DVD (756 mins., Warner): Adam West's Batman and Burt Ward's loyal sidekick Robin are back in the second half of "Batman''s classic second season. In these 30 colorful, action-packed, camp-filled episodes, the Caped Crusaders take on Mr. Freeze and the Penguin, King Tut, Catwoman, the Joker, and the Riddler (here played by John Astin, stepping in for Frank Gorshin), while joining forces with the Green Hornet and Kato in protecting Gotham City. For those who didn't purchase Warner's superb, Complete Series box-set from last year, this is a good way to gradually add to one's collection, with Warner's DVD package offering the exact same remastered 4:3 transfers and mono soundtracks as the already-available editions. Recommended!
PAUL BLART: MALL COP 2 Blu-Ray Combo Pack (*½, 94 mins., 2015, PG; Sony): One of the more improbable box-office hits of recent years, Kevin James' "Paul Blart: Mall Cop" envisioned the comedian as a suburban John McClane in a PG-rated family comedy – produced by Adam Sander – that managed to make an enormous amount of money in spite of terrible reviews. James and company likely waited far too long to cash in on the original's success, as the belated "Paul Blart: Mall Cop 2″ – which sends Blart off to Vegas with his daughter (Rani Rodriguez), only to run into "trouble" – managed to gross less than half of its predecessor. Still, a $70 million gross itself is surprising given the fact this feeble follow-up manages to be even less amusing than the original. Available this week on Blu-Ray in a combo pack with a Digital HD copy and DVD, Sony's presentation includes BD-exclusive special features like a gag reel, deleted scenes, photo gallery, and numerous featurettes, a couple of which are also found in the standard-def version. The 1080p (1.85) transfer and 5.1 DTS MA soundtrack are both top notch.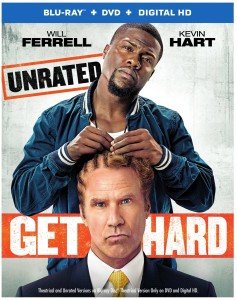 GET HARD Blu-Ray Combo Pack (*½, 100 mins., 2015, R; Warner): The pairing of Will Ferrell and Kevin Hart should have resulted in big-time laughs, but "Get Hard" proves to have been the wrong combination of the two comedians. Etan Cohen's comedy follows a hedge fund manager (Ferrell) who's blamed for fraud while working at his future stepfather's (Craig T. Nelson) firm. In preparation for his incarceration, Ferrell turns to a hardworking car washer (Hart) who pretends to have Big House experience in order to tutor him about life on the inside. Aside from a few laughs this box-office underachiever is a big disappointment, squandering both leads with poor material and a story that goes nowhere. Warner's Blu-Ray includes an unrated extended version that adds seven minutes; deleted scenes; a gag reel; short featurettes; a 1080p (1.85) transfer; 5.1 DTS MA sound, a DVD and digital copy.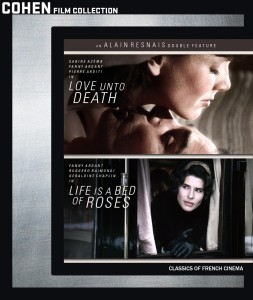 Lionsgate New Releases: Michael Landon's beloved, long-running NBC family drama LITTLE HOUSE ON THE PRAIRIE (20 hours, 1979-80) – a free adaptation of Laura Ingalls Wilder's books – returns to Blu-Ray for its sixth season release this week, having been remastered in HD. As with Lionsgate's prior Blu-Ray releases, this is an immediate and immeasurable improvement from prior DVD releases of the series, several of which were derived from PAL masters. These uncut, remastered episodes look phenomenal by comparison, here benefitting the series' 1979-80 campaign, which includes Albert's adoption and the fatal fire at the school for the blind. Extras include the sixth part of the "A Lasting Legacy" documentary Lionsgate has included in all prior editions of the series.
Luke Perry and Bruce Davison star in BLACK BEAUTY (86 mins., 2014, PG), mostly an original story by director Daniel Zirilli and Amy Zirilli "inspired" by the classic novel. Lionsgate's DVD, out this week, includes a digital copy, 16:9 (1.78) transfer and 5.1 Dolby Digital sound…POLTERGEISTS: REAL LIFE HAUNTINGS (5 hours, 1996-2008) is a two-disc History Channel compilation of hour-long specials related to poltergeists, hauntings, exorcisms, satanic worship and zombies as well. A bit late to the party in terms of cashing in on this summer's (apparently lackluster) "Poltergeist" remake, this is nevertheless an affordable pick-up for interested viewers. Lionsgate's DVD includes 1.33 full-screen transfers and 2.0 stereo soundtracks.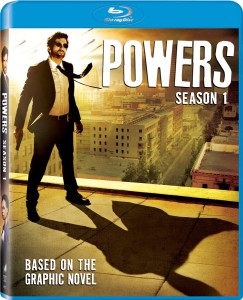 Magnolia New Releases: Dogs stage their own revolution in the haunting Hungarian import WHITE GOD (121 mins., 2014, R), a provocative picture that finds the world's "unfit" canines of mixed breeds rising up to challenge their human oppressors. Very obvious metaphors abound in this well-shot, if somewhat drawn out, picture, which received acclaim after showing at Cannes last year. Magnolia's Blu-Ray boasts a behind-the-scenes segment, interview with director Kornel Mindruezo, and an interview with animal coordinator/technical advisor Teresa Ann Miller. The Blu-Ray boasts a good looking 1080p (2.39) transfer and 5.1 DTS MA audio in Hungarian with English subtitles…KILL ME THREE TIMES (90 mins., 2015, R) is the latest from "Red Dog" director Kriv Stenders. Here, Simon Pegg plays an assassin trying to kill a small surfing town's resident femme fatale (Alice Braga). Bryan Brown, Luke Hemsworth, Teresa Palmer, and Sullivan Stapleton headline this indie black comedy with Magnolia's Blu-Ray sporting commentaries, a deleted scene, Making Of, storyboards, poster gallery, a 1080p (2.39) transfer and 5.1 DTS MA sound.
POWERS – Season 1 Blu-Ray (437 mins., 2015; Sony): Sharlto Copley stars as a cop who, along with his partner (Susan Heyward), investigate crimes as part of the Powers Division: a police enforcement unit that cuts down on the bad behavior of various super-powered humans who, as it turns out, use their abilities not for good but rather their own personal agendas. This stylish, occasionally R-rated series, adapted from a graphic novel, has performed well on Netflix and comes to Blu-Ray this week from Sony in a Season 1 package along with a digital HD copy. Special features include format exclusive deleted scenes and outtakes, "The Art and Adaptation of Powers" featurette, plus an additional featurette, crisp 1080p (1.78) transfers and 5.1 DTS MA soundtracks.
---
Several unusual titles grace Warner's Archive Collection releases this month.
An unusual 1975 animated film from Hungary that was revoiced for the U.S. market and distributed through 20th Century Fox, HUGO THE HIPPO (91 mins.) is a fascinating effort with trippy colors, saccharine songs, and violent, depressing moments. The kind of cartoon you don't see much these days, "Hugo" looks at the life of a Zanzibar hippo – assigned with his fellow hippos to police local waters, looking for sharks – after he's targeted by the Sultan's minister, who wants the herd wiped out after they've completed their task. Narration from Burl Ives and the voices of Paul Lynde, Robert Morley, and Marie and Jimmy Osmond make for a recommended curiosity for animation buffs, but likely unsuitable for younger children due to its violence and overall weirdness. Warner's Archive DVD boasts a 16:9 (1.85) transfer and mono sound.
A pair of enjoyably breezy MGM comedies from the early '60s are also on tap from the Archive. A GLOBAL AFFAIR (84 mins., 1963) finds Bob Hope as a UN official who's assigned to care for a baby girl left at the headquarters. No sooner is Hope's Frank Larrimore tasked with the infant's well being than he "interviews" a number of beautiful women from different countries, all of whom want to take care of the child – and Frank himself. Jack Arnold directed this breezy affair, co-starring Michele Mercier, Yvonne DeCarlo, Miko Taka and Lilo Pulver, and presented here on DVD from the Archive in a 16:9 (1.78) B&W transfer and mono audio.
Even more entertaining is COME FLY WITH ME (109 mins., 1963), a colorful widescreen confection with stewardesses Dolores Hart, Pamela Tiffin and Lois Nettleton serving up sex appeal in the friendly skies for "Polar International" airlines. Hugh O'Brian, Karl Boehm and Karl Malden serve up the masculine portion of the cast in this playful, and highly entertaining, MGM comedy that's a must in widescreen, and is finally presented at last in 2.35 in Warner's Archive DVD. The 16:9 transfer is essential to appreciating this good-natured time capsule, while the mono audio serves up a Frankie Avalon performance of the classic title track.
---
THE LOVERS Blu-Ray (109 mins., 2010, R): Once intended to be a major production, this time travel romance – written and directed by the formerly great Roland Joffe of "The Killing Fields" fame – sends Josh Hartnett back in time to 1778, after suffering a near-fatal accident in 2020. While his girlfriend looks on in the present, Hartnett's protagonist believes that he's alive and well, working for the British East India company and falling for an Indian warrior (Bollywood star Bipasha Basu). On the shelf for several years, "The Lovers" doesn't even muster the average entertainment of an "Outlander" episode, though it's nicely shot and the concept is intriguing. IFC's Blu-Ray includes a 1080p transfer (2.40), 5.1 DTS MA soundtrack, a Making Of featurette and the trailer.
Coming on DVD: Emmy Rossum and Justin Long play a star-crossed couple in the zig-zagging timeframe romance COMET (91 mins., 2014, R), a film written and directed by Sam Esmail that makes its DVD debut from IFC on July 28th. The disc includes the trailer, a 16:9 transfer (1.85) and 5.1 Dolby Digital soundtrack.
ALAIN RESNAIS Double Feature LOVE UNTO DEATH and LIFE IS A BED OF ROSES Blu-Ray (Cohen): A pair of French dramas from director Alain Resnais have been restored for a new Blu-Ray double feature from the Cohen Film Collection. The 1984 Resnais effort "Love Unto Death" is a meditation on love and death, particularly on how it relates to the relationship between Simon and Elisabeth, which takes a heavy turn when the former dies and is miraculously revived. 1983's "Life is a Bed of Roses" is a decidedly more playful effort from the director – a tribute to influential French directors Georges Melies, Marcel Herbier and Eric Rohmer. Cohen's Blu-Ray boasts DTS MA 5.1 audio in French with English subtitles, re-release trailers, 1080p transfers and commentaries by French cinephiles Wade Major and Andy Klein.
---
THE SAGEBRUSH SAGA (60 mins.) is a Nature documentary that examines the sagebrush that encompasses some 11 states in the West – a landscape dotted with specific spcies of birds, mammals, prairie dogs and the Greater Sage-Grouse, whose existence – and survival – is profiled in this production of the Cornell Lab of Ornithology. The 16:9 transfer and stereo soundtrack on PBS' DVD are superb…An even more cautionary documentary, LETHAL SEAS (60 mins., 2013), alarmingly examines how carbon dioxide emissions are wrecking our world's oceans. A coral garden in Papua New Guinea offers scientists a possible solution in this thought-provoking Nova production, on DVD July 21st from PBS with a widescreen transfer and stereo soundtrack…Frontline's OUTBREAK (60 mins.) offers the most comprehensive profile yet of how the Ebola outbreak engulfed West Africa and the poor planning and decision making on the part of governments and the World Health Organization in treating patients before it spread. This hour-long documentary also streets July 21st and contains a stereo soundtrack and 16:9 transfer.
KUNG FU KILLER Blu-Ray (101 mins., 2014, Not Rated; Well Go USA): Donnie Yen stars as a convict and kung fu expert who helps the police take on a killer preying upon top martial arts masters in this Hong Kong import, coming to Blu-Ray on July 21st from Well Go. The disc includes a Making Of, the trailer, 1080p transfer and 5.1 DTS MA sound in Cantonese with English subtitles.
NO WAY JOSE DVD (98 mins., 2015, R; Sony): Actor Adam Goldberg directed, co-wrote (with Sarah Kate Levy) and stars in this comedy about a former indie-rocker who now plays kids birthday parties and faces a "middle aged crisis" along with his similarly burned out friends. Ahna O'Reilly, Eric Siegel, Emily Osment and Gillian Jacobs offer support to Goldberg in his pet project, which Sony brings to DVD this month. The disc includes deleted scenes, outtakes, and a commentary by Goldberg to go along with its 16:9 (2.40) transfer and 5.1 soundtrack.
EVERY SECRET THING DVD (93 mins., 2014, R; Anchor Bay): A pair of 11-year-old girls from conflicting sides of the proverbial tracks are convicted of murdering an infant. The case seems to be closed until seven years later, when the duo (Dakota Fanning, Danielle Macdonald) are targeted again by a detective (Elizabeth Banks) after another toddler goes missing. Diane Lane co-stars in Amy Berg's well-acted little thriller, which comes to DVD on August 4th from Anchor Bay sporting a 16:9 (1.85) transfer and 5.1 soundtrack.
TIGER ORANGE DVD (76 mins., 2015; Wolfe Video): Sensitive, interesting drama offers a different take on gay dramas with its pair of estranged, homosexual brothers (Mark Strano, Frankie Johnny Hazzard) – one of whom heads for L.A. to proclaim his identity, while the other stays at home to run the family store and care for their dying father. The contrasting personalities of the duo make for a reasonably compelling picture, well performed and now available on DVD from Wolfe with a 16:9 transfer and stereo soundtrack.
ECHOES OF WAR DVD (99 mins., 2015, R; Arc Entertainment): Two Texas families struggling to make it after the Civil War end up battling one another in a family-feud drama from director Kane Senes. James Bage Dale, Ethan Embry, William Forsythe and Maika Monroe star in "Echoes of War," which streets this week from Arc on DVD featuring a 16:9 transfer and 5.1 Dolby Digital sound.
NEXT TIME: Linda Blair skates for some ROLLER BOOGIE plus more Olive new releases! Until then, don't forget to drop in on the official Aisle Seat Message Boards and direct any emails to our email address. Cheers everyone!