Skating its way onto Blu-Ray this month as part of Olive Films' July Blu-Ray slate is none other than ROLLER BOOGIE (**½, 1979, 104 mins., PG). A pre-exploitation Linda Blair stars as a good girl who rebukes Juilliard so she can skate-skate-skate her way with roller boogie veteran Jim Bray into certain disco stardom. Unfortunately, some bad guys decide that their local skate park is a good spot for a real estate deal, and promptly threaten the future of all young skating maniacs by wanting to trash their hangout.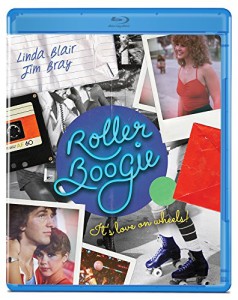 Dean Cundey shot this no-brain, feel-good romp, which plays like an episode of "Chips," minus Ponch, Jon, and the California Highway Patrol. Irwin Yablans, meanwhile, presented the Compass International production (one of the few non-"Halloween" films Compass turned out), which was bought by UA and released to what apparently were solid box-office returns in 1979. Blair is also undeniably cute with her frizzy hair and Wonder Woman-colored spandex outfits, adding to the overall appeal.
It's silly, good-natured family fun – albeit with drawn out "dancing" sequences that extend the running time by a good 10-15 minutes – that cult fans should gobble up on Blu-Ray. Olive's 1080p (1.85) transfer sports an attractive presentation without much in the way of obvious noise reduction and just a bit of dirt and grime in its source material. The DTS MA mono audio is robust for a film of this type as well.
Also out from Olive this month in high-def:
KING OF THE GYPSIES (***, 112 mins., 1978, R): The compelling Dino DeLaurentiis production – atypical from his usual big-budget outings – "King of the Gypsies" is Frank Pierson's 1978 embellishment of Peter Maas' non-fiction book, one that profiled gypsies in the modern world. Eric Roberts stars as a young man who receives the title of King from his grandfather (Sterling Hayden), passing over his frustrated, hot-tempered father (Judd Hirsch) in the process. A marvelous cast – including Susan Sarandon, Brooke Shields (as Roberts' younger sister), Annette O'Toole, Annie Potts, and Shelley Winters – makes this a taut and fascinating film with superb cinematography from Sven Nykvist and an infectious score by David Grisman featuring the great violinist Stephane Grappelli. Olive's Blu-Ray does more justice to Nykvist's work through its 1080p (1.85) transfer than the movie's prior DVD debut from Legend Films, though the image is still fairly drab and typical of its era; the 2.0 DTS MA mono audio is passable.
CRIMINAL LAW Blu-Ray (*½, 1989, 117 mins., R): Boston criminal defense attorney Gary Oldman (boasting a none-too-convincing American accent) finds out that his client (Kevin Bacon) is actually guilty of the crime he's been convicted of in this unbelievable, unsatisfying thriller from director Martin Campbell, featuring one of Jerry Goldsmith's all-time least appealing synth scores. This Hemdale variant on the likes of more popular '80s courtroom affairs like "Jagged Edge" manages to squander a vast array of talent and comes to Blu-Ray from Olive sporting an okay 1080p (1.85) transfer that's at least superior to the prior MGM DVD release, one that was soft and blurry. The DTS MA 2.0 stereo audio isn't any great shakes either.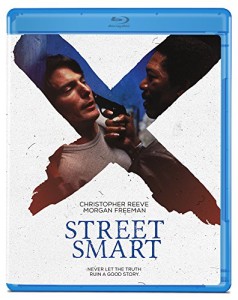 STREET SMART Blu-Ray (**½, 97 mins., 1987, R): Unsatisfying pet project from Christopher Reeve – an incentive for his appearance in Cannon's "Superman IV" – does offer a powerhouse performance from Morgan Freeman as a domineering, psychotic pimp on trial for murder. Reeve, however, tends to drift through the poorly defined central role of a reporter who decides to embellish his expose on NYC street life and unwittingly gets wrapped up in Freeman's case. Jerry Schatzberg directed "Street Smart" from a script by David Freeman, one that Reeve hoped would open up doors for the star. Regrettably, the movie did – but only for Freeman and Kathy Baker, who's also quite good as a prostitute who falls for Reeve…even though the director inexplicably buries several of their scenes under Motown music, rendering their dialogue unintelligible. An interesting film to revisit for Freeman's performance, at least, "Street Smart" receives a sturdy, if unspectacular, Blu-Ray release from Olive – the 1080p (1.85) transfer is OK and the DTS MA mono sound also acceptable.
NED KELLY Blu-Ray (**, 113 mins., 1970, PG): A curio for '70s enthusiasts, "Ned Kelly" features Mick Jagger as the title Outback outlaw, who takes matters into his own hands after his mother is sentenced to prison. A major misfire for director Tony Richardson and star Jagger – both of whom had qualms over the finished product – "Ned Kelly" does boast strong location shooting from Gerry Fisher as well as an offbeat, folky score by Shel Silverstein with Waylon Jennings vocals. Fans of the film – or the simply interested – will want to check out Olive's Blu, which includes a solid enough 1080p (1.78) transfer and DTS MA mono sound.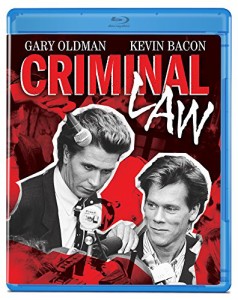 BABY, IT'S YOU Blu-Ray (**½, 105 mins., 1982, R)
WILD THING Blu-Ray (**, 92 mins., 1987, PG-13): Two of indie filmmaker John Sayles' forays into studio filmmaking also receive the high-def treatment this month from Olive.
"Baby, It's You" is a surprisingly tart coming-of-age story that charts the relationship between a Jewish-American princess (Rosanna Arquette) and a would-be Italian Sinatra wannabe, "The Sheik" (Vincent Spano), in mid '60s New Jersey. The early portions of Sayles' film – which he directed and scripted from a story by Amy Robinson – work best in terms of its atmosphere and the relationship between Arquette and Spano, but the second half turns bitter and downbeat, leading to a particularly sad conclusion. At least there's a snappy period soundtrack and early appearances from Matthew Modine, Fisher Stevens and Tracy Pollan among others.
A box-office disappointment, the commercial failure of "Baby, It's You" kept Sayles away from too many subsequent studio-backed pictures, though he did, curiously, script the 1987 Atlantic Releasing product "Wild Thing." A barely-seen picture with Rob(ert) Knepper as an urban Tarzan and Kathleen Quinlan as a modern-day Jane – a social worker who tries to figure out "Wild Thing"'s origins – "Wild Thing" never made it to DVD and comes to Blu-Ray this month from Olive. This first release of the picture since its VHS debut, "Wild Thing" is an interesting failure with a superb supporting cast, including Betty Buckley and Robert Davi in one of his earlier villain roles.
Both pictures receive generally good looking 1080p (1.85 on "Wild Thing," 1.78 on "Baby, It's You") HD transfers from Olive along with DTS MA audio (there may be music alterations on the "Baby, It's You" soundtrack – no shock since its extensive pop songs prevented the release of the film on video for years). No extras are included on these, or any of the Olive titles this month.
---
X-MEN: DAYS OF FUTURE PAST "THE ROGUE CUT" Blu-Ray (***, 148 mins., 2014, PG-13; Fox): Bryan Singer's triumphant return to the "X-Men" series seems even better after this summer's mostly brainless blockbuster fare (the much-hyped, disappointing "Avengers: Age of Ultron" included). A smart and savvy mix of Singer's original "X-Men" cast with their younger "First Class" counterparts makes for a zippy time travel affair only diminished, to a degree, by a somnambulant performance from top-billed Hugh Jackman as Wolverine. Singer's 131-minute theatrical cut played well in both 2D and 3D, but he axed a subplot involving Anna Paquin's Rogue which has been restored – along with some odds and ends – to this alternate "Rogue Cut" running 17 minutes longer than the official version. The new material will naturally appeal mostly to fans, since the added running time doesn't necessarily make the film "better," but even casual viewers might appreciate the extended character bits. Fox's two-disc set includes both cuts of the movie plus exclusive extras, a 1080p (2.40) transfer, 7.1 DTS MA sound and a digital copy.
THE SECOND BEST EXOTIC MARIGOLD HOTEL Blu-Ray (**½, 123 mins., 2015, PG; Fox): Dev Patel's Sonny plans on opening a second location – at the same time he plans on getting married – in this agreeable, if hackneyed, sequel to the surprise 2011 hit. Judi Dench, Maggie Smith, and Bill Nighy return from director John Madden's original, and are here joined by David Strathairn and Richard Gere, who check in for some pleasant geriatric shenanigans. It all goes down nice and easy, from the cinematography to Thomas Newman's score, but "Second Best" pretty much sums up the film when compared to its predecessor. Fox's combo pack includes a number of featurettes, a digital copy, 1080p (2.39) transfer, 5.1 DTS MA sound and a digital copy.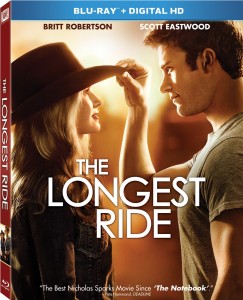 THE LONGEST RIDE Blu-Ray (**½, 128 mins., 2015, PG-13; Fox): One of the better Nicholas Sparks novel-to-screen efforts, "The Longest Ride" boasts Scott – son of Clint – Eastwood as a rodeo champ trying to make his way back and Britt Robertson as a college senior, bound for New York, who falls for him. Their relationship ebbs and flows – as do every one of Sparks' romances – but eventually lands in a more satisfying place than the bulk of these pictures, and the strong chemistry between Eastwood and Robertson (who deserved a better fate than starring in this summer's resident flop, "Tomorrowland") helps. Alan Alda, meanwhile, co-stars in one of his best supporting turns in years. Fox's Blu-Ray includes deleted/extended scenes, commentary by director George Tillman, Jr., featurettes, a digital copy, 1080p (2.40) transfer and 5.1 DTS MA sound, with a nice Mark Isham score backing up the drama.
WHAT WE DO IN THE SHADOWS Blu-Ray (**½, 85 mins., 2015, R; Paramount): Likeable sleeper from "Flight of the Concords"' creators Jemaine Clement and Taika Waititi grills the reality-TV formula by way of its leading subjects: a group of vampires, living together in a flat. Deadpan humor and inspired comic performances result in a genuinely amusing spoof Paramount brings to Blu-Ray July 21st. With over two hours of extras (commentary, deleted scenes, interviews, featurettes), this is one of the summer's more engaging surprises and comes recommended, even if the joke feels completely exhausted by the end of its sub-90 minute running time. Paramount's Blu-Ray also includes a 1080p (1.85) transfer and 5.1 DTS MA soundtrack.
CLOUDS OF SILS MARIA DVD (123 mins., 2015, R; Paramount): Olivier Assayas' latest film is an interesting dramatic study of an aging actress (Juliette Binoche) who finds herself trying to work with a younger Hollywood star (Chloe Grace Moretz) on her latest picture. Kristen Stewart delivers unquestionably one of the best performances of her career as Binoche's assistant in this fine character study, well acted by all three of the leads. Paramount's DVD of "Clouds of Sils Maria" offers a 16:9 transfer and 5.1 Dolby Digital soundtrack.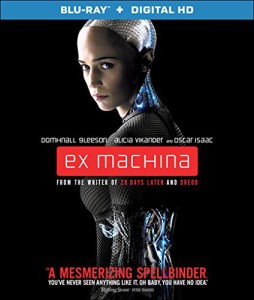 Lionsgate New Releases: Alex Harland's acclaimed EX MACHINA (**½, 108 mins., 2014, R) offers something of a commentary on artificial intelligence after a computer programmer (Dominhall Gleeson) wins the opportunity to interview a reclusive genius (Oscar Isaac) whose latest creation is a fetching robot automaton (Alicia Vikander). Issac's top-secret program – naturally – has a mind of its own, which eventually causes all kinds of trouble in a movie that's more successful for its disturbing tone than its predictable screenplay. Lionsgate's Blu-Ray includes a five-part examination of the picture's production, eight behind-the-scenes vignettes, and a SXSW Q&A with the cast/crew. The 1080p (2.40) transfer and 5.1 DTS MA/DTS X soundtracks are superb.
Season 7 of ANCIENT ALIENS (9 hours, 2014-15) beams down on Blu-Ray offering 12 episodes from the popular History series: Forbidden Caves, Mysteries of the Sphinx, Aliens Among Us, The Genius Factor, Secrets of the Mummies, Alien Resurrections, The Great Flood, Aliens and the Civil War, Hidden Pyramids, The Vanishings, and the Alien Agenda, all in 1080p (1.78) transfers with 5.1 DTS MA sound…Lifetime's adaptations of V.C. Andrews' "Flowers" series come to an end with the release of SEEDS OF YESTERDAY (90 mins., 2015) which finds Rachel Carpani and James Maslow reprising their roles as Cathy and Christopher Dollanganger. Lionsgate's DVD includes a 16:9 transfer, 5.1 Dolby Digital sound and a digital copy.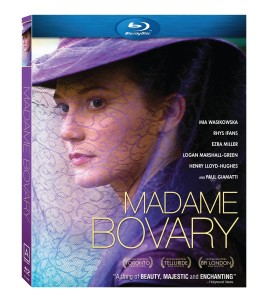 MADAME BOVARY Blu-Ray (**, 118 mins., 2015, R; Alchemy): Something just doesn't click in this attractive but flaccid adaptation of the classic Flaubert novel, with Mia Wasikowska looking the part as the title character – a young woman who defies the stifling social conventions of her era and takes on a series of lovers after being unhappily married. Sophie Barthes' film has the look but not the soul of the better cinematic literary adaptations of recent years, and purists may object to some of the alterations from the original source as well. Alchemy's Blu-Ray features a strong 1080p transfer and 5.1 Dolby TrueHD soundtrack, but pretty pictures are mostly all this "Madame Bovary" has going for it.
3 HEARTS Blu-Ray (108 mins., 2014; Cohen Media Group): Benoit Jacquot's "Three Hearts" spins a compelling human drama revolving around a star-crossed couple – Benoit Poelvoorde and Charlotte Gainsbourg – who fall for one another on a fateful night. A follow-up meeting never occurs and the two shuffle off on their own separate paths – only to run into one another when Poelvoorde marries Gainsbourg's sister. Cohen's Blu-Ray of this recent French import will be released next week and includes a 1080p transfer with DTS MA 5.1 audio, in French with English subtitles. A conversation with the director and the trailer comprise the disc's supplemental section.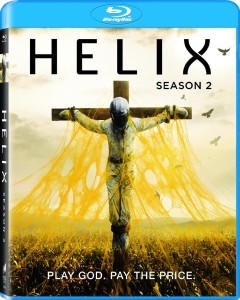 HELIX: Season 2 Blu-Ray (530 mins., 2014; Sony): Ronald Moore co-produced this off-the-wall Syfy Channel series set in the Arctic, where a group of scientists from the Centers for Disease Control try to prevent a deadly contagion from getting out. Plenty of twists and turns dominate the at-times gory affair starring Billy Campbell and with an exceedingly high body count given its pedigree. Unfortunately, what started off fairly promisingly in Season 1 was derailed in Season 2, as the show became increasingly nutty even given its start – as a result, Syfy canceled the series, making this Season 2 release also its Final Season. Sony's Blu-Ray includes 1080p transfers, 5.1 DTS MA lossless soundtracks, an Ultraviolet streaming copy, and deleted scenes/outtakes.
MAMA'S FAMILY: MAMA'S FAVORITES SEASON 6 DVD (129 mins., 1989-90; Starvista/Time Life): Bob Larkin, Stacey Q, Julianna McCarthy and Harry S. Murphy are among the Guest Stars who appeared in the sixth season of the long-running comedy starring Vicki Lawrence. This "Best Of" single DVD compilation from Starvista includes the episodes Mama Fights Back; Bubba's House Band; The Big Nap; Pinup Mama; Look Who's Breathing; and Bye-Bye – Baby! (Available July 28th)
---
Season 5 of GROWING PAINS (611 mins., 1989-90) hits DVD for the first time this month from the Archive. In the 1989-90 broadcast year, Mike (Kirk Cameron) becomes engaged to Julie, the family's babysitter; Carol (Tracey Gold) has her college plans derailed; and Jeremy Miller's Ben becomes a trainwreck trying to live in Mike's shadow. Warner's DVD includes mono soundtracks and broadcast-length episodes for all 22 shows, with guest stars including Jane Powell, Gordon Jump, Hank Azaria, a pre-90210 Jennie Garth and Chelsea Noble…Also new to DVD this month is LAWMAN: The Complete First Season (956 mins., 1958-59), one of the earliest TV westerns starring John Russell as Marshall Dan Troop, who corrals bad guys in Laramie, Wyoming along with Deputy Johnny McKay (Peter Brown). Warner's Archive five-disc set includes all 39 first-season B&W episodes with guest stars ranging from Jack Elam, Lee Van Cleef, and Robert Conrad to Adam West, who appears as Doc Holliday.
THE SNORKS: Season 2 DVD (227 mins., 1985-86; Warner Archive): Hanna-Barbera was always good at recycling some of their popular successes. Their "reskinning" applied in part to "The Snorks," an NBC companion piece to "The Smurfs," which was set under the ocean where a group of colorful, happy-go-lucky types with snorkel-antennae on top of their heads lived peacefully. You could see the clear intent at making an "Aquatic Smurfs," and to a degree the show worked: while never catapulting into the pop-culture pantheon the same way that Peyo's characters did, "The Snorks" managed a good run, lasting for a few years on NBC before hightailing into similar success in syndication. Best remembered by those of us who grew up in the '80s, "The Snorks" returns to DVD this month in a Season 2, manufactured-on-demand release courtesy of the Warner Archive. The full-screen transfers are as solid as one would anticipate, with the two-disc set including over four hours of frivolous, but fun, Saturday morning memories.
NEXT TIME: PLACES IN THE HEART and more from Twilight Time! Until then, don't forget to drop in on the official Aisle Seat Message Boards and direct any emails to our email address. Cheers everyone!