Leading off Twilight Time's July releases is PLACES IN THE HEART (***½, 114 mins, 1984, PG), the first of three "rural" dramas that hit theaters in 1984. Robert Benton's film was released a week ahead of the overrated Jessica Lange effort "Country" and months before Mark Rydell's under-rated "The River." With multiple Oscar nominations and wins for Best Original Screenplay and Sally Field's memorable turn as a widow who has to work hard to support her children – while keeping The Bank at bay from claiming her home in the Great Depression – the movie was, by far, the most popular of the trio as well.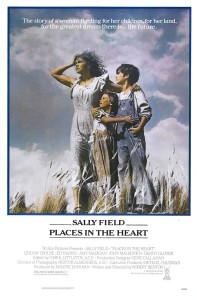 Benton wrote and directed his portrait of life in a small Texas town during the '30s, focusing on Field's plight as well as her sister's (Lindsay Crouse), whose husband (Ed Harris) is having an affair with a schoolteacher (Harris' own, future wife Amy Madigan). John Malkovich and Danny Glover also shine in early roles as unlikely members of Field's support system. TWILIGHT TIME TECH SPECS: A new commentary between Field and TT's Nick Redman offers an interesting look back on the movie. Field hadn't seen the film completely in years so some of her recollections are vague, though she does recall how Benton cut one subplot (involving Bert Remsen, who can be seen briefly in the finished product) out of the film altogether. The trailer and an isolated score track of "Cabaret" composer John Kander's work (supported with additional music arrangements by Howard Shore) round out the supplements along with a fine 1080p (1.85) transfer and one-channel DTS MA mono soundtrack. AISLE SEAT BOTTOM LINE: Field's remarkably restrained, convincing performance is the real heart at the center of the film's title, and Benton fashions a number of harrowing scenes – particularly a tornado that twists through the characters' surroundings – that enable the actors to shine. Highly recommended.
THE FABULOUS BAKER BOYS (***, 114 mins., 1989, R). THE MOVIE: Sterling performances from Michelle Pfeiffer, Jeff and Beau Bridges sell writer-director Steve Kloves' acclaimed 1989 romantic character study about a pair of lounge performers whose lives change when they add a sexy young singer into the mix. Atmospherically shot by Michael Ballhaus and backed by a jazzy score by Dave Grusin, "The Fabulous Baker Boys" provides a first-class arena for the talents of Pfeiffer (whose career got a real shot in the arm thanks to this picture) and the Bridges boys, whose strained relationship boils over once Jeff's character takes a shine to their female ingenue. TWILIGHT TIME TECH SPECS: Kloves joins Nick Redman and Julie Kirgo on a new commentary, while an older DVD commentary with Ballhaus (which hasn't been heard since the movie's LIVE DVD release) is on-hand along with deleted scenes, an isolated score track and the trailer. The 1080p (1.85) transfer and 2.0 DTS MA stereo track are both excellent. AISLE SEAT BOTTOM LINE: An actor's showcase, "The Fabulous Baker Boys" was an acclaimed, if not commercially successful, late '80s sleeper that's aged gracefully and remains worthy for its trio of lead performances.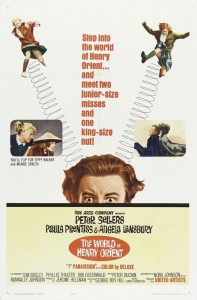 THE WORLD OF HENRY ORIENT (***½, 107 mins., 1964). THE MOVIE: One of many gems from the under-appreciated filmography of George Roy Hill (architect of "Slap Shot," "The Sting" and my favorite Chevy Chase comedy, "Funny Farm"), "Henry Orient" offers Tippy Walker and Merrie Spaeth as – pardon the Brittany Spears reference – "not-a-girl-not-yet-a-woman" teens who take a juvenile shine to a flustered, philandering concert pianist (Peter Sellers, in his U.S. feature debut). Angela Lansbury, Paula Prentiss, Tom Bosley and Phyliss Thaxter are all terrific – as are the two girls – in this marvelous character comedy that's immeasurably enhanced by both lovely Panavision cinematography of New York City and its surroundings, as well as a wonderfully lyrical Elmer Bernstein score. Nora Johnson and Nunnally Johnson scripted a film that remains one of Hill's strongest pictures, and whose themes of teenage longing and adolescence were positively fresh for their era – and remain relevant today. TWILIGHT TIME TECH SPECS: Commentary with Julie Kirgo, Nick Redman and Jeff Bond is on-hand along with an isolated score track and the original trailer. The 1080p (2.35) transfer and 1.0 DTS MA mono sound are both fine, though the source elements tend to range in quality at certain points. At its best, the transfer captures the color and detail of the Panavision frame perfectly. AISLE SEAT BOTTOM LINE: One of my favorite Twilight Time releases of 2015 so far, "The World of Henry Orient" offers an abundance of entertainment, from its compelling, poignant central story line to the more outwardly comic shenanigans of Sellers, its ensemble performances and Elmer's score. A treat!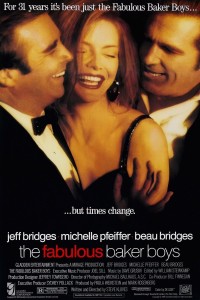 A MONTH IN THE COUNTRY (***, 96 mins., 1987, PG). THE MOVIE: Pastoral, well-acted adaptation of J.L. Carr's novel charts the relationship between a pair of WWI veterans (Colin Firth, Kenneth Branagh) as they attempt to heal emotionally from their experiences in the trenches. Traveling to Yorkshire to help restore a church, the duo also meet a fetching Natasha Richardson, playing the wife of the church's vicar. Patrick Malahide co-stars in this leisurely paced drama which takes its time getting going but offers strong, if unsurprising, rewards at the end. Director Pat O'Connor would go onto helm the Minnie Driver-Chris O'Donnell romance "Circle of Friends" and displays the same penchant for focusing on character development here. TWILIGHT TIME SPECS: Julie Kirgo and Nick Redman's commentary dissects the meaning of Carr's story and the film, while a lovely 1080p (1.85) transfer, isolated music/FX track and 1.0 DTS MA mono sound (sporting a Howard Blake score) complete the release. AISLE SEAT BOTTOM LINE: Early performances from Branagh and Firth make "A Month in the Country" well worth a look.
THE BEST OF EVERYTHING (**½, 121 mins., 1959). THE MOVIE: Rona Jaffe's name became synonymous with soap opera bestsellers that occasionally hit the big and (mostly) small screen through the years. One of the earliest adaptations of her novels, "The Best of Everything," makes for a glossy 20th Century Fox Cinemascope production, starring Hope Lange as a secretary at a publishing house who falls for an editor (Stephen Boyd). Her colleagues (Suzy Parker, Diane Baker), however, don't find nearly as much happiness in the cool, male-dominated professional world of the '50s and '60s, with Louis Jordan playing a stage director who takes advantage of Parker and Robert Evans (future movie mogul) as a louse who won't help Baker after knocking her up. Joan Crawford, meanwhile, chews up the scenery as the girls' boss, who turns her back on the domestic life for a position of power. TWILIGHT TIME SPECS: Commentary with Rona Jaffe and historian Sylvia Stoddard is carried over from Fox's earlier DVD, while the trailer, a Fox Movietone news reel, attractive 1080p (2.35) transfer, 5.1 DTS MA sound and an isolated score track of Alfred Newman's work are also on-hand. AISLE SEAT BOTTOM LINE: Fans of the genre and '50s Cinemascope releases will find ample entertainment in this overblown, but fun, Fox melodrama.
---
After the success of "A Nightmare on Elm Street," Wes Craven tried to branch out in the horror genre with titles like "The Serpent and the Rainbow," "Shocker" (due out shortly from Scream Factory) and the 1991 release THE PEOPLE UNDER THE STAIRS (**, 103 mins., R).
This tedious – albeit financially successful – thriller follows a young African-American teen (Brandon Adams) who, after hearing that his ailing mother is being evicted from their inner-city apartment, finds out a pot of gold literally resides in the house of their landlord: a nutcase (Everett McGill) and his wife (Wendy Robie), who reside in a broken-down home with more than its share of secrets.
An Alive Films production – the same folks who bankrolled John Carpenter's "Prince of Darkness" and "They Live" – "People Under the Stairs" isn't scary in the least. It's also drawn out and mostly dull, livened up only by the performances of Robie and McGill as the unhinged parental units of young A.J. Langer, who turns out to be not the only offspring living in the house. The movie does have some black comic moments and a satisfying ending, but it's mostly a fizzle from an era that wasn't exactly turning out a lot of great genre films.
Shout's Blu-Ray of "People" is a full-fledged special edition featuring two commentaries (one with Wes Craven, another with Langer, Adams and others); an interview with Wendy Robie; a talk with make-up effects artists Greg Nicotero, Howard Berger and Robert Kurtzman; a talk with cinematographer Sandi Sissel; a conversation with composer Don Peake; behind the scenes footage; the trailer; a 1080p (1.85) transfer in mostly good shape (no heavy amounts of DNR filtering here) and both 5.1 and 2.0 DTS MA soundtracks.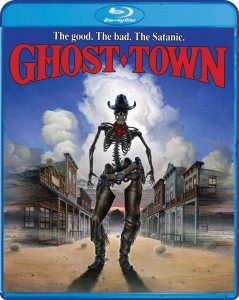 One of the last productions from Charles Band's Empire Pictures, GHOST TOWN (85 mins., 1988, R) is a minor, if flavorful, horror outing starring Franc Luz and Catherine Hickland as a pair of unwitting guests to a haunted Old West town, presided over by a sadistic, ghostly sheriff. Richard Governor's direction makes the most of Duke Sandefur's straightforward, surprise-free script, which puts a gentle horror spin on western cliches. Long out of print on the home video circuit, Shout's Blu-Ray includes a pretty good 1080p (1.78) transfer with DTS MA 2.0 stereo audio and nothing in the way of supplements.
Coming August 4th from Scream is the raucous Aussie import WYRMWOOD: ROAD OF THE DEAD (98 mins., 2014, Not Rated), yet another zombie affair that at least tries to spice up the usual genre cliches with a "Mad Max"-esque, post-apocalyptic setting. Kiah Roache-Turner's film (written with his brother, Tristan) offers sufficient gore and laughs, and is worth a view for the hardcore. Shout's Blu includes commentary, deleted scenes, featurettes, trailers, a 1080p (1.78) transfer and 5.1 DTS MA sound.
New TV On DVD from Shout: SGT. BILKO aka THE PHIL SILVERS SHOW: The Third Season (aprx 17 hours, 1957-58) comes to DVD from Shout on August 4th. The multi-disc set, licensed from CBS, includes all 37 episodes from the classic sitcom, with Bilko continuing to mine get-rich-quick schemes out of the Fort Baxter motor pool while avoiding the eye of Colonel Hall (Paul Ford). Commentary by Dick Van Dyke, new interviews, intros, and a vintage "Paul Ryan Show" talk with Silvers are on-hand in Shout's five-disc package…The third TV film in the "When Calls the Heart" series, HEART OF THE FAMILY (88 mins., 2015) finds Erin Krakow's Elizabeth returning to Hope Valley and promptly volunteering to look after a neighbor's rural homestead. Shout's DVD has a widescreen 16:9 transfer, stereo soundtrack and also streets August 4th.
---
New Arrow Releases
One of Arrow's most ambitious releases to date, STRAY CAT ROCK is a five-film Blu-Ray/DVD set including all five films in the cult Japanese series starring Meko Kaji. Now, if you haven't dabbled in this series before, to call these pictures "oddball" would be absolutely on target: Kaji stars in each as one of the earliest female "action heroes," as Kaji and her "girl gang" take on everything from villains to drugs and Yakuza thugs. Utilizing pop tunes, split-screens, rapid-fire editing and rock 'n roll for good measure, the "Stray Cat" series might not be for everyone, but admirers will groove to Arrow's HD presentation of all five entries – "Delinquent Girl Boss," "Wild Jumbo," "Sex Hunter, "Machine Anima" and "Beat '71″ – here on Blu-Ray.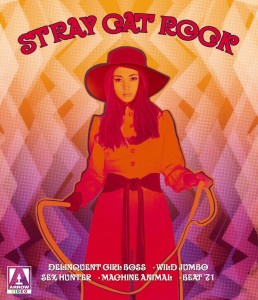 The 1080p transfers (ranging from 2.35 to an even-wider 2.50) are superb, the Japanese PCM audio is as pungent as the source allows, and extras include new English subtitles; an interview with Yasuharu Hasebe, who directed three of the pictures; a conversation wth Tatsuya Fuji, who co-stars in all five films; a talk with Yoshio Harada, co-star of "Beat '71″; original trailers; and an extensive booklet offering liner notes by Japanese cinema historian Jasper Sharp.
Also new from Arrow this month is one of the best Leone-inspired spaghetti westerns, CEMETERY WITHOUT CROSSES (90 mins., 1969), Robert Hossein's French/Italian effort that has the texture of the genre plus a brooding, serious story. Hossein stars as a gunfighter called into reluctant duty when an old friend (Michele Mercier) who just lost her husband to bandits seeks vengeance. Stylish stuff presented here in a gorgeous new 2K (1.66) restoration from original film elements on both Blu-Ray and DVD from Arrow. Extras include Italian and English soundtracks in PCM audio; newly translated English subtitles for the Italian version; "Remembering Sergio," a new conversation with Hossein filmed for this release; a French TV news report on the making of the picture; an archival interview with Hossein; the trailer; reversible artwork; and, of course, insightful booklet notes by Ginvette Vincendeau and Rob Young. Recommended for western fans (and spaghetti western buffs in particular).
---
AROUND THE WORLD WITH ORSON WELLES Blu-Ray/DVD (208 mins., 1956; B2MP): A fascinating curio for Orson Welles devotees comes to Blu-Ray this month from B2MP. In 1955-56, Welles produced this six-episode, limited run series for European TV. In it, Welles journeys to Basque, Vienna, St.Germain-des-Pres, Madrid, and elsewhere for a mostly casual travelogue, interviewing various personalities (Juliette Greco, Jean Cocteau, Art Buchwald, Kenneth Tynan, Elaine Dundy) along the way. Some of the episodes are more intriguing than others, and one can see Welles' interest veering off through the course of the shows, but the "Third Man Revisited" episode where Welles returns to the Vienna locations of the classic film is especially compelling. B2MP's Blu offers generally well-detailed 1080p (1.33) B&W transfers with only some odd fluctuations in the source material occurring at times (such as a slow down in the second Basque episode when everyone begins speaking verrrrrry slowly). Extras include "The Dominici Affair," which looks at Welles' unfinished episode "The Tragedy of Lurs," plus an essay by Welles authority Peter Tonguette.
I AM BIG BIRD DVD (**½, 86 mins., 2014; Cinedigm): The life of Muppeteer Caroll Spinney – who created and has manned the legendary characters of Big Bird and Oscar the Grouch on Sesame Street since the series' early years – is profiled in this okay indie documentary from directors Dave LaMattina and Chad Walker. Filled with behind the scenes footage of Spinney and his wife Debra from their work behind the scenes on the PBS series to their vacations (the Spinneys brought a camera to everything, it seems!), "I Am Big Bird" works best when it hits upon the backstage drama at "Sesame Street" – including Spinney's tumultuous relationship with the late director Jon Stone – as well as Jim Henson's passing. Less successful is the haphazard organization of the doc, which covers everything in the first 25 minutes, then goes back to fill in the details for the remainder of its duration – and mostly in a superficial manner at that (Spinney's involvement in the eventually fatal mission of the Challenger shuttle is strangely edited as well, doing Spinney's wife no favors as she openly jokes about the fact that he might not be coming back…then showing the tragedy of the shuttle blowing up). Still worthwhile, though, for long-time Sesame Street viewers, with Cinedigm's DVD also including deleted scenes, a 16:9 (1.78) transfer and 5.1 Dolby Digital soundtrack. (Available August 11th)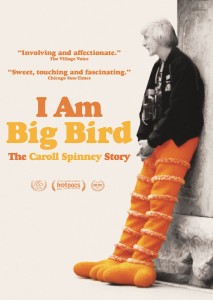 Also Coming from Cinedigm: Julie Andrews and Emma Walton Hamilton's THE VERY FAIRY PRINCESS (37 mins.) becomes part of a new compilation of "Scholastic Storybook Treasures" along with animated versions of award-winning children's books "Extra Yarn,""The Amazing Bone" and "My Garden." An interview with Andrews and Hamilton is included in Scholastic's DVD…LITTLE LOOPERS (94 mins., 2015) is a family-oriented film about a former golf pro (Boyd Kestner) who's assigned, as part of his rehab, to coach a high school team. Natalie Imbruglia, Jay Ferguson, Mark Moses, and Rob Morrow co-star in Jim Valdez's film, suitable for all ages and hitting stores August 4th from Cinedigm with a 16:9 transfer and 5.1 soundtrack.
THE TOWN THAT DREADED SUNDOWN Blu-Ray (**½, 86 mins., 2014, R; RLJ/Image): Interesting update/sequel to the '70s cult drive-in favorite is set 65 years after the allegedly true story that formed the basis of the original film. Here, Addison Timlin plays a teenager whose boyfriend is the latest victim of "The Phantom," who has returned from the grave to carry out a new slate of fresh killings. Alfonso Gomez-Rejon directed this Blumhouse production, which MGM produced but – for whatever reason – licensed out to RLJ for home video distribution, bypassing a theatrical run. With that kind of pedigree it's hard to understand why MGM banished this fairly well-reviewed thriller to the small screen, but horror fans ought to find this modern version entertaining enough, and the supporting cast (Veronica Carwright, Gary Cole, Anthony Anderson and the late Edward Herrmann) is terrific. RLJ's Blu-Ray is currently a Best Buy exclusive and will go wide in September, boasting a 1080p (2.40) transfer and 5.1 DTS MA soundtrack without any extras.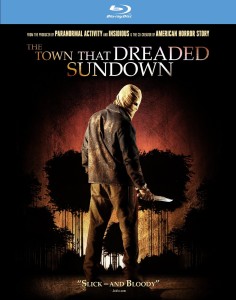 Also New & Noteworthy from RLJ: Joe Dante returns with the comedy BURYING THE EX (89 mins., 2014, R), a tale of a young man (Anton Yelchin) whose latest girlfriend (Ashley Greene) turns out to be crazy. No sooner does he debate breaking up than Greene dies in a fatal accident – only to return as a zombie, just in time to haunt Yelchin and new squeeze Alexandra Daddario. Joe Lo Duca scored "Burying the Ex," which doesn't invite favorable comparisons with Dante's prime – it's more like a companion piece to the underrated '90s comedy "My Boyfriend's Back" – but genre fans might get a chuckle out of it. RLJ's DVD has a 16:9 transfer and 5.1 soundtrack; a Blu-Ray, not supplied for review, is supposedly a retailer exclusive for the time being.
THE WATER DIVINER Blu-Ray (**½, 111 mins., 2015, R; Warner): Russell Crowe's directorial debut follows Crowe's Joshua Connor – an Australian farmer and water diviner who travels to Turkey to find his three missing sons who disappeared, and are presumed dead, following the Battle of Gallipoli. Filled with guilt after his wife's suicide, Connor's journey is met with resistance from local military and government officials before, eventually, he learns the truth; Olga Kurylenko, meanwhile, plays a woman who runs a hotel in Istanbul and relates to Connor's plight. Crowe's film is unevenly paced but compelling just the same, while Andrew Lesnie captures the locations with style. Warner's Blu-Ray includes a Maing Of, 1080p (2.41) transfer, 5.1 DTS MA sound and a "Battle of Gallipoli" featurette.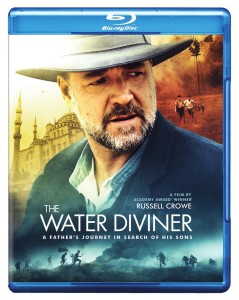 ADULT BEGINNERS Blu-Ray (92 mins., 2015, R; Anchor Bay): Better than expected indie comedy offers a starring vehicle for comedien Nick Kroll, playing a tech entrepreneur whose life comes crashing down after his latest venture fizzles. He leaves Manhattan and is forced to move in with his estranged sister (Rose Byrne), her husband (Bobby Cannavale) and their three-year-old, where he improbably becomes their "manny." Ross Katz's film, scripted by Jeff Cox and Liz Flahive (from a story they crafted with Kroll), offers some funny moments betwen Kroll and pal Joel McHale. Anchor Bay's Blu-Ray, in stores August 4th, boasts a Making Of, 1080p (1.85) transfer and 5.1 DTS MA soundtrack.
BROTHER'S KEEPER Blu-Ray (118 mins., 2015, PG-13; Alchemy): Real-life brothers Alex and Graham Miller play a pair of graduating high school seniors whose lives take a turn when the devout Pete is framed for murder, leading brother Andy – a rebel without a plan – to try and save him. Michael Rooker, Ray Wise, Travis Tritt and Robyn Lively co-star in this well-meaning, "faith based" period drama from director Joshua Mills, coming to Blu-Ray August 4th from Alchemy. The 1080p transfer is fine and Dolby TrueHD sound is also included.
ANY DAY DVD (99 mins., 2015, Not Rated; Anchor Bay): Sean Bean stars in Rustam Branaman's film as a former convict who becomes a role model to his sister's (Kate Walsh) nephew after getting out of prison. While struggling to stay straight, he falls for Eva Longoria's Jolene before tragedy sets in again. Anchor Bay's DVD, out August 4th, includes a 16:9 (2.40) transfer and 5.1 Dolby Digital soundtrack.
CHOCOLATE CITY DVD (90 mins., 2015, R; Paramount): It's an African-American version of"Magic Mike" when a new dancer (Robert Ri'chard) shows up at the title establishment while Michael, a college student, tries to make ends meet for his mother (Vivica A. Fox). Jean-Claude Lamarre wrote and directed this Patriot Picures production that Paramount picked up for DVD distribution. The label's disc, out August 4th, sports a blooper reel, 16:9 transfer and 5.1 soundtrack.
---
I LOVE LUCY: The Complete Second Season Blu-Ray (13 hours, 1952-53; CBS): Blu-Ray owners hoping for more classic-TV releases should support CBS' second-season release of "I Love Lucy," particularly since the shows its first season accompanied on Blu-Ray a year ago ("The Andy Griffith Show" and "The Honeymooners") are MIA this year.
As I wrote a year ago, "I Love Lucy" has already been released on DVD, but one hopes that viewers with Blu-Ray capability and HDTVs that will take advantage of the set's increased detail and extra work CBS put into its presentation. Since the programs were shot on film, CBS' remastered edition – culled from the best surviving elements – boasts an appreciable enhancement in contrast and clarity over any prior transfer of the shows seen before.
"I Love Lucy" defined the television sitcom format and immediately became a phenomenon upon its debut in the fall of 1951. All 31 second-season episodes are included here in CBS' five-disc Blu-Ray set, many in multiple versions as well – viewers can choose between the more commonly seen edits of the program (with the "heart on satin" opening and closing credits) as well as unexpurgated, original broadcast-length shows, complete with Philip Morris cigarette commercials, Lucy & Desi animated caricatures and occasionally extended dialogue snippets.
As you might expect, the elements for certain sequences are in rougher shape than others, with a loss of detail evident at times, though in general, the 1080p B&W transfers are more than satisfactory. Extras here include "I Love Lucy: The Movie," the colorized version of the episode "Job Switching," clips from the "Stars in the Eye" special and "The Red Skelton Show," Season 2 flashback sequences, commentary, flubs, production notes, photo galleries, and the "My Favorite Husband" radio series.
If the series is to continue on Blu-Ray, fans will need to pick up this Season 2 set. Here's hoping…
THE COMEBACK DVD (653 mins., 2015; HBO): "Sex and the City"'s Michael Patrick King and Lisa Kudrow created this spoofy series about a sitcom star who agrees to appear in a reality series that plays out with as much awkward laughs as one would anticipate. This HBO DVD includes both the original run of "The Comeback" as well as its newest season in a four-disc set offering 16:9 transfers, 2.0 audio, deleted scenes, commentaries and "Valerie Backstage at 'Dancing With the Stars.'"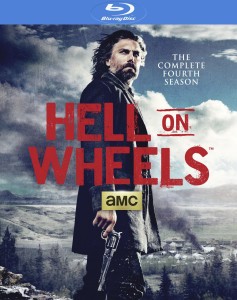 Coming on August 4th from HBO is Season Three of STRIKE BACK (470 mins., 2015), the Cinemax series about two members of the top-secret British anti-terrorism unit Section 20: Philip Winchester's Michael Stonebridge and ex-U.S. Delta Force op Damien Scott (Sullivan Stapleton). This third season sends the boys to Colombia, Beirut, Budapest, Russia and Germany as they trail drug money funding Middle Eastern terrorists. Cast/crew commentaries, nine featurettes, a digital copy, 1080p (1.78) transfers and 5.1 DTS MA soundtracks comprise HBO's combo pack, available August 4th.
HELL ON WHEELS: Season 4 Blu-Ray (556 mins., 2015; E One): The railroad is literally frozen during the winter of 1868 in this fourth season of the AMC western series. This time out, Cullen Bohannon (Anson Mount) is trapped with the Mormon-leading Swede and a pregnant wife in a fort; Thomas Durant (Colm Meaney) is broke; and Elam Ferguson (Common) is presumed deceased in the neverending battle for the Union Pacific Railroad. E One's Season 4 Blu-Ray of "Hell on Wheels" includes a Look at Season 4; Set Tour; interviews, episode featurettes, 1080p (1.78) transfers and 5.1 DTS MA soundtracks.
ROBOT CHICKEN Season 7 DVD (220 mins., 2015; Warner): While fans lament the lack of a Blu-Ray release for the latest season of "Robot Chicken," they'll have to make do with Warner's plain DVD release. The multi-disc set boasts all 20 episodes from the Cartoon Network/Adult Swim's seventh year, with commentary on all episodes, a bonus Christmas special with commentary, featurettes, cut sketches, and uncensored audio tracks. Fans of the show will naturally enjoy the program more than casual viewers, with a more hit-and-miss tone to the comedy this time out.
NEXT TIME: INNERSPACE, THE FRENCH LIEUTENANT'S WOMAN and more! Until then, don't forget to drop in on the official Aisle Seat Message Boards and direct any emails to our email address. Cheers everyone!