It took nearly a trio of "Mission: Impossible" films before star/producer Tom Cruise finally figured out exactly what he wanted to do with his big-screen spin-off of the classic '60s TV series. After a pair of solo-powered, humorless outings from directors Brian DePalma and John Woo, Cruise and producer/director J.J. Abrams had the right idea bringing an actual "team" concept into the series' third installment. That lead to the hugely entertaining Brad Bird outing "Ghost Protocol," and now Cruise has reteamed with his "Jack Reacher" director, Christopher McQuarrie, for the stylish, classy MISSION IMPOSSIBLE: ROGUE NATION (***, 131 mins., PG-13).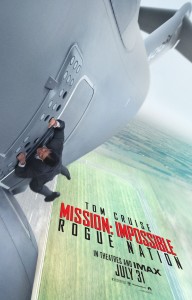 Cruise is, of course, back as Ethan Hunt, tailing a mysterious "Syndicate" around the world that he believes is responsible for igniting chaos in various pockets of the globe. His latest pursuit takes him to London, at the same time the IMF team – led by William Brandt (Jeremy Renner) – is being threatened by the director of the CIA (Alec Baldwin) back in Washington. With Hunt's actions taking him off the grid for the time being, he opts to go after the Syndicate and its gravelly-voiced leader (Sean Harris) with a minimum of help from his cohorts (including returning cast members Simon Pegg and Ving Rhames) but with an assist from a covert British agent (the hugely fetching Rebecca Ferguson) whose allegiances are forever in question.
Writer-director McQuarrie, who also penned "The Usual Suspects," has followed the pattern of the series' prior installment, "Ghost Protocol," by offering a number of memorable set-pieces in between playful bits of espionage, including a rousing opening, a dynamic motorcycle chase in Casablanca, and a superb, Hitchcock-esque sequence staged at the Vienna State Opera House during a performance of "Turnadot" (it's regrettably missing one final set-piece that could have put the film completely over the top). The editing is fast-moving but the movie isn't frenetic, and while there's surely some special effects enhancement going on, the stunts look and feel real, not augmented with cartoony CGI – the kind that's dominated nearly every major movie we've seen this summer.
Cruise is now an old hand at this kind of thing, but it's fascinating to go back and watch his comparatively tense – and far less relaxed – performances in the early films of this series and see the progression of his character – as well as the gradual evolution of the "Mission: Impossible" movies altogether. This is a series that was criticized in its early installments for being less an adaptation of the old show than a vanity project for its star – but while raking in the box-office receipts (people forget the John Woo-helmed "Mission: Impossible II" was a bona-fide commercial juggernaut), Cruise discovered that playing off an ensemble wasn't just good for his aging appeal, it also injected life and a sense of fun into material that was played far too stoically in those early pictures (the DePalma film, in particular, is nearly devoid of humor).
As a result, "Rogue Nation" feels – in a very good way – like a genuine, modern day updating of the old series. The double-crosses, hissable villains, and team work between its leads is played up perfectly, and Joe Kraemer's confident, brassy score – with ample doses of Lalo Schifrin's original series music – is the best of the series yet.
Its trump card, surprisingly enough, turns out to be Ferguson's heroine – a dynamic, star-making performance that steals the movie away from the rest of its talented cast (not all of whom, Renner and Rhames in particular, have a whole lot to do here). She's as adept at doling out the fisticuffs as the film's leading man, and is reason enough to buy a ticket to the most fun you'll have at the movies this summer.
---
There were a number of hits in the Summer of 1987 – Paramount's "Beverly Hills Cop II" and "The Untouchables"; Warner's "Witches of Eastwick"; Universal's "Dragnet"; Fox's "Predator"; Orion's "Robocop" and MGM/UA's James Bond entry, "The Living Daylights," all competed strongly at the box-office. There were also a number of sleeper hits ("Can't Buy Me Love," "La Bamba," "Stakeout," "Adventures in Babysitting") and one mammoth late-season surprise blockbuster in "Dirty Dancing." Of course, there were also some casualties – two of which, "Harry and the Hendersons" and INNERSPACE (**½, 119 mins., 1987, PG) – were produced by Steven Spielberg, who ultimately generated more commercial disappointments under his Amblin production banner than smash successes.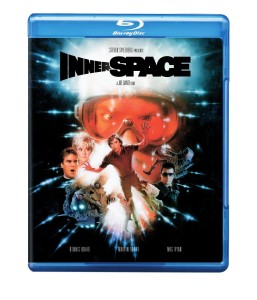 It didn't start out that way, of course, for movies branded with "Steven Spielberg Presents": "Gremlins" and "Back to the Future" had been huge hits back-to-back in the summers of '84 and '85, yet Spielberg's midas touch took on some water with merely-okay performance of "The Goonies" (a movie that did well, but was expected to be much bigger than it was) and outright failure of "Young Sherlock Holmes."
Spielberg had two Amblin films in theaters in 1987: Universal's Bigfoot fantasy "Harry and the Hendersons," directed by William Dear, and "Innerspace," a big-budget Warner Bros. effort that reunited Spielberg with Joe Dante and much of his "Gremlins" crew. In the end, both movies barely generated $26 million each domestically, ranking as certified underachivers – particularly in the case of "Innerspace," which Time's Richard Corliss heralded as the best movie of the summer, and which had been projected to be one of the biggest movies of the entire year.
In "Innerspace," Dennis Quaid plays a Navy pilot who takes a gig at a top-secret laboratory where scientists have devised a miniaturization plan that will send Quaid's Tuck Pendleton into a lab rabbit. A competing group of nefarious scientists, however (including Kevin McCarthy and Fiona Lewis), have other plans, which forces a dying colleague of Tuck's to inject him (and his minuscule capsule) into the body of an unwitting grocery store clerk named Jack Putter (Martin Short), who is able to hear Tuck and has to tap deep to find a heroic streak that will save his life.
Dante's film is a thoroughly likeable movie, no question, but it's also overstuffed to the point where it never finds a comfortable rhythm. The script by Jeffrey Boam ("Indiana Jones & The Last Crusade," "Lethal Weapon 2″) and Chip Proser (whose only other major credit was work on the 1984 Timothy Hutton picture "Iceman") tries to be so many different things – a "Fantastic Voyage"-like science-fiction fantasy; madcap comedy; tech thriller; romantic comedy; and a vehicle to launch Martin Short's career in features – that it never fully satisfies in any one of those individual components. There are some effective ILM effects, but the picture never really ulitizes them – or the gimmick of Tuck being able to "guide"/"control" Jack – to an engaging degree. Meg Ryan appears as Tuck's love interest, but outside of the duo sharing a scene at the beginning of the picture, the audience doesn't feel any connection between them, lowering the overall dramatic stakes. McCarthy and Lewis' villainy – as well as Vernon Wells' Arnold-esque, sunglass-wearing, one-armed henchman – is too lightweight as well, and there's just too much of them – and not enough of the Quaid/Short dynamic – at times.
Short certainly generates some laughs here and there, even in moments (like a Sam Cooke dancing bit) that strain to play off his talents. Obviously intended to launch the former SCTV/SNL star's big-screen career, "Innerspace" later makes an inexplicable decision to spend an inordinate amount of time with a character named "The Cowboy" just as the movie seems to be building up a head of steam. Played by a miscast Robert Picardo, this would-be Casanova is seduced by Ryan in a sequence that seems to go on forever, culminating in a Rob Bottin face-shifting special effect that's a precursor to his work on "Total Recall." Sadly, this bit also takes Short off-screen and grinds the movie to a halt – prolonging its already bulging two-hour running time.
There's also the issue of multiple endings, chase sequences, villains being shrunk – all of it wrapped up in a light, frothy Dante brew with appearances from his repertory company (in addition to Picardo, Wendy Schaal, William Schallert, Henry Gibson, Dick Miller, and Kenneth Tobey also appear), but it needed a rewrite or two to pare the material down, and there's just no center holding it all together.
That issue is probably one of the reasons Jerry Goldsmith's score is never able to find a memorable hook: Goldsmith's music effectively runs under the FX sequences (much like his evocatie underscoring for "Star Trek: The Motion Picture") and nobly scores Tuck's character, but doesn't quite find a central theme for listeners to latch onto, especially when it comes to the movie's comedic shenanigans. The use of pop tunes, particularly at the end with Rod Stewart's cover of Sam Cooke's "Twistin' the Night Away," likely didn't help either.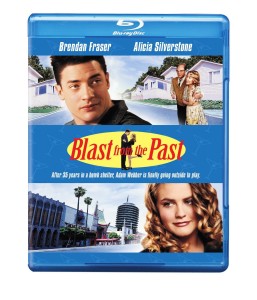 "Innerspace" was a movie I first saw in the summer before entering 7th grade, and I recall liking it but being mildly underwhelmed. As the years passed it was never a film I had much of a desire to see again, quite unlike Dante's other films which I grew up on. Warner's new Blu-Ray release of the picture marked the first time I had sat through the movie since, and while the disc serves up both a good looking, natural 1080p (1.85) transfer and 5.1 DTS MA soundtrack (with a Dante/crew DVD commentary and the trailer on-hand), it also reinforces why the picture didn't perform up to commercial expectations. In attempting to juggle so many different elements, the amiable "Innerspace" nevertheless proves to be less than sum of its parts.
Also new this week from Warner on the catalog front is BLAST FROM THE PAST (**½, 112 mins., 1999, PG-13), an amiable but likewise overlong comedy starring Christopher Walken and Sissy Spacek as a '60s suburban couple who head for the bomb shelter – and become trapped there after they believe Nuclear War has broken out during the Cuban Missile Crisis. Some 35 years later, they send their only son (Brendan Fraser) out into the world where he meets a '90s girl (Alicia Silverstone) and tries to adapt to the present day.
"WKRP" and "Police Academy" helmer Hugh Wilson's film is likeable all the way, but the movie runs out of gas about midway through, leading to an obviously re-shot ending (you know it's a post-production band-aid when Silverstone's character, completely out of the blue, begins narrating the film). Walken and Spacek are terrific and Silverstone is appealing in one of her better post-"Clueless" roles, though Fraser seems to be trying too hard and the '90s "present day" setting dates the picture badly. Still worth a look for romantic comedy fans, at least, "Blast From the Past" makes its Blu-Ray debut with an acceptable, if somewhat drab, 1080p (2.35) transfer with 5.1 DTS MA audio. The trailer is the sole extra.
Finally, Warner's 1993 summer sleeper FREE WILLY (**½, 112 mins., PG) dives onto Blu-Ray for the first time this week as well. Simon Wincer's tale of a killer whale living at a rundown aquatic park in the Pacific Northwest – and the street-smart orphan (Jason James Richter) who helps set him free – was a kid-friendly family film that found an audience thanks to an aggressive marketing campaign and the presence of Michael Jackson's hit single "Will You Be There?" The attractive scope lensing of Robbie Greenberg is one of the film's highlights, as is Basil Poledouris' lush scoring – elements that are enhanced by Warner's Blu-Ray, which offers a robust 1080p (2.41) transfer, 5.1 DTS MA audio, trailers, a talk with wildlife cinematographer Bob Talbot, a "Whale Ballet" montage, and Jackson's music video.
---
Karel Reisz's THE FRENCH LIEUTENANT'S WOMAN (123 mins., R) is an interesting film: a picture that was met with near universal acclaim upon its release in 1981, earning kudos for its lead performances by Meryl Streep and Jeremy Irons, Freddie Francis' cinematography and the script by Harold Pinter. Reworking John Fowles' popular post-modern novel into a parallel saga of a Victorian era gentleman (Irons) who falls, while engaged, for a social outcast (Streep) with the modern story of a movie crew shooting the picture – and its leads (also played by the actors) engaging in their own affair – Reisz and Pinter attempted to bring a contemporary relevance to Fowles' story. At the same time, the duo tried to offer some kind of commentary on movies and the art of cinema – how life reflects art and vice versa – along the way.
It's a trick, though, that doesn't really pay off, and perhaps the fact that "The French Lieutenant's Woman" has died down in the public conversation since its release is a testament to that. Both Streep and Irons are superb, but this movie never really comes to life – the novel-based sequences feel flat and drab, and the contemporary sequences come off as a trick to try and infuse some energy into a stoic period piece. Francis' cinematography and Carl Davis' score are fine, but the picture might have been better off being one half of itself, and committed to the material accordingly.
Criterion's Blu boasts a new 2K restoration of the film with PCM mono sound. The 1.85 1080p transfer is detailed and clear, with new interviews with Streep, Irons, Davis, editor John Bloom, and historian Ian Christie disccusing the picture. There's also a 1981 episode from "The South Bank Show" and an essay from scholar Lucy Bolton analyzing the film as well.
---
THE MAN FROM U.N.C.L.E. Season 1 DVD (1464 mins., 1964-65; Warner): Napoleon Solo and Illya Kuryakin took on saboteurs, spies, imposters, assassins and other crazies in the name of saving the world for the United Network Command for Law and Enforcement in this legendary '60s TV series. While the adventures of Robert Vaughn and David McCallum have been released a handful of times on home video over the years, Warner's Season 1 DVD includes crisp 4:3 B&W transfers of all 29 first-season episodes from the classic series, presented here on 10 DVDs just in time for the release of the long-gestating "Man From U.N.C.L.E." movie from director Guy Ritchie. I haven't seen prior DVD releases to compare this with, but the attactive price and packaging should make it a worthwhile view, especially for viewers new to the series.
LAKE PLACID VS. ANACONDA DVD (92 mns., Unrated, 2015; Sony): Combining the "Lake Placid and "Anaconda" franchises – to the delight of Syfy Channel movie fans everywhere – this workmanlike affair offers Yancy Butler, Corin Nemec and Robert Englund in a predictably wacky outing as the mutated crocs and now-genetically enhanced anacondas do battle. Not as frenetic as the "Sharknado" films (which are fun for about five minutes), this UFO International/Destination Films production comes to DVD this week from Sony offering a 16:9 transfer, 5.1 sound and an Unrated cut running slightly longer than its televised version.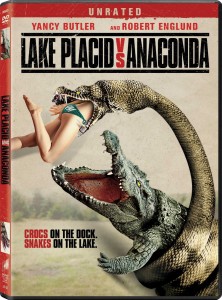 WITCHES OF EAST END Season 2 (Final Season) DVD (585 mins., 2014; Fox): Entertaining enough Lifetime series follows the lives of two sisters (Jenna Dewan-Tatum and Rachel Boston) who find out their mom (Julia Ormond) is a witch – and so are they! Madchen Amick pops in as the girls' aunt in this agreeable mix of light supernatural suspense and soap opera domestic drama, with Fox's Season 2 DVD offering all 13 episodes from the program's second – and final (it was recently canceled) season. 16:9 transfers and 5.1 soundtracks comprise Fox's package.
SEASHORE DVD (83 mins., 2015; Wolfe Video): A tender story about two young men who open up to each other about their mutual attraction – despite the fact that only one has proclaimed his sexual identity – "Seashore" is a sensitive, autobiographical film from filmmakers Filipe Matzembacher and Marcio Reolon. Wolfe's DVD, out this week, includes a 16:9 transfer and stereo soundtrack, in Portuguese with English subtitles.
KENDRA ON TOP: Season 3 DVD (430 mins., 2014; E One): The third season of the hit reality series proves to be a significant one as Kendra learns about hubby Hank's relationship with a transsexual model. Viewers who enjoy watching a trainwreck in motion ought to have a field day with Season 3 of "Kendra on Top," which comes to DVD on August 11th from E One sporting a 16:9 transfer, 2.0 stereo soundtrack, deleted scenes, webisodes, and uncensored episodes.
THE CASUAL VACANCY Blu-Ray (182 mins., 2014; Warner): Interesting adaptation of "Harry Potter" creator J.K. Rowlings' novel about life in the seemingly quaint English village of Pagford, where various factions – from teens to adults, wives to hubands, the rich to the poor and teachers and husbands – bicker in a town where life's not quite as hunky-dory as it appears. An interesting cast from Michael Gambon to Chloe Sevigny appear in this BBC/HBO co-production, which Warner brings to Blu-Ray this week. The 1080p (1.85) transfer and 5.1 DTS MA soundtracks are excellent, and extras include a digital copy; "An Introduction to 'The Casual Vacancy'' featurette and "Adapting the Casual Vacancy'" and "Casting 'The Casual Vacancy'" segments.
---
Mill Creek New Releases: Mill Creek is back with a pair of Blu-Ray catalog titles this month.
For those looking to make another "full tilt boogie for freedom and justice," you'll want to check out the hugely entertaining – and quite terrible – 1990 "Top Gun" rip-off FIRE BIRDS (90 mins., PG-13). Nicolas Cage plays Tom Cruise with Tommy Lee Jones and Sean Young – at the height of her box-office appeal – in support, with David Green's film boasting some effective Apache flying sequences and some seriously laughable dialogue in Nick Thiel and Paul F. Edwards' by-the-numbers script. Produced by "Nova International Films," this was an early Summer pick-up for Touchstone Pictures that made a number of Worst of the Year critic lists. For bad movie lovers, it's worth a look, and Mill Creek's Blu-Ray offers an okay 1080p transfer (in line with their past Buena Vista catalog output) with 2.0 Dolby Digital stereo sound.
Also new from Mill Creek on Blu-Ray is Bob Rafelson's 2002 drama NO GOOD DEED (98 mins., R), a Dashiell Hammett adaptation that stars Samuel L. Jackson, Stellan Skarsgard and Milla Jovovich in a bank robbery thriller that didn't make a lot of noise at the time of its release. Backed by a strong Jeff Beal score and a solid 1080p (1.78) HD transfer (alas, the audio is plain Dolby Digital 2.0 again), 'No Good Deed" is worth another look on Blu-Ray, where Mill Creek has the title priced to own under $10 in most outlets.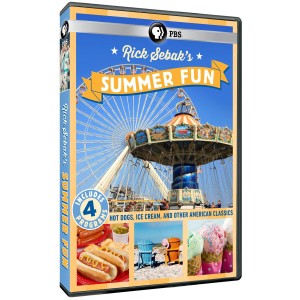 PBS New Releases: One of the most entertaining PBS releases of the summer, RICK SEBAK'S SUMMER FUN is a single-disc DVD compilation offering four of the humorist/host's travelogues from the mid to late '90s: "Shore Things" takes a tour of all things seaworthy, from the Outer Banks to New England beaches; "Great Old Amusement Parks" brings viewers to family-owned and operated parks around the country still up and running (as of its production); and both "An Ice Cream Show" and "A Hot Dog Program" are fitfully amusing looks at two irresistible summer-time foods consumed by millions of Americans. The 4:3 videotaped transfers are as good as the material will allow, and all of it goes down nice and easy, with gentle humor and a genuine love for time, place, and its respective subject matter.
Magnificent photography enhances LIFE ON THE REEF (180 mins., 2015), a three-hour examination of the animals living in the Great Barrier Reef, from whales to microscopic plankton, and the humans trying to both study – and protect – the Wonder of the World from climate change. The 2.0 Dolby Digital stereo audio is fine but the 1080i HD transfer is even more impressive, making this a must for ocean enthusiasts and nature documentary buffs…LOUISA MAY ALCOTT THE WOMAN BEHIND LITTLE WOMEN (84 mins., 2008-09) is a bit of an unconventional American Masters portrait of the "Little Women" author. Harriet Riesen's historically based script stars Elizabeth Marvel as Alcott, with historian commentary interspersed throughout a dramatic retelling of her life and times. Extended interviews with historians, a Q&A and Alcott poem are included as special features in PBS' DVD along with a widescreen transfer and stereo soundtrack…Available this week is THE TROUBLE WITH CHICKEN (60 mins., 2015), a Frontline expose on salmonella outbreaks caused by chicken – and in particular, the outbreak when over 600 succumbed to the sickness over 16 months. PBS' DVD includes a widescreen transfer and stereo sound.
From Well Go: SNOW GIRL AND THE DARK CRYSTAL Blu-Ray (118 mins., 2015; Well Go): Peter Pau's latest work is a wild Asian fantasy about Zhong Kui, a warrior who goes to Heaven and Hell literally to save the woman he loves. A Making Of segment and the trailer are included in Well Go's Blu-Ray, which offers a dynamic 1080p transfer with 5.1 DTS MA sound (Mandarin with English subtitles). Available August 4th…Jackie Chan returns to the "Police Story" series with POLICE STORY: LOCKDOWN (107 mins., 2013), a Chan production starring the martial arts great as Wen, a cop who reunites with his daughter (Tian Jing) before they become involved in a hostage plot. Interviews with the director and cast, the trailer, a behind the scenes segment, 1080p transfer, 5.1 DTS MA sound and an English dubbed track are included.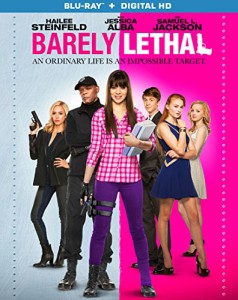 Lionsgate New Releases: A perfectly entertaining, light vehicle for the talented Hailee Steinfeld, BARELY LETHAL (99 mins., 2015, PG-13) stars the Oscar nominee as a high school spy who tries to just be a kid – but still can't stay out of the line of fire – in Kyle Newman's action-comedy co-starring Thomas Man, Sophie Turner, Jessica Alba and Samuel L. Jackson. A cute, if forgettable, affair, this barely-released RKO/Brett Ratner co-production hits Blu-Ray this week offering deleted scenes, a featurette, commentary, a 1080p (1.85) transfer and 5.1 DTS MA sound.
Also new on Blu-Ray from Lionsgate, CHILD 44 (127 mins., 2015, R) was an expensive failure for Summit Entertainment and producer Ridley Scott. Adapting Tom Rob Smith's novel, Daniel Espinosa's film stars Tom Hardy as a Soviet police officer who's exiled to a remote outpost with his wife (Noomi Rapace, reteaming with Hardy after "The Drop") while investigating a series of child murders during the '50s. Richard Price scripted "Child 44," which co-stars Gary Odlman, Joel Kinnaman, Jason Clarke and Vincent Cassel in a convoluted but compelling film – richly produced – that's deserving of a look on home video. Lionsgate's Blu offers a 1080p transfer (2.40) that does full justice to Oliver Wood's cinematography, a 5.1 DTS MA soundtrack, one featurette and a digital copy.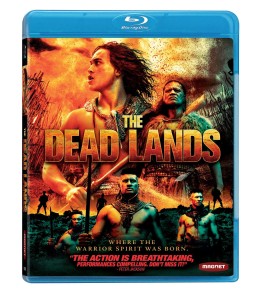 ALPHA AND OMEGA: FAMILY VACATION (44 mins., 2015) finds Kate and Humphrey heading off for some R&R along with their pups to the Alfred Creek Falls…at least until some trackers get on their trail. More fun shenanigans for family viewers with Lionsgate's DVD including a digital copy, 16:9 transfer and 5.1 Dolby Digital sound…Louis Koo stars in Benny Chan's thriller THE WHITE STORM (134 mins., 2014, R), a sprawling Thai crime drama that streets on DVD from Lionsgate this week with a digital copy, 16:9 transfer and 5.1 audio, both in its original Cantonese and a dubbed English mix…Kevin Sorbo, Ray Park, Brad Dourif and Jason London star in Matthew Schilling's anthology BLACK BOX (83 mins., 2014, R), the story of a mysterious black box that gives its greedy owners the possibility to own anything – with a deadly catch. Lionsgate's DVD, also available this week, includes a 16:9 (1.85) transfer, 5.1 sound and an Ultraviolet copy…A LA MALA (106 mins., 2015) is a Spanish language picture starring Aislinn Derbez as an actress hired to flirt with and then dump a producer's handsome ex-boyfriend. She falls for him instead. Lionsgate's DVD includes a 16:9 (2.40) transfer and 5.1 audio in Spanish with English subtitles.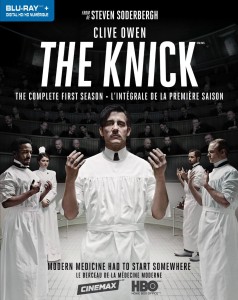 Magnolia New Releases: THE DEAD LANDS (107 mins., 2015, R) is a New Zealand import set in the Maori culture, where a teenage warrior must avenge his father's murder by crossing into the "Dead Lands" and cultivating a relationship with a "Warrior" who has long ruled the territory. Rapid-fire action sequences adorn Toa Fraser's well-executed film, which debuts on Blu-Ray this week from Magnolia. Copious special features including a Making Of, featurettes, interview with admirer James Cameron, a 1080p (2.39) transfer and 5.1 DTS MA sound.
HBO New Releases: Steven Soderbergh directed Cinemax's THE KNICK (600 mins., 2015), a tense and exciting series set in New York City's Knickerbocker Hospital circa 1900, where Clive Owen's Dr. Thackery attempts to keeps things together in the wake of poor finances and wealthy patients turning away from "The Knick." Harrowing medical sequences make for a fascinating series heavy on atmosphere, and HBO's Season 1 Blu-Ray captures the grit and grime of the production in a superb Blu-Ray set. "Episode Post-Ops" and commentaries are on-hand along with a "digital book" wih never-before-seen conversations between Soderbergh and Cinemax, plus 10 scripts. A digital copy and 1080p (1.85) transfers/5.1 DTS MA soundtracks comprise the set's technical specs when it streets August 11th.
NEXT TIME: August releases from Shout! Factory and more. Until then, don't forget to drop in on the official Aisle Seat Message Boards and direct any emails to our email address. Cheers everyone!