Even if its charms might be better suited to viewing on a cold winter's night, Randal Kleiser's guilty pleasure SUMMER LOVERS (***, 98 mins., 1982, R) is an appealing early '80s youth picture that Gene Siskel – reviewing the film on a "Guilty Pleasures" episode of "Siskel & Ebert" – once said "turned him on."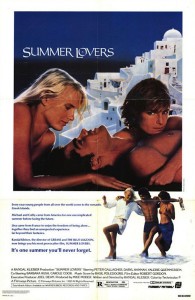 It's not just Kleiser's story, though, that did the trick – but also its sensuous Greek Island settings, where a pair of American college-age kids (Peter Gallagher, Daryl Hannah) find themselves letting go of their inhibitions – Gallagher first – by striking up a threesome (of sorts) with a local French archeologist ("Conan the Barbarian"'s princess, Valerie Quennessen). This "menage a trois" though, is comprised strictly of Gallagher's character getting intimate with both women, and as the relationship between the three develops, it's mostly a friendship that evolves between the two Americans and Quennessen's lonely girl, also from another land, who feels a soulful connection with Greece's topless beaches and easy-going spirit.
"Summer Lovers" is not a deep film. In fact, its story is essentially comprised of love-making scenes, shots of the three swimming in crystal clear waters, and a bevy of pop tunes, several of which – including the Pointer Sisters' "I'm So Excited" and Chicago's "It's Hard For Me to Say I'm Sorry" – play out in full-length montages. Kleiser's character development is mostly limp – Gallagher's dramatic motivation, for example, is never developed beyond the fact he gets exhausted from all the activity – and there's not much of a nail-biting climax ("will she come back to say goodbye?!?"), but for those looking for attractive leads and scenic shots of the Greek Isles and its surrounding coastal waters, "Summer Lovers" remains a flawed but amiable treat from the prolific movie summer of 1982.
Twilight Time's Blu-Ray of "Summer Lovers" is terrific. This is a newer MGM master (as evidenced by its most recent studio logo appearing at the start) of the Filmways Pictures release, boasting warm colors and excellent detail. The 2.0 DTS MA stereo soundtrack rocks out with the various songs dominating the action, and Basil Poledouris' electronic score only making a fleeting appearance here and there. TT has also unearthed some interesting archival extras, including screen tests of Patrick Swayze and Hart Bochner (Swayze's performance would've resulted in a possibly more effective film, since it's easier to see him as a multi-chick magnet than Gallagher), a vintage Making Of featurette, a pair of trailers, and an isolated score/effects track.
Adding immeasurably to the set's value is the inclusion of the FSM-released BASIL POLEDOURIS: HIS LIFE AND MUSIC as a special feature. This 1997 documentary, previously available only on VHS, offers a thoughtful profile of Poledouris, both on and away from the podium, from his then-current work on "Starship Troopers" to his association with John Milius on "Big Wednesday" and "Conan," and Emmy win on "Lonesome Dove." A bittersweet project to revisit, for sure, given Poledouris' premature passing in 2006, and essential viewing for film music fans.
Also new from Twilight Time this month:
HOUSE OF BAMBOO (**½, 102 mins., 1955). THE MOVIE: Samuel Fuller's 1955 Cinemascope film noir/travelogue stars Robert Stack as an American military cop sent to infiltrate a gang that's stolen military goods – and killed innocent soldiers in the process. What makes the situation unique is the setting – a post-war Japan – and the fact that the mob boss is a former American serviceman (Robert Ryan), who presides over his minions with an iron fist. The beautifully shot Cinemascope presentation of "House of Bamboo" has been gorgeously preserved here on Blu-Ray by Twilight Time, though honestly, much of this Fox release is either stilted or creaky: the slow-going story is bogged down in stilted dialogue and drab interior filming, not nearly going outside to exploit the Cinemascope frame (especially wide in its early 2.55 aspect ratio here) as often as it should've. Fortunately, the performances of Ryan and Stack make the material compelling to a degree, as does Stack's relationship with the secretive wife (Shirley Yamaguichi) of a deceased member of Ryan's posse. Leigh Harline's lovely score comes to life as their affection deepens, making the picture much more tolerable in its concluding frames. TWILIGHT TIME SPECS: Twilight Time's 1080p (2.55) AVC encoded transfer of "House of Bamboo" is absolutely stunning: the clarity of the colors and details are impressive throughout, making this one of the best-looking discs in the Twilight Time Fox stable. The multi-channel stereo sound impresses in both a 5.1 DTS MA mix as well as an isolated score track of Harline's soundtrack. A pair of Fox Movietone newsreels, the trailer, and two commentaries – one carried over from the DVD with authors Alain Silver and James Ursini, another newly recorded with TT's Julie Kirgo and Nick Redman – round out the disc. AISLE SEAT BOTTOM LINE: "House of Bamboo" is undoubtedly a bit dry by today's standards, but film buffs ought to enjoy the picture's then-unique Tokyo location filming – as well as Harline's beautiful score – despite its often stilted story. Certainly there are no issues with the transfer and soundtrack, which are both exemplary and heighten the picture's entertainment factor.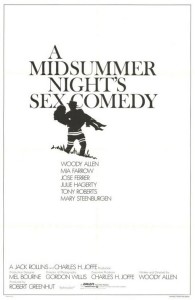 GUESS WHO'S COMING TO DINNER (***, 108 mins., 1967). THE MOVIE: One of producer-director Stanley Kramer's many "socially important" dramatic films, "Guess Who's Coming To Dinner" still entertains on the basis of its performances. William Rose's original story examines what happens when the daughter (Katharine Houghton) of a well-intentioned, free-thinking (by 1967 standards) couple (Spencer Tracy, Katharine Hepburn) brings home her fiancee: an articulate, widowed African-American doctor (Sidney Poitier), whose relationship with their daughter challenges the open-mindedness of the couple. The subject of interracial marriage was, obviously, a controversial cinematic subject in the mid '60s, and Kramer and Rose spend most of the film looking at the topic through the eyes of a variety of characters, from Tracy and Hepburn to their maid (Isabel Sanford) and Poitier's family. It's a little bit preachy, and a little bit stiff, but the performances push the film over the top: Tracy, in his last film, and Hepburn are wonderful together, and Poitier is, as always, superb, at the height of his on-screen appeal. Houghton, Hepburn's niece, doesn't quite rise to the level of her counterparts in a film that has, admittedly, lost a lot of its impact given the racial strides the country has made since the '60s (at least as far as interracial relationships go), but remains relevant for its cultural significance – and, of course, its cast. TWILIGHT TIME TECH SPECS: A loaded Blu-Ray from Twilight Time, special features abound here, including numerous featurettes brought over from Sony's DVD release (with some material focused on Kramer's entire career), like introductions from Steven Spielberg, Quincy Jones, Tom Brokaw and Karen Kramer, who produced the documentaries; trailers; footage of Kramer accepting the Irving Thalberg Award; a commentary with historians Eddy Friedfeld, Lee Pfeiffer, and Paul Scrabo, plus an isolated score track of "DeVol"s musical contribution. The 1080p (1.85) transfer and DTS MA 1.0 mono audio are both superior. AISLE SEAT BOTTOM LINE: Time hasn't been especially kind to "Guess Who's Coming To Dinner" – as evidenced by the movie's 2005 remake "Guess Who," where the subject matter was given a far more comical, race-switching spin in a mediocre teaming of Bernie Mac and Ashton Kutcher. Still, the performances give the '67 film an enduring quality, as evidenced by Hepburn's Oscar, making it a recommended view on that level.
A MIDSUMMER NIGHT'S SEX COMEDY (**½, 87 mins., 1982, PG). THE MOVIE: Woody Allen's period Shakespearean riff finds a group of couples (Allen and Mary Steenburgen; Tony Roberts and Julie Hagerty; and Jose Ferrer and Mia Farrow) coming together, in a variety of formations, during a memorable weekend at a New England country home. Beautifully shot by Gordon Willis, "A Midsummer Night's Sex Comedy" marked Allen's first film for Orion Pictures, offering some occasional laughs and witty lines throughout its tidy running time. It's also a bit aloof, unsure of how whimsical it wants to be, and not particularly compelling. TWILIGHT TIME TECH SPECS: As with TT's earlier Allen releases, the 1080p (1.85) AVC encode isn't pristine but it's still satisfying and far superior to DVD, with the DTS MA mono audio being perfectly functional. The trailer and an isolated music track are the sole extras. AISLE SEAT BOTTOM LINE: Pretty to look at but difficult to become engaged by, "A Midsummer Night's Sex Comedy" finds Allen in mostly uneven form, despite its lightweight (and, for Allen, upbeat) tone. Best appreciated by the director's hardcore devotees.
THE LITTLE HOUSE (136 mins., 2014, Not Rated): "Twilight Samurai" director Yoji Yamada's film follows the doomed relationship between a married woman (Takako Matsu) and her husband's colleague (Hidetaka Yoshioka) through the prism of a servant (Haru Kuroki), all of it set during the years leading up to, during, and following WWII. Joe Hiaishi's score is a highlight of "The Little House," which bows on Blu-Ray from Twilight Time featuring a 1080p (1.85) transfer, 5.1 DTS MA sound (in Japanese with English subtitles), trailers, and an isolated score track.
---
Sony has recently announced a handful of 4K-remastered Blu-Rays with their new, "Supreme Cinema" series of extras-laden packages – the first titles of which include "Bram Stoker's Dracula," "Leon – The Professional" and "The Fifth Element."
In the interim, the studio has tapped into their back catalog for a welcome Blu-Ray of a kung-fu fighting relic from the '80s – BERRY GORDY'S THE LAST DRAGON (***, 107 mins., 1985, PG-13), which celebrates its 30th Anniversary this year.
This Winter of '85 Tri-Star release stars Taimak as a martial arts student seeking not the Force but rather "The Glow" in a gritty, urban NYC overseen by "The Shogun of Harlem" (played by an outrageously nutty Julius J. Carey III). Meanwhile, former Prince ingenue Vanity plays (what else?) a beautiful singer. The movie is ridiculous, dated '80s fun, meaning it's perfect entertainment for nostalgia freaks, and features a top-quality soundtrack of pop hits (including El Debarge's classic "Rhythm of the Night," performed on-screen as a music video during the film).
Sony's Blu-Ray reprises director Michael Schultz's spirited commentary track from their 2001 DVD release. Included in his talk is a hilarious story about how he accidentally deleted some 40 pages of writer Louis Venosta's script from his PC while he was off taking a nap! New to the Blu is a fresh retrospective featurette, "Return of the Dragon," which includes comments from Taimak, Berry Gordy and others. The trailer and a digital copy make for a satisfying Sony package, capped by an attractive, detailed 1080p (1.85) transfer with 5.1 DTS MA sound.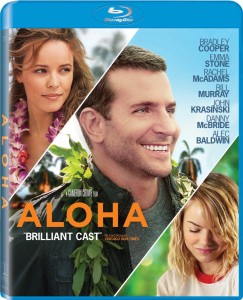 ALOHA Blu-Ray (*½, 105 mins., 2015, PG-13; Sony): Abysmal Cameron Crowe misfire was DOA upon its release last May – no surprise given its dud status was revealed in the Sony email hack of 2014. "Aloha" is the baffling, self-indulgent tale of a former soldier turned contractor (Bradley Cooper) who returns to Hawaii, where he's partnered with a sassy local (a terribly misjudged performance by Emma Stone) and runs into his former flame (Rachel McAdams) harboring a secret so obvious it will take seconds for any seasoned viewer to figure it out. There's also McAdams' current love (John Krasinski) and Cooper's boss – an entrepreneur played by Bill Murray, who seemingly had the good sense not to take credit on the picture. Virtually nothing in "Aloha" works, not even its central story line, which isn't clear as to what it's trying to say (perhaps a myriad of re-cutting made things worse), while the controversy over Stone's casting – she's supposed to be playing a character with some Hawaiian blood – ultimately did her a marginal favor as it masks a surprisingly grating performance that ranks with her worst work on-screen. Crowe provides a commentary in Sony's Blu and a slew of extras include a feature-length documentary, gag reel, and BD format exclusives like an alternate ending, original opening, photo gallery and multiple featurettes. The 1080p (1.85) transfer and 5.1 DTS MA soundtrack are both flawless – something that, obviously, cannot be said for the movie.
DISNEY SHORT FILMS COLLECTION Blu-Ray Combo Pack (79 mins., Disney): Animation fans ought to get a kick out of this new Disney anthology of 12 shorts – most previously released, but collected here for the first time in one package. Included are Frozen Fever, Feast, the hugely entertaining Mickey Mouse throwback Get a Horse!, Paperman, Tangled Ever After, The Ballad of Nessie, Prep & Landing: Operati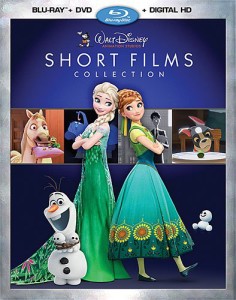 on Secret Santa, Tick Tock Tale, How to Hook Up Your Home Theater, the Little Matchgirl, Lorenzo and John Henry. There's also a DVD and Digital HD copy, plus an "Inside Disney Animation" segment. The 1080p transfers and 5.1 DTS MA soundtracks are, as you would expect, sterling.
MIKE & MOLLY – Season 5 DVD (419 mins., 2014-15; Warner): Melissa McCarthy fans who've never seen her on CBS' sitcom "Mike & Molly" would do well to check out the less raunchy, but no less wacky, shenanigans the comedienne indulges in during this fifth season of the amiable series. With Molly now a certified, paid writer, the rest of the clan – including sympathetic, patient cop husband Mike (the equally fine Billy Gardell) – has to put up with her frequent writer's block, while her sister (Katy Mixon)'s turbulent new relationship with Mike's partner (Reno Smith) provides the fuel for ample comic storylines. "Mike & Molly" became a bit too frenetic during its fourth season, but this fifth year finds the show back in a comfortable groove with consistent laughs, and the chemistry of McCarthy and Gardell remains its grounded center. Warner's Season 5 DVD includes a gag reel and all 22 episodes in 16:9 (1.78) transfers and 5.1 soundtracks.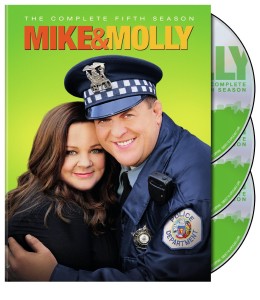 Also new from Warner this week is TEEN TITANS GO! HOUSE PESTS (284 mins., Warner), a two-disc anthology of episodes from the Cartoon Network animated series' Second Season 16:9 transfers (1.78) and 2.0 surround tracks adorn the continuing adventures of the Teen Titans, with Robin, Raven, Starfire, Beast Boy and Cyborg teaming up to take on villains including Nibor (Robin's Bizarro World counterpart), the H.I.V.E., Gizmo and Mad Mod among others.
THE VAMPIRE DIARIES: Complete Sixth Season Blu-Ray (928 mins., 2014-15; Warner)
THE ORIGINALS: Complete Second Season Blu-Ray (930 mins., 2014-15; Warner): Season 6 of the CW's still-popular "Vampire Diaries" says goodbye to Nina Dobrev's Elena, who – after losing her boyfriend and best friend – tries to start fresh as a sophomore at Whitmore College. Of course, assorted ghouls get in the way, starting with Damon trying to make her fall in love with him again and Mystic Falls itself put under an anti-magic spell.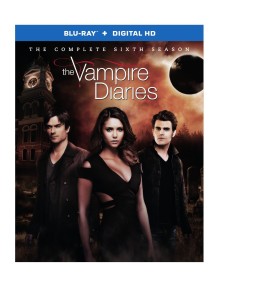 Season 6 of "The Vampire Diaries" arrives on Blu-Ray September 1st including 22 episodes in solid 1080p (1.78) transfers with 5.1 DTS MA soundtracks. Extras include two featurettes ("Good Bite and Good Luck," "Best. Reactions. Ever."), the 2014 Comic-Con panel, commentary on "Let Her Go," unaired scenes, a gag reel, and Ultraviolet HD copy.
Meanwhile, "The Originals," the CW spin-off, focuses on the Mikaelson clan, the "Original" vampire family who helped build New Orleans' French Quarter. After being banished decades ago, the family returns along with vampire/wolf hybrid "Klaus" Mikaelson, to take on a witch coven trying to take control of the area. Season 2 in particular finds Klaus plotting revenge against the werewolves, who have since taken control of the French Quarter during the series' initial season.
Fans of this kind of thing ought to gravitate towards "The Originals," which is slickly produced and a bit more outlandish than its "Vampire Diaries" sibling. All 22 second-season episodes have been collected here in Warner's Blu-Ray combo pack, including 1080p (1.78) AVC encoded transfers, 5.1 DTS MA soundtracks, a Digital HD Ultraviolet copy, and extras including "The Originals: Always and Forever" featurette, "The Originals: The Awakening" web series, 2014 Comic-Con panel, unaired scenes and a gag reel. (Also available September 1st)
THE BLACKLIST – Season 2 Blu-Ray (938 mins., 2014-15; Sony): Season 2 of NBC's hit from the 2013-14 season suffered from a bit of the sophomore slump, but its fans shouldn't mind. "The Blacklist" is a formulaic but engaging series that stars James Spader as Raymond "Red" Reddington, a former FBI agent turned fugitive who reappears on the scene after years in hiding. Mysteriously surrendering to officials and desiring only to work with a young agent (Megan Boone), Red offers to spill the beans on a number of top criminals and take down crime while pushing his own agenda – whatever it may be. Delectably performed by Spader, "The Blacklist" ought to be prime viewing for folks who enjoy modern TV crime dramas, and the fact that Boone is no longer saddled with the worst wig on TV (her own hair grew out enough that they let her use it!) is also a plus. Sony's Season 2 Blu-Ray set offers 1080p (1.78) AVC encoded transfers with DTS MA 5.1 audio and an Ultraviolet digital copy. Extras include BD-format exclusives (deleted scenes, two featurettes, commentaries on episodes "Leonard Caul" and "Tom Connolly") plus other extras (two featurettes) also available on the DVD release.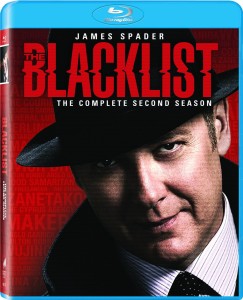 LA GRANDE BOUFFE Blu-Ray/DVD (130 mins., 1973; Arrow): Marco Ferreri's most renowned film comes to Blu-Ray in an extras-laden Special Edition from Arrow. Marcello Mastroianni, Michel Piccoli, Ugo Tognazzi and Philippe Noiret play four men who decide to hole up at a country home where they eat, drink and be merry with local prostitutes – plus a local teacher (Andrea Ferreol) who's not quite by-the-book outside her classroom. Wild, at-times grotesque imagery punctuates this hard-to-categorize, controversial film, which won the Fipresci prize after a much-discussed Cannes screening. Arrow's Blu includes a good looking 2K restoration (1.85) from the original camera negative; PCM French mono with English subtitles; "The Farcical Movie; Marco Ferreri," which profiles the director's influences (including American animator Tex Avery!); behind-the-scenes footage with cast interviews; an archive piece, "Colours Around a Festival," featuring interviews with the cast, Ferreri and composer Philippe Sarde; a video essay by Italian film scholar Pasquale Iannone looking at the film, with select-scene commentary on the movie also from Iannone; an extract from the movie's memorably stormy 1973 Cannes press conference; a DVD; and extensive booklet notes.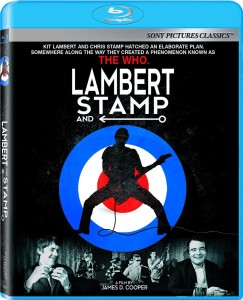 LAMBERT AND STAMP Blu-Ray (117 mins., 2014, R; Sony): Aficionados of The Who will appreciate this documentary about Chris Stamp and Kit Lambert, filmmakers who went out to find a subject for an underground movie and ended up discovering – and managing – The Who. Under Stamp and Lambert's guidance, The Who's striking artistic development was forged, and all of it is captured in James D. Cooper's fascinating look behind the scenes at The Who's origin, their music, and the era in which it all happened. Sony's Blu-Ray includes format-exclusive extras (archival footage, a 1967 Who promotional film, and the featurette "The Who in Finland"), plus commentary with Cooper, a Q&A with Cooper and Henry Rollins, a 1080p (1.85) transfer, 5.1 DTS MA sound and an Ultraviolet HD copy.
THE KILLING – Season 4 DVD (346 mins., 2014; Fox): Fourth and final season of the moody police procedural brings back detective Srah Linden (Mirelle Enos) and Stephen Holder (Joel Kinnaman) as the duo attempt to destroy evidence that would implicate Linden in the murder of her former lover. A new case involving the death of the son of a prominent family at a military academy also fuels the final six episodes of "The Killing," guest starring Joan Allen. Fox's DVD includes 5.1 Dolby Digital sound, 16:9 (1.78) transfers and no extras on two discs.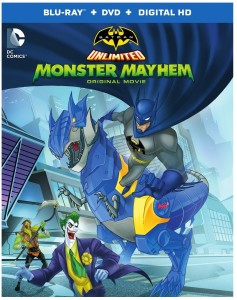 STRAWBERRY SHORTCAKE – BERRY TALES DVD (66 mins., Fox): Anthology of three episodes from the current animated incarnation of the long-running toy heroine includes the segments "Snowberry and the Seven Berrykins, "Berryella and Princes Berry Charming," and "The Littlest Berrykin." Digital HD copies and 16:9 transfers are included along with 2.0 stereo soundtracks and "Party Pack Printables" in Fox's DVD.
BATMAN UNLIMITED: MONSTER MAYHEM Blu-Ray Combo Pack (80 mins., 2015, Not Rated; Warner): Halloween Night in Gotham City brings out a number of classic Bat-villains for more tricks than treats, including Scarecrow, Clayface, Silver Banshee, and Solomon Grundy, all under the guidance of The Joker himself. The target is Gotham City's internet infrastructure, but luckily, Batman has some help of his own in the form of Green Arrow, Cyborg, Nightwing and Red Robin. This longer-than-usual DC Animated movie offers colorful adventure for kids, seeing as the Unlimited moniker brings with it more playful and less violent shenanigans. Warner's combo pack includes over 40 minutes of extra materials, including the "Gotham of Tomorrow" featurette, 10 "DC Nation" shorts, a DVD, digital copy, a bonus DC Comics cartoon, 1080p (1.78) transfer and 5.1 DTS MA sound.
---
THE WALKING DEAD Season 5 Blu-Ray (710 mins., 2014-15; Anchor Bay): Rick Grimes and company ended "The Walking Dead"'s Season 4 left for dead – literally, with the walking corpses closing in on their train car with barely a chance of survival remaining. The AMC series' fifth season picks up the action from there, resolving the "Terminus" story line and balancing the program's ever-delicate balance of hope and despair, life and death, humanity and zombism as the group faces the possibility of finding a cure in Washington, D.C. Anchor Bay's HD box-set of "Walking Dead"'s fifth season is packed with extras: featurettes (Inside The Walking Dead; The Making Of The Walking Dead; The Making of Alexandria; Beth's Journey; Bob's Journey; Noah's Journey; Tyreese's Journey; A Day In the Life of Michael Cudlitz; A Day in the Life of Josh McDermitt; and Rotters in the Flesh) plus audio commentaries and deleted scenes, all housed in a multi-disc set. The 1080p (1.78) transfers and 5.1 Dolby TrueHD soundtracks are all fine, and digital HD Ultraviolet copies round out the release.
LOST AFTER DARK Blu-Ray (85 mins., 2015, Not Rated; Anchor Bay): Ian Kessner's directorial debut is yet another homage to '80s slashers – but unlike other overhyped salutes to Carpenter and the like ("It Follows," anyone?), "Lost After Dark" gets the job done in its throwback atmosphere and mood. Kendra Timmins stars as a smart girl whose crush on her school's quarterback (Justin Kelly) lands her – and a group of their classmates – on a desert road leading to a lonely farmhouse belonging to your friendly neighborhood cannibal (Mark Wiebe). Fairly stylish for what it is, "Lost After Dark" should engage genre buffs when it streets on Blu-Ray September 1st. Anchor Bay's 1080p (1.78) transfer and Dolby TrueHD soundtrack are both top-notch.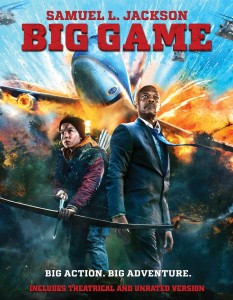 BIG GAME Blu-Ray (**, 87 mins., 2015, PG-13; Anchor Bay): "Rare Exports" director Jalmari Helander's ambitious adventure pits the President of the United States (Samuel L. Jackson) up against a group of kidnappers when Air Force One is taken down over the Finnish countryside. His only help lies in the form of a young teen (Onni Tommila) on a "vision quest," who comes to his aid and tries to get him to safety in a movie that sounds like it should've been wild, over-the-top fun…except it's much too restrained and serious, as reflected in Jackson's perfunctory performance. Add in an excess amount of slow-motion and faux-grandstanding moments – with a bombastic score to match – and "Big Game," sadly, is an exhausting disappointment. Anchor Bay's Blu-Ray includes the PG-13 theatrical cut of "Big Game" along with an unrated version in attractive 1080p (2.40) transfers with 5.1 Dolby TrueHD audio.
7 MINUTES Blu-Ray (84 mins., 2014, R; Anchor Bay): By-the-numbers heist film brings together Luke Mitchell, Jason Ritter and Leven Rambin as a trio of disaffected young men who have fallen into hard times and decide to strike back by pulling off a seven-minute robbery at a local bank. Writer-director Jay Martin's film offers scant surprises but is reasonably well-executed in spite of its familiarity, and the three leads – augmented by veteran support from Joel Murray and Kris Kristofferson – are believable enough. Two featurettes, a 1080p (2.40) transfer and 5.1 Dolby TrueHD soundtrack comprise Anchor Bay's Blu-Ray, streeting September 1st.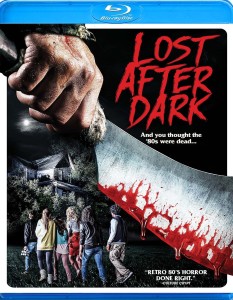 CITIZEN FOUR Blu-Ray (113 mins., 2014, R; Anchor Bay): Documentarian Laura Poitras and journalist Glenn Greenwald tracked down infamous whistleblower Edward Snowden in Hong Kong for this compelling documentary. Anchor Bay's Blu-Ray includes deleted scenes, a New York Times profile with the central subjects, bonus featurettes, a 1080p (1.78) transfer, and 5.1 DTS MA soundtrack.
BOULEVARD Blu-Ray (88 mins., 2013, R; Anchor Bay): Robin Williams final screen performance comes to Blu-Ray on September 1st in the form of "Boulevard," a 2013 indie film with Williams as a closeted homosexual who questions his sexual identity after meeting a young hustler (Roberto Aguire) on the streets. Kathy Baker co-stars as Williams' long-time wife in a film from Dito Montiel that was shot in 2013. Anchor Bays Blu offers a 1080p (2.40) transfer with 5.1 Dolby TrueHD sound.
THE CURSE OF DOWNER'S GROVE Blu-Ray (89 mins., 2015, R; Anchor Bay): Bret Easton Ellis co-wrote and prodiuced this adaptation of Michael Hornburg's novel about a quaint suburban Midwest town where before the end of each school year, one high school senior dies in a grizzly accident. One girl (Bella Heathcote) is worried she might be next in this surprisingly mundane – given Ellis' involvement – teen thriller co-starring Lucas Till, Helen Slater, Tom Arnold and Kevin Zegers. Anchor Bay's Blu, out September 1st, includes a 1080p (2.40) transfer, 5.1 Dolby TrueHD audio and a behind-the-scenes featurette.
FELT DVD (80 mins., 2015, Not Rated; Anchor Bay): Amy Everson stars as a young woman who has problems functioning following sexual trauma, and takes to donning costumes in order to cope with her past. After she meets a decent guy (Kentucker Audley), her schizoid tendencies fully bloom in a faux-documentary film from director Jason Banker, who co-wrote the improvised film with Everson. Anchor Bay's DVD, available September 1st, includes a 16:9 (1.78) transfer and 5.1 Dolby Digital sound.
---
THE RUNNER Blu-Ray (90 mins.. 2015, R; Alchemy): Nicolas Cage tries to play straight in this story of a New Orleans politician whose political and personal life is thrown into turmoil after a sex scandal threatens his professional future. Sarah Paulson, Connie Nielsen, Peter Fonda and Wendell Pierce co-star in Austin Stark's film, coming to Blu-Ray from Alchemy featuring a 1080p transfer and 5.1 Dolby TrueHD soundtrack.
Lionsgate New Releases: As direct-to-video affairs go, WWE's VENDETTA (90 mins., 2015, R) is an enjoyably slight affair pitting Dean Cain's detective against Paul "The Big Show" Wight, who he believes murdered his wife. In order to gain access to Wright, Cain commits a crime and is sent to prison for a showdown in Jen and Sylvia Soska's briskly paced affair, which hits Blu-Ray this week from Lionsgate offering a 1080p (1.78) transfer, 5.1 DTS MA sound, three featurettes, and a digital HD copy…Kelli Garner gives a fine performance as Marilyn Monroe in the better-than-average mini-series THE SECRET LIFE OF MARILYN MONROE (180 mins., 2015), a Lifetime production that focuses on the fractured relationship between Monroe and her mother, Gladys (Susan Sarandon). A digital copy is included in the single-disc DVD from Lionsgate that sports a 16:9 transfer and 5.1 sound…Season 1 of THE ROYALS (450 mins., 2015) also arrives on DVD this week. This E! Original series stars William Moseley as Prince Liam, in line for the throne after his older brother dies, but saddled with obstacles including Queen Helena (Elizabeth Hurley), who plans on doing anything to remain in power. Three featurettes, 16:9 transfers and digital copies adorn Lionsgate's multi-disc set of the enjoyably silly, over the top series…The independently produced documentary LAST DAYS OF THE NAZIS (255 mins., 2015) was picked up by the History Channel and focuses on another portrait of the German regime and specifically its final days, after the Allies interrogated thousands of Nazis in 1945. A widescreen transfer and 2.0 sound are included in Nicole Rittenmeyer's production…New on Blu-Ray, WHERE HOPE GROWS (98 mins., 2013, 98 mins., PG-13) stars Kristofer Polaha as a former pro basketball who strikes up a friendship with Produce (David DeSanctis), a young man with Down Syndrome. Lionsgate's family-friendly Blu-Ray includes a 1080p (2.40) transfer, 5.1 DTS MA soundtrack, deleted scenes, commentary, featurettes, and a digital copy.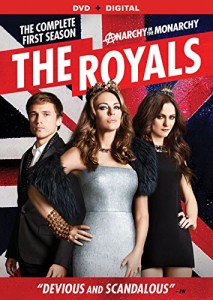 Magnolia New Releases: Documentary filmmaker Albert Maysles ("Grey Gardens," "Gimme Shelter") produced a unique portrait of IRIS Apfel, a New York fashionista who continues to inspire at age 93. Maysles himself is 88, giving this low-key documentary an interesting angle (80 mins., 2014, PG-13) if nothing else. Magnolia's Blu includes deleted scenes, an interview with Apfel, a DTS MA 5.1 soundtrack and 1080p (1.78) transfer…Dolph Lundgren and Tony Jaa, meanwhile, team up in the thriller SKIN TRADE (96 mins., 2015, R), a Bangkok-set international production starring Dolph as a detective who works with Thai cop Jaa to take down a human trafficker (Ron Perlman). Michael Jai White and Peter Weller co-star in this so-so action outing that comes to life intermittently, but spends too much time on deadly dialogue sequences. A slew of featurettes include a talk with Lundgren (who also produced) and deleted scenes, along with a 1080p (2.39) transfer and 5.1 DTS MA soundtrack.
Cinedigm New Releases: "A Wrinkle in Time" author Madeleine L'Engle's CAMILLA DICKINSON (117 mins., 2015, Not Rated) is the story of a 15-year-old teen (Adelaide Clemens) whose parents' (Cary Elwes, Samantha Mathis) marriage is eroding; at the same time, she meets Frank (Gregg Sulkin), her friend's brother, whose own parents are likewise having problems. L'Engle co-wrote this adaptation of her novel "Camilla" with director Cornelia Duryee Moore, which debuts on DVD this week from Cinedigm. The disc includes deleted scenes, a Making Of, commentary, the trailer, a 16:9 transfer and 5.1 Dolby Digital soundtrack.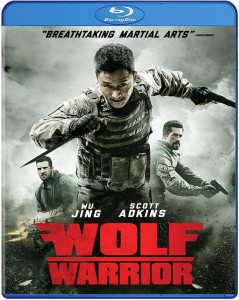 Well Go New Releases: Superior martial arts action is on tap in WOLF WARRIOR (91 mins., 2015, Not Rated), a briskly paced Hong Kong import starring Wu Jing as a Chinese Special Forces op who's jailed for disobeying orders. His disobedience leads a clandestine squad, the Wolf Warriors, to bring him into the fold. Scott Adkins co-stars in a formulaic film with superior fight sequences, coming on Blu-Ray September 1st from Well Go. The disc includes a 1080p transfer and 5.1 DTS MA sound (in Mandarin with English subtitles).
THE SURFACE DVD (86 mins., 2015, Not Rated; E One): Sean Astin and veteran character actor Chris Mulkey star in this drama about a pilot who crashes in Lake Michigan, where he's rescued by a man stranded in his own boat. Mimi Rogers co-stars in Gil Cates, Jr.'s indie film, which receives a full-fledged Special Edition DVD from E One. The disc, streeting September 1st, includes commentary, deleted scenes, a featurette on Jeff Russo's music, 16:9 (1.85) transfer and 5.1 Dolby Digital sound.
THE RIOT CLUB DVD (107 mins., 2014, R; IFC/MPI): British import offers a look at an exclusive club hiding behind the shadows at Oxford, where a group of super-privileged kids run a society that overindulges in wine, women, drugs and song…and not necessarily in that order. Max Irons, Sam Clafin, Tom Hollander, Jessica Brown Findlay and Holliday Granger star in Lone Scherfig's film, now available in the U.S. from MPI sporting a 16:9 transfer and 5.1 Dolby Digital soundtrack.
NICKELODEON: CELEBRATE FALL! DVD (137 mins., 2010, 2014-15; Paramount): Over two hours of autumn-themed episodes are included in this compilation of episodes from Nickelodeon. On-hand are shows from PAW Patrol, Blaze and the Monster Machines, Wallykazam!, Bubble Guppies, Team Umizoomi, and Fresh Beat Band; most transfers are 16:9 (only the Team Umizoomi episode is full-screen 4:3) with stereo sound.
NEXT TIME: Olive's late August Blu-Rays including THE LAST AMERICAN VIRGIN, THE SENDER and more! Until then, don't forget to drop in on the official Aisle Seat Message Boards and direct any emails to our email address. Cheers everyone!