We all know that the Cannon Group was never known for making intelligent, thought-provoking movies; Menahem Golan and Yoram Globus would have rather turned out "American Ninja 5" than "Rashomon." Still, every once in a while some quality shined through the exploitation — or sometimes along with it — and that happy combination occurred in 1982 with the release of "Lemon Popsicle" auteur Boaz Davidson's THE LAST AMERICAN VIRGIN (***, 93 mins., R), making its U.S. Blu-Ray debut this month from Olive.
This cable TV staple has become something of a cult classic over the years not so much because it offers silly, ridiculous high school fun (which it does to a degree), but rather because of its painful, realistic ending that punches the unsuspecting viewer right in the gut. It could have easily been an Afterschool Special titled "Look What Happens When You Fall in Love With the Pretty Girl."
Lawrence Monoson plays Gary, a high schooler who — like pals Rick and David — wants to "score" with the opposite sex. While the trio's attempts at sexual conquest include run-ins with willing classmates, a burned-out hooker, and a lonely housewife, Gary really just wants to find one particular girl to settle down with. And, this being 1982, Gary only cares about the most gorgeous girl in his class (Diane Franklin, who played high schoolers for years following this film), neglecting clear and obvious obstacles like she doesn't care about him whatsoever. Still, that doesn't stop our hero from falling for the mysterious Karen, even going so far as to help her out once she gets pregnant.
Yes, it IS heavy stuff for a brainless teen comedy, but it's what makes "The Last American Virgin" such an audience favorite. Here's a movie that offers the requisite sex jokes and dumb fun of "Porky's" but takes a sharp, unexpected turn towards the dramatic in its final 30 minutes. If you've never seen the movie before, I wouldn't dream of spoiling the movie's painful conclusion, which seems to come out of left field but works so well that you'll be remembering it for days afterwards. In fact, a book on high school movies went so far as to compare it to the end of "Seven." (I have to admit that it might be even more jolting!).
Olive's Blu-Ray includes an attractive 1080p (1.85) transfer with DTS MA 2.0 stereo sound and no extras (Arrow released a fine Special Edition in the UK for those with region-free capabilities). There's no original score in the movie, but there IS a song-filled collection of '80s favorites too numerous to even begin mentioning. However, you'll never think of the Quincy Jones/James Ingram classic "Just Once" quite the same way again after sitting through this one — don't miss it!
Another early '80s cult favorite, THE SENDER (***, 92 mins., 1982, R) debuts on Blu-Ray this month from Olive – a genuinely creepy, disturbing early '80s thriller that's been hampered in becoming a cult classic since it's been in and (more often) out of circulation since its original release. Hopefully Olive's new 1080p (1.85) Blu-Ray mastering of this Edward S. Feldman production will help matters.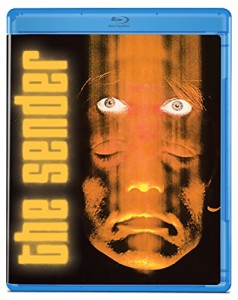 Director Roger Christian's film stars Zeljko Ivanek as a disturbed young man who appears in the dreams of a psychiatrist (Kathryn Harrold) assigned to his case after he's found trying to commit suicide.
Eschewing a shlock horror approach, "The Sender" is more mature and disturbing than most of the typical horror fare of its day. Christian worked on the sets of sci-fi classics like "Star Wars" and "Alien" and brings a truly creepy visual sensibility to Thomas Baum's original script, while the performances of Harrold, Shirley Knight, and Ivanek (a character actor recently seen in series like "Heroes" and "Damages") are all spot-on. On a technical level, Roger Pratt's cinematography and Trevor Jones' score add further class to a movie that never plays all of its cards, suggesting several possible explanations for its supernatural goings-on but leaving it to the viewer to decide what actually happened.
Olive's Blu of the Paramount-released "The Sender" is basic in its audio/video presentation (1080p AVC encoded transfer) but the video is at least respectable and a decent 2.0 DTS MA soundtrack does boast a stereophonic presence whenever Jones' fine score kicks into gear. Highly recommended!
THE SINGING DETECTIVE (**, 108 mins., 2003, R; Olive): Disappointing filming of Dennis Potter's semi-autobiographical tale (previously brought to TV in an acclaimed 1986 British mini-series) stars Robert Downey, Jr. as a bed-ridden novelist whose mind bounces between his hospital surroundings and a fantasy world inspired by one of his potboilers.
The latter sports Downey as a detective, his "real life wife" Robin Wright Penn as a cheating spouse, Carla Gugino as his mother, and Adrien Brody and Jon Polito as hoods on his trail. The former includes Katie Holmes as a nurse and Mel Gibson as Downey's not-very-understanding shrink, who tries to help his patient on the road to recovery both mentally and physically.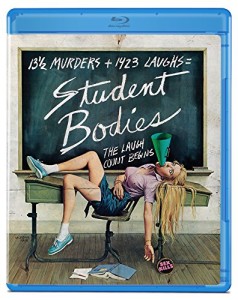 Keith Gordon directed this odd and unsatisfying mix of pulp fiction spoof, psychological drama, and fantasy-musical, which was scripted by Potter from his original material, prior to his death in 1994. Having never seen the original mini-series, I can only gather that Potter's story didn't survive the translation to feature-length, since the movie is overly quirky and disjointed, being too abbreviated to develop its myriad moods and styles. The tight direction and claustrophobic cinematography make for a film that's not aesthetically pleasing, either, in spite of an excellent cast, some of whom struggle with the material. Chief among those is Downey, whose one-note, sarcastic performance — even when it's supposed to be introspective — fails to make us care about his character's painful predicament.
The 1080p AVC encoded transfer (1.85) is strong and the 5.1 DTS MA soundtrack heavy on 50s pop tunes.
STUDENT BODIES (**, 86 mins., 1981, R; Olive): "Student Bodies" was a cable staple that hit Blu-Ray for the first time in Legend's 2011 double-feature – a horror parody with a few scattered laughs that plays out like a standard teen slasher movie with a lunatic named "The Breather" on the loose, preying upon young couples. Mickey Rose wrote and directed this reportedly troubled (producer Michael Ritchie had his name removed from the credits) and uneven comedy that presaged "Scream" by nearly 20 years; while no great shakes, for nostalgic viewers who grew up on the movie, it's still fun to see it back in circulation again. Olive's AVC encoded 1080p (1.85) transfer is similar to Legend's out-of-print Blu, which coupled "Student Bodies" with "Jekyll & Hyde: Together Again." The DTS MA mono sound is an upgrade, technically, over the Legend 2.0 Dolby Digital track, though it's unlikely most will be able to discern much of a difference between the two mixes given its monophonic source.
THE BABYSITTER Blu-Ray (*½, 90 mins., 1995, R; Olive): Alicia Silverstone's film output had its ups and downs in the 90s, hitting its nadir with this putrid drama about a fetching babysitter (guess who) surrounded by men – J.T. Walsh's oughtta-know-better employer, Jeremy London's jilted ex-boyfriend – who try to use her as a means to their own ends. Or something. Guy Ferland directed "The Babysitter," which hit home video a few months after her star-making turn in Amy Heckerling's "Clueless," hoping to lure in the same youth audience. It didn't, as "The Babysitter" was quickly dismissed after bad reviews, but has resurfaced on an Olive Blu-Ray sporting a just-okay 1080p (1.85) transfer and 2.0 DTS MA stereo soundtrack. Skip it.
DANIEL Blu-Ray (**½, 130 mins., 1983, R; Olive): The story of Julis and Ethel Rosenberg – convicted of spying for the Russians in the 1950s – was fictionalized in the form of this 1983 Sydney Lumet drama, fashioned as a vehicle for Timothy Hutton. Playing the son of the "Isaacsons" (Mandy Patinkin and Lindsay Crouse), who are executed for their crimes, Hutton's Daniel begins an odyssey of personal and political introspection, both into his own beliefs as well as in his attempt to uncover the truth about his parents. Based on E.L. Docotorow's novel "The Book of Daniel" and scripted by the author, "Daniel" received mixed reviews and failed to find an audience in theaters. This Blu-Ray release of the film from Olive marks its first appearance on home video in many years, and fans of the various performers, as well as Lumet, might find it an interesting (if decidedly uneven) piece to appraise. Olive's 1080p (1.85) transfer and DTS MA mono soundtrack are passable.
---
THE HUNGER Blu-Ray (**, 96 mins., 1982, R; Warner Archive): A horror movie forward thinking in its striking visual approach – but dramatically limp on a story and character level – "The Hunger" has nevertheless remained a genre favorite, primarily for its gorgeous female leads and one memorable seduction sequence.
Catherine Deneuve plays a bloodsucker – undead since ancient Egypt – whose current companion, played by David Bowie, dates back several centuries. Bowie, however, is having a hard time keeping up his youthful appearance, even after devouring the blood pouring forth from unsuspecting victims. Hoping to turn back the clock, the duo seek out a doctor (Susan Sarandon) specializing in genetics – whom Deneuve becomes attracted to and eyes as a potential replacement for Bowie.
As a pure visual piece, "The Hunger" is impressive, marked by director Tony Scott's use of montages, limited dialogue, Stephen Goldblatt's cinematography and art direction that often feels like the work of Scott's brother, Ridley. The movie didn't do well initially in theaters but comes off as far more contemporary than any of its genre brethren from the era, and its bold opening would be just as striking in a film produced today.
Sadly, the story remains a wet blanket, and its script an underdeveloped outline that no amount of visual sizzle can overcome. Very little actually happens in "The Hunger," with its threadbare plot – concocted by Ivan Davis and Michael Thomas from Whitley Strieber's novel – used as an excuse for its flashy murders and attractive portrait of its leading ladies. Speaking of which, Deneuve and Sarandon are in peak physical condition here, and their collective beauty keeps you watching all the way through their big lovemaking sequence – and through to a dumb, unsatisfying ending that was all too obviously shot at the insistence of MGM executives, hoping for sequels that never came.
Warner's Archive Blu-Ray heightens the movie's potent Panavision cinematography with a 1080p (2.40) transfer. There are a few sections with some minor print damage, but generally, the wide scope image is finely detailed and strongly rendered here. Surprisingly, "The Hunger" was recorded in mono, and while the DTS MA mono track is passable, this is a film that cries out for an immersive stereophonic mix. The trailer – which hysterically attempts to sell the film on the basis of its stars ("The timeless beauty of Catherine Deneuve! The cool elegance of David Bowie! The open sensuality of Susan Sarandon!") – is included along with a DVD commentary with Scott and Sarandon, who trashes the movie's brainless epilogue.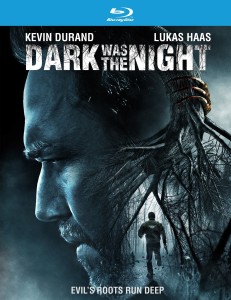 CRYSTAL LAKE MEMORIES: THE COMPLETE HISTORY OF 'FRIDAY THE 13th' Blu-Ray (400 mins., 2013; Image/RLJ): Daniel Ferrands did a superb job chronicling the history of the "Nightmare on Elm Street" series with his lengthy documentary "Never Sleep Again," and returned in 2013 with a comprehensive look at the "Friday the 13th" franchise in "Crystal Lake Memories."
This sprawling, irresistibly entertaining production charts the evolution of the entire franchise, with Corey Feldman narrating and nearly every major cast member, director, writer and make-up effects artist appearing for good measure. It encompasses the movies, as well as the TV series, through the most recent remake, utilizing brand-new interviews. For fans, this is a must-have – an engrossing production that takes Peter M. Bracke's hardcover tome and uses it a springboard for one of the most in-depth documentaries of its kind.
Previously available from 1428 Films, RLJ's Blu-Ray release includes the entire doc on two platters, a commentary, a 1080p (1.78) transfer and 5.1 DTS MA audio. Fans who previously owned the 1428 release shouldn't bother with this edition (despite its upgrade in sound from standard Dolby Digital to DTS MA), but others will find this new release a welcome chance to own the documentary.
DARK WAS THE NIGHT Blu-Ray (98 mins., 2014, Not Rated; Image/RLJ): After a logging company disrupts the forest around Maiden Woods, the local sheriff (Kevin Durand) and his deputy (Lukas Haas) have to contend with a monster that quickly puts the entire populace of their sleepy town at risk. Bianca Kajich and Nick Damici lead a cast more talented than Jack Heller's indie horror film deserves, but "Dark Was the Night" is still a watchable effort for horror fans – despite a weak ending. Image's Blu-Ray – a Best Buy exclusive for now with a national rollout scheduled for late fall – includes a behind the scenes featurette and cast Q&A, plus a 1080p transfer and 5.1 DTS MA sound…also new on DVD from Image/RLJ is RUN. HIDE. DIE (75 mins., 2014) starring Alison Monda as a widow who heads to a summer cabin for some R&R – only to run into a killer preying on her and her friends. Collin Joseph Neal's film is standard fare for horror buffs, with RLJ's DVD including a 16:9 transfer and 5.1 soundtrack.
---
GOOD KILL Blu-Ray (102 mins., 2015, R; Paramount): "Truman Show"/"Gattaca" helmer Andrew Niccol's moody military thriller places Ethan Hawke's Air Force pilot into the controls of a drone, where he carries out a series of frenetic missions from a CIA that's seemingly missing a moral compass. Hawke's gradual descent both professionally and with his wife (January Jones) while tutoring a new operator (Zoe Kravitz) makes for a more "philosophical" picture than the likes of "Hurt Locker" and "American Sniper" – yet its point of view is decidedly slanted in a wholly different direction and the drama tends to become more unbelievable as it unfolds. Paramount's Blu-Ray of the IFC Films production includes a behind-the-scenes featurette, 1080p transfer, 5.1 DTS MA sound and a digital copy.
Also new from Paramount this week is THE D-TRAIN (101 mins., 2015, R), a disappointing indie from directors Jarrad Paul and Andrew Mogel starring Jack Black as a not-entirely-popular guy who decides to turn the tables on his classmates by first befriending, then inviting, his high school's coolest cat (James Marsden) to their reunion. What he's not prepared for is the fallout once Marsden takes over Black's life in every conceivable facet, in a painfully awkward film that's seldom funny and is, ultimately, performed with not nearly the amount of needed energy in order to make the material work. Paramount's Blu-Ray boasts a digital copy, 1080p transfer, 5.1 DTS MA audio, a gag reel, and deleted scenes.
EXTINCTION DVD (113 mins., 2015, R; Sony): At-times slow going but nevertheless superior zombie flick stars Jeffrey Donovan as a father trying to raise his daughter (Quinn McColgan) in a world wiped out by the undead, with only a neighbor (Matthew Fox) who's slowly but surely going insane around to help. This Spanish-produced, snowbound affair is heavy on character – so much that the movie bogs down in its middle portion – but is still a much better than anticipated film of its type, thanks particularly to its lead performances. Eight different featurettes comprise the extras in Sony's DVD plus a 16:9 (2.35) transfer and 5.1 Dolby Digital soundtrack. Recommended for horror fans.
BROKEN HORSES DVD (101 mins., 2015, R; Sony): Internationally acclaimed helmer Vidhu Vinod Chopra's English language feature debut stars Anton Yelchin as a man who returns to his hometown on the Mexican border, where his simple-minded brother (Chris Maruqette) has become a contract killer for a ruthless gang leader (Vincent D'Onofrio) who runs the town. Atmospherically shot and well acted, "Broken Horses" might've been an effective western in another movie-going era, but it still functions well as a gritty, rural character-based thriller, with fine performances from all three leads. Sony's DVD includes 13 behind-the-scenes featurettes, a 16:9 (2.35) transfer and 5.1 Dolby Digital soundtrack featuring a John Debney score.
---
Acorn New Releases
The hit Canadian TV series MURDOCH MYSTERIES (792 mins., 2014) returns to Blu-Ray in an 18-disc Season 8 package from Acorn. This intriguing import, set in Toronto during the 1890s and based on a series of novels by Maureen Jennings, follows a detective who tries to adopt "modern" techniques like finger marks and forensics. Yannick Bisson stars s as Detective William Murdoch, who attempts to navig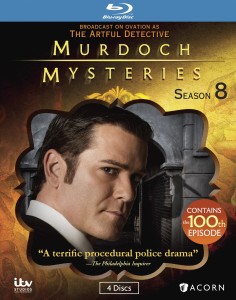 ate between joy, heartbreak and run-ins with the Dockyard Gang – not to mention W.C. Fields, Thomas Edison and President Theodore Roosevelt among others! Peter Outerbridge, meanwhile, who played Murdoch in TV films that preceded the series, also makes a Guest Star appearance. Acorn's Blu-Ray includes fine 1080p widescreen transfers, 5.1 DTS MA soundtracks and a few extras, including nearly two hours of featurettes, a 100th episode segment and photo galleries.
Also new from Acorn this month on Blu-Ray is HARRY (271 mins., 2013), a New Zealand crime thriller starring Oscar Kightley as a detective working in Auckland's Major Crime Unit while trying to raise his 13-year-old daughter following his wife's suicide. Sam Neill co-stars as his boss, who joins him on a case involving a narcotics ring in New Zealand's largest city. Acorn's two-disc Blu-Ray includes all six episodes in fine 1080p transfers with 2.0 DTS MA stereo sound.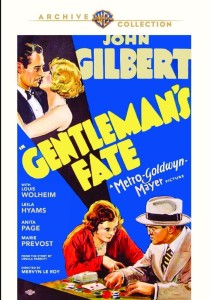 Warner Archive DVD New Releases
A trio of John Gilbert/MGM films have been dusted off from the Archive for the first time. In THE PHANTOM OF PARIS (74 mins., 1931), Gilbert plays an illusionist who tries to clear his name of murder in an adaptation of Gaston Leroux's novel "Cheri-Bibi et Cecily." MY WAY FOR A SAILOR (85 mins., 1930) teams Gilbert alongside Wallace Beery and Jim Tully (the "Beggars of Life" author making his sole screen credit) in an early "All Talking" picture from MGM about a sailor who lands in London in order to see a shipping clerk (Gilbert's heroine in all three pictues, Leila Hyams) who wants nothing to do with him – until he proves his mettle on the ocean. Finally, GENTLEMAN'S FATE (93 mins., 1931) was a very different film from director Mervyn LeRoy, sporting Gilbert as a man who finds out he's the son of a racketeer – and promptly becomes a gangster. All three pictures receive B&W transfers on DVD from the Archive from the best surviving MGM vault elements.
PBS New Releases: Season 15 of AMERICA'S TEST KITCHEN (13 hours, 2015) serves up four discs of tantalizing recipes from chef Christopher Kimball and the crew of "America's Test Kitchen." On hand here are 51 created recipes focusing on Comfort Food Revisited, Almond Cake and British Scones, Pork Tenderloin Dinner, Beefing Up Mexican Favorites, Pasta Rustica, Sweet on Custard and Cookies, Chicken and Rice Get an Upgrade, Seafood Specials, Classic Fare with Flair, Springtime Sweets, Mahogany Chicken and Asparagus Stir-Fry, The Italian Vegetarian, Spa Cusine Gets a Makeover, Pizza and Cookies Go Gluten-Free, Southeast Asian Specialties, Great Grilled Burgers & Sweet Potato Fries, Favorite Ways with Catch of the Day, Dinner in the Mediaterranean, Spicing Up the Backyard Barbecue, Scallops and Shrimp Hot Off the Grill, Introducing Caldo Verde and White Gazpacho, Get a Rise Out of Your Eggs, Let's Make Bread, Two Ways to Unlock Asian Flavor, A Meal to Celebrate Fall, and Baguettes at Home. Printable recipes are included for all the dishes as well!
Coming September 15th from PBS is WALT DISNEY: HE MADE BELIEVE (240 mins., 2015), a thoroughly compelling American Experience documentary that looks at the entire creation of the Disney empire, from Walt's humble beginnings to the early days of his animation output. Extensive interviews and archival footage, culled from the Disney vaults, make for a highly recommended program that chronicles Disney's life and times throughout a two-part, four-hour production. PBS' DVD includes a 16:9 widescreen transfer and 5.1 Dolby Digital soundtrack.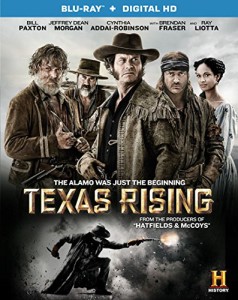 Lionsgate New Releases: The History Channel's latest attempt at producing a dramatic mini-series, TEXAS RISING (7 hours, 30 mins., 2015) is a sprawling but disappointing effort that wastes a massive cast – from Bill Paxton's Sam Houston to Olivier Martinez's Santa Anna, not to mention Jeffrey Dean Morgan, Thomas Jane, Crispin Glover, Jeremy Davies, Jeff Fahey, Rob Morrow, Kris Kristofferson, Brendan Fraser and (yes!) Ray Liotta – in its chronicle of Texas fighting for its freedom. Roland Joffe ("The Killing Fields," "The Mission") helmed this expensive and highly-rated production – which is even graced by a score by Bruce Broughton, John Debney and Jose Feliciano – that nevertheless feels lifeless and drawn out, not to mention historically inaccurate. Lionsgate's Blu-Ray includes three featurettes and a digital Ultraviolet HD copy, plus 1080p transfers and 5.1 DTS MA soundtracks.
New & Upcoming on DVD from Lionsgate: ALPHA AND OMEGA: THE LEGEND OF THE SAW TOOTH CAVE (45 mins., 2014) finds the Alphas and Omegas pulling together after Runt sneaks off to explore the haunted Saw Tooth Cave. A pair of games for kids and a digital copy are included in Lionsgate's DVD with a 16:9 transfer and 5.1 soundtrack…Ray Winstone plays a London gangster who's confronted by his son in LORDS OF LONDON (96 mins., 2014, R), a crime drama Lionsgate brings to DVD featuring a digital copy, 16:9 (2.35) transfer and 5.1 soundtrack…Gordon Chan's LAWLESS KINGDOM (117 mins., 2014) is a wild Chinese martial arts fantasy Lionsgate beams down on DVD featuring two featurettes, a 16:9 (2.35) transfer and 5.1 audio in English or Mandarin 5.1. A digital copy is also included…Kuno Becker starred in, plus wrote and directed PANIC 5 BRAVO (124 mins., 2012, R), a tour de force from the Mexican actor about an ambulance targeted by a Mexican drug cartel. A digital copy is on-hand plus a 16:9 transfer (1.78) and 5.1 English audio.
MILES FROM TOMORROWLAND: LET'S ROCKET DVD (121 mins., 2015; Disney): Disney Junior animated series might end up being more popular than the film that inspired it, thanks to kid-friendly animation and engaging storylines as Miles Callisto and his ostrich pal Merc travel through the galaxy. This Disney DVD compiles five episodes from "Miles From Tomorrowland" on a single platter DVD with a 16:9 transfer and 2.0 Dolby Digital sound.
NEXT TIME: MAD MAX – FURY ROAD, Shout's September slate and more! Until then, don't forget to drop in on the official Aisle Seat Message Boards and direct any emails to our email address. Cheers everyone!