Bombastic, blaring and bursting with action, George Miller's long-gestating MAD MAX: FURY ROAD (***, 120 mins., 2015, R; Warner) is the very definition of a "hardware movie": a spectacularly assembled collection of set-pieces that, ultimately, comprise one long, sensational chase through a post-apocalyptic wasteland.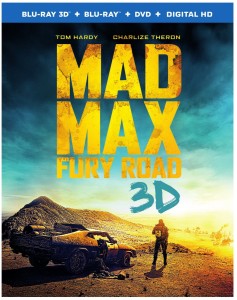 A very loose sequel to Miller's groundbreaking trilogy of the '70s and '80s only in that the thinly defined character of Mad Max – here played by Tom Hardy, taking over for Mel Gibson – becomes an unwitting part of the action, "Fury Road" scarcely resembles the films that came before it. Here, Max is taken prisoner by an insane gang presided over by "Joe," their psychotic leader (Hugh Keays-Byrne, who starred in the original) whose harem of young women – designated to produce his offspring – dare to escape their imprisonment. With the help of one of the Big Bad's top drivers, Furiosa (Charlize Theron), the girls break free from Joe's automotive battalion with Max in tow – just in time to take on the villains and other marauders of a desolate, nightmarish world in hot pursuit of the group.
"Fury Road" is an easy movie to review for the most part. There's so little room for character development that the cast is mostly there just to take part in the mayhem. There's so little story that the few fleeting moments in which Max recalls "something bad" in his past are both haunting but frustratingly spare, while the relationship between one of the girls and Nicholas Hoult's anemic "War Boy" feels like a minor aside that was concocted during reshoots. In fact, the opening narration from Max feels, ultimately, unnecessary given how sparse the narrative is – yet Miller also acknowledged this from the very start. "Fury Road" is, in every facet, one long chase designed by the director: every shot, angle, and edit is the work of Miller, who once planned on this sequel being made in 2001 with Gibson returning to the title role, then was nearly re-conceived as an animated film (you can sense some of the more outlandish action bearing some of that sensibility here).
Over a decade later, and after numerous stops and starts, Miller produced a film that spent as much time in post-production as any in recent memory, so it figures that the finished picture is a polished, kinetic blast of action filmmaking. This is a movie in which you, as a viewer, feel as if you're constantly moving: from the opening of Max fleeing from an assortment of albino-skinned warriors to the elaborately staged automotive battles, Miller keeps the film in a perpetual state of motion. There are a few quick interludes where the characters catch their breaths, but you'll have to read more into the story – crafted by Miller, Brendan McCarthy and Nico Lathouris – to extract a deeper meaning than what's really there.
The entire world Miller displays here is notably wilder, more violent and also grotesque than the earlier films. It's also louder and more insane, embodied most obviously by a "music truck" with a guitarist and drummers acting out the non-stop Zimmer Company score by Junkie XL – a far cry from the likes of Brian May and Maurice Jarre, but that's film music in 2015 as we all know. Of the cast, Theron registers the strongest as Furiosa, while Hardy's Max is a bit of an unfinished creation – daffy and depressed, but capable of being heroic, this Max lacks Gibson's grounded intensity and could've used more screen time…or at least a story that enabled him to play more of a role. Either way, Hardy is passable, but one can sense the actor's admitted frustration with Miller over the character's lack of development and purpose on-screen. Ultimately, the real stars of the show are the roaring machines and rapid-fire editorial intensity set by Miller's directorial tour de force.
That might not bother some viewers, because as long as you don't think too much about it afterwards – and also separate your thoughts of the prior "Mad Max" films, which admittedly offered more in the way of emotional resonance and character development – "Fury Road" is mostly triumphant in achieving Miller's vision, years after it was originally supposed to happen.
Warner's 3D Blu-Ray combo pack of "Mad Max: Fury Road" packs the expected punch with its Dolby TrueHD, Atmos-compatible audio track – thundering with activity across all speakers and backed by a strong use of the LFE channel. The AVC encoded 1080p (2.41) transfer is gorgeous, bold and flawless, and while I watched the film theatrically in 3D, the 2D presentation is equally immersive and likely preferable overall – though the 3D conversion is well handled and offers nice depth of field effects.
Special features are merely OK – just a few minutes of understandably deleted bits, plus generic promotional materials with behind-the-scenes featurettes giving a lightweight, overall, look at the production. One can sense fans wanting more juice here given the movie's problematic production history, but alas, that may have to wait for another release. A digital copy rounds out the disc along with a lenticular 3D slipcover.
A series that has become one of the most unlikely global franchises in cinematic history, FURIOUS SEVEN (***½, 137 mins., 2015, PG-13; Universal) represents the wildest, and arguably most hard-working, attempt at entertaining its core audience yet.
Delayed after the much-publicized, tragic death of star Paul Walker, "Fast Seven" continues the franchise's evolution from street-racing action into "Mission: Impossible"-esque adventure, as a top-secret government agent (the liveliest Kurt Russell performance in eons) enlists Dom (Vin Diesel), Brian (Walker) and company to retrieve a hacker (Nathalie Emmanuel) who's been kidnapped by an international terrorist (Djimon Hounsou). In return, the group will receive precious intel on the brother (Jason Statham) of the prior installment's villain, who's out to exact revenge for his death by picking apart the Torreto crew one by one – a plot element that enables writer Chris Morgan to finally connect the series' running story line with its one black sheep entry, 2006's "Tokyo Drift."
With "Conjuring" helmer James Wan settling into the director's chair, "Fast Seven" has more urgency and excitement than its predecessor, even if there's a "Trail of the Pink Panther"-like element in how the movie links in footage Walker shot before his death. While Walker is "here," his scenes tend to run parallel to a different movie that's going on without him, as there's little exposition involving his character (making one surmise that Walker hadn't shot as much of his scenes as the filmmakers claimed before release). That said, thanks to clever editing and FX work, there's nothing distracting about Walker's involvement – and the movie's end is a crowd pleasing, genuinely moving tribute to the star that's unlikely to leave a dry eye in the house.
As for the remainder of "Fast Seven," it's impossible to find a modern movie trying harder to please its fanbase. The action is ridiculously over the top but energetic and fun, with Wan and Morgan mixing in some choice, crowd-pleasing laughs along the way. Dwayne Johnson spends most of the movie laid up in bed, before heading out to participate – hysterically so – in a carnage-laden climax that's as entertaining as anything I've seen this year. So, for that matter, is the movie as a whole, which may not have the discipline of the series' best entry ("Fast Five"), but compensates for it with ample enthusiasm and entertainment, not to mention a series of stars (Diesel, Statham, Johnson, etc.) with more charisma than any other cast assembled in a blockbuster this year.
Universal's Blu-Ray combo pack of "Fast Seven" offers the theatrical version of the movie plus a slightly extended (by two minutes) unrated version. A series of behind the scenes featurettes, a DVD, digital copy, strong 1080p (2.40) transfer and frantic DTS MA 7.1 soundtrack comprise a robust a/v presentation and overall technical package – a must, needless to say, for fans.
---
Horror maven Wes Craven – who just passed away at age 76 – looked to cash in on the success of arguably his most influential genre work, "A Nightmare on Elm Street," through a series of '80s movies to varying, and mostly middling, degrees of success.
Scream Factory has already released "The People Under the Stairs" (1991) and has "The Serpent and the Rainbow" (1988) lined up in the near future, which leaves SHOCKER (**, 110 mins., R, 1989), the most blatant Craven attempt at building a new franchise around a Freddy-like character in "Horace Pinker." A bald madman (played by future "X-Files" boss Mitch Pileggi) who's electrocuted after causing all kinds of problems for star high school QB Peter Berg and his foster dad – the detective (Michael Murphy) investigating the case – Horace is a TV repairman with a taste for murder and a deal with the devil to match, one which enables him to live on even after being barbequed.
There are times when you wonder if Craven simply managed to stumble into his big successes – be it Freddy or the "Scream" movies – throughout his career, seeing that his batting average, on the whole, is less than impressive. "Shocker" is a genre relic from the late '80s, no question, and offers some mindless, guilty pleasure entertainment for that audience, but it's a seriously dumb and miscalculated affair through and through – one that was greeted with unanimous disdain from critics and failed to catch fire at the box-office. Pileggi's intensity is amusing to watch but the film's tension-free plot takes forever to get going and only cuts loose in its concluding portions, wherein Berg battles Pileggi literally inside a television, where the duo bounce around from one program to the next. A cameo by John Tesh proves to be nearly – but not quite – worth the wait during this memorable sequence.
Had the rest of "Shocker" embraced such a free-wheeling concept, it's likely the film would've been more entertaining, yet other than being more fun than Sean S. Cunningham's similarly-themed "The Horror Show" (a title Scream released last year) and refreshingly devoid of a sequel tease, it's a mostly-forgotten affair from an era in which Freddy still ruled the multiplexes.
Shout's Blu-Ray special edition of "Shocker" includes a pretty much average and likely older 1080p (1.85) transfer licensed from Universal. The image has been smoothed over with DNR and lacks detail, though at least the color reproduction is more satisfying than DVD. Worth noting is that the 1.85 framing also seems awfully tight during the movie's "trapped in the TV" climax – whether these sequences were composed for 4:3 (which would've made sense) and were here matted over or blown up, the image looks to have been cropped to some degree. On the audio side, the 2.0 and 5.1 DTS MA audio options house an aggressively obnoxious late '80s metal soundtrack along with a score by William Goldstein.
The supplements, at least, are terrific. Craven contributes a commentary as does cinematographer Jacques Haitkin, producer Robert Engelman and William Goldstein on a separate track. Longer interviews are also included with Pileggi, Goldstein, actress Camille (Cami) Cooper and producer Shep Gordon, while vintage promo materials, trailers, still galleries and other goodies adorn an excellent assortment of special features.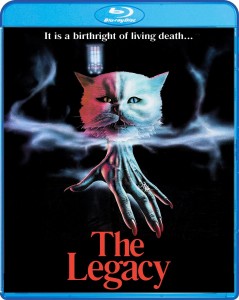 Also new from Scream this month is THE LEGACY (**½, 100 mins., 1978), a well-acted but pedestrian late '70s Universal thriller starring Katharine Ross and Sam Elliott as an American couple who end up being associated with devilish black magic in the English countryside, where Ross' involvement is no accident. Some unintentional yucks – including co-star Roger Daltrey's choking death – partially salvage this "Omen" rip-off, which was shot overseas under the direction of Richard Marquand, though it's hard to figure what lead George Lucas to hire him to direct "Return of the Jedi" (based on this film at least). Scream's Blu-Ray includes an interview with FX artist Robin Grantham, the trailer, a TV spot, stills gallery, and a 1080p (1.85) transfer superior to "Shocker" (less DNR, more detail) with DTS MA mono sound.
Scream Factory Premieres: "Henry: Portrait of a Serial Killer" helmer John McNaughton – who also directed the cult favorite "Wild Things" – returns with his new film THE HARVEST (104 mins., 2015, Not Rated), a creepy – and decidedly unsupernatural – tale of a teen (Natasha Calis) who moves in with her grandparents and meets a bed-ridden boy (Charlie Tahan) being presided over by his mother (Samantha Morton). Of course, there are always sinister shenanigans whenever Michael Shannon is involved as well. This IFC Midnight/Scream Factory presentation comes to Blu-Ray on September 1st featuring a 1080p (1.85) transfer and 5.1 DTS MA soundtrack…More horror of a decidedly less monstrous kind is on-hand in BACKCOUNTRY (92 mins., 2015, R), a Canadian chiller about a couple (Jeff Roop, "Rookie Blue"'s Missy Peregrym) who run afoul of a bear who's had enough of them in a decent outing from director Adam MacDonald. Commentary with the director and cast, a behind-the-scenes featurette, the trailer, a still gallery, 1080p (2.40) transfer and 5.1 DTS MA sound adorn Scream's Blu-Ray when it streets September 1st…Adam Brooks and Matthew Kennedy collaborated to produce and direct THE EDITOR (95 mins., 2015), an amusing Canadian satire of Italian horrors – both Dario Argento's work and the giallo genre as well – that stars Brooks as a film editor forced to work on exploitation pictures following a horrendous accident. Commentary, deleted scenes, a Making Of doc, featurettes, 1080p (2.35) transfer and 5.1/2.0 DTS MA sound comprise the Blu-Ray portion of Shout's combo pack, with a DVD also included. Well worth a look for Italian horror buffs.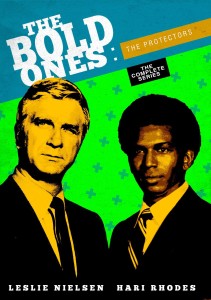 On DVD from Shout: Timeless Media and Shout bring together THE BOLD ONES: THE PROTECTORS (368 mins., 1969-70), a seven-episode series starring Leslie Nielsen as a midwest lawman brought to California where he clashes with a liberal D.A. played by Hari Rhodes. Edmond O'Brien, James Broderick, John Rubinstein, Fred Williamson and Louise Sorel guest starred in this gritty series with a cinematic look, thanks to cinematography by Vilmos Zsigmond. Timeless' DVD streets on September 15th and includes a 1.33 full-screen transfer…HILL STREET BLUES: Season 6 (17 hours, 1985-86) includes all 22 episodes of the classic '80s NBC crime drama in unedited form, offering Daniel J. Travanti, Veronica Hamel, Bruce Weitz, Joe Spano, Betty Thomas, Robert Prosky and Daniel Franz returning to their roles in the Emmy-winning series. Shout's five-disc DVD set includes 4:3 transfers licensed from Fox…LITTLEST PET SHOP: HALLOWEEN FEST (110 mins., 2015) includes five episodes from the animated series: Door-Jammed, Eight Arms to Hold You, Pawlm Reading, War of the Weirds, and The Very Littlest Pet Shop, in 16:9 transfers and 5.1 Dolby Digital sound…WHEN CALLS THE HEART: HEART AND HOME (84 mins., 2015) is the fourth "film" from the top-rated Hallmark series. Here, Jack and Elizabeth leave Hope Valley for Hamilton, only to run into drama involving Jack's brother and Elizabeth's sister. Shout brings "Heart and Home" to DVD September 8th in a single-disc release featuring a 16:9 transfer and 5.1 sound…Finally, on September 22nd, Shout releases the Complete Fourth Season of THE NANNY (aprx. 10 hours, 1996-97), the long-running CBS sitcom starring Fran Drescher and company. The 24 Season 4 episodes include appearances by Bette Midler, Pamela Anderson, Celine Dion, Jon Stewart, Jason Alexander and Donald Trump. Broadcast-length episodes, 4:3 transfers and stereo soundtracks adorn Shout's three-disc DVD package.
---
THE GOLDBERGS Season 2 DVD (519 mins., 2014-15; Sony): One of the few comedy hits from network TV's 2013-14 season, ABC's "The Goldbergs" stars Jeff Garlin and Wendi-McLendon Covey as the parents to a precocious set of kids led by geeky Sean Giambrone, his older sister (Hayley Orrantia) and brother (Troy Gentile). George Segal is also around as granddad in a series that's pretty funny on its own terms, but amplified by its '80s setting, allowing for the requisite gags involving the era's pop culture. It's consistently amusing and good-natured, with Sony's Season 2 DVD offering all 24 episodes of the second season on three discs. Three behind-the-scenes featurettes ("On Location with Sean Giambrone," "Making Barry Goldberg's Day Off," "On the Set with Wendi McLendon-Covey"), deleted scenes and a gag reel are included on the supplemental side.
AQUARIUS – Season 1 Blu-Ray (590 mins., 2015; Anchor Bay): David Duchovny's return to network TV comes in this serialized tale of a veteran detective whose cases parallel, and occasionally include, the activities of Charles Manson before the brutal Tate-LaBianca murders. The Summer of Love setting gives "Aquarius" some much needed atmosphere – but ultimately not enough to overcome generic, frequently pedestrian writing that fails to support its star, who gives a typically "Duchovnian" performance. That said, "Aquarius" was renewed for a second season, and interested viewers can catch up with its initial season via unedited episodes in Anchor Bay's Blu-Ray. A "First Look" featurette, webisodes, 1080p (1.78) transfers and 5.1 Dolby TrueHD soundtracks are all on tap.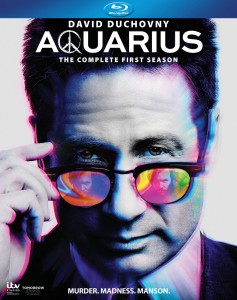 SCORPION – Season 1 Blu-Ray (15 hours, 2014-15; CBS): Elyes Gabel stars in this popular new CBS crime drama as the head eccentric of a group of techno-savvy brainaics working with the government to solve a series of crimes. It's kind of like "CSI Cyber" for a younger demo, with Robert Patrick fulfilling the role of the Homeland Security expert working with them and Katharine McPhee as the group's liason to the real world. CBS' Season 1 Blu-Ray of "Scorpion" includes "Living on the Edge, "Unlikely Heroes," "Meet Team Scorpion, "Inside the Brain with Eddie Kaye Thomas," and "Stunts on Scorpion" featurettes, plus a gag reel, good looking 1080p transfers and 5.1 DTS MA soundtracks.
HAWAII FIVE-O – Season 5 DVD (18 hours, 2014-15; CBS): Kidnapping is the name of the game in this fifth season of the modern "Five-O" reboot. This time out, Steve McGarrett (Alex O'Loughlin) and Danno (Scott Caan) face a series of challenges, including Danno saving his kidnaped brother with the help of Chin Ho Kelly (Daniel Dae Kim); Kono Kalakaua (Grace Park) is taken hostage as well while going undercover; and boss Lou Grover's (Chi McBride) daughter is also kidnapped, forcing him to change his attitude towards the team. All 25 fifth season episodes are included in CBS' six-disc DVD set, with extras including a gag reel, deleted scenes, "Five O X 100," "Five-O Music," "Directing with Daniel Dae Kim," "Aloha Action! Season 5," and "Shorelines: Season 5″ featurettes, a music video, and commentaries on select episodes. The 16:9 transfers and 5.1 soundtracks are all fine.
THE GOOD WIFE – Season 6 DVD (16 hours, 2014-15; CBS): After standing by her husband's (Alex North) path to the governor's office, Alicia Florrick (Julianna Marguiles) finds herself embroiled in the world of politics and running for office herself. Her challenges are amplified after finding out partner Cary (Matt Czuchry) carries baggage of his own as Election Day approaches. Though apparently no longer in its prime (from what a couple of die-hard fans have told me), "The Good Wife" still features one of the best casts on TV, including Christine Baranski, Alan Cumming and Emmy-winner Marguiles. CBS' Season 6 DVD includes "Follow the Leader," "The Temptation of Alicidia Florrick" and "The Esteemed Women of Sunday Nights" featurettes, plus deleted scenes, a gag reel, 16:9 transfers and 5.1 sound.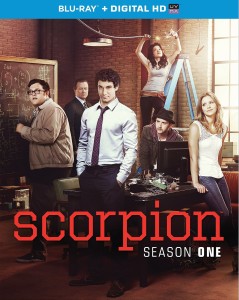 THE RED ROAD – Season 2 DVD (285 mins., 2015; Anchor Bay): Coming September 22nd from Anchor Bay is this second season of the well-reviewed Sundance Channel series, set in a town where tensions between Native Americans and a neighboring town are at an all-time high following the tribe's federal recognition. Martin Henderson stars as the police lieutenant trying to protect the town's interests while Jason Momoa plays Phillip, a parole trying to stay out of trouble, only to end up in his own ethnic "ordeal." "Inside the Red Road" and "Sundance On Set" featurettes are included in Anchor Bay's multi-disc DVD Season 2 set, which features 16:9 transfers and 5.1 Dolby Digital soundtracks.
THE LEAGUE – Season 6 DVD (341 mins., 2014; Fox): Sixth season of the popular FX comedy series finds the group playing for more than "The Shiva," particularly when a league member drops dead, causing the group to draft at his funeral. Meanwhile, Ruxin runs into trouble when he "juices" his son's little league performance and Taco starts his own charity. Fox's DVD set of "The League"'s sixth season includes deleted scenes, a gag reel, "Taco Tones" and "Alt Nation" featurettes, 16:9 transfers and 5.1 soundtracks.
HAVEN – Season 5, Volume 1 Blu-Ray (554 mins., 2014; E One): After William's banishment into the Void, Season 5 of the Syfy series "Haven" picks up with Audrey Parker having been replaced by Mara, a most malevolent presence who stirred up Haven's original troubles centuries ago. This enables star Emily Rose to break out of the typical confines of her lead character in a fitfully entertaining 13 episodes that comprise the first half of "Haven"'s fifth season. Out on Blu-Ray from E One this week, "Haven"'s high-def package includes "Witches Are Born" and "Native Breaks Free" segments, plus commentary, 13 "Inside Haven" featurettes, 1080p transfers and 5.1 DTS MA soundtracks.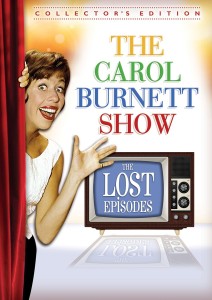 THE HEE HAW COLLECTION – 3 DVD Set (Time Life): A series that began its life in 1969 as the "country" version of "Laugh-In," "Hee Haw" was canceled by CBS – despite high ratings – when the big networks decided to move away from "rural" programming in the early '70s. The series, though, quickly migrated to local stations through syndication, where it became one of the longest running series of all-time until its final episode aired in 1992. Time Life's three-DVD "Hee Haw Collection" offers a mix of segments from the show's long run, with (decidedly corny) comedy and musical performances intertwining throughout an upbeat family entertainment. Performances from Merle Haggard, Loretta Lynn, Conway Twitty, Hank Williams Jr. and Tammy Wynette are present plus bonus interviews with Roy Clark and others. Available September 8th.
CAROL BURNETT: THE LOST EPISODES DVD (1255 mins.; Time Life): One of the longest-running comedy series of all-time has been in syndication – and on home video – for decades, yet episodes from the early years of the series have never been seen since their original broadcast. Incredibly, no episodes from the show's first five seasons were ever shown in syndication or on video, until this fascinating new Time Life anthology of episodes from "The Carol Burnett Show."
This six-disc DVD set is highlighted by 16 full, uncut episodes from "The Carol Burnett Show" shown for the very first time since their original network airings. Included here are Guest Star appearances by Lucille Ball, Bob Hope, Burt Reynolds, Bob Newhart, Paul Lynde, Jim Nabors (who appeared in the premiere and would return in each new season's debut episode), Bernadette Peters, Don Rickles, Mel Torme and others in sketches that include the debut of classics "As the Stomach Turns," "The Old Folks," and "Carol and Sis."
As with Time Life's earlier DVDs, ample extras include over five hours of bonuus features, including an exclusive backstage tour with Carol and friends returning to CBS Studio 33; never-before-seen outtakes; "Fabulous Firsts" and "On the Spot: Carol's Q&A" featurettes; interviews with Julie Andrews, Carol Channing, Burt Reynolds, Don Rickles and many others. Highly recommended!
---
PEANUTS EMMY HONORED COLLECTION DVD (265 mins., Warner): With the highly anticipated "Peanuts" movie due for release in just a couple of months, it's no surprise to see several new releases of the classic CBS Mendelson-Melendez animated specials being released on DVD.
This two-disc Warner DVD anthology features all the Peanuts specials that have either been nominated or won Emmys, including You're the Greatest, Charlie Brown; She's a Good Skate, Charlie Brown; It's Magic, Charlie Brown; Someday You'll Find Her, Charlie Brown; Is This Goobye, Charlie Brown?; Life is a Circus, Charlie Brown; What Have We Learned, Charlie Brown?; It's Flashbeagle, Charlie Brown; Snoopy's Getting Married, Charlie Brown; Why, Charlie Brown, Why?; and You're a Good Sport, Charlie Brown. Note some of the most memorable Peanuts shows (including "Great Pumpkin" and "Charlie Brown Christmas") were inexplicably not nominated for Emmys, so the range in quality here varies.
What's consistent are the strong 4K HD transfers – though since Warner elected only to release this package in standard-def, the clarity of the images is enhanced only so much. Subsequently, while this set might placate some viewers, I'd imagine most of us Peanuts fans are eagerly anticipating a comprehensive Blu-Ray release that will enable us to see the full detail of these 4K presentations.
THE BIG BANG THEORY – Complete Season 8 Blu-Ray (478 mins., 2014-15; Warner). WHAT IT IS: Season eight of the still hugely popular CBS sitcom unrolls a series of comic catastrophes after Sheldon returns from his cross-country trip. Included among the plot lines are Leonard's minor surgery; Howard's obsession with his mother's relationship with Stuart; and Penny's work as a pharmaceutical sales rep. Raj's dating life, Amy's fan fiction and Bernadette's family issues also provide the fun in the 24-episode eighth season of "The Big Bang Theory." BLU-RAY BREAKDOWN: Warner's double-disc Blu-Ray set includes 1080p (1.78) and 5.1 DTS MA Broadcast-worthy transfers plus a digital copy. Special features include a 2014 Comic-Con panel with the series writers and Whil Wheaton; "Shooting Stars: BBT on BBT"; "Constellation Prize," "Here's to You, Carol Ann Susi," and "It's a Quark, It's an Atom, It's the #BBTSuperfans" featurettes, plus the usual gag reel.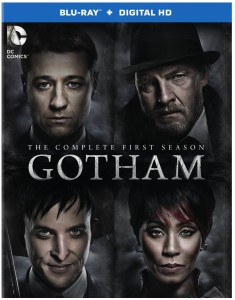 GOTHAM – Complete Season 1 Blu-Ray (968 mins., 2014-15; Warner). WHAT IT IS: One of the most anticipated new series of 2014 was this "prequel" to the Batman mythos, centered around eventual-Commissioner Jim Gordon – here portrayed as a crusading cop by Ben MacKenzie. Gordon's run-ins with a litany of future Gotham villains include the Penguin, Catwoman, the Riddler, Two-Face and the Joker – mostly all in their pre-origin phases – in a show that I found, personally, pretty disappointing and murky. "Gotham" can't quite seem to figure out exactly what it's trying to do at times, occasionally pressing ahead with Bruce Wayne material that seems "too soon," while some of the performances are a mixed bag (Jada Pinkett-Smith's crime boss being one of those). Still, hardcore comic book fans might warm up to "Gotham"'s leisurely storytelling. BLU-RAY BREAKDOWN: Unaired scenes, a gag reel, digital HD copy, 2014 Comic Con footage, and several featurettes adorn Warner's Blu-Ray box-set, which is capped with excellent 1080p (1.78) transfers and 5.1 DTS MA soundtracks.
SUPERNATURAL – Complete Season 10 Blu-Ray (967 mins., 2014-15; Warner). WHAT IT IS: Dean Winchester has lost his battle with the angel scribe Metatron, only to be resurrected by the First Blade and transformed into a demon. Taking up arms with Crowley, the King of Hell, it's up to brother Sam to try and salvage his demonized bro, all the while Castiel has to try and save Heaven from Metatron's campaign of taking it over. All 23 episodes from "Supernatural"'s tenth (yes!) season are included in Warner's combo pack, offering ample fun for series fans. BLU-RAY BREAKDOWN: Three episode commentaries, a Season 10 Comic Con panel, unaired scenes, a gag reel, Ultraviolet HD copies, dynamic 1080p (1.78) transfers and 5.1 DTS MA soundtracks are, of course, also on tap.
---
Available on Blu-Ray for the first time thanks to the Warner Archive, George Roy Hill's THE WORLD ACCORDING TO GARP (**½, 136 mins., 1982, R) leads off this week's Archive new releases.
Arguably the most successful film to be produced from John Irving's bestsellers of the era, "Garp" gave Robin Williams his first starring role as T.S. Garp, a writer whose life and times are recounted in an episodic film adapted by Steve Tesich. Like the book, the movie version swings wildly from the comedic to downbeat drama and is filled with memorable performances, not only from Williams, but particularly John Lithgow in his Oscar-nominated role of a transgendered former football player and Glenn Close as Garp's independent mother. Issues from feminism to sexual identity, war and gun violence are raised in a movie that doesn't always have a cogent point – but is, at least, comparatively more accessible than other cinematic endeavors based on Irving's books (particularly the borderline-unwatchable 1984 filming of "The Hotel New Hampshire"). Warner's Archive Blu-Ray sports a 1080p (1.78) transfer that's top notch plus a DTS MA 2.0 mono soundtrack and the trailer.
Also new this month from the Archive on DVD: KIRBY GRANT AND CHINOOK: ADVENTURE TRIPLE FEATURE Volume 3 offers three more features based on James Oliver Curwood stories, featuring Kirby Grant's Mountie and his faithful partner, Chinook, in adventures near the Arctic Circle. 1949s "Trail of the Yukon" and 1953's "Fangs of the Arctic" and "Northern Patrol" are all included here in 4:3 B&W full-screen transfers on one disc, which is no problem since the features are all barely over an hour in length each…Olympic figure skater Belita dances her way off the ice in the 1944 Monogram programmer LADY, LET'S DANCE (85 mins.), the story of a WWII Dutch refugee's rise from waitress to star. Frick and Frack and James Ellison support Belita's efforts on the dance floor and the ice rink in this enjoyable musical. Warner's DVD boasts a clean B&W transfer and mono audio.
---
BESSIE Blu-Ray (135 mins., 2015; HBO): Queen Latifah stars as blues songstress Bessie Smith in HBO's biopic of the woman who went from obscurity to becoming one of the bona-fide recording stars of the 1920s. Smith's turbulent personal life is, naturally, also chronicled in Dee Rees' picture, co-starring Michael Kenneth Williams, Khandi Alexander, Mike Eps, Oliver Platt, Charles S. Dutton and Mo'Nique. HBO's Blu-Ray includes "Bessie: A Creative Journey," an in-depth look at the creation of the picture, which began life as a Horton Foote script decades ago (Foote receives a co-story credit) before eventually falling into the hands of the Zanuck company and Latifah, who also produced. The 1080p (1.85) transfer and 5.1 DTS MA soundtrack are both superlative, and a digital copy is also included.
Coming later in September from HBO is THE JINX (270 mins., 2015), the fascinating HBO documentary about NY real estate mogul Robert Durst and his connection with a trio of murders spanning over 30 years. Creepy and disturbing in every facet, the fact that Durst was charged with one of the deaths following the show's broadcast only adds to its potency. HBO's Blu-Ray of the Andrew Jarecki-Marc Smerling production includes 1080p transfers, 5.1 DTS MA soundtracks and a digital copy. Also coming from HBO is NIGHTINGALE (82 mins., 2015), a showcase for David Oyelowo, who performs a one-man show as a war veteran struggling to keep his sanity together. HBO's Blu-Ray offers a digital copy, 1080p transfer and 5.1 DTS MA sound.
---
On Blu-Ray: Blake Lively gives a reasonably believable performance as Adaline, a 29-year-old who stopped aging decades back in THE AGE OF ADALINE (113 mins., 2015, PG-13), a disappointing romantic fantasy that spends far too much time on Adaline's romance with the son (Michel Huisman) of a man she knew years before (Harrison Ford). Ellen Burstyn is effective enough in scenes as Adaline's now-elderly daughter, but too much of "The Age of Adaline" is murky: both visually, with its drab, unappealing cinematography, as well as tonally, with director Lee Toland Krieger aiming for a Finch-ian, "Benjamin Button" type of atmosphere that seems totally at odds with its more romantic story. Some whimsy may have also helped "Adaline," which comes to Blu-Ray from Lionsgate featuring director commentary, featurettes, deleted scenes, a digital copy, 1080p (2.40) transfer and 5.1 DTS MA sound…Adrien Brody and Hayden Christensen top line AMERICAN HEIST (95 mins., 2014, R), a programmer about a pair of brothers wrapped up in the underworld and out to settle one last score after the older sibling (Brody) takes the rap for a crime both committed. Jordana Brewster co-stars in this by-the-numbers affair from director Sarik Andresyan. Lionsgate's Blu-Ray includes a digital copy, a 1080p (2.40) transfer and 5.1 DTS MA sound, plus one behind the scenes featurette.
New on DVD, LEAPFROG: THE GREAT SHAPE MYSTERY (37 mins., 2015) finds the LeapFrog friends learning about shapes and sizes in this 37-minute entry. Designed for kids 3-6, Lionsgate's DVD includes a digital copy, plus cirriculum commentary for parents and sing-along videos.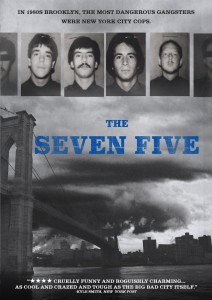 MPI/IFC New Releases: Documentary fans would do well to check out THE SEVEN FIVE (104 mins., 2014, R), a compelling portrait of Michael Dowd – an NYC cop who ran his own drug empire in the late '80s and early '90s. How his operation existed before it was eventually blown up as part of the city's biggest police scandal ever is chronicled in Tiller Russell's fascinating doc. MPI's DVD includes a 16:9 transfer and 5.1 soundtrack…Vera Fermiga and Mark Strong star in CLOSER TO THE MOON (112 mins., 2013, R), the true story of five Communist party members sentenced to death after carrying out a bank robbery in Bucharest. Before being executed, they're forced to reenact the heist for a Communist propaganda film! A weird story given a black comic spin in this mostly-Romanian produced film just making its way to DVD this month from IFC. The label's DVD includes a 16:9 transfer and 5.1 soundtrack along with the trailer.
Now available on Blu-Ray, REDEEMER (90 mins.) hails from MPI's Dark Sky Films, and stars real-life martial arts master Marko Zaror as a vigilante who preys on those who exploit the innocent – including a would-be drug czar (Noah Segan). A Making Of, deleted scenes, the trailer, a 1080p transfer and 5.1 Dolby Digital sound are included in Dark Sky's presentation.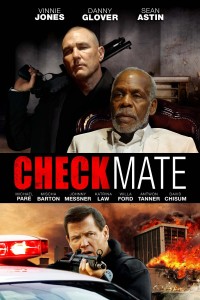 Alchemy New Releases: The drama CHECK MATE (82 mins., 2015, Not Rated) is Timothy Woodward, Jr.'s film about six individuals caught up in a bank heist. Danny Glover, Vinnie Jones, Sean Astin, Mischa Barton and Michael Pare star, with Alchemy's DVD offering a 16:9 transfer and 5.1 soundtrack…the family-friendly THE DEMPSEY SISTERS (88 mins., 2014, Not Rated) stars Cymphonique Miller, Denyce Lawton and Teairra Mari as sisters who decide to rekindle their musical dreams and patch their fractured family back together at the same time. Lynn Whitfield and Clifton Powell co-star in Roger Melvin's film, available from Alchemy on DVD with a 16:9 transfer and 5.1 soundtrack.
THE JOURNEY HOME DVD (98 mins., 2014, PG; Image/RLJ): Enjoyable family film stars Dakota Goyo ("Reel Steel") as a Canadian boy who befriends a polar bear cub and, eventually, tries to reunite him with his mother – even as a dangerous winter storm comes blowing through. Goran Visnjic and Bridget Moynahan co-star in this Canadian production directed (at least in part, seeing as there's a separate credit for "Arctic Sequences") by veteran Roger Spottiswoode. RLJ's DVD offers an attractive 16:9 (2.35) transfer and 5.1 Dolby Digital sound.
NEXT TIME: Shout unrolls THE SENTINEL and more! Until then, don't forget to drop in on the official Aisle Seat Message Boards and direct any emails to our email address. Cheers everyone!