The 1970s were marked by great films and the corresponding rise of fresh filmmaking voices, as profiled in countless books and documentaries on the landmark pictures the decade produced. It was also a time for veteran filmmakers to augment their already legendary careers, with Robert Aldrich's EMPEROR OF THE NORTH and John Huston's FAT CITY – both newly available on Blu-Ray this month from Twilight Time – providing evidence that neither director was past their prime. Here's a look at TT's latest, all available exclusively through Screen Archives and Twilight Time's own site: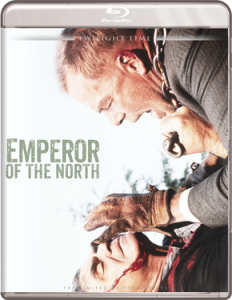 EMPEROR OF THE NORTH (120 mins., 1973, PG). THE MOVIE: Robert Aldrich reteams with his "Dirty Dozen" stars Lee Marvin and Ernest Borgnine for this fascinating action-adventure with mythic overtones, set in the early '30s. Christopher Knopf's original script offers a straightforward plot where Marvin's Depression-era hobo, dubbed "A No. 1," decides to take on "Shack" (Borgnine), a sadistic railroad man who vows not to let anyone ride on his engine. Their battle peripherally involves a young hobo (Keith Carradine) whose brashness faintly echoes the youth movement of the '60s and '70s, while Joseph Biroc's cinematography captures the rugged Oregon locales in all their glory. TWILIGHT TIME TECH SPECS: A fabulous Fox transfer graces Twilight Time's Blu-Ray, sporting a finely textured 1080p (1.85) AVC encode. The DTS MA mono audio is also pungent, featuring Frank DeVol's muscular, melodic underscore – a product of its time (mostly in a good way) – with the "A Man is a Train" title track sung by Marty Robbins (interestingly, Bill Medley recorded superior, unused vocals for the film, which were released on a now out-of-print soundtrack CD). There's certainly something jarring about seeing a hobo cut in two after being tossed off the tracks, followed by DeVol's upbeat theme song, but the music nevertheless perfectly embodies Aldrich's themes. Dana Polan's insightful commentary places the film in the context of "Old Hollywood" meeting the new era of the crumbling studio system, while an isolated score track, the trailer and TV spots round out the disc. AISLE SEAT BOTTOM LINE: "Emperor of the North (Pole)" is big, machisimo filmmaking through and through, and also a salute to classic Hollywood traditions – indeed, one sequence in the final third comes off like a tribute to the great silent comedies. It's also marked with excellent stunts (no blue-screen process shots here), occasional violence and Aldrich's hearty directorial flourishes. A gem from the early '70s.
FAT CITY (96 mins., 1971, PG). THE MOVIE: One of John Huston's more successful commercial ventures after a string of box-office disappointments, this adaptation of Leonard Gardner's book – scripted by the author – stars Stacy Keach as a washed-up boxer whose chance meeting with an aspiring 18-year-old (Jeff Bridges) also rekindles his own interest in the ring. Susan Tyrell plays the floozy who starts a rocky relationship with Keach's character in a downbeat, gritty, flavorful film gorgeously shot by Conrad Hall. TWILIGHT TIME TECH SPECS: Another strong commentary by Nick Redman and Lem Dobbs, the trailer, and an isolated score track are included in Twilight Time's Blu along with a crisp, natural 1080p (1.85) transfer. The DTS MA 5.1 audio offers some occasional stereophonic separation along with a Kris Kristofferson song used as underscore in various places (Marvin Hamlisch is credited with supervision). AISLE SEAT BOTTOM LINE: "Fat City" earned numerous critical kudos for Huston after the disappointment of more expensive ventures like "Reflections in a Golden Eye" and "The Kremlin Letter." It's an intimate little film with excellent performances from the leads, plus a young Candy Clark and future "Cheers" bartender Nicholas "Coach" Colasanto.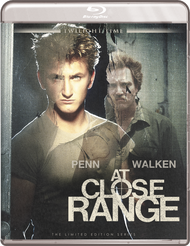 10 TO MIDNIGHT (102 mins., 1983, R). THE MOVIE: One of Charles Bronson's numerous forays with Cannon Group producers Menahem Golan and Yoram Globus ranks as one of their better collaborations. Here, Bronson plays yet another tough cop gunning after a serial killer (Gene Davis) who likes to kill in the nude. Eventually, Bronson takes Davis' psycho down – only to have his unconventional (read: illegal) methods lead to his release, and Davis' eventual stalking of Bronson's nurse daughter (the lovely, underrated Lisa Eilbacher). Andrew Stevens co-stars as Bronson's by-the-book young partner in a film that reunites Bronson with veteran director J. Lee Thompson. It's an at-times seedy yet (given the material) mostly restrained outing for Thompson, who fuses "Death Wish"-like action with virtual slasher-genre elements in an entertaining hybrid Bronson fans consider to be one of his best from the '80s. TWILIGHT TIME SPECS: Producer Pancho Kohner, casting director John Crowther and historian David Del Valle participate in a new commentary track with radio spots, the trailer, and an isolated score track (with some effects) of Robert O. Ragland's work also included. The 1080p (1.85) transfer and single-channel DTS MA mono audio are both perfectly acceptable and in line with most MGM catalog HD transfers. AISLE SEAT BOTTOM LINE: Must-see viewing for Bronson and Cannon fans, this unusual (for the star) outing is irresistibly entertaining, much like his next outing – the near-classic trash sequel "Death Wish 3."
AT CLOSE RANGE (115 mins., 1986, R). THE MOVIE: Sean Penn stars as the young son of a Pennsylvania psycho (Christopher Walken), who ends up joining his father in criminal activity along with his brother (Penn's real-life sibling, Christopher). When the going gets tough, however, Walken's nutcase dad shows that he'll spare no one – not even his kin – in order to save his own skin. James Foley directed "At Close Range," a strongly performed, atmospheric family crime saga based on a true story from the late '70s. Penn gives one of his better performances and Walken is downright creepy and believable in a role that ranks with some of his best work, while the wonderful Mary Stuart Masterson is notable in one of her earliest lead roles. "At Close Range," scripted by Nicholas Kazan, is hard to classify as "entertainment," as the picture's icy characters and disturbing elements make for a film that's occasionally uncomfortable to watch, yet those attributes also add to its authenticity. TWILIGHT TIME SPECS: Commentary with Foley and Nick Redman is included along with the trailer and an isolated score track of Patrick Leonard's ''80s score, which featured the hit Madonna song "Live To Tell" (Madonna and Penn, of course, were in the midst of their relationship at the time of its production). The 1080p (2.35) transfer and 2.0 DTS MA soundtrack are both fine, though it should be noted Julie Kirgo's liner notes are being reprinted for those who purchased the disc due to a printing error. AISLE SEAT BOTTOM LINE: Worth viewing for Penn and Walken's central roles, "At Close Range" has developed a cult following and TT's Blu should please its fanbase with its satisfying transfer and informative commentary track.
ANGEL (aka DANNY BOY) Blu-Ray (92 mins., 1982): Neil Jordan's debut feature was the first of his many collaborations with actor Stephen Rea, who portrays a saxophonist who watches a fellow band member and an innocent bystander get gunned down in Northern Island. Chris Menges' fine cinematography graces this moody 1982 release, which Twilight Time debuts on Blu-Ray this month sporting a 1080p (1.78) transfer, 2.0 DTS MA sound, and an isolated score/effects track.
---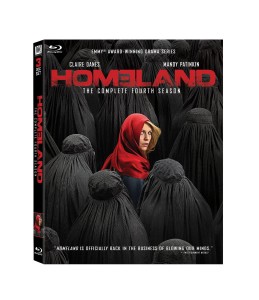 TV on Video
HOMELAND: Complete Fourth Season Blu-Ray (583 mins., 2014; Fox). THE LOWDOWN: Season four of Showtime's terrific series, freed from having to work Damien Lewis' Brody into its story line, finds "Homeland" back in a taut, comfortable groove, with Carrie (Claire Danes) stationed in Pakistan, trying to foil a potential terrorist plot stemming from a drone strike and the subsequent involvement of a young medical student, whose family was killed in the attack. That forms the premise for a well-executed, well-written and directed season of "Homeland," which was shot in South Africa – a locale switch that makes for a notably different visual scheme, but adds to the freshness of this particular season. BLU-RAY BREAKDOWN: Character profiles and "Script to Screen" featurettes are on-hand along with 1080p (1.78) transfers and 5.1 DTS MA stereo soundtracks. AISLE SEAT BOTTOM LINE: "Homeland" fans ought to be sufficiently pleased with this fourth go-around for the program, with Claire Danes, Mandy Patinkin, and Rupert Friend all in top form.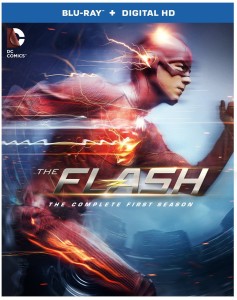 ARROW Complete Third Season Blu-Ray (976 mins., 2014-15; Warner). WHAT IT IS: The Arrow has finally become an outright hero to Starling City's residents, yet with the fame comes added pressure for Oliver Queen to keep his eyes on the prize of justice. This time around, Oliver takes on Vertigo, Cupid, Ra al Ghul and the League of Assassins among other DC villains, in 23 episodes that continue the high quality of the CW series' atmospheric comic book adaptation. BLU-RAY BREAKDOWN: Warner's good looking 1080p AVC encoded transfers and 5.1 DTS MA soundtracks comprise a four-disc set along with a digital copy. Special features include the featurettes "Second Skins," "Nana Parbat," "The Man Beneath the Suit" and 2014 Comic Con segments, plus a gag reel, unaired scenes, and two commentaries with producers Marc Guggenheim and Wendy Mericle. AISLE SEAT BOTTOM LINE: "Arrow" fans should continue to be pleased with Season 3 of the popular CW series, and Warner's Blu-Ray release is top notch.
THE FLASH Complete First Season Blu-Ray (979 mins., 2014-15; Warner). WHAT IT IS: A surprisingly upbeat and fun CW companion to "Arrow, "The Flash" stars Grant Gustin as Barry Allen, a young forensic investigator in Central City who improbably gains superhuman speed. Using his skills to help his fellow citizens while trying to track down the killer of his mother – unfairly attributed to his dad (the original TV "Flash," John Wesley Shipp) – Barry shows that being the fastest man alive has its advantages in a number of ways. BLU-RAY BREAKDOWN: All 23 first season episodes of "The Flash" are on-hand in Warner's four-disc Blu-Ray set boasting vivid 1080p (1.78) transfers, 5.1 DTS MA soundtracks, Digital HD copies, and extensive extras, including a gag reel, deleted scenes, pilot commentary, and a handful of featurettes. AISLE SEAT BOTTOM LINE: Appealing characters, a strong cast, engaging comic book plots and high production values make "The Flash" a winner for genre fans. Strongly recommended.
SLEEPY HOLLOW Complete Second Season Blu-Ray (789 mins., 2014-15; Fox). WHAT IT IS: The engaging Fox fantasy series hit a bit of the dreaded "sophomore slump" in its second season. Still appealing, at least, is Tom Mison's Ichabod Crane, who after saving modern-day partner Lt. Abbie Mills (Nicole Beharie) from Purgatory, has to rescue Ichabod's beloved Katrina from the Headless Horseman while battling their grown son (John Noble), who's struck a deal with the devil. The convoluted mythology that "Sleepy Hollow" has become bogged down in is one of the main problems of "Sleepy"'s second season, which never stops to catch enough of a breath and let its fine cast do more than hunt after the "monster of the week" or follow up on its complicated narrative. BLU-RAY BREAKDOWN: Fox's four-disc Blu-Ray set includes all 18 episodes in superior 1080p (1.78) transfers and 5.1 DTS MA soundtracks. Extras include the Mysteries & Mythology, Monsters & Mayhem, Hollow History, and A Salute to Sleepyheads featurettes, plus deleted scenes, a gag reel, and commentary on select episodes. AISLE SEAT BOTTOM LINE: I'm still a believer in "Sleepy Hollow," but the show's producers and writing staff need to tighten up the reigns for its third season, which debuts soon on Fox.
---
JUMANJI (***½, 104 mins., 1995, PG; Sony)
ZATHURA (**½, 102 mins., 2005, PG; Sony)
THE INDIAN IN THE CUPBOARD (***, 96 mins., 1995, PG; Sony)
A trio of family fantasies bow on Blu-Ray this week (one premiering in the format) from Sony as part of a tie-in with their upcoming "Goosebumps" movie.
Leading off the batch is a 20th Anniversary edition of Joe Johnston's highly entertaining JUMANJI, a superior kids fantasy that offers a solid plot to back up some great (for their time) special effects. If somehow you missed the film, this is the flick where Robin Williams is trapped in a boardgame since childhood and is unknowingly sprung by a pair of tykes (including Kirsten Dunst) who also let all of the animals and other critters from the game into the real world along with him.
With a James Horner score and a surprisingly emotional conclusion, "Jumanji" has long been one of the best films of its type, and Sony's 20th Anniversary Blu-Ray is the movie's second in the format. Unfortunately, the 1080p (1.85) transfer seems identical to its earlier release, which left room to improve upon. The DTS MA 5.1 audio is quite effective, and the studio has added several new extras – original trailers, author Chris Van Allsburg reading his book in a "Motion Storybook," episodes from the animated series – along with the prior release's extras (commentary, featurettes, storyboards, virtual board game).
Hailing from the same producers, ZATHURA hit theaters in 2005. It's an engaging though mostly formulaic fantasy from actor-director Jon Favreau that adapts another of Van Allsburg's popular children's books – a follow-up to "Jumanji" that functions as a variation on that story's central premise.
Here, a pair of squabbling brothers uncover a mysterious, vintage board game named Zathura while their divorced dad (Tim Robbins) is running off a copy for a meeting and their teenage sister (Kirsten Stewart) is sleeping off a party from the night before. Whatever forces were at work behind Jumanji had to have been behind Zathura as well, since the brothers soon find that playing the game literally sends their home into outer space, where they meet up with aliens and even an astronaut (Dax Shepard) who knows a thing or two about the game itself.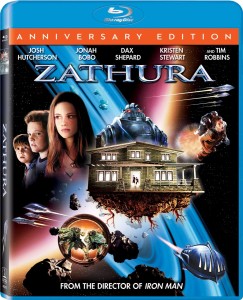 Favreau notes in his commentary that he wanted to make a fantasy that would evoke the Spielberg-produced Amblin' films of the '70s and '80s, and for that reason utilized as many optical effects as possible in place of an over-use of CGI. That decision comes across loud and clear in "Zathura," with the movie focusing on characters and the dramatic weight of the story instead of an excessive parade of computer-generated action sequences. The director receives strong performances across the board but the script is so similar to "Jumanji" — and, more significantly, doesn't offer the adult support that film had from Robin Williams and Bonnie Hunt among others — that it will likely be best appreciated by kids and genre fans nostalgic for a sci-fi fantasy produced in a relatively old-fashioned manner.
Sony's Blu-Ray includes another "Motion Storybook" read by Van Allsburg and prior extras (commentary featurettes), along with a 1080p transfer and 5.1 DTS MA soundtrack.
The third of the releases is brand new to the format: the big-budget adaptation of Lynne Reid Banks' acclaimed kids book THE INDIAN IN THE CUPBOARD (***, 96 mins., 1995, PG), which became a much anticipated Summer '95 film that involved two studios (Columbia and Paramount), the writer of "E.T." (Melissa Mathison), and director Frank Oz.
The result was a well-reviewed but only modest box-office success, as a nine-year-old boy (Hal Scardino) finds his toy figures coming to life in the form of a 19th century Iroquois warrior (Litefoot) and a rival cowboy (David Keith) who come to teach him about ethics and responsibility.
"The Indian in the Cupboard" is a quality production across the board, from ILM special effects down to its talented cast and crew (Richard Jenkins and Lindsay Crouse play the boy's parents), but something doesn't entirely connect in the film. There are emotional moments and a heart-tugging conclusion, but also some odd directorial choices (an endless close-up of Scardino's head ends the film) and an overstated Randy Edelman score that was written to replace a lovely, much more subtle work from Oz's collaborator Miles Goodman. (Goodman had sent me a tape years ago of his work, which sounds Elmer Bernstein-esque with more ethnic instrumentation).
Though not the classic its makers hoped for, "Indian in the Cupboard" is still a worthwhile family film, and Sony's Blu-Ray includes a retrospective featurette, trailers, an archival Making Of, and commentary from Frank Oz. Remastered in 4K, this 1080p (1.85) transfer is also the best of the bunch, and all three discs include brief segments with "Goosebumps" cast members discussing the movies.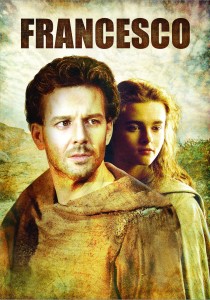 FRANCESCO Blu-Ray (133 mins., 1989, PG-13; Film Movement): Obscure is one word to describe Liliana Cavani's portrait of St. Francis of Assisi, in a gritty version far removed from the free-flowing hippie vibes put forth by Franco Zefferelli's "Brother Sun, Sister Moon." Badly cut for the U.S. market, "Francesco" is a well-meaning picture that never had much of a chance to find an audience despite the presence of Mickey Rourke in a strange but not ineffective piece of casting in the title role; a young Helena Bonham Carter, meanwhile, plays Saint Clare, one of Francis' followers, in sequences that mostly flash back through his life.
Burdened by a convoluted framing device, "Francesco" isn't all that easy to follow, not even in a longer cut that here restores some 30 minutes of footage excised from Hemdale's American print (it does not run as long as the reportedly sluggish 150-minute Italian version). Still, between Rourke's performance and Vangelis' moody (though, by his high standards, not especially memorable) score, "Francesco" may be worth a look for the devoted, and Film Movement has brought the picture to Blu-Ray for the first time.
Admittedly, a film of this nature was likely difficult to restore, and this 133-minute 2K digital restoration had to have originated from inferior source materials as there's scarcely any detail in the image. There's plenty of noise, dirt and other grime – in keeping with the movie's realistic look and mood – but not much in the way of fine, natural high-def detail. The DTS MA 5.1 and 2.0 PCM stereo options are a bit more satisfying, and extras include a Cannes Film Festival press conference and booklet notes.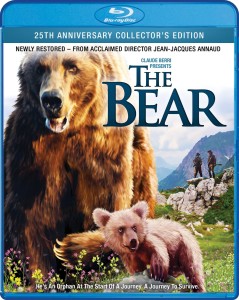 THE SENTINEL Blu-Ray (92 mins., 1977, R; Shout! Factory): It's amusing how the passage of time has changed the perception of certain films. Case in point: Michael Winner's critically lambasted 1977 horror outing "The Sentinel," an adaptation of Jeffrey Konvitz's novel about a troubled fashion model (Cristina Raines) who moves into a New York City brownstone, unaware that she's living next to the gates of hell and has been tagged as the next "watchtower" of evil.
An unholy pastiche of "The Exorcist," "Rosemary's Baby," and "The Omen" among every other '70s horror film you can think of, "The Sentinel" is either unintentionally funny or downright exploitive most of the way – the latter in its assembly of "underworld souls" comprised of genuinely handicapped/disfigured people utilized here as carnival freaks in the movie's delirious climax. An all-star assembly of veteran actors (Martin Balsam, John Carradine, Jose Ferrer, Ava Gardner, Burgess Meredith, and Eli Wallach among them) struggle to maintain a straight face in Winner's production, which he wrote and produced with Konvitz, resulting in several "Worst Of" placements on year-end critics' lists.
All that said – the movie has developed a cult following among horror fans, who are certain to enjoy Shout's Blu-Ray edition. Commentaries with Konvitz, Winner and Raines (who had a terrible time shooting the picture) are included along with an interview with A.D. Ralph Singleton, the trailer, still galleries, a good looking 1080p (1.85) transfer and DTS MA mono sound sporting a solid Gil Melle score.
Also coming up from Shout! are a pair of distinctly different films: Jean-Jacques Annaud's THE BEAR (***½, 96 mins., 1988, PG) comes to Blu-Ray for the first time in the U.S. (a prior French release offered a heavily DNR'd presentation), providing the ideal format for Annaud's robust outdoor adventure based on a James Oliver Curwood novel. Between Philippe Rousselot's cinematography, Philippe Sarde's gorgeous score and the main performance of Bart the Bear, "The Bear" had no problems becoming a worldwide phenomenon at the box-office, even overperforming in the U.S. This Shout Blu-Ray is derived from Pathe's recent 4K European restoration of the film, offering a glorious 1080p (2.35) transfer with both 5.1/2.0 DTS MA stereo options. Extras include a French Making Of with English voice-over and the trailer. It should be noted that while the movie's opening credits are in English, the closing text from Curwood's book is in French only – requiring the viewer to turn on the English subtitles to interpret it. It might have been wise for the disc to automatically turn on the subtitles in this instance, seeing as the quote sums up all the movie's thoughtful and timeless themes.
Also new from Shout! is THE DUKE OF BURGUNDY (104 mins., 2014), the bizarre bondage pic that charts the evolving relationship between a butterfly researcher (Sidse Babett Knudsen) and her lover (Chiara D'Anna), who enjoy playing out a sadomasochistic role-playing game of mistress and servant slave. Soft focus T&A, a moody Cat's Eye score, and pretty cinematography make for a film not for all tastes – but if you're into this kind of thing, go for it. Shout's Blu-Ray portion of their BD/DVD combo pack includes an interview with director Peter Strickland, commentary with the director, deleted scenes, the short "Conduct Phase," a still gallery, the trailer, a 1080p transfer and 5.1 DTS MA sound.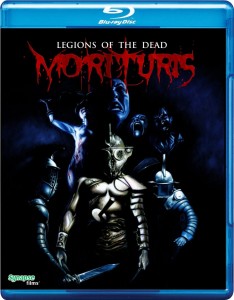 LEGIONS OF THE DEAD: MORITURIS Blu-Ray (86 mins., 2011, Not Rated; Synapse): Banned in its native country, this wild Italian horror outing finds a pair of Romanian girls heading out on a rave with three Italian guys – only to become part of a gross resurrection of Roman gladiators with blood and torture on their minds. FX make-up great Sergio Stivaletti provided the grizzly gross-out sequences in this 2011 release, which is filled with sex, violence and depravity, and is recommended only for the hardest-core Italian horror fans. Synapse's Blu includes a good looking 1080p transfer, DTS MA 5.1 and 2.0 Italian audio options with English subs, the trailer, and reversible cover artwork.
SAINT LAURENT Blu-Ray (150 mins., 2015, R; Sony): The life and times of fashion mogul Yves Saint Laurent are chronicled in this latest biopic of the man (here portrayed by Gaspard Ulliel) who helped springboard a haute couture label into worldwide fame and fortune. Elegantly shot and acted, Bertrand Bonello's film offers a compelling look at Saint Laurent's creative mind and groundbreaking designs, here brilliantly captured by Sony in a vivid 1080p (1.85) AVC encoded Blu-Ray transfer. The 5.1 DTS MA audio (French with English subs) is punchy and extras include two behind-the-scenes segments with Bonello and the cast discussing the production of "Saint Laurent."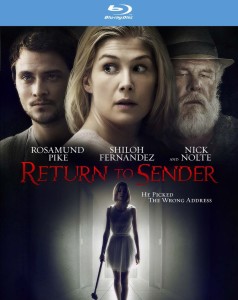 RETURN TO SENDER Blu-Ray (95 mins., 2015, R; RLJ/Image): Fresh off the success of "Gone Girl" comes this Voltage Pictures product starring Rosamund Pike as a nurse whose life is shattered when she meets the wrong psycho (Shiloh Fernandez) who promptly assaults her. Hoping to turn the tables on him, however, Pike ends up forging a relationship with Fernandez, and decides to exact revenge once he's paroled. Nick Nolte, Illeana Douglas and Camryn Manheim co-star in this watchable (because of the cast), by-the-numbers product from director Fouad Mikati, on Blu-Ray next week as a Best Buy exclusive courtesy of RLJ. The 1080p (1.85) transfer and 5.1 DTS MA soundtrack are both top notch, and a national release is due out December 1st.
UNEXPECTED Blu-Ray (86 mins., 2015, R; Alchemy): "How I Met Your Mother"'s Colbie Smulders stars as a Chicago inner-city teacher who has to deal with an unplanned pregnancy, and befriends a student (Gail Bean) likewise going through the same process, in Kris Swanberg's likeable indie comedy, co-starring Anders Holm and Elizabeth McGovern. "Unexpected" is no great shakes but it's entertaining enough, and Smulders and Bean are appealing to watch. Alchemy's Blu is extras-free but does include a nice 1080p (1.85) transfer and 5.1 DTS MA soundtrack.
---
Arrow New Releases
IMMORAL TALES Blu-Ray (103/125 mins., 1974)
THE BEAST Blu-Ray (98 mins., 1975): Two erotic, eclectic works by Walerian Borowczyk grace Arrow's Blu-Ray/DVD combo releases this month.
THE BEAST is Borowczyk's French reworking of "Beauty and the Beast" into a wild sexual frenzy, following a French aristocrat who attempts to pawn his deformed offspring off to an American heiress, only to find out he's more interested in horses than her. Some disturbing imagery is on-hand in "The Beast, which is here restored by Arrow on Blu-Ray in an uncut 98-minute version with uncompressed PCM 1.0 mono audio (French with English subtitles). Extras include an introduction from critic Peter Bradshaw; a "Making Of" with an interview with camera operator Noel Very; "Frenzh of Ecstasy," a visual essay on the film and its intended sequel, "Motherhood"; a documentary on Borowczyk, "The Profligate Door"; a 2014 Borowczyk crew reunion segment; commercials by the director; "Gunpoint," a Peter Graham documentary short produced by Borowczyk and a Making Of segment on the short; the trailer; and extensive booklet notes.
Also new is Borowczyk's earlier IMMORAL TALES, his 1974 picture that addressed sexual taboos through a quartet of stories set in different time frames. Arrow's Blu-Ray includes two different cuts of the picture: its standard 103-minute four-part release, as well as a five part edit, featuring "The Beast of Gevaudan," the short that would later become "The Beast" itself. Uncompressed PCM audio (French with English subs), an introduction from historian Daniel Bird, the "Love Reveals Itself" visual essay, the archival interview "Obscure Pleasures: A Portrait of Walerian Borowczyk," Bird's visual essay "Blow Ups," the trailer, extensive booklet notes, and 1080p (1.66) transfers adorn both pictures – which, needless to say, aren't for all tastes, but come recommended for the filmmaker's enthusiasts.
From Time Life: Newly available on DVD from Time Life is the Complete Second Season of CPO SHARKEY (548 mins., 1977-78), the cult-favorite – albeit short-lived – WWII comedy series that offered one of Don Rickles' more memorable TV sojourns. As a CPO whipping recruits into shape at a San Diego naval base, Rickles is able to utilize his trademark humor in a series that Time Life's disclaimer warns has "jokes and ethnic references" that would "likely not be allowed on network TV today and reflect the tenor of the times." Rickles fans, of course, could care less about the latter, and should pick up Time Life's Season 2 DVD which streets this week. The 4:3 transfers and stereo soundtracks are fine, and as a bonus, a 2015 Vegas reunion includes comments from Rickles, Harrison Page, David Lansberg, Tom Ruben and Barry Pearl.
Rickles fans will also want to check out THE DON RICKLES TV SPECIALS: Volume 1, a single DVD release coupling Rickles' initial prime-time specials that aired on CBS and ABC back in 1970 and '72. Guest stars include Johnny Carson, Don Adams, Harey Korman, Bob Newhart, Robert Goulet and others, along with new introductions from Don and a clip from the TV Land Awards where Rickles was honored by current late-night host Jimmy Kimmel.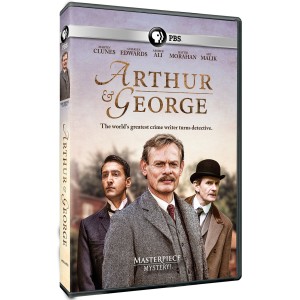 PBS New Releases: JFK/LBJ: A TIME FOR GREATNESS (96 mins.) offers Morgan Freeman narrating a chronicle of the Civil Rights Act of 1964 and the Voting Rights Act of 1965, spearheaded by LBJ following the assassination of JFK. Rarely seen footage, secret White House Tapes, and LBJ family interviews make for a compelling documentary now on DVD from PBS sporting a widescreen transfer and stereo sound…ARTHUR AND GEORGE (180 mins.) is a mini-series adaptation of Julian Barnes' novel, which looks at a true incident where Arthur Conan Doyle (Martin Clunes) gets to the bottom of a case involving an Anglo-Indian solicitor. Arsher Ali, Charles Edwards and Art Malik co-star in this classy drama directed by Stuart Orme. PBS' DVD offers the full-length UK edition with 16:9 widescreen and 2.0 stereo sound…Eillrm Lange's enjoyable New Hampshire Public TV series COUNTING ON BIRDS: TALES OF MIGRATION (300 mins., 2009-15) includes two discs housing five episodes from the series: Counting on Birds, Bird Tales, Saving Songbirds, Plight of the Grassland Birds, and Journey of the Broad-Winged Hawk, all in 16:9 transfers and with stereo soundtracks. Lange's travels take him to North and South America, profiling the migratory path of all kinds of foul. Nice photography compliments the educational and entertaining series.
For kids, WORD WORLD: HALLOWEEN FUN! (60 mins., 2015) lets kids tackle vocabulary and word sounds in five stories related to Halloween (Kooky Spooky Halloween, Sheep's Halloween Costume, Dog's Camping Adventure, One Hat Fits All and Nightlight). Meanwhile, DANIEL TIGER'S NEIGHBORHOOD: TIGER-TASTIC 3 PACK (300 mins.) offers three full discs from the delightful new PBS animated series produced by the Fred Rogers Company. Here, young Daniel – the offspring of the original series' furry character – learns life lessons in a modern manner that emulates Mr. Rogers' original teachings. Over 300 minutes of material is on-hand in a three-DVD box set with widescreen transfers and stereo soundtracks. Highly recommended for young kids (as I've come to find out!).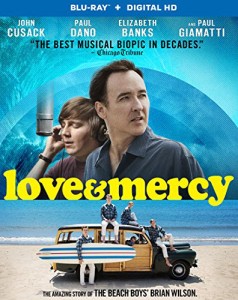 Lionsgate New Releases: One of the better music-oriented documentaries of recent years, the flawed yet fascinating LOVE & MERCY (***, 122 mins., 201, PG-13) examines the life of Beach Boys great Brian Wilson by cross-cutting the beginning of his downward spiral as a recording artist with his later existence in the mid '80s, under the spell of a therapist who watched his every move. John Cusack gives one of his best performances in some time as the elder Wilson, with Paul Dano as the younger Brian and Elizabeth Banks as the woman who helps him break free from the shrink (Paul Giamatti) who controlled his life. Bill Pohlad's film actually takes the time to show Wilson's musical genius – working with an orchestra and arranging some of his classics – though the film ultimately comes off as superficial, glossing over critical details in Wilson's story (how did he come under the spell of the therapist? Where was his family during this time?). Lionsgate's Blu-Ray includes deleted scenes, two featurettes, commentary, a 1080p (1.85) transfer, 5.1 DTS MA sound and a digital copy.
On DVD, "Lost" producer Carlton Cuse reworked the French series "Les Revenants" as THE RETURNED (7 hours, 2015), an A&E program that follows a group of residents from Caldwell, Washington, who return from the grave and, understandably, have problems reintegrating into the lives they previously lead. Agnes Bruckner, Sandrine Holt, Sophie Lowe, Jeremy Sisto, and Mary Elizabeth Winstead star in the series, which Lionsgate has released on DVD sporting three featurettes, 16:9 transfers, 5.1 soundtracks and a digital copy…POWER RANGERS: TRICKSTER TREAT (88 mins., 2015) includes four episodes from various incarnations of the Power Rangers series: Raising Spirits, Trickster Treat, Zedd's Monster Mash and It Came From Angel Grove, in 16:9 and 1.33 aspect ratios…Rob Schneider lends his voice for PUPS UNITED (89 mins., 2014, PG), a kid-centric family outing about a group of talking dogs trying to stop villains from overrunning the Youth World Cup finals. "Jumpy the Dog" co-stars with Lionsgate's DVD including a Making of, bonus episodes, a 16:9 transfer, 5.1 sound and a digital copy…CARE BEARS: MYSTERY IN CARE-A-LOT (66 mins., 2012) is another Halloween-themed DVD anthology with three episodes (Nightbears, Sleuth of Bears, Welcome To Grump-a-Lot) on a single disc with a digital copy, 16:9 transfers and 2.0 stereo sound.
Well Go New Releases: Diao Yinan's BLACK COAL, THIN ICE (110 mins., 2014) is one of the better releases of the year from Well Go: an exciting, contemporary Hong Kong crime thriller about a pair of disgraced cops, still looking for a killer, who believe the same culprit they couldn't apprehend is at it again. Yinan's film is slow moving but stylishly shot – an attribute enhanced on Blu-Ray thanks to Well Go's 1080p transfer and 5.1 DTS MA sound in Mandarin with English subtitles. Available September 29th…Coming October 6th, THE TIMBER (80 mins., 2015) offers an atmospheric but slight western starring Josh Peck and James Ransome as brothers who take jobs as bounty hunters in order to save their home. Well Go's Blu includes commentary with director Anthony O'Brien, a behind-the-scenes featurette, cast interviews, the trailer, a 1080p transfer and 5.1 DTS MA sound.
Cinedigm New Releases: YU-GI-OH! 5DS: Season 2 (24 hours) ought to entice anime fans with its complete second season now on DVD, offering the exciting conclusion to the "World Racing Grand Prix." Stereo soundtracks are included in Cinedigm's eight disc set, which is now available along with DIGIMON FUSION (6 hours, 2013), a Season 1, Volume 1 set starring seventh grader Mikey Kudo, who brings his own Digimon army into an alternate universe. Cinedigm's three-disc set includes stereo soundtracks…HEROES DEL NORTE: TERCERA TEMPORADA (651 mins., 2014) offers over 10 hours from the wild Mexican series' third season. 16:9 transfers and Spanish audio are included in the three-disc Cinedigm set…the documentary POP LIFE (51 mins., 2015) examines the relationship between street drugs and the current music/party scene, with deleted scenes and a 16:9 transfer included in Cinedigm's DVD.
NEXT TIME: The ENTOURAGE movie and more of the latest releases! Until then, don't forget to drop in on the official Aisle Seat Message Boards and direct any emails to our email address. Cheers everyone!