October's arrival usually carries with it a handful of new genre releases. One of the major new catalog titles this month is a 4K remastered presentation of BRAM STOKER'S DRACULA (***, 1992, 127 mins., R; Sony), a film could've easily been titled "Francis Ford Coppola's Dracula" for as much as this 1992 adaptation utilizes elements from the Stoker book that other cinematic versions omitted, it also takes numerous liberties with the original text – including turning the beloved vampire tale into a love story, a conscious artistic decision the filmmaker made partially to capitalize on a younger audience (which he, in turn, accomplished by casting more youthful leads than your traditional Dracula rendition).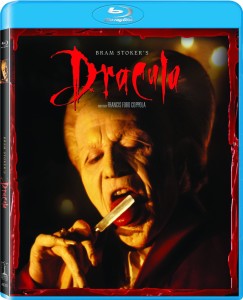 It's a movie that's simultaneously stunning and frustrating at the same time, showing Coppola at the top of his game in terms of implementing optical effects, sumptuous production design, evocative costumes, and other "old fashioned" filmmaking devices (all shot on sound stages, the result of Columbia wanting to hold costs down).
At the same time, some of the picture's "contemporary" casting felt odd at the time, and now positively dates the picture as a product of its period: Keanu Reeves' stilted performance as Harker is dead on arrival (to see how it could've been even worse, check out some of Keanu's putrid unused takes in the Criterion laserdisc's editing workshop), while Winona Ryder's turn as Mina feels like a young girl playing "dress up" more than a believable period heroine (perhaps he owed her a favor after she bowed out of "Godfather Part III"). At the least, Ryder fails to generate any of the heat that Sadie Frost does in her memorable supporting role as the doomed Lucy, while Gary Oldman tries valiantly to ground his romantic Dracula against an over-indulgent succession of guises (from the world's creepiest senior citizen to a silly John Lennon-esque chap) that ultimately get in the way of his central performance.
Supporting performances from Anthony Hopkins' scenery-chewing Van Helsing to quirky, but mainly disposable, minor turns from the likes of Bill Campbell, Richard E. Grant, Cary Elwes and Tom Waits (a surprisingly dull Renfield) lend some support, but when it's all said and done "Bram Stoker's Dracula" is entirely Coppola's show, and admittedly there are some nifty moments along the way. Most impressive is Harker's journey through the Count's Transylvanian castle – marked by a memorable meeting with Dracula's succulent brides (including Monica Bellucci) – all the while Eiko Ishioka's extravagant costumes and the cinematography of Michael Ballhaus make for a film that's always been pleasing to the eyes.
Sony first brought "Bram Stoker's Dracula" to Blu-Ray in a 2007 release that was marked by a poorly received transfer with "tweaked" colors and a disappointing lack of detail. This new 4K remaster – complete with Dolby TrueHD 7.1 and Dolby Atmos audio – is a big improvement, offering fine grain, more detail, less noise and warmer, more natural colors. For die-hard fans of the picture, this is a recommended upgrade, with all the extras from the prior release carried over and then some. Exclusive to this edition is a 20-minute interview with Francis and Roman Coppola (Francis admitting the film got him out of bankruptcy) and the 1994 Criterion laserdisc group commentary track, making its first appearance on home video in over two decades.
---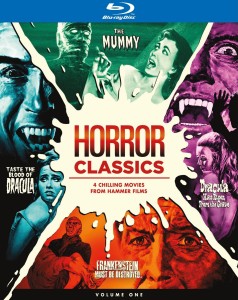 More Frightful October Releases
HORROR CLASSICS: Warner 4-Film Blu-Ray Box Set (Warner). FRIGHTFUL PLOT SUMMARY: Hammer fans rejoice! Warner's long-awaited, first anthology of releases from the Hammer library offers a good cross-section of the British label's iconic villains. "The Mummy" (***, 88 mins., 1959) offers Christopher Lee as Kharis with Peter Cushing co-starring in a solid, if not spectacular, effort that launched one of Hammer's weaker series of sequels. Lee is also on tap in two of the later Hammer Draculas: 1969's "Dracula Has Risen From the Grave" (**½, 92 mins., 1969, G) and 1970's wilder "Taste the Blood of Dracula" (***, 95 mins., 1970, R) display the growing sex and violence in Hammer's output as the 1970s began. Meanwhile, one of the better Frankensteins is on-hand in "Frankenstein Must Be Destroyed" (***, 101 mins., 1970, PG-13) starring Peter Cushing. CHILLING BLU-RAY SPECS: Trailers are included for all four features along with 1080p (1.85 except for "The Mummy"'s 1.66) AVC encoded transfers and DTS MA mono audio. The transfers range from very good to excellent most of the way, and "The Mummy" appears identical to the BFI restoration previously available on Blu-Ray in England. AISLE SEAT SCARE-TASTIC BOTTOM LINE: One of the year's most eagerly anticipated Blu-Rays might lack special features but still comes highly recommended, with the promise of more (given its Volume 1 moniker) to follow.
INSIDIOUS: CHAPTER 3 Blu-Ray (**½, 97 mins., 2015, PG-13; Sony). FRIGHTFUL PLOT SUMMARY: Third film in the popular ghostly series turns the clock back for a look at how Tucker, Specs and Elise first came together, in a story of teenage girl (the superb Stefanie Scott) afflicted by demonic possession after the death of her mother. Star/writer Leigh Whannell takes over the director's chair from James Wan for this effective if unsurprising outing, best left for series aficionados though it's at least a marginal step up from the series' second installment. CHILLING BLU-RAY SPECS: Sony's Blu includes deleted scenes and four featurettes exclusive to the format (Being Haunted, Stunts, Cherry Glazerr and Macabre Creations) along with a digital copy, 1080p AVC encoded (2.39) transfer, 5.1 DTS MA sound and a general Making Of featurette. AISLE SEAT SCARE-TASTIC BOTTOM LINE: Scott's heroine is worth rooting for in a movie that lacks the visceral punch of Wan's work, but still gets the job done for horror fans.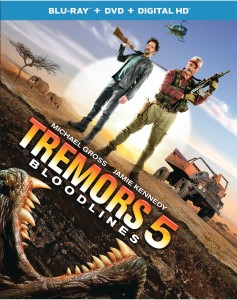 TREMORS 5: BLOODLINES Blu-Ray (**½, 99 mins. 2015, PG-13; Universal). FRIGHTFUL PLOT SUMMARY: The "Tremors" series continues to defy the odds, returning after many years with a brand-new, direct-to-video sequel that's far more entertaining than it has any right to be. This time around, Burt Gummer (Michael Gross) teams up with a new sidekick (Jamie Kennedy) as they take on another outbreak of Assblasters and Graboids while working in South Africa. Even without the participation of series creators S.S. Wilson and Brent Maddock, "Bloodlines" offers some laughs and decent monster action that ought to appeal to series fans. CHILLING BLU-RAY SPECS: Universal's Blu includes deleted scenes, outtakes, a Making Of featurette, a good looking 1080p (1.85) transfer, 5.1 DTS MA sound and a digital copy. The disc is actually authored as an international release, complete with a menu language option and simple icons for the disc's extras. AISLE SEAT SCARE-TASTIC BOTTOM LINE: Though a bit flabby at 99 minutes, "Tremors 5″ is fun and better than serviceable for what it is (Frederik Wiedmann's score is also a plus), and – of course – sets up another installment that should delight Tremors buffs everywhere.
EATEN ALIVE Blu-Ray/DVD (91 mins., 1976, Not Rated; Arrow). FRIGHTFUL PLOT SUMMARY: Tobe Hooper's follow up to "The Texas Chainsaw Massacre" obviously did not become the genre classic its predecessor did, but still might be worth a look for fans of the director. Here, Neville Brand portrays Bumbling Judd, a Louisiana redneck with a nasty temper and a pet alligator hungry to prey on whoever happens to cross our anti-hero. A young Robert Englund, Carolyn Jones, Mel Ferrer and Marilyn Burns co-star with William Finley ("Phantom of the Paradise") in this rather blah outing shot entirely on soundstages in L.A. CHILLING BLU-RAY SPECS: Arrow's combo pack is jammed with extras, including commentary, a new introduction and interview with Hooper, fresh interviews with star Janus Blythe, make-up artist Craig Reardon, an archival interview with Hooper, conversations with Burns and a vintage talk with Englund, a featurette on the alleged true story that inspired the film, trailers, alternate opening credits, the always entertaining audience comment cards, and extensive booklet notes. Both the 1080p (1.85) transfer and 1.0 PCM audio are perfectly fine. AISLE SEAT SCARE-TASTIC BOTTOM LINE: Some of Hooper's films are an acquired taste and "Eaten Alive," despite its intriguing premise, is sadly one of those instances. Nothing about Arrow's superb Blu-Ray and its copious extras can be faulted, however.
R.L. STINE'S MONSTERVILLE: CABINET OF SOULS DVD (86 mins., 2015; Universal): Original movie from producer R.L. Stine sends a group of teens off to a traveling Hall of Horrors carnival show, where they find out the ghouls and monsters are actually alive, and their very souls are at stake. Decent entertainment for kids, though Stine's name is just used here as a brand as he didn't even write "Cabinet of Souls"' original story. Universal's DVD, now out, includes a 16:9 transfer and 5.1 Dolby Digital sound.
Also in time for Halloween comes Fox's Blu-Ray edition of THE ROCKY HORROR PICTURE SHOW (***, 100 mins., 1975, R), a jam-packed 40th Anniversary Edition of the midnight movie staple (albeit a virtual reprise of its previously available Blu-Ray release).
Boasting the same 4K/2K restoration from the original camera negatives as its prior BD, this AVC encoded 1080p transfer of "Rocky Horror" naturally looks fresher than any worn-down old movie house print you could see in theaters. Details are crisp, colors are strong, there's a fine amount of grain and the DTS Master Audio soundtrack is potent (the original mono mix is also on hand), making for a superb technical package all told.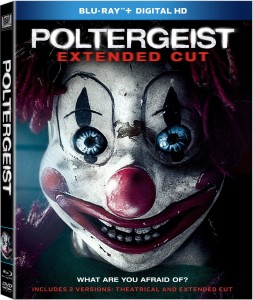 A host of features are on tap, most of which seek to replicate the "Midnight Movie" experience by including a picture-in-picture "Shadowcast" performance of the movie as it plays, an unrated "callback track" from 1983 that offers audience participation responses to the film, a trivia track, and a "prop track" that cues you into using assorted props while viewing at home. There are also karaoke options, pressbook and photo galleries, an hour-long look at the "Shadowcast" picture-in-picture production, plus a bevy of previously released extras including deleted scenes, outtakes, Richard O'Brien and Patricia Quinn's commentary, the alternate B&W opening, alternate credit and misprint ending, music videos, and both the UK and US versions of the film.
POLTERGEIST Blu-Ray (**½, 94 mins., 2015, PG-13; Fox). FRIGHTFUL PLOT SUMMARY: As needless, inferior remakes go, this watchable if workmanlike re-do reworks Steven Spielberg's 1982 classic with the "Bowen" family – led by mom (Rosemarie DeWitt) and dad (Sam Rockwell) and their three kids – running afoul of spirits after they move into their new suburban home. Director Gil Kenan reprises most of the memorable moments from the original in a film that lacks the character development of its predecessor – not to mention Jerry Goldsmith's score – but is at least more entertaining than most modern horrors, with decent special effects. CHILLING BLU-RAY SPECS: Fox's Blu-Ray includes an extended cut (by seven minutes) and the theatrical version on a single disc with 5.1 DTS MA audio and a 1080p (2.40) transfer. A digital copy is also on-hand. AISLE SEAT SCARE-TASTIC BOTTOM LINE: Marc Streitenfeld's okay score can't hold a candle to Goldsmith, but if you remove all thoughts of the original (hard to do, admittedly), you might find this to be an alright, tidy 90-minute remake that at least reprises its predecessor's spirit, foregoing extensive gore and violence.
---
An inventive animated comic fantasy whose attitude was years ahead of its time, John Korty's TWICE UPON A TIME (***½, 74 mins., 1983, PG) at last comes to DVD courtesy of the Warner Archive. This first release of the picture since a laserdisc over 20 years ago will hopefully enable a whole new audience to discover its offbeat charms.
Korty's film follows a pair of misfits – one of whom is voiced by "Garfield"'s Lorenzo Music – as they try and stop the villainous "Synomaess Botch" from sending nightmares to the "Rushers of Din," who look quite a bit like human beings (live-action B&W inserts that enable Korty and his animators to mix animation with photographic backdrops). With a 75-minute running time, Korty and writers Charles Swenson, Suela Kennedy and Bill Couturie mix up wacky humor with unusual art direction courtesy of their animation technique, "Lumage," which looks like paper-cut outs running about but has an interesting appearance all its own. With future talents like Henry Selick and David Fincher having worked on the film, there's no question the visuals are a main draw, yet the irreverent fairy-tale humor was also prescient. Some of the biggest laughs, in fact, come courtesy of the movie's connection with executive producer George Lucas, as one of Botch's henchmen runs around with a television set, speaking only in dialogue snippets from the likes of "Star Wars" and "Happy Days."
I had never viewed "Twice Upon a Time" until Warner's laserdisc release, which debuted when I was in high school. At the time, I thought I had stumbled into a major discovery and screened the movie to many friends, none of whom had ever heard of it. Regrettably, "Twice" seemed to go back into hibernation afterwards, never even generating a DVD edition until this Warner Archive presentation.
The disc includes two different audio tracks which have been the cause of much misinformation amongst the film's fanbase. When "Twice" ran on HBO in the early '80s, it contained a PG-rated audio track with some profanity – however, Warner's later home video release offered a "family friendly" version that most assumed (incorrectly) was cleaned up for a G rating and was therefore "censored." As it turns out, director Korty's "G" rated track was the original intent all along, and the PG rated dialogue (also used in its brief theatrical run) was a later attempt by producer Bill Couturie to appeal, at the last minute, to an older audience after the producers grew nervous following poor test screenings.
Warner's Archive gives you the ability to choose from either mix, but frankly, there's no reason to watch the film with its PG rating and scattered four-letter words, as they add nothing to the picture and seem shoehorned in (it should be noted the film was also edited somewhat differently at the time also, though the Archive DVD does not include any deleted or alternate material).
The 16:9 (1.85) transfer displays a print that's battered a bit at times – perhaps the reason there's regrettably no Blu-Ray release – while the stereo audio on both mixes contains an appealing score with songs performed by Maureen McDonald (her brother, Michael, co-composed her tracks) and Bruce Hornsby. The trailer and a new commentary with members of the production team make for a must-view for animation fans and sci-fi/fantasy buffs of the early '80s.
Also new from the Archive is a sterling Blu-Ray edition of the film noir classic MURDER, MY SWEET (***½, 95 mins., 1945), the sizzling RKO adaptation of the Raymond Chandler novel that offered a golden opportunity for star Dick Powell to break out of his musical-comedy roles. As Chandler's hard-boiled private eye Philip Marlowe, Powell delivers a punchy performance in this terrific genre benchmark, co-starring Claire Trevor, Anne Shirley, Otto Kruger and Don Douglas under the direction of Edward Dmytryk. Warner's Archive Blu-Ray is a winner through and through, from its DNR-free 1080p (1.33) transfer and DTS MA mono sound, to Alain Silver's informative commentary. Highly recommended!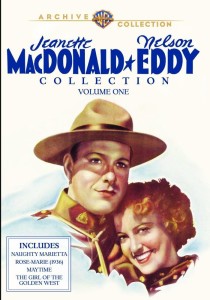 Growing up, my opera/musical loving mom rented a series of Jeanette MacDonald/Nelson Eddy favorites from the local library – titles that have been released piecemeal previously, but never in anthology form. The Warner Archive remedies that situation this month with two DVD box-sets containing all eight of the MacDonald-Eddy MGM collaborations.
Volume 1 offers 1935's adaptation of NAUGHTY MARIETTA, plus ROSE-MARIE (1936) co-starring Jimmy Stewart; 1937's MAYTIME with John Barrymore; and the 1938 Sigmund Romberg western romp THE GIRL OF THE GOLDEN WEST, co-starring Walter Pidgeon and Buddy Ebsen.
Volume 2 finds Eddy and MacDonald leaping into Technicolor in the backstage Victor Herbert musical SWEETHEARTS; crooning against the NEW MOON (1940) with music by Romberg and lyrics by Oscar Hammerstein II, Frank Mandel and Lawrence Schwab; heading back into Technicolor in Noel Coward's BITTER SWEET (1940); and capping off their run with 1942's I MARRIED AN ANGEL. For classic musical lovers, this is an irresistible anthology of MGM productions featuring MacDonald and Eddy at their best. Highly recommended!
Finally, two new Paramount re-issues are also available this month: first, Burt Reynolds and Catherine Deneuve starred in Robert Aldrich's "modern noir" HUSTLE (119 mins., 1975, R), which returns to DVD in a 16:9 (1.85) transfer, while a similarly "tough" thriller can be found in LIPSTICK (89 mins., 1976, R), a disturbing Dino DeLaurentiis production with Marguax Hemingway as a rape victim trying to work the system in order to gain revenge on the man (Chris Sarandon) who assaulted her. Warner's 16:9 (1.85) transfer of this Lamont Johnson-directed, controversial picture is well composed.
---
MASTERWORKS OF AMERICAN AVANT-GARDE EXPERIMENTAL FILM Blu-Ray/DVD (416 mins., Flicker Alley): Flicker Alley and Blackhawk Films collaborated for this extensive restoration of 37 films, shot from 1920 to 1970. For this Blu-Ray/DVD combo release, producer Bruce Posner collected pictures from the likes of Charles Sheeler, Paul Strand, James Agee, James Silbey and dozens of others, restoring them in full high definition on the Blu-Ray side with 1080p transfers. For the silent films included herein, new scores and performances from the likes of Louis and Bebe Barron and others are on-hand, with bonus features including a 2K restoration of Sheeler's "Manhatta"; a 2K restoration of Fernand Leger and Dudley Murphy's "Ballet Mechanique"; bonus shorts; and a 28-page booklet with background information from Posner. For those interested in the subject matter, this is another outstanding Flicker Alley release that comes highly recommended.
SPY (**½, 120 mins., 2015, R; Fox): Melissa McCarthy gives one of her more appealing performances as a CIA desk analyst who's improbably thrust into live duty after super-spy Jude Law goes missing. That's the premise of this reunion between the comedienne and director Paul Feig, who essentially launched McCarthy's feature career in "Bridesmaids" and turned her into a lead opposite Sandra Bullock in "The Heat." This globe-trotting Bond spoof is less raunchy than either of the duo's prior collaborations, yet McCarthy is best playing off another lead, and in "Spy," she briefly ignites sparks with none other than Jason Statham – hilarious parodying his own tough-guy persona. Unfortunately, there's not enough of Statham to go around: he shows up for a few minutes, then vanishes for lengthy sections at a time, with his role nearly functioning as an extended cameo. Had the movie paired the two throughout, "Spy" could have offered more than the genial, mild laughs it mostly generates.
Fox's Blu-Ray includes an Unrated version plus a digital copy, three deleted scenes, 15 alternates, outtakes, eight featurettes, commentary, a 1080p (2.40) transfer and 5.1 DTS MA sound.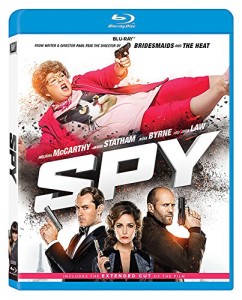 MAGIC MIKE XXL Blu-Ray (**, 115 mins., 2015, R; Warner): Feeble sequel to the 2013 surprise hit brings back Channing Tatum as the title character, who's since thrown in the towel on his stripping days but decides to make one last run with the boys (sans Matthew McConaughey, who had better things to do) from Myrtle Beach down to Jacksonville. Gregory Jacobs directed this underwhelming, needless follow up, which reunites only a few members of the original cast with producer/prior director Steven Soderbergh hanging around as editor and cinematographer under a pseudonym (weird). Warner's Blu-Ray includes a DVD, digital copy, two featurettes, 1080p (2.40) transfer and 5.1 DTS MA sound.
BATKID BEGINS DVD (88 mins., 2015, PG; Warner): Documentary pays tribute to the five-year-old child, a leukemia survivor, who wanted to become Batman for a day, and the city of San Francisco, which granted his wish and turned the City by the Bay into Gotham City. This enjoyable production received a limited theatrical run last summer, and comes to DVD in a no-frills package with a 16:9 transfer and 5.1 Dolby Digital sound from Warner.
HE'S A BULLY, CHARLIE BROWN DVD (69 mins., 2000; Warner): Despite having been already released on DVD, Warner's latest Peanuts anthology puts the 2000 special "He's a Bully, Charlie Brown" into the spotlight. The single-platter DVD also includes "It Was a Short Summer, Charlie Brown" and four shorts from "The Charlie Brown and Snoopy Show."
---
CSI: CYBER The First Season DVD (10 hours, 2015; CBS)
CSI: The Final Season DVD (13 hours, 2014-15; CBS): CBS' long-running crime procedural opens up a new chapter while closing the book on its "mothership."
The latter – the 15th and final year of "CSI" itself – finds lead investigator D.B. Russell (Ted Danson) working with Julie Finlay (Elisabeth Shue) and company for one more go-around of cases. "CSI: Cyber," meanwhile, tries to tap into cyber-crime solving with Patricia Arquette playing an FBI Special Agent who leads the division's Cyber Threat Crime Division Operations Center, along with ex-Marine special agent James Van Der Beek. The ratings on "CSI: Cyber" were okay but some retooling took place after the show debuted as a mid-season replacement, including the addition of Ted Danson's "CSI" character into the mix.
CBS brings both series to DVD this month in multi-disc box sets. "CSI" includes two commentaries, deleted scenes, a handful of featurettes, and 16:9 transfers with 5.1 audio. Though it runs several episodes less, "CSI: Cyber" has a somewhat stronger supplemental section, including a bonus CSI episode (which ties in with the new series), featurettes, commentaries, a gag reel, deleted scenes, and a similar (16:9/5.1) a/v presentation.
Available in a new Complete Series DVD box is DEXTER (84 hours, 2006-13; CBS), hitting stores on October 13th. Similar to CBS' complete series re-packagings of "Family Ties" and "Mork & Mindy," this anthology offers all eight seasons of the Showtime series starring Michael C. Hall as the serial killer – eventually turned husband and father – with Jennifer Carpenter, Julie Benz and John Lithgow guest starring as the "Trinity Killer." Check the Aisle Seat archives for individual season reviews of "Dexter," as CBS' box set offers all 96 episodes with the extras (commentaries, featurettes) from the separate season releases.
PENNY DREADFUL: Season 2 Blu-Ray (aprx. 10 hours, 2015; CBS): A more satisfying take on mashing up genre literary characters than "The League of Extraordinary Gentlemen," creator-writer John Logan's Showtime series offers sophisticated horror fare for Halloween. In Season 2 of "Penny Dreadful," set in Victorian England, washed-up American actor Josh Hartnett and African explorer Timothy Dalton find themselves in and out of conflict with the likes of Victor Frankenstein and Dorian Gray, propelling another compelling mystery that plays out with superior performances. It's well-done and entertaining, and CBS' Blu-Ray includes numerous featurettes, 1080p transfers and Dolby TrueHD 5.1 soundtracks.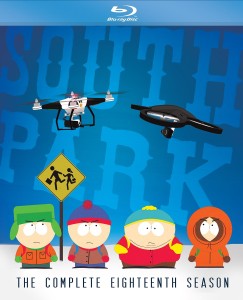 SOUTH PARK: Season 18 Blu-Ray (220 mins., 2014; Paramount): The eighteenth season (is that even possible?) of Trey Parker and Matt Stone's long-running Comedy Central series takes a somewhat different approach than its predecessors. While still finding the time to knock current pop culture and social-political happenings, the duo introduce a running story line that connects all 10 episodes. Highlights here include the unforgettable "Cock Magic" and Cartman becoming a social media superstar. #Socialcommentary is included on all episodes with "mini" commentaries from Parker and Stone, deleted scenes, 5.1 Dolby TrueHD soundtracks and 1080p (1.78) transfers spread across the package.
TUT Blu-Ray (270 mins., 2015; Paramount): Watchable Spike TV mini-series looks at the life of Egypt's King Tutankhamun with Ben Kingsley offering support in a well-mounted, entertaining – if likely speculative – presentation that Paramount brings to Blu-Ray this week. The single platter package includes a half-hour Making Of, two featurettes, a good looking 1080p transfer, Ultraviolet copy and Dolby TrueHD 5.1 audio.
THE LEFTOVERS: Complete First Season Blu-Ray (558 mins., 2015; HBO): Justin Theroux stars in this adaptation of Tom Perrotta's bestselling novel as the police chief of Mapleton, New York, who watches as members of his community, and family, mysteriously vanish. Three years later, Theroux's Kevin Garvey continues to search for answers while the world around him evolves in a strange way. HBO's Season 1 Blu-Ray of "The Leftovers" includes commentary on the pilot and finale; four featurettes; 1080p transfers (1.78) and 5.1 DTS MA sound plus a digital copy.
BONES: Complete Season 10 DVD (988 mins., 2014-15; Fox): Tenth season of the long running Fox crime procedural finds Booth being jailed for the murder of three FBI agents in a set up that has Bones trying out anything to get him free. All 22 episodes from "Bones"' tenth season are included in 16:9 (1.78) transfers with 5.1 Dolby Digital sound and extras including deleted scenes, a gag reel and featurettes.
---
Alchemy New Releases: Jemaine Clement, Regina Hall, Stephanie Allynne and Jessica Williams star in PEOPLE PLACES THINGS (94 mins., 2015, R), an indie comedy about a graphic novelist left raising his twin daughters alone while working and trying to start a new relationship. Alchemy's DVD includes a 16:9 transfer and 5.1 sound…the thriller NOCTURNA (92 mins., 2014, Not Rated) offers Mike Doyle, Estella Warren, Massimo Dobrovic and Johnathon Schaech in a tale of a vampire coven haunting New Orleans, and especially the city's children. Buz Alexander's film comes to DVD from Alchemy with a 16:9 transfer with 5.1 Dolby Digital audio, while a Blu-Ray includes 1080p AVC encoded widescreen and 5.1 Dolby TrueHD…finally, Frieda Pinto, Ryan Kwanten and Mickey Rouek star in the South American adventure BLUNT FORCE TRAUMA (96 mins., 2015), Ken Sanzel's tale of the country's seedy underground dueling culture. Alchemy's DVD includes a 16:9 (1.78) transfer and 5.1 audio, while their Blu-Ray boasts a superior 1080p AVC encoded presentation and 5.1 Dolby TrueHD sound.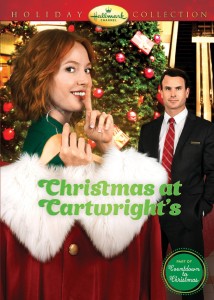 Lionsgate New Releases: Rosamund Pike tries out something different from her recent dramatic roles in WHAT WE DID ON OUR HOLIDAY (95 mins., 2014, PG-13), a BBC Films comedy starring Pike as a wife and mother whose husband (David Tennant) takes their kids on an extended family vacation. Billy Connolly co-stars with Lionsgate's DVD including commentary, deleted scenes, a Making Of, 16:9 (1.85) transfer, 5.1 audio and a digital copy…LITTLE HOUSE ON THE PRAIRIE: SEASON 7 (18 hours, 1980-81) includes remastered episodes from the NBC series' 1980-81 campaign. Regrettably, Lionsgate – who up until now, released the prior seasons on Blu-Ray – opted to nix a true high-def release in favor of a DVD only edition. A huge disappointment…An ER doctor and an assassination target team up to find the former's wife in THE TARGET (102 mins., 2014), a Korean thriller coming to DVD with a digital copy, 16:9 (2.40) transfer and 5.1 Dolby Digital sound in Korean (subtitled) or English (dubbed)…the boys are back in Season 8 of DUCK DYNASTY (176 mins., 2015), which includes eight episodes from the A&E reality series' eighth season. 16:9 transfers and 5.1 sound, plus bonus footage unseen on TV, adorn Lionsgate's two-disc DVD set…Johnny Tabor's EATERS (90 mins., 2014, R) is a harrowing tale of five friends who cross paths with the wrong biker gang, leading to one of them disappearing. Lionsgate's DVD includes a 16:9 (2.40) transfer and 5.1 sound plus an Ultraviolet copy…the Spanish western ARDOR (101 mins., 2014, R) stars Gael Garcia Bernal and Alice Braga in Pablo Fendrik's wild genre effort. Lionsgate's DVD includes a featurette, digital copy, 16:9 (2.40) transfer and 5.1 Spanish audio with English subtitles…finally, new on Blu-Ray is the History Channel's BLOOD AND GLORY: THE CIVIL WAR IN COLOR (168 mins., 2015), a Kevin Burns produced documentary that uses color enhancement to add life to over 600 photographs culled from government and private archives. These run concurrent with yet another retelling of the conflict between the North and South, presented here on Blu-Ray by Lionsgate with exclusive historian interviews, appearances by retired generals David Petraeus and Colin Powell, a handful of featurettes, a digital copy, 1080p (178) AVC encoded transfers and 5.1 DTS MA sound, .
From Magnolia: NOWITZKI: THE PERFECT SHOT (106 mins., 2015, Nor Rated) tells the story of 13-time NBA All-Star, League MVP,and Finals MVP Dirk Nowitzki, with extensive interviews, behind the scenes material and, of course, lots of game footage. Mark Cuban's Magnolia funded this production (no shock there) with the label's Blu offering deleted scenes, interviews, a trailer, 1080p (1.85) transfer and 5.1 DTS MA sound.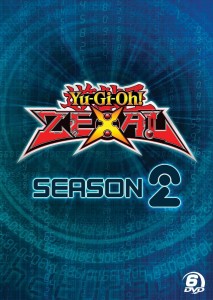 Cinedigm New Releases: New to Blu-Ray this month from Cinedigm is 4GOT10 (84 mins., 2015), Timothy Woodward, Jr.'s tale of a wounded man who wakes up with amnesia and $3 million in cash. Soon a DEA agent (Dolph Lundgren), a Mexican cartel boss (Danny Trejo) and a local sheriff (Michael Pare) want in on the action. Cinedigm's Blu includes deleted scenes and a behind the scenes segment, along with a 1080p transfer and 5.1 DTS MA sound…Also new on Blu-Ray is FINAL GIRL (84 mins., 2014, R), a disappointing thriller with Abigail Breslin as young woman seeking vengeance who takes on, and kills, three guys who intend to knock her off. A Making Of, commentary with director Tyler Shields, outtakes, a 1080p transfer and DTS MA sound comprise Cinedigm's Blu-Ray.
On DVD, the holidays are (incredibly) just around the corner, and two Hallmark Holiday Collection releases – the enjoyable CHRISTMAS AT CARTWRIGHT'S (87 mins., 2014) and the less entertaining BEST CHRISTMAS PARTY EVER (84 mins., 2014) – both hit DVD this month, having premiered as part of the Hallmark Channel's Christmas fare a year ago. Both discs include 16:9 transfers and 5.1 Dolby Digital soundtracks…MI ES TUYO (704 mins., 2015) is the latest Telenovela to receive a DVD release from Cinedigm. The two-disc set includes the complete series in 16:9 transfers and 2.0 Spanish soundtracks.
Kids are likely to enjoy a pair of Scholastic Storybook Treasures releases on DVD: 20 FAIRY TALES (aprx. 5 hours) features a series of classic fairy tales while 20 HOLIDAY ADVENTURES (aprx. 4 hours) offers as many Christmas and holiday stories for children, recommended for ages 3-8…Finally, YU-GI-OH! ZEXAL Season 2 (aprx. 19 hours) brings our heroes to the World Duel Carnival Finals, where Yuma and friends have to do battle on a rollercoaster. Anime fun for all ages with Cinedigm's six-disc DVD package offering 16:9 transfers and 2.0 English soundtracks.
DOCTOR WHO: DARK WATER/DEATH IN HEAVEN 3D Blu-Ray Combo Pack (BBC): Peter Capaldi's Doctor battles Cybermen on the streets of London as he debuts in this 3D Blu-Ray package of episodes from the long-running series, "Dark Water" and "Death in Heaven." BBC's combo pack includes attractive 3D transfers, standard 1080p AVC encoded 2D Blu-Ray transfers, Dolby Atmos sound, a DVD and digital copy as well.
NEXT TIME: Shout new releases and much more! Until then, don't forget to drop in on the official Aisle Seat Message Boards and direct any emails to our email address. Cheers everyone!