No label has output as much catalog content for film buffs on Blu-Ray over the last couple of years as Kino Lorber. Their attractively packaged Studio Classics releases, often re-using original poster art, have mostly been comprised of titles from the vast MGM library, bringing high-def owners starved for archival content a wealth of titles from the '30s and '40s as well as the relatively recent past. That recipe has served the label well, as it does again this month with five fascinating titles hailing from a handful of eras across the filmmaking spectrum.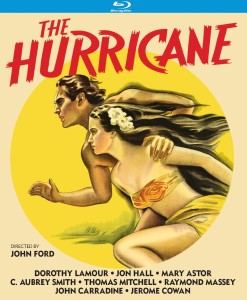 The oldest title is a high-definition mastering of John Ford's seminal 1937 "disaster movie" THE HURRICANE (110 mins.), the Samuel Goldwyn production that starred Jon Hall and Dorothy Lamour as a married island couple who run afoul of contrasting forces: first, a prejudiced, unfair governor (Raymond Massey) who imprisons Hall, and later, a powerful hurricane that threatens everyone. Highly watchable and entertaining – if dated – in its early portions, "The Hurricane" eventually delivers the goods in its final half-hour, with assistant director Stuart Heisler working with Ford to create an early on-screen FX spectacle that was stunning for its time and can still be appreciated for its artistry today.
Kino Lorber's Blu-Ray offers a welcome, highly informative commentary from Ford authority Joseph McBride, who recounts the production of the film and where it falls in Ford's filmography. It's a compelling talk that's perfect for buffs, while the 1080p (1.33) B&W transfer does include some crisp HD detail during the movie's better looking portions, though the elements show their age (understandably) at times. The DTS MA mono sound houses a potent early score by Alfred Newman, and the trailer rounds out the disc.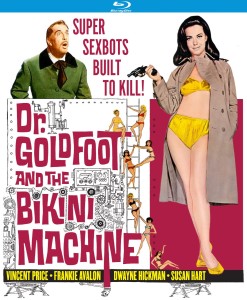 Previously part of MGM's beloved "Midnight Movies" series, the highly entertaining American-International production DR. GOLDFOOT AND THE BIKINI MACHINE (88 mins., 1965) also comes to Blu-Ray for the first time along with its inferior 1966 sequel, DR. GOLDFOOT AND THE GIRL BOMBS (82 mins., 1966).
The former – best described as a cross between a "Beach Party" film and a James Bond spoof – stars Vincent Price as the title character, trying to take over the world with his automated femme fatales. Saving the world – and hey, this was 1965 – are ex-beach bum Frankie Avalon (as a deskbound government agent) and Dobie Gillis himself, Dwayne Hickman. Cameos from Annette Funicello and Deborah Walley among others adorn this glossy, compulsively viewable effort, with a title song performed by the Supremes and a Claymation title sequence designed by Art "Gumby" Clokey! One of AIP's most expensive pictures at the time of its release, "Goldfoot" manages to mix in Bond, the Beach Party films and the studio's biggest horror commodity – Price – in a broadly played comedy that proved to be as much an influence on Mike Myers' "Austin Powers" pictures as the Bond series itself. For no-brain, nostalgic '60s fun, you could do a lot worse than "The Bikini Machine" – starting with its own sequel.
AIP returned the following year with DR. GOLDFOOT AND THE GIRL BOMBS, with Price reprising his title role in an Italian production directed by none other than horror-meister Mario Bava. Alas, this much-lower budgeted sequel was an outright disaster, with AIP mastermind Samuel Z. Arkoff lamenting in his autobiography that the filmmakers lost the soundtrack while they were shooting, resulting in post-synced audio and a film that Price called his all-time worst (and that's saying something!). At just 82 minutes, the "Girl Bombs" is a tepid affair that makes its predecessor seem like a comedy classic by comparison.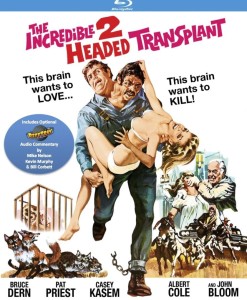 Kino Lorber has released the "Goldfoots" separately on Blu-Ray. The transfers on both pictures are strong, particularly so with the Panavision (2.35) shot original. "Girl Bombs" was filmed flat at 1.85, and DTS MA mono sound, trailers and photo galleries are present on each platter. Capping both discs are tremendously entertaining commentaries from genre authorities David Del Valle and David DeCoteau, who discuss their origins (the original "Goldfoot" featured a handful of excised musical numbers!) and interesting production history, particularly where the disastrous sequel is concerned.
More AIP madness is on tap in THE INCREDIBLE TWO-HEADED TRANSPLANT (87 mins., 1971, R), a low-budget independent effort that AIP picked up for distribution prior to their own 1972 hit, the far more entertaining "The Thing With Two Heads" (which Olive just released on Blu-Ray a couple of months back). This horrific horror outing stars Bruce Dern as a mad scientist who, after a lengthy build-up, fuses the head of a convicted murderer (Albert Cole) onto the body of a mentally handicapped giant (John Bloom). The results lead to mayhem and a few unintentional laughs – especially with Casey Kasem playing Dern's best friend – but "The Incredible Two-Headed Transplant" is too pokey and slow-going to really satisfy, even on a "so bad it's good" level.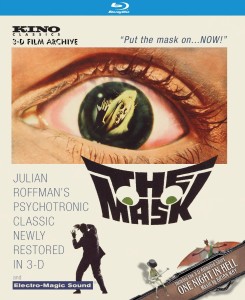 At least several interesting special features adorn Kino Lorber's Blu-Ray. An interview with writer James Gordon White is included along with the trailer, a radio spot, and the Rifftrax audio commentary with former Mystery Science Theater cast members Mike Nelson, Kevin Murphy and Bill Corbett supplying their brand of humor throughout. It's not quite up to the level of MST3K in its prime, but it's preferable to sitting through the movie without it, and both Kino Lorber's 1080p (1.85) transfer and DTS MA mono sound are just fine.
Finally, Kino has joined forces with the 3-D Film Archive and the Toronto International Film Festival in unveiling the long-awaited restoration of Canada's first, home-grown horror movie: the 1961 3-D production THE MASK (83 mins.). Picked up for U.S. distribution by Warner Bros., "The Mask" bides its time in its non-stereo sequences, spinning a routine story of a psychiatrist (Paul Stevens) who puts on the same mask that turned one of his former patients into a serial killer. The tribal mask gives Stevens some seriously odd hallucinations as well as brings out a violent side that culminates in a tense finale – as well as several excellent 3-D sequences that have been here lovingly brought back to life on 3-D Blu-Ray.
The 3-D on Kino Classics' high-def platter is just delightful: depth of field and "in your face" effects are both on-hand in images that were carefully remastered here for maximum home viewing effect. The net result ought to enchant nostalgic '60s creature-feature buffs and 3-D enthusiasts alike, while those without 3-D home theater set-ups can also watch the film both in 2-D and with its 3-D sequences tinted red/cyan in a standard anaglyph presentation (glasses are not included). Extras include a look at Julian Roffman, who directed the film and was a major player in the early days of Canada's film industry, plus remastered "Electro-Magic" surround (playing in 5.1 during the 3-D sequences), commentary from historian Jason Pichonsky, trailers, and bonus vintage shorts from Slavko Vorkapich.
---
One of the Band family's biggest box-office hits, their winter 1985 release TROLL (82 mins., PG-13) offers the once-in-a-lifetime cast of Michael Moriarty, Sonny Bono, Shelly Hack, Julia Louis-Dreyfus (and her husband, Brad Hall), WKRP's Gary Sandy and June Lockhart, not to mention "Neverending Story" star Noah Hathaway and "V" child starlet Jenny Beck. It's a nutty fantasy romp written by ex-journalist Ed Naha, with a few disturbing scenes (including little-person Phil Fondacarlo's "rebirth" as a mustached-baby elf!), "Gremlins"-esque antics and an "Omen"-esque symphony penned by Richard Band.
"Troll" was one of the most expensive outings for Band's short-lived Empire Pictures label and managed to net a few surprisingly good reviews upon its theatrical release, leading to moderate box-office returns and solid home video receipts in the months and years afterwards. I fondly recall seeing it a couple of times at the Lincoln Mall General Cinema in northern RI – the only Empire movie I ever saw on the big-screen – and it holds up today as an agreeable B-movie from its era.
Regardless of how you feel about the movie, though, there's no doubt that its in-name-only
sequel TROLL 2 (No stars, 95 mins., 1990, PG-13) isn't even worthy of sharing the same disc space as its predecessor.
This cheaply-made sequel to "Troll" (which looks like a cinematic work of genius compared to this film) went right to video in the early '90s and appalled genre fans of all kinds (at least those who actually saw it) with its inane story, amateurish performances, laughable special effects and general ineptitude. While I've always enjoyed bad movies that offered "so bad, it's good" pleasures, I'm not a big aficionado of movies that are "so bad, they're awful."
Even though "Troll 2″ qualifies in the latter category for me, that hasn't stopped the film from attracting what I'm guessing are a very small (but loyal) group of viewers who have catapulted the picture into cult infamy. The documentary "Best Worst Movie," about the so-called "legacy" of the film, played on the festival circuit to solid reviews, yet I can't help but think some of "Troll 2″'s rise in popularity isn't hype generated by the people who made the movie trying to sell it as a masterwork of poor moviemaking. The trouble I have with that angle is that, as horrible as "Troll 2″ is, I can think of hundreds of "bad movies" that are more entertaining.
With "Troll" making its Blu-Ray debut here ("Troll 2″ has already, inexplicably been released by MGM themselves), Shout's Double Feature high-def release is a lot of fun thanks to a solid 1080p (1.85) transfer and several terrific new supplements. Chief among them is a lengthy, 50-minute Making Of that offers not just a look at how "Troll" came to be, but also how Charles Band fashioned his Empire label. Sporting comments from Band, Ed Naha, director John Carl Buechler and others, this is easily worth the price of the disc alone – to say nothing of the presence of "Troll 2″ with its fresh cast commentary and trailer. Capping off the release is a DVD of "Best Worst Movie" which, if nothing else, is more entertaining than sitting through "Troll 2″ itself.
---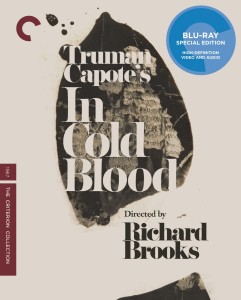 New & Noteworthy
IN COLD BLOOD Blu-Ray (***½, 134 mins., 1967; Criterion): Truman Capote's controversial, groundbreaking non-fiction account of the murder of a Kansas family by a pair of hoods hoping to rob their safe became a vivid, harrowing film from writer-director Richard Brooks in 1967. Shot in the same locations – including the home – where the 1959 murders took place, "In Cold Blood" was an equally landmark film for its clinical, realistic approach to the subject matter.
Conrad Hall's stark, ominous black-and-white scope cinematography is rightfully regarded as some of the most striking in cinematic history, making the viewer feel as if you're watching a docudrama but with incredibly nuanced artistry. The performances of Robert Blake and Scott Wilson are equally praiseworthy, as is Quincy Jones' jazz score, though Brooks – apparently hoping to translate Capote's anti-death penalty stance on-screen – failed to reproduce the author's intentions, as the movie's flashback structure generates understanding if not sympathy for the killers before showing the murders at the end. At that point, no matter how much empathy a viewer may – or may not – have for Perry Smith and Dick Hickox, seeing the innocent Clutter family murdered remains gut-wrenching and difficult to watch – and leaves one with the impression that both received their just desserts for the crime. While that may not have been Brooks' intention, "In Cold Blood" is a less controversial film than the book that inspired it (seeing that portions of Capote's novel have been disputed if not disproved outright over the years), and remains a classic of true-crime filmmaking.
Criterion's Blu-Ray is a celebration of the movie's cinematic craftsmanship, providing a brand-new 4K digital restoration with a pinpoint, sharp 1080p (2.35) transfer and 5.1 DTS MA sound; an interview with cinematographer John Bailey about Hall's work; a talk with historian Bobbie O'Steen on the film's editing; a conversation with writer Douglass K. Daniel on Richard Brooks, and an interview with jazz critic Gary Giddins on Quincy Jones; a 1988 archival interview with Brooks; a 1966 short with Capote, plus a pair of archival Today Show clips (one with Barbra Walters) on Capote and "In Cold Blood."
Also new from Criterion this month is a new 4K-derived Blu-Ray transfer of IKIRU (143 mins., 1953), Akira Kurosawa's story of an aging businessman (Takashi Shimura), riddled with cancer and facing just days to live, meeting the challenge of finding humanity and life in his final moments. Commentary from Stephen Prince, Kurosawa expert, is included along with a 90-minute 2003 documentary on the director; portions of "It Is Wonderful to Create" related to "Ikiru"; new English subtitles; plus essays and a reprint from critic Donald Richie's 1965 book "The Films of Akira Kurosawa." The 1080p (1.37) B&W transfer and mono sound are both superlative.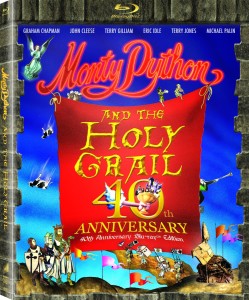 MONTY PYTHON AND THE HOLY GRAIL 40th Anniversary Edition (***½, 92 mins., 1974, PG; Sony): Back for another go-around on Blu-Ray from Sony, the comedy troupe's first truly original theatrical piece is a hilarious medieval romp that doesn't need much of a description for most viewers.
Sony's 40th Anniversary Blu-Ray offers a good looking (especially considering the film) 1080p (1.66) transfer and both 5.1 and mono DTS MA audio tracks. Ample extras are retained from its prior BD release, including both the Terry Gilliam/Terry Jones commentary from the Criterion laserdisc, as well as a later DVD commentary combining Michael Palin, Eric Idle, and John Cleese reflecting on the production. Also on-hand is a 45-minute documentary, "The Quest for the Holy Grail Locations," with Palin and Jones returning to the scene of the crime in an engaging piece that fans are sure to love. Some of Gilliam's storyboards, snippets from the Japanese version (with its hilarious translation gaffes), a BBC "Film Night" piece from December 1974, photos, trailers, and three singalong tracks are also on-tap in the surplus of supplements.
What's new here is a half-hour interview retrospective with Gilliam, Jones, Palin, Idle and Cleese, recorded at NYC's Beacon Theatre during the 2015 Tribeca Film Festival. Along with deleted scenes and Jones' intros, plus "Lost Animations" with Gilliam, this is the definitive edition of "Monty Python & The Holy Grail" to date on home video – and will be until the 50th Anniversary rolls around.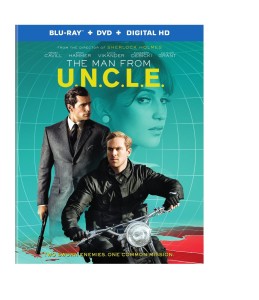 THE MAN FROM U.N.C.L.E. Blu-Ray Combo Pack (**½, 116 mins., 2015, PG-13; Warner): The '60s TV spy series returns to the big screen after years of stops and starts – the end result is a breezy and watchable, but never particularly compelling, period espionage affair. Henry Cavill is Napoleon Solo to Armie Hammer's Illya Kuryakin in director Guy Ritchie's "origin movie," setting up the duo on opposite sides of the fence before eventually teaming them up to find a missing German scientist. Colorfully shot, "The Man From U.N.C.L.E." failed to muster an audience last summer, perhaps no surprise with the material having fallen out of the "current" pop-culture idiom some time ago. It's an inoffensive movie that might've worked better with more star power among the two leads, and a story with a bit more punch, but it's nevertheless worth a rental for nostalgia buffs.
Warner's Blu-Ray combo pack includes "The Guys From U.N.C.L.E." featurette, plus "Spyvision: Recreating the '60s Cool" and other behind-the-scenes segments. The 1080p (2.41) AVC encoded transfer is attractive and the Dolby Atmos/TrueHD audio enveloping from start to finish.
THE FINAL GIRLS Blu-Ray (**, 91 mins., 2015, PG-13; Sony): A clever premise – a group of modern teens find themselves placed into the literal midst of an '80s slasher film – goes nowhere in Todd Strauss Schulson's "The Final Girls." Amusing in spots but never as witty as it needs to be, this semi-spoof places Taissa Farmiga, Adam Devine, Thomas Middleditch (from "Silicon Valley"), Alia Shawakao and Nina Dobrev into a "Friday the 13th"-like slasher named "Camp Bloodbath," with Farmiga's now-deceased actress mom (Malin Akerman) as its lead. A few laughs are generated here and there but the film is forgettable and routine despite its central concept. Sony's Blu includes alternate endings, deleted scenes, two commentaries and bonus featurettes, along with a 1080p (2.40) transfer and 5.1 DTS MA sound.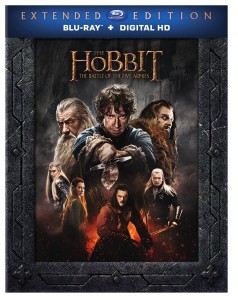 THE HOBBIT: THE BATTLE OF THE FIVE ARMIES Extended Edition Blu-Ray Combo Pack (**½, 164 mins., 2014, R; Warner). WHAT IT IS: Bilbo and his merry men partake in the final battle in this concluding installment in Peter Jackson's bloated "Lord of the Rings" prequel trilogy – now with 20 added minutes! This installment – while originally the shortest at 144 minutes – in some ways feels like the longest, seeing as Jackson spends most of the running time on lengthy special effects sequences involving the climactic confrontation between Middle Earth's various factions, Sauron and the Dragon Smaug – material that apparently comprised a total of a half-dozen pages (!) in the actual "Hobbit" book. Character interplay is dialed back from the prior entries as well, though fans will still enjoy seeing how the story plays into the opening of Jackson's first trip to Tolkien land as, once again, several "LOTR" veterans show up in cameos (Cate Blanchett, Christopher Lee, Hugo Weaving, Orlando Bloom and Ian Holm). Overall, as with before, it's mostly a film for fans, with lots of FX wizardry, bombast and excessiveness that's become synonymous with Jackson's filmmaking. TECH SPECS: Warner's Extended Edition Blu-Ray combo pack completes the home video releases of Jackson's Tolkien trips – at least for now. The three-disc set includes the now-expanded film in a 1080p AVC encoded transfer with added R-rated violence (a far cry from Tolkien's intentions) and two discs of extensive "Appendices" Making Of extras featuring over nine hours (!) of supplements. A digital copy is also included plus 7.1 DTS MA sound. AISLE SEAT BOTTOM LINE: Fans of J.R.R. Tolkien's "The Hobbit" – the book – might have issues with how Jackson turned what was first and foremost a children's book into an overproduced, overlong "trilogy" that you can't help but feel was a cash-grab on the part of Jackson, Warner and MGM. While the box-office returns were down for this third installment – especially in the U.S. – the hardcore Jacksonites will still find enough to savor here as the director closes the cinematic door to Middle Earth for good….right??!?
---
On Blu-Ray: Fans of Aardman Animation – the brains behind Wallace & Gromit – ought to be enchanted by SHAUN THE SHEEP: THE MOVIE (85 mins., 2015, PG), the well-reviewed off-shoot of the TV series featuring the resourceful title character venturing off the farm for the big city, where he and his flock promptly get into a heap of trouble. Though I've never been a huge fan of Aardman's stop-motion comedy, viewers who groove to the British sensibility of its producers and young viewers should find ample amusement in "Shaun," which fizzled at the U.S. box-office but should make more dough on home video. Lionsgate's Blu includes a handful of featurettes, a digital HD copy, 1080p (1.78) transfer and 5.1 DTS MA sound…Jason Segel and Jesse Eisenberg top-lined THE END OF THE TOUR (106 mins., 2014, R), an adaptation of journalist David Lipsky's tome, chronicling his relationship with author David Foster Wallace while writing the book "Although Of Course You End Up Becoming Yourself: A Road Trip With David Foster Wallace." Segel plays the reporter, Eisenberg his subject in James Ponsoldt's character drama, now on Blu-Ray from Lionsgate sporting deleted scenes, commentary, a talk with composer Danny Elfman, a digital copy, 1080p (2.40) transfer and 5.1 DTS MA sound…It's been a while since director Peter Bogdanovich helmed a watchable film, which he attempted once more with SHE'S FUNNY THAT WAY (93 mins., 2015, R), an ensemble comedy that aspires for Woody Allen-esque insight into the human condition but only manages to waste the talents of a strong cast (Owen Wilson, Imogen Poots, Kathryn Hahn, Will Forte, Rhys Ifans, Jennifer Aniston) with a few familiar Bogdanovich staples (Austin Pendleton, a very brief Cybill Shepherd appearance) popping up as well. Lionsgate's Blu includes a commentary from he director and co-writer Louise Stratten, plus a digital copy, 1080p (1.85) transfer and 5.1 DTS MA audio.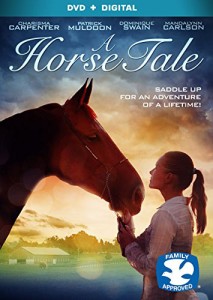 On DVD: Patrick Muldoon stars as an accountant who heads to the country along with his daughter (Mandalynn Carlson) in order to save the Harrison Family farm in A HORSE TALE (85 mins, 2014, G). Charisma Carpenter nabs top billing in this good-natured family film, now on DVD from Lionsgate sporting "minuscule bonus episodes", a 16:9 (1.78) transfer and 5.1 Dolby Digital sound plus a digital copy…AN EN VOGUE CHRISTMAS (90 mins., 2015) offers the girls performing some of their biggest hits in a Lifetime TV movie that also offers limp dramatic elements – namely in the form of David Alan Grier, playing the manager who broke them up. Lionsgate's DVD includes a 16:9 (1.78) transfer and 5.1 Dolby Digital sound…MORE MONEY, MORE PROBLEMS (90 mins., 2014, R) stars Silkx "The Shocker" Miller in the story of two cousins who try to unite their estranged, bickering family by pretending they won the lottery. Miller and Mike Ryan directed this comedy, now on DVD from Lionsgate sporting a 16:9 (1.78) transfer, 5.1 sound and a digital copy…Four warriors, veterans of the Crusades, embark on a mission to find a predator that's abducted men and children from a depleted village in THE FOUR WARRIORS (92 mins., 2014, PG-13), a low-budget medieval adventure from director Phil Hawkins. Lionsgate's DVD also includes a digital copy, 16:9 (2.35) transfer and 5.1 Dolby Digital audio.
---
REQUIESCANT Blu-Ray 2-Disc Limited Edition (107 mins., 1967; Arrow): Spaghetti western buffs are likely to enjoy this Carlo Lizzani effort, following Lou Castel's title character – a young man raised to be a pacifist by a priest after Confederates murder his family. After his step-sister runs away, Requiescant shows his true sharpshooting nature, leading – of course – to a confrontation with those who wronged him.
Riz Ortolani scored this slow-moving and occasionally preachy western that's been enhanced here by Arrow in a multi-format limited edition. Included is a brand-new 2K restoration (1.85) from the movie's original camera negative with Blu-Ray and DVD presentations; English and Italian PCM mono sound, the latter with enhanced English subtitles; a new interview with Castel, shot just for this release; an archival interview with Lizzani; reversible artwork and liner notes by Paquale Iannone.
Upcoming from MVD: THE COLOR OF NOISE (120 mins., 2015) profiles the creation of Amphetamine Reptile Records ("AmRep") in a documentary that will be of note for punk music buffs. Extensive extras (commentary, interviews, eight page booklet) grace MVD's Blu-Ray when it hits stores November 24th…BLACK WAX (1982) is Robert Mugge's 1982 documentary about African-American singer-author Gil Scott-Heron, the "forefather of hip-hop" and rap…On DVD comes REBEL SCUM (2015), a documentary from Video Rahim about Knoxville-based "white trash punk band" The Dirty Works, as well as THE BREAKING POINT (2014), an indie urban thriller from director James Hunter.
Finally, cult movie fans will want to check out Richard Elfman's off-the-wall affair FORBIDDEN ZONE, the 1980 tale of an underground kingdom overseen by king Herve Villechaize and queen Susan Tyrell. The Kipper Kids, Cab Calloway, Josephine Baker and Danny Elfman – the director's brother, who scored the film – all appear in Elfman's cult movie, which has hit DVD in a Special Edition. Commentary with Elfman and co-writer Matthew Bright is on tap plus a behind the scenes doc, video intro from Elfman, outtakes and deleted scenes, booklet notes, and both the original B&W and all-new color versions. MVD's Special Edition Blu-Ray and CD package include a 1080p transfer and a CD soundtrack – I'll cover this version in the next Aisle Seat!
NEXT TIME: Twilight Time's latest! Until then, don't forget to drop in on the official Aisle Seat Message Boards and direct any emails to our email address. Cheers everyone!