An exciting Fox Cinemascope western, a superb Jane Austen rendering from Ang Lee, a '70s political-conspiracy thriller, and vintage efforts by filmmakers Woody Allen and Ken Loach comprise Twilight Time's varied Blu-Ray limited-editions for the month of November.
BROKEN LANCE Blu-Ray (96 mins., 1954). THE MOVIE: Character-driven western from director Edward Dmytryk, scripted by Richard Murp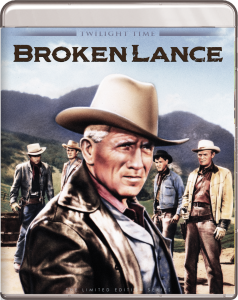 hy from a Philip Yordan story, stars Spencer Tracy as a tough, hot-tempered patriarch who presides over his ranch with an iron fist. His tough love carries over to the relationship he holds with his adult sons (Richard Widmark, Hugh O'Brian and Earl Holliman), who hold a grudge against him and their younger half-brother (Robert Wagner), who Tracy fathered with his second wife, a Native American princess (Katy Jurado) his other sons are prejudiced towards. Strong performances from a familiar cast – E.G. Marshall also appears as the father of Wagner's love interest, played by Jean Peters – are a big asset to this compelling western. TWILIGHT TIME TECH SPECS: A strong 1080p (2.55) AVC encoded transfer marks TT's Blu-Ray from the Fox vaults, with matching 5.0 and 2.0 DTS MA audio options. Leigh Harline's marvelous, often brooding score matches the story's dramatic momentum (and ends in spectacular fashion), with the picture accentuating a darker visual pallet than most of its contemporaries of the genre. Trailers, an isolated score track, Fox Movietone news reel, and an enjoyable commentary with Earl Holliman and Nick Redman round out the release. AISLE SEAT BOTTOM LINE: Western fans ought to be thrilled with this Cinemascope genre entry from Fox, one which Julie Kirgo rightly notes in her booklet essay shows the kind of thoughtful movie-going experience adult viewers were accustomed to at the time of "Broken Lance"'s release. Strongly recommended.
SCORPIO Blu-Ray (114 mins., 1973, PG). THE MOVIE: In browsing through his filmography, Michael Winner's career highlights ("Death Wish," "The Mechanic") are overwhelmed by an awful lot of bombs scattered throughout his decades behind the camera. This 1973 political-conspiracy thriller lies somewhere in the middle of the pack, starring Burt Lancaster as a CIA operative targeted by his own organization and Alan Delon as "Scorpio" – his young protege who ultimately is contracted to rub him out after being coerced into the assignment. Superb locations, an excellent supporting cast (Paul Scofield, John Colicos, Gayle Hunnicutt) and Jerry Fielding's interesting, solid score are all aces, but the David Rintels-Gerald Wilson script is convoluted and loses momentum en route to a disappointingly downbeat ending that screams "70s." TWILIGHT TIME TECH SPECS: Backed with an attractive 1080p (1.85) MGM-licensed HD transfer, "Scorpio" makes its Blu-Ray debut from Twilight Time also sporting a new commentary from TT's Nick Redman, Julie Kirgo and Lem Dobbs, DTS MA mono audio, an isolated score track plus the trailer. AISLE SEAT BOTTOM LINE: Fans of the genre are likely to find ample entertainment in "Scorpio" in spite of its flaws, and TT's commentary puts the film into the context of its era succinctly. If you're a fan of films like "Three Days of the Condor" and "The Parallax View," this is worth a viewing even if it's not on their level.
SENSE AND SENSIBILITY Blu-Ray (136 mins., 1995, PG). THE MOVIE: Ang Lee's luminous adaptation of Jane Austen's novel offers a cast that's second to none – Emma Thompson, Alan Rickman, Kate Winslet, Hugh Grant, Hugh Laurie – in a breezy, romantic cinematic vision that was released as part of a series of Austen pictures in the '90s – movies that ran the gamut from Anna Hathaway's turn as the author in "Becoming Jane" to both period and modern takes ("Clueless") on Austen's "Emma." "Sense and Sensibility" sits at the top of the list, boasting a superb Patrick Doyle score, Michael Coulter's nuanced cinematography and wonderful performances by all. TWILIGHT TIME TECH SPECS: Reprising content from the film's Special Edition DVD, Twilight Time has included commentaries from Thompson and producer Lindsay Doran, as well as Lee with producer James Schamus; the featurettes "Elegance & Simplicity: The Wardrobe of Sense & Sensibility," "Locating the World of Sense & Sensibility," "A Sense of Character," "and A Very Quiet Man"; deleted scenes; trailers; the isolated score; and Thompson's Golden Globe speech. The 1080p (1.85) AVC encoded Sony-licensed transfer is just perfect, and 5.1 and 2.0 DTS MA stereo options are included on the audio end. AISLE SEAT BOTTOM LINE: Pitch-perfect and timeless, "Sense and Sensibility" is one of Ang Lee's many outstanding pictures and has been presented with care from Twilight Time. Highly recommended!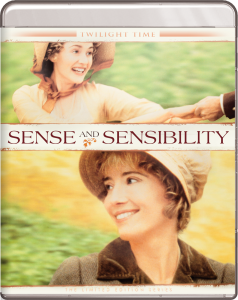 SHADOWS AND FOG (85 mins., 1991, PG-13). THE MOVIE: Woody Allen pays tribute to Fritz Lang and the great German Expressionists with this highly stylized 1991 B&W affair, featuring Allen living through a Kafka-esque nightmare involving a serial killer while circus performer Mia Farrow leaves her boyfriend (John Malkovich) after he has an affair with a tightrope walker (Madonna). Farrow ends up in a brothel and is befriended by the likes of Jodie Foster and Kathy Bates at the same time Allen's nebbish hero becomes part of the hunt for the killer. "Shadows and Fog" was not one of Allen's stronger commercial efforts from his '80s/'90s heyday, meeting with mixed critical response and failing to cash in on a fairly sizable budget. While the movie's tone shifts and not all of it works, "Shadows and Fog" is nevertheless worth seeing for Carlo DiPalma's black-and-white cinematography and the cast, which is especially fascinating for an Allen film (John Cusack, Fred Gwynne, Kenneth Mars, Kate Nelligan, Donald Pleasance and Lily Tomlin also appear). TWILIGHT TIME TECH SPECS: Twilight Time's Blu-Ray includes a 1080p (1.85) transfer in good shape from the MGM archives with an isolated score track, 1.0 DTS MA mono audio and the trailer also on-hand. AISLE SEAT BOTTOM LINE: A bit uneven but compelling for its mood, atmosphere and cast, "Shadows and Fog" is a worthwhile view for Allen devotees.
FATHERLAND (111 mins., 1986, Not Rated): Twilight Time brings viewers another film from the prolific British director Ken Loach with "Fatherland." A fascinating portrait of time and place, "Fatherland" stars Gerulf Pannach as an East German musician who leaves his homeland for the West, where he starts a relationship with a journalist (Fabienne Babe) and struggles to adjust to his new surroundings and way of life. Also known as "Singing the Blues in Red," TT's Blu-Ray of this 1986 Loach picture includes a 1080p (1.78) transfer, 2.0 DTS MA audio and an isolated music/effects track.
---
Flicker Alley's CHAPLIN'S ESSANAY COMEDIES marks a landmark release for Charlie Chaplin enthusiasts. The dual-format Blu-Ray/DVD box-set features the third and final release of the "Chaplin Project," an international effort to restore Chaplin's output from 1914-17.
The five-disc set contains all of Chaplin's films made for the Essanay Film Manufacturing Company, where Chaplin was paid $1250-per week (plus a $10,000 bonus) to turn out a number of classic Little Tramp shorts. Included here are His New Job, A Night Out, The Champion, In the Park, A Jitney Elopement, The Tramp, By the Sea, Work, A Woman, The Bank, Shanghaied, A Night in the Show, Charlie Chaplin's Burlesque on Carmen, and Police – along with His Regeneration, a short from G.M. "Broncho Billy" Anderson where Chaplin makes a guest appearance. Historians note the shorts offer a look at Chaplin's creative process, with many gags and storylines later reprieved in the star's classic features.
All the shorts were remastered and scanned in 2K from original 35mm archival prints by Lobster Films, the Cineteca di Bologna and Association Chaplin. Bonus features include "Triple Trouble," an Essanay short utilizing Chaplin footage from other projects (without his permission); "Charlie Butts In," a 1920s one-reeler comprised of alternate takes from the longer "A Night Out"; two-reel edits of "A Night Out" and "Charlie Chaplin's Burlesque on Carmen"; a new restoration of "Police"; and extensive booklet notes from Chaplin authority Jeffrey Vance. A tremendous retrospective that ranks with 2015's finest home video releases.
---
BAD BOYS/BAD BOYS II 20th Anniversary Collection Blu-Ray (**½/*½, 119/147 mins., 1995/2003, R; Sony): New double-feature pairing of Michael Bay's noisy – but popular – action blockbusters includes the original 1995 "Bad Boys" – presented in a strongly detailed 1080p (1.85) transfer with 5.1 DTS MA audio, a Bay commentary, documentary, music videos and trailers – plus the Blu-Ray debut of its inferior, bloated 2003 sequel.
In fact, the difference between the original "Bad Boys" – with Will Smith and Martin Lawrence's cops on a drug investigation and Tea Leoni as the police informant kidnapped by the bad guys – and the 2003 sequel BAD BOYS II is striking. Despite its blockbuster in-take, this over-amplified mess of a summer blockbuster ill-advisedly takes the chemistry between stars Smith and Lawrence that worked so well in its predecessor and chucks it into a stew of mindless violence, endless profanity, and non-existent story.
Here, our favorite trash-talking cops attempt to take down a Cuban drug lord (Jordi Molla) who, with the help of Russian mobster Peter Stormare is smuggling Ecstasy into the good ol' USA. Gabrielle Union is on-hand to provide the requisite female interest, but outside of looking good, she has little to do but try and dodge bullets in this mind-numbing assault on the senses that goes on — and on — and on for nearly two-and-a-half hours.
Say whatever you will about the "Lethal Weapon" films (and specifically the bloated third and fourth installments of that series), but at least their filmmakers knew that rambling past the two hour mark for a movie of that kind was tantamount to walking on thin ice. Bay and screenwriters Ron Shelton (whatever happened to the guy who wrote "Bull Durham"?) and Jerry Stahl care not about trying the viewer's patience, as "Bad Boys II" goes from one idiotic scene to the next, with the filmmaker's token rapid-fire editing and penchant for bombastic action scenes pushing most viewers' limits to the max. It's more elaborate and bigger-budgeted than the original, but it's also far less entertaining, and even Smith and Lawrence can't compensate for the picture's one-note tone and uninteresting script.
"Bad Boys II" belatedly debuts here on Blu-Ray and fans ought to appreciate the 1080p (2.40) AVC encoded transfer, 5.1 DTS MA sound, deleted scenes, featurettes and other goodies carried over from its prior DVD release. Digital Ultraviolet copies are also on-hand.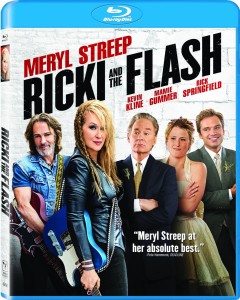 RICKI AND THE FLASH Blu-Ray (**½, 101 mins., 2015, PG-13; Sony): In "Ricki and the Flash," Jonathan Demme directed the newest script from Diablo Cody, who, after winning an Oscar and making a pop-culture smash with "Juno," has seen her fortunes sag since that film's release in 2007. This strange musical-drama offers a change of pace role for Meryl Streep, playing a rocker who left her husband (Kevin Kline) and kids – including their troubled daughter (Streep's real-life daughter Mamie Gummer) – behind to pursue her hard-rocking lifestyle. After being contacted by Kline, Streep's Ricki tries to repair years of domestic dysfunction in a weird movie that feels like a typically tart Cody script interspersed with lengthy musical numbers, offering Streep performing live. It doesn't come together this time for Demme, whose penchant for the offbeat leaves "Ricki"something of a mess, but everyone at least gets an "A" for effort, especially Streep. Sony's Blu-Ray includes format-exclusive special features like deleted scenes, a cast photo gallery and "Rediscovering Rick Springfield" featurettes, a Making Of, 1080p (2.40) transfer, 5.1 DTS MA sound and a digital copy.
JIMMY'S HALL Blu-Ray (109 mins., 2014, R; Sony): Ken Loach's 2014 film is a period drama starring Barry Ward as Jimmy Gralton, a young man with a dream of building a dance hall in Ireland – which he does, until local and religious authorities force it to close. Ten years later, he opts to re-open – regardless of the consequences – in this British/Irish/French production now on Blu-Ray courtesy of Sony. Deleted scenes, a Making Of, and commentary from stars Ward and Simone Kirby comprise the supplemental section, while a fine 1080p (1.85) transfer and 5.1 DTS MA sound make for a solid technical package.
---
NO ESCAPE Blu-Ray Combo Pack (**½, 103 mins., 2015, R; Anchor Bay): Branded "culturally insensitive" by several critics, the Dowdle Brothers' "No Escape" is an effective, disturbing enough tale of an American businessman (Owen Wilson) who brings his wife (Lake Bell) and their two young daughters over to an Asian country that's in the midst of a coup. No sooner does Wilson arrive than the insurgents begin shooting up the masses, particularly Wilson, whose picture adorns a banner at the front of the hotel the family is staying at. Bodies pile up while Wilson and family try to avoid certain execution at the hands of the villains, who are one-dimensional, undeveloped bad guys apparently just looking to cause mayhem after assassinating their homeland's Prime Minister. Pierce Brosnan, meanwhile, gives "No Escape" most of its juice as a British mercenary who weaves in and out of the movie, just enough to give Wilson a helping hand – and to also offer some brief, heavy-handed political commentary about how large American corporations can incite mass genocide.
The Dowdle Brothers' "No Escape" is a tough call in terms of meriting a recommendation to others. It's the kind of film that's meant to exploit every American's nightmare about visiting foreign soil, and in that regard, the film fulfills its intentions effectively, with a compelling pace and believable performances from Wilson and Bell. It's also, though, a very cold and calculated film, which despite its take-no-prisoners tone, is formulaic most of the way, each twist popping up here and there right on time. Brosnan provides some much needed charisma and even some uneasy comic relief to the action, with villains so relentless in their attack but undernourished that they might as well have been zombies, never mind an (apparent) underclass looking to finish off a regime change.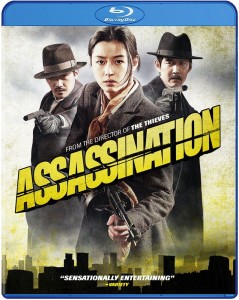 Anchor Bay's Blu-Ray combo pack also includes a DVD, deleted scenes, photo gallery, 1080p (1.85) transfer, 5.1 DTS MA sound, and digital copy.
THE 10TH KINGDOM 15th Anniversary Blu-Ray (aprx. 7½ hours, 1999; Mill Creek): Producer Robert Halmi, Jr. turned out one fantasy mini-series after another back in the '90s, none more ambitious than the lengthy but entertaining "The 10th Kingdom." Mixing classic fairy tales with a revisionist spin and a contemporary story line involving heroine Kimberly Williams, "The 10th Kingdom" was a precursor to the likes of today's now-endless fairy tale fantasies and TV's "Once Upon a Time," with stars Rutger Hauer, Camryn Manheim and Ed O'Neill embodying classic characters with a twist. Nicely remastered in HD this 1080p (1.78) AVC encoded transfer offers a pleasing upgrade on the earlier DVD release, with a Making Of and isolated score of Anne Dudley's music making for a splendid Blu-Ray from Mill Creek.
From Well Go USA: Coming December 1st from Well Go is ASSASSINATION (139 mins., 2015), a period piece set in Japanese-occupied Korea, where a group of exiled rebels plan to execute an Army Commander, but the only marksman for the job is in prison. Choi Dong-Hoon's film comes to Blu-Ray from Well Go featuring DTS MA 5.1 audio (Korean with English subtitles) and a 1080p AVC encoded transfer.
---
ICE SCULPTURE CHRISTMAS DVD
'TIS THE SEASON FOR LOVE DVD (both 86 mins. each, 2015; Cinedigm): A pair of Hallmark Channel yuletide movies are newly available on DVD this week from Cinedigm. In "Ice Sculpture Christmas," Rachel Boston plays a woman who enters an ice sculpting contest and falls for a young entrepreneur (David Alpay). "'Tis the Season For Love" finds Sarah Lancaster as a failed actress who returns to her idyllic (as most towns in Hallmark movies are!) hometown where she meets a magical Santa who enables her to live out her life making a series of different choices. Both films – new to the Hallmark Channel this season – include 16:9 transfers and 5.1 Dolby Digital soundtracks.
TEENAGE MUTANT NINJA TURTLES: REVENGE! DVD (267 mins., 2015; Paramount): The TMNT boys are back as they take on villains Muckman, Mighty Mutanimals and Mongo Gecko in 12 episodes from the third season of Nickelodeon's current, popular animated kids series. Included in the two-disc Paramount DVD package are The Noxious Avenger, Clash of the Mutanimals, Meet Mondo Gecko, The Deadly Venom, Turtles in Time, Tale of the Yokai, Attack of the Mega Shredder!, The Creeping Doom, The Fourfold Tap, Dinosaur Seen in Sewers!, and Annihilation Earth!-Parts 1 and 2. Extra features include a Season 4 sneak-peak and "Mutation of a Scene" extras, 16:9 transfers and 5.1 soundtracks. (Coming December 1st)
INSIDE AMY SCHUMER Season 3 DVD (210 mins., 2015; Paramount): Amy Schumer's acclaimed and award-winning TV sketch comedy series – whose comedy is as varied as its star's often overly raunchy humor – returns to DVD this week with a Season 3 release from Paramount. Extras include a single unaired sketch, outtakes, unaired "Amy Goes Deep" interviews, 16:9 transfers and 5.1 Dolby Digital soundtracks. A digital copy is also included.
NEXT TIME: GHOST STORY! Until then, don't forget to drop in on the official Aisle Seat Message Boards and direct any emails to our email address. Cheers everyone!