A smart, exciting variation on the "Rocky" formula, CREED (***) stars Michael B. Jordan as the illegitimate son of Philly's champion boxer — and Rocky Balboa's chief rival — Apollo Creed. Despite having been sent to the best schools and anchoring a financial job, something continues to eat away at Jordan's "Adonis Johnson", leading him to quit his desk job and head to Philly to train full-time. There, he meets none other than Sylvester Stallone's Rocky, still managing Adrian's restaurant but reluctant to return to the sport on even a managerial level. Eventually, Rocky is worn down after realizing Adonis is indeed the son Apollo never knew he had, and agrees to tutor the talented young Creed, whose brashness is matched by his sheer athleticism — and also inexperience — in the ring.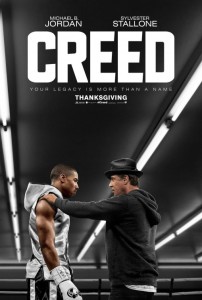 Director Ryan Coogler and his co-writer Andrew Covington take the same blueprint that served Stallone so well for six "Rocky" installments and have applied it to a new film that feels as fresh as it is familiar. Coogler captures the Philly street locales in a way that recalls Stallone and John G. Avildsen's 1976 original classic, while Ludwig Goransson's surprisingly impressive score gives the film a muscular, at times thundering orchestral presence with occasional flourishes of Bill Conti's original "Rocky" themes flowing in and out of the movie. Johnson is strong as the young Creed, Tessa Thompson (from Veronica Mars) is likeable as the requisite love interest, and Phylicia Rashad is perfect, making the most of her scenes as Apollo's widow, who took in a troubled Adonis when he was a teenager. However, it's Stallone himself who steals the show, giving an appealing, nuanced and downright touching performance that has some talking about an unlikely Oscar candidacy in a film he produced but left the writing and directing chores up to others — a smart tactic that's enabled the star to give one of the warmest performances of his career.
"Creed" isn't entirely perfect — its main drawback is that the "Rocky" formula relied so much on the underdog element that it's difficult to position the young, privileged Creed as a kid with all the odds stacked against him like the elder Balboa. Maybe that's part of the point, but because Adonis' journey is more personal and internally driven, it creates a bit of a distance between the viewer and the character that didn't exist with Rocky.
Nevertheless, once Coogler introduces some emotional elements into the film's final third, it's hard not to find yourself rooting for the upstart boxer — and when Conti's majestic theme is brought in after being held back in the shadows, "Creed" delivers the knockout. (133 mins., PG-13)
---
The stylish, beautifully scored, and exceptionally well-photographed adaptation of Peter Straub's sensational novel GHOST STORY (***, 110 mins., 1981, R; Shout Factory) manages to capture just enough of the essence of Straub's novel to make it a recommended view. An instant bestseller, Straub's book was quickly gobbled up, prior to its publication by Universal Pictures, hoping to turn the property into the next high-class studio genre exercise like "The Exorcist" or "The Omen." The result was a flawed but entertaining adaptation of its source, which works best if you distance yourself from Straub's novel and accept it as a standalone cinematic tale of the supernatural, presented by a peerless cast and crew.
Fred Astaire (in his final film), Melvyn Douglas, Douglas Fairbanks, Jr., and John Houseman star as a group of elderly gentleman who gather intermittently to tell ghost stories in a small New England town. When one of their sons (Craig Wasson) returns home, he finds the men being haunted by something resembling a ghostly woman (Alice Krige) he encountered himself while teaching in college, leading to a long-forgotten secret and its subsequent cover-up that has now affected two generations of families in decidedly supernatural ways.
"Ghost Story" was made across the board by a dynamic assemblage of talent: shot by the great Jack Cardiff, scored by Phillipe Sarde (one of the best scores of the '80s), with make-up designed by Dick Smith ("The Exorcist") and a cast of Hollywood greats, Universal had great expectations for "Ghost Story." The movie opened right before Christmas 1981 and made a moderate amount of money, but was instantly dismissed as an inferior simplification of Straub's novel and hampered by post-production cutting, which trimmed elements from the film (detailed in an essential Cinefantastique article that's well worth tracking down, featuring a discussion of the movie's many endings and deleted scenes). The trimming also took its toll on Sarde's score, with one sequence – Houseman's climactic car ride through the snow – featuring music that sounds as if it might have been rescored by another composer (these cues sound stylistically different than Sarde and don't appear on the soundtrack album; a thorough breakdown of Sarde's score can be found, in fact, at this site).
It's true that film misses the grand dramatic feel of Straub's novel, which was a fascinating tapestry of flashbacks, folk tales, and relationships set against the backdrop of a multi-layered supernatural story. Had the film been produced a few years later, it's entirely possible that "Ghost Story" would have been a TV mini-series, a format that would have better suited a more faithful adaptation of its source. In fact, I emailed Mr. Straub back in 1998, and he said that even people involved in the production of the film were left wondering "what happened?" after watching the final cut at a premiere screening. To cite just one example, the Bate brothers – Greg and Fenny – have been reduced to underdeveloped supporting characters who should've been excised altogether based on how little impact they have in the film, and one gets the sense, throughout, that too much of the backstory behind the characters was left on the cutting room floor.
That being said, there's much to savor in "Ghost Story," nearly all of it due to the work of the cast and crew. Cardiff's cinematography, accentuating the use of water as a running motif, is just beautiful, setting the tone with picaresque New England backdrops and a striking use of color, especially in the film's strongest section – the flashback detailing Don Wanderly's relationship with "Alma Mobley." Krige is simultaneously creepy and beautiful as the venegeful spirit, holding her own against four great stars working in the twilight of their respective careers. Sarde's music anchors the picture and gives it a unique tone for a horror film, with an emphasis on melody and a beautiful longing eloquently stated in the movie's main theme – a haunting quality that, perhaps, conveys the themes of the picture more effectively than the movie itself.
"Ghost Story" isn't a great, undiscovered classic, but it's still a movie that's hard to turn off once it begins. Director John Irvin's direction might be more workmanlike than cinematically inspired, yet his handling of the actors and attention to mood and atmosphere result in a better-than-average chiller with a great score and truly haunting cinematography. Given the book's pedigree and the studio's positioning of "Ghost Story" as its major Christmas '81 release, it's still a disappointment – just a well-crafted and very watchable one.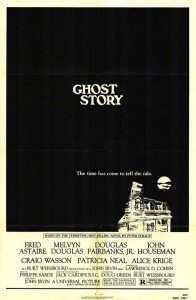 Fans of the film have long desired a new soundtrack of Sarde's beautiful music (we're still waiting!) as well as a Collector's Edition Blu-Ray, which hits stores this week thanks to our friends at Shout! Factory.
Shout's special features are just tremendous, led by a John Irvin commentary that's quite excellent and consistently informative. The director details working with the four legendary actors, most of whom had obvious issues with the extreme cold of the shooting conditions (the picture was filmed in Woodstock, Vermont with the "town" footage originating from Saratoga Springs, NY). Irvin is candid about the film's drawbacks, noting how Wasson was intimidated by the elder statesmen of the ensemble, and how he'd recut portions of the film today. He also praises Philippe Sarde's score – especially its lyricism in relation to other scores in the genre – but notes the Universal music department wasn't happy with his hiring, saying Sarde wasn't part of their "club." Irvin also reveals the logistics involved in creating the movie's revised, re-shot ending (one of many), which features cross-cut footage of Krige – shot in London – with scenes of Wasson, which were reshot in Los Angeles. It's the kind of commentary we don't hear very often these days, and comes as a vital listen for fans of the film.
The commentary is complimented by no less than two hours of on-camera interview featurettes. The best of the batch is a delightful talk with Alice Krige, who also details working with the veteran actors in her first Hollywood film, and a discussion with writer Cohen and producer Burt Weissbourd. Cohen talks about the difficulty in trimming the material to fit the confines of a two-hour film, and also how the film was "punched up" with cheap shock effects following the audience reaction of a Boston test screening, where viewers lamented a lack of scares. This latter element is also discussed by cinematographer Bill Taylor, who worked with visual effects great Albert Whitlock as well as Jack Cardiff on the film's FX. Taylor notes the inserted post-production scares (shot all too obviously against a green screen) played against the more subtle tone of the movie, resulting in a film that's neither "here nor there" and showed that Universal didn't have the courage of their convictions in turning out an old-fashioned ghost story.
The one weak link in the batch is a 40-minute talk with Peter Straub, which offers lengthy passages of Straub reading from his novel. Since Straub isn't nearly as compelling a public speaker as he is a writer, this segment is the least interesting of the batch, and completely discards any criticism the author might have of the film – in fact, just when Straub spends a minute talking about the movie, he notes "we all had high hopes for it"…and then it cuts to black and ends!
Aside from that, and the disappointment of not seeing any of the movie's copious deleted footage – alternate endings that were shot and unused, Dick Smith make-up effects shot and thrown out – Shout's Blu-Ray is as essential as one can imagine in terms of providing a balanced look at the production of the movie. The trailer, TV and radio spots, and a photo gallery are also on-hand, while the 1080p (1.85) AVC encoded transfer is mostly decent, offering some mild DNR (typical of Universal's catalog releases) but a wider color pallet than its prior home video releases. The DTS MA mono sound feels a little constrained but is likely faithful to its source elements.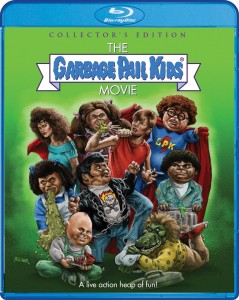 Coming Soon From Shout Factory
THE GARBAGE PAIL KIDS MOVIE Blu-Ray (*, 97 mins., 1987, PG; Shout Factory):: A few years late to the party, Topps Chewing Gum's zany parody of Coleco's "Cabbage Patch Kids" arrived on the silver screen courtesy of the Atlantic Entertainment Group (the folks behind the "Teen Wolf" movies). The resulting film from producer-director Rod Amateu was a barely-released time-waster starring Anthony Newley and young Mackenzie Astin acting opposite a group of freakish puppets from the Chiodo Brothers. Not nearly as amusing as the trading cards themselves, this production was quickly relegated to the scrap heap after a brief theatrical run, though fans may enjoy seeing this curiosity dusted off by Shout Factory as a Collector's Edition. In addition to boasting a 1080p (1.85) AVC encoded transfer and DTS MA mono sound, the disc offers retrospective interviews with make-up effects artist John Carl Buechler, Astin and co-stars Arturo Gil and Kevin Thompson, plus the trailer. (Available December 8)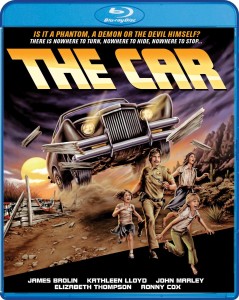 THE CAR Blu-Ray (**½, 97 mins., 1977, PG; Shout Factory): Well-shot, odd and sometimes unintentionally funny 1977 Universal thriller about a killer auto that causes all kinds of trouble for a sleepy southwestern town. James Brolin, Kathleen Lloyd and Ronny Cox are a few of the folks attempting to find out who or what could possibly be driving the title vehicle, while the tech credits – score by Leonard Rosenman and cinematography by Gerard Hirschfeld – are superior than the "Jaws" rip-off deserves. Shout Factory's Blu-Ray looks nifty, presenting a warm 1080p (2.35) AVC encoded transfer with a robust DTS MA stereo soundtrack. Extras include interviews with director Elliot Silverstein and co-stars Melody Thomas Scott and Gerladine Keams, along with the trailer, radio and TV spots. (Available December 15)
BLOOD AND LACE Blu-Ray/DVD (87 mins., 1971, R; Shout Factory): Early '70s horror outing makes its home video debut via Shout's Blu-Ray combo pack. Melody Patterson stars as a teenager sent to a boarding school presided over by the mysterious Mrs. Deere (Gloria Grahame) after her mother is killed by a serial killer. Philip Gilbert helmed this pre-slasher horror co-starring Vic Tayback, Milton Selzer and Len Lesser, one that might be of interest for genre die-hards but is awfully creaky even by the standards of its contemporaries. Shout's Blu-Ray, licensed through MGM, includes commentary from horror authority Richard Harland Smith, an alternate opening title, the trailer, a 1080p (1.78) transfer and DTS MA mono audio.
THE BOLD ONES: THE LAWYERS DVD (aprx. 25 hours, 1973; Shout Factory): Burl Ives starred in this rotation of "The Bold Ones" as attorney Walter Nichols, a veteran lawyer who hires his brothers (Joseph Campanella, James Farentino) to help him with a series of cases – many of which involve the hot-button issues of their era. "The Lawyers" was one of the longest-running portions of "The Bold Ones," comprising 27 episodes and a pair of pilot movies – all of which are included in Shout's eight-disc DVD box-set. Licensed through Universal, the 1.33 transfers are decent and mono soundtracks are included on the audio end.
Coming Up From Shout Factory: WOMENS PRISON MASSACRE (89 mins., 1983, Unrated) is Bruno Mattei's exploitation import starring Laura Gemser as Emanuelle, a reporter sent to prison after nearly breaking a big story. She ends up bonding with the local inmate population that's being humiliated and disgraced, and eventually overpowers the facility's guards in a grizzly, gory affair best recommended for Mattei aficionados. Shout's Blu includes a 1080p transfer and DTS MA mono audio.
---
Coming from Criterion
Robert Redford's 1969 film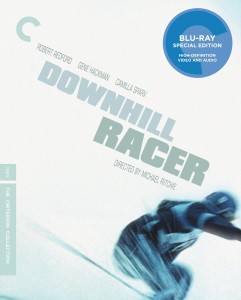 DOWNHILL RACER (***, 101 mins., Criterion) is a film that its admirers have long desired to see on home video, and understandably so: director Michael Ritchie, Redford (who produced the film and came up with its concept), and writer James Salter fashioned a taut, economically-told portrait of a skier named David Cappellet, whose single-minded desire to achieve success on the U.S. ski team fuels his ego-centric behavior.
Atmospherically shot in a pseudo-documentary style on location in Europe — in some of the most renowned Alpine locales in Austria, France and Switzerland — "Downhill Racer" is both a product of its time and a still-relevant commentary on the nature of the modern athlete. As Redford himself discusses in the disc's supplements, winning truly is everything in this country — so much that it can provide an excuse for abhorrent behavior. It's not that Redford's character in "Downhill Racer" is intensely dislikeable (at least not when compared to some of the completely off-putting professional athletes we see today), but he is a cipher whose motives are individualistic and internal. Winning, to him, seems to be the only thing guiding him forward, even though his coach (Gene Hackman) attempts to balance his behavior with his Gold-medal potential talent.
It's an interesting film with fine, early performances from the likes of Redford and Hackman (a young Dabney Coleman also essays one of Redford's fellow team members), not to mention superb cinematography that captures the essence of Alpine skiing circa the late '60s, when live sports coverage was just beginning to affirm its place in the broadcast spectrum and men like David Chappellet were on the cusp of turning into international sports heroes.
Criterion's Blu-Ray of this 1969 Paramount release includes a crisp 1080p (1.85) AVC encoded transfer along with PCM mono sound and a number of extras: 2009 video interviews with Redford, Salter, editor Richard Harris and other members of the production team; audio excerpts from a 1977 AFI seminar with the late Michael Ritchie; a rare promotional featurette entitled "How Fast?"; the trailer; and booklet notes from Variety critic Todd McCarthy.
---
FEAR THE WALKING DEAD Season 1 Blu-Ray (291 mins., 2015; Anchor Bay): The first spin-off from AMC's top rated cable series stars Kim Dickens and Cliff Curtis as the heads of a dysfunctional family just before the zombie apocalypse sets in. More familial in its relationships than its predecessor but filled with as much zombie gore as fans crave, Anchor Bay's Season 1 Blu-Ray offers all six episodes from "Fear"'s first season in an attractive 1080p (1.85) presentation with 5.1 Dolby TrueHD audio and two featurettes.
GOODNIGHT MOMMY Blu-Ray (100 mins., 2015, R; Anchor Bay): Baffling, bizarre Austrian import focuses on a pair of twin boys who believe the bandaged woman who comes to their home isn't their mother, but rather an imposter with sinister desires. Veronika Franz and Severin Fiala's "Goodnight Mommy" played on the indie circuit to mostly positive reviews earlier this year, but while the film sustains a foreboding tone, it turns into a bit of a nasty, sadistic thriller that borrows freely from other genre films, the names of which would spoil the picture's ending. Anchor Bay's Blu-Ray includes an interview with the filmmakers, 1080p (2.39) transfer, and 5.1 DTS MA German soundtrack with English subtitles.
GRACE OF MONACO DVD (103 mins., 2015, Not Rated; Anchor Bay): Much maligned tale of Grace Kelly's relationship with Prince Rainier (Tim Roth), whose marriage is put to the test when France threatens to annex the principality – and Alfred Hitchcock calls to Kelly, offering the lead role in "Marnie." Olivier Dahan's film was kept on the shelves at the Weinstein Company for some time – when it finally emerged, the picture received unanimously poor reviews at various festivals. The Weinsteins re-cut the film to 103 minutes, and it's this version that debuted on the Lifetime network, making it one of the most expensive cable debuts of all-time. Anchor Bay's DVD includes a 16:9 (2.35) transfer and 5.1 Dolby Digital sound.
THE HUNTING GROUND DVD (104 mins., 2015, PG-13; Anchor Bay): Writer-director Kirby Dick's documentary on sexual assault on U.S. college campuses and how often the cases are buried by their respective institutions makes for a timely, compelling view. Anchor Bay's DVD includes additional stories, the "Annie and Andrea Answer Questions" featurette, 16:9 (1.78) transfer and 5.1 Dolby Digital sound.
MOMENTUM Blu-Ray (96 mins., 2015, Not Rated; Anchor Bay): Olga Kurylenko stars in the South African-lensed "Momentum" as an "infiltration expert" who accidentally reveals her identity during a heist and promptly finds herself being pursued by an assassin, his team of killers, and a government conspiracy. James Purefoy co-stars in this workmanlike outing from director Stephen Campanelli, which hits Blu-Ray sporting a 1080p (2.40) transfer, 5.1 Dolby TrueHD audio and a behind the scenes featurette.
---
UNDERCOVER BLUES Blu-Ray (**, 90 mins., 1993, PG-13). THE MOVIE: Kathleen Turner and Dennis Quaid play married spies with a new baby pressed into service to take on an arms dealer (Fiona Shaw) in this box-office flop which MGM tossed into theaters in early September of '93 after spending some time on the shelf. A game cast, which also includes Stanley Tucci, Larry Miller, Tom Arnold and Richard Jenkins, is squandered in a misfired script credited to "Early Edition" TV series creator Ian Abrams and directed by Herbert Ross. The film was apparently a troubled shoot and it results in an uneven and mostly unfunny movie-going experience designed by James Bond vet Ken Adam BLU-RAY BOTTOM LINE: Olive's Blu-Ray includes a perfectly serviceable 1080p (1.85) transfer with DTS MA stereo sound.
SMOOTH TALK Blu-Ray (***, 92 mins., 1985, PG-13). THE MOVIE: Laura Dern gives a bravura performance as a small-town teenager, hoping to break free from the confines of her family life, who meets a slick, conniving con artist (Treat Williams) who's the wrong guy for her to explore her blossoming sexual urges. Joyce Chopra directed this adaptation of a Joyce Carol Oates story with a star-making turn from Dern and support from Mary Kay Place and Elizabeth Berridge. BLU-RAY BOTTOM LINE: The 1985 Goldcrest/American Playhouse production offers a passable, decently detailed 1080p (1.85) transfer and DTS MA mono audio sporting musical direction from James Taylor.
AT FIRST SIGHT Blu-Ray (**, 128 mins., 1999, PG-13). THE MOVIE: Producer Irwin Winkler's uneven output as a director included this overlong, weepy 1999 melodrama starring Val Kilmer as a man who loses his sight and Mira Sorvino as the woman he loves, who helps him through in an adaptation of a story by Olver Sacks, M.D., scripted by Steve Levitt and directed by the long-time producing mogul. Despite offering a strong cast (Nathan Lane, Steven Weber, Bruce Davison appear) and an excellent production team, with a Mark Isham score augmented with a Alan and Marilyn Bergman-penned song from Diana Krall, "At First Sight" didn't find many takers upon its release during the January '99 dumping grounds. BLU-RAY BOTTOM LINE: The MGM licensed 1080p (1.85) transfer and DTS MA stereo audio are both strong in Olive's no-frills high def presentation.
MR. SATURDAY NIGHT Blu-Ray (***, 119 mins., 1992, R). THE MOVIE: Billy Crystal starred in, wrote (with Lowell Ganz and Babaloo Mandel) and directed this commercial misfire as a cantankerous comic whose personality forever gets in the way of his success. David Paymer is terrific as his long-suffering brother/manager, with Julie Warner, Ron Silver and Helen Hunt in support. Generally well received in spite of a not-entirely cohesive script, "Mr. Saturday Night" is worth seeing for its performances and evocation of time and place. BLU-RAY BOTTOM LINE: This Castle Rock Entertainment production boasts an attractive 1080p (1.85) transfer with DTS MA stereo audio, the trailer and DVD commentary carried over for good measure.
---
Warner Archive New Releases
New for the month from the Warner Archive are a pair of welcome Blu-Ray releases: PASSAGE TO MARSEILLE (109 mins., 1944) is a crackling action yarn with Humphrey Bogart reuniting with numerous "Casablanca" personnel for the story of Jean Matrac, the WWII French patriot who escapes Devil's Island and becomes a gunner in the Free French Air Corps. Peter Lorre and Claude Rains co-star in Michael Curtiz's 1944 biopic, sporting a Max Steiner score and plenty of extras on Blu-Ray, thanks to the old "Wanrer Night at the Movies" compilation goodies: a 1944 newsreel, Oscar-winning Patriotic short "I Won't Play," the musical short "Jammin' the Blues,"
classic cartoon "The Weakly Reporter," plus trailers, a featurette, and a studio blooper reel. The B&W AVC encoded transfer (1.37) offers crisp detail and DTS MA mono audio.
DEEP IN MY HEART (132 mins., 1954), meanwhile, was Stanley Donen's lavish MGM musicalization of the life and times of composer Sigmund Romberg, who scored 80 productions from "Maytime" to "The Desert Song." This revue of Romberg's output – and mostly fictionalized take on his life – is backed by a litany of stars, including Walter Pidgeon, Paul Henreid, Rosemary Clooney, Jane Powell, Ann Miller, Howard Keel, Cyd Charisse, Vic Damone, and both Fred and Gene Kelly performing together in a tuneful romp. In addition to a 1080p (1.85) color transfer and DTS MA 5.0 stereo sound, the disc includes the Oscar nominated short "The Strauss Fantasy," classic cartoon "Farm of Tomorrow," a pair of outtake songs and the audio for another deleted number.
Finally, the Rankin-Bass animated adaptation of THE WIND IN THE WILLOWS (95 mins., 1983) sat on the shelf for several years – apparently intended for a theatrical release that never happened. ABC eventually aired the film during the summer of 1987 and it's been seldom seen since, which makes the Archive's DVD release of the picture a particularly welcome one. With Charles Nelson Reilly, Roddy McDowall, Jose Ferrer and Eddie Bracken providing the vocals and Rankin-Bass associates Maury Laws and Jules Bass scoring the songs, including a title track performed by Judy Collins. The Archive's DVD boasts a 1.33 transfer and mono sound.
---
PBS New Releases
New on DVD, UNDISCOVERED HAITI (60 mins., 2015) features chef Jose Andres as he takes viewers on a National Geographic chronicle of the Caribbean island, its geography and food. Luscious photography dominates the PBS hour long special with a 16:9 transfer and 5.1 Dolby Digital sound….ARCTIC GHOST SHIP (60 mins., 2015) uses modern science to uncover the fates of Sir John Franklin's Royal Navy vessels, the Erebus and the Terror, which vanished with barely a trace in 1845 after hunting for the Northwest Passage. Compelling forensic evidence fuels this fascinating documentary that's part of PBS' Nova, presented here on DVD with a 16:9 transfer and 5.1 audio…Another Nova program, DAWN OF HUMANITY (60 mins., 2015), is presented in association with National Geographic and details the discovery of human fossils in a chamber deep in a South African cave. How the bones ended up there is part of an intriguing mystery detailed in this Nova production also sporting a 16:9 transfer and 2.0 stereo sound.
---
Cult movie fans will want to check out Richard Elfman's off-the-wall affair FORBIDDEN ZONE (MVD Visual), the 1980 tale of an underground kingdom overseen by king Herve Villechaize and queen Susan Tyrell. The Kipper Kids, Cab Calloway, Josephine Baker and Danny Elfman – the director's brother, who scored the film – all appear in Elfman's cult movie, which has hit Blu-Ray in a Special Edition from MVD. Commentary with Elfman and co-writer Matthew Bright is on tap plus a behind the scenes doc, video intro from Elfman, outtakes and deleted scenes, booklet notes, and both the original B&W and all-new color versions. MVD's Special Edition Blu-Ray and CD package include a 1080p transfer and a CD soundtrack of the Oingo Bongo musical score – well worth checking out for fans.
New From Lionsgate: A box-office disappointment, the watchably offbeat AMERICAN ULTRA (96 mins., 2015, R) stars Jesse Eisenberg as a virtual refugee slacker from a Kevin Smith film who finds out he's really a product of the CIA and is now being pursued by government hitmen. Kristen Stewart, Topher Grace, Connie Britton, John Leguizamo and Bill Pullman headline a top supporting cast in this intermittently amusing black-comic thriller that plays like a comedic cross between "The Bourne Identity" and "Lucy" but has trouble settling on a consistent tone, and never really develops its premise into a consistently satisfying story, written by Max Landis. Lionsgate's Blu includes a digital copy, two featurettes, gag reel, commentary with director Nina Nourizadeh, 1080p (1.85) transfer and 5.1 DTS MA soundtrack…The late Jim Henson and Jerry Juhl crafted the story that eventually led to JIM HENSON'S TURKEY HOLLOW (90 mins., 2015), a Lifetime original movie starring Mary Steenburgen as a doting aunt to her recently divorced nephew (Jay Harrington) and his two kids – all of whom meet mysterious creatures that live in the nearby Howling Hoodoo. Lionsgate's DVD boasts a digital copy and 16:9 (1.85) transfer plus 2.0 stereo audio, featuring a score by Mick Giacchino "produced by" Michael Giacchino.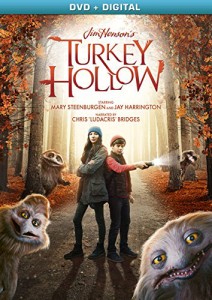 Rafe Spall and Jim Broadbent topline the British import GET SANTA (102 mins., 2014, PG), a Ridley Scott production from writer-director Christopher Smith about a father and son who have to save Christmas after Santa crashes through their garage. Warwick Davis, Ewen Bremner and Stephen Graham co-star in "Get Santa," which includes a 16:9 (2.40) transfer, 5.1 audio, one featurette and a digital copy on Lionsgate's DVD…One of the first Spanish language cartoons to receive a major U.S. theatrical release, HUEVOS (98 mins., 2015) comes to DVD featuring both its PG-13 rated Mexican version as well as an English voiced, PG-rated track, featuring the likes of Jon Heder, Jason Mewes and Keith David. A digital copy is also included in a release dubbed LITTLE ROOSTER'S EGG-CELLENT ADVENTURE, along with a 16:9 transfer and 5.1 audio…Zheng Peipei stars in THE GUARDSMAN (94 mins., 2015, R), a Chinese period adventure about an Emperor who disguises himself in order to understand the problems of his people, but is targeted nevertheless for assassination in the process. Lionsgate's DVD offers a digital copy, 16:9 (1.78) transfer and 5.1 audio in Cantonese or English dubbed….Dustin Nguyen and Scott Adkins team up in ZERO TOLERANCE (90 mins., 2014, R), a Bangkok set thriller making its domestic debut on DVD from Lionsgate. The disc offers a 16:9 (1.78) transfer, 5.1 audio (English) and a digital copy.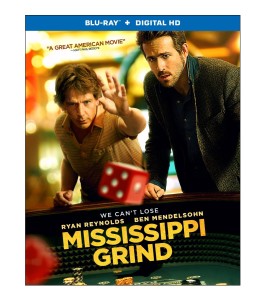 New on Blu-Ray from Lionsgate, Pierce Brosnan stars as a college professor who fathers a child with a much younger woman (Jessica Alba) and eventually falls for her much older sister (Salma Hayek) in SOME KIND OF BEAUTIFUL (100 mins., 2015, R). Tom Vaugan's character comedy includes a 1080p (2.40) transfer, 5.1 DTS MA audio, a featurette and a digital copy in Lionsgate's Blu-Ray…COOTIES (88 mins., 2015, R) features Elijah Wood, Rainn Wilson and Alison Pill as teachers dealing with a zombie apocalypse involving their kid students in a gory affair from directors Jonathan Milott and Cary Murnion, scripted by Leigh Whannell (who co-stars) with Ian Brennan. Some laughs do surface here and there but you need to be a gorehound to really appreciate the picture. Lionsgate's Blu includes deleted scenes, a gag reel, alternate ending, commentary, featurettes, a digital copy, 1080p (2.40) transfer and 5.1 DTS MA sound…AMY (128 mins., 2015, R) is an in-depth documentary about the life and times of the late Amy Winehouse from director Asif Kapadia, editor Chris King and producer James Gay-Rees. A must for Winehouse devotees, "Amy" offers a full slate of special features (deleted scenes, commentary, featurette, trailers, bonus performances), a 1080p (1.85) transfer and 5.1 DTS MA sound…Ryan Reynolds and Ben Mendelsohn roll the dice in MISSISSIPPI GRIND (109 mins., 2015, R) as a gambler and his pal who hit the road for New Orleans, meeting gorgeous women (Sienna Miller, Analeigh Tipton) and getting into trouble along the way. A featurette, digital copy, 1080p (2.40) transfer and 5.1 DTS MA sound comprise Lionsgate's Blu-Ray, now available.
Cinedigm New Release: Luke Goss, Dolph Ludgren, Chuck Liddell and Mickey Rourke topline WAR PIGS (88 mins., 2015, R), a WWII film with Goss playing a disgraced Army captain leading a rag-tag bunch of misfits in a top secret mission to capture a Nazi developed super weapon. Ryan Little's film hits Blu-Ray in a combo pack featuring a DVD, 16:9 transfer and 5.1 DTS MA sound.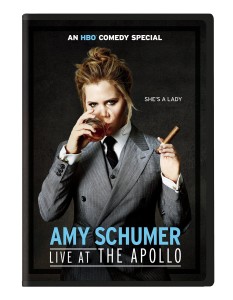 AMY SCHUMER: LIVE AT THE APOLLO DVD (65 mins., 2015; HBO): Uncensored concert performance from the comedienne, recorded live at The Apollo, recently aired on HBO and comes to DVD this week featuring a 16:9 transfer and 2.0 stereo sound. For fans only.
ANGRY BIRDS: STELLA Season 1 DVD (78 mins., 2015; Sony)
ANGRY BIRDS TOONS: Season 2, Volume 1 DVD (36 mins., 2009-15; Sony)
PIGGY TALES: Season 1 DVD (51 mins., 2015; Sony): A trio of standalone DVD releases from, and inspired by, the "Angry Birds" franchise land on disc just in time for the holidays.
"Stella" spins off the popular character into her own series, where the feathered female lives in a previously unseen corner of the Angry Birds universe, Golden Island. The first season of "Stella" includes a handful of featurettes and four bonus episodes plus 16:9 transfers and Dolby Digital sound. "Angry Birds Toons" offers the first half of episodes from the series' first season, plus four bonus shows, "Meet the Character" profiles and three behind the scenes segments, again backed by 16:9 transfers and Dolby Digital sound. Finally, "Piggy Tales" follows the green bouncing characters in clay-styled CGI. A Making Of is included along with four more bonus shows, 16:9 transfers and Dolby Digital soundtracks.
ROGER WATERS: THE WALL Blu-Ray (133 mins., 2015, R; Universal): Co-founder and principal composer of Pink Floyd, Roger Waters' semi-autobiographical tale of his life is fused with the groundbreaking concept album for a multi-tiered "concept film" mixing Pink Floyd's classic music with a look at Waters' own relationships and how they were impacted by war. A Blu-Ray bonus disc includes over 80 minutes of additional footage, along with featurettes, a digital copy, 1080p transfer and Dolby TrueHD 5.1 and uncompressed PCM audio.
NEXT TIME: More of the latest reviews! Until then, don't forget to drop in on the official Aisle Seat Message Boards and direct any emails to our email address. Cheers everyone!