Kino Lorber's Studio Classics Blu-Ray line boasts a number of exciting new releases this December, including a pair of sequels that have flown under the radar since their original release, one of the most acclaimed foreign films from the late 1980s, and a mid '70s American-International cult classic featuring a voluptuous, pre-Wonder Woman Lynda Carter.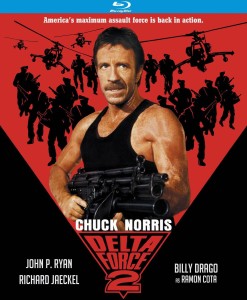 THE DELTA FORCE 2 Blu-Ray (111 mins., 1990, R). THE MOVIE: Chuck Norris is back in this basically in-name-only sequel to the 1986 "Delta Force," which ranked as arguably one of the pinnacle successes in the history of the Cannon Group. Just a few years after that Menahem Golan-directed film was released, Cannon was a shell of its former self, with Golan having left to form his own 21st Century Film Corporation and cousin Yoram Globus working with Christopher Pearce to turn out a number of "American Ninja" sequels and other low-budget fare. This later effort from "Cannon Entertainment" finds the studio on its last legs, bringing back Chuck as Scott McCoy, here tasked with taking on a drug lord, Ramon Cota (played with appropriate relish by Billy Drago), after he wipes out a DEA team. Under the direction of Chuck's brother, Aaron, "Delta Force 2″ feels like a one-off Chuck action movie – and it's not entirely awful under the circumstances, albeit lacking the technical qualities of its predecessor. BLU-RAY BREAKDOWN: Kino's licensed 1080p (1.85) transfer from the MGM vaults offers good detail and a 2.0 DTS MA stereo soundtrack along with the trailer. AISLE SEAT BOTTOM LINE: Known in some pre-release advertising as "Delta Force 2: Operation Stranglehold" and boasting the on-screen title "Delta Force 2: The Colombian Connection," this box-office flop did little but provide a final nail into Cannon's coffin. It's a definite comedown from the first "Delta Force," but for Norris die-hards, there's still some entertainment to be found here, along with a Frederic Talgorn score with an appropriately patriotic, Lee Greenwood-crooned end credits song.
F/X 2 Blu-Ray (108 mins., 1991, PG-13). THE MOVIE: Similar to how "The Delta Force 2″ failed to muster much business for Cannon, this belated follow-up to one of Orion's more notable '80s sleeper hits was likewise received as being too little, too late. Five years after the original "F/X," Orion brought back stars Bryan Brown and Brian Dennehy as special effects designer Rollie Tyler and detective Leo McCarthy, respectively, for a breezy if contrived follow-up. The sequel's script, penned by Bill Condon, finds Rollie working as a gadget designer who's lured back into helping the police capture a serial killer – when it all goes wrong, he has to call on old pal Leo to help him out in a film directed by Aussie cult director Richard Franklin, whose erratic American output included "Psycho II" and "Cloak and Dagger." Brown and Dennehy's chemistry remains the vital ingredient in "F/X 2," which failed to generate the same commercial or critical success as its predecessor, but it's not an unappealing film with a pleasant Lalo Schifrin score and a game supporting cast, including a fresh off "Total Recall" Rachel Ticotin. BLU-RAY BREAKDOWN: A vintage Making Of, trailers, a good looking 1080p (1.85) transfer and 2.0 DTS MA stereo sound adorn Kino Lorber's Blu-Ray. AISLE SEAT BOTTOM LINE: Fans of the original "F/X" should be sufficiently entertained by this workmanlike, formulaic sequel that comes off like a lot of sequels from its era – entertaining enough yet disposable on most levels.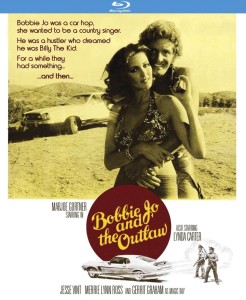 BOBBIE JO AND THE OUTLAW Blu-Ray (89 mins., 1975, R). THE MOVIE: Lynda Carter is the whole show in this 1975 AIP programmer about a fast-talking outlaw (Marjoe Gortner) who crosses paths with an aspiring country singer/drive-in waitress (Carter) and promptly takes her on a spree across the New Mexico landscape. Director Mark L. Lester's filmography is filled with little B-movie gems like "Class of 1984″ and while "Bobbie Jo and the Outlaw" isn't nearly on that level – its uneven tone culminates in a downer ending its freewheeling aspects don't quite mesh with – the prospects of watching the curvy Carter before she donned the Wonder Woman costume is a welcome proposition made all the more appealing by Kino Lorber's Blu-Ray treatment. BLU-RAY BREAKDOWN: Sporting a 1080p (1.85) transfer from the Orion/MGM vaults, "Bobbie Jo" offers a high amount of detail that enhances the movie's warm cinematography. The elements for a movie that hasn't been screened often and was shot on a low budget are, predictably, varied throughout (some nicks and scratches are on-hand), but the HD presentation is nevertheless satisfying. The DTS MA mono sound does what it can with admittedly lo-fi source elements, but the extras are terrific: extended interviews with Lester and co-stars Merrie Lynn Ross (future star of Lester's "Class of 1984″) and Joe Dante company player Belinda Balaski, plus a commentary with Lester and the original trailer are on tap. AISLE SEAT BOTTOM LINE: Carter's charisma and good looks kept me glued to this AIP effort that – despite not being very good – still offers ample amusement for cult movie buffs.
QUEEN OF BLOOD Blu-Ray (78 mins., 1966). THE MOVIE: Grade-C '60s American-International programmer likewise has generated a following among sci-fi/horror devotees for its impressive use of color and footage recycled from a Russian sci-fi picture. Curtis Harrington's pulpy tale of a rescue team sent to Mars to find the remnants of a downed alien ship– and discover a space vampiress who proceeds to knock off our heroes one by one – is colorfully shot and has been designated as an inspiration of sorts on Ridley Scott's later classic "Alien," yet it's difficult to believe that seminal genre masterwork was produced just 13 years after "Queen of Blood," which seems positively prehistoric by comparison. Slow moving and laughably silly at times, with stars John Saxon and Basil Rathbone struggling to maintain straight faces throughout. BLU-RAY BREAKDOWN: Kino Lorber's MGM-licensed 1080p (1.85) transfer looks like a fresh film print dusted off from the AIP archives, marked by fine detail and warm colors. There are expected blemishes in the elements here and there, but the presentation is superb. Insightful extras include conversations with producer Roger Corman and FX veteran Robert Skotak, who discusses the film's historical context in a particularly informative conversation. AISLE SEAT BOTTOM LINE: '60s sci-fi fans with a soft spot for the virtues of "Queen of Blood" ought to be satisfied with both Kino Lorber's supplements as well as its terrific HD transfer.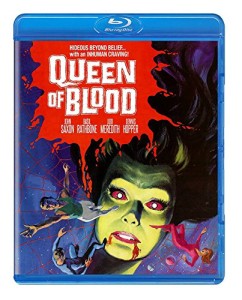 TWICE TOLD TALES Blu-Ray (120 mins., 1963). THE MOVIE: Hoping to piggyback on the popularity of American-International's Edgar Allen Poe chillers, Admiral Pictures and UA lured their big star, Vincent Price, over for this anthology of stories from author Nathaniel Hawthorne. The three tales include "Dr. Heidegger's Experiment," "Rappaccini's Daughter," and "The House of the Seven Gables" – a story which Price appeared in back in a far superior Universal picture in 1945! This version doesn't work nearly as well in its condensed, "horrorized" effort, but the vivid color cinematography serves this early '60s effort well, and "Twice Told Tales" functions sufficiently as a vintage slice of terror from the "Creature Features" era. BLU-RAY BREAKDOWN: What appears to be a recent HD transfer graces Kino Lorber's 1080p (1.66) AVC encode, and it's a good one: the image is so clear that the old-age make-up for Price and co-star Sebastian Cabot is more visible than ever. Extras include the trailer, a Mick Garris "Trailers From Hell" version of same, and a fine commentary from historians Richard Harland Smith and Perry Martin. AISLE SEAT BOTTOM LINE: Not up to its AIP counterparts, "Twice Told Tales" still offers Price in good spirits and Kino Lorber's Blu-Ray includes a robust transfer and enlightening commentary that enhances its source material.
SALAAM BOMBAY! Blu-Ray (113 mins., 1988). THE MOVIE: Mira Nair's debut feature is a still-relevant, still-captivating picture about a young boy growing up in Bombay who has to use all of his wits to survive on the mean streets of the Indian city – but is forced to turn to crime after one of his friends steals his money. Nair's background in documentary film serves her well in "Salaam Bombay!," a movie that remains as fresh and invigorating today as it did upon its initial release. The movie made an immediate impression on American critics including Siskel & Ebert, who designated it as one of the year's best, and launched Nair on a career of mostly Indian-centric, but more mainstream, entertainments. BLU-RAY BREAKDOWN: Commentaries with Nair and cinematographer Sandi Sissel are on-hand plus five documentaries Nair shot in India, an original featurette and the trailer. The 1080p (1.85) transfer is sound, and the DTS MA mono audio is in Hindi with English subtitles. AISLE SEAT BOTTOM LINE: Gritty, believable and heart-wrenching, "Salaam Bombay!" is a perfect addition to Kino Classics' line of Blu-Ray editions and comes highly recommended.
---
It took nearly a trio of "Mission: Impossible" films before star/producer Tom Cruise finally figured out exactly what he wanted to do with his big-screen spin-off of the classic '60s TV series. After a pair of solo-powered, humorless outings from directors Brian DePalma and John Woo, Cruise and producer/director J.J. Abrams had the right idea bringing an actual "team" concept into the series' third installment. That lead to the hugely entertaining Brad Bird outing "Ghost Protocol," and now Cruise has reteamed with his "Jack Reacher" director, Christopher McQuarrie, for the stylish, classy MISSION IMPOSSIBLE: ROGUE NATION (***, 131 mins., 2015, PG-13; Paramount).
Cruise is, of course, back as Ethan Hunt, tailing a mysterious "Syndicate" around the world that he believes is responsible for igniting chaos in various pockets of the globe. His latest pursuit takes him to London, at the same time the IMF team – led by William Brandt (Jeremy Renner) – is being threatened by the director of the CIA (Alec Baldwin) back in Washington. With Hunt's actions taking him off the grid for the time being, he opts to go after the Syndicate and its gravelly-voiced leader (Sean Harris) with a minimum of help from his cohorts (including returning cast members Simon Pegg and Ving Rhames) but with an assist from a covert British agent (the hugely fetching Rebecca Ferguson) whose allegiances are forever in question.
Writer-director McQuarrie, who also penned "The Usual Suspects," has followed the pattern of the series' prior installment, "Ghost Protocol," by offering a number of memorable set-pieces in between playful bits of espionage, including a rousing opening, a dynamic motorcycle chase in Casablanca, and a superb, Hitchcock-esque sequence staged at the Vienna State Opera House during a performance of "Turnadot" (it's regrettably missing one final set-piece that could have put the film completely over the top, seeing as the concluding act is its weakest portion). The editing is fast-moving but the movie isn't frenetic, and while there's surely some special effects enhancement going on, the stunts look and feel real, not augmented with cartoony CGI – the kind that dominated nearly every major film from Summer '15.
Cruise is now an old hand at this kind of thing, but it's fascinating to go back and watch his comparatively tense – and far less relaxed – performances in the early films of this series and see the progression of his character – as well as the gradual evolution of the "Mission: Impossible" movies altogether. This is a series that was criticized in its early installments for being less an adaptation of the old show than a vanity project for its star – but while raking in the box-office receipts (people forget the John Woo-helmed "Mission: Impossible II" was a bona-fide commercial juggernaut), Cruise discovered that playing off an ensemble wasn't just good for his aging appeal, it also injected life and a sense of fun into material that was played far too stoically in those early pictures (the DePalma film, in particular, is nearly devoid of humor).
As a result, "Rogue Nation" feels – in a very good way – like a genuine, modern day updating of the old series. The double-crosses, hissable villains, and team work between its leads is played up perfectly, and Joe Kraemer's confident, brassy score – with ample doses of Lalo Schifrin's original series music – is the best of the series yet.
Its trump card, surprisingly enough, turns out to be Ferguson's heroine – a dynamic, star-making performance that steals the movie away from the rest of its talented cast (not all of whom, Renner and Rhames in particular, have a whole lot to do here). She's as adept at doling out the fisticuffs as the film's leading man, in the most fun I had at the movies last summer.
Paramount's Blu-Ray/DVD combo pack boasts a 1080p (2.40) AVC transfer and Dolby TrueHD/Dolby Atmos audio. Extras include a number of featurettes – mostly fluffy – taking viewers behind the scenes along with a DVD, digital copy, and commentary with Cruise and McQuarrie, who's since signed onto helm the next installment, making him the first repeat director in the series.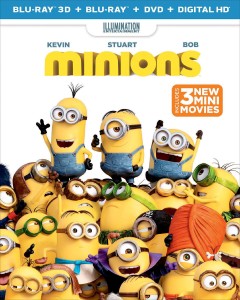 MINIONS 3D Blu-Ray Combo Pack (**½, 91 mins., 2015, PG; Universal): The adorably goofy supporting characters from Universal's "Despicable Me" flicks starred in their own spin-off feature last summer – one that's entertaining to a point, but eventually grows repetitive. Here, producer Chris Meledandri and Illumination Entertainment bring viewers of all ages a look at the origin of the Minion species, dating back to prehistoric times. After this cute opening, "Minions" settles into a routine tale involving Kevin, Stuart and Bob meeting one of their first villainous overlords, Scarlet Overkill (voiced by Sandra Bullock), who desires to take over the British throne. "Minions" has its moments and its colorful energy should satisfy young kids, but the movie becomes tiresome in its mid-section and runs out of gas before the finish line. Universal's 3D Blu-Ray combo pack includes an attractive 1080p (1.85) transfer, Dolby TrueHD/Atmos audio, three Minions "mini movies," a standard 2D Blu-Ray with a deleted scene and "Jingle Bells Minion Style" segment, HD digital copy and DVD.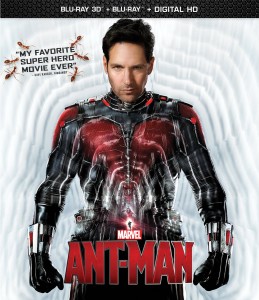 ANT-MAN 3D Combo Pack (***, 117 mins., 2015, PG-13; Marvel/Disney): One of the more minor Marvel heroes – relegated to supporting status in the Avengers comics I grew up with in the '80s – faced a rocky road to the screen. First, Edgar Wright and Joe Cornish's original script was met with resistance from Marvel and Disney executives, leading to Wright departing from the director's chair and a series of filmmakers (including Will Ferrell's pal Adam McKay) brought in as "fix-it" guys. The finished "Ant-Man" exhibits a little bit of those pre-production woes, but also a surprising amount of invention as director Peyton Reed ("Bring It On") focuses on an upbeat origin tale of a single-dad ex-con (Paul Rudd) inheriting the mantle of Ant-Man from inventor Hank Pym (Michael Douglas), who was trying to keep his miniaturization powers away from the likes of a war-hungry exec at his own company (Cory Stoll), who ousted Hank and coveted the Ant-Man tech for his own nefarious means.
Rudd utilizes his laid back charm to good effect in "Ant-Man," and Evangeline Lilly is terrific as Pym's daughter, Hope, in one of the better Marvel "origin" films, despite its uneven attributes (is it a super-hero movie? comedy? heist-thriller?) stemming from too many cooks in the developmental kitchen. Disney's impressive 3D Blu-Ray Combo Pack boasts a technically superior 1080p (1.85) transfer with 7.1 DTS MA audio, deleted scenes, a few fluffy featurettes, commentary from Reed and Rudd (who's credited with co-writing the final script with McKay, Wright and Cornish), a standard Blu-Ray and digital HD copy.
---
JERUSALEM 3-D Blu-Ray (43 mins., 2013; Filmbuff/MPI): National Geographic produced this exquisitely shot IMAX look at the Holy Land, with archaeologist Dr. Jodi Magness taking viewers through ancient ruins and tunnels to show links to Jewish, Christian and Muslim faiths. The accent is on the cinematography with an appropriately majestic score by Michael Brook, and Filmbuff's 3D Blu-Ray is the most effective format to savor the production's strengths outside of an IMAX theater. Extras include commentary with director Daniel Ferguson, another commentary with Magness, a Making Of, deleted scenes, interviews, additional featurettes and 5.1 Dolby Digital sound.
Wolfe Video New Releases: Mawdahla Rose and Brett Rogers star in Louise Wadley's ALL ABOUT E (93 mins., 2015), an Aussie crime drama with a lesbian twist. Wolfe's DVD includes a featurette with the stars and Wadley; the trailer; a 16:9 transfer and 5.1 sound..THE GIRL KING (102 mins., 2015) offers Mika Kaurismaki's English-language portrait of Queen Kristina of Sweden, the "Girl King" who remains a controversial figure in Swedish history. The 102-minute feature is now available on DVD featuring a trailer, 16:9 transfer and 5.1 Dolby Digital sound.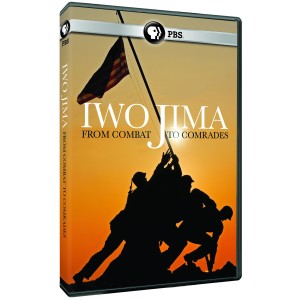 PBS New Releases: IWO JIMA: FROM COMBAT TO COMRADES (60 mins., 2015) arrives on DVD this week, providing a fascinating portrait of survivors from both sides coming together for a return pilgrimage where the 1945 battle took place. Arnold Shapiro Productions presented this internationally produced documentary hosted by Ryan Phillippe, with PBS' DVD sporting a 16:9 transfer and stereo soundtrack…ALTHEA: AMERICAN MASTERS (90 mins., 2015) offers a compelling and tremendous look at the life and times of Althea Gibson, who rose from the rough streets of Harlem to become one of the champions of women's tennis during the 1950s. Her unwilling participation in the public eye of the Civil Rights movement is also profiled in this excellent effort from director Rex Miller, captured in a feature-length American Masters chronicle. Now on DVD with a 16:9 transfer and 5.1 Dolby Digital sound…PETS: WILD AT HEART (120 mins., 2015) is a two-part look at the special attributes our pet friends exhibit based on their innate wildness. Episode 1 looks at "Playful Creatures" with "Secretive Creatures" comprising the second half of the two-hour Nature special. Warmly recommended for pet owners everywhere…Ric Burns' THE PILGRIMS (120 mins.) is the new, superlative American Experience documentary on the Mayflower voyages, interspersing narration and commentary with dramatic re-enactments from Roger Rees as William Bradford. Deleted scenes and interviews are included in PBS' DVD along with a 16:9 transfer and 5.1 Dolby Digital sound.
DESERT DANCER DVD (94 mins., 2015, PG-13; Fox): Relativity Media imported this Richard Raymond film about internationally renowned dancer Afshi Ghaffarian (Reece Ritchie), set against the backdrop of Iran's 2009 presidential election, when dancing in the country was forbidden. Freida Pinto co-stars in the internationally funded co-production, now on DVD from Fox. In addition to a 16:9 (2.39) transfer and 5.1 audio, the disc includes three behind-the-scenes featurettes.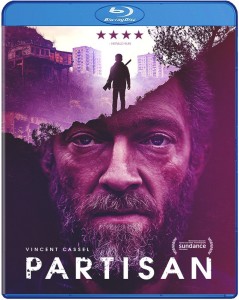 KNOCK KNOCK Blu-Ray (100 mis., 2015, R; Lionsgate): Another unsatisfying effort from exploitation purveyor Eli Roth stars Keanu Reeves as a family man who opens his door on a rainy night to a pair of nubile young women (Lorenza Izzo, Aa De Armas) with more on their mind than just needing help. Roth's in-your-face paean to marital infidelity and the dangers of social media results in a blisteringly over-the-top thriller that mixes shocks with what it thinks are laughs – the end result is a narcissistic and sleazy film that's not worth answering the door for. Lionsgate's Blu includes commentary from Roth, co-writer Nicolas Lopez and actress Colleen Camp (who's had one of the all-time weirdest careers of any actress!); deleted scenes; a Making Of; stills gallery; Ultraviolet copy; 1080p (2.40) transfer and 5.1 DTS MA sound.
DORA AND FRIENDS: Season 1 DVD (456 mins., 2014-15; Paramount): Graduating from "Dora the Explorer" to this new series, Dora and her friends save lost puppies, horses and even dragons in this Nickelodeon animated series aimed at a slightly older kid audience than its popular predecessor. This four-disc Nickelodeon package boasts 16:9 transfers and 5.1 English and Spanish audio (making it a useful tool for bilingual education) across all 18 Season 1 episodes, including two double-length specials.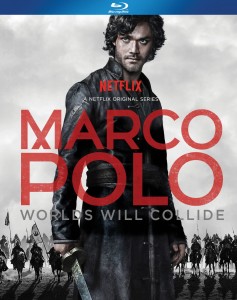 MARCO POLO: Season 1 Blu-Ray (547 mins., 2015; Anchor Bay): The explorer's 13th century exploits in the Far East are the subject of this Netflix original series, which stars Italian actor Lorenzo Richelmy as a young iteration of the title character. His sparring with Kublai Khan (Benedict Wong) turns out to be more interesting than some of his adventures in the good-looking but – from what I sampled – slow-going Netflix production, which Anchor Bay brings to Blu-Ray this month. The multi-disc set includes 1080p transfers and 5.1 DTS MA soundtracks for "Marco"'s first seasom, along with over an hour of bonus features (deleted scenes, costume galleries, documentaries, and interviews).
PARTISAN Blu-Ray (98 mins., 2015; Well Go USA): Slow-moving, disturbing thriller about an 11-year-old tutored by his "father" (Vincent Cassel) to be an assassin receives a Blu release from Well Go this month. This strange Australian picture has its share of shock moments because of the pre-teen leads, but it's not a particularly enjoyable experience to sit through. Well Go's Blu-Ray includes interviews, the trailer, a 1080p transfer and 5.1 DTS MA sound.
I HOPE YOU DANCE DVD (96 mins., 2015; Virgil Films): Documentary from writer-director John Scheinfeld weaves together true stories influenced by the oft-heard Lee Ann Womack hit song "I Hope You Dance," including motivational tales of individuals striving to overcome adverse situations. Pastor Joel Osteen, Brian Wilson, the late Dr. Maya Angelou and Womack herself appear throughout in an uplifting examination of how music can still touch the soul. Virgil's DVD includes a 16:9 transfer and 5.1 sound.
NEXT TIME: Shout December chillers including NIGHTMARES and more! Until then, don't forget to drop in on the official Aisle Seat Message Boards and direct any emails to our email address. Cheers everyone!