Physical media might be – as the media keeps reminding us – on the downswing but there are still loads of great new releases across both the Blu-Ray and DVD formats to appease any movie buff this holiday season. Here's a quick guide to both newly-released titles and yuletide-centric offerings for the casual viewer and genre-specific aficionado.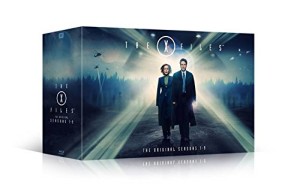 For Fans of Box Sets: You would be hard pressed to find a more definitive or attractive release this year than Fox's massive THE X-FILES: THE COLLECTOR'S SET, a Blu-Ray anthology boasting all nine seasons of Chris Carter's cult favorite TV series. Timed perfectly to coincide with next month's limited-run Fox TV mini-series – one that will reunite Carter with stars David Duchovny and Gillian Anderson – the set includes brilliantly remastered 1080p AVC encoded transfers which are crisper than anything you've seen on Syfy or via syndicated reruns, plus DTS MA soundtracks and numerous extras.
Speaking of extras, the set includes not just all nine seasons (in their own attractive cases, which are also available separately) in sturdy, slide-out packaging, but supplements that range from commentary on selected episodes by Carter, cast and fellow crew members to deleted scenes; special effects sequences; "The Truth About.." featurettes; "Threads of Mythology" documentaries that detail the specific long-running arcs from the show; character profiles; "Making of the Truth" and "Reflections on The Truth" featurettes; interviews with Carter; and a 2008 WonderCon panel. A must for X-Files fanatics and an easy candidate for Best of 2015. In fact it may be the top for its total package!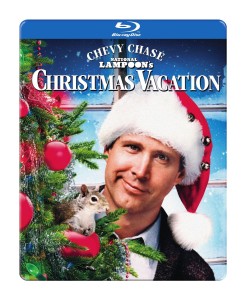 For the Holiday Movie Fan: John Hughes wrote and produced no less than three holiday-themed pictures that have become yuletide perennials: "Planes, Trains and Automobiles" (1987), "Home Alone" (1990) and 1989's NATIONAL LAMPOON'S CHRISTMAS VACATION (97 mins., PG-13).
The third entry in the "Vacation" series would be the only one that Hughes himself produced and had creative control over – a significant attribute that's clearly apparent throughout the hilarious holiday misadventures of Clark (Chevy Chase) and Ellen (Beverly D'Angelo) as they attempt to serve up a Christmas feast for their respective clans. Brilliantly cast with character actors (E.G. Marshall, Doris Roberts, John Randolph, Diane Ladd) as the grandparents, memorable supporting roles for Julia Louis-Dreyfus and Nicholas Guest as the Griswolds' yuppie neighbors, the return of Randy Quaid as Cousin Eddy, and the best Rusty (future "Big Bang Theory" star Johnny Galecki) and Audrey (Juliette Lewis) of the entire series, "Christmas Vacation" remains an absolute classic. Most of it is due to Hughes' sensibilities, which inject an honest amount of heart into the material – just enough sentiment that the movie builds up an effective amount of emotion as Clark's well-intentioned efforts at providing the "perfect Christmas" go up in smoke. Chase, himself, is pitch perfect here, playing a smarter Clark who's not as much of a buffoon as he was portrayed in the earlier "Vacation" pictures, in material that's surprisingly richly observed and hilarious throughout.
Warner's Steelbook-packaged Blu-Ray is newly available this holiday season (a belated 25th Anniversary release – or, more like a 26th Anniversary Edition) and includes a much-improved AVC encoded 1080p (1.85) transfer over the studio's previous, MPEG-2 encoded Blu-Ray release. The colors and details are warmer and crisper than the earlier Blu-Ray, while DTS MA 2.0 audio supplants the lossy Dolby Digital track from its predecessor. Extras include a trailer and commentary with the cast, director Jeremiah S. Chechik and producer Matty Simmons, and a digital Ultraviolet HD copy.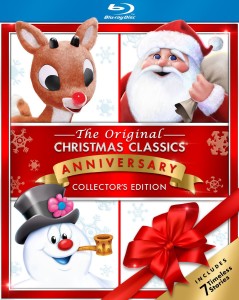 For Nostalgic Adults (and Kids Too!): THE ORIGINAL CHRISTMAS CLASSICS: ANNIVERSARY COLLECTOR'S EDITION has been released on Blu-Ray before, but returns this year in an affordable new box from Classic Media, which has since been bought out by Dreamworks.
The two-disc set includes Rankin/Bass classics Rudolph the Red-Nosed Reindeer, Santa Claus is Coming to Town, and Frosty the Snowman, all in AVC encoded 1080p (4:3) transfers and DTS MA audio (the prior release contained Dolby TrueHD audio tracks). Included alongside are Mr. Magoo's Christmas Carol and a pair of supporting specials: The Little Drummer Boy and Frosty Returns, which are presented here in genuine AVC encoded HD transfers for the first time (the older box-set offered these half-hour network specials in standard-definition only). Also included is the Danny Thomas/Rankin-Bass co-production "Cricket on the Hearth," which is standard-def only, plus a number of new special features with Dreamworks animators showing kids how to draw and various sing-alongs.
In all, this is the finest set yet featuring these oft-released specials, though "Mr. Magoo" fans might want to stick to the prior box-set or its standalone Blu-Ray, which offered audio commentary and other special features that were, regrettably, not retained here.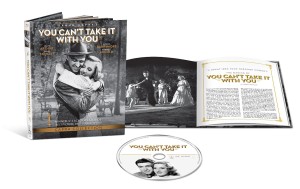 For Golden Age Fans: Sony's Blu-Ray Digibook presentation of YOU CAN'T TAKE IT WITH YOU (125 mins., 1938) ranks as one of the year's top Golden Age Blu-Rays. Fully restored and mastered in 4K, this dynamite 1080p B&W transfer is crisp and satisfying, adding detail to Frank Capra's adaptation of the George S. Kaufman-Moss Hart play. Jean Arthur stars as Alice Sycamore, the sole normal member of an eccentric clan who falls for the son (James Stewart) of a wealthy family. Lionel Barrymore and Edward Arnold co-star in this funny, delightful film that's breezy and thoroughly entertaining. Sony's Digibook offers commentary from Frank Capr, Jr. and Caterine Kellison; a featurette with Capra, Jr. discussing the film; DTS MA mono sound; and the original trailer.
For Musical Lovers: The Warner Archive has rolled out three vintage musicals on DVD for the first time this month.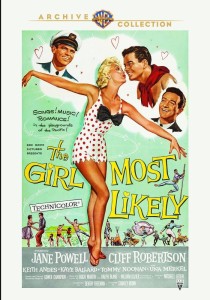 Lana Turner and Fernando Lamas croon their way through THE MERRY WIDOW (106 mins., 1952), the third of three adaptations of Franz Lehar's 1905 operetta (previously brought to the screen in a 1925 silent and Ernst Lubitsch's 1934 classic). The color transfer is 4:3 framed and looks nifty. Another MGM entry from 1952, EVERYTHING I HAVE IS YOURS (92 mins.) stars dancing greats Marge and Gower Champion as a married Broadway couple whose baby gets in the way of their careers. New songs written by Johnny Mercer, Johnny Green and Saul Chaplin are on-hand along with the title tune and Warner's Archive DVD includes a 4:3 transfer with mono audio. Finally, THE GIRL MOST LIKELY (98 mins., 1957) was literally the final film to roll out from the great RKO Radio Pictures – a musical starring Jane Powell as a woman who can't choose between three prospective fiancees (Cliff Robertson, Keith Ands and Tommy Noonan). Gower Champion choreographed this entertaining outing with songs from Hugh Martin and Ralph Blaine. The Archive's DVD features a 16:9 (1.78) transfer with mono sound.
For the History Buff: Lionsgate and A&E bring viewers no less than three different, extensive DVD anthologies of History Channel content this December.
BIBLE COLLECTION is a mammoth 16 disc set including Bible Stories from the Old Testament; Christianity: The First Two Thousand Years; Banned From the Bible I; Banned From the Bible II; Mysteries of the Bible: The Bible's Greatest Heroes; Bible Secrets Revealed; Mysteries of the Bible; Mary of Nazareth; Jesus: His Life; The Execution of Jesus and God Vs. Satan: The Final Battle. HISTORY: GIFT SET boasts 16 discs of terrific History content, much of it previously reviewed at The Aisle Seat (check the Archives for individual reviews), including The Men Who Built America; America: The Story of Us; Mankind: The Story of All of Us; The World Wars; WWII in HD – Collector's Edition; and Vietnam in HD. WAR features 17 DVDs related to specific conflicts on the battlefront through the decades, from The Revolution to Battlefield Detectives: The War of 1817, The Mexican-American War, Civil War Double Feature, The Spanish-American War: First Intervention, 100 Years of WWI, 75 Years of WWII, The Korean War: Fire and Ice, The Vietnam War, and Vietnam in HD.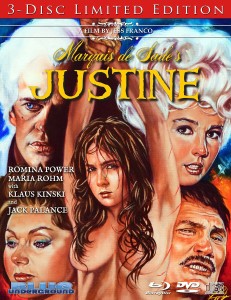 For the Reality Fan: DUCK DYNASTY Seasons 1-8 is also new from Lionsgate including all 89 episodes from the A&E reality series' first eight seasons plus over 2½ hours of bonus features. Check the Column Archive/search page for individual reviews of the specific seasons.
For the Jess Franco Aficionado: Two different Jess Franco pictures, based on works of the Marquis de Sade, comprise Blue Underground's final Blu-Ray releases of 2015. EUGENIE (87 mins., 1970) boasts the lovely Marie Lijedahl as a young woman who becomes initiated into a sadomasochistic island paradise overseen by "Dolamnce" (Christopher Lee, who claims he had no idea about the film's sex and violence before signing onto the script). JUSTINE (124 mins., 1969) stars Romina Power as a French virgin who leaves an orphanage and falls into a world of prostitution and Jack Palance as a sadistic monk! Both films are certainly for Franco devotees only, but if you're one of them, Blue Underground's 4K mastered transfers are AVC encoded 1080p (1.66 on "Justine," 2.35 on "Eugenie") presentations with clear color and detail, DTS MA English audio (featuring scores by Bruno Nicolai), interviews with Franco and producer Harry Alan Towers on both films, Marie Lijedahl and Christopher Lee on "Eugenie," trailers, collectible booklets, other goodies and soundtrack CDs in each!
---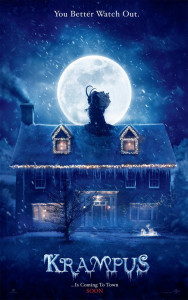 In Theaters
KRAMPUS (**, PG-13): Bryan Singer collaborator Michael Doughtery was previously responsible for the playful Halloween anthology "Trick 'R Treat," and tries to provide for Christmas a similar genre concoction with this Legendary/Universal horror-comedy about a dysfunctional family attacked by the sinister "shadow" of St. Nicholas during one freaky holiday season.
Filled with vivid imagery, "Krampus" introduces us to a bickering family – led by harried parents Adam Scott and Toni Collette – whose well-meaning son (Emjay Anthony) just wants everyone to get along again. After promptly ripping up his wish list to the North Pole, the fam – along with gun-toting uncle David Koechner, aunt Allison Tolman and their kids – is besieged by elves, gingerbread men, creepy clowns and "Krampus" himself, who leaps from one snowbound home to another, delivering his own, sinister brand of yuletide cheer.
"Krampus" would clearly like to be a holiday-themed horror movie with comedy elements a la "Gremlins," but the problem is how much of Dougherty's punchy visuals are undercut by his leaden, weak screenplay (written with Todd Casey and Zach Shields). Despite providing homages to seemingly dozens of films (as varied as "Home Alone" and "Legend"), the film's not nearly funny or witty enough, nor develops its various characters beyond basic stereotypes (the too-busy parents; drunken aunt; obnoxious cousins), to click, leaving the creatures and FX – most, though not all of them of the practical variety – to save the day. Yet, even here, the opportunity to create a developed set of rules involving Krampus, his powers, his motivations, and his various minions goes by the wayside, with Doughtery slinging one creature at the viewer after another with little to no explanation for any of the mayhem.
The movie ultimately ends up being more disturbing than scary as it veers from portraying its weakly articulated characters as frenetically unlikeable to increasingly sympathetic. A few individual sequences do work – namely, the family's teen daughter being pursued by Krampus in the snow, as well as an animated sequence involving the Grandmother (Krista Stadler) who knows more than she's letting on – but the ending leaves a sour taste as pungent as a lump of coal in your Christmas stocking.
NEXT TIME: Shout December chillers including NIGHTMARES and more! Until then, don't forget to drop in on the official Aisle Seat Message Boards and direct any emails to our email address. Cheers everyone!