Fueled by fan interest and the resurgence of sequels/prequels/remakes/reboots, STAR WARS: THE FORCE AWAKENS smashed every box-office record this weekend in theaters around the world, making Disney's $4 billion purchase of George Lucas' company and all of its properties look like a bargain – especially when you factor in the millions its sequels and spin-offs (apparently coming at us on an annual basis now) are sure to generate.
As a film, "Episode VII: The Force Awakens" is a corporate product, no way around it – it's content to recycle George Lucas' own vision, and comes from a place borne not out of cinematic inspiration but rather the beginning of its new owner making good on its purchase of Lucasfilm. The good news – at least for Episode VII – is that Disney placed the film in the capable hands of producer Kathleen Kennedy, the new head of Lucasfilm (which will presumably be kept around as a brand name), who recruited writer Lawrence Kasdan to work with director J.J. Abrams in fashioning this first part of a new trilogy of "Star Wars" films.
The result is, at its best, an exhilarating adventure – a space fantasy that hits nearly all the right notes as it introduces audiences to a mostly-new set of characters on a journey that takes them on a virtual "Greatest Hits" parade of the first "Star Wars" (and, to a lesser extent, "The Empire Strikes Back").
Abrams, Kasdan and Michael Arndt's screenplay – of which I will provide just a basic outline – finds a young woman, Rey (Daisy Ridley), on a desert planet named Jakku scavenging out of the remnants of the Imperial Feet. Rey is waiting for her family to come back to retrieve her when she meets BB-8, a droid belonging to the Resistance, a Rebel-like alliance that's out to stop the First Order – a veritable resurrection of the Empire, presided over by Kylo Ren (Adam Driver), a young villain with a Darth Vader complex and Force powers that he's only beginning to control.
Rey's adventure entails returning BB-8 to its rightful owners – who need the small robot's information on the whereabouts of legendary Jedi master Luke Skywalker, who's gone missing – with the help of a Stormtrooper (John Boyega) with a conscience who's left the First Order and none other than Han Solo (Harrison Ford) and Chewbacca, who join their quest to restore balance to the galaxy.
If the plot for "The Force Awakens" sounds familiar, that's because it is. More than familiar, in fact: much of the movie not only hits the same beats as Lucas' original 1977 "Star Wars," its plot structure is at times too "repackaged" for its own good – substituting characters here and there but placing them in the same, general vicinity of its predecessor's narrative structure (so much that you wonder why Lucas didn't receive a screenplay credit, never mind a "Based on Characters Created By" tag).
That said – and despite the feeling one might have afterwards about how "regurgitated" subsequent films will be – "The Force Awakens" is, on its own terms, a dynamite entertainment and a return to the upbeat escapism of the three films it immediately follows. It's exciting, funny, visually spectacular and leaves the viewer wanting more.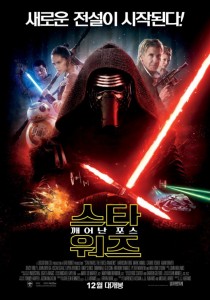 Much of the reason for the picture's success is because of its cast: Ridley is a compelling, welcome presence as Rey, with Boyega infusing energy and Oscar Isaac a charismatic standout in his scenes as ace rebel fighter Poe Dameron. One wishes the screenplay offered enough room for the movie to breathe and give this triangle more time together (as Mark Hamill, Harrison Ford and Carrie Fisher had), but it's a good start at least, and all three of their enthusiastic performances strike the right note for the material. Certainly they can hold their own with the original cast members who do appear – some in a much larger capacity than others. Again, without revealing all of the film's plot elements (which were clearly held back as a surprise), Ford is a delight as Han, though it's interesting to see how tightly all of Carrie Fisher's scenes are edited. Even conversations her now-General Leia has with other characters seem to have been massaged, significantly, in the editing room.
Adam Driver's casting is an interesting experiment, though the fact he doesn't physically resemble either of the cast members his Kylo Renn is related to is a bit of a shortcoming. Still, Renn's evolving-persona is more interesting than one of the movie's bigger letdowns: an all-CGI bad guy articulated by Andy Serkis that looks like something out of the prequels (or "Lord of the Rings") and isn't particularly interesting from a visceral or story angle.
Technically, the film just clicks. Abrams is on his best behavior here, not just paying homage to Lucas but recreating the entire "lived in" universe that was first established in 1977. Far more than any of Lucas' much-maligned (sometimes unfairly) prequels, "The Force Awakens" looks like the original trilogy of "Star Wars" films, utilizing real locations (Scotland, Iceland, Ireland, the UAE) as a basis for the film's worlds and stressing physical production design over CGI whenever possible. Deserts filled with the remnants of the evil Empire, cantinas with a new assortment of oddball creatures (one of which is effectively performed, albeit in CGI form, by Oscar winner Lupita Nyong'o), lightsaber battles in a snowy forest – Abrams has absolutely tapped into what made viewers fall in love with "Star Wars" to begin with. Along with Abrams, cinematographer Dan Mindel and production designers Rick Carter and Darren Gilford should be commended for their artistry, which results in a sumptuous looking picture.
There does come a point in "The Force Awakens" when the film's constantly-moving motion – along with some clunky storytelling – weighs the film down just a bit. This frenetic pacing ends up being a thorn in the side of John Williams' score, which lacks the thematic quality that distinguished all of the movie's predecessors. While it's always welcome to hear Williams' original, legendary themes again, there is a dearth of memorable thematic material here, and the fact that Abrams gives Williams – and the viewer – so little chance to catch their breath does wear one down. The movie's cross-cutting climax, meanwhile, lacks the editorial spark that Lucas was always adept at, with an X-wing assault having none of the punch of the Death Star attack of Episode IV.
Yet the disappointments are minimal compared to the overriding pleasures the movie provides. In a neverending stream of recycled material Hollywood is content to provide to the masses nowadays, "The Force Awakens" is one of the most purely enjoyable cinematic experiences of recent years. So long as Disney has quality writers and directors involved with the countless franchise installments they have lined up – and they move away from merely rehashing the past – The Force will hopefully be with them for some time to come. (***½, 132 mins., PG-13).
---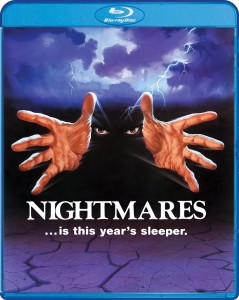 Shout New Releases
Shot as a pilot for NBC in 1983, NIGHTMARES (**½, 99 mins., R) is an entertaining Universal horror anthology that can't quite shake its TV origins, despite its unearned R rating. Veteran TV director Joseph Sargent's film offers four suspenseful tales: the first features Cristina Raines as a housewife who heads out for a pack of smokes with a serial killer lurking about. The second stars Emilio Estevez as a video game player who hustles his way into a game, "The Bishop of Battle," that literally comes to life. The next segment finds Lance Henriksen's defrocked priest doing battle with a demonic terror on the roads, while couple Veronica Cartwight and Richard Masur need more than an exterminator to take on a rodent infestation in their home in the finale.
Christopher Crowe wrote the first three segments with Jeffrey Bloom authoring the final episode – all but one of them, surprisingly, have happy endings, something that distinguishes "Nightmares" from a typical "Twilight Zone" or "Tales From the Crypt" outing. It's not particularly scary, and the final segment is let down by some shoddy effects work, but there's something undeniably fun – especially if you're familiar with Universal's film or TV work from the era – about it.
Certainly one can understand why "Nightmares" developed a cult following since its theatrical run in September of '83, where the film only grossed a minor amount at the box-office (one of the champions from moving the property from the small screen to the multiplex was none other than Sid Sheinberg). With prices for the movie's out-of-print DVD spiraling out of control, Shout Factory was wise to pick up the film for a Blu-Ray release, debuting in stores this week.
A commentary with producer Andrew Mirsch and Cristina Raines is especially insightful – for years, many believed that "Nightmares" was comprised of unaired episodes from Universal's prior TV horror anthology "The Darkroom,"and Mirsch is able to set the record straight early and often about the movie's true genesis. The trailer is also on-hand, sporting Percy Rodriguez's unmistakable tone.
The sole strange aspect was Shout's decision to release the film here in two different aspect ratios. Shot for 1.33, the movie was matted for theatrical exhibition and the central 1080p (1.78) widescreen transfer offers decent detail. Shout has also included a 1.33 version, which might have made sense if the transfer was unmatted – instead, this 1.33 full-screen version adds nothing to the top and bottom of the image while, instead, cutting off the right and left hand sides. I can't imagine this is how the film was originally shot, nor can I see any reason for viewers to prefer it over the 1.78 image presented here. The DTS MA mono sound is functional, sporting a Craig Safan score that might have a little bit of his discarded "Wolfen" score contained within it.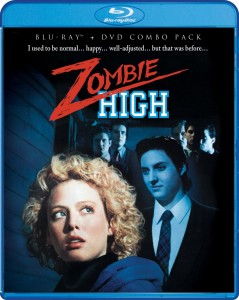 Boasting what sounds like a can't miss premise – a co-ed (Virginia Madsen) finds out her boarding school is being taken over by automatons – the 1987 genre outing ZOMBIE HIGH (91 mins., R) is, in reality, a disappointing and tedious affair. This Elliott Kastner production didn't receive much theatrical play and fails to support Madsen and a solid supporting cast – including a pre-"Twin Peaks" Sherilyn Fenn and future "Bridesmaids" director Paul Feig – with much in the way of entertainment, never mind "real" zombies (this is pretty much an "evil robot" picture). For those nostalgic for the film, Shout's Blu-Ray/DVD combo boasts a 1080p (1.85) transfer and DTS MA mono sound.
Donald Cammell's WHITE OF THE EYE (111 mins., 1986, R) is an unusual film and particularly an eclectic choice for Scream Factory, whose core audience may not find Cammell's offbeat film all that satisfying. A British production filmed in Arizona, Cathy Moriarty plays a housewife whose husband (David Keith) may be a suspect in a series of brutal killings of young women; Art J. Evans is the cop assigned to the case, but "White of the Eye" does not take the form of a typical slasher outing. In fact, the moody and slow-going film feels out of place with Scream's usual genre fare, and comes recommended only for Cammell's fans. Shout's Blu-Ray does boast a superb hi-def (1.85) transfer, commentary with Cammell biographer Sam Umland, deleted scenes with commentary, an interview with Steadicam operator Larry McConkey, an alternate credit sequence, a DTS MA 2.0 soundtrack and a DVD copy.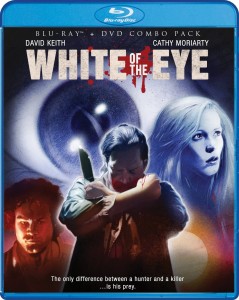 Two more releases from Charles Band's Empire Pictures have been coupled on a single Blu-Ray platter. THE DUNGEONMASTER (77 mins., 1983, Unrated) is a silly tale of a computer engineer who has to save his girlfriend from the clutches of an evil wizard ("Night Court"'s Richard Moll) in a film with a handful of different directors (Band, effects artist David Allen, etc.) credited with individual sequences. This version offers some gratuitous nudity that differentiates it from the standard PG-13 cut along with the on-screen title "Ragewar." Also on the disc is ELIMINATORS (95 mins., 1986, PG), starring Andrew Prine and Denise Crosby in the tale of a "mandroid" who assembles a rag-tag team in the hopes of stopping the scientist who created him. Future "Flash" and "Rocketeer" writers Paul De Meo and Danny Bilson wrote this agreeably slight Empire offering, one of the few that received a wide theatrical distribution. Both movies contain MGM licensed 1080p (1.78) transfers and DTS MA soundtracks, with an interview with "Eliminators" director Peter Manoogian included on the supplemental side.
New on DVD from Shout is the Fifth Season of THE NANNY (aprx. 9 hours, 1997-98), starring Fran Drescher as Fran Fine, the caregiver to the Sheffield children who finds herself falling completely for patriarch Maxwell (Charles Shaughnessy) in this fifth go-around for the CBS sitcom. All 23 episodes are presented here uncut in Shout's three-disc DVD set….Coming January 5th from Scream Factory is OVER YOUR DEAD BODY (94 mins., 2014), Takashi Miike's latest chiller about an actress (Ko Shibasaki) who manages to get her lover involved in her new play – a ghost story whose plot begins to spill over into the real world. Shout's Blu-Ray includes both Japanese and English dubbed DTS MA 5.1 sound (with optional English subtitles) and a good looking 1080p transfer….Finally, new on Blu-Ray is THE BRAIN THAT WOULDN'T DIE (81 mins., 1962), the infamous grade-Z sci-fi opus about a mad doctor who tries to keep his wife's lifeforce kicking – even after she's involved in a car accident – by keeping her head alive. Shout's Blu includes the MST3K episode sending up "Brain" (in standard def), an alternate scene from the international cut, a still gallery, commentary, and brand new 1080p (1.66) HD transfer.
---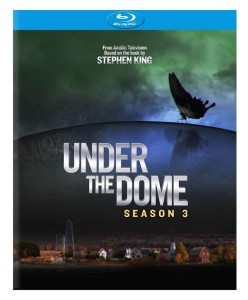 CBS New Releases
UNDER THE DOME Season 3 Blu-Ray (aprx. 9 hours, 2015; CBS): Stephen King's book about a quaint Maine town that becomes segregated from the rest of the world after a dome mysteriously, and improbably, forms a perimeter around it became a surprise summer hit for CBS and producer Steven Spielberg in 2013. Radically altered from King's novel, "Under the Dome" was always an uneven mess as a series, yet viewers initially tuned in weekly as the residents of Chester's Mill attempted to figure out the dome's true purpose – while also fighting one another, including crooked car dealer-turned-makeshift-mayor "Big Jim" (Dean Norris) and his psycho son "Junior" (Alexander Koch).
Among the ensemble cast, the show's younger characters fared best, including Britt Robertson as Angie, Junior's former girlfriend – but once she was axed at the beginning of Season 2, interest dropped off for some viewers. The series' nominal leads, meanwhile, were never particularly interesting: Mike Vogel's "Barbie" is a rogue with a heart, but he's bland, while Rachelle Lefevre is attractive enough as the woman whose husband Barbie has actually been sent to kill, but the writing isn't strong enough to make you care about either of them.
Season 3 of the series – the show's final one – is by far the weakest of the three, attempting to spin explanations for the inexplicable happenings while throwing in aliens and a total mess of an ending that can't even satisfyingly close out the series. A real downer in many respects, "Under the Dome" finished with a fraction of the audience it started out with – not exactly the original plan for CBS and Spielberg.
CBS' Season 3 Blu-Ray box-set offers the final episodes from the series in 1080p transfers and DTS MA 5.1 soundtracks. Extras include a number of featurettes, a gag reel, extended/deleted scenes and other goodies for hardcore fans.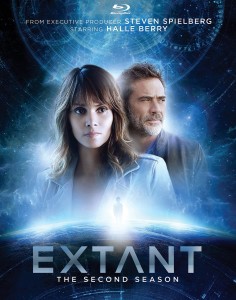 EXTANT – Season 2 Blu-Ray (9 hours, 2015; CBS): Another (recently canceled) misfire for CBS and producer Steven Spielberg, who collaborated on this high-profile follow-up to "Under the Dome." "Extant" stars Halle Berry as an astronaut who returns from her 13-month solo mission on the space station pregnant, while her scientist husband (Goran Visnjic) created a robot-child back on Earth. With a lot of talented actors and crew in place, "Extant" failed to find an audience during its first season, but CBS rolled the dice on a Season 2 that dumped Visnjic's character and found Berry's heroine combating both aliens and the threat of evolving A.I in a derivative and slow-moving sophomore year that finished the program off for good. CBS' Blu-Ray of "Extant"'s final season includes deleted scenes and a number of featurettes, 1080p (1.78) transfers and 5.1 DTS MA soundtracks.
ZOO Season 1 Blu-Ray (9 hours, 2015; CBS): James Patterson's novel became this past summer's CBS limited series of note: an entertaining, if derivative and somewhat indifferently performed, tale of animals going on the attack across the globe. Decent special effects and some mildly intriguing subplots make for a recommended view for Patterson fans, and CBS' Blu-Ray boasts crisp 1080p transfers, 5.1 DTS MA soundtracks and several behind the scenes featurettes.
---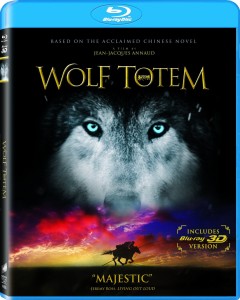 Also New & Noteworthy
WOLF TOTEM 3D Blu-Ray (***, 122 mins., 2015, PG-13; Sony): Jean-Jacques Annaud's films have always been a perfect fit for Blu-Ray, an attribute that serves his latest film – the Chinese production "Wolf Totem" – well. This adaptation of Jiang Rong's best-selling novel, based on the author's experiences, finds a pair of students being sent to Mongolia while the "Cultural Revolution" engulfs Beijing in the '60s. There, they farm the gorgeous land and come to understand about the delicate balance of nature – and, in particular, man's relationship with wolves – that needs to be maintained in order to keep an ecosystem thriving. Though the characterizations are slim, "Wolf Totem" is nevertheless gorgeous to behold with its cinematography, especially in its native 3D format. Sony's Blu-Ray offers both 3D and 2D transfers along with four featurettes and a 5.1 DTS MA soundtrack. James Horner's score backs the drama well, even if "Wolf Totem"'s settings are more compelling than its characters.
PAN 3D Blu-Ray (**, 111 mins., 2015, PG; Warner): Joyless, disappointing, would-be franchise starter from director Joe Wright was apparently worked over in the editing room – or at least sabotaged by the powers-at-be from its original conception. Whatever "Pan" was supposed to be doesn't come through in its bland final cut, which retells the oft-told legend of J.M. Barrie's character in an "origin film" that's heavy on action and light on humor. Kids might find it tolerable, but adults will find little to gravitate to in a film that found its original composer replaced and two different cinematographers credited – telling signs of a troubled picture. Warner's 3D Blu-Ray is sound though the 3D itself isn't essential, and both 3D and 2D versions are included in its combo pack along with a DVD, digital copy, Dolby Atmos/TrueHD audio and multiple featurettes.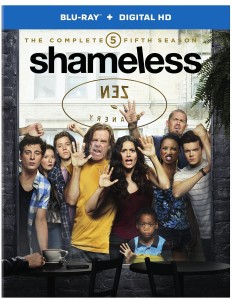 SHAMELESS: Season 5 Blu-Ray (642 mins., 2015; Warner): The Gallaghers find themselves in the midst of a hot Chicago summer when Fiona has to choose between a crush on her boss or jumping back into a relationship with her ex; Frank utilizes his new liver to re-embrace his prior love of booze; and Lip returns from college, struggling to hang out with his old friends from the South Side. These and other plotlines comprise the fifth season of "Shameless," the Politically Incorrect Showtime series which returns to Blu-Ray on December 29th. Warner's Season 5 release includes two new featurettes, commentary on Episode 7, unaired scenes, 1080p (1.78) transfers and 5.1 DTS MA soundtracks.
WAR ROOM Blu-Ray (120 mins., 2015, PG; Sony): The producers of "Fireproof" and "Courageous," Provident and Affirm Films, returned to conquer the box-office with another low-budget faith-based drama that became one of the sleeper hits of this past fall. "War Room" tells the tale of a married couple facing personal turmoil at the same time they take on a new client in need of prayer of her own. Alex Kendrick's film is well acted and compelling given its genre – no surprise, then, that the movie found an audience and ended up making its original budget back seven times over. Sony's Blu-Ray offers format-exclusive extras like bloopers and outtakes, a music video, and two featurettes, along with other extras (commentary, deleted scenes, audition footage, featurettes) that can be found on the DVD edition. A digital copy, 1080p (2.40) transfer and 5.1 DTS MA sound round out the disc.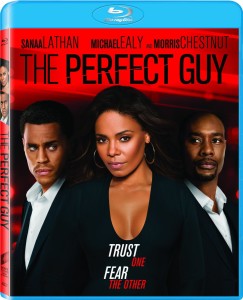 THE PERFECT GUY Blu-Ray (100 mins., 2015, PG-13; Sony): Effective, workmanlike thriller stars Sanaa Latham as a political lobbyist who starts a new relationship with a man she knows nothing about (Michael Ealy) following her break-up with her long-term boyfriend (Morris Chestnut). Of course, behind Ealy's smooth-talking style lies someting nefarious and sinisiter – a "Fatal Attraction"-lite served up in David M. Rosenthal's film, which performed well at the box-office for Screen Gems and Sony last fall. Sony's Blu, out next week, includes a Making Of, digital HD copy, 1080p (2.35) transfer and 5.1 DTS MA soundtrack.
NASTY BABY DVD (101 mins., 2015, R; Sony): Sebestian Silva's films are an acquired taste, as evidenced by this offbeat, if not arch, story of a white woman (Kristen Wiig) who plays surrogate to an African-American couple (Tundie Adebimpe and Silva himself). Intentionally uncomfortable at times, "Nasty Baby" failed to make much noise in theaters but might find more of an audience for Silva devotees on video. Sony's DVD includes a commentary with Silva, Wiig and Adebimpe, a featurette, photo gallery, 16:9 transfer and 5.1 sound.
MAZE RUNNER: THE SCORCH TRIALS Blu-Ray Ultimate Fan Edition (**, 129 mins., 2015, PG-13; Fox): Disappointingly convoluted, slow-paced second installment in the "Maze Runner" series finds Dylan O'Brien's Thomas and his surviving "Gliders" having escaped "The Maze" but now being pursued by the evil WCKO. As they try to figure out their past, the group has to travel into "The Scorch," a wasteland with physical challenges and other remnants of civilization lying about. Fans of the books will find sufficient entertainment here but casual viewers are likely to feel bogged down by the weight of the story and a running time that's much too sluggish. Fox's Blu-Ray combo pack includes commentary by director Wes Ball and screenwriter T.S. Nowlin among others; deleted/extended scenes; a six-part documentary; "Debriefing Videos"; a DVD; 1080p AVC encoded transfer, DTS MA sound and a digital copy.
TRANSPORTER REFUELED (96 mins., 2015, PG-13; Fox): Producer Luc Besson is at it again with yet another go-around in the "Transporter" franchise. This time out, Ed Skrein takes over as Frank Martin in a case that turns personal when his father (Ray Stevenson) is kidnapped by an attractive lot of female thieves. Nothing here you haven't seen before, though at least this briskly paced follow-up offers decent action and Besson's trademark visual style. Fox's Blu-Ray includes a digital copy, 1080p AVC encoded transfer, and 5.1 DTS MA audio. Extras include three featurettes.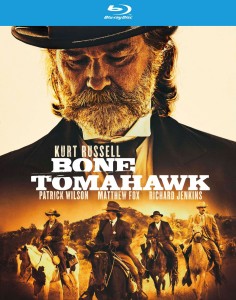 BONE TOMAHAWK Blu-Ray (**, 132 mins., 2015, Not Rated; RLJ): Well-acted but interminably slow-going, uncertain western/horror hybrid about a group of gunslingers who go hunting after cannibal savages who kidnap settlers. Despite an intriguing premise, "Bone Tomahawk" wastes a tremendous cast: Kurt Russell is excellent as the grizzled Sheriff at the heart of the rescue mission, with Patrick Wilson, Matthew Fox and Richard Jenkins lending able support. Sadly, writer-director S. Craif Zahler's film takes forever to make its point, shifting gears from a violent western to a gory horror film in its concluding portion. As it is, there's not enough western or horror to satisfy fans of either genre. RLJ's Blu-Ray includes a Making Of, deleted scene, Q&A from Fantastic Fest, an image gallery, 1080p (2.40) transfer and 5.1 DTS MA sound.
Lionsgate New Releases: New on Blu-Ray, HEIST (93 mins., 2015, R) stars Jeffrey Dean Morgan and Dave Bautista are thieves on the run after they pull a fast one on a casino don (Robert DeNiro) and are chased by the cops, led by an officer (Gina Carano) with moves of her own. Kate Bosworth and Morris Chestnut co-star in this fast-paced thriller which took a fast turn to home video and on-demand. Lionsgate's Blu-Ray includes a digital copy, commentary by director Scott Mann, deleted/extended scenes, a Making Of featurette, cast/crew interviews, a 1080p (2.40) transfer and 5.1 DTS MA audio…In DRAGON BLADE (103 mins., 2015, R), Jackie Chan, John Cusack and Adrien Brody make for one of the oddest trios to ever star in a Chinese period production. This Daniel Lee film finds Brody as Roman leader Tiberius, who tries to claim the Silk Road; Chan is a warrior who joins with defected Roman soldiers (led by Cusack!) in taking him down. Easy to see why this one bypassed a theatrical release, at least domestically. Lionsgate's Blu-Ray includes a behind-the-scenes segment, music videos (featuring Chan!), extended cast interviews, a digital copy, 1080p (2.40) transfer and 5.1 DTS MA sound.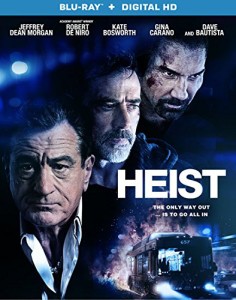 Dean Ambrose toplines the awkwardly titled WWE Studios sequel 12 ROUNDS 3: LOCKDOWN (90 mins., 2015, R), with the wrestler playing a detective who returns to duty after the death of his partner, only to find himself linked to a murder he didn't commit. This workmanlike affair from director Stephen Reynolds hits stores this week sporting two featurettes, a digital copy, 1080p (1.78) transfer and 5.1 DTS MA sound…THE GIANT KING (104 mins;, 2014, PG) is an Thai-produced animated film set a thousand years after a robot battle. Colorful hyinks for kids with Lionsgate's DVD featuring a featurette, bonus episodes, trailers, a 16:9 (1.78) transer and 5.1 Dolby Digital soundtrack. Known as "Yak: The Giant King" overseas...THE UNAUTHORIZED FULL HOUSE STORY (90 mins., 2015) is the latest in an endless stream of Lifetime "unauthorized" behind the scenes TV films, this one taking viewers behind the machinations of the ABC "TGIF"comedy. For fans, this Canadian-lensed production might be of interest, but the amateurish acting relegates it strictly for that audience. Lionsgate's DVD includes a digital copy, 16:9 transfer and 5.1 sound.
FAMILY GUY Season 13 DVD (418 mins., 2014-15; Fox): Finally being released in complete-season sets, Season 13 of "Family Guy" offers plots as varied as Peter writing a children's book, Chris getting a history lesson in the past, and Stewie, yes, impregnating himself with Brian's DNA – not to mention the much-hyped (but disappointing) crossover with "The Simpsons." Commentary with series writers, directors and cast members are included in Fox's DVD plus deleted scenes, animatics, and a "Making Of" the Simpsons/Griffin family crossover.
BLOOD RAGE Blu-Ray/DVD (82/79 mins., 1983, Not Rated; Arrow): Louise Lasser (!) put "Mary Hartman" in the rear view mirror when she starred in this nutty tale of twins – one of whom slices a drive-in movie patron in two with an axe. One of the twins heads to prison for the crime, but ten years later, he escapes and torments his family on Thanksgiving in this memorable slasher from director John Grissmer, scripted by Bruce (Joel) Rubin, who would go onto write "Ghost," "Jacob's Ladder" and "Deep Impact" among others. Arrow's superlative format-combo pack includes the uncut "Blood Rage," plus the home video version, "Nightmare at Shadow Woods," and a new hybrid composite combining footage from both versions; PCM stereo sound; a collector's booklet; commentary with Grissmer; an interview with producer Marianne Kanter; conversations with Louise Lasser, actor Mark Soper, and make-up artist Ed French; a brief talk with Ted Raimi; a look at the original Jacksonville, Florida locations; alternate opening titles; outtakes and more goodies for horror fans everywhere.
---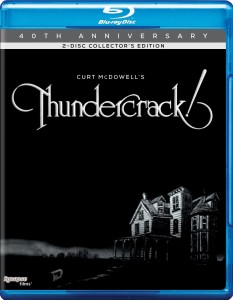 Synapse New Releases
THUNDERCRACK! 2-Disc Blu-Ray (160 mins., 1975; Synapse): Curt McDowell's underground trash effort is billed as the only "kinky art adult horror film," and sends an assortment of folks into the hoary old formula of an old dark house on a stormy night – only to find an unfathomable array of seedy insanity that's best appreciated by trash aficionados. Synapse's two-disc Blu-Ray Collector's Edition is chock full of special features: a new high-def transfer (presented, as filmed, in 1.33), a 1972 archival interview with McDowell (that functions as a commentary), and newly translated multi language subtitle tracks. There's also the full-length documentary "It Came From Kuchar," sporting interviews with George and Mike Kuchar and John Waters among others; and a bonus DVD featuring audition footage, outtakes, rare interviews and short films. Not for every taste, to be sure, but those with an interest are likely to be satisfied with Synapse's outstanding presentation and special features.
Also new from Synapse are a pair of documentaries that will have special appeal to WWII buffs. Leni Riefenstahl's TRIUMPH OF THE WILL (111 mins., 1935), the unforgettable propagandist look at the Nazi party, has been fully restored in a 2K high-def remaster supervised by preservationist Robert A. Harris. This amazing production has never appeared more horrifying than it does here, with all new on-screen identifications and newly translated, removable English subtitles for the speeches on-hand . Also included is Riefenstahl's short "Day of Freedom" plus commentary by Dr.Anthony R. Santoro and liner notes.
STALINGRAD (165 mins., 2003), meanwhile, presents an HD remastered presentation of the 2003 Russian three-part mini-series (The Attack, The Kessel, The Doom), previously broadcast in Germany and Russia in slightly cut form. This documentary from Sebastian Dehnhardt, Christian Deick and Jorg Mullner was highly acclaimed for its unflinching look at the battle that cost countless scores of lives from August 1942 through the brutal winter of 1943. Synapse's Blu is the English dubbed version with deleted interview segments, an interview with historian Dr. Guido Knopp and "Stalingrad Today" special features also on-hand.
---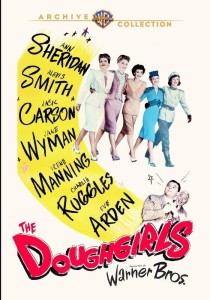 Warner Archive New Releases
A pair of WWII programmers lead off new releases from Warner's Archive Collection this month.
HITLER'S MADMAN (84 mins., 1943) stars Reinhard Heydrich – the "Butcher of Prague" – in an independent film that marked the American directorial debut of Douglas Sirk, as well as one of the few independently produced films that was acquired by MGM. Warner's B&W transfer is strong for this fascinating look at a Nazi war criminal whose exploits are vividly chronicled by Sirk in a powerful piece of B-movie making. HITLER'S CHILDREN (82 mins., 1943) offers former Nancy Drew Bonita Granville and Tim Holt in the story of an American teacher (Granville), working in Germany, who's arrested by the Gestapo and sentenced to be sterilized for refusing to "bear Hitler's children." One of the highest grossing RKO films of the '40s, "Hitler's Children" was – like "Hitler's Madman" – an exploitation film that horrified US audiences in droves.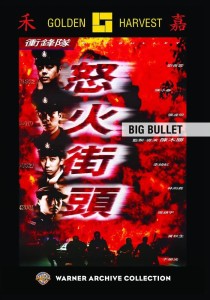 THE DOUGHGIRLS (101 mins., 1944) is something else altogether: a frothy farce set during the Washington, D.C. housing shortage of WWII, where newlyweds Jack Carson and Jane Wyman find their honeymoon suite overrun with a wild assortment of characters, from Ann Sheridan and Alexis Smith's showgirls to Eve Arden's Russian fighter and Charlie Ruggles and John Alexander as bureaucrats. Warner's 4:3 B&W transfer well represents thisadaptation of the Joseph A. Fields Broadway hit, co-scripted by director James V. Kern, who was later renowned for his work on "I Love Lucy."
Also new from the Warner Archive are a handful of films from Hong Kong's Golden Harvest, coming to U.S. DVD for the first time in fully licensed, new 16:9 transfers.
BIG BULLET (92 mins., 1996) stars Lau Ching-Wan and Jordan Chan in a wild and entertaining mid '90s cop-buddy action affair. DOWNTOWN TORPEDOES (90 mins., 1997) includes even crisper hand-to-hand combat in a HK variant on "Mission: Impossible" starring Takeshi Kaneshiro and Jordan Chan. Finally, PEDICAB DRIVER (96 mins., 1989) is an earlier Sammo Hung outing starring the director/actor as a pedicab driver who gets wrapped up with a dangerous local gang boss. All three films include 16:9 (1.85) transfers and mono sound in Mandarin with English subtitles.
---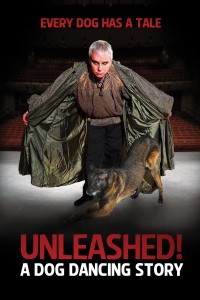 Also New & Noteworthy
Virgil New Releases: UNLEASHED! A DOG DANCING STORY (91 mins., 2013) profiles a "dog dancing troupe" and a theater director as they try to produce the first ever "dog dancing and indoor kite flying" theatrical performance. Justin Turcotte's documentary is new to DVD this month from Virgil sporting a 16:9 (1.78) transfer and 5.1 sound…the documentary LUCKY (75 mins., 2014), meanwhile, chronicles Lucky Torres, a homeless mother covered in tattoos, her painful past and hope for a better future. Laura Chekoway's debut film receives a 16:9 (1.78) transfer with 5.1 Dolby Digital sound.
MPI New Releases: From IFC Films, TIME OUT OF MIND (121 mins., 2014, Not Rated) provides star Richard Gere with a meaty role: a down-trodden New York City man who struggles to find food and shelter, but whose life is turned around by a fellow "man of the street" (Ben Vereen) who pushes Gere to reconnect with his daughter (Jena Malone). Thoughtful performances color this effort from "The Messenger" director Oren Moverman. MPI's Blu-Ray includes commentary from Moverman and Gere, a featurette, trailer, 1080p transfer and 5.1 DTS MA sound.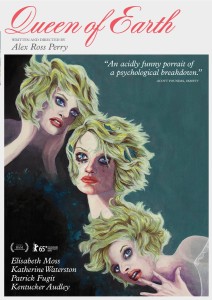 On DVD from IFC is JENNY'S WEDDING (94 mins., 2015, PG-13), a comedy that offers a change of pace role for Katherine Heigl, who plays a lesbian from a conservative family who has to break her sexual identity to her parents (Tom Wilkinson, Linda Emond) when she's going to be married. IFC's DVD of Mary Agnes Donoghue's film includes a 16:9 transfer, 5.1 sound and the trailer…SLOW LEARNERS (97 mins., 2015, Not Rated) is a funny indie comedy about a pair of outsiders (Adam Pally, Sarah Burns) who spend a wild summer trying to make themselves over. Don Argott and Sheena M. Joyce's observant comedy is offbeat and often very funny, with IFC's DVD including the trailer, 16:9 transfer and 5.1 Dolby Digital audio…QUEEN OF EARTH (90 mins., 2015, Not Rated) is a dark drama about a dysfunctional woman (Elisabeth Moss) whose father has died and boyfriend has left her. At a lake house, her phobias spin to the surface when her friend (Katherine Waterston) begins spending more time with her lover (Patrick Fugit). IFC's DVD includes commentary with director Alex Ross Perry and Moss, who also produced, plus a featurette, the trailer, and 16:9 transfer with 5.1 sound.
CPO SHARKEY Best of Season 1 DVD (148 mins., Time Life): "Best Of" compilation includes six episodes (Oh My Captain! My Captain; The Dear John Letter; Goodbye Dolly; Sunday in Tijuana; Sharkey Boogies on Down; Sharkey's Secret Life) from the Don Rickles series' first (1976-77) season. Check the column Archive for a longer overview of the series.
NEXT TIME: Closing out 2015 and ushering in the New Year! Until then, don't forget to drop in on the official Aisle Seat Message Boards and direct any emails to our email address. Cheers everyone!