There's noting more exciting for me than opening up a fresh batch of new Blu-Rays from Twilight Time and Kino Lorber and seeing, for the first time in high-def, catalog titles I had only previously experienced on DVD (or TV) in standard-definition. In fact, the collective efforts of labels like TT, Kino, Shout and Olive has been one of the great assets for Blu-Ray in the last year, especially as major studios license out more of their back catalog, shunning in many instances the very format they helped to establish.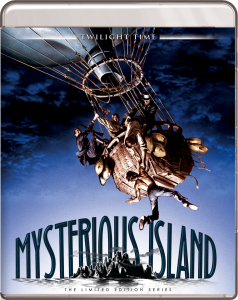 This month's new releases from Kino Lorber, along with Twilight Time's most recent December offerings, feature a wealth of movie-going discoveries for buffs, even if a few of the titles fall into the "dated" category.
MYSTERIOUS ISLAND Blu-Ray (***, 1961, 101 mins.): Twilight Time's new "Mysterious Island" reprises the label's second – and long sold-out – Blu-Ray of the entertaining, colorful 1961 fantasy, an adaptation of Jules Verne's novel from the legendary creative team of producer Charles H. Schneer and visual effects master Ray Harryhausen. Though it offers what appears to be a similar a/v presentation, this new disc does include some new extras, making it a worthwhile purchase for first-time buyers and die-hard fans alike.
In this fanciful Saturday matinee fantasy, Michael Craig leads a group of Union soldiers in a break from a Confederate prison during the Civil War. The men escape in a hot air balloon, only to crash on a strange island filled with some classic Harryhausen creations, including giant insects, a huge crab, and an overgrown chicken! Things really get cooking once Herbert Lom shows up as Captain Nemo and attempts to explain the insanity.
"Mysterious Island" sports a fine AVC encoded 1080p transfer from the Sony vaults that's more or less in line with past Harryhausen efforts of that era in high-def – given all the optical effects, there are occasional stretches where the image is understandably less pristine than others, yet overall it looks great for its age. The DTS MA 5.1 soundtrack is alright (purists might want to stick to the original mono mix, or a 2.0 stereo rendering, which are also on-hand) and, either way, features an atmospheric, rousing score by Bernard Herrmann that – along with Harryhausen's effects – go a long way to compensate for the tedious, formulaic script penned by John Pebble, Daniel Ullman, and Wilbur Crane. Like a lot of Harryhausen films, the story – with its bland characterizations and flat dialogue – is the weakest element of the package, and there are times when the action really starts to drag in "Mysterious Island." Fortunately, the film's strong cinematography (by Wilkie Cooper) and the fact that Twilight Time's superb Blu-Ray looks so good makes watching director Cy Endfield's film much less of a chore than older versions we were saddled with on VHS and DVD.
In addition to the solid transfer, Twilight Time has also included an isolated score track of Herrmann's work and many extras, most of which are new to this release. The latter include a commentary with Randall William Cook, C. Courtney Joyner and Steven C. Smith, plus the "Islands of Mystery" and "Ray Harryhausen on Mysterious Island" featurettes. Trailers and TV spots – some of which are exclusive to this new release – are also on-hand. Highly recommended!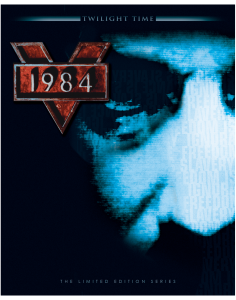 NINETEEN EIGHTY-FOUR Blu-Ray (111 mins., 1984, R). THE MOVIE: Michael Radford directed and adapted this vivid 1984 take on George Orwell's classic dystopian sci-fi novel, whose central messages seem to be more vital in our technologically-advanced age than ever. John Hurt plays Winston Smith, the low man on the totem pole who dares to take on Big Brother, with Suzanna Hamilton as a rebellious woman who briefly offers him an outlet and Richard Burton, in his final film, as O'Brien, a cog in the totalitarian regime. TWILIGHT TIME BLU-RAY BREAKDOWN: Radford's film was strikingly shot by Roger Deakins using a process that drained color from the film in post-production. When the film was released on DVD by MGM, however, Radford and Deakins' intentions weren't honored as the film took on a more saturated, natural tone. Twilight Time's Blu-Ray returns to Deakins' preferred, cooler image in a crisp 1080p (1.66) transfer while two different soundtracks are included in 1.0 DTS MA mono: the original version featuring Dominic Muldowney's score, and a studio-imposed mix that melded Muldowney's music with tracks from the Eurythmics. The Atlantic Releasing U.S. theatrical trailer – selling the film heavily on the merits of the Eurythmics involvement – is included along with isolated score. AISLE SEAT BOTTOM LINE: More satisfying and powerful than Terry Gilliam's subsequent "Brazil," this "Nineteen Eighty-Four" has often been overlooked in comparison with the more bombastic, less thoughtful Orwellian riff from the former Monty Python member. Twilight Time's presentation is top notch and offers both score tracks as well.
BORN FREE Blu-Ray (96 mins., 1966, PG). THE MOVIE: Lusciously filmed adaptation of Joy Adamson's autobiographical account of her – and her then-husband George's – work with a lion cub, Elsa, whom the duo raised after the death of her mother. Shot on location in Kenya, "Born Free" is best known for John Barry's score and its famous title song – yet the film itself is beautifully executed, in Panavision widescreen, by director James Hill, a documentarian whose natural filmmaking instincts result in a clean, effective picture that's inspiring and heartwarming for all the right reasons. Virginia McKenna and Bill Travers' performances as the Adamsons are also convincing. TWILIGHT TIME BLU-RAY SPECS: Twilight Time's 1080p (2.35) AVC encoded transfer is perfectly framed and backed with outstanding detail. The DTS MA mono sound is fine, with an isolated score track, trailers, and commentary from Nick Redman, Julie Kirgo and Jon Burlingame diving into some of the story's more inherently downbeat elements that were cleaned up for the movie. AISLE SEAT BOTTOM LINE: Undeservedly forgotten these days, "Born Free" is one of the top "nature" films – and certainly one of the best family films – from its era, gorgeously filmed and believably performed by its real-life married stars. Warmly recommended.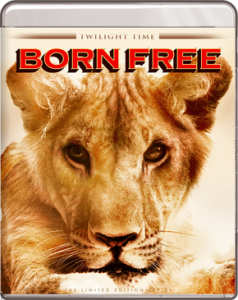 THE DETECTIVE Blu-Ray (114 mins., 1968). THE MOVIE: An utterly fascinating Fox film that was released at a time when violence and formerly taboo subjects were becoming more prevalent in studio fare, "The Detective" stars Frank Sinatra as a righteous L.A. cop assigned to a case involving the death of a gay man whose father is a well-connected real estate mogul in the city. Sinatra's quest for the truth is contrasted with his disintegrating marriage to troubled Lee Remick in "The Detective," a Gordon Douglas-directed adaptation of Roderick Thorp's novel from writer Abby Mann. Filled with some preachy "moralistic" passages and a skewed look at homosexuals, "The Detective" is like a waypoint between Hollywood's noir past and its R-rated future, and is filled with familiar faces (Jack Klugman, Robert Duvall, Tony Musante, William Windom, Lloyd Bochner, Jacqueline Bisset) in supporting roles. TWILIGHT TIME BLU-RAY SPECS: Twilight Time's 1080p (2.35) transfer is fabulous with bold colors, with 1.0 DTS MA mono sound and an isolated score track present of Jerry Goldsmith's jazzy score. Trailers and a commentary from Nick Redman, Lem Dobbs and David Del Valle looks at "The Detective"'s unique place in film history. AISLE SEAT BOTTOM LINE: Dated but well-crafted and entertaining, "The Detective" serves up a strong Blu-Ray for cinematic crime buffs.
KINGS GO FORTH Blu-Ray (109 mins., 1958). THE MOVIE: Sensitively told WWII tearjerker finds Frank Sinatra and Tony Curtis as American soldiers in France, both falling for the same American-born woman (Natalie Wood) who harbors a secret that carries prejudice and hatred along with it. For a late '50s film, "Kings Go Forth" handles its subject matter in a manner befitting its era, and while it may seem dated today, the film is strongly performed by all three stars, under the direction of Delmer Daves. TWILIGHT TIME BLU-RAY SPECS: The MGM licensed 1080p (1.85) transfer is in healthy condition with a thankful lack of DNR, while DTS MA mono sound houses a superb early score from Elmer Bernstein. An isolated score track offers some effects with the trailer as the disc's other extra. AISLE SEAT BOTTOM LINE: Fans of Sinatra, Curtis and Wood would do well to track down this touching and effective WWII drama, directed – as always – with a humanistic touch from Daves.
For their popular Studio Classics line, Kino Lorber welcomes a number of new titles across a variety of genres this month:
VALENTINO Blu-Ray (128 mins., 1977, R): United Artists box-office disappointment helped to put a dagger through British auteur Ken Russell's work in the U.S., though at least "Valentino" provides an interesting view for buffs. Russell and Mardik Martin's script is less a factual account of the rise and fall of the silent movie superstar than it is a flamboyant – if seldom outlandish – look at the price of fame and the toll the Hollywood studio system cost Rudolph Valentino, even in the infancy of the cinema.
Rudolf Nureyev's weird performance is, of course, the main problem, for the dancer's physicality is only suitable in portions of the picture – whenever he speaks, "Valentino" comes crashing down like a house of cards. Other performances are similarly offbase, including Leslie Caron and a gorgeous Michelle Philips who at least looks the part as Valentino's wife. Russell recruited a top-flight production team for this Irwin Winkler-Robert Chartoff production – intended as their big Oscar hopeful in the wake of their 1976 triumph with "Rocky" – yet "Valentino" sank after being savaged by mostly poor reviews. These days, it at least functions as a mildly entertaining, if hugely uneven, Russell outing, though decidedly not as eclectic as some of the director's previous work, with a central performance that's admittedly hard for the movie to overcome.
Kino Lorber's Blu-Ray offers an insightful commentary by Tim Lucas that includes a discussion of the movie's deleted scenes and superior box-office performance overseas, along with a good array of archival materials (footage of Valentino's funeral procession, a TV segment with Orson Welles recounting Valentino's career, Bernard Rose's "Trailers From Hell" commentary, two different trailers, behind-the-scenes images, and a trailer for Valentino's masterwork "Blood and Sand"). The 1080p (1.85) AVC encoded transfer is smashing, offering clear detail and a fine representation of Peter Suschitzky's cinematography, while the DTS MA mono sound is acceptable.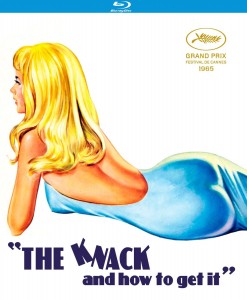 THE KNACK…AND HOW TO GET IT Blu-Ray (84 mins., 1965): Richard Lester is being celebrated with a trio of Blu-Ray releases from Kino Lorber this month, starting off with this adaptation of Ann Jellicoe's play about dueling flat mates – a timid school teacher (Michael Crawford) and the swinging musician ladies man (Ray Brooks) who lives above him – who navigate the singles scene in a "mod" London circa 1965. Rita Tushingham is a naive girl from the country who becomes involved with them in "The Knack…," which offers stark B&W cinematography and an insanely catchy John Barry score. The film, though, is heavily dated and not in a good way, filled with garbled dialogue and references/jokes that will be most appreciated by an audience who lived in the UK during that era. Still an interesting curio, nicely preserved by Kino Lorber here with a 1080p (1.66) transfer, DTS MA mono audio, "Trailers From Hell" segments with Allan Arkush ("The Knack") and John Landis ("The Bed Sitting Room"), and a Lester trailer gallery.
HOW I WON THE WAR Blu-Ray (111 mins., 1967): Richard Lester's strident anti-war lampoon was as much a Vietnam polemic as it was a send up of Brit morals and WWII cliches – viewed today, it's little more than a curio for its subject matter and John Lennon's starring role as a soldier serving under Michael Crawford's ill-fated brigade. One-note and seldom funny, fans of the movie will still appreciate Kino Lorber's Blu-Ray, which boasts a crisp 1080p (1.66) transfer and DTS MA mono sound. Extras include the same pair of "Trailers From Hell" segments as seen above with Allan Arkush looking at Lester's "The Knack…" and John Landis on "The Bed Sitting Room," which Kino Lorber has also released this month on Blu-Ray.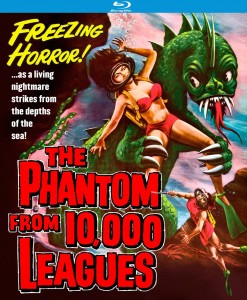 THE PHANTOM FROM 10,000 LEAGUES Blu-Ray (80 mins., 1955): Not to be confused with "The Beast From 20,000 Fathoms" or "20,000 Leagues Under the Sea," this 1955 cheapie stars Kent Taylor as "Dr. Ted Stevens," one of many investigating beachside murders caused by a little sea turtle turned prehistoric monster after a radioactive ray mutates the formerly innocuous ocean resident. Laughably bad '50s sci-fi on a Grade Z level, this "Phantom" is mostly a talky affair, though a commentary by Richard Harland Smith does prove more interesting than the film itself. Other extras on Kino Lorber's Blu include Joe Dante riffing via a "Trailers From Hell" segment and bonus trailers, a 1080p (1.85) transfer that's in surprisingly good condition and a DTS MA mono soundtrack.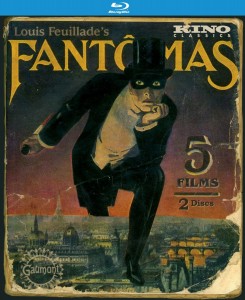 YONGARY, MONSTER FROM THE DEEP Blu-Ray (80 mins., 1967, PG): Giant Monster buffs ought to find plenty to savor in South Korea's big contribution to the genre: 1967's "Yongary," which finds radiation (of course) awakening the country's favorite resident sleeping prehistoric behemoth. Once Yongary gets going, he trashes a series of miniature sets that look quite a bit like a Toho movie thanks to some Japanese crew that was recruited to help give "Yongary" a similar look and feel. The result is 80 minutes of entertaining genre fun, captured splendidly here on Blu-Ray thanks to MGM's 1080p (2.35) transfer. The color scope image looks good, and includes the original American International U.S. TV dub of the picture (the original Korean version is said to have been long since lost). Extras include an informative commentary from kaiju historian Steve Ryfle and critic Kim Song-ho plus bonus trailers for other Kino titles.
FANTOMAS Blu-Ray (Kino Classics): Superlative, double-disc Blu-Ray houses the complete French serial about Paris' criminal mastermind (Rene Navarre), who's pursued by Inspector Juve (Edmund Breon) and journalist Jeome Fandor (Georges Melchior) over the course of five different features: Fantomas in the Shadow of the Guillotine, Juve Vs. Fantomas, The Murderous Corpse, Fantomas Vs. Fantomas, and The False Magistrate. Rip-roaring, comic-book like silent entertainment that proved to be a later influence on the likes of Fritz Lang and others, enhanced here by 4K transfers produced by Gaumont. Kino Lorber's Blu-Ray package not only includes these transfers, but also commentaries from critic David Kalat, additional shorts from "Fantomas" director Louis Feuillade, a cover artwork gallery provided by Tim Lucas and other goodies.
---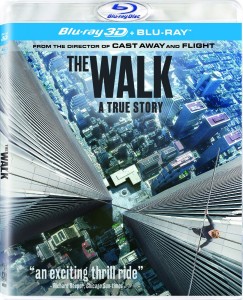 Also New & Noteworthy
THE WALK 3D Blu-Ray (***, 123 mins., 2015, PG; Sony): One of 2015's biggest box-office disappointments – and one of the largest flops in the career of director Robert Zemeckis – was this chronicle of Philippe Petit, a French man (Joseph Gordon-Levitt), who desired to walk on a high wire between New York City's World Trade Center towers in 1974.
Undeserving of its poor commercial performance, Zemeckis' film is one of his best in some time, as it amazingly recreates the world of the mid 70s and, specifically the WTC buildings, in incredible detail. The visual effects artistry is so great that it tends to make Gordon-Levitt's somewhat uncertain accent stand out all the more – the young actor's enthusiasm is there, but he's not entirely convincing as Petit. That said, "The Walk" will hopefully find the audience on home video that missed it in theaters, and Sony's 3D Blu-Ray is clearly the way to go, offering a spectacular a/v presentation with depth of field effects and stereoscopic images. The DTS MA 5.1 sound is strongly engineered as well, with extras including format-exclusive deleted scenes and two featurettes, along with a digital HD copy.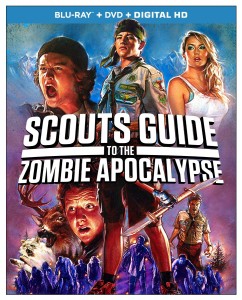 SCOUTS GUIDE TO THE ZOMBIE APOCALYPSE Blu-Ray/DVD (**, 92 mins., 2015, R; Paramount): Unsurprisingly juvenile – but at least energetic – comedy from director Christopher Landon places a trio of teenage boy scouts against a zombie apocalypse that's broken out courtesy of a nearby biotech lab. Any movie with this kind of title is likely to turn off a fair amount of older viewers right away, but for folks who think they might find some entertainment in the movie's premise and dumb humor, this isn't half-bad for what it is, and at least offers the sight of Cloris Leachman as a zombie. Paramount's combo pack includes a Blu-Ray and DVD, plus deleted scenes, a digital copy and a slew of featurettes.
New on DVD this month from Paramount: David Oyelowo and Kate Mara both give meaningful performances in CAPTIVE (96 mins., 2015, PG-13), a faith-based drama from veteran director Jerry Jameson about a distraught man (Oyelowo), on the run from the police, who takes a widowed mother (Mara) hostage. Two featurettes, a digital copy, a 16:9 transfer and 5.1 sound comprise Paramount's DVD-only release…Season 2 of Comedy Central's BROAD CITY (220 mins., 2015) hits DVD sporting the complete sophomore season of the female-centric cable comedy. Paramount's disc boasts outtakes, deleted scenes, a "Pop Up Enhanced" episode, videos and other extras, along with a 16:9 transfer and 5.1 Dolby Digital sound…Jason Sudeikis, Alison Brie, Adam Scott, Adam Brody and Amanda Peet lead the ensemble cast in SLEEPING WITH OTHER PEOPLE (101 mins., 2015, R), a romantic comedy from director-writer Leslye Headland about two friends trying to stay platonic after a one-night stand a decade before – and, predictably, having issues doing so. Paramount's DVD offers up a 16:9 transfer, 5.1 sound and a digital copy.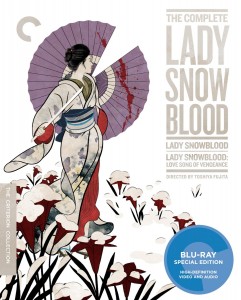 LADY SNOWBLOOD Blu-Ray (97/89 mins., 1973-74; Criterion): Japanese exploitation fans will find much to savor in this Criterion Blu-Ray coupling both of the Meiko Kaji vehicles. The legendary actress stars as a woman trained since childhood to be an assassin in turn of the century Japan; that's about all you need to know appreciate the stylish widescreen trappings and outlandish action on-hand in both 1973's "Lady Snowblood" and its even wilder, more entertaining 1974 sequel "Lady Snowblood: Love Song of Vengeance." Both movies have been restored in brand new 2K digital restorations with uncompressed PCM Japanese sound; extras include new interviews with Kazuo Koike, whose magna inspired the film, plus writer Norio Osada; trailers; and an essay from critic Howard Hampton.
JOE DIRT 2 – BEAUTIFUL LOSER Blu-Ray (109 mins., 2015, Not Rated; Sony): Sequel to one of comedian David Spade's more successful films premiered on Sony's internet streaming channel, Crackle, last summer. Now on Blu-Ray in an extended, unrated cut (running an unmanageable 109 minutes), "Joe Dirt 2″ sends its lead character back to 1965 after time travel wipes out his present. Most of the original cast returns here along with the usual cameos (Christopher Walken, Dennis Miller) but there's not nearly enough energy to carry this prolonged affair to the finish line. A digital HD copy is included on Sony's attractive 1080p Blu-Ray plus a DTS MA 5.1 soundtrack.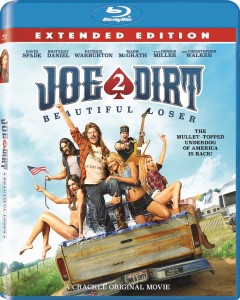 FLESH AND BONE Season 1 Blu-Ray (482 mins., 2015; Anchor Bay): A Starz channel limited series, "Flesh and Bone" stars Sarah Hay as Claire, a young ballet dancer who gets more than she bargained for when she enrolls at a prestiguous New York City ballet company. Not as dark as "Black Swan" but more melodramatic than the popular "Center Stage," Sarah and her fellow students are pressured to perform, engage in salacious off-stage behavior, and are generally tortured for their art, in this unflinching backstage look. Anchor Bay's Season 1 Blu-Ray includes 1080p (1.78) transfers and 5.1 Dolby TrueHD soundtracks along with one behind the scenes featurette.
TRUE DETECTIVE Season 2 Blu-Ray (503 mins., 2015; HBO): HBO's acclaimed "True Detective" became one of the breakout series smashes of 2014, but the fire fizzled in its overly plotty, unsatisfying follow-up. Here, Colin Farrell, Vince Vaughn, Rachel McAdams and Taylor Kitsch headline the ensemble cast with a premise revolving around the discovery of a mutilated body, leading to an investigation involving multiple jurisdictions and motivations, including a former thug turned entrepreneur afraid of damaging his reputation. It all leads to a conspiracy and a story line that flies off the rails in "True Detective"'s second season, which hits DVD and Blu-Ray January 5th from HBO. The box-set includes a Making Of the fourth episode's "pivotal scene," cast interviews, aerial images of California, and two commentary tracks. The 16:9 (DVD) and 1080p (Blu-Ray) transfers and DTS MA (Blu) and 5.1 Dolby Digital (DVD) soundtracks are all top notch as expected.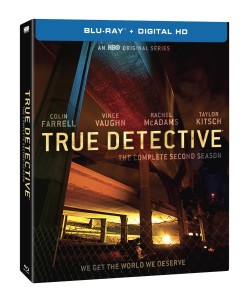 TEEN WOLF Season 1 Part 1 DVD (417 mins., 2015; MGM/Fox): The first half of "Teen Wolf"'s fifth season beams down on DVD this month from MGM. With the group facing the prospects of disbanding after senior year, Scott and his friends find their human challenges taking a back seat to supernatural ones, with evil forces conspiring to take them apart. MGM's DVD offers 16:9 transfers, 5.1 sound, VFX breakdowns and a gag reel; the second half of the season debuts on MTV this week (not coincidentally).
HITMAN: AGENT 47 Blu-Ray (96 mins., 2015, R; Fox): Fairly exciting if brainless, violent sequel to Fox's prior adaptation of the hit video game stars "Homeland"'s Rupert Friend, aka Peter Quinn, as a super-charged human assassin. Zachary Quinto and Hannah Ware co-star in this good-looking, fast-moving affair which is likely to entertain action fans despite its poor box-office showing last summer. Fox's Blu-Ray includes deleted scenes, a digital comic, loads of special Making Of featurettes, a 1080p (2.35) transfer and 7.1 DTS MA sound along with a digital copy.
INFINITELY POLAR BEAR Blu-Ray (88 mins., 2015, R; Sony): A moving performance from Mark Ruffalo – as a working man diagnosed with mental illness, who comes to care for his daughters while his wife (Zoe Saldana) picks up the slack professionally – fuels this autobiographical film from director Maya Forbes, who cast her own daughter as her 13-year-old self in "Infinitely Polar Bear." Forbes' family drama is insightful and honest, and comes to Blu-Ray this week from Sony offering format-exclusive deleted scenes, commentary with Ruffalo, Forbes and producer Wally Wolodarsky; an LA Film Festival Q&A; a 1080p transfer, 5.1 DTS MA sound and a digital copy.
---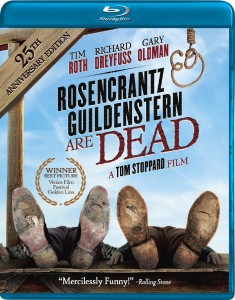 Capsule Round-Up
RLJ New Releases: Making a much-awaited Blu-Ray debut this month is Tom Stoppard's 1989 filming of his ROSENCRANTZ & GUILDENSTERN ARE DEAD (118 mins.), a witty comedy about two small "Hamlet" players and their existential crisis inbetween scenes of Shakespeare's play. An interview with Stoppard and archival comments with stars Gary Oldman, Tim Roth and Richard Dreyfuss are on-hand with RLJ's Blu boasting a 1080p (1.85) transfer and 2.0 DTS MA mono sound…the horror outing THE CONDEMNED (83 mins., 2015) stars Dylan Penn as a spoiled girl who moves into her boyfriend's dingy Lower East Side apartment, where the trash from his neighbors – meth addicts, junkies and other assorted lowlifes – turns into a virus that transforms them all into psychotic killers. Eli Morgan Gesner's indie horror receives a Special Edition Blu-Ray from RLJ sporting cast interviews and a script reading; live audience commentary via "42nd Street mode"; on-set interview with Penn; a 1080p transfer and 5.1 DTS MA audio.
New on DVD from RLJ, Sean Faris, Mechad Brooks and Danielle Savre star in ADULTERERS (97 mins., 2015, Not Rated), a film from H.M. Coakley inspired by a true story. Sean Faris plays a New Orleans man who returns home to find his wife (Savre) in bed with another man (Brooks). What happens thereafter is chronicled in this thriller which RLJ brings to DVD on January 5th featuring a 16:9 transfer and 5.1 Dolby Digital sound…PAINKILLERS (105 mins., 2014, Not Rated) mixes sci-fi with modern warfare as a marine squad expecting to face the enemy in Afghanistan instead runs into an ancient artifact and a force associated with it. Erica Durance and Colm Feore are two of the familiar names in this Canadian production coming on DVD from RLJ sporting a 16:9 transfer and 5.1 Dolby Digital sound…the family friendly ROBO-DOG (90 mins., 2015) stars Patrick Muldoon as a scientist who invents a robotic dog for his kids; eventually, a conniving industrialist conspires to steal the dog's battery tech for himself. Olivia d'Abo and Wallace Shawn co-star in this kid-centric affair, with RLJ's DVD boasting a 16:9 transfer and 5.1 sound.
Finally, Scott Adkins has to defend his home from a drug cartel in CLOSE RANGE (85 mins., 2015; XLRator Media), another collaboration between Adkins and B-movie auteur Isaac Florentine. This action-filled low-budget outing co-stars Tony Perez and hits DVD on January 5th from XLRator sporting a 16:9 transfer and 5.1 soundtrack. A Blu-Ray release is also available.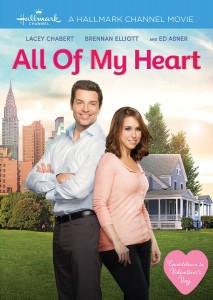 Cinedigm New Releases: A pair of Hallmark Channel movies are new to DVD this January from Cinedigm. The enjoyable ALL OF MY HEART (87 mins., 2014) stars Hallmark staple Lacey Chabert as a young woman whose new country home turns out to be co-owned by Wall Street broker Brennan Elliott. In SO YOU SAID YES (84 mins., 2015), Kellie Martin plays a bridal shop owner who falls for the son of her competition. Both titles receive 16:9 transfers and 5.1 Dolby Digital soundtracks.
FULL OF GRACE (83 mins., 2015) is an independently produced film about the life of Mary, mother of Jesus, especially in the years following the Resurrection. Cinedigm's DVD includes a trailer and featurette, a 16:9 transfer and 5.1 sound.
New from Cinedigm on the horror end is KILL GAME (100 mins., 2013), a standard-issue serial killer tale about a group of high school friends who find themselves on the other end of deadly pranks in a tired genre outing from director Robert Mearns. In LITTLE DEAD ROTTING HOOD (89 mins., 2015), residents of a small town take on killer wolves and aliens in an Asylum production with a title more amusing than the movie itself. Cinedigm's DVD of the latter includes a Making Of, VFX reel, gag reel, trailers, and a 16:9 transfer with 5.1 audio.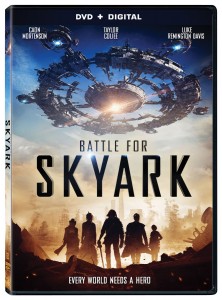 Lionsgate New Releases: The low-budget BATTLE FOR SKYARK (88 mins., 2015, PG-13) finds humanity confined to a floating city after an alien invasion takes over the planet. Unfortunately, folks hoping for dumb fun are sure to be let down by this B-movie with pretentious aspirations, as it tries – clumsily – to work in a "class warfare" subplot that likewise doomed "Elysium." Lionsgate's DVD includes a digital copy, 16:9 transfer, 5.1 sound and a trailer galery…Scott Eastwood stars in MERCURY PLAINS (102 mins., 2015, R), a drama about a troubled man who heads to Mexico and joins a group of teens fighting drug cartels – only to question their actual motive. Lionsgate's DVD includes a digital copy, commentary, deleted scenes, a 16:9 (2.35) transfer and 5.1 sound…Season 8 of ANCIENT ALIENS (7 hours, 2015) includes the History Channel series' 10 most recent episodes (Aliens BC; NASA's Secret Agenda; Aliens and Robots; Dark Forces; The Alien Evolution; The Other Earth; Creatures of the Deep; Circles From the Sky; The Alien Wars; The Forbidden Zones) on two DVDs, sporting 16:9 transfers and 5.1 soundtracks.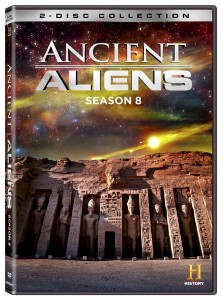 From Magnolia: Peter Sarsgaard and Winona Ryder star in EXPERIMENTER: THE STANLEY MILGRAM STORY (98 mins; 2015, PG-13), a look at the groundbreaking psychologist whose pioneering work at Yale in the early '60s is profiled in a film from writer-director Michael Almeryda. Winona Ryder plays Milgram's wife with Jim Gaffigan, Dannis Haysbert, Taryn Manning, Anton Yelchin and John Leguizamo anchoring a strong supporting cast. Magnolia's Blu-Ray offers three featurettes, a 1080p (1.78) transfer and 5.1 DTS MA sound.
Alchemy New Releases: Keith Robinson plays a family man who makes a mistake that causes him to undertake a journey based on faith and forgiveness in LYFE'S JOURNEY (82 mins., 2015), an UP Original Movie co-starring Richard T. Jones and Angell Conwell. This family-suitable film is new to DVD this week sporting a 16:9 transfer and 2.0 sound…Amin Joseph stars in STOCK OPTION (77 mins., 2015), which focuses on a stockbroker who becomes homeless and saves a model from a robbery attempt. Antonique Smith co-stars in Mark Harris' film, new to DVD this month from Alchemy, offering both 16:9 widescreen and 5.1 Dolby Digital audio.
MPI New Releases: Jason Lei Howden's DEATHGASM (86 mins., 2015) offers dumb laughs and ample gore in a free-wheeling New Zealand comedy about two high school metalheads charged with saving the world from a demonic presence. MPI's Blu-Ray includes commentary with Howden, featurettes, a music video, the teaser, a trailer, 1080p widescreen transfer and 5.1 Dolby Digital sound in the Dark Sky Films release.
Virgil New Releases: Rachel Lyon's documentary HATE CRIMES IN THE HEARTLAND (53 mins., 2015) is also a community outreach project, detailing two horrific hate crimes in Tulsa, Oklahoma over 90 years apart. Virgil's DVD includes a 16:9 transfer and 2.0 stereo sound, and streets January 12th.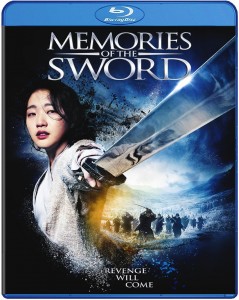 Well Go New Releases: MEMORIES OF THE SWORD (121 mins., 2015) is a superbly shot Korean import about an effort by three warriors to overthrow the government destroying the Goryeo Dynasty, only to have deceit and betrayal come between one of them. Lee Byung-hun, Korean superstar, stars in this excellent Well Go release, now on Blu-Ray featuring 1080p widescreen and 5.1 DTS MA audio in English with Korean subtitles.
PBS New Releases: Season Three of A CHEF'S LIFE (aprx. 7 hours, 2015) brings back chef Vivian Howard, who balances life and cooking inbetween appearances at the Charleston Food and Wine Festival and the Today Show. A nifty reality-type series with an honest PBS bent, this two-disc set contains the complete third season of the series with 16:9 transfers and stereo soundtracks…AMERICAN COMMANDANTE (60 mins., 2015) is an American Experience profile of William Morgan, who was executed in Cuba in 1961 after becoming part of the Cuban Revolution. PBS' DVD includes a 16:9 transfer and 5.1 Dolby Digital soundtrack…New this January from PBS is BLOOD LIONS: BRED FOR THE BULLET (85 mins., 2015), a harrowing, feature-length documentary about South Africa's hunting industry and how over 800 lions are hunted for profit in the country every year. A shocking undercover expose that's now on DVD offering a widescreen transfer and stereo soundtrack….CYBERWAR THREAT (60 mins., 2015) is a Nova special that looks at increasingly dangerous cyber terrorism that – between Snowden, the NSA and the Sony hacks – is spinning out of control, threatening a greater attack at a future date. The hour-long special includes a widescreen transfer and stereo soundtrack.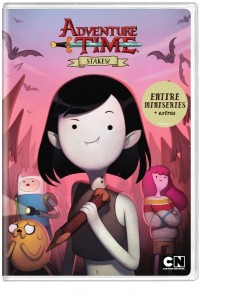 THE WONDER YEARS – Season 4 DVD (653 mins., 1990-91; Time Life): Standalone release includes the complete fourth season of the beloved late '80s/'90s ABC sitcom, set in the 1960s but with adolescent insight that makes it an enduring family drama-edy for any era. All 23 episodes have been included with over a dozen songs from the original artists (restored for Time Life's DVD releases) along with interviews with Fred Savage, Robert Picardo, Ben Stein and Wendel Meldrum, plus the featurette "ABC: Teachers That Make a Difference."
ADVENTURE TIME: STAKES! DVD (88 mins., 2016; Warner): The complete "Adventure Time" mini-series focuses on Marceline the Vampire Queen, who desires to become human and leaves it up to Princess Bubblegum to find a cure – at the same time five of Marceline's foes return from the grave to take her down. All eight episodes from this particular story cycle are included in Warner's DVD along with extras like animatics, song demos, and an art gallery.
LOVE FINDS YOU IN CHARM DVD (93 mins., 2016; Anchor Bay): UP TV original movie stars Danielle Chuchran as a young Amish woman who wonders if more exists outside her devout community, and finds it when she befriends a local librarian (Tiffany Dupont) and meets a blog editor (Drew Fuller). Predictable but sincerely acted family film comes to DVD January 12th from Anchor Bay offering a 16:9 transfer and 5.1 sound.
NEXT TIME: Shout's latest including a Bo Derek double feature! Until then, don't forget to drop in on the official Aisle Seat Message Boards and direct any emails to our email address. Cheers everyone!