We may be just a few days into 2016 but already there's a candidate for "Unknown Movie Discovery of the Year" on Blu-Ray: FIGURES IN A LANDSCAPE (**½, 110 mins., 1970, R), an altogether weird film that, by my count, has never been released on home video in any format in this country. Joseph Losey's strikingly shot tale of two prisoners (played by Robert Shaw and Malcolm McDowell) trying to escape a country with a helicopter in endless pursuit has never received wide distribution since its original Cinema Center Films release over 45 years ago, making Kino Lorber's Blu-Ray a stunning visceral experience for first-time viewers.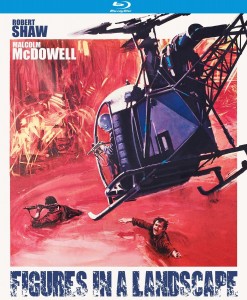 Shaw himself scripted this adaptation of Barry England's novel, one which is notable for its stark ambiguity: the time and place is a vague post-WWII foreign country, wherein the hot-tempered MacConnachie (Shaw) and more sensitive Ansell (McDowell) open the film on the run and try to stay one step ahead of captors who are neither seen nor heard from aside from a black chopper whose presence is never more than a few minutes away. Shaw's dialogue offers scant opportunity for introspection – some undeveloped talk about the shifting nature of war and the duo's past is all there is – and this, in turn, leads one to never really care about the men or their plight.
Instead, what becomes compelling are the powerful visuals of them on the run, across mountainous plains and small villages, all of it brilliantly captured by Losey and no less than three credited cinematographers (Henri Alekan, Guy Tabary and Peter Suchitzky) in full Panavision widescreen. This is a film where its individual sequences and gorgeously framed images may linger in the mind for days afterwards – many of them juxtaposing the men against sweeping, but barren, backdrops that seem even more alien today when compared with most modern movies. As for Richard Rodney Bennett's dissonant score, it wouldn't have surprised me at all if the film had been temped with Jerry Goldsmith's "Planet of the Apes," with the score often reaching for that same sort of unsettling feel.
"Figures in a Landscape" was a highly troubled film that was started by director Peter Medak with a script reportedly worked on by Stanley Mann among others. Peter O'Toole had committed to the film but withdrew when Medak departed; Shaw, who replaced O'Toole, rewrote the film, allegedly each day as filming progressed, once Losey took over. The British director was apparently unhappy with the film that resulted, and the movie has seldom, if ever, been screened in the U.S. since its original theatrical release.
Kino Lorber's Blu-Ray is just magnificent. The 1080p (2.35) AVC encoded transfer is striking in its detail and color, with only occasional print damage seen here and there. Given how little distribution this film has received (I'm sure I'm not alone in never having heard of it at all), the presentation is hugely satisfying, and the movie's aerial photography is incredibly well executed.
Despite its checkered pedigree, "Figures in a Landscape" is certainly worth a view – in spite of its pretentiousness – for interested movie buffs, featuring stunning cinematography of its Spanish filming locales and several taut action scenes.
---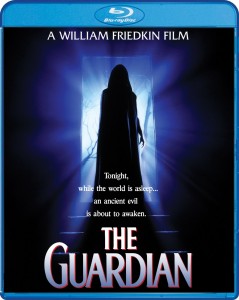 New From Shout! Factory
Kicking off this month's releases from Shout Factory, their Scream imprint has unrolled the Deluxe treatment for William Friedkin's lousy 1990 horror opus THE GUARDIAN (*½, 92 mins., 1990, R), now available on Blu-Ray for the first time.
This non-terrifying, ill-conceived tale of a nanny who happens to be a Druid priestess (and feeds little children to her beloved tree!) is a wacky affair that's more shocking for its completely unscary tone than any shocks it may possess. Carey Lowell, in a role she's likely stricken from her resume, is the Mom, Dwier Brown (the hot thing for about six weeks after playing Costner's dad in "Field of Dreams") is the Dad, but Jenny Seagrove steals the show as the slinky villainess. Alas, Friedkin's direction evokes more chuckles than creeps, despite John A. Alonzo's spooky cinematography.
Previously available on a now long-out-of-print Anchor Bay DVD, Scream's Blu-Ray includes new interviews with Dwier Brown, Gary Swanson, make-up effects artist Matthew Mungle, actress Natalija Nogulich and (very briefly) composer Jack Hues. There are also comments from Friedkin, Jenny Seagrove and Friedkin's co-writer, Stephen Volk, which have been ported over from the 2011 Second Sight UK DVD release. These are all fairly interesting, and mostly push the notion that "The Nanny" – based on a Dan Greenburg novel and initially designated as a Sam Raimi vehicle (he chose "Darkman" for Universal instead) – was sabotaged by Friedkin himself in the writing process. It was apparently Friedkin who resisted Volk's attempts at writing a horror-comedy and reconceived the project as a weird "Druid priestess" horror film. The director's misguided decisions led to an apparently turbulent shoot, wherein – according to Brown – sound crews were routinely fired for things that, apparently, only Friedkin himself could hear.
Shout's disc contains an attractive 1080p (1.85) transfer and 2.0 DTS MA stereo soundtrack (the disc mistakenly lists 5.1), with the brief theatrical trailer included as an extra. (The disc regrettably does not include Friedkin's commentary from the Anchor Bay DVD). As with the Anchor Bay DVD, Shout's Blu-Ray doesn't include any of the deleted scenes or alternate footage found in Universal's TV edit, which Friedkin had his name removed from. That version is worth a look for anyone who enjoyed "The Guardian," and still plays on the Syfy/Chiller channels from time to time.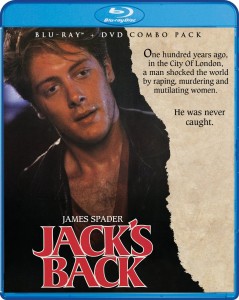 JACK'S BACK Blu-Ray/DVD (**½, 98 mins., 1987, R): Not-bad, low-budget thriller stars James Spader as a medical student working in L.A. when a rash of murders in a style emulating Jack the Ripper grip the populace. To say more about the plot in future "Road House" director Rowdy Herrington's mystery-thriller would spoil many of the film's surprises, so let's just say "Jack's Back" offers an entertaining little time-killer that's not bad at all for a film shot in 25 days with an obvious lack of funds.
Shout's Blu-Ray includes an okay high-def transfer from the original negative. Partially because of the movie's meager budget, cinematographer Shelly Johnson – who's since gone onto shoot the likes of "Jurassic Park III" and "Captain America" for Joe Johnston – used a number of music video-esque lighting techniques that are highly stylized but also stamp the picture as a product of its era. The 1080p (1.78) image also seems to have had a judicious amount of filtering applied as well, the two elements resulting in a mostly unattractive Blu-Ray transfer, though the movie would never be easy on the eyes to begin with. The DTS MA mono audio is more than enough to support Dan DiPaola's sometimes hysterical synth score.
Extras include a commentary from Herrington as well as the trailer and a 23-minute new retrospective featurette on the film, featuring interviews with the director, Shelly Johnson, producer Tim Moore and actress Cynthia Gibb, who looks great!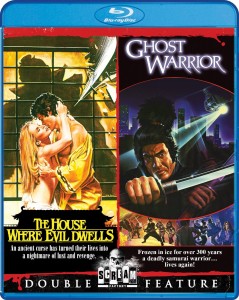 Also New on Blu-Ray from Shout Factory: An interesting curio for horror fans, Scream Factory has paired the routine MGM/UA supernatural tale THE HOUSE WHERE EVIL DWELLS (88 mins., 1982, R) with the (slightly) better-than-average Empire Pictures release GHOST WARRIOR (81 mins., 1986, R). Both films sport a tenuous Asian connection, as "The House" finds an American couple (Edward Albert, Susan George) being plagued with the spirits of dead samurai after renting a home in Kyoto in a British production directed by Kevin Connor and scored by Ken Thorne. The superior "Ghost Warrior" features a 400-year-old samurai, thawed out from ice, who tries to adjust in the modern world. Unusually thoughtful for an Empire release, "Ghost Warrior" offers a variation on 1984's "Iceman" and is fairly watchable and decently made, considering its B-origins and the Band family's cinematic pedigree. Shout's Blu-Ray couples both films on a single Blu-Ray platter with 1080p (1.78/1.85) AVC encoded transfers licensed from MGM and DTS MA audio ("House" is designated as a brand-new transfer)….I can't say I'm a big fan of SONNY BOY (96 mins., 1989, Unrated), a gross and unpleasant 1989 Ovidio Assonitis production that offers Paul L. Smith ("Dune") as a lowlife who – along with his transvestite girlfriend (a top billed David Carradine!) – abducts an orphaned baby and raises it to be a vicious killing animal. This sick Transworld Entertainment release co-stars Brad Dourif, Conrad Janis and Alexandra Powers, along with Michael Griffin as the title character in a film that's just painful to watch at times, even if director Robert Martin Campbell and writer Graeme Whifler seem to be saying something more profound than the typical genre exercise. Shout's Blu-Ray is culled from an unrated print of the film and includes commentary with Carroll and Whifler, the trailer, DTS MA stereo and a good looking 1080p (2.35) transfer.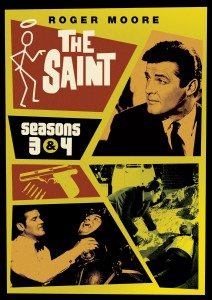 CONTRACTED – PHASE 2 (78 mins., 2015, Not Rated) serves up more horror as it picks up from the events seen in first "Contracted." Here, Matt Mercer's infected Riley works with a skeptical detective (Marianna Palka) in trying to track down the source of the undead virus plaguing the world. Josh Forbes directed "Contraced – Phase 2," which arrives on a Scream Factory/IFC Midnight Blu-Ray/DVD combo ack. The 1080p (2.35) transfer is sound, as is the 5.1 DTS MA sound.
BOLERO/GHOSTS CAN'T DO IT Blu-Ray (105/90 mins., 1984/1990, R; Shout Factory): Bo Derek fans will want to add this agreeable Blu-Ray that couples Bo's infamous 1984 Cannon bomb "Bolero" with its unfunny 1990 follow-up, the sex comedy "Ghosts Can't Do It." Both films are faintly embarrassing vehicles for the "10″ star, whose physical attributes at least receive an enhancement from the high-def 1080p transfers licensed through MGM on Shout's release. Both films look good (1.78) with DTS MA stereo audio, the latter aiding Peter – and father Elmer – Bernstein's enjoyably lush romantic score for "Bolero."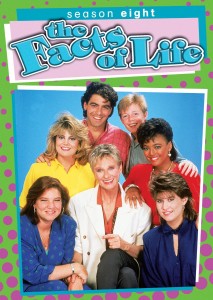 New on DVD from Shout Factory: Vintage TV fans have several new releases to get excited about this month from Shout Factory. SISTERS (18 hours, 1992-93) was a popular NBC hour-long prime-time soap about the Reed sisters: Alex (Swoosie Kurtz), Georgia (Patricia Kalember), Frankie (Julianne Phllips) and Teddy (Sela Ward), who navigate the trials and tribulations of everyday life while having each other's backs. Early appearances from future stars Ashley Judd and Paul Rudd are included in this third season of the series, which hits DVD on January 19th from Shout, sporting all 24 episodes from "Sisters"'s 1992-93 year…THE SAINT returns in a deluxe box-set containing all 32 episodes from the classic British series' third and fourth seasons (aprx. 1568 mins., Timeless Media Group). Roger Moore fans should enjoy seeing his Simon Templar butt heads with Burt Kwouk, Donald Sutherland, Monty Python's Carol Cleveland and others in a nine-disc set with transfers from the ITV vaults…The final season of HILL STREET BLUES (17 hours, 1986-87) offers a memorable goodbye to one of the most impactful and groundbreaking series of the 1980s. The multi-Emmy winning ensemble cast – Daniel J. Travanti, Veronica Hamel, Bruce Weitz, Betty Thomas, James B. Sikking, Charles Haid, Dennis Franz – return in these final 22 episodes from the NBC series. Shout's five-disc set offers 4:3 transfers licensed through Fox. A must for fans…Coming later this month from Shout is Season 8 of THE FACTS OF LIFE (9 hours, 1986-87), the long-running, quintessentially '80s NBC sitcom which finds Blair, Natalie, Tootie and Jo saying goodbye to Mrs. Garrett and hello to Edna's sister, Beverly Ann (Cloris Leachman), plus George Clooney, whose involvement in the series gives this eighth season of "The Facts of Life" a particular charm. Shout's three-disc set contains full-length broadcast episodes from the best surviving videotape masters.
THE IMAGE REVOLUTION DVD (83 mins., 2016; Shout Factory): Comic book fans should jump on this hugely entertaining documentary about the rise and fall – and resurrection – of Image Comics, the independent label created by Todd McFarlane and peppered with Marvel and DC veterans (Jim Lee, Jim Valentino, Rob Liefeld), who butted heads over Image's creative direction. Extended interviews are included in the Shout DVD with a 16:9 transfer and 2.0 Dolby Digital sound….Also coming soon on DVD from Shout is POUND PUPPIES: A RARE PAIR (110 mins., 2015) which offers five episodes (Catcalls; The Really Weird Dog; Call of the Quireeldog; Kennel Kittens Return; Once a Ralph, Always a Ralph) on a single DVD from the most recent animated incarnation of the Hasbro brand.
---
Also New & Noteworthy
THE MARTIAN Blu-Ray Combo Pack (***, 141 mins., 2015, PG-13; Fox): One of 2015's most celebrated films is a solid, if somewhat overpraised, adaptation of Andy Weir's novel about an astronaut (Matt Damon), stranded on Mars, who's left to fend for himself after an accident sends his fellow crew back home, presuming he's dead. How Damon's Mark Watney keeps himself alive – at the same time NASA experts try and find a way to bring him back home – fuels Ridley Scott's film, which met with universal acclaim and over $200 million in domestic box-office.
"The Martian" is certainly a good movie, but in trying to cram so much material into a two-plus hour feature, Scott never finds sufficient room for the picture to muster much in the way of an emotional component. Drew Goddard's script bounces back and forth from Watney's plight to scenes of NASA staffers (including an inexplicably third-billed Kristen Wiig) rallying the scientific community in an effort to expedite a possible rescue – if it's even feasible. It makes for a breathless and entertaining movie, but there's little emotional release when the story reaches its conclusion – perhaps the result of too many supporting players and too much time being exerted on the technical attributes of the story.
Fox's Blu-Ray is pretty light for a Ridley Scott production – there's a gag reel, some faux "documentary" materials and other featurettes, but strikingly, no commentary (perhaps a second release will rectify some of its omissions). The 1080p (2.40) AVC encoded transfer is flawless and the 7.1 DTS MA sound active, but the movie misses out on a memorable orchestral score, favoring instead an increasingly irritating amount of disco tunes that eventually prove as annoying to the viewer as they are to the main character.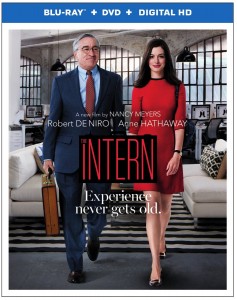 THE INTERN Blu-Ray/DVD (**½, 121 mins., 2015, PG-13; Warner): Agreeably performed, if somewhat sleepy, Nancy Meyers outing places a retired 70-year-old widower (Robert DeNiro) in the midst of a fashion web start-up run by an ambitious young woman (Anne Hathaway).
Mustering up a respectable $70 million gross last fall, "The Intern" is formula stuff for the most part: one can easily see how writer-director Meyers must have come up with its central May/December relationship by watching "The Devil Wears Prada" one night and reconfigured it – using that film's star, Hathaway – as the basis for one of the filmmaker's typical drama-edies. DeNiro and Hathaway work well off one another, but the problem is how much other stuff Meyers is keen to introduce into "The Intern," from Hathaway's marriage to DeNiro's budding (if undercooked) relationship with a masseuse played by Rene Russo. Bloating the running time to a full two hours, "The Intern" overstays its welcome, but for those just looking for a star-driven throwback vehicle, it doesn't provide an unwelcome rental option on a cold winter's night.
Warner's combo pack includes both a good-looking Blu-Ray (1080p, 1.85) with DTS MA 5.1 audio and a DVD. Extras include three featurettes taking viewers behind the scenes.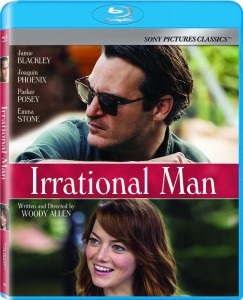 IRRATIONAL MAN Blu-Ray (**½, 95 mins., 2015, R; Sony): "Irrational Man" isn't likely to be remembered as one of Woody Allen's better films, yet this oddball mix of academic apathy with "Crimes and Misdemeanors"-esque domestic thriller eventually proves to be interesting – provided you can make it through to its final act, which is far more compelling than anything that precedes it.
Joaquin Phoenix stars as a mopey professor who takes a new job at a Rhode Island college. Emma Stone is one of his students, who sees in Phoenix's "Abe Lucas" a brilliant mind that's currently wasting away in disillusionment and drugs. After the duo overhear a mother bemoaning her frustration with a local judge, Phoenix takes his outrage and channels it into a device that brings his tormented spirit back to life – but with deadly consequences.
The first half of "Irrational Man" is filled with stilted dialogue and dull conversations between its various characters. Several times I thought that I wasn't actually hearing how normal people actually converse, but rather Phoenix – especially – doing a poor job reading Allen's dialogue in a flat, monotone delivery. Eventually, the movie does prove to have a pulse, with Allen mixing in some surprising mystery-suspense elements in its concluding portions. Had the establishing section of "Irrational Man" been more effective, it's possible these elements would have pulled together (like "Crimes and Misdemeanors") into a cohesive whole, but alas, "Irrational Man" is one-third effective, one-third meandering and one-third of an Allen misfire, all in one.
Sony's Blu-Ray boasts a detailed 1080p (2.40) transfer that nicely represents Darius Khondji's cinematography of the assorted Newport (and Providence) shooting locations – one of the nicer on-screen representations of the Ocean State in some time. Extras include an L.A. premiere segment, photo gallery, DTS MA 5.1 sound and a digital copy.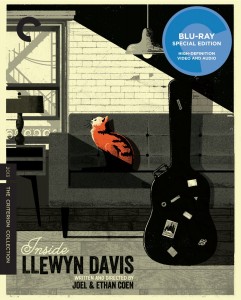 INSIDE LLEWYN DAVIS Blu-Ray (***, 104 mins., 2013, R; Criterion): The Coen Brothers' eccentric 2003 film – much like their earlier success "O Brother, Where Art Thou" – uses "The Odyssey" as a springboard for its tale of an obstinate Greenwich Village singer-songwriter (Oscar Issac) trying to land a record deal in the evolving folk music world of the early '60s.
The sense of time and place is – unsurprisingly – captured brilliantly in the Coens' picture: Bruno Delbonnel's cinematography and the production design of Jess Gonchor both splendidly evoke the Village's smoky clubs and offbeat hangouts. There's also a marvelous soundtrack featuring a handful of original songs – criminally overlooked at the 2014 Oscars – that set the scene as well, most especially "Fare Thee Well," performed by Issac along with Mumford & Sons frontman Marcus Mumford (whose wife, Carey Mulligan, plays Davis' ex-girlfriend in the film).
Less successful is the screenplay, which takes Davis on a quest to Chicago where he hopes to meet with a record executive (F. Murray Abraham) who holds Davis' shot at stardom in his hands. Along the way he runs into a series of misadventures involving weirdo hustler John Goodman and his "valet" Garrett Hedlund – this creates a mid-section that not only recalls earlier, better Coen films, but also tends to drag quite a bit. The lack of an empathetic character at the movie's center also takes away whatever emotional resonance the movie could've had, making for a picture that one tends to appreciate at a distance instead of fully embrace.
Nevertheless, for its music and atmosphere alone, "Inside Llewyn Davis" is a cinematic journey well worth taking, and Criterion's Blu-Ray offers a strong assortment of extras: a commentary with authors Robert Christgau, David Hajdu and Sean Wilentz; a talk with the Coens and Guillermo Del Toro; a 43-minute documentary and a 101-minute 2013 "Tribute Concert"; a conversation between music producer T Bone Burnett and the Coens; a piece about the '60s Greenwich Village music scene; a Dan Drasin sort about a 1961 clash between folk musicians and the police in Washington Square Park; and booklet notes from critic Kent Jones. The 1080p (1.85) transfer and 5.1 DTS MA sound appear to be on par with the prior Sony release as far as I could discern.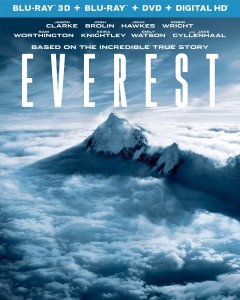 EVEREST 3D Blu-Ray (**½, 122 mins., 2015, PG-13; Universal): Mountain climbing is a task only a specialized few want to undertake. After watching "Everest," it's unlikely to win any new fans.
This tautly directed film from Baltasar Kormakur tells the true story of a group of climbers besieged by a surprise storm after climbing to the peak of Mount Everest in 1996. The group includes a seasoned guide (Jason Clarke) and several climbers – Josh Brolin among them – who find themselves buried in snow and ice and with no easy way out – or, for some, a way out at all.
"Everest" is well-acted but its first half nearly functions as a glorified disaster movie, introducing us to mostly thankless female characters watching from afar (Emily Watson, plus Robin Wright and Keira Knightley as worried spouses) and several big stars (like Jake Gyllenhaal) who you just know aren't going to make it into the movie's second half. Once the storm hits, "Everest" turns into a brutally depressing film that alternates between a survival story and a heartwrenching account of slow, painful death – not exactly the stuff that's easily classifiable as "entertainment," despite its 3D IMAX photography and the presence of "family film" outfit Walden Media as a producer.
Universal's 3D Blu-Ray combo pack offers a good looking 1080p MVC encoded 3D transfer and an equally impressive 1080p AVC 2D transfer. A DVD and digital copy are also included. For extras, the disc offers a pair of Blu-Ray exclusive featurettes along with two other segments, one of which looks at the real-life tragedy, plus a commentary with Kormakur.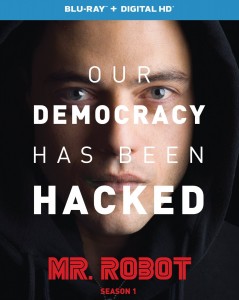 STRAIGHT OUTTA COMPTON Blu-Ray (**½, 167/147 mins., 2015, R; Universal): Wildly successful biopic of N.W.A. – aka Dr. Dre, Eazy-E, Ice Cube, MC Ren and DJ Yella – and the pioneering early days of the hip-hop music genre debuts on Blu-Ray this week. F. Gary Gray's picture ought to strike a chord with hip-hop and pop culture fans, though in truth, "Straight Outta Compton" adheres to typical biopic formula cliches and runs on for a lengthy duration – even more so in the Blu-Ray's Director's Cut, which tags on another 20 minutes of footage, leaving it a hair under three hours. Universal's Blu-Ray includes format-exclusive deleted scenes, a deleted song performance and "Becoming N.W.A." featurette. Other extras include commentary with Gray and several featurettes, plus a digital copy, DVD, and 5.1 DTS MA soundtrack.
MR. ROBOT Blu-Ray (8 hours, 2015; Universal): One of 2015's breakout TV hits, "Mr. Robot" stars Rami Malek as a corporate cyber-security expert/computer hacker who stumbles into the midst of a hacker group presided over by the mysterious Christian Slater. Soon he's turning the tables on the firm he's supposed to be working for, taking down corporations while wondering about his off-duty employer's true agenda. Stylishly shot – evoking a strong David Fincher flair – "Mr. Robot" was an immediate runaway hit for the USA cable network, with its initial first season hitting Blu-Ray this week from Universal. The 1080p (1.78) transfers and DSMA 5.1 soundtracks are excellent, and special features include deleted scenes, a gag reel, a digital copy, and a Making Of. Compelling and entertaining, though at times gratuitous in its cable-fied sexual content.
New Release Announcement
I don't ordinarily plug new releases, but Garagehouse Pictures has just launched a pair of new Blu-Rays that ought to be right up the alley of Aisle Seat readers.
NINJA BUSTERS is an unreleased 1984 low-budget comedy – shot in scope! – about a pair of guys (Eric Lee and Sid Campbell, karate grandmasters with limited acting experience) who become immersed in martial arts as a means of meeting girls and self-defense. Eventually they run into some real ninjas with nefarious plans in mind. Uncovered from an abandoned film depot in the California desert, "Ninja Busters" was a lost movie until a 2013 discovery produced a pristine copy – which Garagehouse has released on Blu-Ray in a 4K transfer with several special features.
Also worth checking out from Garagehouse is TRAILER TRAUMA, another Blu-Ray which houses over two hours of vintage exploitation and horror trailers, and should come as a must watch for fans of the "42nd Street Forever" series.
Both discs are available to order at DiabolikDVD.com and price at $24.99. I hope to have a review of "Ninja Busters" in the next Aisle Seat!
NEXT TIME: More of the latest releases! Until then, don't forget to drop in on the official Aisle Seat Message Boards and direct any emails to our email address. Cheers everyone!