Tim Matheson might've been over the hill by the time he starred in UP THE CREEK (**½, 96 mins., 1984, R), a surprisingly watchable Orion Pictures release with Matheson and fellow "Animal House" alum Stephen Furst vying to win a white water rafting contest. Yet this Samuel Z. Arkoff release still boasts genial fun for '80s comedy fans, even if it never quite reaches the level of hilarity its premise suggests.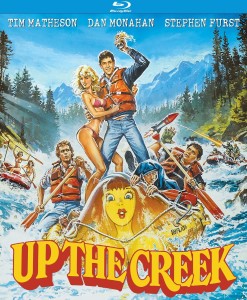 Matheson, Furst and "Porky's" alumnus Dan Monahan star as a trio of college slackers blackmailed to receive a degree provided they participate in, and win, a nationwide rafting contest in Oregon. Cue the '80s teen comedy shenanigans, including drunken bar fights, topless co-eds and Matheson bedding down future "Charles in Charge"/"Ghostbusters" star Jennifer Runyon, making her big-screen "introduction." There are also nefarious, frosted-blonde preppie villains from "Ivy University," including one-time "young Clark Kent" Jeff East, playing the worst of the lot who attempts to take down Matheson and Co. on the Oregon rapids.
"Up the Creek" was not a box-office smash but did receive some surprisingly positive reviews, including Siskel & Ebert, who ranked the film among the best entries of its era. Watching it today, those reviews seem somewhat curious, seeing as the movie doesn't generate a whole lot of laughs. Writer Jim Kouf – who would go on to write the popular "Stakeout" movies for Disney – blamed the movie's lack of comic energy on director Robert Butler, who was best known for helming dramatic series like "The Twilight Zone" in the '60s and '70s – not silly '80s comedies. That charge is also leveled by co-star Sandy Helberg, who appears with Stephen Furst in Kino Lorber's Blu-Ray retrospective featurette, noting that "Up the Creek" could have used the directorial stylings of a John Landis.
Nevertheless, "Up the Creek" has its charms – an eccentric supporting cast (with James B. Sikking and John Hillerman also appearing), William Goldstein's tuneful score (which kicks in midway through), and an insanely catchy theme song from Cheap Trick that's likely to linger in your mind for days afterwards. There's also a certain amount of charm seeing Matheson, Furst, and Monahan at work, with the respective stars from "Animal House" and "Porky's" comfortably reprising their prior on-screen personas. It may not amount to a whole lot, but "Up the Creek" provides a certain amount of nostalgic amusement for '80s comedy buffs.
In addition to Kino Lorber's 11-minute retrospective featurette, Cheap Trick's music video and the trailer are also included along with an attractively detailed 1080p (1.85) transfer and DTS MA 2.0 mono sound.
Also new this month from Kino Lorber's Studio Classics Blu-Ray line is Keenen Ivory Wayans' highly entertaining 1988 spoof I'M GONNA GIT YOU SUCKA (***, 88 mins., 1988, R), featuring Bernie Casey, Isaac Hayes, and Jim Brown parodying their gun-trotting ways in an often hilarious, "Airplane!"-esque satire of Black-expolitation that's far, far superior to any of the cinematic work Wayans has turned out since.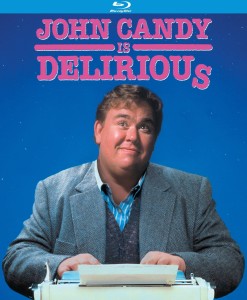 Kino Lorber's Blu-Ray transfer features a decent 1080p (1.85) presentation from the MGM archives (the film was a UA release and includes that weird, late '80s "MGM/UA Communications" logo), DTS MA 2.0 stereo sound, the trailer, and about 10 minutes worth of vintage EPK materials.
The late Tom Mankiewicz, in between working on screenplays, only directed two films in his career: 1987's smash hit "Dragnet" (still, inexplicably, absent on Blu-Ray) and the 1991 John Candy comedy DELIRIOUS (**, 96 mins., PG-13), which debuts in the format this month from Kino Lorber.
A "Richard Donner Production" helmed by Mankiewicz – though not written by him – "Delirious" stars Candy in one of his later starring vehicles as a soap opera writer. After getting knocked unconscious, Candy wakes up in his fictional town of Ashford Falls and has to juggle the eccentric personalities of its inhabitants – including town denizen Raymond Burr and his money-grubbing clan, plus a femme fatale (Emma Samms) and a good-hearted newcomer (Mariel Hemingway) – in order to write his way back into reality.
I remember seeing "Delirious" on laserdisc when it was first released and recall it being much funnier at the time. Perhaps it's because the soap opera genre was a larger factor in the pop-culture universe back in the early '90s than it is today, making the humor in the Lawrence J. Cohen-Fred Freeman script more relevant to its time. Either way, "Delirious" isn't as much fun as it used to be, despite Candy leading a game cast that tries hard (Burr is particularly amusing) in material that's outlandishly silly but seldom hilarious.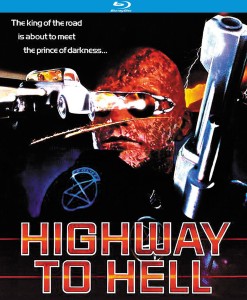 Kino Lorber's Blu-Ray of this MGM box-office flop – whose failure Mankiewicz pegged on MGM's lack of promotion – includes a solid 1080p (1.85) transfer, 2.0 DTS MA stereo soundtrack and the trailer.
A more entertaining time can be found in HIGHWAY TO HELL (**½, 94 mins., 1991, R), a flawed but fun Hemdale product that finds Chad Lowe venturing into Hell in order to find girlfriend Kristy Swanson, who's been abducted by a "hell cop" after gaining the eye of Lucifer himself (Patrick Bergin).
Ate De Jong ("Drop Dead Fred") helmed a script by future Oscar winner Brian Helgeland ("L.A. Confidential"), one that's filled with wild humor (the entire Stiller clan including young Ben pop up in strictly comic roles, as does Gilbert Gottfried as Hitler!), some gross-out gore (Lowe's meeting with a succubus), fanciful touches and a lot of energy. It's also uneven and seems to have been either cut down or hampered by its low-budget, but for horror-comedy fans, "Highway to Hell" is still an agreeable effort with a satisfying ending.
Kino Lorber's Blu boasts a commentary by De Jong, an interview with make-up artist Steve Johnson, an animated image montage, the trailer, a 1080p (1.85) AVC encoded transfer that's in fine shape and an active 2.0 DTS MA stereo soundtrack.
Kino Classics, meanwhile, welcome two worthy new additions onto Blu-Ray this month as well.
Fritz Lang's WOMAN IN THE MOON (169 mins., 1929) was Lang's return to the science-fiction/fantasy genre after his 1927 triumph with the classic "Metropolis." This effort, however, was grounded in reality, as Lang and screenwriter Thea Von Harbou researched what were then cutting-edge scientific techniques in an effort to make a reality-based story that included a rocket-propelled launch to the Moon – supposedly the first of its kind to be portrayed on-screen.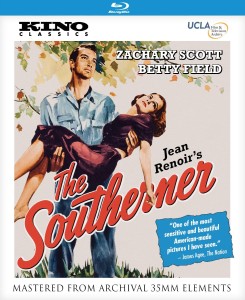 Not all of Lang's predictions – including a breathable Moon atmosphere – turned out to be accurate, obviously, but "Woman in the Moon" is nevertheless a striking silent epic that should be of major interest for Lang buffs and film scholars alike. Kino's Blu-Ray includes a 2K digital restoration by the F.W. Murnau Stifung, a piano score by Javier Perez de Azpeitia, and a 14-minute documentary on the "First Scientific" Science-Fiction film.
Jean Renoir's THE SOUTHERNER (92 mins., 1945) also earns a much-deserved, superb Blu-Ray release from Kino Classics. This independently produced B&W film was one of the few American films from the great French filmmaker, who adapted "Hold Autumn In Your Hand" by George Sessions Perry. "The Southener," shot in and around Fresno, California, looks at the life and times of a Texas farmer (Zachary Scott) trying to make ends meet, with Renoir working with William Faulkner in fashioning a picture that strived for atmosphere and realism as opposed to the sanitized, Hollywood back lot.
A fascinating film for its time, "The Southerner" has been remastered in HD from the UCLA Film & Television Archive's 35mm elements. The print is crisply detailed and in good condition, and Kino has included two extra Renoir features: a 35-minute drama "A Salute to France" starring Burgess Meredith, as well as a 1938 Depression-era documentary "The River."
Finally, Raro Video brings one of the more notorious '70s exploitation films to Blu-Ray this month for the first time: Pasquale Festa Campanile's HITCH-HIKE (104 mins., 1977), the sleazy tale of a broken-down writer (Franco Nero) who takes in a hitchhiker (David Hess) along with his wife (Corinne Clery, future "Moonraker" sacrificial lamb). Hess turns out to be a psycho – yet that's just the tip of the iceberg in this violent ride that's attracted many a cult aficionado over the years.
Raro's Blu-Ray includes a brand new HD transfer from the original negative (1.78) plus DTS MA audio (English or Italian with subtitles), a full booklet and a 26-minute documentary on the production of this shocking affair, which climaxes in a surprisingly downbeat finale. Available February 16th.
---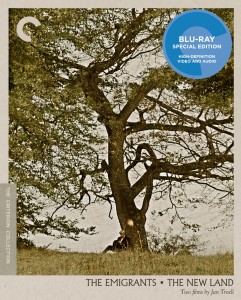 Also & Noteworthy
THE EMIGRANTS / THE NEW LAND Blu-Ray (***½. 191/202 mins., 1971-72; Criterion): Jan Troell's epic, two-part adaptation of Vilhelm Moberg's novels charts the journey of a Swedish farming couple – Max Von Sydow and Liv Ullman – through various trials and tragedies in their homeland, to their eventual immigration to the United States and evolution into Minnesota settlers.
Troell's films are leisurely paced, to be sure, but once you can settle into viewing them, both pictures provide enormous emotional rewards – even though a fair amount of the material is depressing – as well as incredible attention to detail. Everyday occurrences are shown in precise detail, transporting the viewer to another time and place, and making you feel as if you're truly there, living through the hardships of the main characters (unforgettably played by both stars). Neither "The Emigrants" nor "The New Land" are films to be thrown on in the background – both demand one's attention as well as full immersion into its cinematic world. For those willing to undertake the journey, Troell's work presents a unique and yet universal portrayal of the immigrant experience and a way of life that's long since past.
Criterion licensed the two films from Warner Bros., who released the films previously on VHS in dubbed versions. Both pictures contain stunningly detailed 1080p (1.66) transfers with English subtitles, mono soundtracks, and extras including an introduction with critic John Simon; a talk between Troell and scholar Peter Cowie; an interview with Ullman; a 2005 Making Of documentary; trailers; and booklet notes from critic Terrence Rafferty.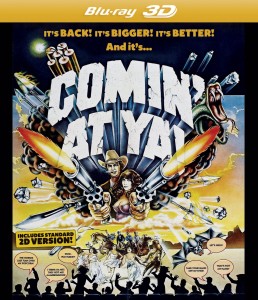 COMIN' AT YA 3D Blu-Ray (*½, 91 mins., 1981, R; MVD Visual): As a 3-D showcase, this 1981 western offers a vast array of "in your face" effects designed to test out the third-dimension – whether it's hands grabbing objects, bullets whirling about, an attack by bats, or the placement of close objects that make its backgrounds stand out. That's the good news. The bad? As a film, "Comin' At Ya" is pretty awful in every respect: a one-dimensional story of a wronged man (Tony Anthony) who hunts after his bride (future "Tie Me Up! Tie Me Down!" star Victoria Abril) who was abducted on their wedding day. There's little story and even less humor in the script, credited to Lloyd Battista, Wolf Lowenthal and Gene Quintano (who also produced and co-stars), and director Ferdinando Baldi is more focused on the 3-D than any dramatic component of the story. The result is likely going to be fun – if only for a few minutes – for 3-D enthusiasts, especially because of MVD's 4K-sourced remaster, which presents the movie in real 3-D for the first time since its early '80s theatrical release. Though there's some occasional ghosting in the image, the transfer is otherwise strongly executed with both 5.1 and 2.0 DTS MA audio. It's just unfortunate the underlying film wasn't more fun, which almost certainly restricts its replayability.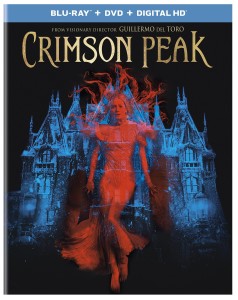 CRIMSON PEAK Blu-Ray Combo Pack (**½, 119 mins., 2015, R; Universal): All dressed up with nowhere to go, Guillermo Del Toro's admirable but vacuous "Crimson Peak" stars Mia Wasikowska as a young woman and aspiring writer in upstate New York, circa the late 19th century, who meets an ambitious British man (Tom Hiddleston) desperately trying to mine clay. After the death of her father, Wasikowska's heroine moves to England to be with her new beau and his strange sister (Jessica Chastain), only to find herself becoming part of a nefarious plot and ghosts, of all kinds, surrounding her.
With its opulent sets, costumes and three strong performances, "Crimson Peak" has all the visual trappings of a classic Gothic thriller – as Wasikowska's author-heroine explains at one point, more a story featuring ghosts than a "ghost story" itself – but the script by Del Toro and Matthew Robbins is distressingly basic and mostly unappealing. At a full two hours, "Crimson Peak" tips its hand early on and offers few frights as its mediocre plot – involving incest, dead infants and horrors of the past – plays out. Ultimately, the movie is too light on horror for genre fans, and yet it's too gross and explicit for those who might have better appreciated its Gothic flavor and character (as opposed to shock) driven story, making its failure to find an audience all too understandable.
Still a great looking film, "Crimson Peak" lands on Blu-Ray this week featuring a dynamic 1080p (1.85) transfer from Universal and a nicely designed DTS MA 7.1 soundtrack from master audio engineer Randy Thom. Extras include a handful of format-exclusive featurettes plus deleted scenes, commentary with Del Toro and other Making Of materials, a DVD and digital copy.
THE LEFTOVERS: Complete Second Season Blu-Ray (589 mins., 2015; Warner): Second season of HBO's adaptation of Tom Perrotta's bestselling novel continues to chart the inexplicable disappearance of 140 million people, representing 2% of the world's populace, save for a small town in Texas that went unaffected. Former police chief Kevin Garvey (Justin Theroux) continues to search for answers in this second season of "The Leftovers," which has received near-universal acclaim but has yet to really catch fire ratings-wise. Warner's Season 2 Blu-Ray of "The Leftovers" includes attractive 1080p transfers (1.78) and 5.1 DTS MA sound plus a digital Ultraviolet HD copy.
---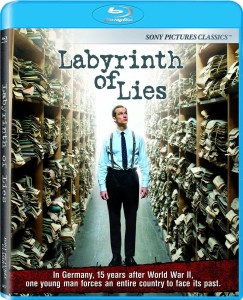 Sony New Releases
LABYRINTH OF LIES Blu-Ray (123 mins., 2014, R; Sony): Compelling German film stars Alexander Fehling as Johann Radmann, a young prosecutor who, in 1958, investigates the case of a former Auschwitz guard, now a teacher living an everyday life. Fehling's crusade to get to the truth – and the resistance he meets via both legal and societal roadblocks – makes for a strong, powerful film based on true events and symbolic of Germany in the post-WWII era. Giulio Ricciarelli's film comes to Blu-Ray February 16th from Sony, featuring commentary from the director and star; a Q&A between the duo from the LA Jewish Film Festival; deleted scenes; a digital copy; 1080p (2.35) AVC encoded transfer and 5.1 DTS MA soundtrack.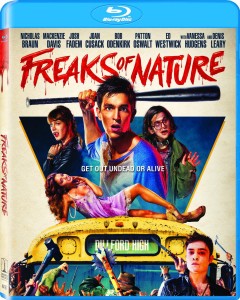 GRANDMA Blu-Ray (79 mins., 2015, R; Sony): Slight road-trip indie stars Lily Tomlin as an elderly lesbian whose granddaughter (Julia Garner) pops up, needing $600 desperately before the day is out. Paul Weitz's film – which can't even hit the 80-minute mark with credits – sends the duo out on a mad scramble for the cash, running into a variety of folks including Marcia Gay Harden, Judy Greer, Sam Elliott and, in her final film, Elizabeth Pena. Sony's Blu-Ray of "Grandma" offers a format-exclusive featurette, "A Family Portrait," plus commentary with Tomlin, Elliott, Garner and Weitz, and a Q&A with Tomlin, Elliott and Weitz. The 1080p (1.85) transfer and 5.1 DTS MA soundtrack are both just fine.
FREAKS OF NATURE Blu-Ray (90 mins., 2015, R; Sony): Amusing, though seldom funny, spoof film is set at a high school where humans, vampires and zombies not only co-exist but attend classes with one another! An alien invasion brings the disparate cliques together in Robbie Pickering's amiable film with a game cast – Joan Cusack, Bob Odenkirk, Patton Oswalt, Denis Leary and a vamped-out Keegan-Michael Key co-star with Nicholas Braun, Mackenzie Davis and Vanessa Hudgens. All "Freaks of Nature" needed was more laughs, which are in short supply in Oren Uziel's script. Deleted scenes, a gag reel and alternate ending are present in Sony's Blu-Ray plus a 1080p (2.40) transfer, 5.1 DTS MA sound and a digital copy.
---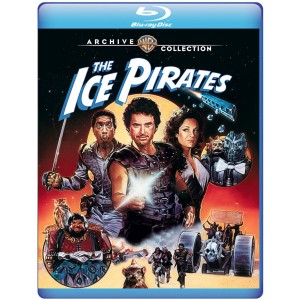 Warner Archive New Releases
I was nine in the spring of 1984, and I remember going to the General Cinema at the Warwick Mall here in Rhode Island one Saturday afternoon. While my friend's parents went into see "Romancing the Stone," my friend, his brother and I opted to venture into the next door theater to see THE ICE PIRATES (94 mins., 1984, PG) instead. You couldn't blame a kid, either: "The Ice Pirates" was a "Star Wars" spoof that had robots, aliens, and the promise of big laughs – and for a near-10 year old, that was plenty.
Years later, well, "The Ice Pirates" doesn't offer nearly enough – in fact, this meager MGM release is pretty dire stuff, with Robert Urich leading a group of space pirates (including Michael D. Roberts, Ron Perlman, former football player John Matuszak and Anjelica Huston) in an effort to secure water in a galaxy that's run dry. Mary Crosby is the princess opposite Urich, who tries hard – as does the rest of the cast – to sell the script by Stewart Raffill and Stanford Sherman. Alas, neither Raffill (who also directed) nor Sherman are up to the task, with the film boasting even less laughs than "Spaceballs," Mel Brooks' underwhelming genre lark which MGM released to greater success in 1987.
Now on Blu-Ray from the Warner Archive (I'll let you ponder the amount of more deserving films in the vast Warner catalogue that could've been released instead), "The Ice Pirates" includes a natural looking 1080p (1.85) AVC encoded transfer and DTS MA mono sound, the latter sporting an energetic Bruce Broughton score that's one of the movie's strongest assets.
Jack Oakie and Lucille Ball starred as publicist Lanny Morgan and big-star starlet Annabel Wilson in a pair of RKO comedies, new on DVD from the Warner Archive in a single-disc set. THE AFFAIRS OF ANNABEL finds Larry setting up Annabel as a maid, while ANNABEL TAKES A TOUR has Larry cooking up a romance between Annabel and a British viscount (Ralph Forbes) – with highly comedic consequences. Both hour-plus long comedies are included in B&W 4:3 transfers with mono sound…An adaptation of Cole Porter's musical, FIFTY MILLION FRENCHMEN (70 mins., 1931) incredibly dropped the songs (including "You've Got That Thing" and "You Do Something To Me") and reworked the material as a vehicle for the comedy team of Olsen & Johnson. This pre-Code production also offers Helen Broderick and a briefly-seen Bela Lugosi, making it fun for buffs – despite its lack of tunes. The Archive's DVD includes a B&W transfer and mono sound.
Finally, NIGHT WILL FALL (113 mins., 2014) is a documentary on the British cameramen who filmed the Nazi atrocities encountered by the Allies following the liberation of German interment camps at the end of WWII. Part of a documentary directed by Alfred Hitchcock but shelved for decades, this doc by Andre Singer explains why the project was shelved – and also shows us the horror of the war in unflinching detail. Warner's DVD, the first release of the film in Region 1, includes several bonus features, a 16:9 transfer and 5.1 sound.
---
Label Round-Up
From MPI: The story of the first African-American woman to be named principal dancer of the American Ballet Theater, Misty Copeland, is told in A BALLERINA'S TALE (84 mins., 2015), an inspirational documentary from director Nelson George and producer Leslie Norville that's accessible and entertaining even if you're not interested in ballet. MPI's Blu-Ray from their Sundance Selects label includes deleted scenes, the trailer, a 1080p (1.78) transfer and 5.1 DTS MA sound…From Dark Sky Films comes CONVERGENCE (99 mins., 2015), a better than average supernatural thriller about a detective who awakens after a terrorist bombing still tracking down the killer but told to remain in the building while he's simultaneously pursued by demons. The end game may not come as any great shock but there's sufficient mystery built up in Drew Hall's film just the same, making it worthwhile for genre fans. Dark Sky's Blu includes a Making of, deleted/extended scenes, the trailer, a 1080p (1.78) transfer and 5.1 Dolby Digital sound.
Virgil Films New Releases: FINDING SAMUEL LOWE (87 mins., 2013) is a superb documentary recounting the reunion of an Afro-Chinese-Jamaican family from Harlem, whose modern American descendants journey to China for a reunion after its patriarch – Samuel Lowe – and his Chinese wife left the U.S. in 1933. A terrific look at a family whose roots transcend racial, cultural and historical boundaries from director Jeanette Kong, with Virgil's DVD including a 2.0 soundtrack and Chinese subtitles…New this week from Virgil is CHAPLAINS (117 mins., 2015), a two-hour documentary about how various chaplains of a handful of faiths – Christianity, Judaism, Muslim, Buddhist – administer to both believers of their respective faiths as well as those of other religions. An interesting and well-done documentary from Martin Doblmeier, with Virgil's DVD sporting an interview with the director, a talk with cinematographer Nathan DeWild, and an interview with M*A*S*H's William Christopher, aka Father Mulcahy.
---
Olive New Releases
New this week from Olive is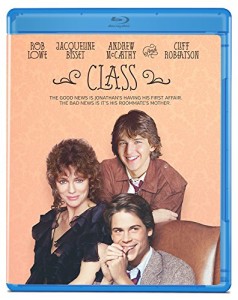 CLASS (**½, 98 mins., 1983), making its Blu-Ray debut.
Even though many viewers remember the John Hughes teen comedies of the mid '80s, few folks view this 1983 teen-sex romp as a precursor to the superior Molly Ringwald films that followed.
An odd mix of a "Graduate" rip-off with "Animal House" like boarding school shenanigans, this Orion movie from now-forgotten director Lewis John Carlino boosted the careers of then-budding youngsters Rob Lowe, Andrew McCarthy and John Cusack. It's a messy ride at times, but there are sporadic laughs to be found in the Jim Kouf-David Greenwalt script, along with a pleasant Elmer Bernstein score and a great deal of appeal provided by the presence of later stars in their first big-screen roles.
If you're a fan of any of the stars, or a teen movie buff looking for an effort that's turned into a veritable "lost" genre pic, "Class" is worth a view, with Olive's Blu-Ray offering a decent 1080p (1.85) transfer and DTS MA mono sound.
BEAT STREET (**½, 106 mins., 1984, R), meanwhile, had just a bit more ambition behind it in comparison to the likes of "Breakin'" and "Breakin' 2: Electric Bugaloo" (which MGM years ago paired with this film as part of a "Hip Hop" Collection DVD box-set). This 1984 Orion favorite is generally regarded as a bona-fide "hip hop" old-school classic, with a cast including Rae Dawn Chong and Guy Davis, plus music co-produced by Harry Belafonte. (Heck, even "Amadeus" Oscar-winner Patrizia Von Brandenstein handled the production design!). MGM's 1080p AVC encoded transfer (1.85) and DTS MA sound are both on par with most titles licensed from the studio.
---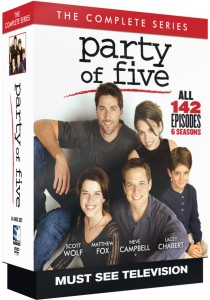 Mill Creek New Releases
MARY HIGGINS CLARK: 5 Film Collection DVD: Bargain-priced, two-disc DVD collection includes the 1980 Columbia release "Where Are the Children?" starring Jill Clayburgh, plus the Canadian-lensed TV movies "The Cradle Will Fall" with Angie Everhart, "Lucky Day" with Amanda Donohue, "Loves Music, Loves to Dance" with Patsy Kensit, and "All Around the Town" starring Nastassja Kinski. 16:9 widescreen transfers are included in this affordable anthology of Mary Higgins Clark adaptations.
PARTY OF FIVE – THE COMPLETE SERIES DVD: Terrific, low-priced DVD collection offers all six seasons of the superb Fox '90s teen drama, starring Neve Campbell, a pre-"Lost" Matthew Fox, Scott Wolf, and a young Lacey Chabert. Mill Creek's compression of the six full seasons of the series is quite good, enabling fans – for under $30 in most outlets – to nab the entire series at a fraction of the cost of Sony's prior, individual season releases.
ARE WE THERE YET? Blu-Ray (95 mins., 2005, PG): Blu-Ray debut of the hit 2005 family comedy starring Ice Cube as a guy who falls for a single mom (Nia Long) and her precocious kids, who accompany the duo on a road trip to Vancouver on New Years Eve. The success of this Revolution Studios release led to a lame sequel; the original makes its Blu-Ray bow this month courtesy of Mill Creek, sporting a Sony-licensed 1080p transfer with Dolby Digital 5.1 sound.
NEXT TIME: Johnny Depp in BLACK MASS and more! Until then, don't forget to drop in on the official Aisle Seat Message Boards and direct any emails to our email address. Cheers everyone!