Shout Factory's first Blu-Ray volume of THE VINCENT PRICE COLLECTION has quickly become one of the most collectible releases in its format's history. The 2013 anthology combined various films from the American-International library and went out of print a year ago; now fetching over $200 on the secondary market, its value is likely to increase over time, even if the individual movies within it are re-released piecemeal. For that reason alone, fans are advised to snap up Shout's second volume, as well as the all-new VINCENT PRICE COLLECTION VOLUME III, which streets next week.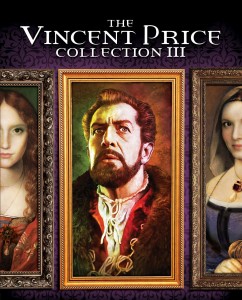 This third and likely final volume offers what remaining scraps of Price madness are left in the MGM vaults, mainly because other labels – Kino Lorber and Twilight Time in particular – have already claimed their stake with the AIP Price pictures Shout didn't license. Thus, while this set is, in total, the slightest of Shout's Price boxes in terms of content quality, there are still some essentials contained within that make it an essential addition to one's library just the same.
Leading the way on that front is the talky but entertaining CRY OF THE BANSHEE (87/90 mins., 1970, R), one of Price's three collaborations with director Gordon Hessler and writer Christopher Wicking. Having little, if anything, to do with Edgar Allen Poe, "Cry of the Banshee" instead offers Price a similar project to "Witchfinder General," here playing a pious magistrate trying to rid the English countryside of witches. A twisty if not particularly appealing plot provides Price a perfect stage for his villainous abilities, though AIP wasn't enamored with Hessler's original cut. In fact, AIP's U.S. theatrical version removed four minutes of nudity and violence in order to secure a stripped-down "GP" (PG-13 equivalent) rating, and tossed out Wilfrid Josephs' original score along with it. Also excised were title animations by none other than Monty Python's Terry Gilliam, while a more aggressive score by AIP favorite Les Baxter replaced Josephs' music.
Shout's Blu-Ray contains both versions: the original Director's Cut (with Gilliam's titles and Josephs' score) in a new 1080p master from the interpositive, as well as the AIP cut from the only surviving element in MGM's vaults, a "color reversal intermediate." The latter also has its audio derived from a "secondary source" seeing as original elements were no longer in existence. Both transfers appear in good condition (1.85) with a new commentary with historian/filmmaker Steve Haberman, the trailer, photo galleries, a radio spot, and a vintage interview with Hessler (from the prior MGM DVD) rounding out the disc.
The other discs in Shout's set include Price's 1963 effort for Admiral Pictures, DIARY OF A MADMAN (96 mins.), which is paired with the 1970 AIP TV production AN EVENING OF EDGAR ALLEN POE (53 mins.). The former includes a new 1080p (1.66) transfer from the interpositive, while "Evening" has been freshly transferred in standard-def from what Shout claims is the best of four surviving video tape masters. Extras include a new commentary with Steve Haberman on both productions and a new, engaging conversation with veteran TV producer Kenneth Johnson on "Evening."
The first two platters are reserved for a pair of early '60s Price non-horror efforts: MASTER OF THE WORLD (102 mins., 1961), the Jules Verne fantasy co-starring Charles Bronson, and the Roger Corman period thriller TOWER OF LONDON (80 mins., 1962), which was produced for United Artists inbetween Corman and Price's AIP Poe productions. "Master of the World" includes another new high-def transfer (1.85) from the interpositive, plus a fresh commentary from actor David Frankham and the extended cut of "Richard Matheson: Storyteller," which was included in abbreviated form in MGM's DVD of "The Raven." "Tower of London," meanwhile, boasts a new master from a "fine grain film print" (1.66), a new interview with Roger Corman, two episodes of "Science Fiction Theatre" (1956) with Price, a vintage talk with producer Gene Corman, plus trailers and photo galleries.
The set boasts similar packaging to its predecessors, though the full-color photo book is regrettably absent of David Del Valle's liner notes. Nevertheless, a recommended pick-up for Price addicts – get it now before it, eventually, also skyrockets in value!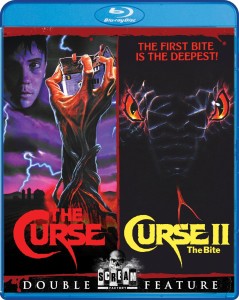 Also new from Shout's Scream Factory imprint this month are a new pair of Double Feature, single-disc Blu-Ray releases.
The 1987 Trans World release THE CURSE (*½, 90 mins., R) starred Wil Wheaton, fresh off "Stand By Me," as a young teen living down on the farm whose family – including his real-life sister Amy – are besieged by an extraterrestrial disease that turns them all into disgusting, maggot-infested creatures. Actor/director David Keith reportedly shot the exteriors of "The Curse" on his own Tennessee farm, with the rest of the Ovidio Assonitis production filmed in Rome. No matter the country, "The Curse" is a gross-out affair co-starring Claude Akins as a Bible-thumping hypocrite and John Schneider as "Willis," a Tennessee Valley Authority worker who ultimately saves the day. Assonitis followed the success of "The Curse" with the more entertaining CURSE II: THE BITE (**½, 97 mins., 1989, R), an in-name-only follow-up (likely slapped with "The Curse" tag after the fact to capitalize on the home video success of its predecessor) with the lovely Jill Schoelen and J. Eddie Peck as a couple who run afoul of mutant snakes near a nuclear test site. A wacky supporting cast including Jamie Farr, Bo Svenson and a very young Shiri Appleby make this New Mexico-lensed thriller good fun, certainly superior to its predecessor as Peck turns into a snake-creature a la "The Fly." Shout's Blu-Ray was culled from MGM masters, with "Curse II" originating from a sometimes-ragged looking film print, both framed in their wide 2.35 aspect ratios. DTS MA audio and a trailer on "The Curse" round out the disc.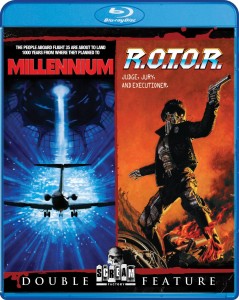 Another new Scream Blu-Ray double feature boasts one of the more curious combinations the label has produced of late. The superior feature here is MILLENNIUM (**½, 106 mins., 1989, PG-13), a Gladden Entertainment production that was released by 20th Century Fox in late August of '89. This adaptation of John Varley's novel, scripted by the author, stars Kris Kristofferson as a airline safety investigator whose examination of a recent crash brings him in contact with time-traveler Cheryl Ladd and a future world populated with humans from the present – namely, would-be victims of airline crashes! An intriguing premise is indifferently staged and directed by Michael Anderson, the "Logan's Run" veteran who was in the twilight of his career while lensing this Canadian-shot affair. While "Millennium" might have been something in the hands of the right people (the film was once intended as a Douglas Trumbull project for star Paul Newman), the compromised finished film – with meager production values – comes across as having a script that deserved a better fate. Still worth at least a look for sci-fi buffs, Shout's 1080p (1.85) AVC encoded, MGM licensed transfer is passable, with effective DTS MA 2.0 stereo sound and the movie's alternate ending included as a bonus. Sharing the same disc is the atrocious "Robocop" rip-off R.O.T.O.R. (*, 90 mins., 1988, R), a godawful cheapie about a military experiment gone wrong. A no-name cast generates non-existent entertainment value in one of the worst films of its kind I can ever recall seeing. Somehow inexplicably transferred in HD by MGM, the 1080p (1.78) transfer is crisp and the DTS MA mono sound also okay, with a trailer rounding out the disc.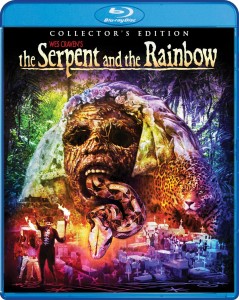 Available in its own Collector's Edition Blu-Ray is Wes Craven's THE SERPENT AND THE RAINBOW (**½, 98 mins., 1988, R), a tale of Haitian voodoo starring Bill Pullman as a Harvest anthropologist who encounters the walking dead and assorted curses while working for a pharmaceutical company. Wade Davis' non-fiction book was turned into a flavorful but rather dull thriller from Craven, who recruited a strong supporting cast (Cathy Tyson, Zakes Mokae, Paul Winfield) but generates little in the way of shocks here. That said, "Serpent and the Rainbow" is still a watchable, well-mounted Craven effort from his post-Freddy period, and Shout's Blu-Ray includes a new commentary with Pullman;a retrospective documentary featuring Pullman, Davis, cinematographer John Lindley and special FX artists; the trailer; a stills gallery; a good-looking 1080p (1.85) transfer and a DTS MA stereo 2.0 soundtrack.
Also debuting on Blu-Ray from Shout is the (mostly) complete JESUS OF NAZARETH (384 mins., 1977), the classic television mini-series from director Franco Zefferelli. ITV produced a high-definition master that's been released around the world in numerous countries over the last couple of years; Shout's two-disc Blu houses that entire master in four parts with detailed 1.33 (1080p) AVC encoded transfers and 2.0 DTS MA sound. The encoding is sound and there's nice detail, despite the fact that the source elements aren't always in pristine condition. The problem is that ITV's master is shorn of some 10 minutes from Part IV, in sequences that reportedly were not initially shown on U.S. television (the discarded sequence was, allegedly, restored to later, three-night rebroadcasts). The fact this material is missing is the fault of ITV, who provided Shout with the master, though there have been Blu-Ray releases in Spain and elsewhere that "restored" the missing 10 minutes by splicing in the material from a standard-definition (seemingly DVD) source. Shout's Blu-Ray also offers interviews with Michael York and author Jean-Pierre Isbouts.
NO WAY OUT (**, 114 mins., 1987, R) was never one of my favorite late '80s thrillers, but remains a favorite for some viewers today for its steamy limo sex sequence between Kevin Costner and Sean Young – back when Sean's cinematic appearances didn't instantly have "Direct to Video" written all over them. This political-cum-spy thriller with a groaner of a twist ending offers Gene Hackman in one of his many performances in this genre during the time (he was the Tommy Lee Jones of the late '80s), along with a stilted Costner essaying a naval commander sent to find a killer that doesn't exist after Hackman's mistress (guess who?) is killed by Hackman in a fit of rage. Maurice Jarre's drab suspense-synth score is just about serviceable and director Roger Donaldson would go on to film other, better B-thrillers, but it's the physical interplay between Costner and Young that made this movie famous, and it's worth a look since all the true excitement occurs in the first 30 minutes. After that, the movie settles into a convoluted thriller formula that becomes increasingly unbelievable as it rolls along. Shout's Blu-Ray boasts a superior 1080p (1.85) transfer with fine detail, plus 5.1 and 2.0 DTS MA soundtracks and a commentary with Donaldson. The weird trailer looks to have been cut together sometime after the fact, and is not a trailer produced for its theatrical exhibition.
New From Shout on DVD: The McHALE'S NAVY gang blasted onto the big-screen in a pair of colorful Universal-International theatrical features, the first of which reunited the entire crew – including Ernest Borgnine, Tim Conway and Joe Flynn – in 1964's McHALE'S NAVY. A strange, immediate follow-up ensued in 1965, McHALE'S NAVY JOINS THE AIR FORCE, wherein star Borgnine was MIA but Conway took center stage as Ensign Parker in a strange spin-off from the series. Both films make their U.S. DVD debuts courtesy of Shout Factory in 1.78 transfers; Blu-Ray fans may want to pick up the Australian Blu-Ray release instead, which includes 1.85 HD presentations superior to this single-disc release…in the distant future, a team of Power Rangers known as POWER RANGERS TIME FORCE take down mutant criminals, including the mastermind Ransik, who takes a group of criminals back to 2001 to cause all kinds of trouble. This 2013 off-shoot of the long-running franchise ran for 40 episodes and comes to DVD this month from Shout! in a five-disc set offering colorful transfers and stereo soundtracks…TRANSFORMERS RESCUE BOTS (110 mins., 2015) offers five episodes (It's a Bot Time, Unfinished Business, Switcheroo, Time After Time and The Last of Morocco) from the animated kids series in 16:9 transfers and stereo soundtracks.
---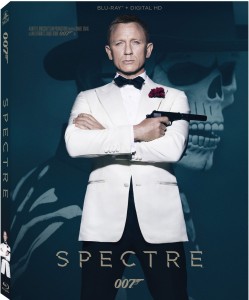 Also New This Month
SPECTRE Blu-Ray (**, 148 mins., 2015, PG-13; MGM/Fox): After the triumph of "Skyfall" one might've thought that director Sam Mendes and resident 007 Daniel Craig would have been invigorated with the subject matter of "Spectre," the 24th James Bond film but the first in several decades to incorporate one of Bond's chief nemesis from the earliest days of the series. With Bond back in action and taking on the nefarious, secretive organization behind the likes of "Dr. No" and "On Her Majesty's Secret Service" in an official Eon film for the first time in forever, what could go wrong? Unfortunately, pretty much everything.
This stunningly tedious entry – in fact, the longest in the entire run of the franchise – finds Bond working a lead from his beloved M (one final Judi Dench cameo), who implored him, in the event of her death, to track down and take out a man thought to have died decades before. A trip to Rome here, a dash to Austria there, and Bond finds out Spectre has its tentacles pretty much everywhere – with a man leading its parade whose identity was pretty much revealed when the film's title and cast were announced some time ago.
If "Skyfall" represented a smart, effective modern updating on the classic Bond formula, "Spectre" is an overplotted bore, complete with an utterly vacant performance from Daniel Craig as Bond. One would've imagined after the events of the prior three films – which this picture tries to provide a conclusion of sorts – that Bond might express anger, sadness, frustration or surprise based on the events of this film…but it's hard to read Craig's persona, not even when Christoph Waltz's bad guy (yeah, we all know who he is) relays not only his "true identity" but the supposedly shocking details of their shared personal connection. If Bond doesn't care about what's going on, why should we?
Compounding the trouble is a notable lack of exciting set-pieces. The opening teaser is fun, but the rest of the picture plays out by the numbers, from an uninspired Italian car chase to a dumb pursuit sequence with Bond tailing the movie's resident damsel in distress (the attractive Léa Seydoux, who regrettably doesn't strike up much chemistry with Craig) in a plane. There's no snap or excitement really here at any time, and the big lead-in to Bond's confrontation with Waltz's character proves to be anything but worth the wait. Waltz does his bad guy shtick again here, but there's not enough wit or surprise in the script (credited to four different writers, including series veterans Neil Purvis, Robert Wade and John Logan) to support him, and there's no zest when the duo do, eventually, confront one another – and what fun is that?
"Spectre" does try to incorporate more humor than the prior Craig pictures, but the brief one-liners seem ill at ease with the movie's dreary tone and a running time that goes on forever (a subplot where M and company try to justify their existence to younger British bureaucrats looking to wipe them out is particularly uninteresting). One could also carp about Thomas Newman's over-used, percussion-heavy underscore (or Sam Smith's leaden title song), but the bottom line is that, with "Spectre," Mendes and especially Craig stayed too long at the party.
Fox's Blu-Ray, out now, includes a dynamic 1080p (2.35) transfer and 7.1 DTS MA sound, plus a digital copy, trailers, and less than 30 minutes of supplemental material – making for one of the slightest Bond releases in the digital realm yet.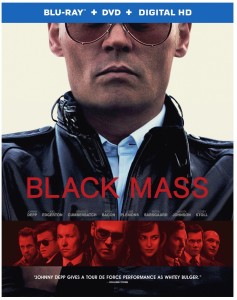 BLACK MASS Blu-Ray Combo Pack (**, 122 mins., 2015, R; Warner): Immensely disappointing look at the life and times of infamous Boston mobster Whitey Bulger, whose brother became President of the Massachusetts Senate at the same time he became one of the most wanted gangsters in the nation.
Bulger is embodied here by Johnny Depp in a performance that drew some acclaim upon "Black Mass"' release last fall, but to me, with its vampiric make-up, comes off as unauthentic – along with most of this film, which despite being based on Dick Lehr and Geard O'Neill's book, fabricates entire scenes and leaves out crucial details in Bulger's story. Where, for instance, is Bulger's female compatriot Catherine Greig? She's nowhere to be found in director Scott Cooper's film, which seems to have made some crucially misguided decisions on how to dramatize Bulger's story right from the get-go. The final film is chock full of familiar faces – from Joel Edgerton as the corrupt FBI agent who dangles too far with Bulger and a hugely miscast Benedict Cumberbatch as brother Billy – but it's fragmented and haphazardly edited, making it not only hard to follow, but also care about.
Cooper did shoot "Black Mass" on location and the movie looks great in Warner's Blu-Ray combo pack (with its 1080p transfer and 5.1 DTS MA soundtrack), but it's all surface with little going on underneath. Extras include three featurettes, a DVD and digital copy – but none of the reportedly extensive deleted scenes that were left on the cutting room floor, along with what might be a far more interesting film.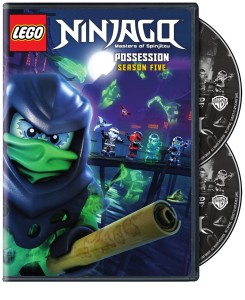 THE 33 Blu-Ray (**½, 127 mins., 2015, PG-13; Warner): Slick Alcon Entertainment production recounts the 2010 rescue of over 30 Chilean miners, trapped for over two months, over 200 stories below the surface. Antonio Banderas is one of the men whose resilience keeps them alive while being supported by those above – including the faith displayed by their respective family members. Hector Tobar's book was adapted by director Patricia Riggen and screenwriters Mikko Alanne, Craig Borten and Michael Thomas for "The 33," which is graced with solid performances and a fine James Horner score. It's also formulaic in its construction and heavy on cliches, despite its true-story origins. Warner's Blu-Ray includes two featurettes, the trailer, a 1080p (2.41) transfer, DTS MA sound, and a digital copy.
LEGO NINJAGO: POSSESSION Season 5 DVD (230 mins., Warner): The hit kids' animated series is back with a Season 5 DVD release from Warner. This time out, the Ninja team suffers the fallout from Lloyd's father's sojourn to the Cursed Realm, while Kai makes a promise to look after him – only to have Lloyd end up being possesssed! Warner's two-disc set includes all 10 episodes from "Ninjago"'s fifth season, presented in 16:9 transfers with 2.0 Dolby Digital sound.
---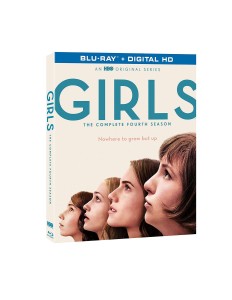 HBO New Releases
In Season 4 of GIRLS (300 mins., 2015), the girls slowly head towards maturity with Hannah (Lena Dunham) leaving New York to attend an Iowa Writers Workshop, putting into jeopardy her relationship with Adam (Adam Driver); Marnie (Allison Williams) pursuing a music career; Soshanna (Zosia Mamet) interviewing for jobs following graduation; and Jessa (Jemima Kirke) trying to become sober through AA. All ten episodes from "Girls"' penultimate season are included in HBO's Blu-Ray along with deleted/extended scenes; gag reels; a Making Of; bonus episode footage; Inside the Episode extras; audio commentaries; 1080p transfers, 5.1 DTS MA soundtracks and digital HD copies.
Also new this week from HBO is the complete First Season of TOGETHERNESS (240 mins., 2016), the latest series from Jay and Mark Duplass about a quartet of characters: a sound designer (Mark Duplass) and his wife (Melanie Lynskey), plus his best friend (Steve Zissis) and her sister (Amanda Peet). This relationship comedy earned strong reviews last year and comes to Blu-Ray featuring Inside the Episode segments, interviews, deleted scenes, 1080p transfers, 5.1 DTS MA soundtracks and digital Ultraviolet HD copies.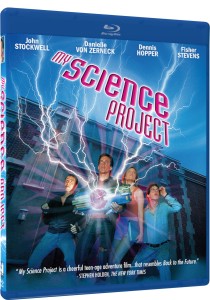 Mill Creek New Releases
Debuting on Blu-Ray from Mill Creek, MY SCIENCE PROJECT (**½, 95 mins., 1985, PG) was one of a handful of comedies released in 1985 that coupled the teen market with the commercial appeal of sci-fi. While the other films in this brief sub-genre were more interesting and successful (including John Hughes' "Weird Science" and the lamentably still-unreleased-on-Blu "Real Genius"), this is still an entertaining piece of fluff with a nutty turn by Dennis Hopper as a high school teacher who regresses to his former '60s hippie self. This occurs after slacker student John Stockwell constructs a science project out of scrapyard junk that's actually part of an Eisenhower-era UFO crash landing!
"The Last Starfighter" screenwriter Jonathan Butuel wrote and directed "My Science Project" following the success of that 1984 cult favorite (alas, the rest of Butuel's filmography is solely comprised of this and the hideous, theatrically-unreleased Whoopi Goldberg bomb "Theodore Rex"). Made for the then-fledgling Touchstone Films (Pictures) arm of Disney, it was one of the label's earliest releases, and met with mixed reviews and scant box-office.
The movie still, though, is fairly enjoyable for its genre, particularly thanks to David Walsh's widescreen lensing that gives the film a nice visual sheen. Mill Creek's Blu-Ray offers an attractive 1080p (2.35) transfer but, alas, the movie's original Dolby Stereo mix has been reduced to an ordinary mono track which is, at least, how most viewers probably experienced the picture growing up.
Also new from Mill Creek this month: The 2003 Hallmark cable mini-series FRANKENSTEIN (177 mins.) finds Alec Newman as Viktor Frankenstein in a dry but at least faithful adaptation of Mary Shelley's classic that reportedly deviates the least from its source material than any of its (countless) on-screen counterparts. That might make it worthwhile viewing for academics though I still think you're better off with Boris Karloff, with this Euro-shot affair offering Luke Goss as the monster and Julie Delpy, William Hurt and Donald Sutherland in support. The 16:9 transfer is strong as is the stereo audio…on DVD come a pair of Complete Series sets: BUMP IN THE NIGHT (12 hours, 1994-95) was a stop-motion animated series from the mid '90s featuring enjoyable monster fun in the pre-"Monsters, Inc." era. All two seasons are included – 26 episodes in all – plus the Christmas special "Twas the Night Before Bumpy" in Mill Creek's DVD set. Finally, Patrick Swayze's final acting sojourn, THE BEAST (10 hours, 2009), ran for 13 episodes and partnered Swazyze's FBI agent with a young newcomer (Travis Fimmel) in a standard TV procedural. Mill Creek's DVD includes all 13 episodes in 16:9 transfers and 2.0 stereo soundtracks.
---
Also New & Noteworthy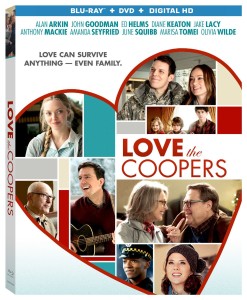 LOVE THE COOPERS Blu-Ray (107 mins., 2015, PG-13; Lionsgate): Tepid tale of a dysfunctional family, led by John Goodman and Diane Keaton, who welcome in their children and their equally unhappy offspring (Ed Helms, Marisa Tomei, Olivia Wilde among them) for a Christmas to forget. Jessie Nelson's "Love the Coopers" strives for a typical look at squabbling adults trying to come together for the holidays, but Steven Rogers' script offers few surprises in comparison to similar genre fare (think "Home for the Holidays" or any number of other films like this) and, what's worse, a slew of shrill, unappealing characters. Lionsgate's Blu-Ray of this CBS Films production offers a 1080p (2.40) transfer, 5.1 DTS MA sound, three featurettes, a music video, a DVD and a digital HD copy.
Also new from Lionsgate on Blu-Ray is MI-5 (104 mins., 2015, R), a British thriller starring Kit Harrington as a MI-5 agent who teams up with a disgraced chief (Peter Firth) in order to take down a terrorist who's escaped after a routine handover gone wrong. Jennifer Ehle co-stars in this slick and watchable, if routine, import Lionsgate brings to Blu-Ray this week. The Blu includes a digital copy, 1080p (2.40) transfer, 5.1 DTS MA sound, a Making Of, and deleted scenes.
New on DVD from Lionsgate is WEINER DOG INTERNATIONAL (93 mins., 2016, G), a cute family film with Morgan Fairchild and Jason London. Lionsgate's DVD includes a digital copy, 16:9 (1.78) transfer and 5.1 sound…CARE BEARS: BEARIED TREASURE (66 mins., 2007/12) offers four episodes (Bearied Treasure, When the Bear's Away, Cheer There & Everywhere, Twinklet) on DVD plus a digital copy…MOUNTAIN MEN Season 4: THE RULES OF THE GAME HAVE CHANGED (6 hours, 2015) boasts eight episodes from the History reality program (Adapt or Die, Dark Crossing, Welcome to the Tundra, Best Laid Plains, Deadly Ascent, Snowblind, The Fallen, Lifeblood) in 16:9 with 2.0 stereo sound.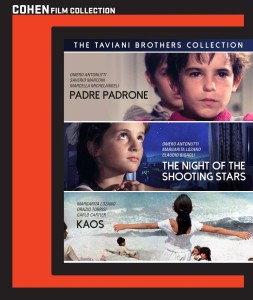 Cohen Film Collection New Releases: THE TAVIANI BROTHERS COLLECTION is one of the most ambitious release from Cohen to date on Blu-Ray .This three-disc set includes a trio of works from Paolo and Vittorio Taviani: 1977's "Padre Patrone" (171 mins.), 1982's "The Night of the Shooting Stars" (178 mins.), and "Kaos" (1984, 196 mins.), each in remastered presentations with 1080p video, DTS MA audio (Italian with English subtitles), and a full, two-hour new interview with the brothers, split apart the "Padre" and "Night" discs…A more recent French comedy, PAULETTE (87 mins., 2013, R), also joins the Cohen Film Collection this month. Here, Bernadette Lafont stars as a retiree who decides to sell cannabis in this lighthearted Parisian variant on "Breaking Bad." Cohen's Blu-Ray includes 10 bonus deleted scenes, the 2015 trailer, a 1080p transfer, and 5.1 DTS MA audio in French with English subtitles.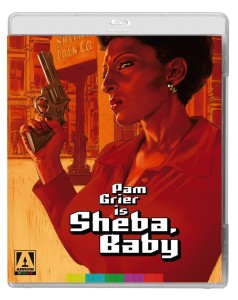 SHEBA, BABY Blu-Ray/DVD Combo Pack (91 mins., 1975, R; Arrow Video): Pam Grier was a busy lady in 1975, starring in a trio of American-International vehicles including "Sheba, Baby."
In this formulaic but certainly watchable entry from director William Gridler, Grier stars as a Chicago private eye who returns home to prevent a crimelord ("Special Guest Star" D'Urville Martin) from encroaching on her father's loan business. Austin Stoker co-stars as her father's partner, who joins Sheba in taking out the trash in this Blaxploitation affair that's often ranked with Grier's more memorable starring vehicles.
Arrow's combo pack includes a great looking Blu-Ray with 1080p video and PCM uncompressed sound; commentary with screenwriter David Sheldon and moderator/critic Nathaniel Thompson; a William Gridler authority, Patty Breen, holding court on another commentary track; a new interview with Sheldon; historian Chris Poggiali examining Grier's "AIP Years"; photo galleries; reversible covert art; and a DVD copy.
CRIMINAL ACTIVITIES Blu-Ray (94 mins., 2015, Not Rated; RLJ): Insider trading goes wrong – very wrong – in this directorial effort from actor Jackie Earle Haley (who makes an on-screen appearance as well). Robert Lowell's script follows four friends (Michael Pitt, Dan Stevens, Christopher Abbott and Rob Brown) who receive a tip to invest in a stock – only to have it tank and the boys have to repay a mob boss (John Travolta) looking to collect. Not awful as these direct-to-video efforts typically go, with RLJ's Blu-Ray – out this week – offering deleted scenes, interviews with Travolta and Haley, a 1080p (2.40) transfer and 5.1 DTS MA audio.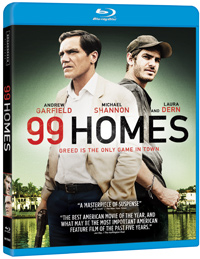 BADGE OF HONOR DVD (98 mins., 2013; Alchemy): It might be "ripped from today's headlines" but there's scant reason to invest in this crime drama from writer-director "Augustin," starring Mena Suvari as an internal affairs detective (ha!) charged with investigating a drug bust gone wrong. Jesse Bradford, Haylie Duff, Natasha Henstridge and Martin Sheen co-star in this by-the-numbers affair, now on DVD from Alchemy sporting a 16:9 transfer and 5.1 Dolby Digital sound.
HANGMAN Blu-Ray (85 mins., 2015, Not Rated; Alchemy): Yet another found footage flick, "Hangman" shows audiences the horror that ensues once a family, coming back from vacation, is systematically taken out by a masked intruder with no motive for his sadism. Adam Mason's film has a better cast than most (Jeremy Sisto, Amy Smart) but ultimately comes off as just another unpleasant, pointless, violent effort with little suspense or surprise. Alchemy's Blu-Ray includes a 1080p transfer (1.78) and 5.1 Dolby TrueHD sound.
99 HOMES Blu-Ray (112 mins., 2015, R; Broadgreen Pictures): Standout performances fuel Ramin Bahrani's film about a single father (Andrew Garfield), evicted from his Florida home, whose opportunity to get it back leads him to work for the very businessman (Michal Shannon) who kicked him out to begin with. In order to pay him back, Garfield ends up living some of Shannon's extravagant lifestyle – naturally with a price – in this compelling, character-based drama that ranks with some of Shannon's finest work. Broadgreen's Blu-Ray includes a 1080p (2.40) AVC encoded transfer, 5.1 DTS MA sound, commentary with Bahrani and a "specially selected" deleted scene. Note: the disc is currently a Best Buy exclusive and will go national later this year.
ESTRANGED Blu-Ray (92 mins., 2015; Well Go USA): Creepy character piece from director Adam Levins stars Amy Manson as young woman, confined to a wheelchair, who has no memory of her past or her family. That doesn't prevent them from locking her in at night in a weird supernatural piece from writer Simon Fantauzzo, now on Blu-Ray from Well Go. In addition to a 1080p transfer and 5.1 DTS MA soundtrack, the disc includes a Making Of and the original trailer.
THE BLACK PANTHERS Blu-Ray (120 mins., 2015; PBS): Documentary filmmaker Stanley "Freedom Riders" Nelson meshes archival footage with new interviews with police, FBI informants, supporters and detractors for this feature-length look at the Black Panther party. Kathleen Cleaver, Emory Douglas and others appear in this first-ever feature-length look at the controversial party, its roots and heritage, with PBS' Blu-Ray – out this week – including a 1080i transfer and 2.0 stereo soundtrack.
---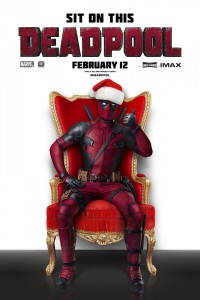 New in Theaters
DEADPOOL (***): Yes, it's yet another super-hero movie – but at least "Deadpool" is a refreshingly off-the-wall, almost spoof-like Marvel adaptation that provides the perfect vehicle for star Ryan Reynolds' sense of humor.
Built on top of a typical genre origin tale, "Deadpool"'s plot – Reynolds' mercenary-for-hire is turned into a disfigured mutant after receiving a terminal cancer diagnosis, and struggles to reconnect with his lady love (the luscious Morena Baccarin) while seeking revenge – doesn't sound like anything special. Yet the Paul Wernick-Rhett Reese script takes off and riffs on its basic structure, enabling its wise-cracking, smart-ass hero to not only talk directly to the audience throughout, but send up well-worn comic-book cliches and even skewer the likes of Hugh Jackman and the "X-Men" as well.
Reynolds, who seemed uneasy as "Green Lantern" in one of the genre's biggest flops, is splendid in a role that fits him like a glove while generating fun chemistry with Baccarin, bantering with pal T.J. Miller (from HBO's sublime "Silicon Valley"), and trading barbs with special guests from the "X-Men" series like Colossus, who rather endearingly reprises the more wholesomely heroic aspects from that franchise. Not all of the jokes hit (and Leslie Uggams' blind sidekick comes off as a missed comic opportunity), but many of them do, especially a hysterical opening credits sequence that's as unique as any you'll ever see.
With its self-deprecating humor, soundtrack of Chicago and Wham! pop tunes, plus shout-outs to '80s box-office hits (be sure to stay through the end credits), "Deadpool" feels like the right comic book movie at the right time, and reason enough to be thankful Disney – which likely never would've produced a film like it – doesn't control every element of the Marvel movie empire. (108 mins., R)
NEXT TIME: More of the newest releases! Until then, don't forget to drop in on the official Aisle Seat Message Boards and direct any emails to our email address. Cheers everyone!