Anyone else going through infant potty training? Believe me, it's a drain on movie viewing! Without any further discussion of my personal life, here's a look at what I've been able to sample over the last few days – with some tasty exploitation favorites on Blu-Ray being first and foremost on the list.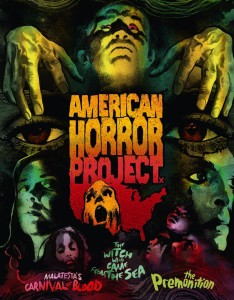 Arrow Video New Releases: One of my favorite labels anywhere in the world has jumped into the fray in the U.S., bringing with them the same, highest quality transfers and jam-packed supplemental packages you'd hope for. Really, Arrow's introduction into Region A World has been one of the most exciting developments for any hardcore movie buff, and next month the label will unleash one of their most exciting sets yet.
AMERICAN HORROR PROJECT is one of Arrow's most ambitious anthologies: the first volume in a series that will feature some under the radar genre outings from the past, the kind that would only appear in neighborhood video stores that carried deep catalogs. This three-disc set launches the AHP with "Malatesta's Carnival of Blood," a creepy 1973 film about a family who goes looking for their lost son at a carnival and wishes they never had; the patently strange "The Witch Who Came From the Sea," starring Millie Perkins as a non-supernatural entity murdering men; and 1976's "The Premonition," starring Sharon Farrell as a woman who believes her adopted daughter is going to be snatched by her biological parent. It's safe to say all three of these pictures are for an "acquired genre taste," but there's no denying their oddity and, in places, visual style, especially Dean Cundey's scope cinematography on "Witch."
Arrow's magnificent box-set contains new 2K Blu-Ray restorations (plus corresponding DVD platters) of all three films (aspect ratios of 1.85 and 2.35), with uncompressed PCM mono sound, reversible covers, and a limited-edition 60 page booklet featuring new articles on the film from genre authorities. And then there are the extras, including introductions from critic Stephen Thrower, commentaries, brand-new making of documentaries; trailers, TV spots, and plenty more. It's not going to be for everyone, but for '70s horror aficionados in particular, it's a must-have.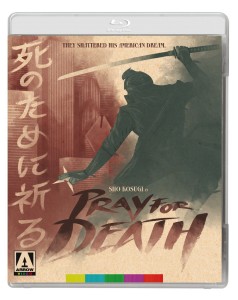 A terrific new release this month from Arrow is PRAY FOR DEATH (98 mins., 1985, R), one of star Sho Kosugi's several films made after he departed the Cannon Group for his own ninja adventures. The first of two pictures he produced with veteran director Gordon Hessler, "Pray For Death" offers stylish widescreen lensing as Sho exacts revenge for his Japanese family's treatment after they move to the U.S. and unfortunately get involved with jewel thieves. This Trans World release boasts solid action, Sho's kids Matthew and Shane playing his ninja's precocious offspring, and a capable supporting cast including Donna Kei Benz (from "The Challenge"), Norman Burton, Robert Ito, and Michael Constantine.
Arrow's Blu includes the 94-minute U.S. cut as well as an unrated version, running four minutes longer and available thanks to the efforts of Germany's terrific Koch label. An interview with Kosugi, archival footage, trailers and booklet notes round out the package, with a good looking 1080p (1.85) AVC encoded transfer and PCM stereo audio. Highly recommended, with the subsequent Kosugi-Hessler team-up, "Rage of Honor," due out in the near future from Arrow.
Finally, slasher fans will be the most receptive audience to warm to the charms of THE MUTILATOR (86 mins., 1985), an ultra low-budget affair originally known as "Fall Break" back in the era of Vestron Video (which released it originally in the U.S., along with several titles from the American Horror Project). Director Buddy Cooper's tale has a group of kids running afoul of a killer after "Ed" is assigned to lock up his parents' beach condo for the winter. The FX by make-up artist Mark Shostrom are the main show in "The Mutilator," which has been fully restored by Arrow in a 2K transfer of the movie's uncut version. PCM mono audio, two commentaries, an introduction from Cooper, a feature-length doc on the movie, an interview with composer Michael Minard, alternate opening titles, behind the scenes footage, trailers, and plenty more – along with a DVD copy – are included in Arrow's combo-pack release.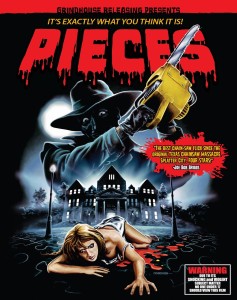 If you're looking for even harder-core horror, Grindhouse Releasing has the goods for you with their long-awaited Special Edition of the outrageous, unintentionally hilarious Spanish import PIECES (83 mins., 1983), coming March 1st.
Slasher buffs likely need little introduction to "Pieces": the "J. Simon" directed (Juan Piquer Simón) film opens recounting the origins of a killer (back in 1942 – when, according to this film, they had touch phones!) before flash-forwarding to the present, where a killer stalks a Boston college campus, dismantling students of all persuasions.
Christopher George, his soon-to-be-wife Lynda Day, and Paul ("Popeye," "Dune") Smith might be the credited stars of "Pieces," but the real lure to this grizzly and gross-out affair is Simon's gore – buckets of it, unabashedly thrown around with reckless abandon. Simon, who later helmed the sublime gorefest "Slugs: The Movie," is all about the "gotcha!" moment, and "Pieces" delivers in spades on that end – along with terrible dubbing, unintentional humor and an ending that's absolutely hysterical in every sense of the word.
Grindhouse's definitive Blu-Ray package provides genre fans with a release already "Best of the Year"-worthy: two versions of the film (including its uncensored Spanish Director's Cut, running three minutes longer); 4K restored transfers; commentary from star Jack Taylor; an enjoyable 5.1 "Vine Theater Experience" audience mix, particularly enjoyable during the film's hairiest moments; interviews with Simon and Paul Smith; a new feature length documentary, "42nd Street Memories," offering exploitation icons discussing their fondness for "Pieces"; a still and poster art gallery; liner notes; a CD of the CAM library soundtrack; and an alternate, music-only score track by Matt Hill (aka "Umberto"), replacing the CAM compilation heard in the picture (it should be noted the Spanish Director's Cut offers an entirely different score by Librado Pastor).
---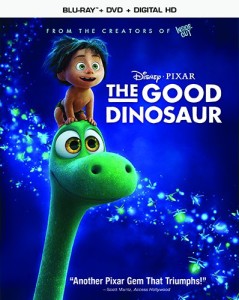 New From Disney
THE GOOD DINOSAUR Blu-Ray Combo Pack (**½, 94 mins., 2015, PG; Disney): The least commercially successful film in Pixar's history, "The Good Dinosaur" seems to have bore the brunt of too much prep in pre-production – and too many cooks in the kitchen.
In an alternate world where dinosaurs were spared mass extinction and humans are a subservient species, "The Good Dinosaur" charts the relationship between an apatosaurus named Arlo and a young human child whose friendship is tested by the elements as well as their respective "tribes." Shades of other, and frankly better, films including "The Land Before Time" permeate through this well-animated but seemingly recycled product. Kids ought to be entertained but, unlike Pixar's best films, adults may want to sit this one out – or at least sign up for just one go-around.
Disney's gorgeously delivered Blu-Ray combo pack offers a "Filmmakers Journey" with director Peter Sohn, the short "Hide and Seek," deleted scenes, a sensational 1080p (2.35) transfer, 7.1 DTS MA audio, a DVD, and a digital HD copy.
Also new from Disney is THE LION GUARD: RETURN OF THE ROAR (44 mins., 2015), the newest follow-up to "The Lion King" starring Kion, the "second born cub" of Simba and Nala, as he teams up with his friends of all stripes to preserve the Pride Lands. Disney's DVD includes a Beau Black music video, 16:9 transfer and 5.1 Dolby Digital sound. Perfect for young kids.
---
Warner Archive New Releases
One of the more unusual Alfred Hitchcock films, the 1956 Warner Bros. release THE WRONG MAN (***, 105 mins.) stars Henry Fonda in a fine portrayal as Manny Balestrero, a New York City musician mistaken for having held up several small convenience stores. Manny is arrested and led through a series of criminal-justice system procedures that would be deemed illegal by today's standards, all the while his faithful but delicate wife (a terrific performance from Vera Miles) sees the walls come crashing down around her, resulting in a mental breakdown.
Hitchcock, working from a Maxwell Anderson-Angus McPhail screenplay, shot "The Wrong Man" in many of the exact locations where Balestrero's case occurred in the early '50s. The result is anything but a typically playful Hitch product – instead, it's a downbeat, matter-of-fact docudrama that's heavy on atmosphere and worthwhile for its depiction of New York City in that moment. It's also not an easily accessible film to revisit, seeing as the picture doesn't offer the general appeal of most of the director's pictures, yet this departure in style and tone worked for the movie, especially with its crisp, B&W cinematography.
Warner Archive brings "The Wrong Man" to Blu-Ray this month sporting an attractively detailed 1080p (1.85) transfer with 2.0 DTS MA mono sound, backing Bernard Herrmann's equally atypical score. The imagery is impressive and fine grain persists through the transfer at every turn. Extras include a 20-minute Making Of produced for the DVD and the original trailer.
Also new on Blu-Ray through the Archive is A MIGHTY WIND (***, 92 mins., 2003, PG-13), a 2003 parody of aging folk music groups that reunite in New York City after their ex-manager passes away.
The groups include ex-sweetheart duo Mitch (Eugene Levy, in the movie's funniest performance) and Mickey (Catherine O'Hara); The Folksmen (Michael McKean, Christopher Guest, Harry Shearer); and the sunny, ever-positive New Main Street Singers, anchored by a pair of chirpy leads with just a few issues in their past (John Michael Higgins, Jane Lynch).
Guest and Levy's script is, like their previous ersatz-documentary features ("Waiting For Guffman," "Best in Show"), droll and sporadically hilarious. There are some uproarious moments scattered throughout the picture — particularly Mitch's distraught "solo album" covers — but for every laugh generated there are stretches of material that don't work, like Fred Willard's wacky New Main Street manager. The music, though, is spot-on and amusing, and Bob Balaban scores a few extra points as the late manager's son who coordinates the event.
Warner's Blu-Ray offers a colorful 1080p transfer with 5.1 DTS MA sound. Extras include some 22 minutes of deleted scenes, some of which are amusing and will be of interest for fans; a commentary track from Guest and Levy, which is often fun; alternate musical performances of the various groups, which are seen only briefly in the finished film, and the original trailer.
Overall, "A Mighty Wind" is an amiable, often engaging film that will appeal particularly to fans of "Waiting For Guffman" (which I found overrated) and "Best In Show" (which was more consistently funny than this film).
New on DVD are a pair of Monogram programmers starring Wayne Morris. In ARCTIC FLIGHT (78 ins., 1952), Morris plays an Alaskan bush pilot who operates a "puddle jumper" bringing passengers to dangerous, remote locations. Included in the mix are Russian soldiers who patrol the dateline, adding a Cold War component to this fun Lew Landers-directed picture, largely shot on location, co-starring Lola Albright (as a teacher new to the region) and Alan Hale, Jr., who has more on his mind than just polar bears. Morris also stars in SIERRA PASSAGE (81 mins., 1950), a standard Monogram effort that marked Morris' first western, albeit one with tuneful songs, courtesy of a plot that finds Morris as a show marksman looking for revenge. Alan Hale, Jr. and Lola Albright again co-star with Warner Archive's DVD offering B&W transfers (4:3) on both pictures wth mono sound…Two films from the Samuel Goldwyn archives are also new this week: THESE THREE (93 mins., 1936) was an early adaptation of Lillian Hellman's 1934 play "The Children's Hour," scripted by the author and directed by William Wyler in the first of his eight Goldwyn films. An interesting picture even as it understandably "reshapes" its source material with Miriam Hopkins, Merle Oberon, Joel McCrea and future "Nancy Drew" Bonita Granville starring. 1950's EDGE OF DOOM (97 mins.) offers Farley Granger as a young man on the run who receives help from a sympathetic priest (Dana Andrews) in Mark Robson's atmospheric noir, scripted by Philip Yordan from a Leo Brady novel. Both "These Three" and "Edge of Doom" include 4:3 B&W transfers and mono audio.
---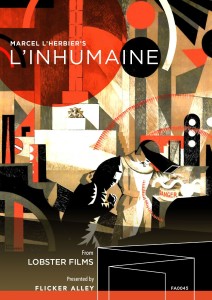 Label Wrap
L'INHUMAINE Blu-Ray (122 mins., 1924; Flicker Alley): Marcel L'Herbier's 1924 silent masterpiece became a lightning rod for controversy upon its initial release. Georgette Leblanc, a French opera singer, plays a cold, detached artist who becomes infamous in Paris for her anti-social behavior, leaving to a tragedy and her unbelievable reanimation at the hands of a scientist in a wild, Art Deco-inspired picture that commercially failed upon its initial release, but has become a favorite in the silent world for its sets, Leblanc's performance and the movie's central concert sequence shot in front of some 2000 extras.
Flicker Alley and Lobster Films' Blu-Ray restoration of "L'Inhumaine" includes a transfer culled from the original nitrate negative (scanned at 4K), two new scores (one from Alloy Orchestra, the other from Aidje Tafial), optional English subtitles, a 15-minute featurette on the making of the production, a look at the production of Tafial's soundtrack, and extensive booklet notes.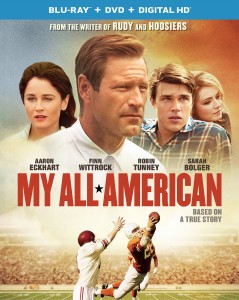 Universal New Releases: The all-too-brief life of University of Texas football sar Freddie Steinmark is recounted in the earnest MY ALL AMERICAN (119 mins., 2015, PG), a little-seen sports biopic from "Hoosiers"/"Rudy" writer Angelo Pizzo, who also directs. Finn Wittrock plays Steinmark, a college football phenom whose determination and faith carries him through an ultimaely terminal diagnosis. Aaron Eckhart is legendary coach Darrell Royal in Pizzo's film, which hits all the expected dramatic beats in a movie that deserved a better fate at the box-office. Universal's Blu-Ray includes a digital HD copy, two featurettes, a 1080p (2.40) AVC encoded transfer and 5.1 DTS MA sound.
Eddie Redmayne's performance as Elnar Wegener, who became a transgender woman named Lili Elbe, is the main draw in THE DANISH GIRL (120 mins., 2015, R), the latest film from "King's Speech" Oscar winner Tom Hooper. Alicia Vikander is also superb as Wegener's wife, who aids him through his process of self-discovery in an otherwise dreary and unappealing film that didn't manage to net nearly the critical acclaim pundits were anticipating. Universal's Blu-Ray includes a digital copy and Making Of featurette, along with a 1080p (1.85) AVC encode and 5.1 DTS MA audio.
Also disappointing is SECRET IN THEIR EYES (112 mins., 2015, PG-13), director-writer Billy Ray's U.S. remake of Juan Jose Campanella's 2009 Foreign Language Oscar winner "El Secreto De Sus Ojos." Chiwetel Ejofor carries this thriller about a trio of investigators whose lives are all changed when one of them – played by Julia Roberts – suffers an unimaginable loss after the murder of her daughter. Nicole Kidman co-stars in this dour outing where viewers are much better off sticking with the original. Universal's Blu-Ray includes a DVD, digital copy, commentary with Ray and producer Mark Johnson, two featurettes, a 1080p (2.40) transfer and 5.1 DTS MA sound.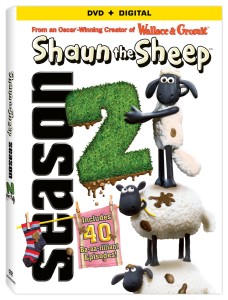 Lionsgate New Releases: SHAUN THE SHEEP: SEASON 2 (280 mins., 2011) offers the complete, 40-episode second season of the hit Aardman Animation series with Shaun and the gang. Lionsgate's affordable DVD includes a slew of bonus footage and featurettes, plus 16:9 transfers and even digital copies. Fans will also want to track down SHAUN THE SHEEP: SHEEP ON THE LOOSE (42 mins., 2009), which includes six episodes from the series in a re-issue of a disc previously available six years ago.
New on Blu-Ray from Lionsgate, EXTRACTION (83 mins., 2015, R) is a lightweight affair starring Kellan Lutz as a government analyst pressed into the field in order to save his father, a retired CIA agent (Bruce Willis), who's been abducted by terrorists. Gina Carano co-stars with D.B. Sweeney in a bland thriller coming to Blu from Lionsgate sporting a 1080p (2.40) transfer with 5.1 DTS MA audio, commentary with director Steven C. Miller, deleted scenes, trailers, interviews and a digital copy…new from Discovery, RACING EXTINCTION (95 mins., 2015) is a feature-length documentary about how – in the claims of the filmmakers – some 50 percent of Earth's species may be wiped out due to climate change. Lionsgate's Blu includes a digital copy, 1080p transfer, 5.1 DTS MA audio and an educational, virtual field trip.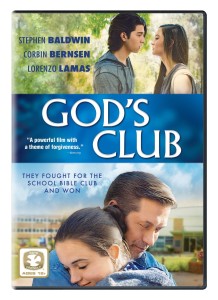 Cinedigm New Releases: The faith-based GOD'S CLUB (90 mins., 2016) looks at the timely issue of Church/State separation when a high school teacher relaunches his late wife's Bible Club following her death. Stephen Baldwin gives a sensitive performance in Jared Cohn's film, co-starring Corbin Bernsen and Lorenzo Lamas. Cinedigm's DVD, out March 1st, includes a 16:9 transfer, a featurette and bloopers…Coming March 1st on Blu-Ray is WEAPONIZED (91 mins., 2015, Not Rated), boasting Tom Sizemore as a private military contrractor who finds out about a bio-mech program spearheaded by a professor (Mickey Rourke!) that enables soldiers to trade consciousness with their targets. Cinedigm's Blu includes deleted scenes, the trailer, a 1080p transfer and DTS MA audio…On DVD is THE MIDNIGHT MAN (103 mins., 2015, Not Rated), starring Will Kemp as an assassin who can't feel pain – at least until an attack leaves him mortal like everyone else. Brianna Kelly, Brent Spiner, Vinnie Jones and William Forsythe co-star in D.C. Hamilton's film, on DVD with a 16:9 transfer and 5.1 audio.
MPI New Releases: THE SHIEK (96 mins., 2015) recounts the life and times of Kosrow Ali Vaziri, an Iranian Olympian and former bodyguard for the Shah of Iran who became one of the most celebrated professional wrestlers in U.S. history. This pop culture/wrestling documentary from Igal Hecht includes a 16:9 transfer, 5.1 audio and the original trailer when Dark Sky releases "The Shiek" on DVD March 1st.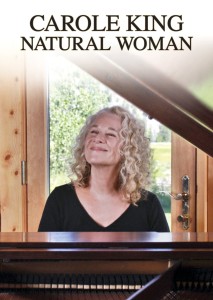 CAROLE KING: NATURAL WOMAN DVD (53 mins., 2015; Virgil Films): Terrific, if superficial, American Masters/PBS documentary on the singer-songwriter, chronicling her journey from '60s NY to L.A., bridging all kinds of pop-music forms and writing some tremendous music along the way. Interviews and musical performances are on-hand in a documentary limited only by its sub-hour running time, which is likely to leave King fans wanting more. Virgil's DVD includes a 16:9 transfer and stereo sound.
BE COOL SCOOBY-DOO Season 1 Part 1 DVD (292 mins., 2015; Warner): The latest, all-new animated series starring Scooby-Doo, Shaggy, Velma, Fred and Daphne is set early on in the gang's sleuthing days, with the group just having graduated from high school and setting off on a series of summer road trips in the Mystery Machine – before, of course, running into a series of mysteries requiring their collective efforts to solve. Warner's two-disc set includes all 13 episodes from the first half of "Be Cool"'s first season with 16:9 transfers and 5.1 sound.
Coming Soon From RLJ: Available March 1st, THE NORTH STAR (88 mins., 2013) stars Jeremiah Trotter and Thomas C. Bartley, Jr. as black slaves who decide to head north to Pennsylvania after learning that one is about to be sold into slavery. Thomas K. Phillips' film co-stars Lynn Whitfield, Clifton Powell and the great Keith David. RLJ's DVD includes a 16:9 transfer and 5.1 sound.
NEXT TIME: A SPECIES sequel-fest with Shout's new Blu-Rays! Until then, don't forget to drop in on the official Aisle Seat Message Boards and direct any emails to our email address. Cheers everyone!